No Bake Indoor S'mores Bars with just 3 ingredients! Easy to make, no campfire needed. Rich chocolate, gooey marshmallow and Golden Grahams cereal combine in a tasty dessert.
Love No Bake desserts? Try our reader favorite No Bake Banana Cheesecake recipe. Always a hit at parties. Our family is obsessed with No Bake Chocolate Lasagna.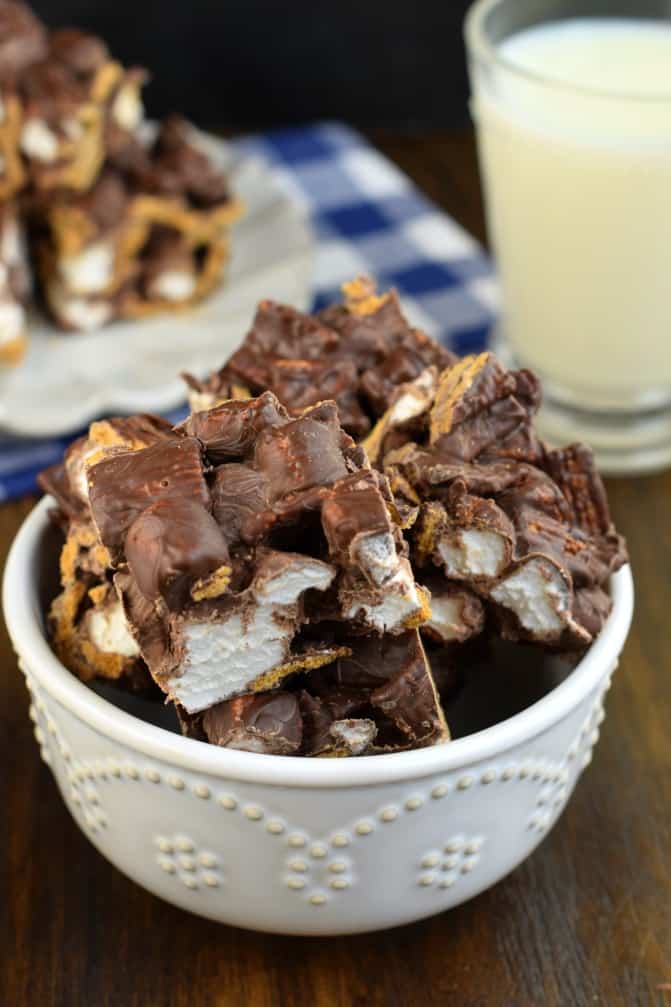 Why Make No Bake S'mores
Have I ever told you about my LOVE/HATE relationship with S'mores?
While I love eating a delicious S'mores, I am much happier making these Indoor S'mores. No Bake S'mores Bars!
LOVE:
Smore's. Yum.
HATE:
I don't know who in their right mind thought of this campfire activity.
Let's gather our overtired children (you see they have been playing outdoors and swimming all day at the campground) and make a treat near a large open fire.
Oh, and let's put the marshmallows (aka white goo that sticks in the hair, face, clothes, and anything else that comes within 2 feet of it) on a stick and put those sticks in the open fire (while repeating endlessly, "step back you're too close").
And, while roasting these sticks of super glue marshmallows over the fire, let's teach our children to be patient enough to roast them to the perfect golden brown.
These same children who don't have the patience to wait outside the bathroom door for me while I am trying to take just a minute…the same children who ask within 5 minutes of being in the car "Are we there yet", the list goes on! You get the point.
Because these cute little sticky children DO NOT have any patience as the white plaster has now turned into a raging fireball. A fireball that has turned those cute precious children into sobbing, pathetic whiners, "I don't know how it happened mommy, you do it, puuuuhhhlllleeeeeaaaassssseee!"
Ugh. You finally end up roasting all the marshmallows and make beautiful s'mores for everyone, only to throw it all in the trash because while you were painstakingly turning the marshmallows until they became golden brown, your children have now eaten three chocolate bars, ten marshmallows, and all the graham crackers have fallen on the ground. Plus they just aren't hungry.
Oh, but they are on a sugar high. Right before bed!
Great family fun!
Which brings me to these treats.
Easily made any time of the day, preferably around noon. Eat them by a sprinkler, cleanup is a breeze! No fire necessary.
Now, sitting around the campfire you can do the fun things….sing songs, hold hands, look at the stars….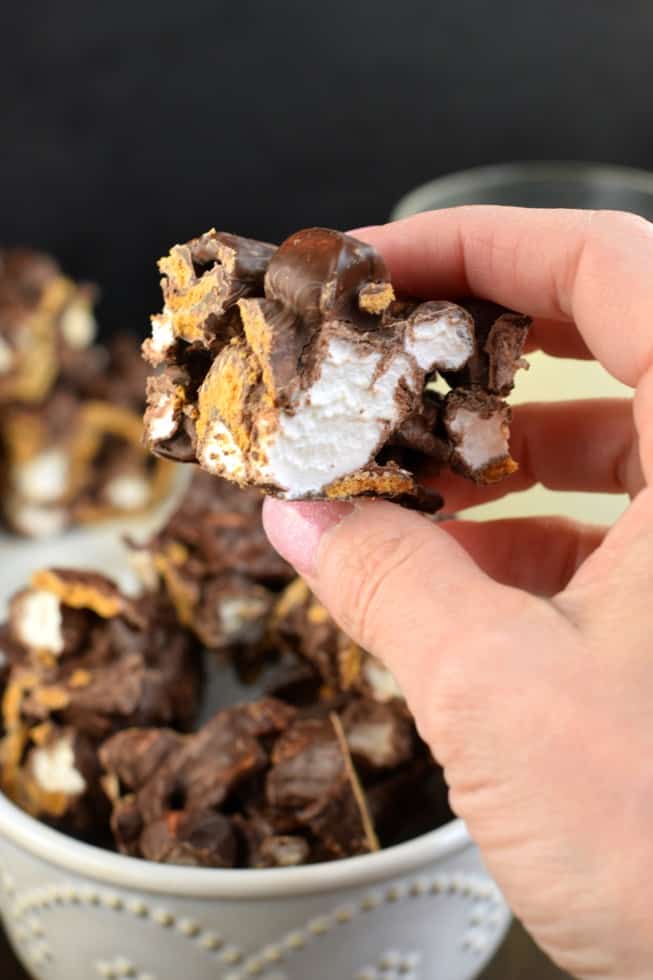 How to make Indoor S'mores
Line an 8-inch square baking dish with parchment paper.
PRO TIP: Use binder clips (or clothespins) to secure the parchment to the side of the pan. This keeps the parchment paper in place.
In a large mixing bowl, add the Golden Grahams cereal and marshmallows. Set aside.
In a medium glass bowl, add Ghirardelli dark chocolate melting wafers. You can also substitute chocolate bark (Candiquik) if you'd like, but I love the taste of the Ghirardelli.
Heat melting wafers for one minute in microwave, stir and heat an additional 15-30 seconds. Stir until smooth.
Pour over cereal and marshmallows and mix until fully coated.
Spoon mixture into baking dish, pressing down gently with the back of the spoon. Refrigerate for 15 minutes.
Remove from pan and cut into squares. ENJOY.
Store in airtight container at room temperature. If it's too warm, pop in refrigerator to keep the chocolate from melting.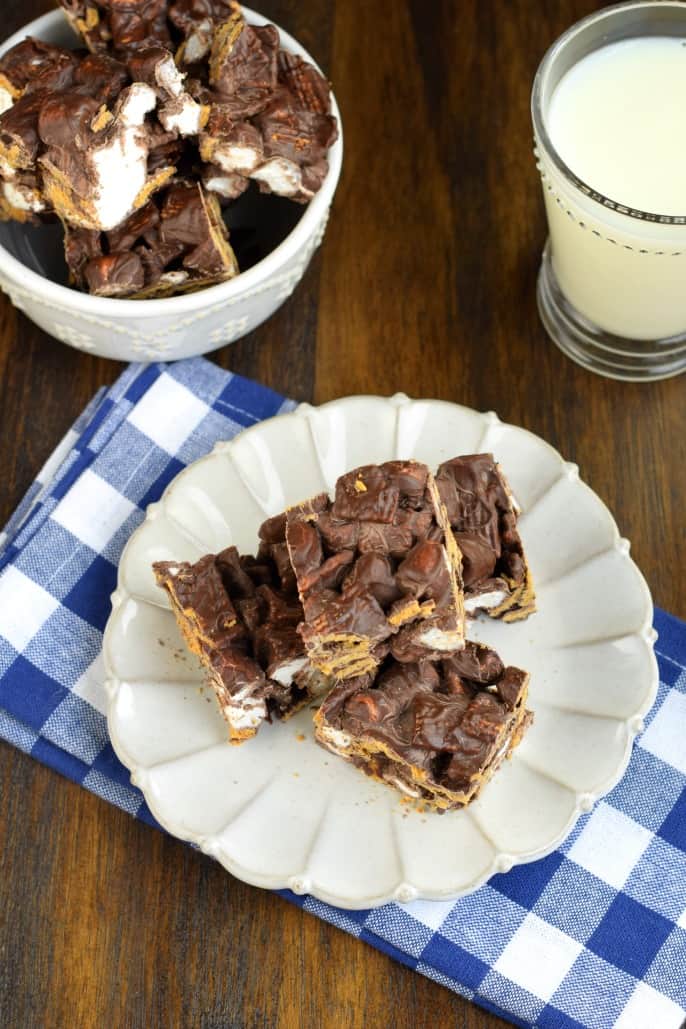 S'mores Variations
Making Indoor S'mores is nothing new really. These S'more Cookie Bars are a delicious gooey treat that doesn't involve a campfire!
Now, if you want something even faster, this S'mores dip is ready in MINUTES. And it takes just a couple minutes to gobble it up too.
I've got 50+ Ways to Enjoy S'mores without a campfire. Surely there is something listed that YOU will love!
If you've ever made Muddy Buddies or Puppy Chow you know how great they taste, and how easy they are to make. Now, imagine Puppy Chow Bars. My mind is blown.
Switch up the cereal and use Cinnamon Toast Crunch for a delicious No Bake Churro Bars recipe with only 3 ingredients.
Add Reese's Peanut Butter Cups to make this easy, 4 ingredient, No Bake Peanut Butter Smores Bars recipe!