No Bake Indoor S'mores Bars with just 3 ingredients! Easy to make, no campfire needed. Rich chocolate, gooey marshmallow and Golden Grahams cereal combine in a tasty dessert.
Love no bake desserts? Try our reader favorite No Bake Banana Cheesecake recipe. Always a hit at parties. Our family is obsessed with No Bake Chocolate Lasagna.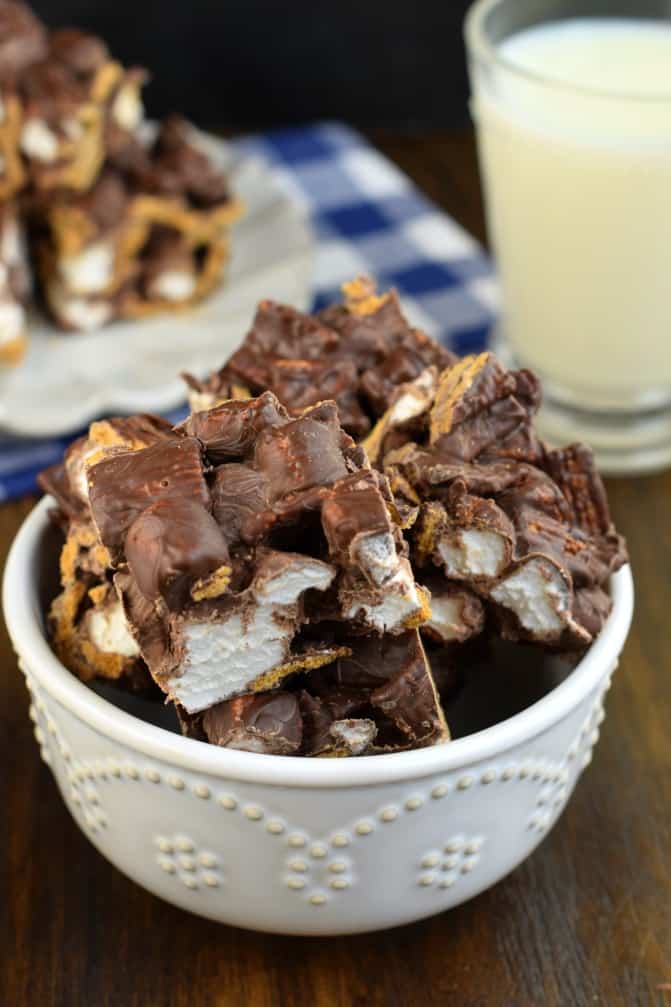 Why Make No Bake S'mores
While we all know my love for easy rice krispie treats, I've also got a thing for s'mores recipes too!
Today's indoor s'mores takes those two loves and brings them together in this easy no bake cereal treat.
Only 3 Ingredients
No campfire needed
Easy no bake dessert
How to make Indoor S'mores
Line an 8-inch square baking dish with parchment paper.
PRO TIP: Use binder clips (or clothespins) to secure the parchment to the side of the pan. This keeps the parchment paper in place.
Melt Chocolate. Use a good quality chocolate. We prefer Ghirardelli chocolate melting wafers. They melt smooth and taste delicious.
Combine. Pour melted chocolate over cereal and marshmallows and mix until fully coated.
Chill. Spoon mixture into baking dish, pressing down gently with the back of the spoon. Refrigerate for 15 minutes.
Enjoy. Remove from pan and cut into squares. ENJOY.
Store in airtight container at room temperature. If it's too warm, pop in refrigerator to keep the chocolate from melting.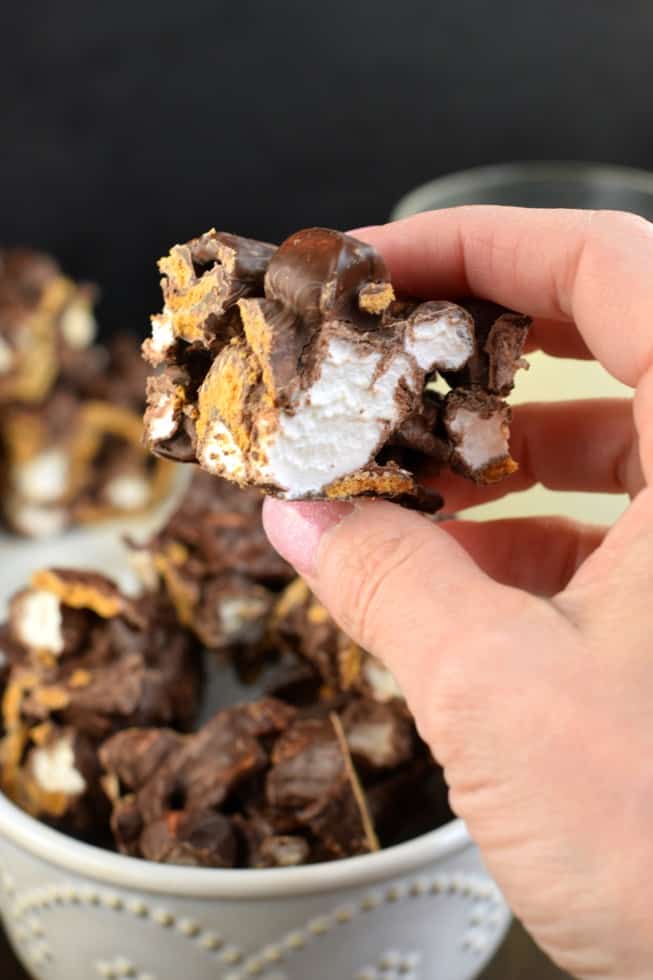 S'mores Variations
Making Indoor S'mores is nothing new really. These S'more Cookie Bars are a delicious gooey treat that doesn't involve a campfire!
Now, if you want something even faster, this S'mores dip is ready in MINUTES. And it takes just a couple minutes to gobble it up too.
Switch up the cereal and use Cinnamon Toast Crunch for a delicious No Bake Churro Bars recipe with only 3 ingredients.
Add Reese's Peanut Butter Cups to make this easy, 4 ingredient, No Bake Peanut Butter Smores Bars recipe!