No Bake Peanut Butter S'mores Bars with 4 ingredients are easy and decadent and the perfect summer treat. No campfire needed, loved by kids AND adults!
Love easy no bake treats? Give our cheerio bars a try next. Or swap out the cereal and whip up a batch of Lucky Charms Treats.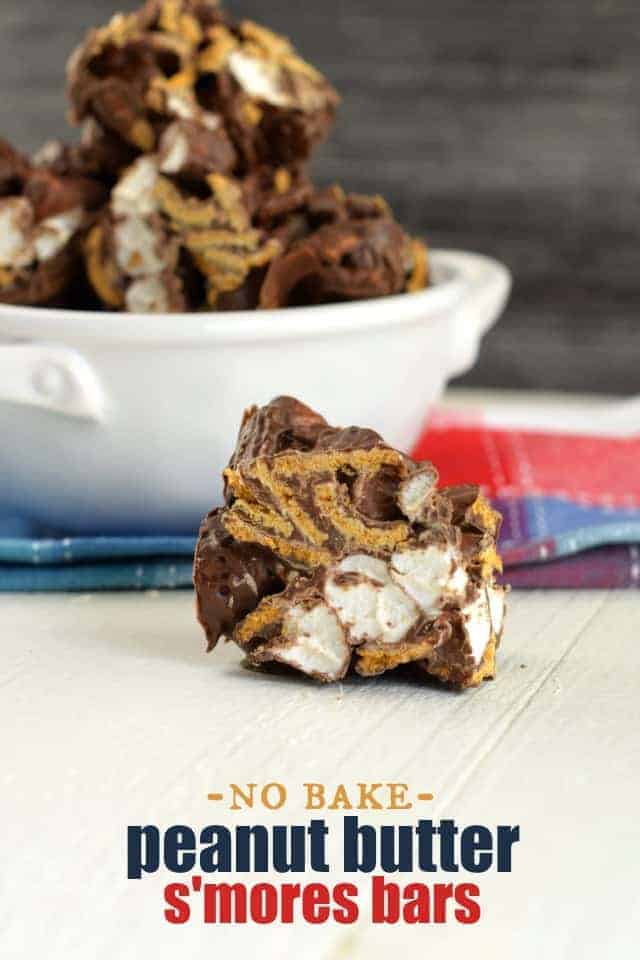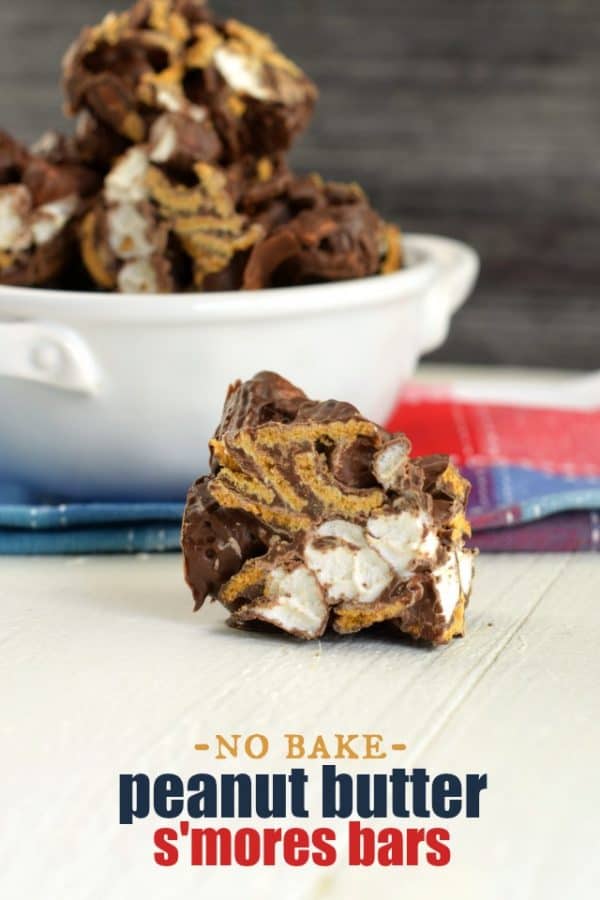 Every summer I strive to eat healthier and exercise more.
And then dessert happens.
I realized recently, I love food. I mean, clearly I've known it for a long time, but it hit me hard that I will always have a constant desire to try new desserts and eat ALL THE THINGS.
BUT, what I've also told myself is that it's never worth it to eat food I don't love.
If I don't love a dessert, I'm not going to waste calories over it. That applies to whether I'm choosing Brownies or a Rice Krispie Treat. It has to taste GREAT.
Long story short, I enjoyed every single one of the calories consumed in this Peanut Butter S'mores Bar recipe.
Plus, it makes it easier to love when you realize how easy it is to make! And they're no bake, so no oven needed!
How to make No Bake Peanut Butter Smores Bars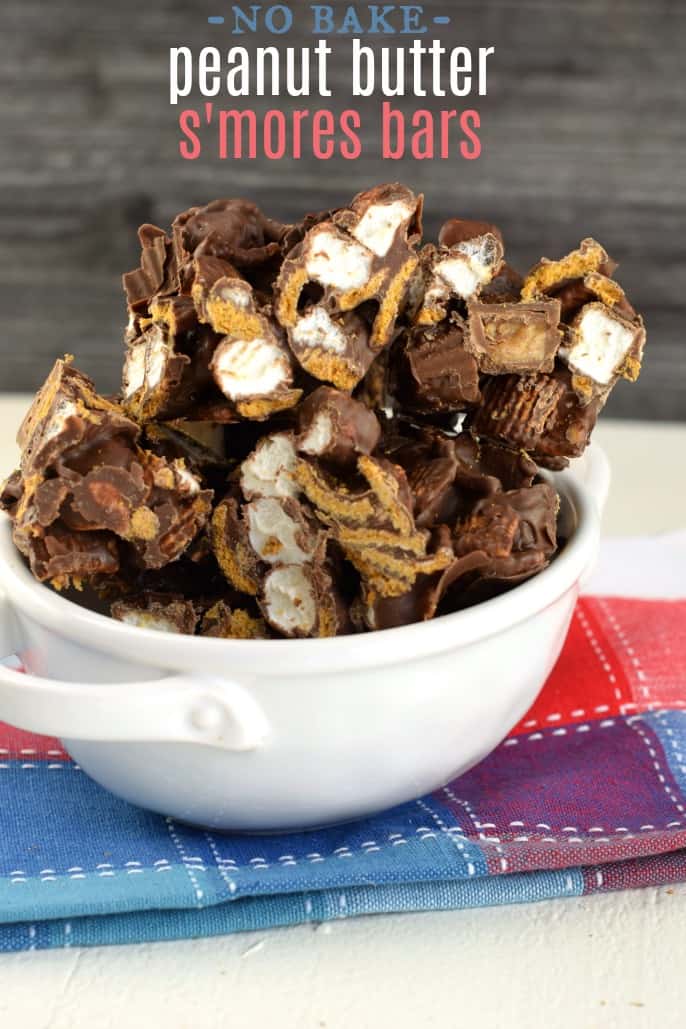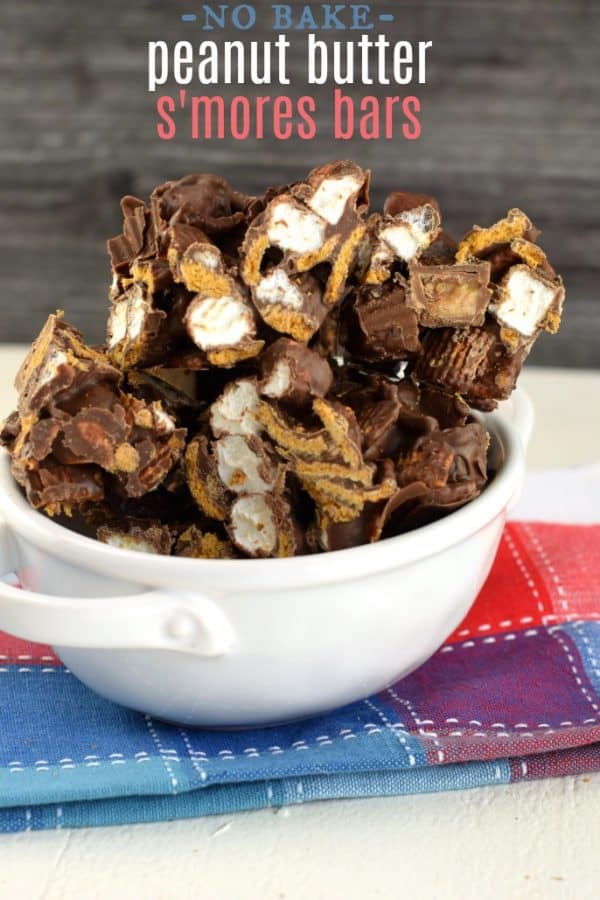 Step 1: Line an 8-inch square baking dish with parchment paper.
TIP: Use binder clips to secure parchment paper to the side of the pan!
Step 2: In a large mixing bowl add Golden Grahams cereal and mini marshmallows. Set aside.
Step 3: In a microwave safe bowl, add dark chocolate melting wafers. Heat for one minutes, stir, and heat an additional 15-30 seconds, stirring until smooth.
Step 4: Pour melted chocolate over cereal and marshmallows. Fold in mini peanut butter cups. Pour into prepared baking dish.
Step 5: Refrigerate 15 minutes. Lift s'mores out of pan with parchment paper. Cut into squares and enjoy!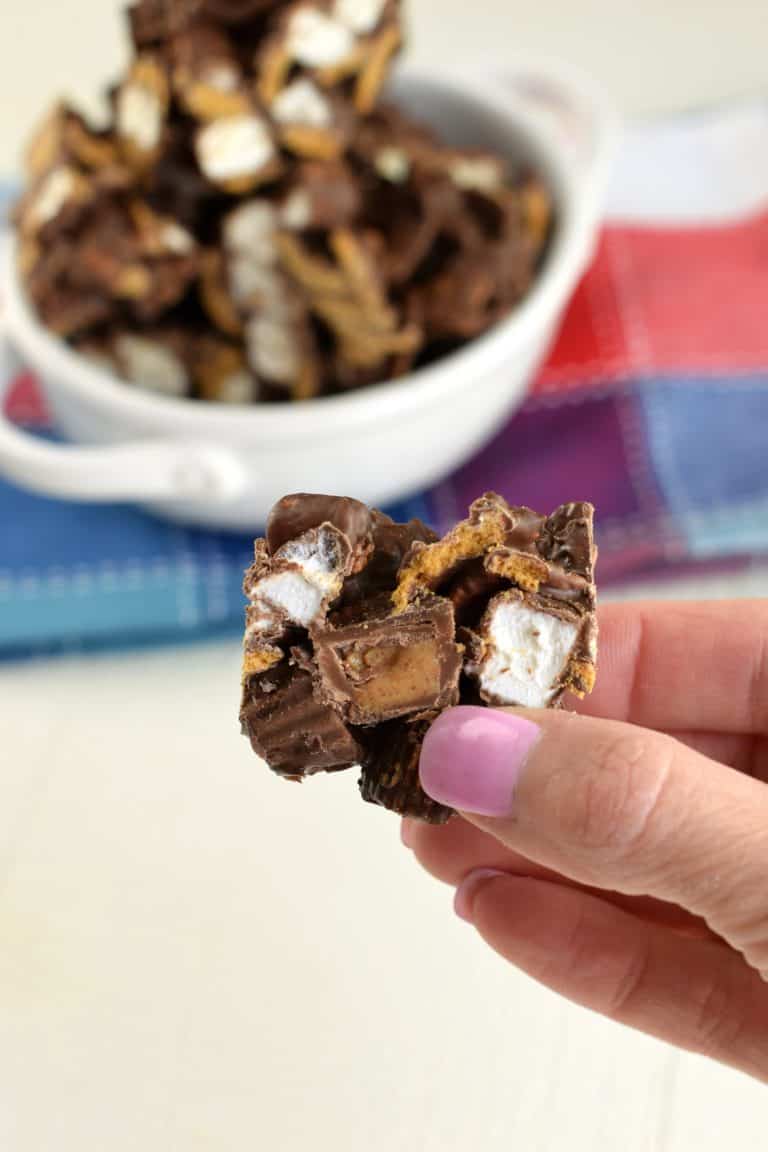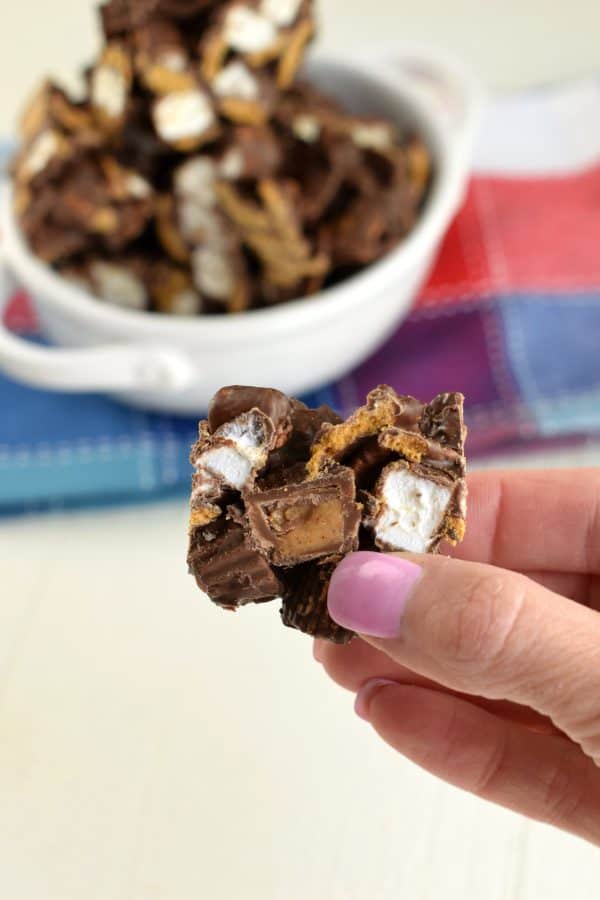 How to Store Peanut Butter Smores Bars
Keep bars in an airtight container at room temperature.
If it's too warm or humid in your home, you can store these in refrigerator so the chocolate doesn't get melted!
Tips for making No Bake Smores Bars with Peanut Butter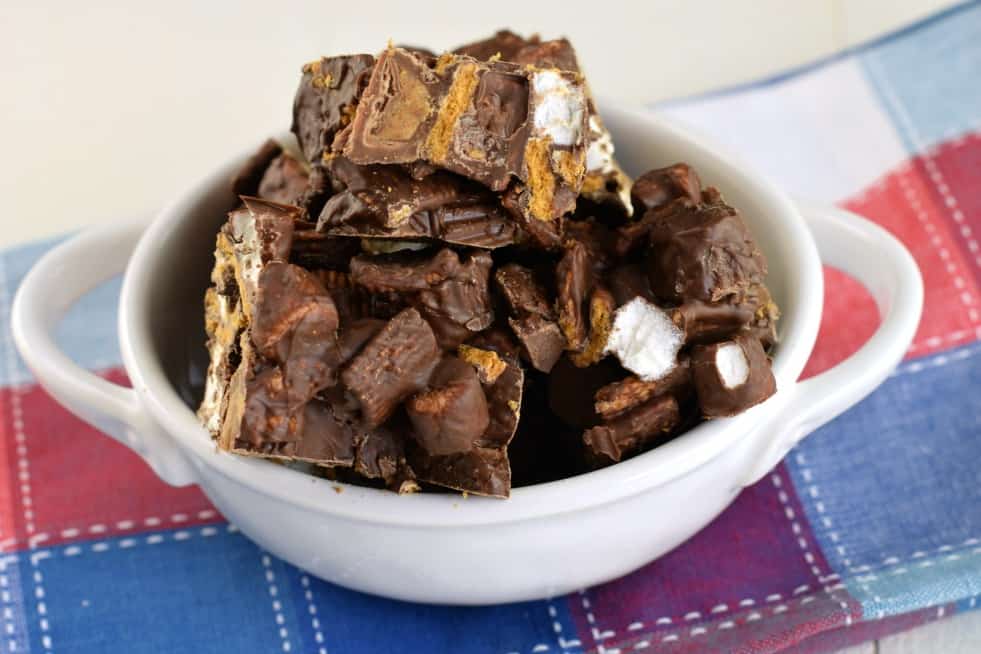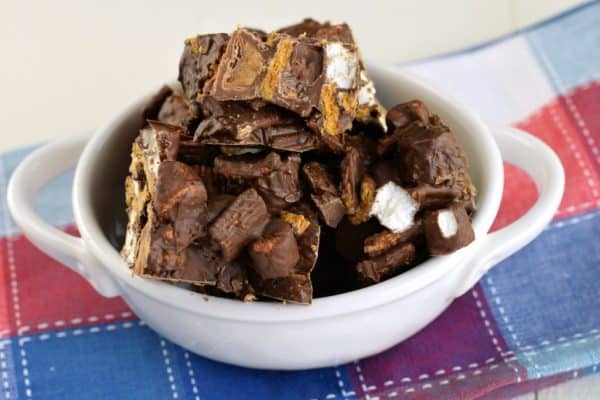 If you want to make these for a big crowd or bake sale, you can easily double the recipe and make it in a 13×9 baking dish.
Make these Indoor Smores without the peanut butter cups for another version of this tasty smores treat!
Change things up! Use crunchy peanut butter for a delicious variation!
Swap out the cereal for Cinnamon Toast Crunch and use white chocolate for a No Bake Churro Bars flavor!
What you'll need for Easy No Bake Peanut Butter Smores Bars
8-inch square baking dish – on Amazon!
Parchment Paper
Golden Grahams Cereal
Mini Marshmallows
Ghirardelli Dark Chocolate Melting Wafers
Reese's Peanut Butter Cups

More S'mores
If you love the classic S'mores, with it gooey marshmallow, melted chocolate, and grahams, here are a few of my favorite s'mores inspired desserts.
Easy No Bake Peanut Butter S'mores Bars Recipe with 4 ingredients. Perfect for summer!