No-Bake Cheerio Bars are an easy and versatile dessert everyone loves! Grab a box of cheerios and your favorite candies to make a tray full of sweet cereal bars no one can resist.
I could happily eat Rice Krispie Treats every day of my life. We've been making (and loving) variations with other kinds of cereal for years. You may remember these Lucky Charms Treats!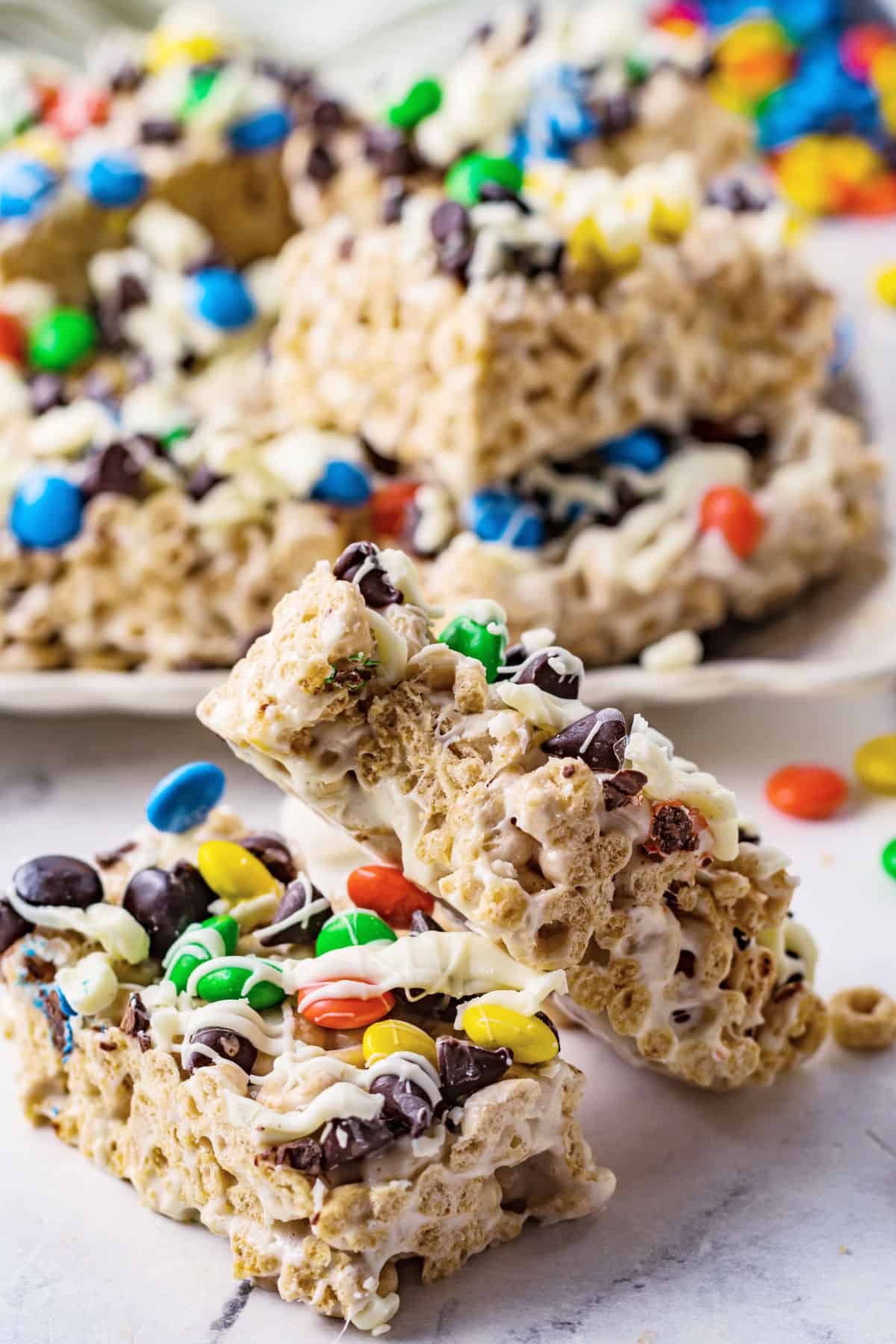 Why This Recipe is Best
Today's dessert bars are a close cousin of the classic Rice Krispies–but made with Honey Nut Cheerios!
No bake recipe. You don't even need to turn on the stove to make these Cheerio Bars!
Endless variations. You can use any bite sized pieces of candy in these bars–and even any kind of Cheerios–so it's easy to customize them for any mood or occasion.
White chocolate drizzle. We finish our Cheerio treats with an indulgent layer of melted white chocolate!
Quick and easy. It takes just 20 minutes to assemble these bars, plus about an hour to let them set. No chilling required either!
If you love these bars, be sure to try our avalanche cookies next! Or give our easy fruity pebbles treats a try next.
Ingredient Notes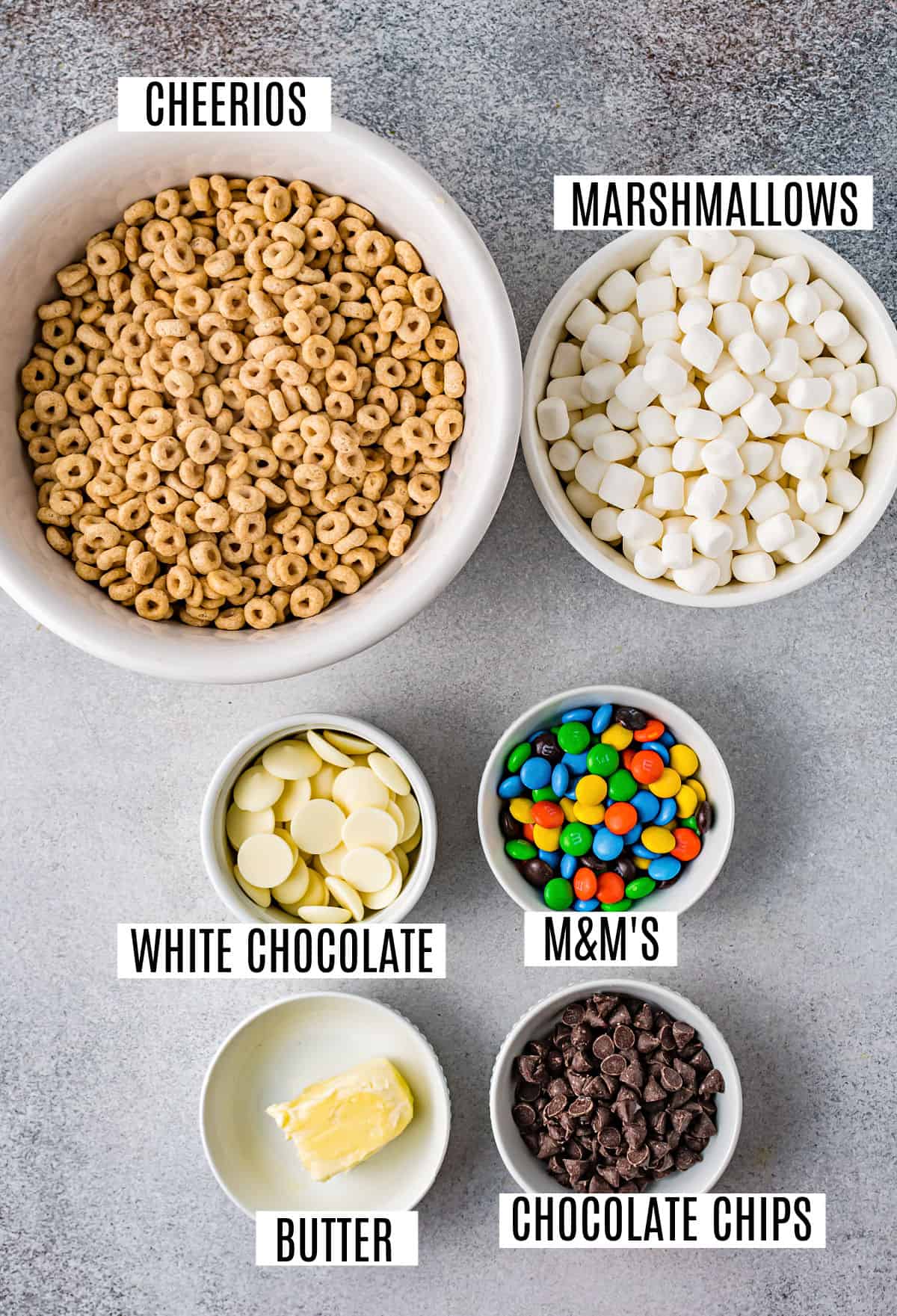 Mini marshmallows – Just like Rice Krispie Treats, Cheerio Bars are held together with an ooey-gooey marshmallow base.
Honey Nut Cheerios – The sweetness and honey flavor makes this variety perfect for bars. Any variety would work!
Chocolate chips – Mix and match different varieties of chocolate morsels. Peanut butter chips and butterscotch chips are delicious too!
White chocolate wafers – Wafers (or Vanilla bark) are melted in the microwave then drizzled over the bars for a decadent finish.
Tips and Tricks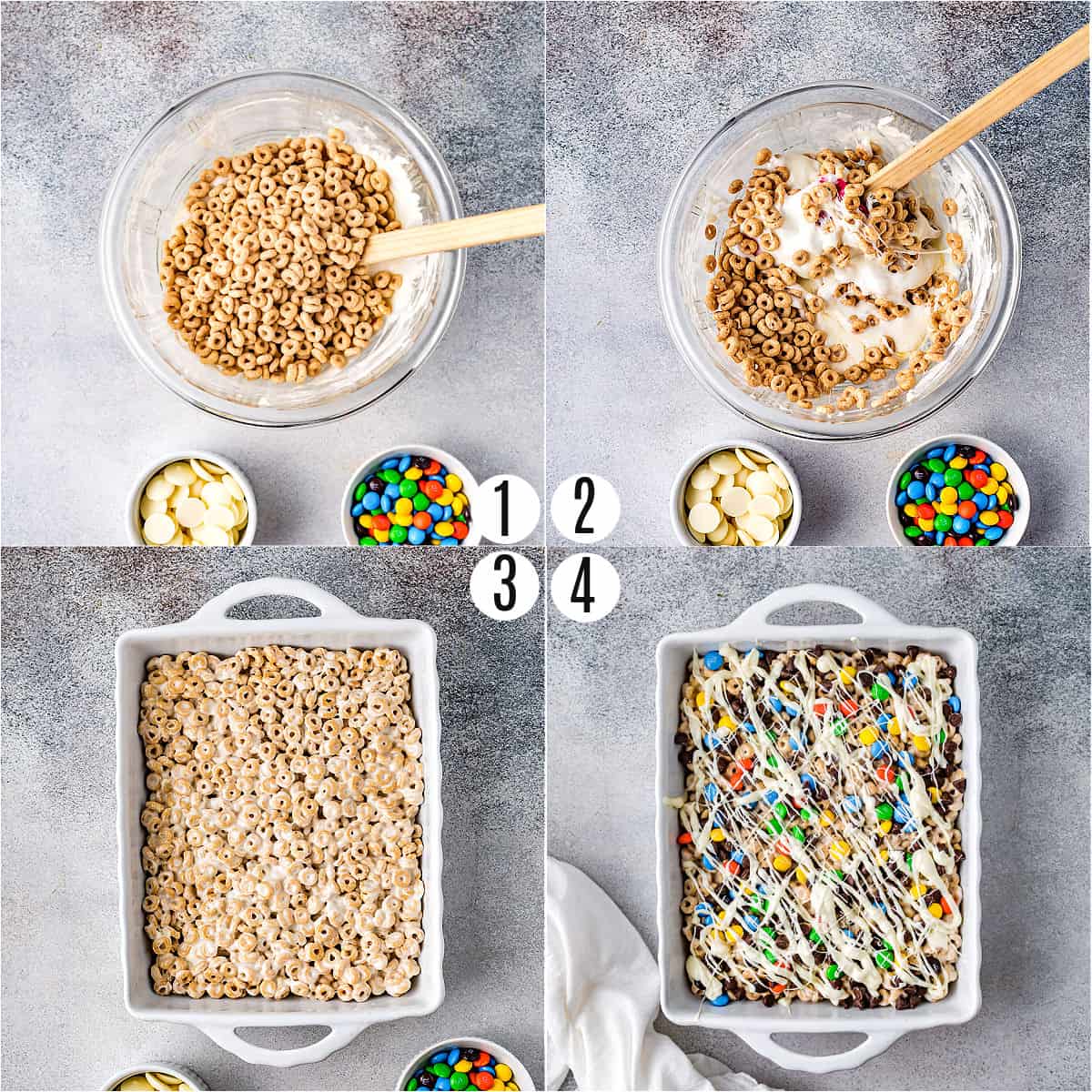 Cereal swaps: Make the bars extra chocolatey by using chocolate cheerios or even cocoa puffs in this recipe instead. For a fruity option, Fruity Pebbles or the berry flavored cheerios are perfect!
Candy suggestions: Top your Cheerio Bars with bite sized pieces of any candy you like. We love M&Ms, Reese's Pieces, caramel bits, or chopped up candy bars!
Storing: Store set bars in an airtight container at room temperature. They stay good for about 1 week.
Use fresh ingredients: Check your cereal and marshmallows before making this recipe to ensure they're not stale. Stale ingredients = stale tasting cheerio bars!
Recipe FAQs
Can I use regular marshmallows instead of mini marshmallows? How many?
Yes, you can use regular marshmallows. I recommend chopping them into smaller pieces so they'll melt more easily.
If using full sized marshmallows, you will need 10 ounces (roughly 5 cups) to make this recipe.
How do I keep Cheerio Bars from sticking to the pan?
Make sure to spray your baking dish generously with baking spray before adding the Cheerio mixture. If you don't have baking spray, you can rub the pan with the inside of your butter wrapper instead.
Why did my Cheerio Bars get hard?
If your bars are hard and tough, you may have pressed the cereal mixture into the pan with too much pressure. Make sure to just gently press the bars into the dish. The harder you press, the harder your finished bars will taste.
Can I substitute white chocolate chips for the melting wafers?
I don't recommend it. White chocolate melting wafers are specifically created to be melted and used as a drizzle or candy coating. Unlike white chocolate chips, the wafers set up with a smooth satiny finish that makes these Cheerio Bars look amazing–and taste even better!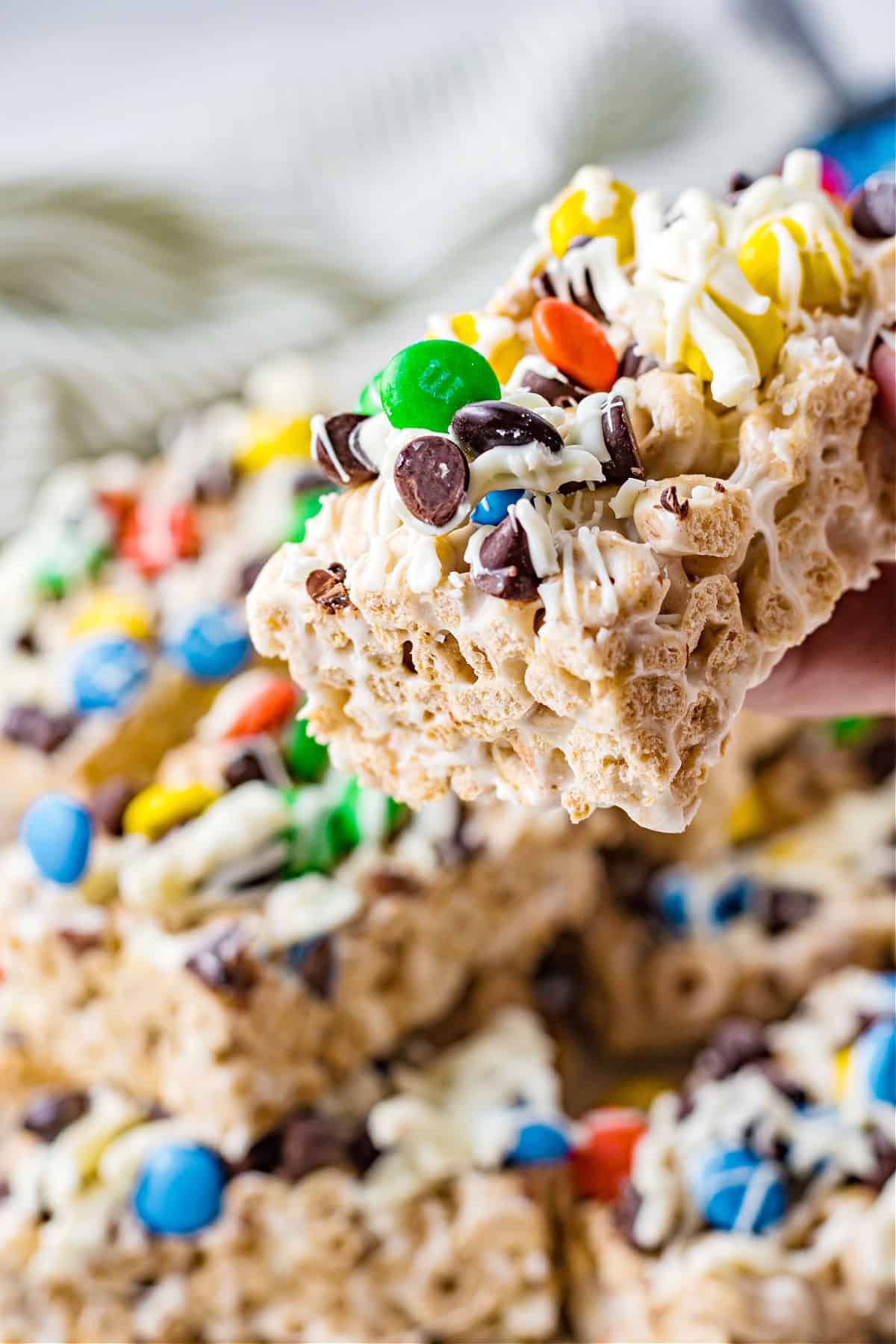 No matter what combination of candies and toppings you choose, these easy Cheerio Bars are always a crowd pleaser!