Avalanche Cookies are chewy no-bake cookies with rice cereal, peanut butter and two kinds of chocolate. No need to turn on the oven to make perfect cookies in minutes!
Looking for more no bake dessert ideas with chocolate and peanut butter? Readers love my Chocolate Peanut Butter Fudge and this recipe for Peanut Butter S'mores Bars too.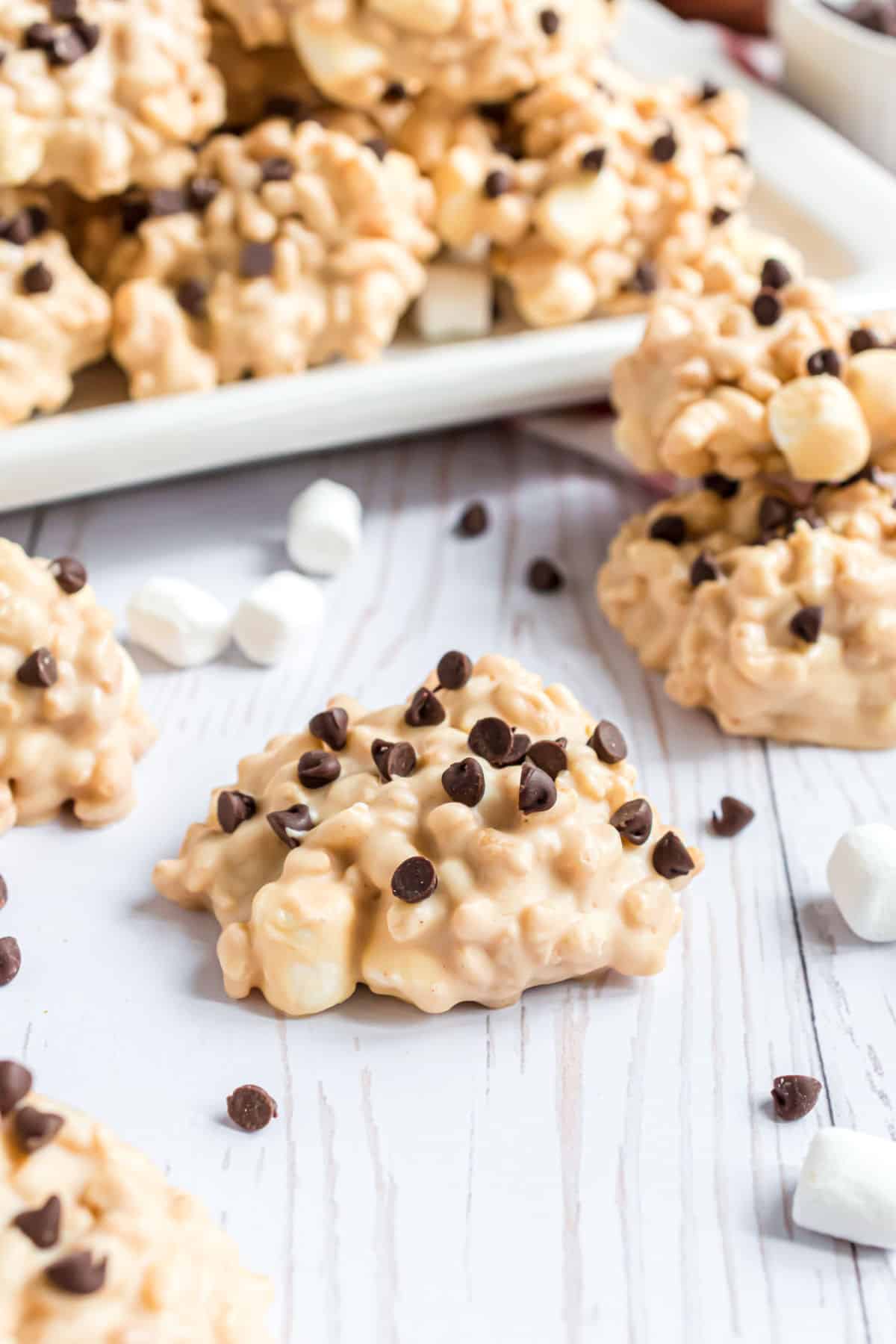 Why These Cookies Are Best
This recipe combines two of my long time favorite desserts: Rice Krispie Treats and no-bake cookies.
Avalanche Cookies are based on my recipe for Avalanche Krispie Bars. Instead of making them in a pan as bars, I dropped the batter onto a baking sheet and let them set up as cookies.
If you love rice krispie treats as much as I do, trust me: you're going to become OBSESSED with making Avalanche Cookies.
Ingredient Notes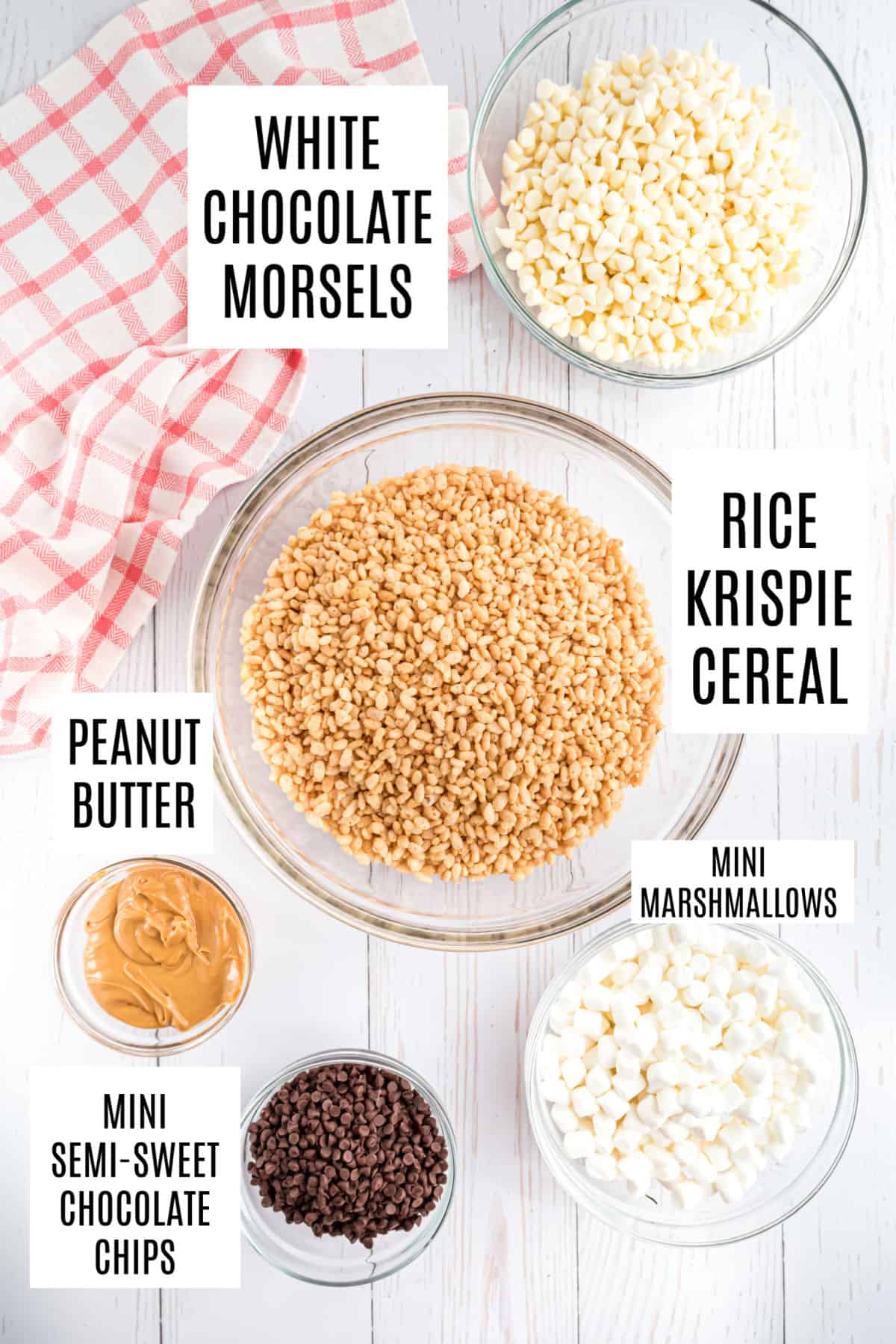 Another reason to love this recipe? The ingredients are super simple.
Rice Krispie Cereal – Or use a generic puffed rice cereal instead.
Peanut butter – Creamy peanut butter is best!
White chocolate morsels – These are melted with the peanut butter to sweeten the cookies.
Mini marshmallows – Adds the perfect variety of texture.
Mini chocolate morsels – Sprinkled on top for an extra chocolate touch!
Easy to Make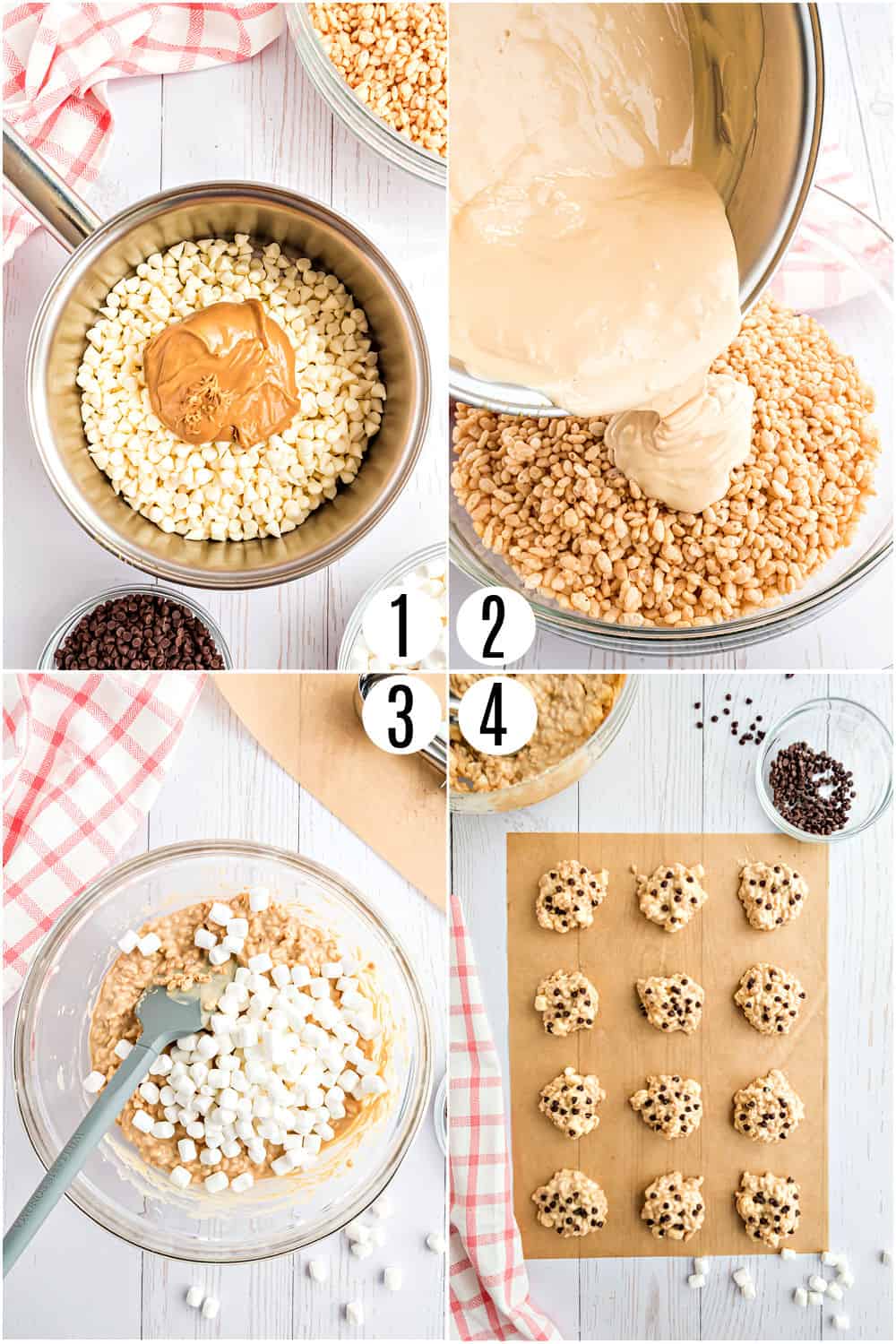 Here's how I make these easy no bake cookies.
MELT. Melt white chocolate and peanut butter together on the stove.
Combine. Pour peanut butter mixture over rice cereal. Stir to combine.
Fold. Fold in the mini marshmallows.
Drop. Drop the batter onto a baking sheet by the spoonful. Sprinkle with the mini chocolate chips.
Avalanche Cookies set up quickly compared to some other no bake recipes. Leave them on the baking sheet and they're ready to eat in about 15 minutes.
That's excellent news when you're hungry and can't resist the appeal of a chewy rice krispie cookie with marshmallows, peanut butter and chocolate!
Tips and Tricks
Line your baking pan with parchment paper. The batter will be sticky!
Press the cookies down slightly to spread them out. The bottom of a drinking glass is perfect for this.
Make sure to use FRESH marshmallows. Stale marshmallows will make your cookies taste stale.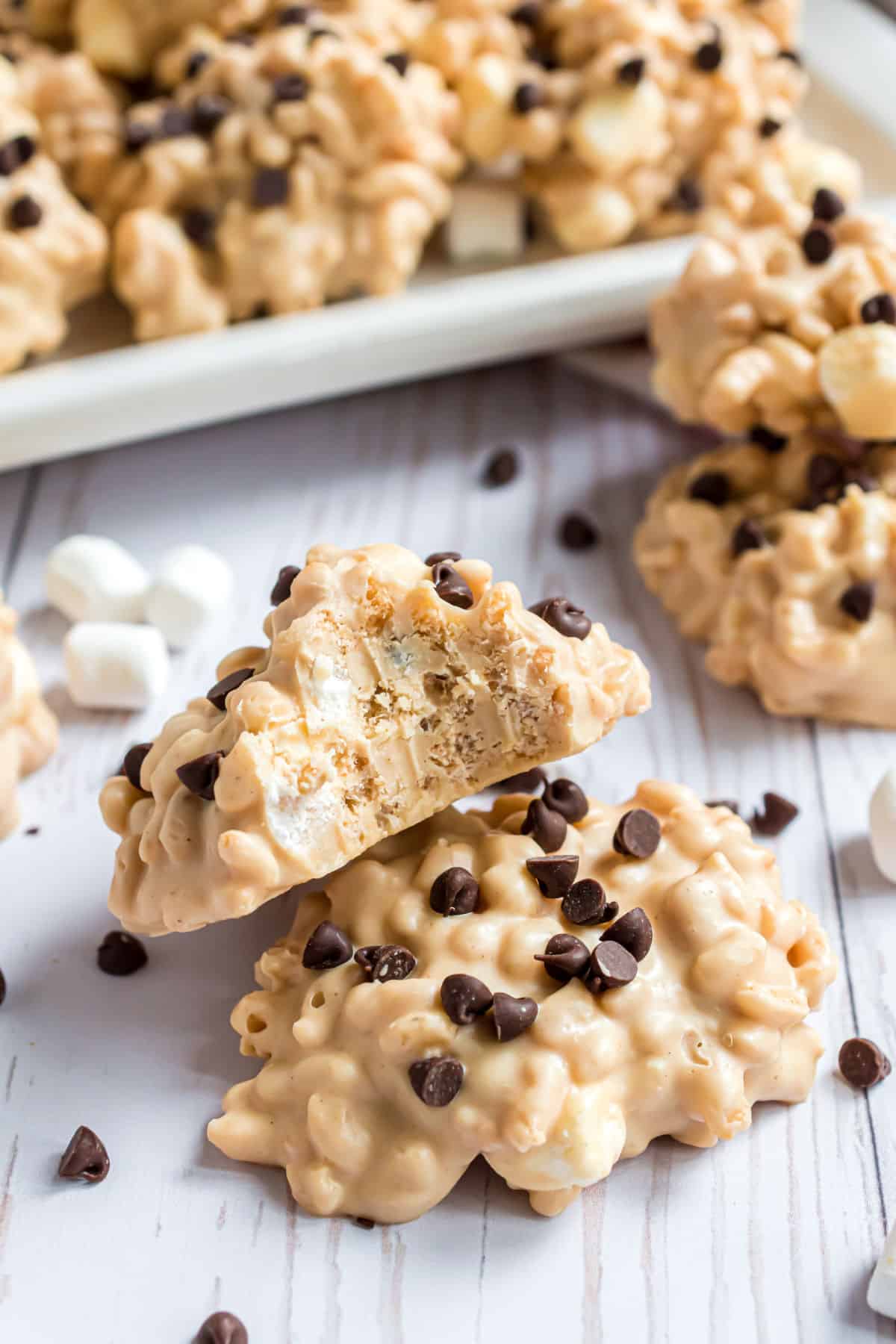 Recipe FAQs
How to store Avalanche Cookies?
Store these cookies in an airtight container. You can keep them at room temperature or in the fridge. They taste delicious cold!
How long do they stay good?
Avalanche Cookies are best enjoyed within 5 days. If your household is anything like mine when it comes to cookies, you're probably going to eat them all long before then.
What scoop size do you use?
I used a  2 ½ Tablespoon metal cookie scoop for perfectly sized cookies. If you choose to make larger cookies, they will take longer to firm up.
How can I melt the white chocolate without a stove?
Use your microwave! Combine the white chocolate and peanut butter in a microwave safe bowl. Heat in 30 second increments, stirring in between each one, until the mixture is smooth, melted and combined.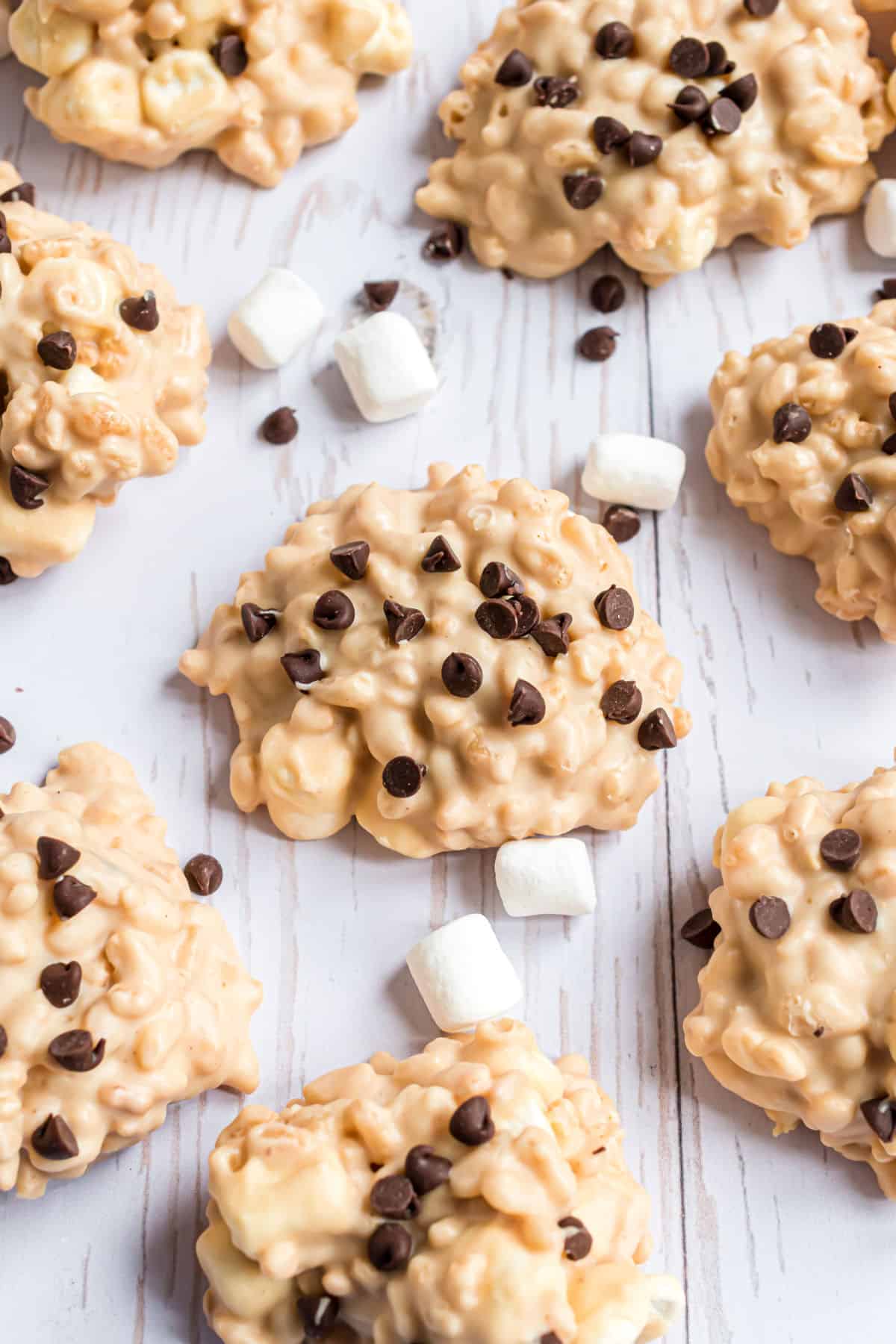 More Easy Dessert Recipes
Avalanche Bars become cookies in this easy no bake recipe! You'll love the sweet peanut butter flavor and marshmallows in every bite.