These are an almond dessert lover's favorite cookie! Melt-in-your-mouth Almond Cookies are dipped in a light glaze and sprinkled with sliced almonds.
While you've got this almond cookie recipe on the brain, check out these Almond Truffles too. These Coconut Almond Bars are another crowd pleaser.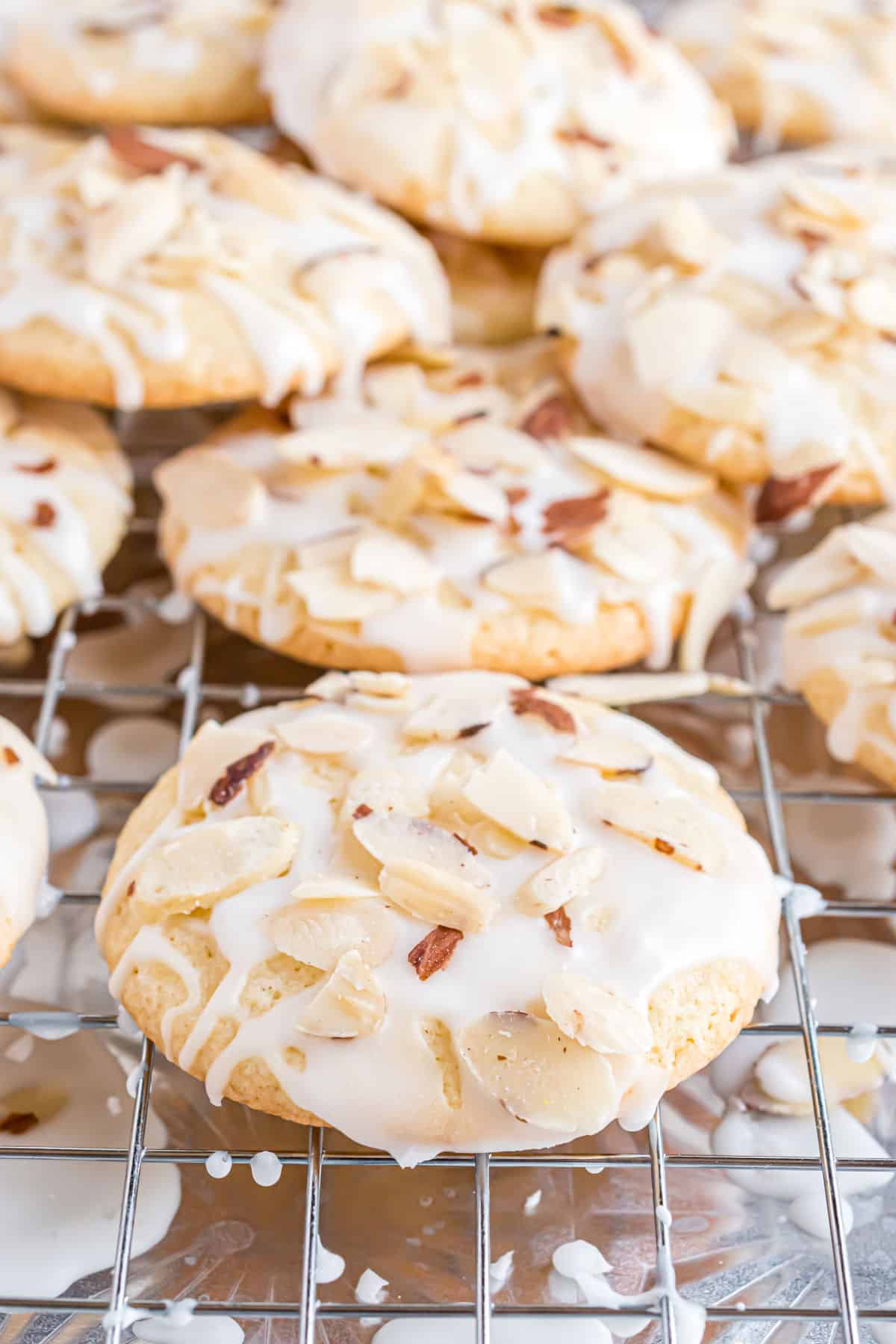 Why these Cookies are Best
Fashioned after our favorite almond bar recipe, these cookies are a crowd favorite.
Packed with almond flavor, from the dough to the glaze.
No need to chill the dough. This recipe is quick and easy.
Made with real butter and flour for a perfect consistency.
When it comes to cookies, I try not to discriminate. Soft, crunchy, chewy, light–there's a place for every kind of cookie in a well rounded life!
Today's Almond Cookies have a crunchy buttery crumb that melts in your mouth. They're the kind of delicate treats I picture serving at a tea party.
After a heavy dinner like Spinach Lasagna or Mississippi Roast, you may be searching for something light for dessert. Today's cookie is the answer.
If you love almonds, you will go, well, nuts for these cookies. So irresistibly delicious!
Ingredient Notes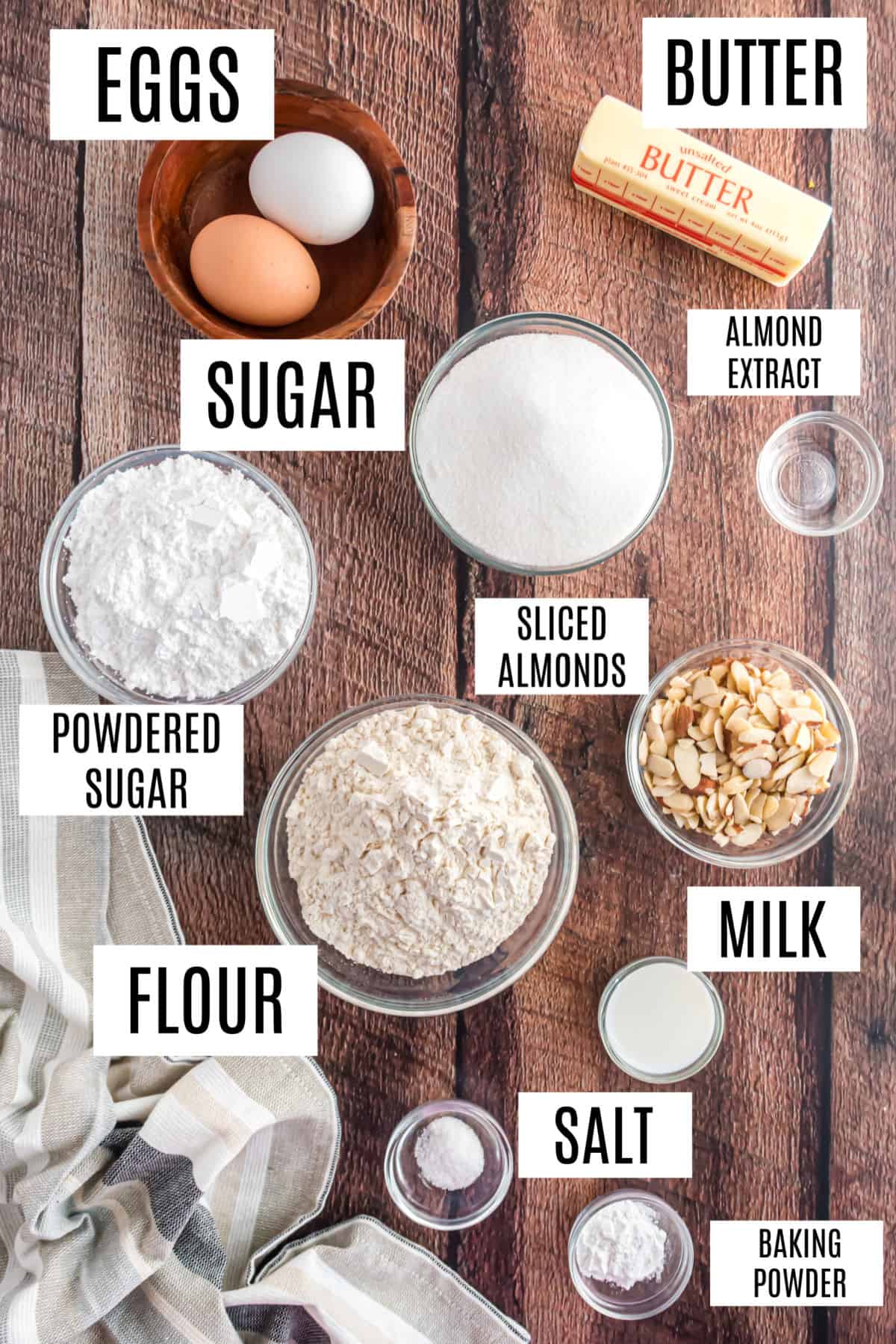 I love that these almond bars are made using ingredients you most likely already have on hand!
Unsalted butter. We prefer to use unsalted; it makes it easier to control the saltiness factor in the finished cookies. If using salted butter, reduce the amount of added kosher salt in the recipe to 1/4 teaspoon.
Almond extract. This adds the unmistakable almond flavor to the dough and the glaze. Use pure extract, not artificial flavoring, for best results.
Sliced almonds. These get added to the cookies at the end. The packaged slivered almonds or sliced almonds work perfectly. Toast the nuts prior to using for best flavor.
Easy Instructions
Wet Ingredients. Start beating together butter and sugar. Then, beat in the eggs and almond extract.
Dry Ingredients. Add the dry ingredients and mix until a dough forms.
Bake. Drop cookie dough onto a lined baking sheet using a cookie scoop. Bake for about 12 minutes. Let the almond cookies cool on the pan for 10 minutes before transferring them to a wire rack.
Glaze. Once they're completely cool, drizzle almond glaze over the cookies. Sprinkle with sliced almonds.
Tips and Tricks
Powdered sugar variation. Fold almonds into the dough before baking. After baking sprinkle cooled cookies with powdered sugar instead of glaze.
Almond topping. For another twist, press almonds into the tops of the cookies before baking.
Storing. Keep leftover Almond Cookies in a sealed container at room temperature.
Freeze Cookies. Use my tips on how to freeze cookie dough for later.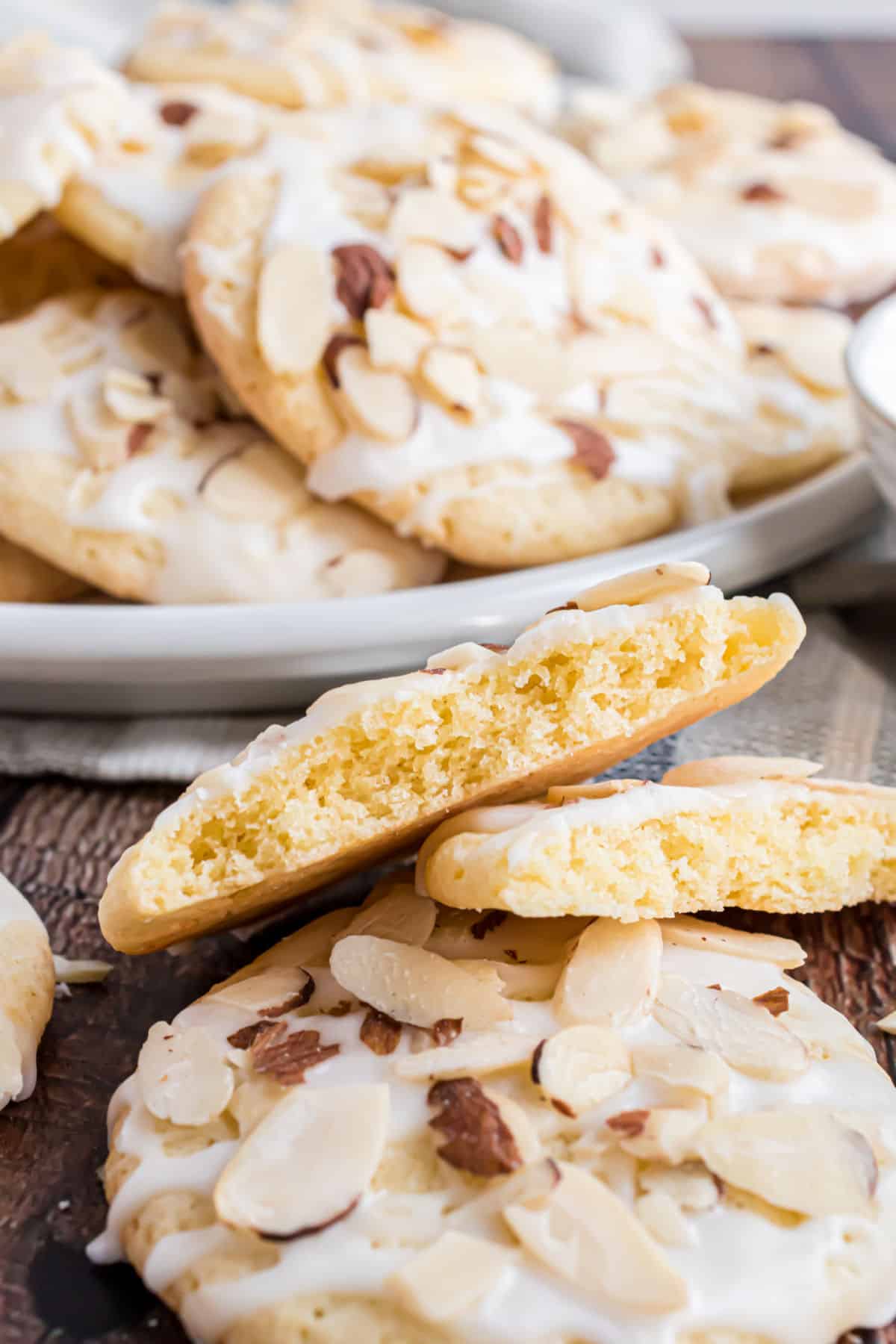 Recipe FAQs
Can I make almond cookie dough ahead of time?
This almond cookie dough can be made several days ahead of time and stored tightly wrapped in the fridge until ready to bake.
You can also freeze the dough for 1 -2 months. Keep it wrapped in freezer bags and thaw before baking.
Are these cookies hard or soft?
These cookies are lightly crunchy but not hard. The crumb is buttery and light.
Can I freeze almond cookies after baking?
Yes, you can freeze these almond cookies before glazing them. They keep well in the freezer for up to 3 months. When ready to serve, drizzle the glaze over thawed cookies and add the almond topping. Let it be known, I've also frozen WITH the glaze with no issues.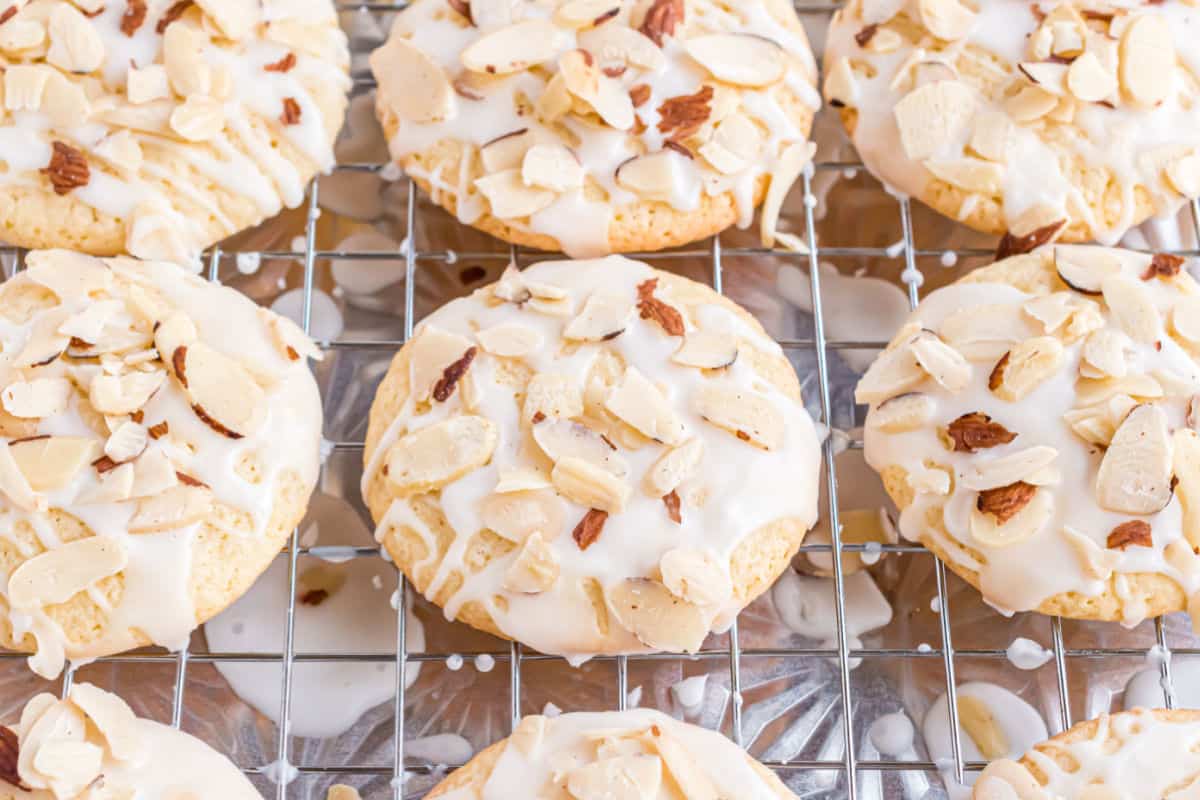 Nutty and sweet Almond Cookies make any day better. These easy cookies are a delightful addition to any occasion.