The Toll House Cookie Recipe is the original chocolate chip cookie. These cookies are chewy, soft, and buttery–just like grandma used to make! One bite and you'll understand why this classic recipe remains a staple for a every home baker.
In the mood for a different take on everyone's favorite cookie? Try this Doubletree Chocolate Chip Cookie recipe next! Or give our soft batch chocolate chip cookies a try soon.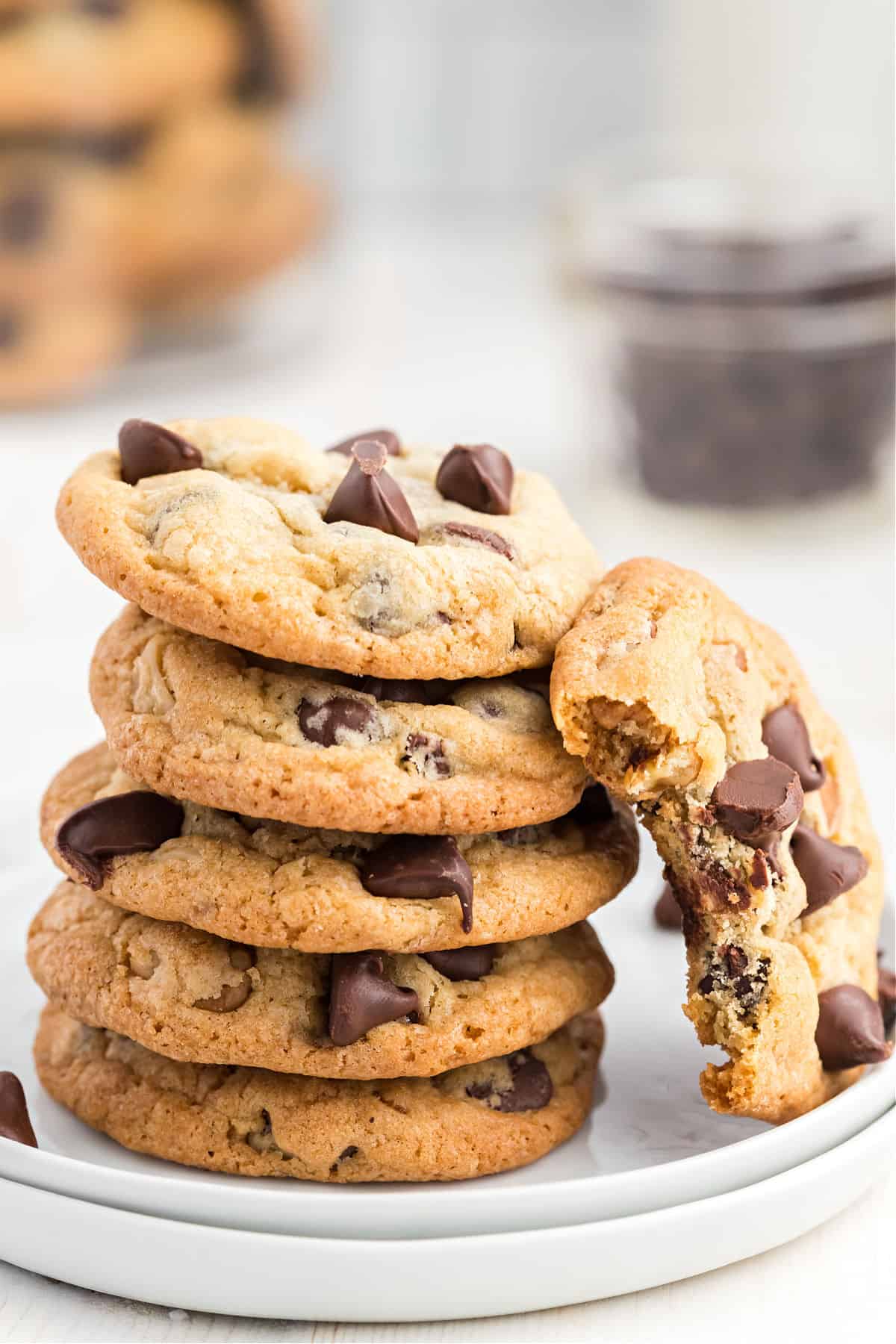 Original Nestle Toll House Cookie Recipe
Chocolate Chip Cookies are the first cookies many of us remember baking.
Whether you stood on a stool to reach the mixing bowl as a kid or didn't venture into cookie baking until adulthood, you've almost certainly experienced the joy of biting into a warm chocolate chip cookie.
Today, I'm sharing the recipe that started it all: Toll House Cookies.
Invented by Ruth Wakefield in the 1930s, this recipe catapulted chocolate chip cookies to worldwide popularity. It's been printed on the back of Nestle chocolate chip bags for decades, passed down from generation to generation of cookie bakers.
While plenty of variations have been made over the years, there's something about the taste of the original Toll House recipe, you just can't top.
Since I don't normally buy Nestle chocolate chips (I'm a big fan of Ghirardelli), I wanted to make sure my family has this recipe in print for years later!
Ingredient Notes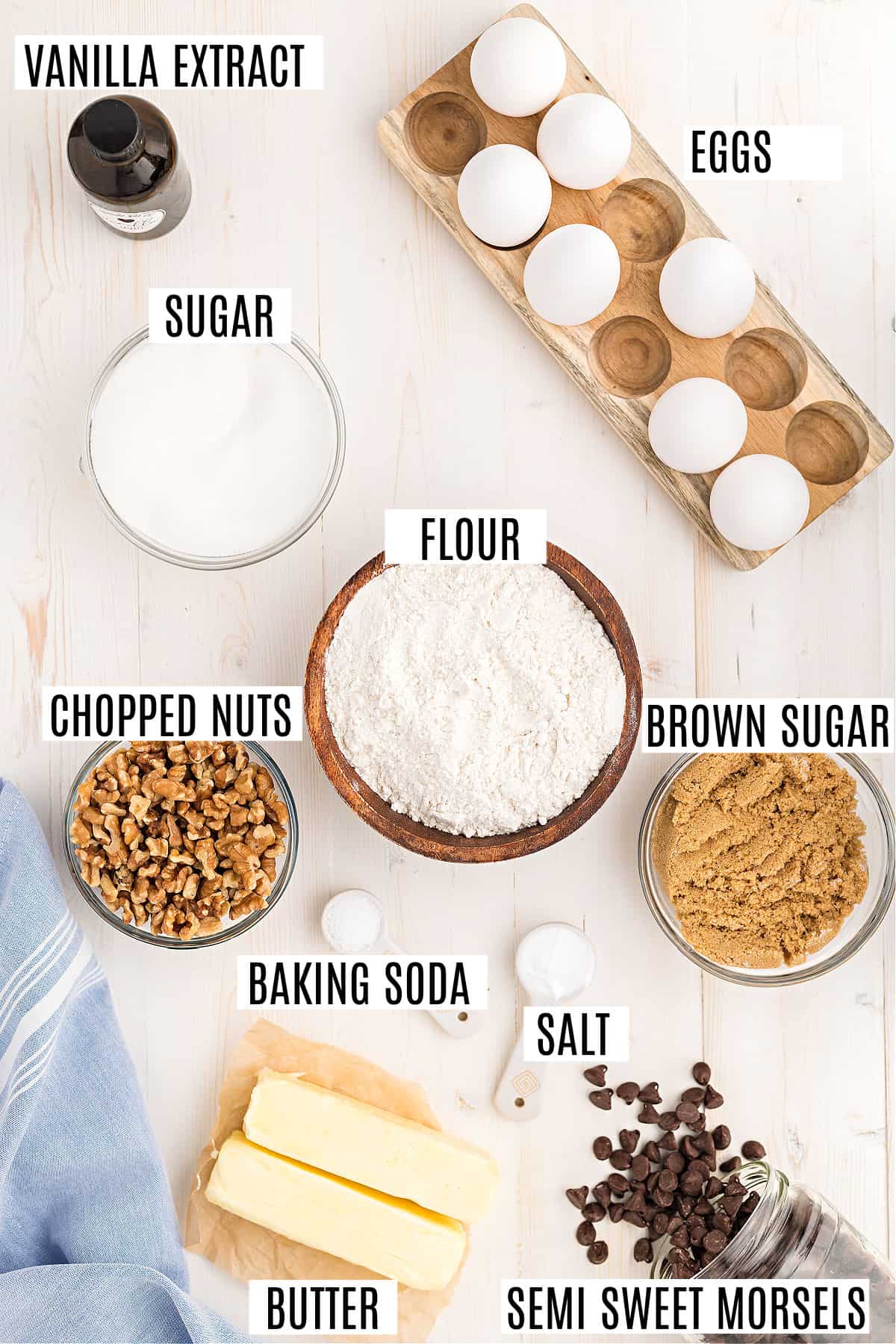 Unsalted butter- While salted butter can be used, unsalted butter gives you more control over the flavor of the cookies.
Baking soda – This reacts with the eggs and sugar to leaven the cookies, making them spread as they bake.
Vanilla extract – Using a good quality vanilla is essential for best flavor. I love using my homemade Vanilla Extract in these cookies.
Nestle Semi-Sweet Chocolate Morsels – True Toll House Cookies aren't complete without Nestle chocolate chips! However, any brand of good quality morsels will work.
Nuts- completely optional! Chopped peanuts, walnuts, or pecans are all delicious in this classic cookie recipe.
Tips and Tricks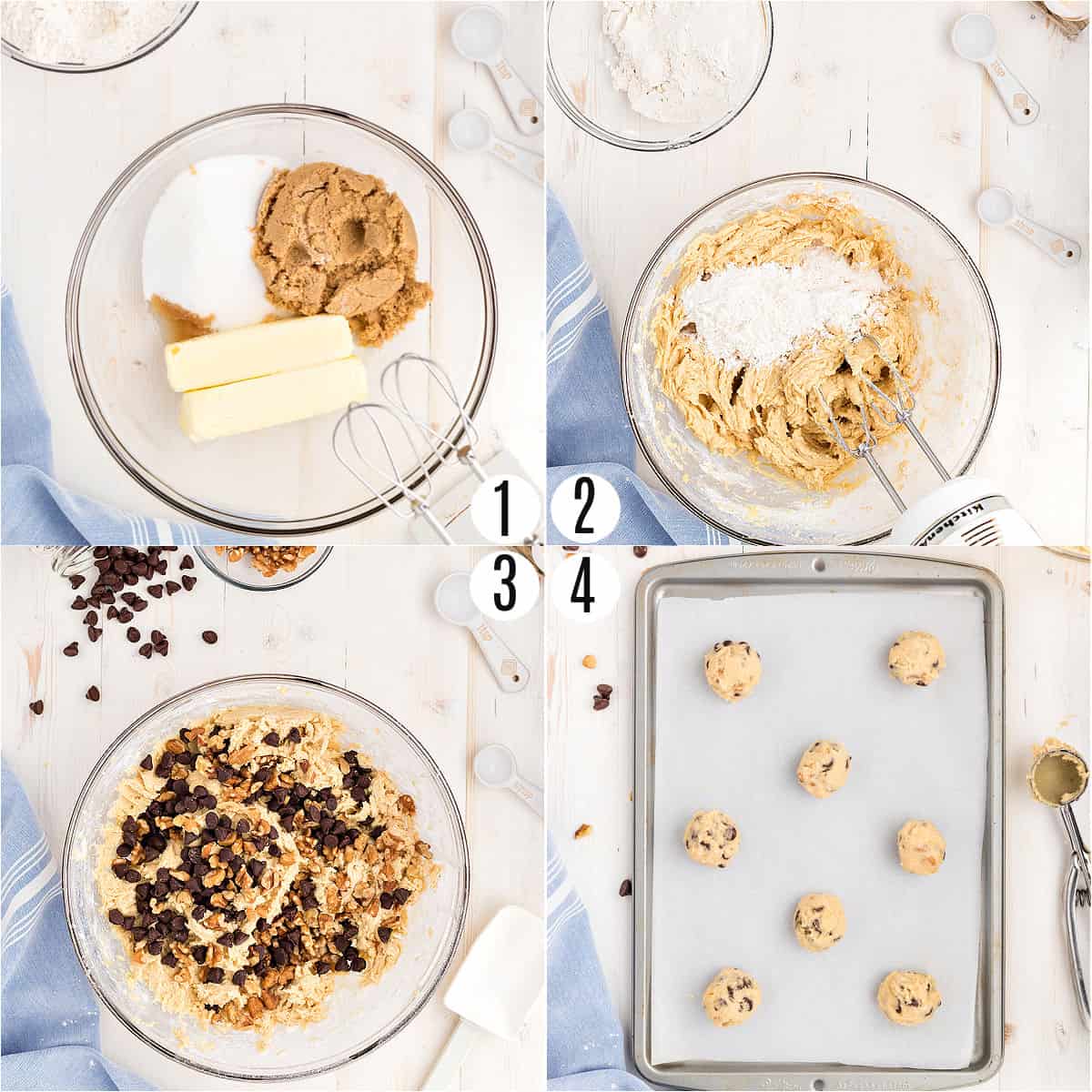 Use an electric mixer. Beating the butter and sugar vigorously makes all the difference in the consistency of your cookies. Handheld beaters or a stand mixer makes it so easy!
Measure flour accurately. Use a spoon to scoop flour into your measuring cup. Then level the top with a butter knife. This measuring method is much more accurate than simply scooping your flour with a measuring cup straight out of the bag. I've got all the tips and tricks on how to measure flour.
Measure the dough. For equally sized cookies, use a metal cookie scoop to drop dough onto the baking sheet.
Bake until golden brown. Remove the cookies when the edges begin to turn golden. They may look under baked in the center, but they will continue to bake as they begin to cool on the baking sheet.
Chocolate. Press extra chocolate chips into the tops of the cookie dough before baking. This gives them a beautiful look, plus, MORE chocolate!
Freeze Cookies. Use my tips on how to freeze cookie dough for later.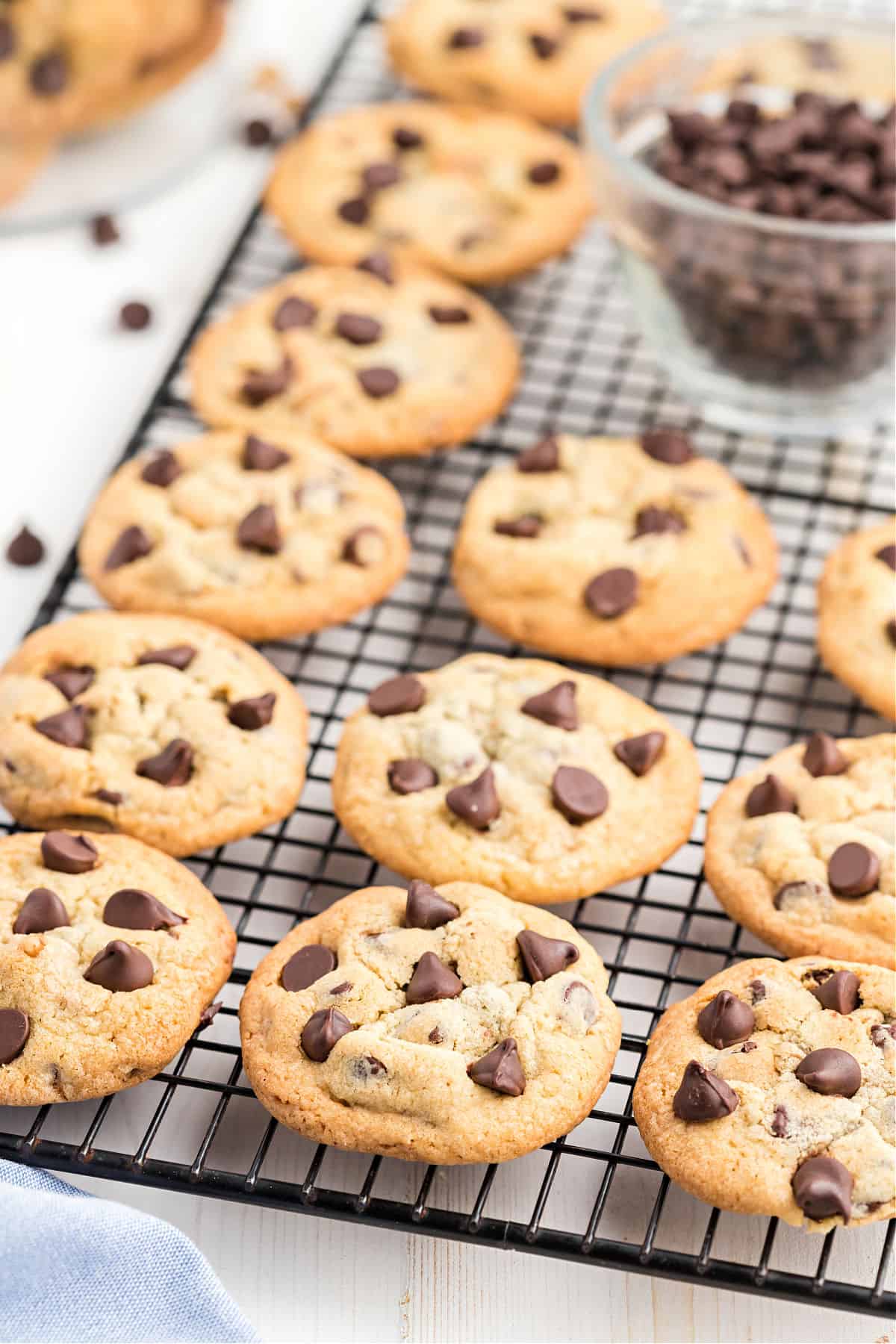 Recipe FAQs
Why do my Toll House Cookies come out flat?
Toll House Chocolate Chip Cookies can turn out flat for a number of reasons. First, make sure your oven temperature is accurate. Use a manual oven thermometer for most accurate readings. Many home ovens run much hotter than their temperature gauge reads. Cookies can also become flat if you grease your baking sheet. The extra oil causes the dough to spread. Instead of using butter or baking spray, line your baking sheet with parchment paper. If your Toll House cookies are still spreading, try chilling the dough for about 30 minutes before baking.
Can I freeze chocolate chip cookies?
Yes, Nestle Toll House Cookies hold up wonderfully in the freezer. Store in freezer bags for up to 3 months.
Can I freeze Toll House cookie dough? Do you bake it thawed or unthawed?
This dough is cookie dough is also freezer friendly. Freeze the dough in balls, then place frozen cookie dough balls right on the baking sheet. No need to thaw first! Simply add another minute or two to the baking time.
The Toll House Cookies Recipe stands the test of time! Grab a bag of chocolate chips and make a batch of these classic cookies to share with the whole family.