Linzer Cookies are a classic Christmas cookie recipe! Buttery almond cookies are sandwiched with raspberry preserves and sprinkled with confectioner's sugar for a gorgeous finish.
Jam and cookies just belong together! Have you tried our Jam Thumbprint Cookies yet? Or give our peanut butter and jelly cookies a try next!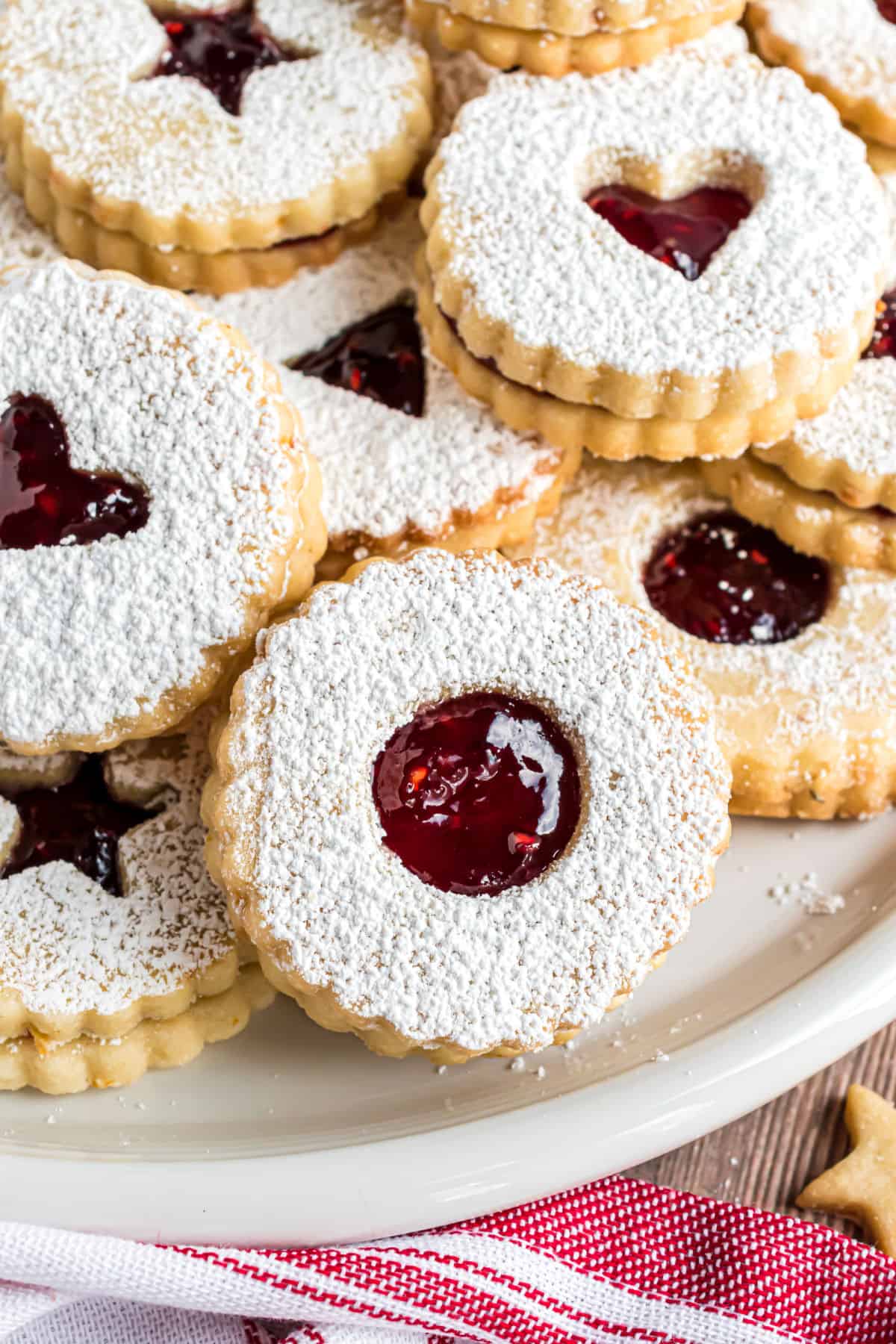 What are Linzer Cookies
Linzer Cookies are a traditional Austrian cookie based upon the classic Linzer Torte. Imagine shortbread cookies with a flaky, buttery crumb and a cut out "window" in the top cookie revealing a layer of raspberry preserves.
With their snow-dusted tops and pop of bright red color, Linzer Cookies look just as amazing as they taste.
Nutty almond flavored cookies (with a hint of orange)
Melt in your mouth texture (like shortbread)
Fun and festive shapes for any time of year
If you're looking for the BEST Christmas cookie to give as gifts for the holidays, you can't do better than these Linzer Cookies! We think they're impressive enough to deserve the spotlight all year long.
Don't forget to add our Lebkuchen (soft German gingerbread cookies) to your baking list this year! Or give our rugelach recipe a try next.
Ingredient Notes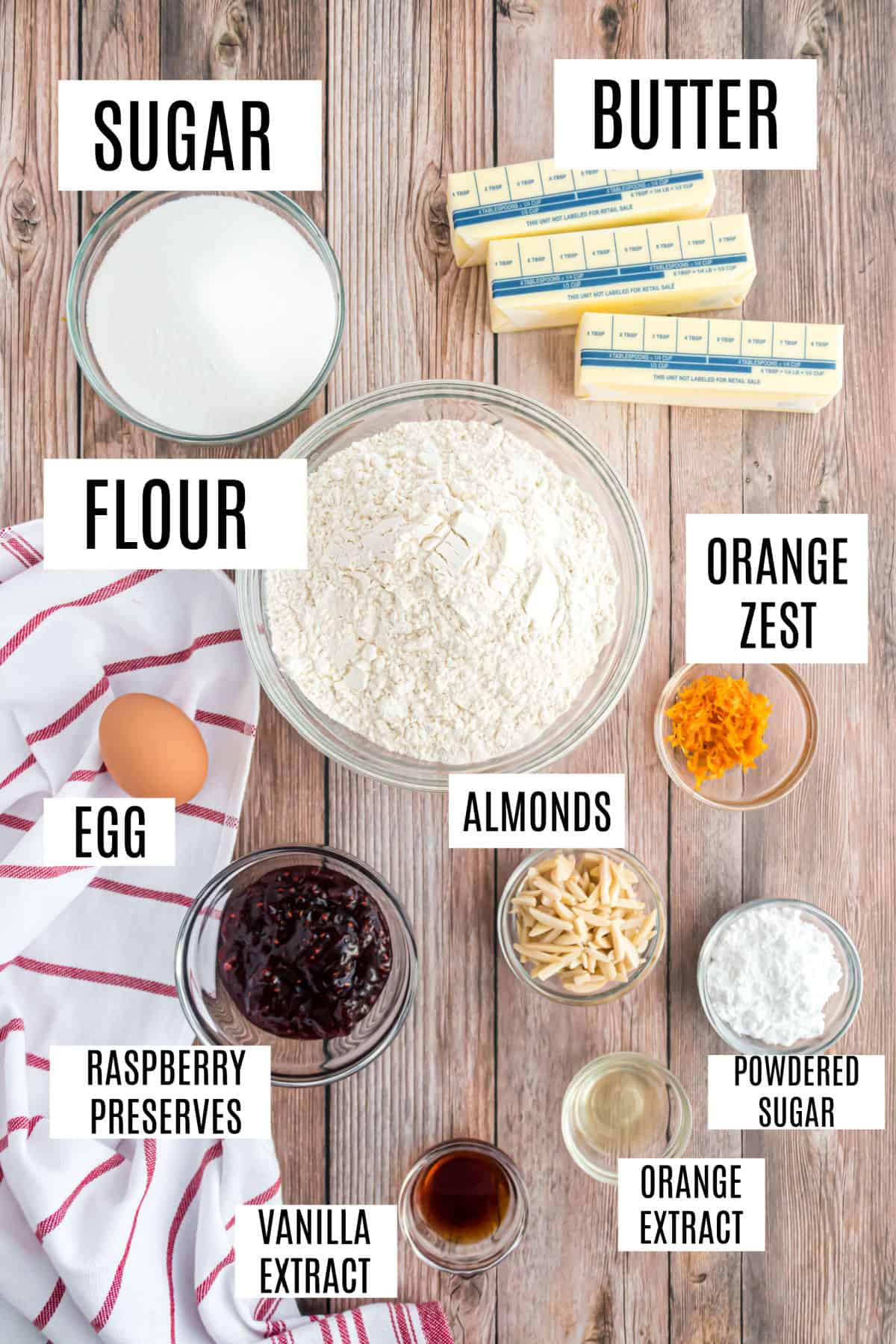 Slivered almonds – The nuts are toasted, then ground into coarse crumbs to give the cookies a fine, sandy crumb. We find this gives better flavor than using almond flour.
Salted butter – I usually use unsalted butter in baking but find Linzer Cookies taste best when made with salted butter. It omits the need to add any kosher salt to the cookie dough too.
Orange zest – The outermost layer of an orange peel contains fragrant oils that are used to add an orange aroma to baked goods. Along with the orange extract, it gives the cookies a slight citrus taste. Use our guide on how to zest a lemon for directions.
Raspberry preserves – The bright red color and juicy flavor of these preserves makes them ideal for Christmas and Valentine's Day! Apricot jam would be an amazing substitution! Our homemade strawberry jam is perfect too.
TOOLS: I use this Wilton Linzer Cookie Cutter Set (under $15 on Amazon). The fun shapes make it perfect to use for Valentine's Day or 4th of July too! You could use a small biscuit cutter (and a small canoli tube for the center) to cut your cookies out.
Easy Instructions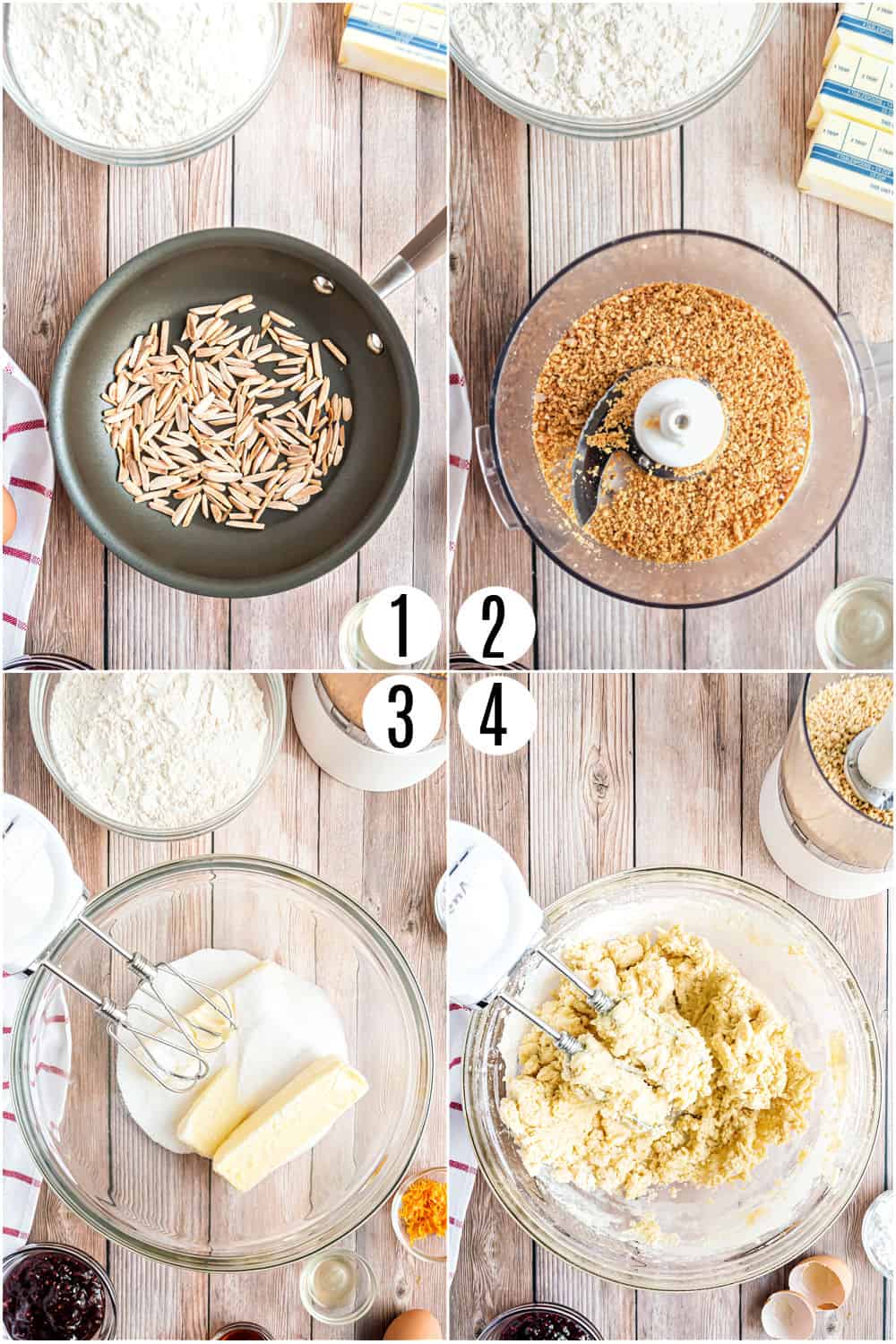 Toast the almonds:
Start by heating slivered almonds in a dry skillet over low heat until golden. Then pulse the toasted almonds in a food processor until they form coarse crumbs.
Make the cookie dough:
Combine butter, sugar, egg and orange extract with your mixer. Now add the flour and ground nuts, mixing until ingredients are just combined.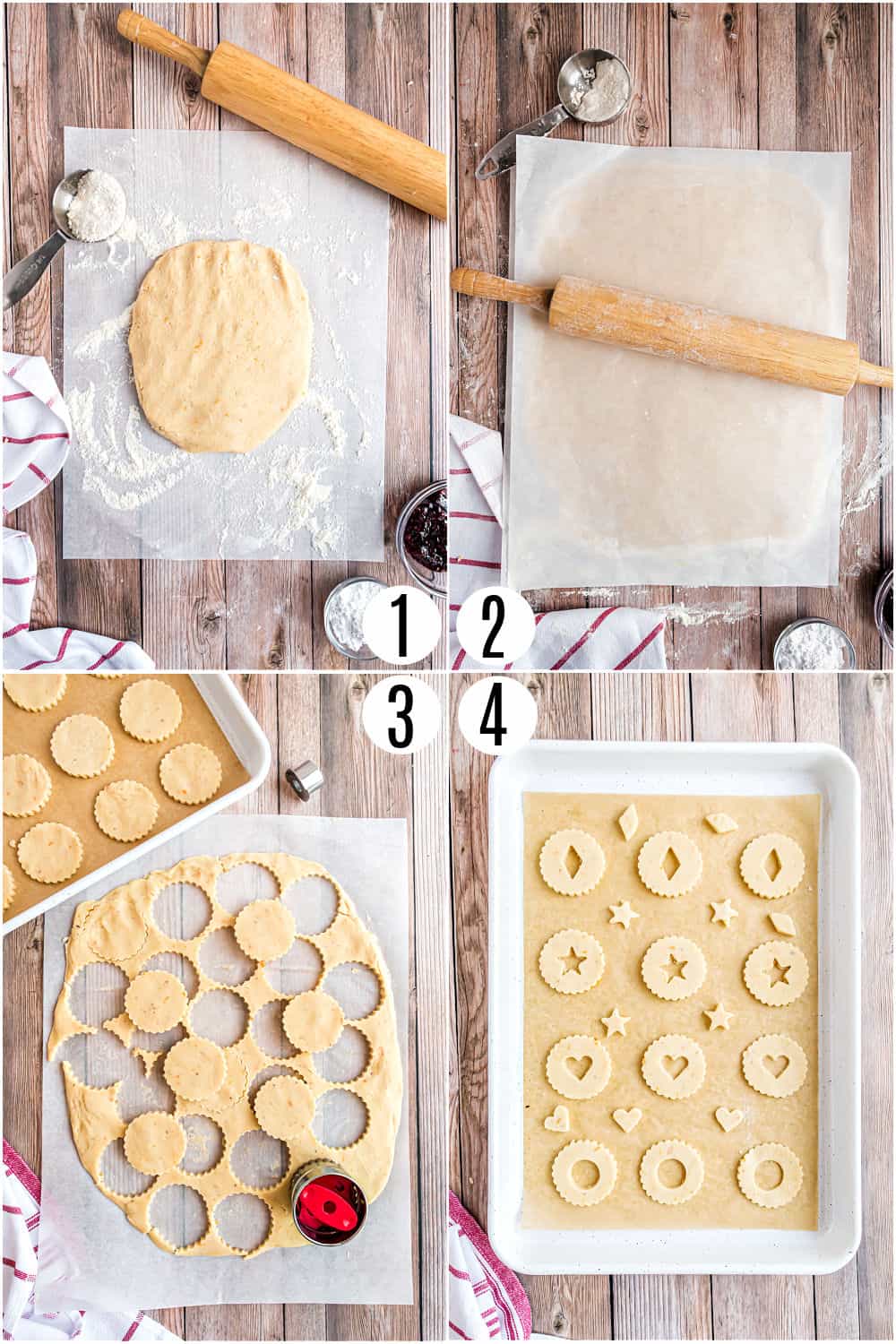 Roll out the dough:
Divide the dough in half. Roll each half out between sheets of parchment paper or plastic wrap. Chill the rolled dough for 30 minutes.
Cut out and bake:
Use a Linzer Cookie cutter or a round cookie cutter to cut one half of the dough into circles. These will be the bottom of the sandwich cookies.
Cut the other half of the dough into circles. Use a smaller round cookie cutter to cut out a "window" in the center of each one.
Bake cookies until the edges are golden brown.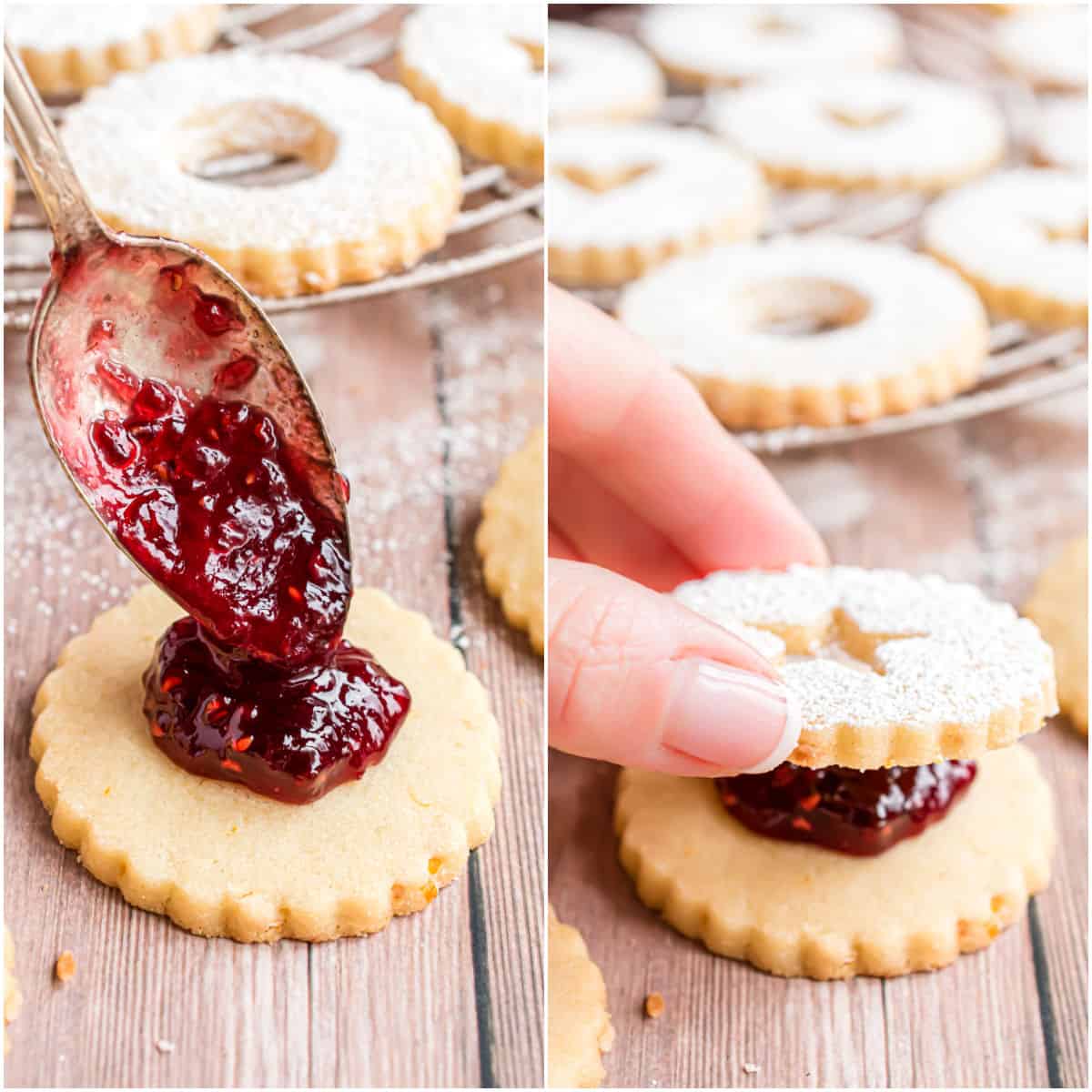 Fill with jam:
Once the cookies are cooled, spread a small amount of preserves on the bottom cookies. Sprinkle the "window" cookies with powdered sugar. Press the sugared cookies on to the cookies with jam.
Tips and Tricks
Do not over process the almonds. They will begin to turn into nut butter if you pulse them for too long!
Press and seal plastic wrap works great for rolling out Linzer Cookie dough!
Roll evenly. Uneven thickness of cookies will mean that some cook faster than others!
How to store. If you won't be eating all the cookies withing 3 days, wait to add the jam. Store them unfilled at room temperature for up to one week or freeze for later.
Freeze Cookies. Use my tips on how to freeze cookie dough for later.
Chewy Filling. For a chewy filling, refrigerate the filled cookies.
Substitions. Use our homemade lemon curd for the filling instead of preserves. Or try these Nutella Linzer Cookies instead!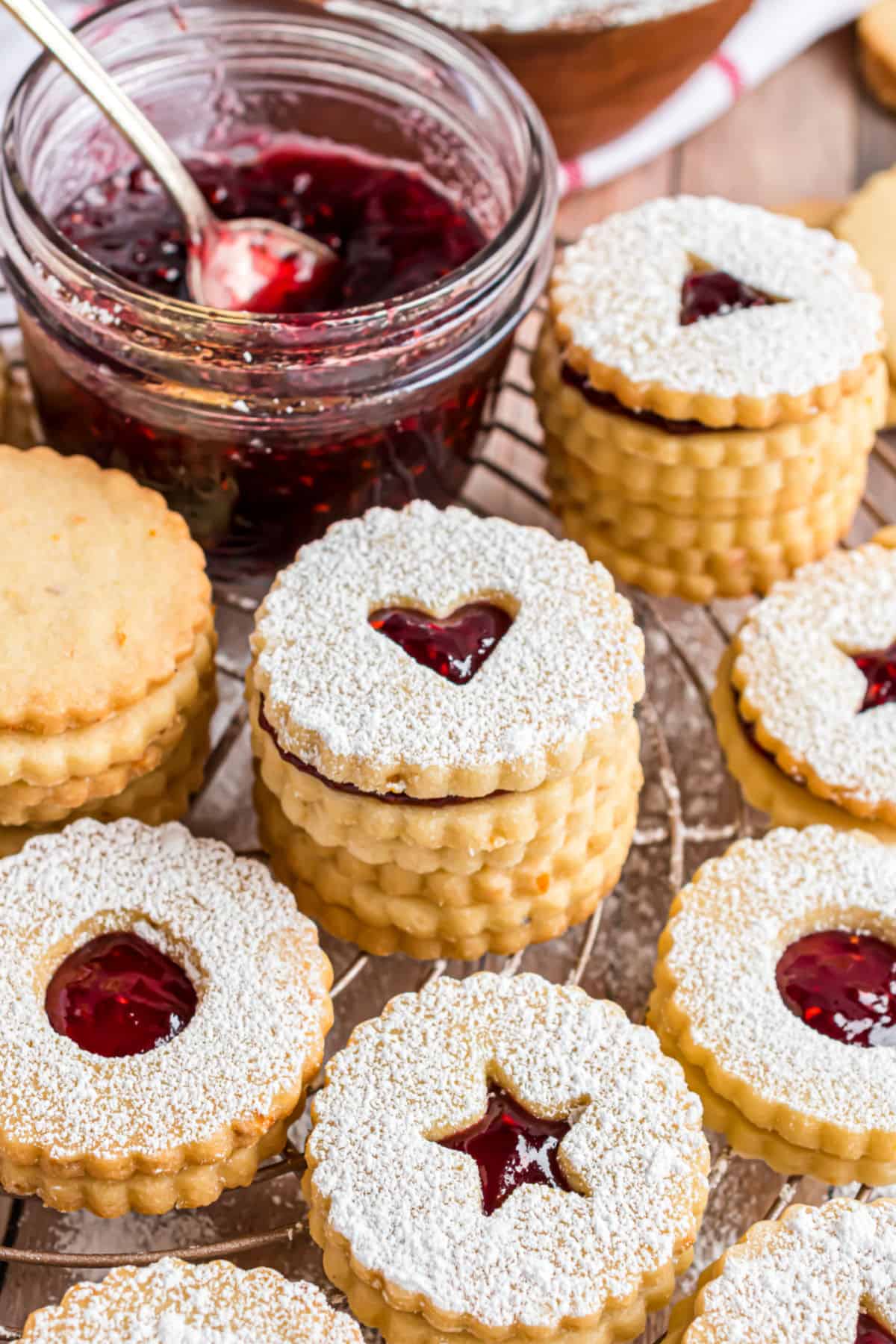 Recipe FAQs
Can you freeze Linzer Cookies, before or after filling?
Linzer cookies can be frozen without the preserves. Let them defrost at room temperature, then add the powdered sugar and raspberry preserves before serving.
Can I chill Linzer cookie dough before rolling it out?
We found linzer cookie dough was easier to work with when the dough was chilled AFTER rolling it. But the recipe will work both ways.
My linzer cookie dough is cracking, how can I fix this?
If linzer cookie dough is rolled after chilling you may find it cracks easier. Repair any cracks by pressing the dough together with your fingers.
Can I use different flavors of preserves in linzer cookies?
Linzer cookies are typically made with raspberry preserves, however all flavors would be delicious. Apricot and strawberry are two options we love.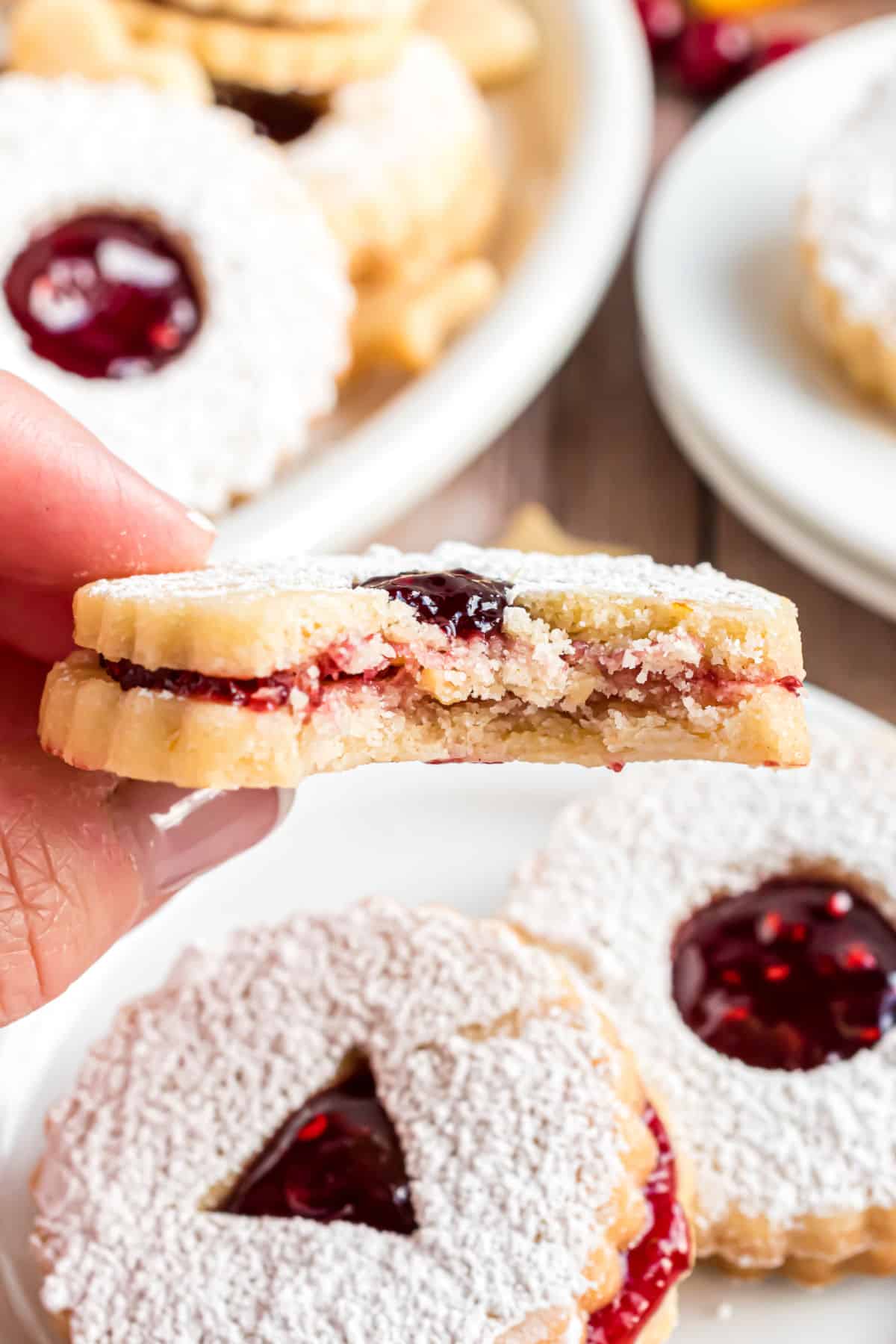 Linzer Cookies steal the show every Christmas! Make them for everyone on your gift list. . . or go ahead and keep them all to yourself. They're just that good!