This soft and chewy Chocolate Chip Pudding Cookies recipe is my new favorite, go-to cookie treat. You'll love how easy it is to make, everyone else will love how amazing they taste!
Love chewy cookies? Try our favorite Lemon Oreo Cookies packed with lemon pudding mix, crushed lemon oreos and white chocolate chips! Or give our chocolate chunk cookies a try for a tasty chocolate treat.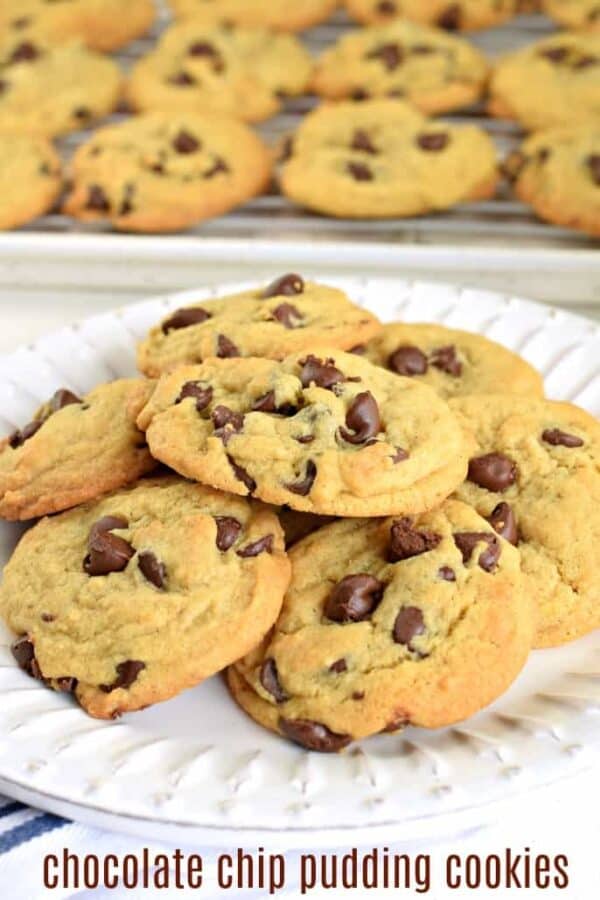 Why this Recipe Works
I must confess something. I didn't think I would like these Chocolate Chip Pudding Cookies when I first came tried them. My kids were asking for chocolate chip cookies, and I felt like experimenting with a new recipe.
But I took a chance with this pudding cookie recipe and it turned out very good! They are soft and moist with a hint of vanilla.
My kids ate them up super quick! Next time, I'll double the batch. Apparently dozens of cookies just isn't enough for my brood and their friends!
I did stash two cookies away for myself. Somehow I forgot about them for three days.
When I remembered them and finally got the chance to enjoy them, they were still so moist.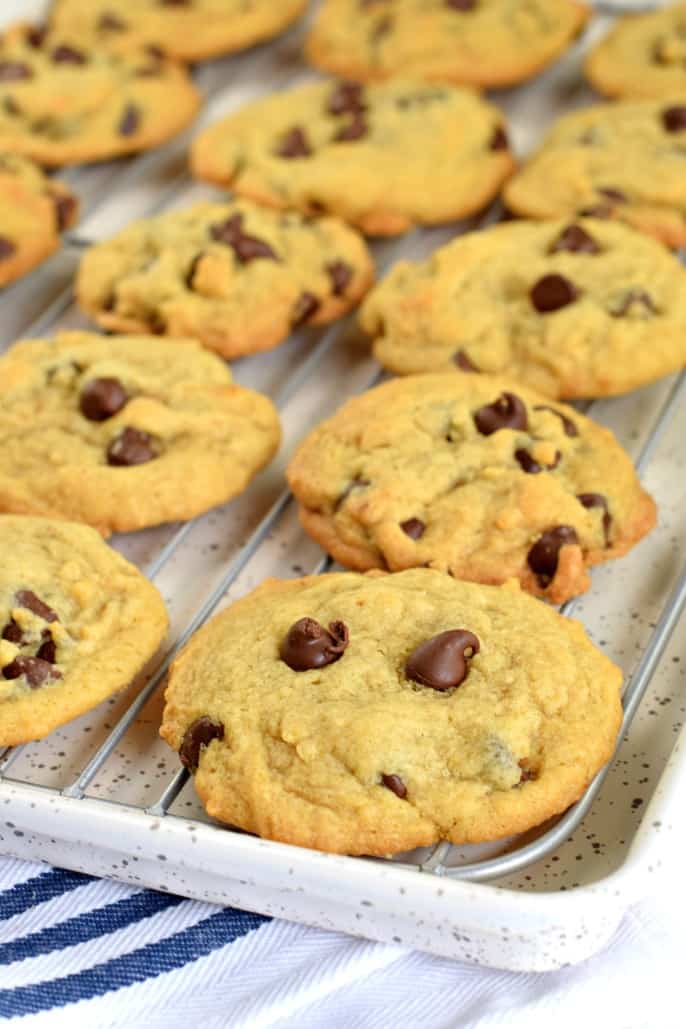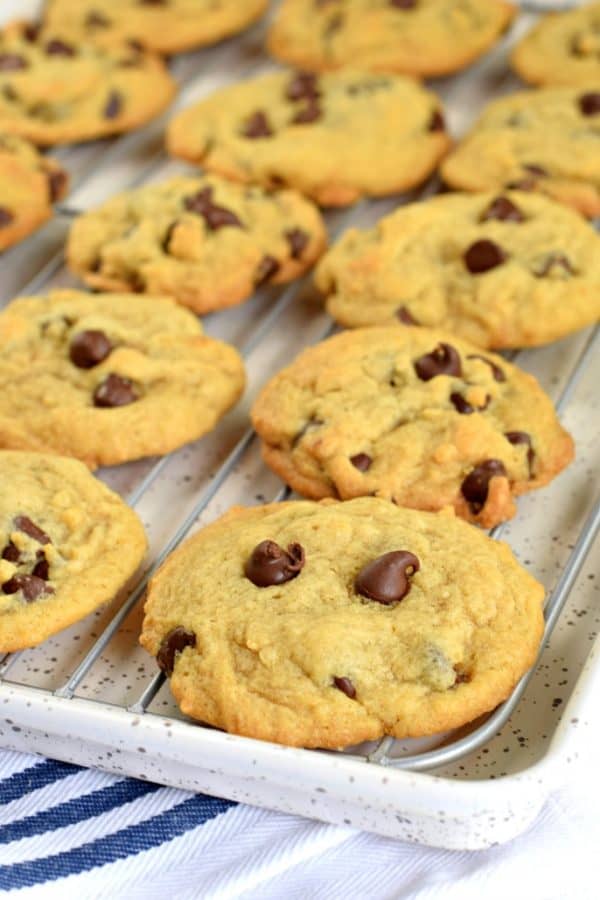 How to Make Chocolate Chip Pudding Cookies
STEP 1: Preheat the oven to 350 degrees. Line a large cookie sheet with parchment paper (or use a silicone baking mat).
STEP 2: In a large mixing bowl, beat together the softened butter, sugar, and brown sugar until creamy. Add in the pudding mix, eggs, and vanilla paste and beat at medium speed. Slowly add in your flour, baking soda, and salt. Then stir in your chocolate chips.
NO NEED TO CHILL THE DOUGH!
STEP 3: Drop by tablespoons onto a cookie sheet. Bake for 12 to 14 minutes. Remove from the oven and allow to cool at room temperature before enjoying with a big glass of milk!
The Secret Ingredient—Vanilla Bean Paste
The secret ingredient to these cookies is the vanilla bean paste.
Vanilla bean paste is thicker than vanilla extract and gives these cookies a rich vanilla flavor. It also has tiny specks of vanilla bean, which adds to the cookie's flavor and look.
If you can't find the vanilla bean paste (<—on Amazon!), you can use fresh vanilla beans or vanilla extract as a last resort.
Don't worry about not ever using vanilla bean paste again….I use it often in my recipes. Like in these Vanilla Bean Cupcakes and these Vanilla Bean Snickerdoodles. A little bit in the frosting on these Banana Snack Cakes give them a rich flavor too!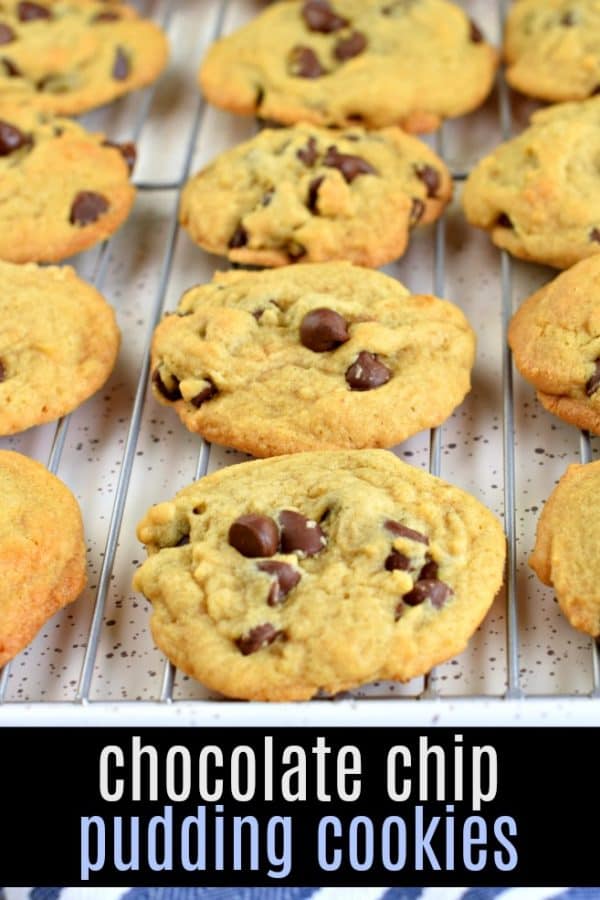 Tips and Tricks
Make sure you cream the butter and sugars well, removing any air pockets.
Use instant pudding mix, not the cook and serve pudding.
Slightly under-bake the cookies as they will continue to cook as they cool.
Add extra chocolate chips to the tops of the cookies before baking for an extra chocolate flavor.
Add a pinch of coarse sea salt to the tops of the cookies if you love a sweet and salty chocolate flavor!
Substitutions
Cookies are one of those recipes where you can use substitutions to personalize the cookie and give the flavor a spin! Try these different substitutions to make these pudding cookies your own!
Instant pudding flavor: This recipe calls for vanilla pudding flavor but you can switch that out for another flavor. Butterscotch, white chocolate, or chocolate pudding would all give these cookies a unique and yummy twist!
Mix ins: Instead of using semi-sweet chocolate chips, you could try peanut butter chips, white chocolate chips, or butterscotch chips, whichever you enjoy the most!
Extracts: Swap out the vanilla and use lemon pudding mix, with lemon extract and white chocolate chips. So fresh and delicious!
You can also add pudding mix to your favorite Rice Krispie Treats recipe for a fun twist!
How to Store Chocolate Chip Pudding Cookies
These cookies stay fresh and moist for about a week in an airtight container at room temperature.
I like to make a big batch and freeze half of the pudding cookie dough to bake at a later time.
To do this, line a freezer safe baking sheet (like a metal sheet pan) with parchment paper. Drop your cookie dough scoops onto the pan and flash freeze for about 30 minutes.
Remove the dough from the freezer and slide the cookie dough balls into a ziploc bag or airtight container. You can freeze them for up to 3 months.
When you're ready to bake the chocolate chip pudding cookies, drop the frozen cookie dough balls onto a cookie sheet and bake according to the recipe. You may need to add a couple minutes of baking time for the frozen dough.
You can also freeze the cooked and cooled cookies. Just slide them into a ziploc freezer bag or airtight container. Thaw at room temperature overnight and enjoy!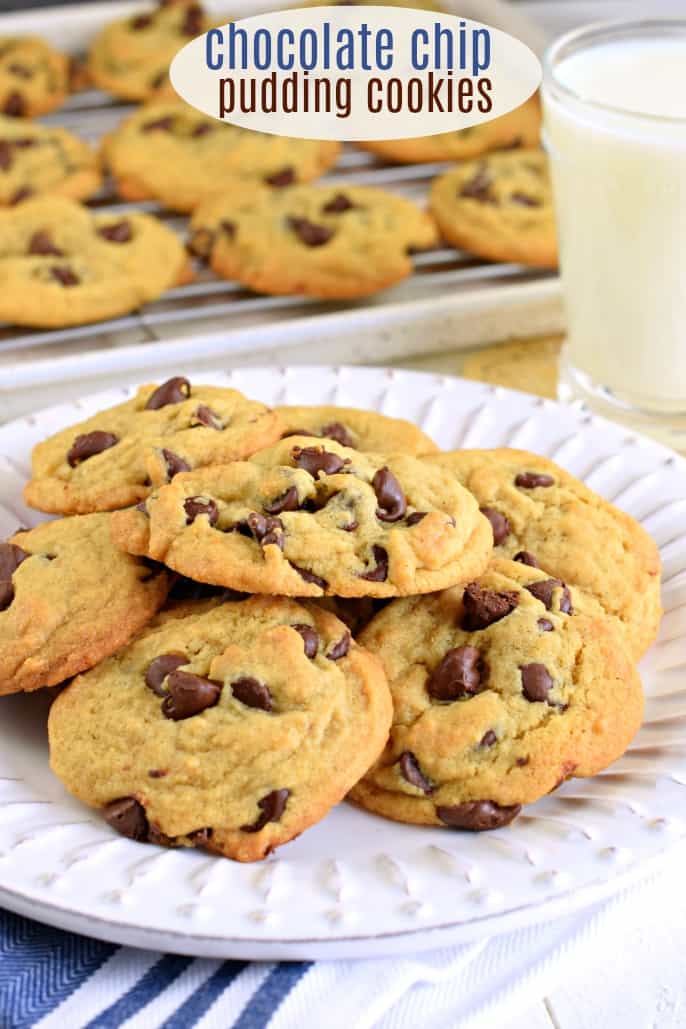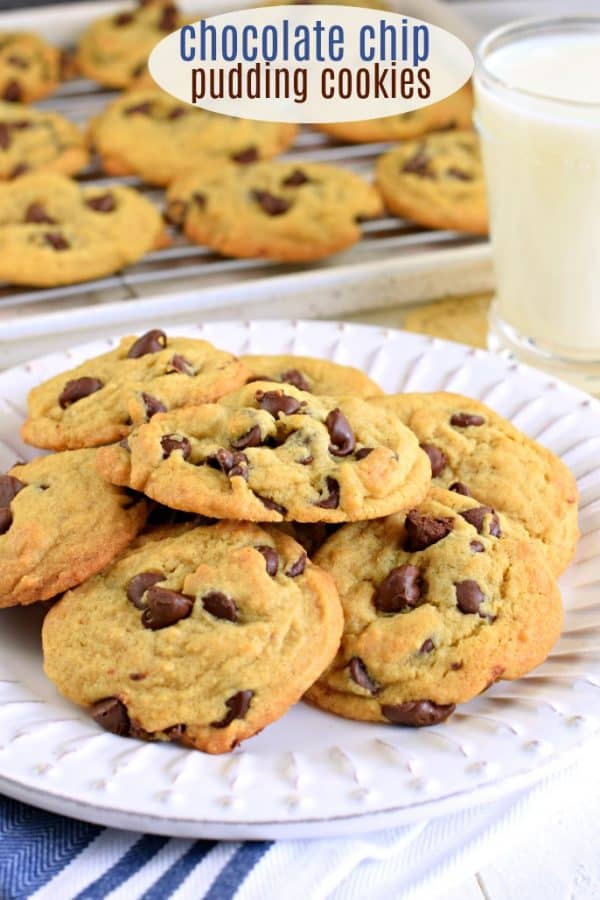 More Cookie Recipes
More Pudding Mix Recipes
Chocolate Chip Pudding Cookies stay soft and chewy with this easy recipe!