Chocolate Chip Pudding Cookies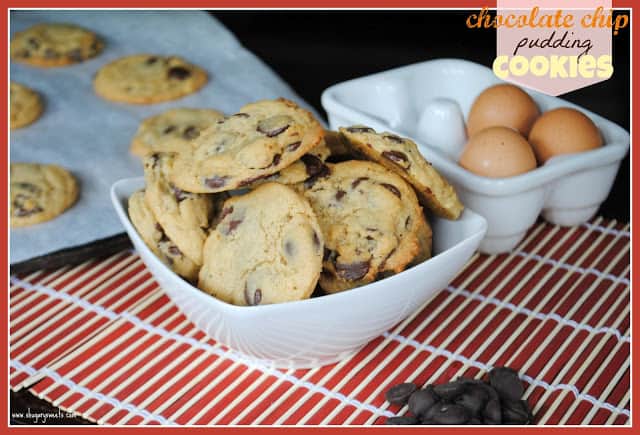 I didn't think I would like these cookies. My kids were asking for some chocolate chip cookies, and wanting to experiment with a new recipe, I found these over at Two Peas and Their Pod.
No offense to Maria at all, she has some of the most amazing cookie recipes, but when you have a favorite chocolate chip cookie recipe (like I do here), it's hard to imagine enjoying anything else.
But these are really very good. Moist with a hint of the vanilla.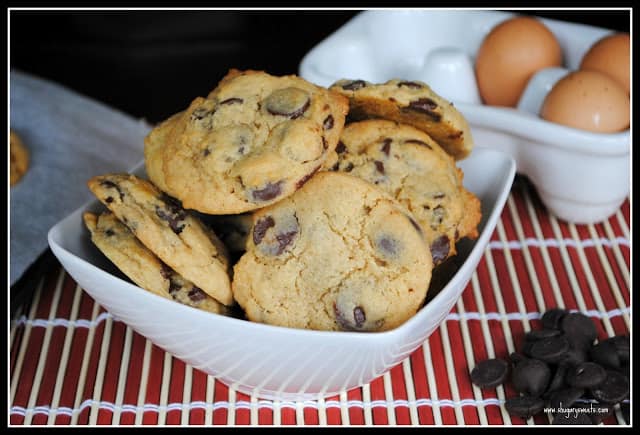 I should have doubled the recipe though, 3 dozen cookies just isn't enough for my brood and their friends! Looks like I'll be making another batch!
I did stick two cookies away for myself to enjoy. And then forgot about them for 3 days. Guess what? These were still so moist. I am going to try to put some vanilla pudding in my regular, favorite cookie recipe and see what happens!
Want more cookie recipes? Check out some of my favorites:
Chocolate Chip Pudding Cookies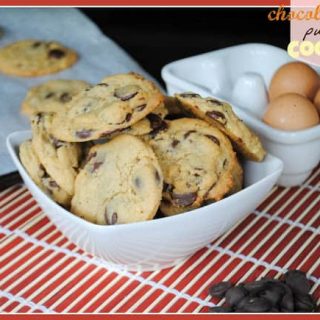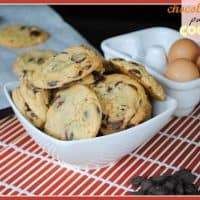 Ingredients
1 cup butter, softened
3/4 cup brown sugar
1/4 cup sugar
3.4oz pkg vanilla instant pudding mix
2 eggs
1 tsp vanilla bean paste
2 1/4 cup flour
1 tsp baking soda
1/2 tsp kosher salt
2 cup semi-sweet chocolate morsels
Instructions
In a large mixing bowl, beat butter and sugars until creamy. Bead in pudding mix, eggs and vanilla paste. Slowly add flour, baking soda and salt. Fold in the chocolate chips.
Drop by tablespoon onto a parchment paper lined baking sheet. Bake in a 350 degree oven for 12-14 minutes. Remove and cool.