Make Chocolate Chunk Cookies that rival the ones from any bakery! These easy to make cookies look as impressive as they taste. You'll love the chewy buttery oatmeal cookie with chunks of chocolate in every bite.
If you love chocolate cookies, try our chewy Oatmeal Chocolate Chip Cookies. Thick and packed with flavor. Or give these DoubleTree Chocolate Chip Cookies a try next, recipe straight from the hotel chain!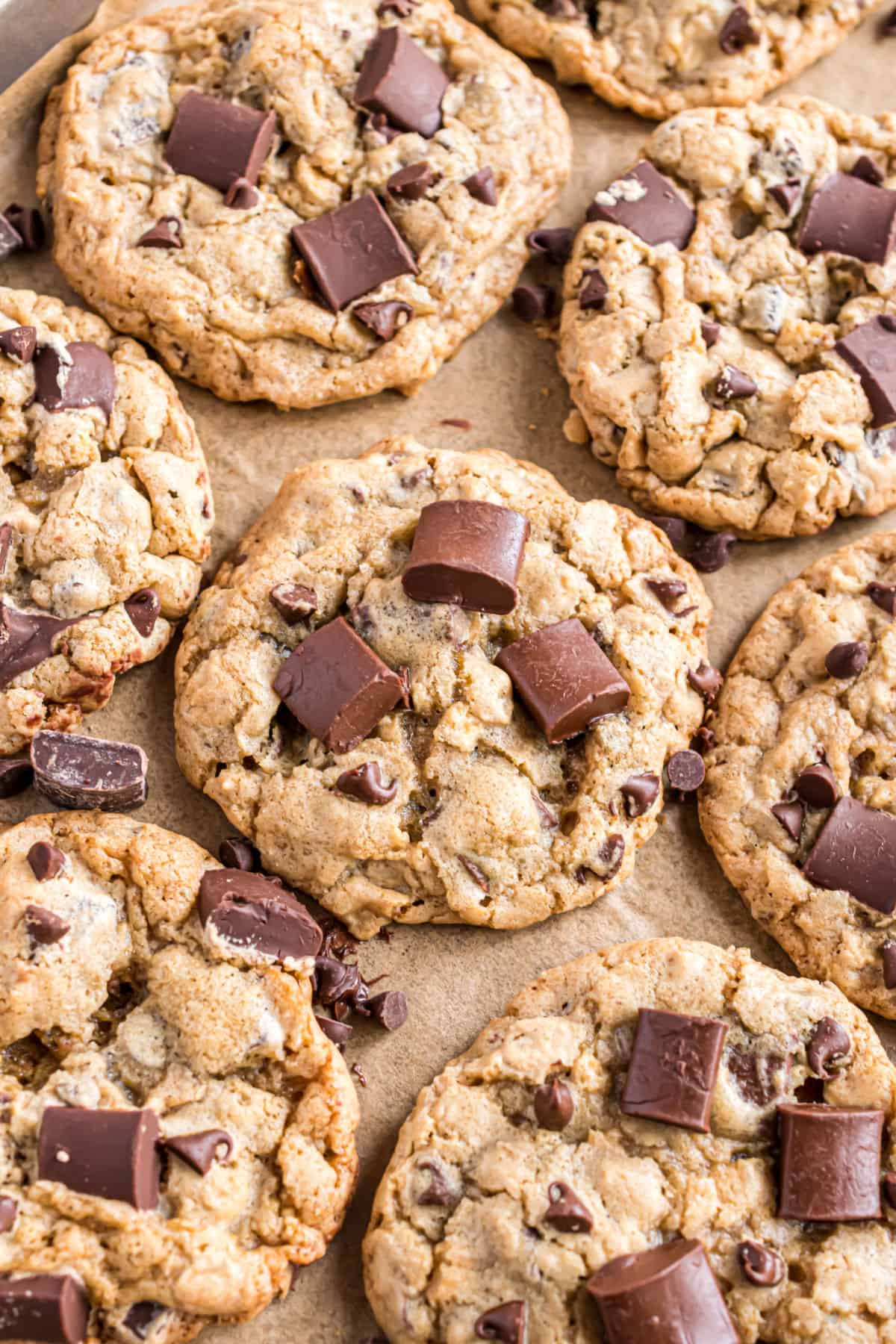 Why this Recipe Works
Have you ever wondered how to make your homemade cookies look as good as the ones in professional food photos? The ones where all the chocolate chips seem perfectly placed?
Today I'm sharing one easy tip for the BEST looking (and tasting) chocolate chunk cookies.
The secret is so simple: put extra chocolate on top of each cookie just before baking. This gives each treat that eye-catching touch of the dark chocolate on the tan cookie.
If your chocolate always gets hidden in your Chocolate Chip Cookies, you'll love this solution. I want to see the chocolate I'm eating, you know?
And if you don't care about how these look, consider this: more chocolate is never a bad idea!
This Oatmeal Chocolate Chunk Cookie recipe has both chocolate chips and chocolate chunks baked into the dough. . . plus extra on top. I love how the oats add a bit of texture and substance to the chewy cookies.
With so many varieties of cookies out there, these really stand out from the crowd!
Chewy AND soft.
Bursting with extra chocolate!
Straight forward recipe.
NO chilling the dough.
Ingredient Notes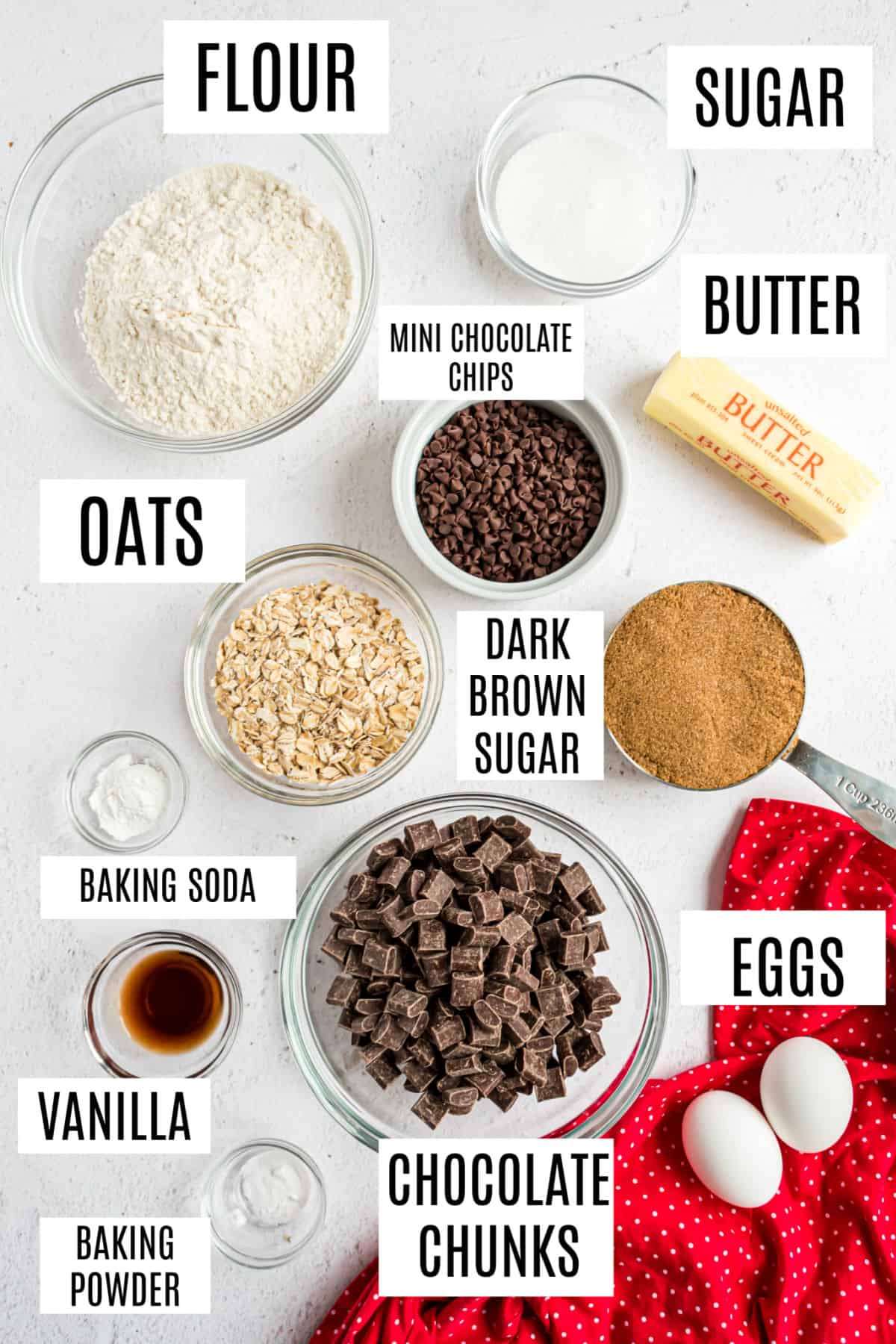 Salted Butter. I went against my own preaching here and used SALTED butter instead of unsalted. You'll notice the cookie recipe has no additional salt. If using unsalted butter, add 1/2 teaspoon kosher salt.
Old fashioned oats. Be sure to use old fashioned rolled oats–NOT quick oats or steel cut oats for today's recipe.
Dark brown sugar. This rich molasses flavor gives these cookies a sweet butterscotch undertone that pairs perfectly with chocolate.
Vanilla extract. Learn How to Make Vanilla Extract to give all your desserts richer flavor.
All- purpose flour. Having issues with your cookies turning cakey or too thin? Learn how to measure flour correctly for baking!
Chocolate. Chocolate chips and chocolate chunks combine to proved the perfect cookie, and adding a few to the top create that bakery style chocolate chunk cookie you're craving.
Easy Instructions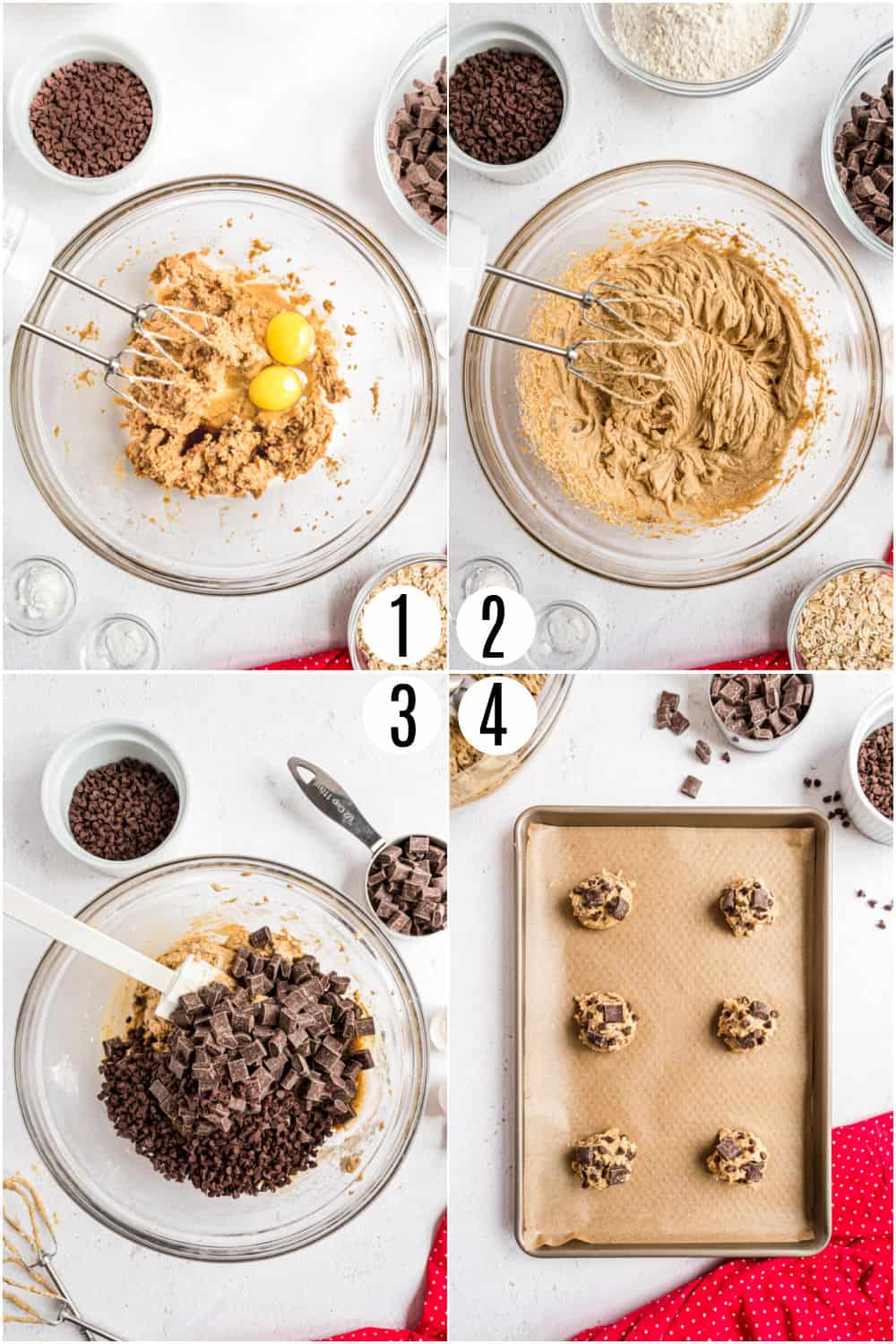 This is a straight forward no-fuss cookie recipe. With dough that does NOT need to be chilled, you can have cookies in minutes!
Combine Wet Ingredients.
Add Dry Ingredients.
Fold in Chocolates.
Scoop Dough. Press chocolate chips and chocolate chunks into the tops of each mound of dough.
Bake. Enjoy warm!
PRO TIP: Underbake your cookies if you like them extra soft. When they cool and firm up, they will be the perfect texture.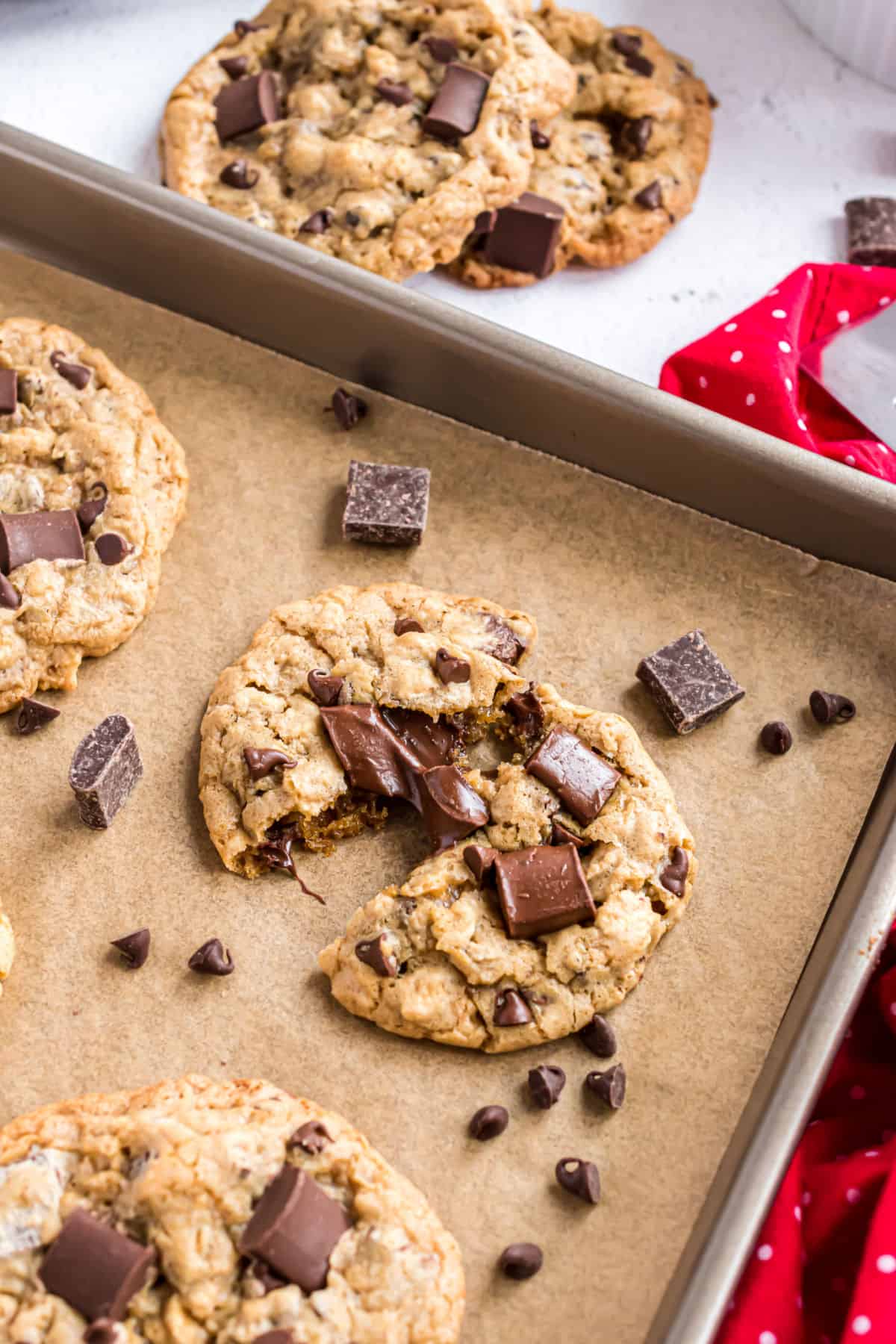 Tips and Tricks
Use room temperature ingredients. Let your butter soften on the counter so it's easier to mix.
Use Parchment Paper. Not only is it great for easy clean up, but parchment paper keeps the cookies from sticking AND prevents them from being too brown on the bottoms.
Storing: Baked chocolate chunk cookies keep well in an airtight container for about 4 days. Chances are good they'll get eaten up long before then though!
Freezing: Chocolate Chip Cookies can also be stored in the freezer for up to 3 months. Let thaw before eating.
Mix-ins: Swap out some of the chocolate for M&M's, peanut butter chips, or chopped Reese's peanut butter cups.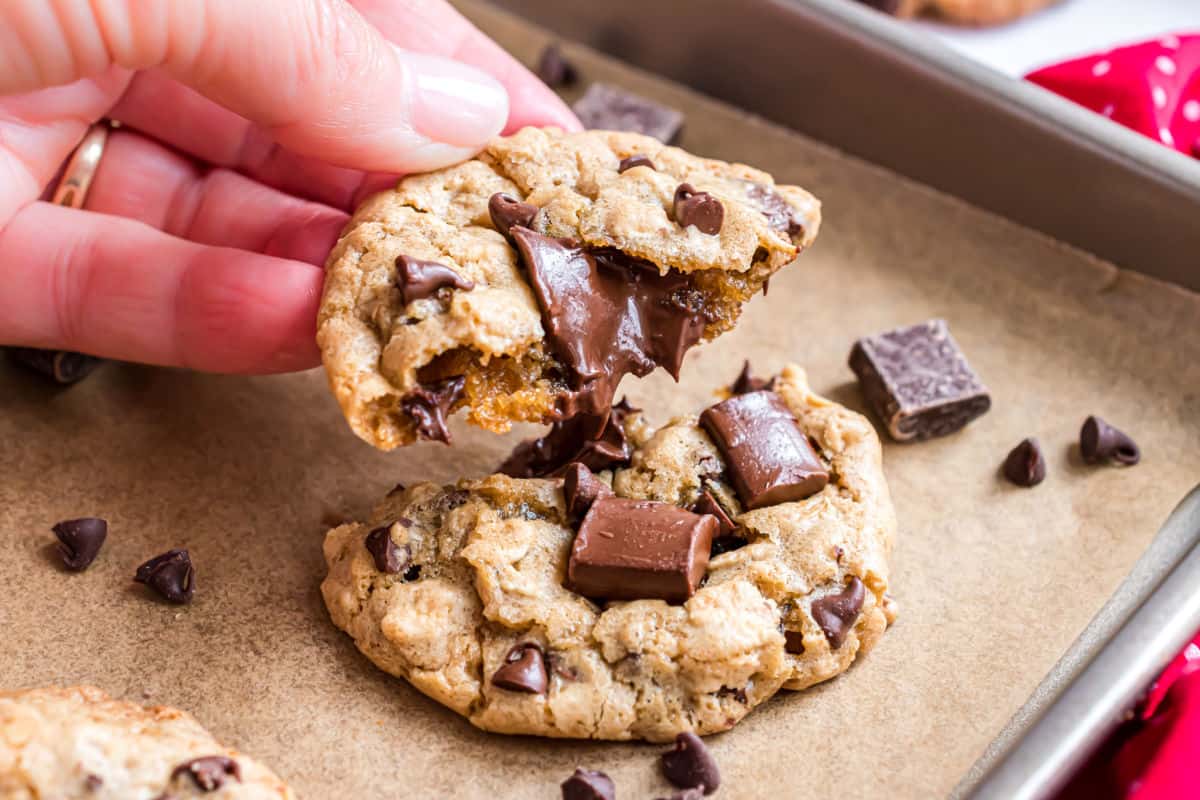 Recipe FAQs
Can I freeze chocolate chunk cookie dough?
Yes, this chocolate chunk cookie dough holds up just fine to freezing.
You can scoop the dough onto a baking sheet and freeze for 30 minutes. Then, transfer the frozen balls of dough to freezer bags. No need to thaw before baking. Just add a few minutes of extra baking time as needed.
Can I make this recipe with white chocolate chips?
Yes, these cookies would taste delicious with white chocolate! Use white chocolate chunks with semi-sweet morsels, or visa versa. Or go ahead and swap both the chunks and morsels for their white chocolate counter parts.
What are old fashioned oats?
Also called "rolled oats", these raw oats are processed to be flat and flaky. They are processed less finely than "quick oats" but aren't nearly as tough as Irish or steel cut oats, making them perfect for these cookies!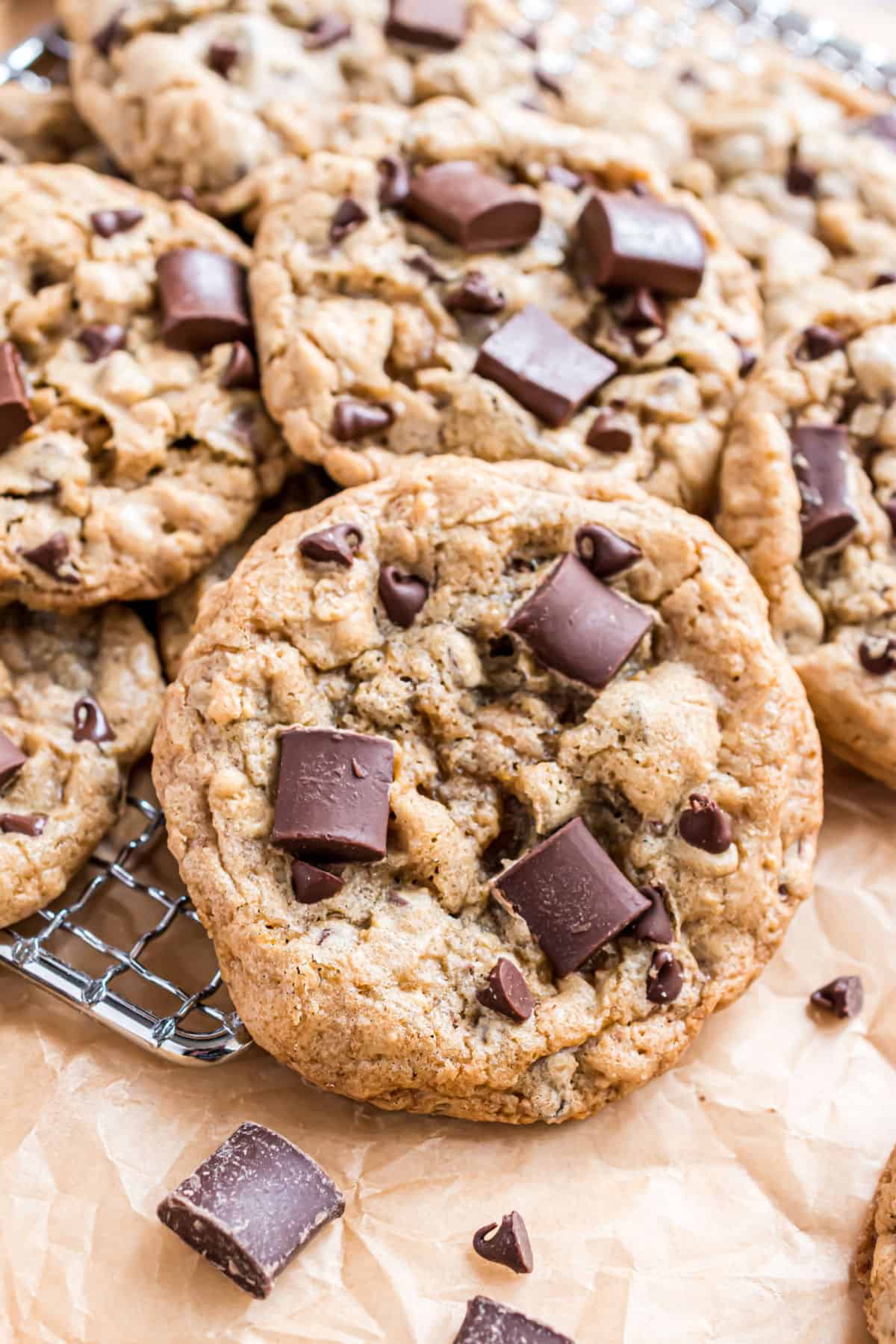 More Cookie Recipes
With maximum chocolate flavor and a "bakery quality" appearance, Chocolate Chunk Cookies are always a good idea. Serve with a big glass of milk or coffee and watch how quickly they disappear!