Pudding Cookies stay soft and chewy with this delicious recipe! You'll love that these Boyfriend Cookies are packed with ALL THE FLAVOR!
If you love adding pudding to recipes, be sure to try these Lemon Pudding Cookies. Packed with lemon oreos and white chocolate chips they have the perfect texture! GIve our pistachio pudding cookies a try next!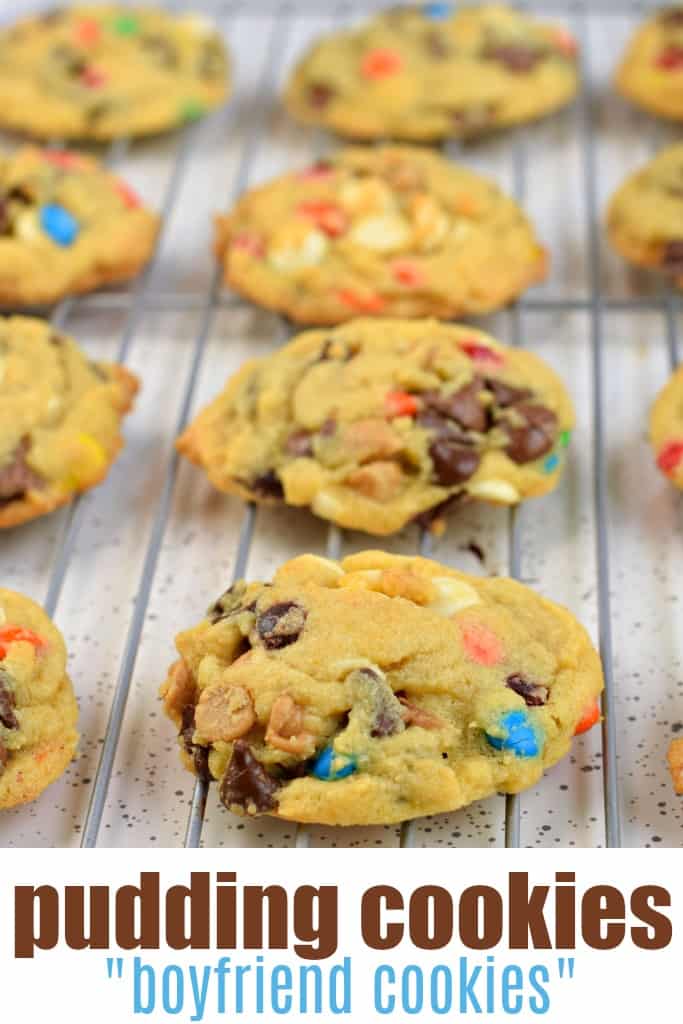 Boyfriend Cookies
Have you ever heard of Boyfriend Cookies?
Apparently the story goes…if you don't have a boyfriend, you'll get one by baking these cookies. If you HAVE a boyfriend, you'll keep him by making these cookies.
TO which my husband replied, which one do you want by making these cookies?
So, I've named them Pudding Cookies instead, haha.
But seriously, have you tried pudding mix cookies?
You may remember these Chocolate Chip Pudding Cookies from many years ago?
They stay soft and sweet for DAYS and DAYS.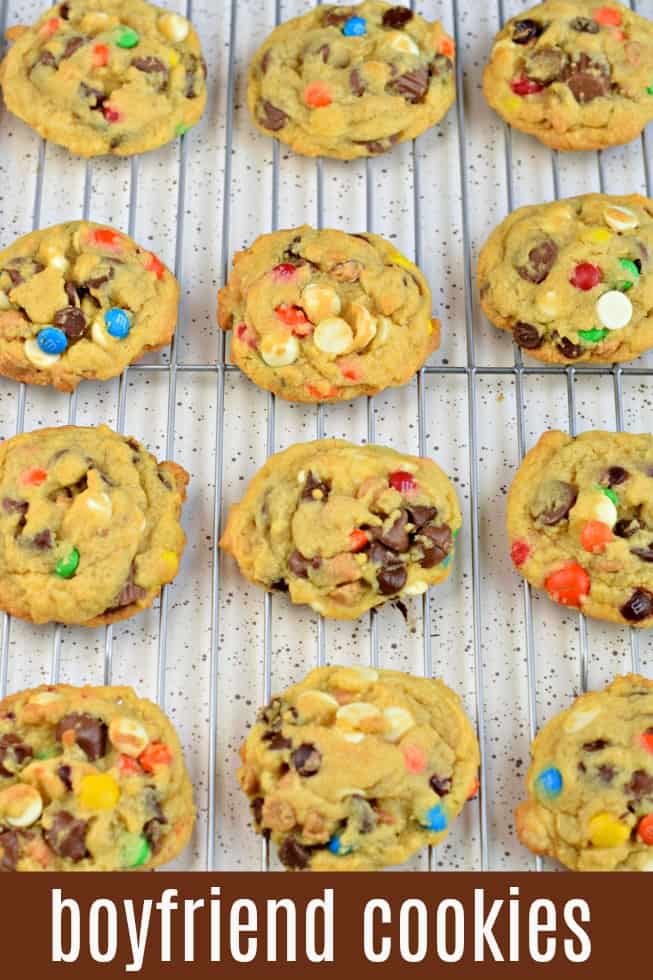 How to make Pudding Cookies
So you're intrigued about boyfriend cookies, right?
First, let's start with the basics of these pudding cookies.
Step 1: Preheat oven to 350 degrees F. Line a baking sheet with parchment paper. Or use a silicone baking mat!
Step 2: In a large mixing bowl, cream together the softened butter, white sugar, and brown sugar for several minutes until smooth. Add in vanilla extract and eggs.
Step 3: Add dry ingredients: the flour, instant vanilla pudding mix, kosher salt, baking powder, and baking soda.
Step 4: Fold in ALL the goodies: milk chocolate chips, semi-sweet morsels, white chocolate, peanut butter chips, M&M's and Reese's pieces.
Step 5: Use a medium cookie scoop and drop cookie dough onto prepared baking sheet. Bake for 10-12 minutes. Cool on pan for several minutes then transfer to wire rack to cool completely.
Can you freeze Pudding Cookies
Yes. Absolutely.
One of my favorite tricks is to actually freeze the cookie dough.
While pudding cookies have a long freshness factor and can last a week or so without going stale, my family loves variety.
So I'll bake half a batch, and freeze the rest.
To do this, line a freezer safe baking sheet (like a metal sheet pan) with parchment paper. Drop cookie dough scoops onto the pan and flash freeze for about 30 minutes.
Remove from freezer and slide cookie dough balls into a ziploc bag or airtight container. Return to freezer for up to 3 months.
When ready to bake, drop frozen cookie dough balls onto cookie sheet and bake according to recipe. You may need to add a couple minutes for frozen dough.
You can also freeze the cooked and cooled cookies. Just slide into a ziploc freezer bag or airtight container. Thaw at room temperature overnight. ENJOY.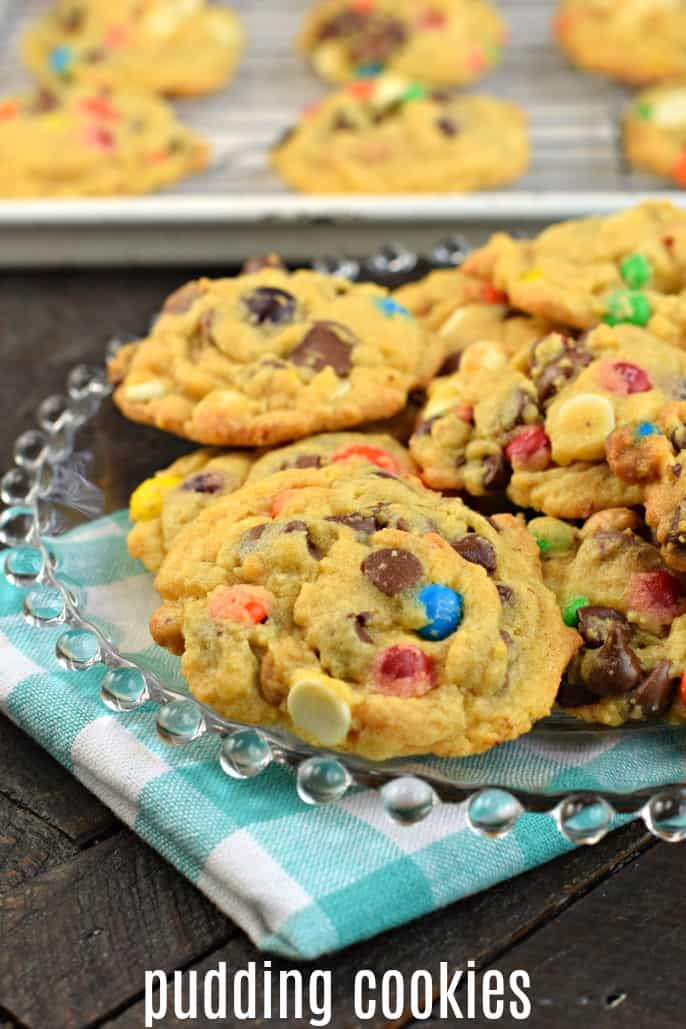 What kind of pudding is used in Pudding Cookies
Make sure when you're out shopping you purchase INSTANT pudding mix. DO NOT buy the cook and serve or you will get different results.
The best thing about making these Boyfriend Cookies is you can change up the flavor of pudding!
Use pistachio pudding and add some white chocolate chips and craisins for a soft, chewy holiday treat!
You can also add pudding mix to your favorite Rice Krispie Treats recipe for a fun twist!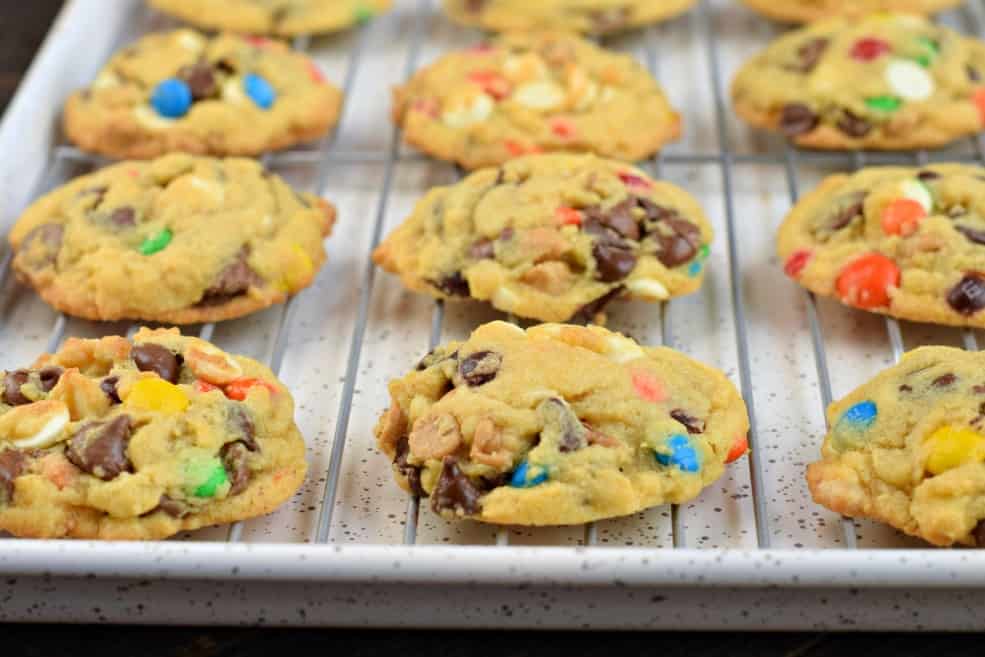 More Easy Dessert Recipes