Soft and chewy oatmeal raisin cookie on top of a creamy cheesecake bar! These Oatmeal Raisin Cookie Cheesecake Bars are delicious, comfort food treats!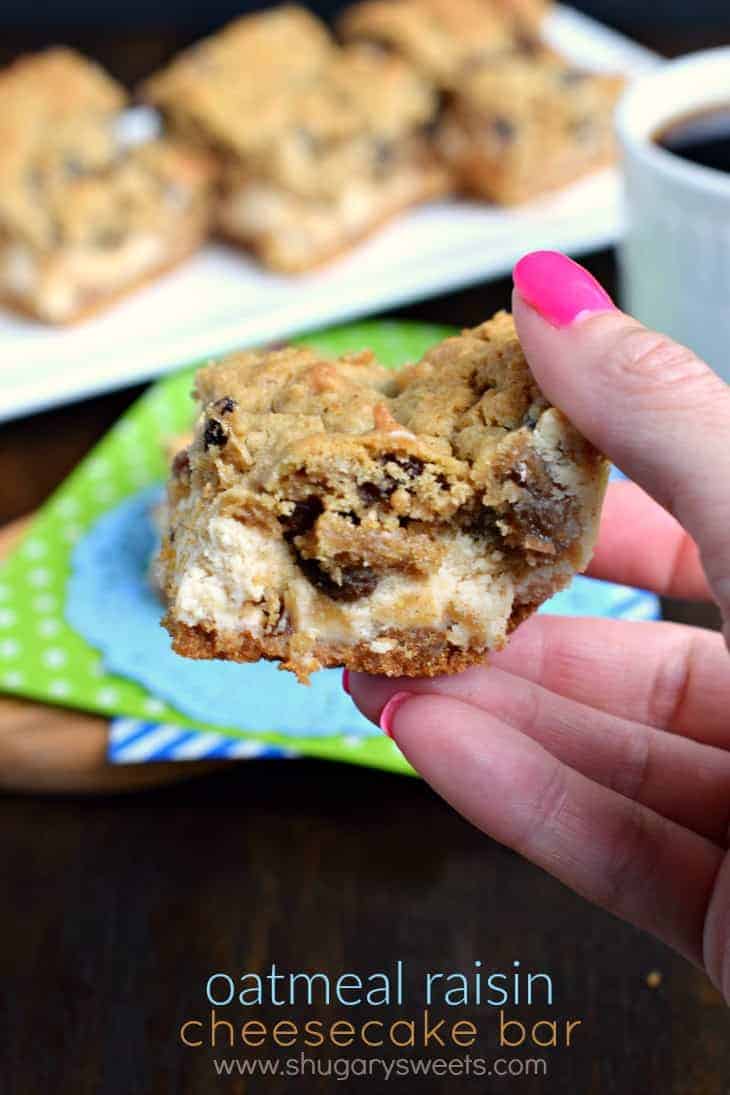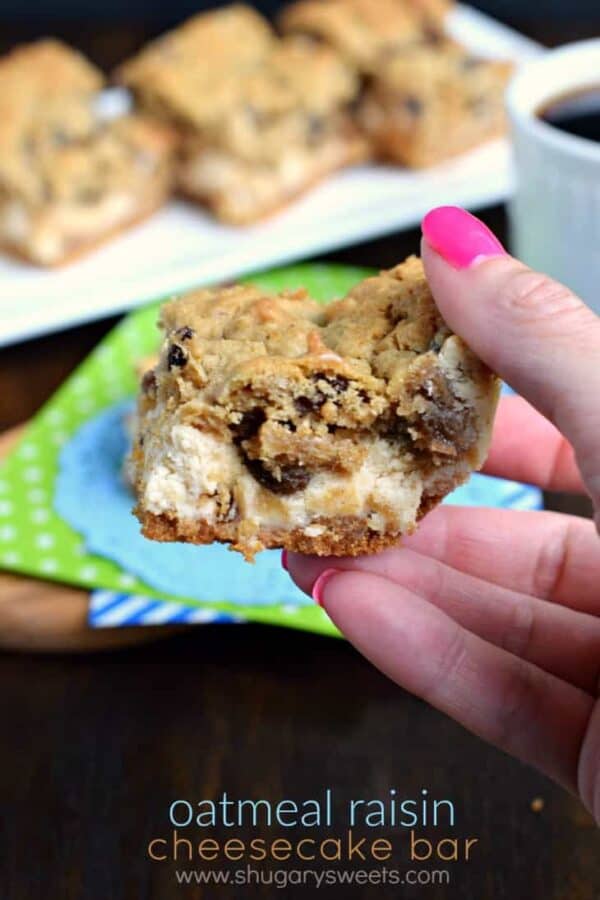 My kids are growing up. Nothing hits me harder with this thought than the end of a school year. Sometimes the beginning of a new school year, but that's usually filled with more excitement and anticipation, while the end of the year is so final.
With two kids now in high school, one in junior high and one already having left the nest, my role as "mom" is evolving.
It used to be more about taking care of the physical well being. Of course the nurturing and loving on them was there, always, but the teaching them to tie their shoes, learn their ABC'S, and brush their teeth was what seemed like a never-ending list of to-dos. As they get older, making sure they learn how to do laundry and learn to cook has been the priority.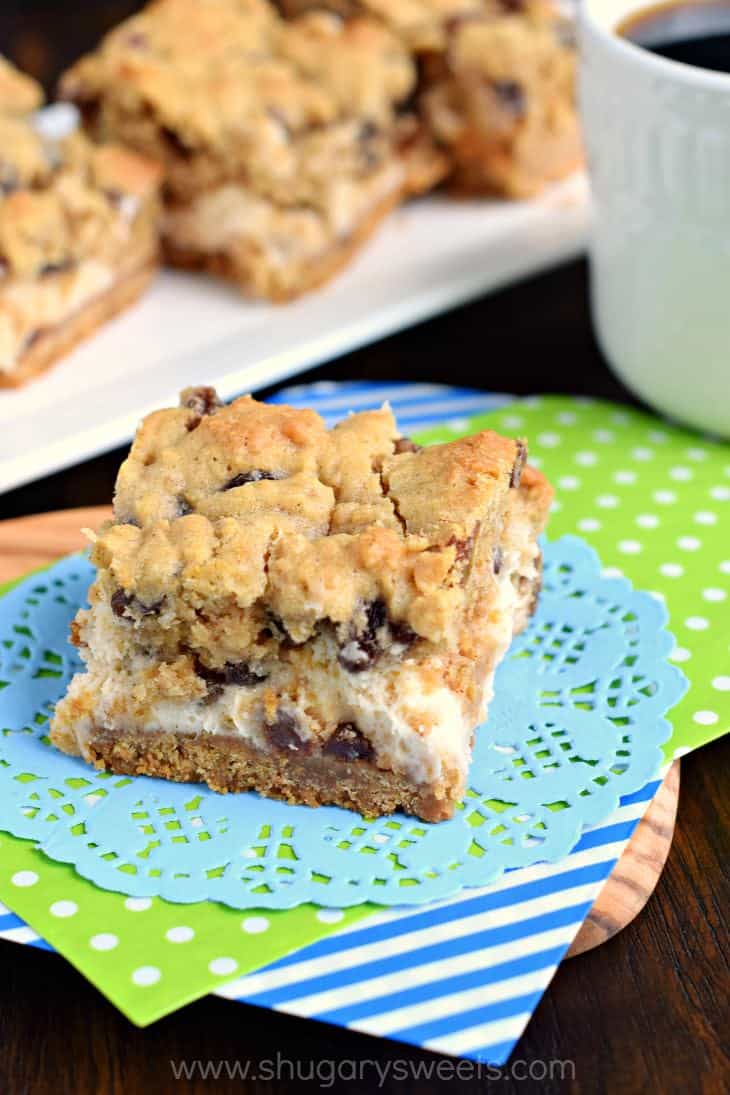 But through it all, we are given these humans, and in 18 years (if we are lucky enough) we have to teach them how to survive on their own. And my role as mom has evolved from being the physical provider to the emotional teacher. Have I taught them what's TRULY important? How to love another person without hurting them. How to put others first. How to be faithful to God.
Two decades of my life have been spent on this roller coaster of parenting, and yet with the internet there are constant cases of mom's insulting and judging each other. It's so sad. We were not given a handbook when we walked out of the hospital 23 hours after giving birth to our first child. There was no list of things you should do, and shouldn't do. No schedules were given, no guidebooks were read. Instead, I reached inside and thought about MY mom and what I have learned through the years on how to be a mother.
What I will say is that it's taken me nearly twenty years, but, I have learned HOW to be a mom, how to be a BETTER mom, and how to accept not being the BEST mom.
And I hope my kids will one day think of me as a role model and try to be better than me!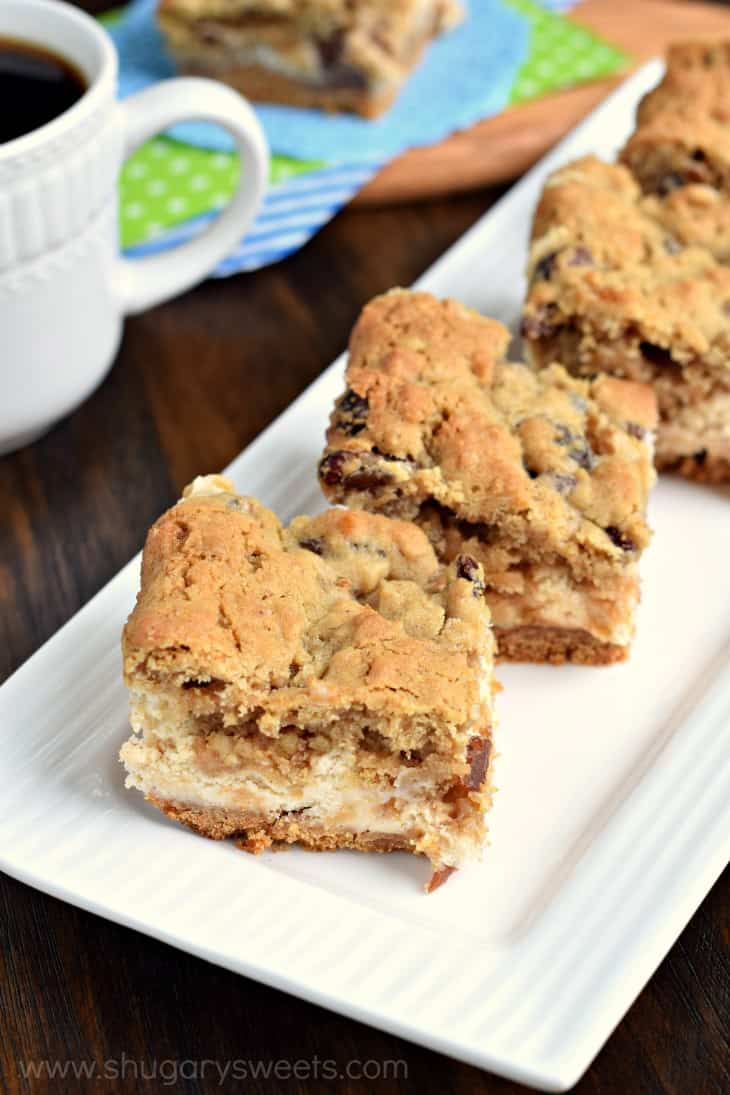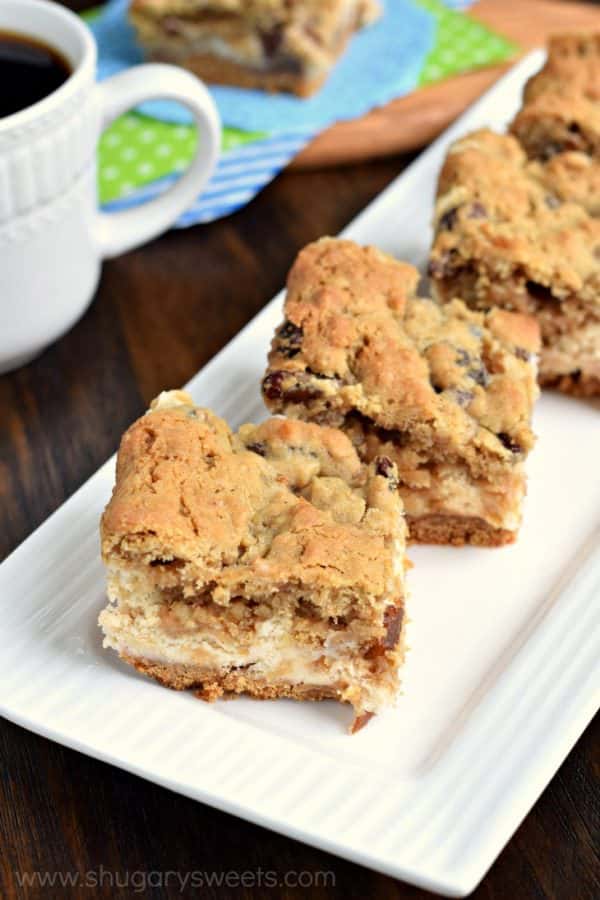 With that, I am pulling out my selfish mom card, and making one of my favorite treats. Because what I have learned through the years, is it's not always about the kids, nor should it be. Sometimes, us moms need to have a treat that we don't need to share.
For me, it's Oatmeal Raisin Cookies. My kids snarl at the raisins in there and beg me to make the cookie dough with chocolate chips instead. And sometimes I do.
But sometimes, I take that favorite cookie of mine and create something even more decadent. Something that says, YOU DESERVE THIS, enjoy.
Creating cheesecake bars is one of my favorite passions right now for dessert. The delicious crust with the creamy cheesecake filling is perfect on it's own. But then I take it a step further by adding my favorite cookie dough to the top (remember these chocolate chip cheesecake bars, where the obsession first began?).
If you feel like you can't handle the raisins in this cookie, go ahead, add the chocolate chips. It will still be amazing, I promise!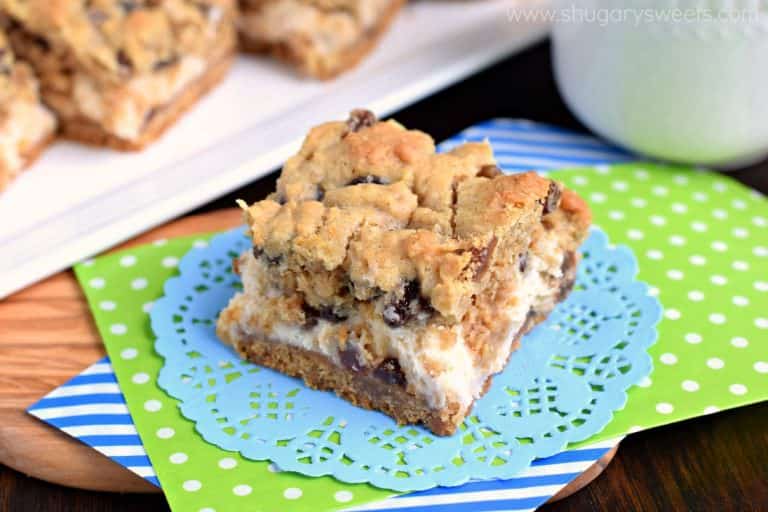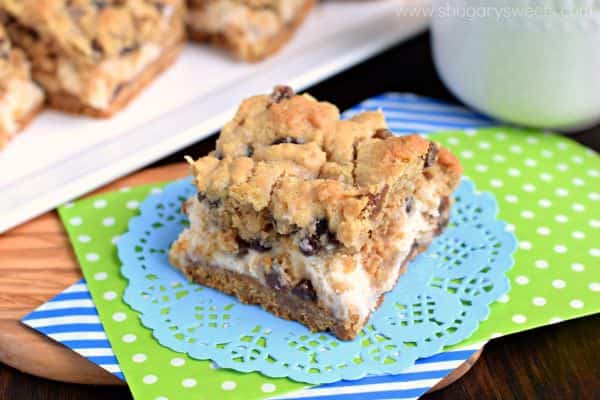 I created a fun little group on facebook and I'd love for you to join in! It's a place where you can share YOUR favorite recipes, ask questions, and see what's new with Shugary Sweets (so that you never miss a new recipe)! If you'd like to check it out, you can request to join HERE.
Be sure to follow me on Instagram and tag #shugarysweets so I can see all the wonderful SHUGARY SWEETS recipes YOU make!
Connect with Shugary Sweets! Be sure to follow me on my social media, so you never miss a post!
Facebook | Twitter | Pinterest | instagram
Yield: 24 large bars
Oatmeal Raisin Cookie Cheesecake Bars
Prep Time
4 hours
30 minutes
Soft and chewy oatmeal raisin cookie on top of a creamy cheesecake bar! Delicious, comfort food dessert!
Ingredients
For the crust:
2 1/2 cups cinnamon graham cracker crumbs (about 18 full size crackers)
1/2 cup melted butter
For the filling:
2 packages (8 oz each) cream cheese, softened
3/4 cup granulated sugar
2 large eggs
1 tsp vanilla extract
1 tsp cinnamon
For the cookie dough:
3/4 cup butter flavored Crisco
1 cup light brown sugar, packed
1/4 cup granulated sugar
1 large egg
1/4 cup skim milk
1 tsp vanilla extract
1 1/2 cups all-purpose flour
1 1/2 cups quick cook oatmeal
3/4 tsp baking soda
3/4 tsp kosher salt
1 Tbsp cinnamon
1/4 tsp nutmeg
1 1/2 cup raisins
Instructions
Line a 13x9 baking dish with parchment paper. Set aside. Preheat oven for 350 degrees.
In a food processor, pulse graham crackers until fine crumbs. Add in melted butter and pulse until combined.
Press crumbs into bottom of prepared baking dish. Using palm of your hand (or bottom of a cup) press crumbs firmly until they are pressed into the bottom of the pan.
For the cheesecake filling, beat cream cheese with sugar, eggs, vanilla and cinnamon using the whisk attachment of an electric mixer. Beat until fluffy and smooth (about 3-4 minutes). Pour over graham crust.
For the cookie dough, beat Crisco with sugars for 2 minutes. Add egg, milk, and vanilla and beat thoroughly. Add in flour, oatmeal, baking soda, salt, cinnamon, and nutmeg and beat until fully combined. Fold in raisins. Scoop dough by large spoonfuls onto the top of the cheesecake layer. Try to use your fingertips to spread gently until cheesecake layer if fully covered.
Bake for 30-35 minutes, middle may still "jiggle." That's okay. You want the cookie layer to be completely cooked and browned. Remove from oven and cool completely. Once cooled, cover with foil and refrigerate for 4 hours, or overnight. Cut into squares and enjoy. Keep leftover bars in an airtight container in the refrigerator for up to 5 days.
Love Cheesecake Bars? Here are a few of my favorites….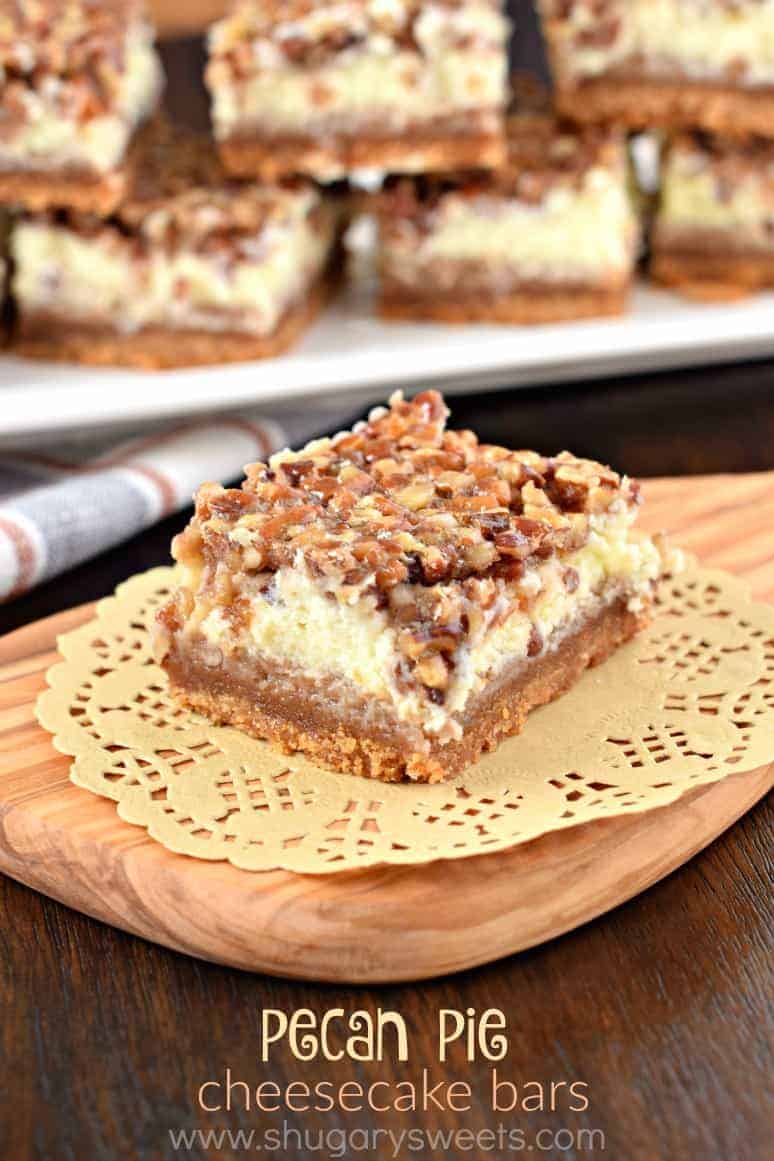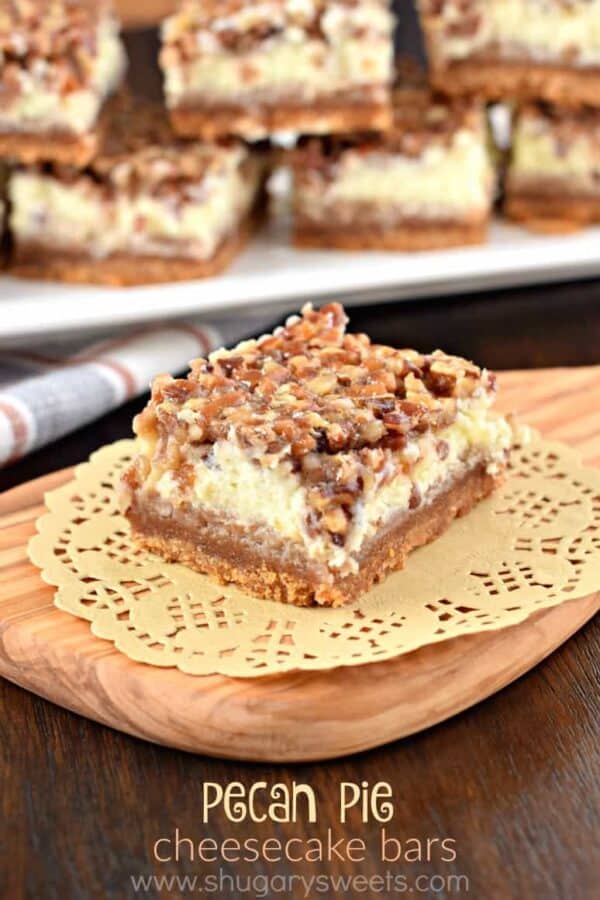 Pecan Pie Cheesecake Bars: the flavor of a pecan pie on top of a creamy, delicious cheesecake bar!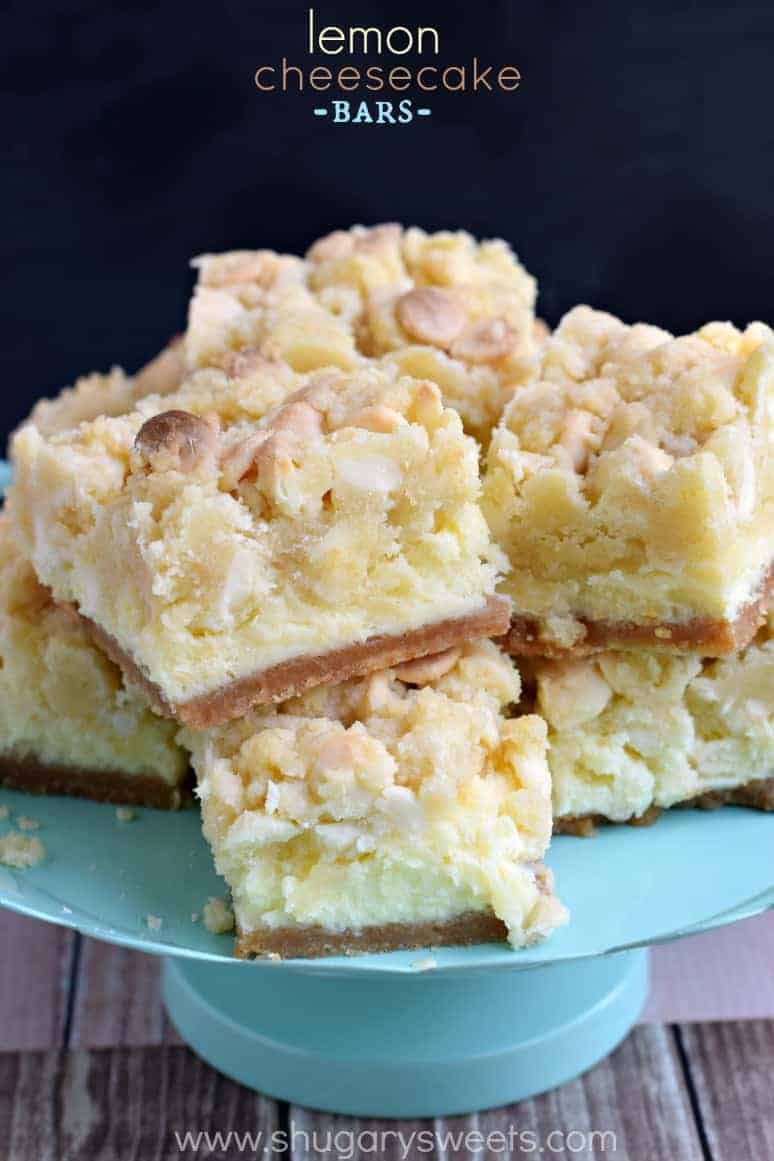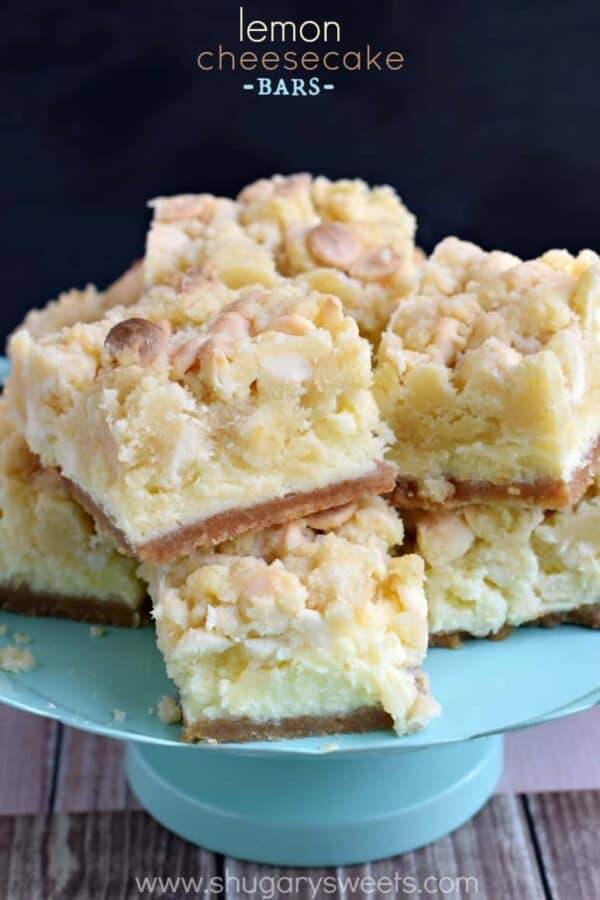 Lemon Cheesecake Bar: sweet lemon sugar cookie on a cheesecake bar. WONDERFUL.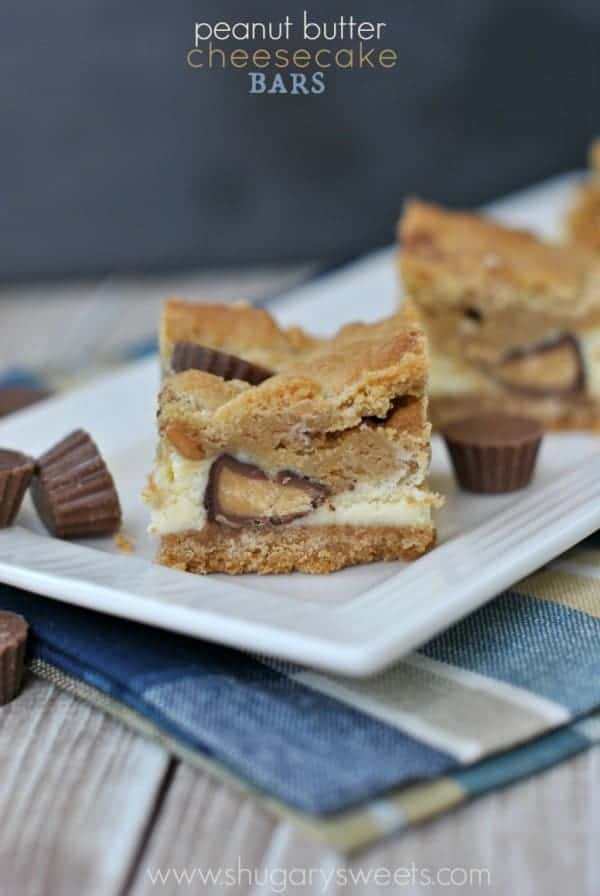 Peanut Butter Cheesecake Bar: Peanut butter cookie with Reese's cups. Seriously, match made in heaven!
If you love today's cheesecake bar recipe, here are a few favorites from my friends: