Cheesecake bars with oatmeal raisin cookies baked on top! You'll love the combo of chewy cookies and creamy cheesecake in these Oatmeal Raisin Cookie Cheesecake Bars.
Dessert bars are some of my favorite comfort food treats. If you like oatmeal cookie bars, try these Monster Cookie Cheesecake Bars too!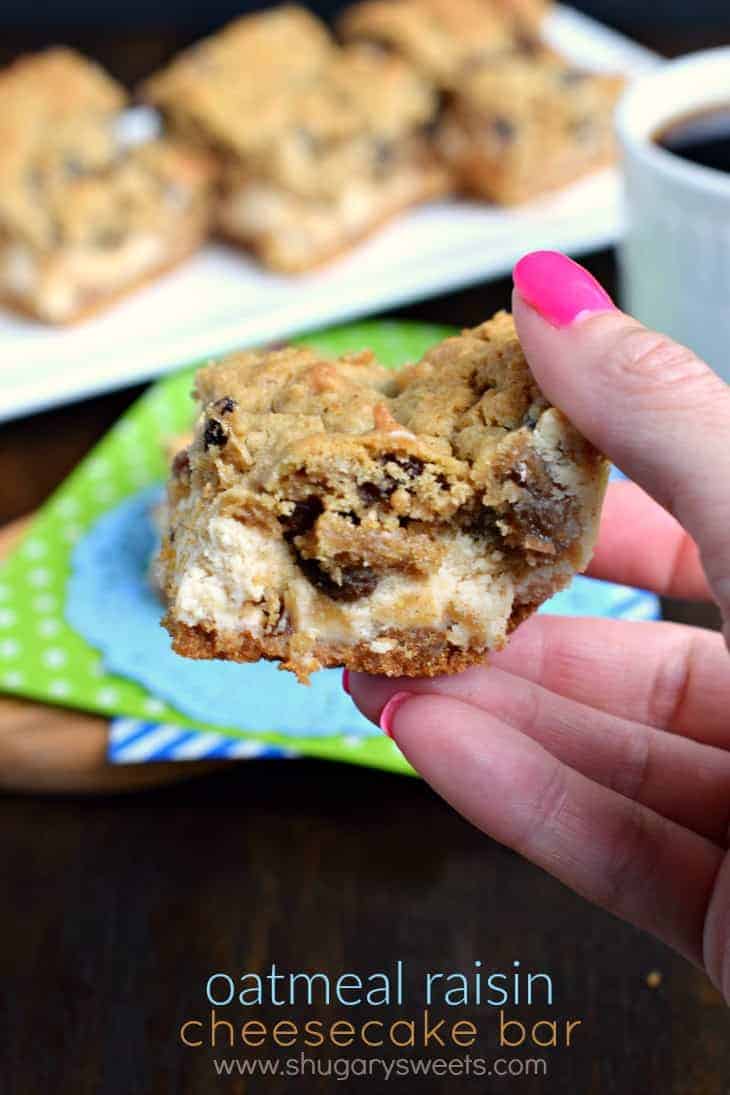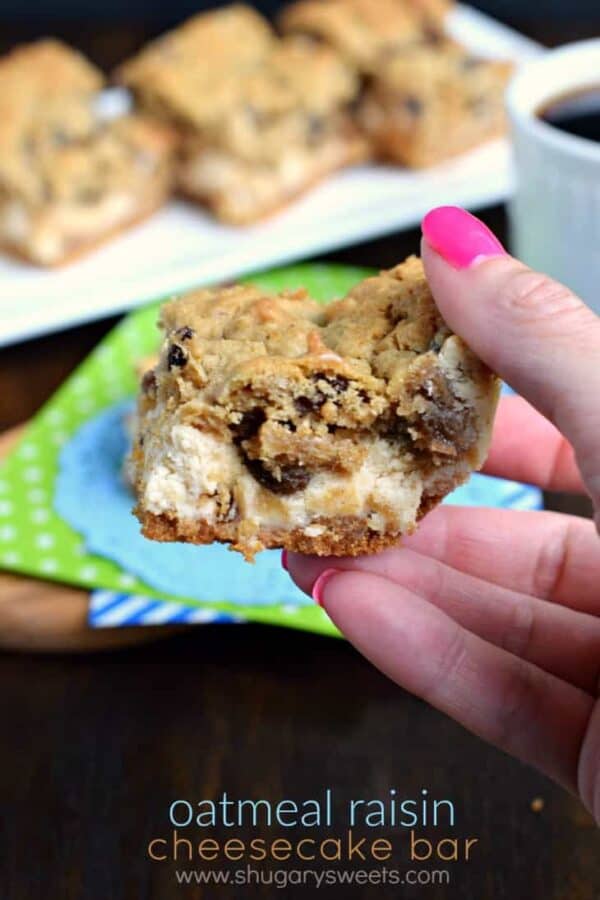 For the Oatmeal Raisin Cookie Fan
There's no getting around it. You either love oatmeal raisin cookies or hate them with the heat of a thousand suns.
I'm in the first camp. I love the chewy texture, brown sugar sweetness and juicy raisins baked inside of each one. Oatmeal raisin cookies are simple, comforting and cozy, like a favorite sweater.
And since they have oatmeal and fruit in them I can pretend they're healthy!
Today's Oatmeal Raisin Cookie Cheesecake Bars were created for us: the oatmeal raisin cookie lovers of the world.
Layers of graham cracker crust, vanilla cheesecake and oatmeal raisin cookies baked together in one pan.
The cookie bars are lightly spiced with cinnamon and nutmeg.
Slightly crunchy edges with a perfect creamy center.
A delicious new way to enjoy the classic cookie flavors.
If you're a raisin hater, you can make my Chocolate Chip Cheesecake Bars Recipe instead. Let us oatmeal raisin cookie fans have this one!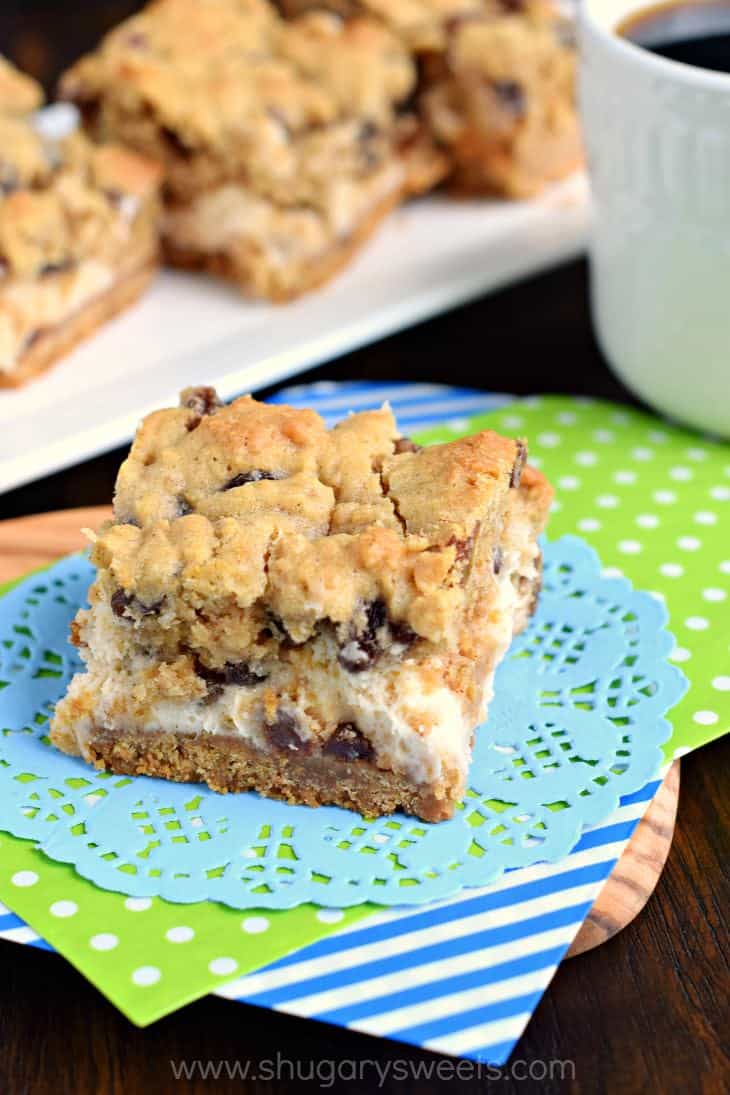 Ingredient Notes
This recipe has three components: crust, cheesecake and oatmeal cookie dough.
Graham cracker crumbs – These are mixed with melted butter to form the crust.
Cream cheese – Creates the foundation for the cheesecake, along with eggs and sugar.
Vanilla extract – For flavoring the cheesecake and the cookies,I love this homemade Vanilla Extract.
Crisco shortening – Makes the cookie layer super chewy! I use the butter flavored version.
Brown sugar – Gives the cookies a moist, sweet taste and a light molasses flavor.
Oatmeal – I use quick cook oats for this recipe, which are somewhere between rolled oats and instant oats when it comes to texture and size.
Raisins – Make sure to use a freshly opened package for best results. No one wants dry, tough raisins in their cookies!
Spices – Ground cinnamon and nutmeg are the perfect complement to the raisins and oats!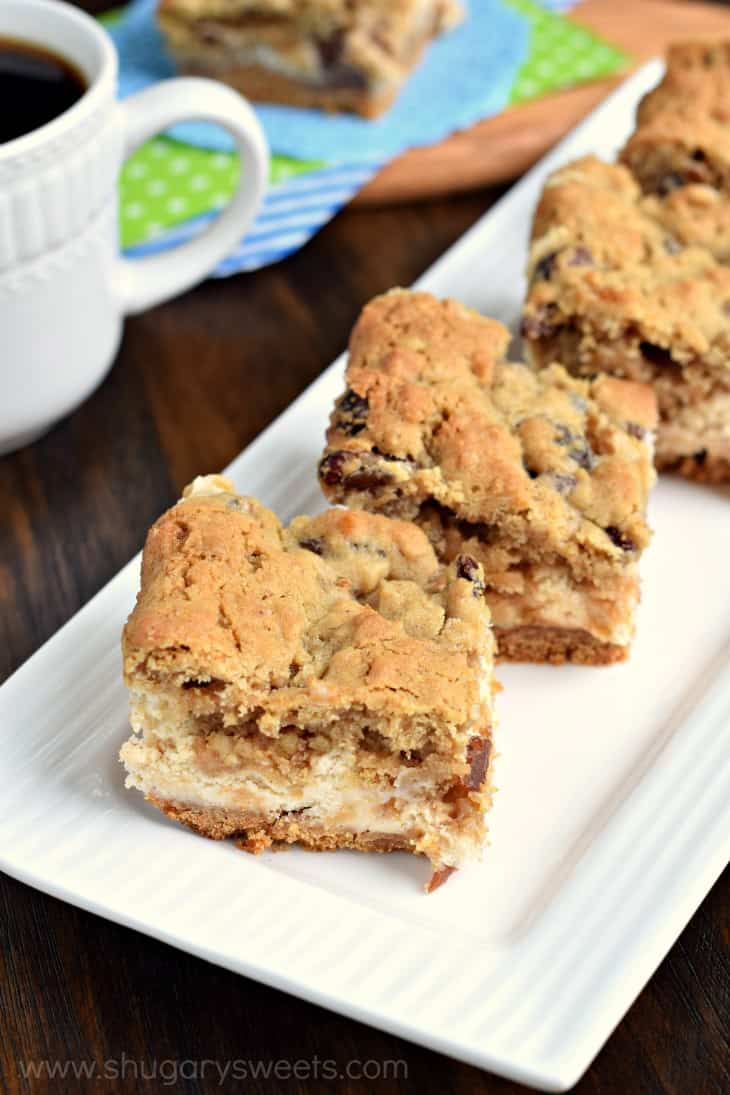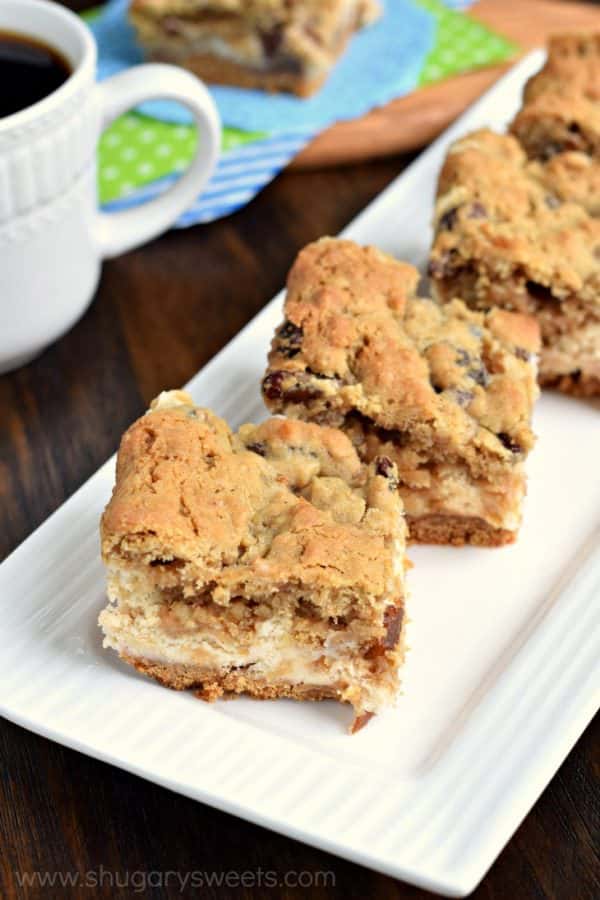 Tips and Tricks
Drop the cookie dough over the cheesecake layer by the spoonful. Use your fingertips to spread the dough out so it covers all the cheesecake and there are no gaps between the dough.
Bake until the cookie layer is golden brown and fully set. The cheesecake will still look a little jiggly, which is okay.
Cool oatmeal raisin cookie cheesecake bars completely BEFORE putting them in the refrigerator to chill.
The bars need to chill for at least 4 hours before eating. I recommend making them the day before and storing them in the fridge overnight.
Recipe FAQs
What can I use instead of raisins?
Dried cranberries (craisins) would taste great in these bars too! Or leave out the raisins if you like your oatmeal cookies plain.
How do I store cheesecake bars?
Store the oatmeal cookie cheesecake bars in an airtight container in the refrigerator. They stay good for about 5 days.
Can I use butter instead of shortening for the cookie dough?
You can use butter but shortening produces the best results. The water content in shortening gives the cookies a soft, chewy texture that's irresistible.