Delectable Lemon Cookies get a boost of extra crunch from lemon Oreos! Pair these treats with a glass of cold milk for a sunny summertime snack.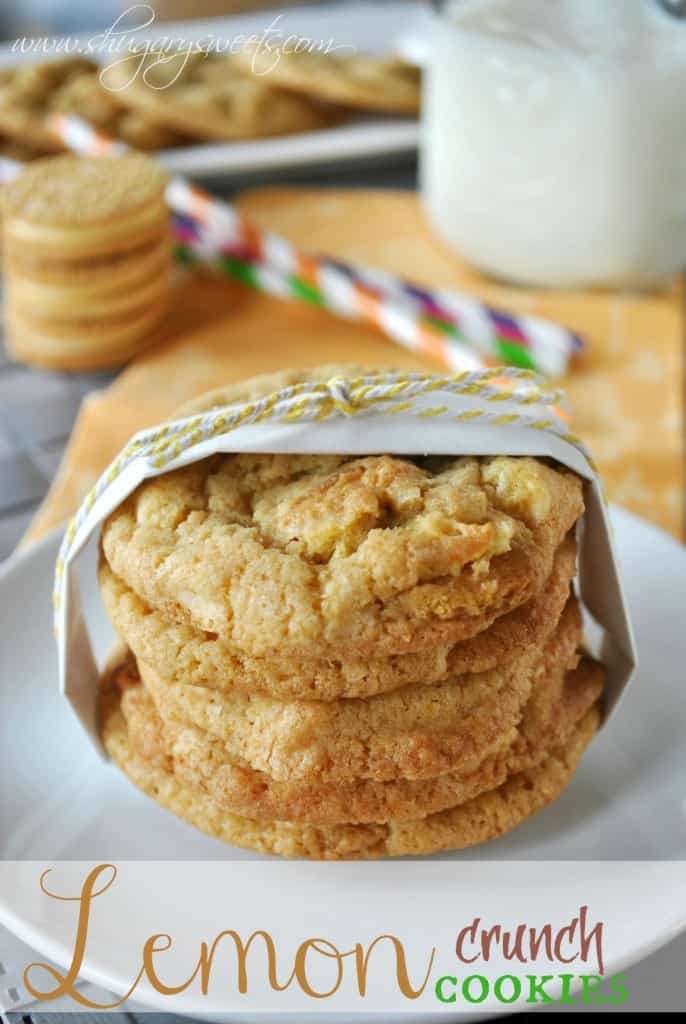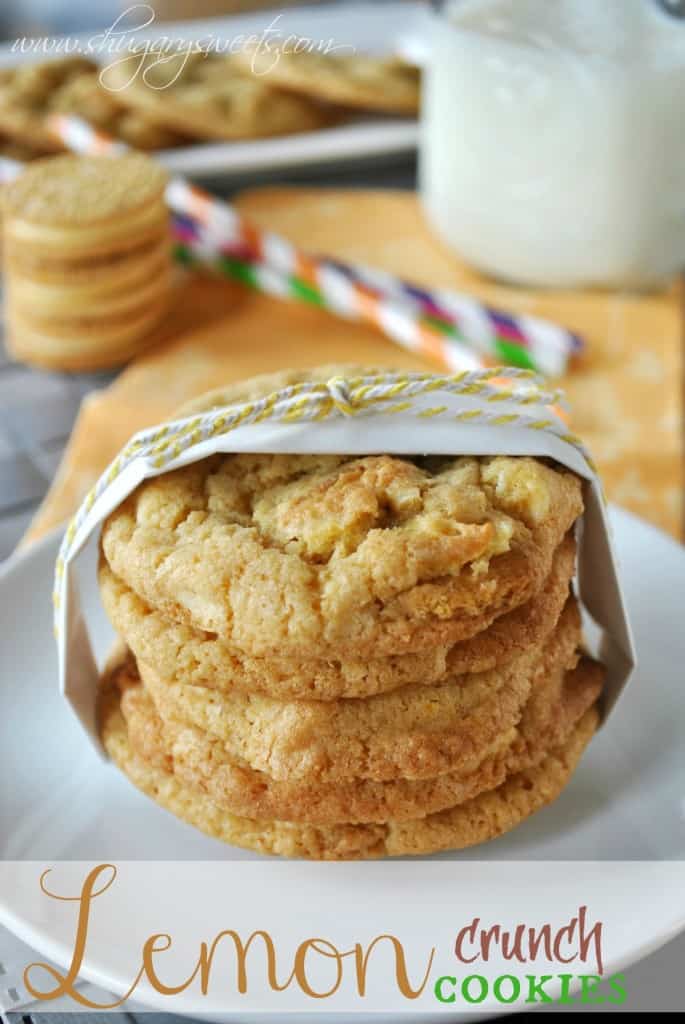 I'm back with another delicious citrus packed dessert! This time it's Lemon Crunch Cookies, that I whipped up when I needed a portable hand held dessert.
Why the crunch? Well, I added Lemon Oreos. You heard me right. Lemon cookies inside of lemon cookies.
Oreo pretty much is a genius cookie maker. With all of those flavors to choose from, you can pretty much find one variety or another to chop up and add to any cookie recipe. That is, if you can resist eating them all first.
But we all agreed that these perfect Lemon Cookies are even better than chomping down Oreos straight from the package. That's a big compliment on our house because between all of us, we can easily eat a package of Oreo cookies in one sitting.
I loved the idea of having a bit of crunch in the cookies, but I also have a weakness for chewy doughy cookies. So, I used some Sugar Free JELL-O lemon gelatin to keep them soft chewy.
So yes. Chewy cookies with a crunch. It's really the best of both worlds!
How to make Lemon Crunch Cookies
First, chop up those lemon Oreos! They don't need to be tiny. Just move the knife over them until they're in bite sized pieces.
For the cookie dough, you beat butter and sugar together, then add vanilla and lemon Jello pudding mix. Eggs, flour, baking soda and salt bring the dough together.
Next, fold in white chocolate morsels and chopped Oreos carefully. You want to avoid turning them into crumbs as you integrate the Oreo pieces in to the lemon cookie dough.
Use a rounded spoon or cookie dough scoop to scoop the dough onto a prepared cookie sheet. Bake them for 10 -13 minutes. Cool them on the cookie sheet for a minute or two after they come out of the oven, then transfer them to a wire rack to finish cooling.
Eat and enjoy!
Storing lemon cookies
Wondering how long you can keep your homemade lemon cookies without sacrificing their taste? They'll last about a week at room temperature if stored in an airtight container. After that, they'll lose a bit of their crunch and chewy bite.
Can you freeze cookies?
Yes. Like most drop cookie recipes, Lemon Crunch Cookies are an excellent choice for freezing. Once cooled, you can transfer them to a freezer safe bag or container to freeze. They'll keep this way for about 3 months.
You can also chill or freeze the dough if you won't be baking these cookies right away. The dough will keep well wrapped in the fridge for about 5 days, or frozen for up to 3 months.
Note: If you're having trouble with the cookies spreading too much, chilling the dough for at least an hour first helps tremendously!
Substitutions Ideas
This cookie recipe can easily be adapted to create chewy-crunchy cookies with all kinds of flavor combinations. Replace the lemon Oreos and lemon Jell-o with any of these flavors to make your customized cookie creation.
Crunchy cherry cookies: Sugar free cherry Jell-o mix and cherry cola Oreos.
Double chocolate crunch cookies: Sugar free chocolate fudge Jell-o mix and classic or chocolate stuffed Oreos. Substitute the white chocolate morsels for semi-sweet morsels.
Berries and cream crunch cookies: Sugar free strawberry or raspberry Jell-o mix and white Oreos.
Red velvet crunch cookies: Sugar free strawberry Jell-o mix and red velvet Oreos.
There are almost endless ways you can play with this cookie recipe! Every time I plan to experiment, though, I think about just how much I love the lemon flavor and I end up making them just the same.
I can't help it. I have a lemon dessert addiction. Lucky for me, I've never known anyone to turn down a homemade lemon cookie with just the right amount of CRUNCH in each bite!
Do you love lemon cookies? These easy to make treats are the perfect balance of chewy and crunchy with DOUBLE the lemon happiness.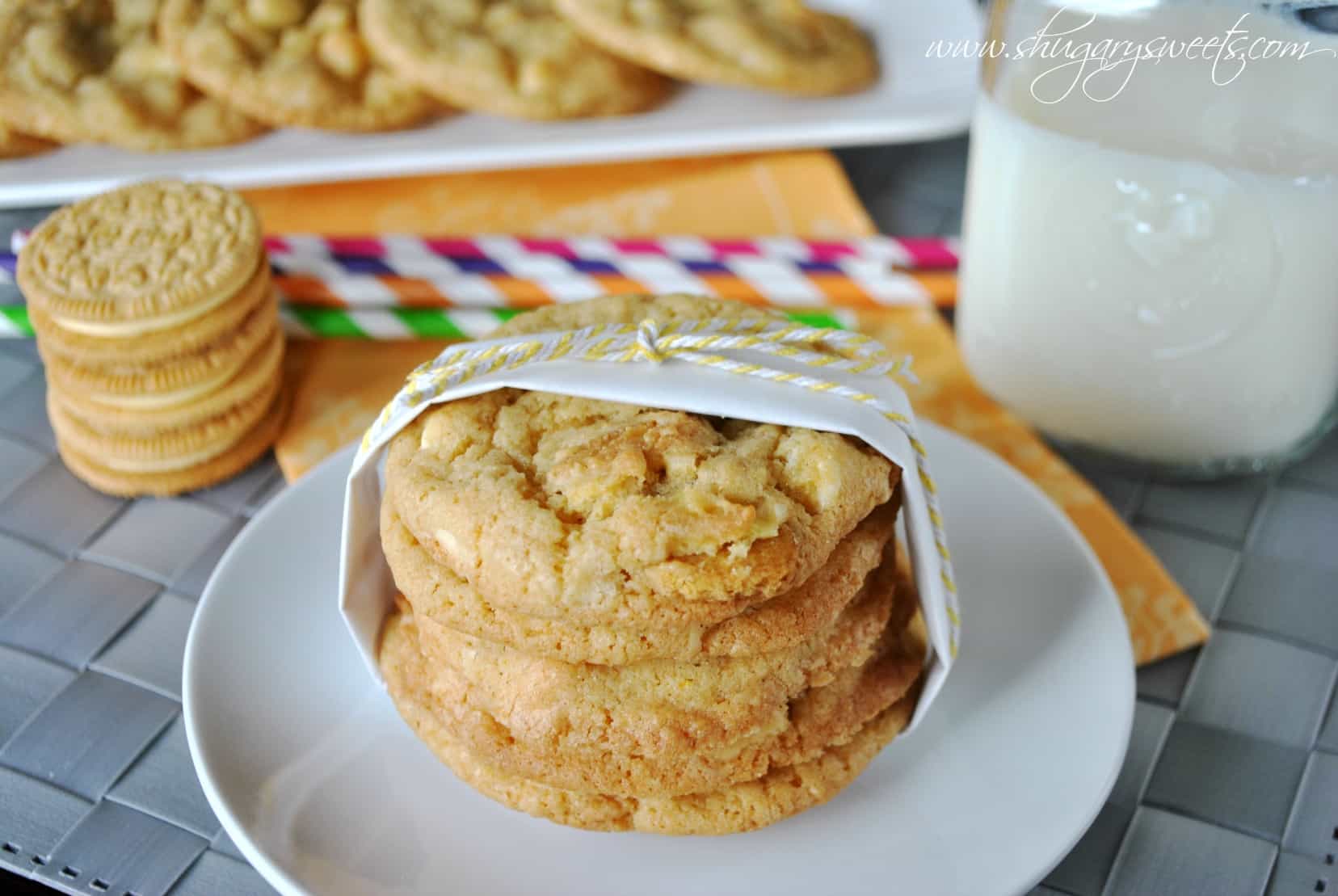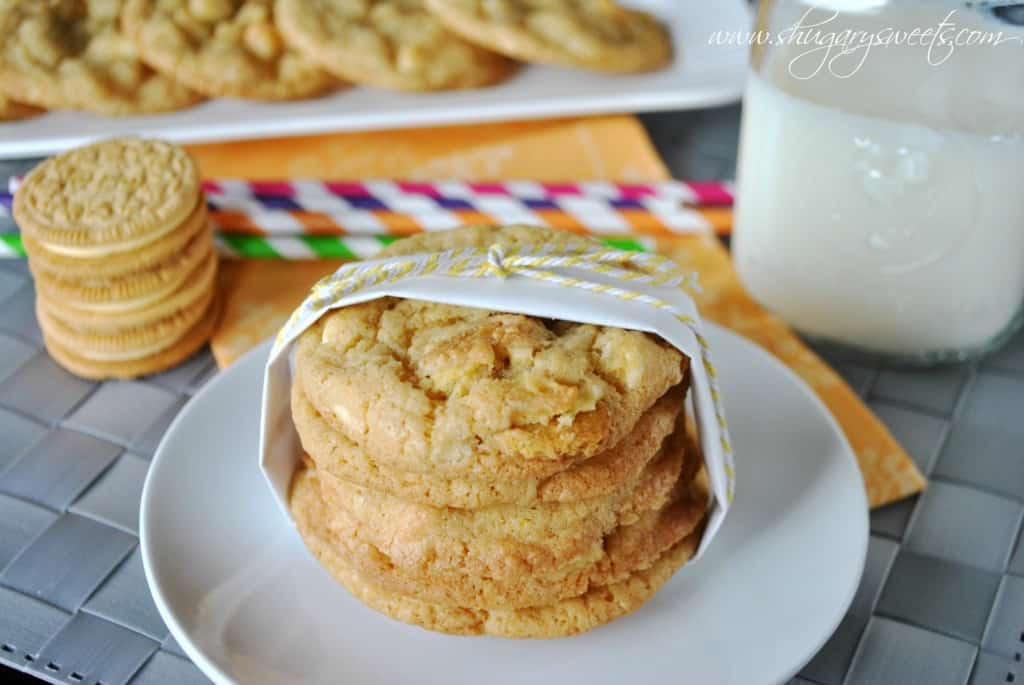 **if you can't find the Lemon Oreos, substitute any lemon sandwich cookie instead. And cry just a little bit. Then eat a cookie and feel better!
More Recipes with Oreos
Yield: 4 dozen cookies
Lemon Crunch Cookies
Ingredients
1 cup unsalted butter, softened
1 cup granulated sugar
1/2 cup brown sugar
1 pkg (0.3oz) Sugar Free JELL-O lemon gelatin mix
1/2 tsp kosher salt
2 eggs
1 Tbsp vanilla extract
2 cup all purpose flour
1 tsp baking soda
14 lemon Oreos (or lemon sandwich cookies), chopped
1 bag (12oz) white chocolate morsels
Instructions
In mixing bowl, beat butter with sugars. Add in JELL-O mix, salt and eggs, mixing until completely combined.
Add in vanilla. Add flour and baking soda, mix completely. Fold in chopped cookies and morsels.
Line a baking sheet with parchment paper. Drop cookie dough by large tablespoon onto cookie sheet. Bake in a 375 degree oven for 10-13 minutes. Remove and cool on wire rack. Store in airtight container for up to one week.
Nutrition Information:
Yield:
48
Serving Size:
1
Amount Per Serving:
Calories:

105
Total Fat:

5g
Saturated Fat:

3g
Trans Fat:

0g
Unsaturated Fat:

1g
Cholesterol:

18mg
Sodium:

69mg
Carbohydrates:

14g
Fiber:

0g
Sugar:

8g
Protein:

1g
*Nutrition facts are an estimate and not guaranteed to be accurate. Please see a registered dietitian for special diet advice.