Chewy and delicious, these peanut butter white chocolate Avalanche Krispie Bars are a copycat of the famous bars from Rocky Mountain Chocolate Factory. They're even better than the original!
If you love peanut butter and chocolate, readers are obsessed with this Peanut Butter Fudge recipe. Perfect for holidays or year round! Or give this Peanut Butter Lasagna recipe a try soon. No bake and delicious!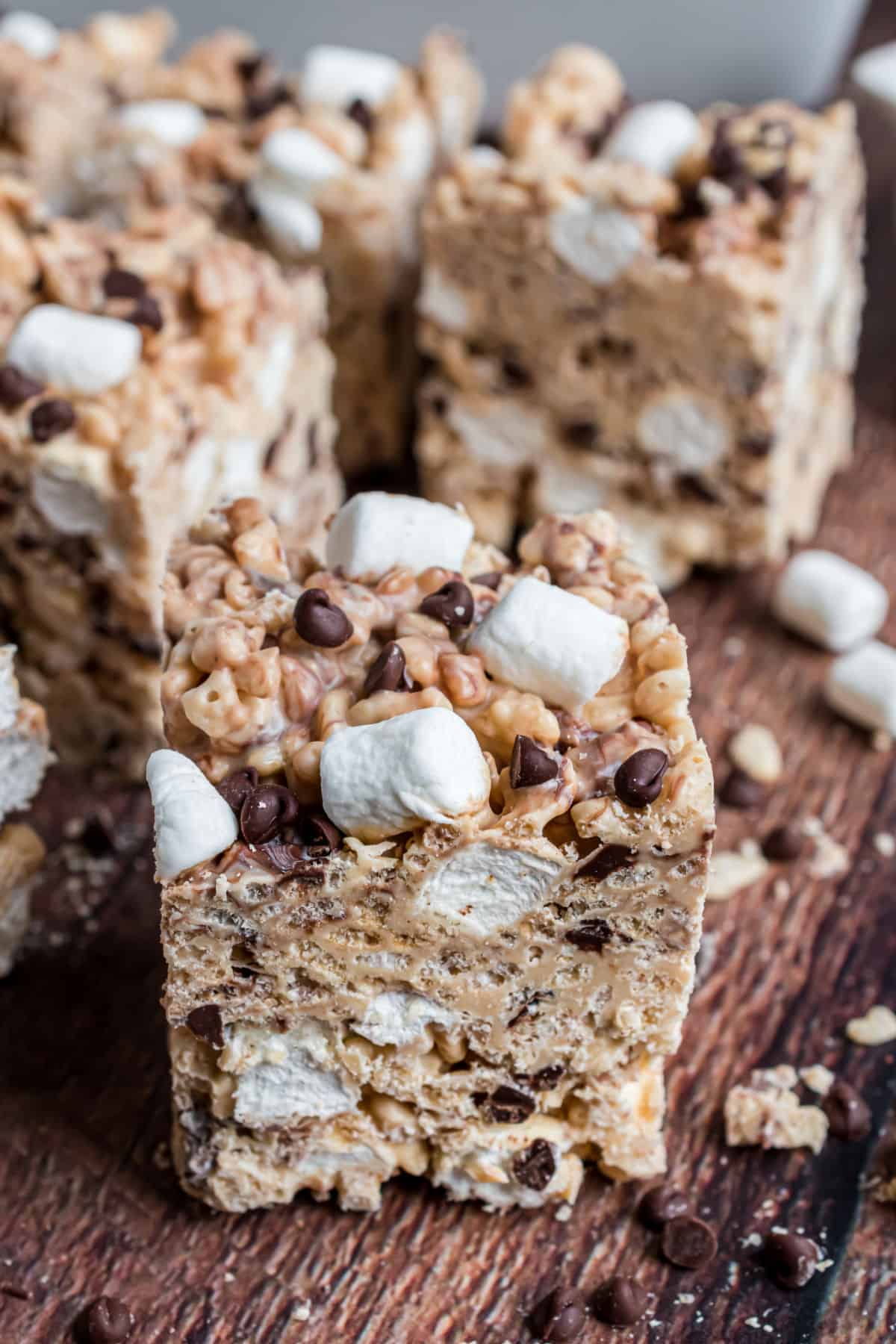 Why this Recipe is Best
I'm so delighted by these bars, folks.
Two different kinds of chocolate
Creamy peanut butter
Most importantly, rice krispies!
As many of you already know, rice krispie treats are one of my all time favorite desserts. I've even come up with a whole set of tips for how to make rice krispie treats at home.
Childish? Maybe. Delicious? Yes.
Making rice krispie treats reminds me of the days back in high school when my friend Steph and I would make a whole pan of them and eat it in one sitting.
This is totally possible with today's dessert!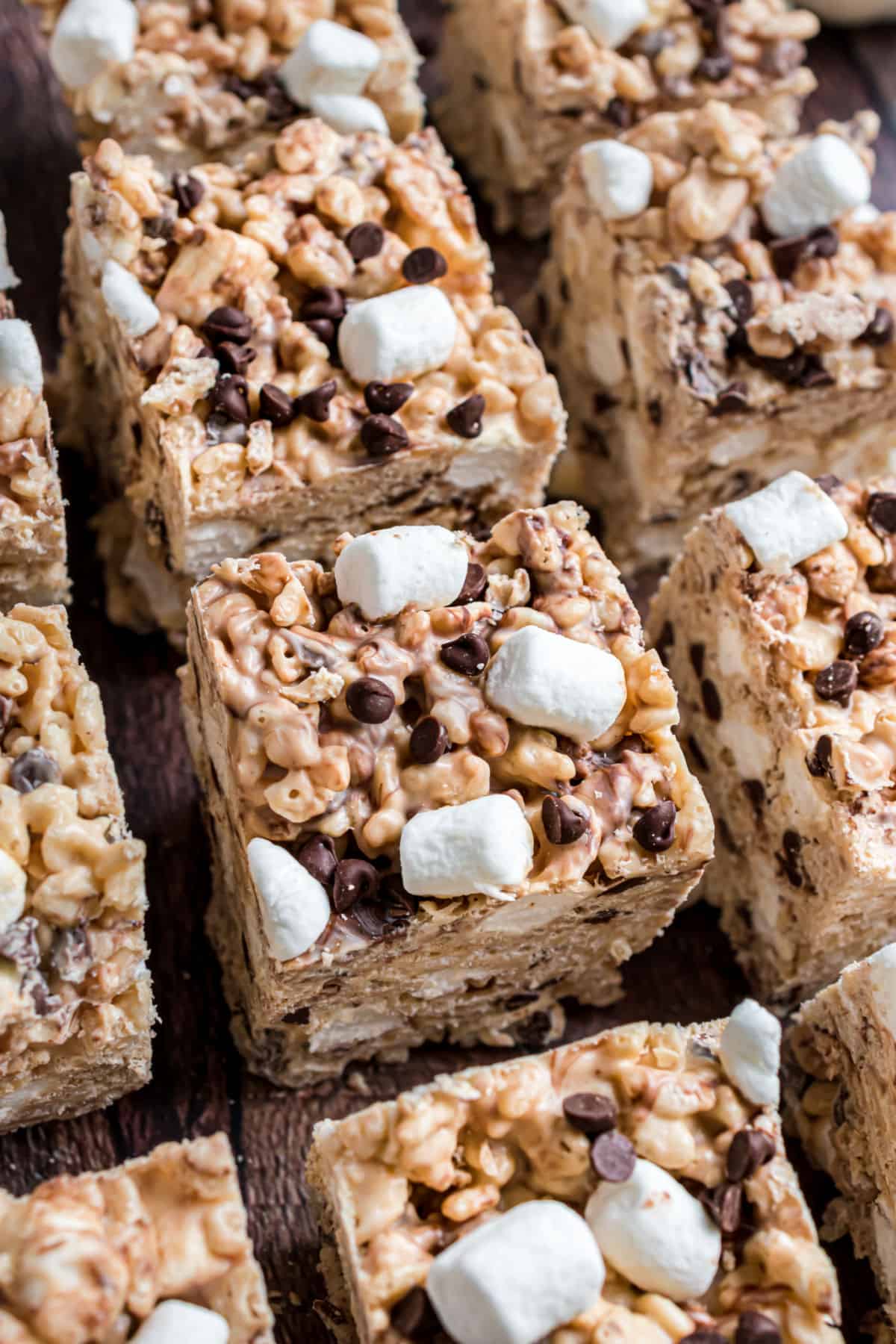 What are Avalanche Bars?
Also called avalanche bark, these upgraded Rice Krispie Treats are packed with peanut butter, chocolate chips and plenty of miniature marshmallows.
Rocky Mountain Chocolate Factory is known for their giant avalanche bars.
I knew I'd like it because, hello, RICE KRISPIE TREAT, but I was blown away by the rich flavor and soft chewy texture.
I tried to replicate their recipe immediately, and I am proud to say this is pretty darn close to the real thing. I'm sure their white chocolate is a little bit of a higher pay grade than mine, but hey, you gotta use what you have!
Ingredient Notes
Here's everything you need to make Rocky Mountain Chocolate Factory Avalanche Bark Bars: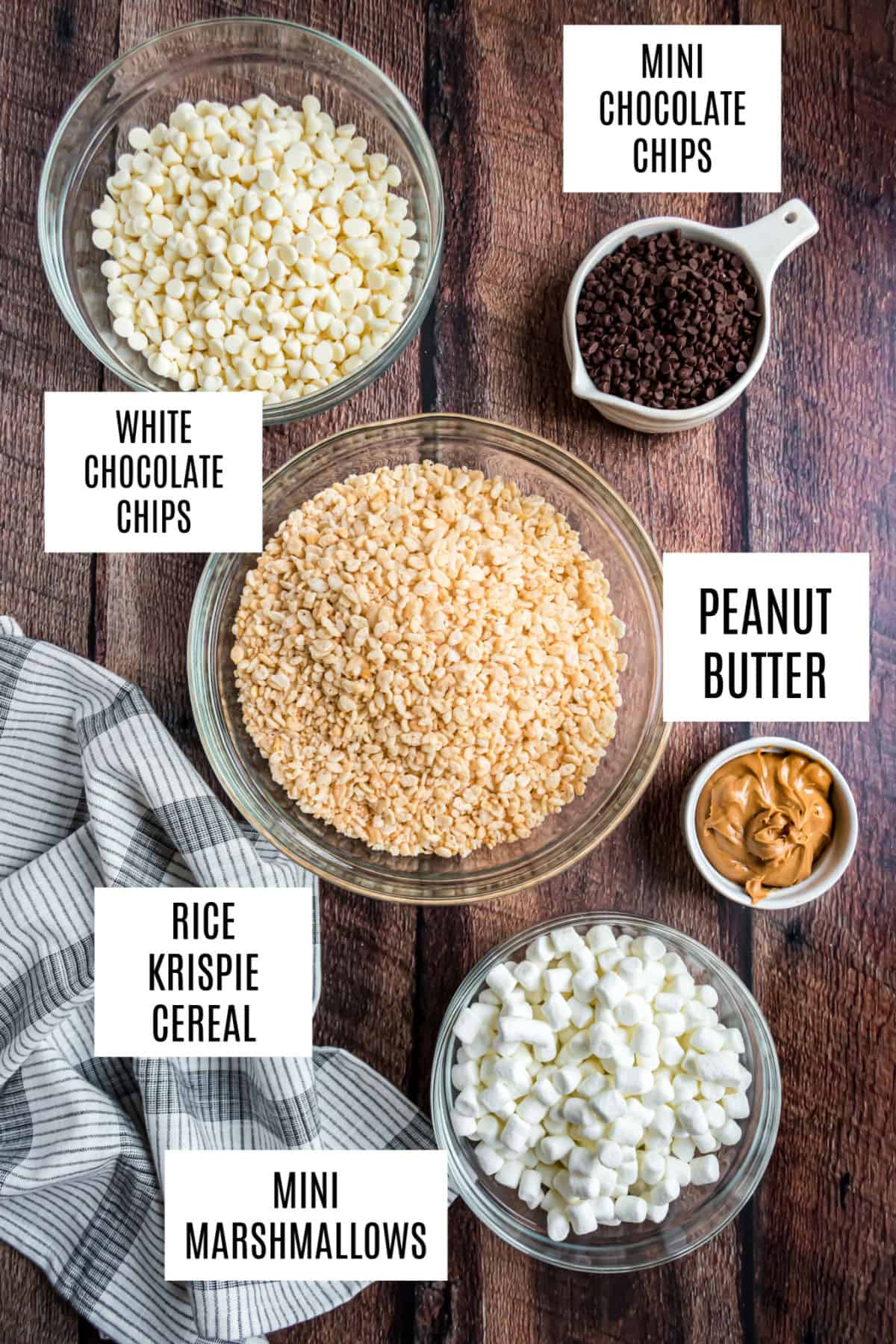 White chocolate chips
Peanut butter – I used creamy but chunky would be good too if you like pieces of peanuts in your bars.
Semi-sweet chocolate chips – Miniature morsels work best. If you only have full sized, those will work just fine too.
Mini-marshmallows– make sure they are fresh and not stale. Stale marshmallows don't melt as well, and the final result will be stale tasting too!
Rice Krispies Cereal
So simple. So good.
It takes hardly any time or effort at all to make copycat homemade Avalanche Bars. I found the hardest part was WAITING while they finished setting up in the fridge.
It's well worth the wait. Just a half hour later, sweet and peanut buttery Avalanche bars are yours to devour!
How to Make Avalanche Bars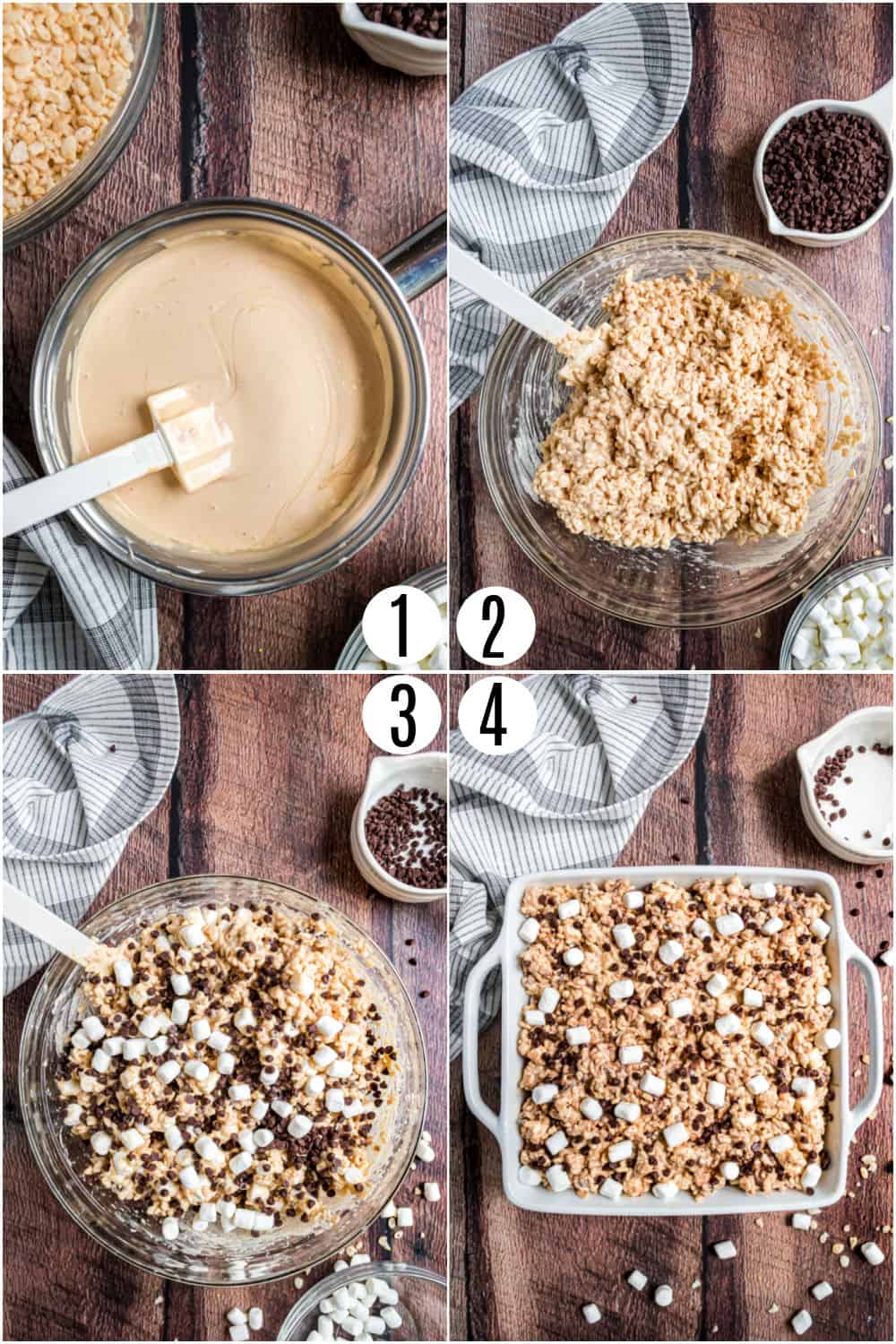 STEP 1. Melt the white chocolate chips and peanut butter together until creamy.
STEP 2. Fold in the rice krispies.
STEP 3. Add the marshmallows and semi-sweet morsels and stir until combined. Let the mixture cool for about 10 minutes, then lightly press it into a buttered 9-inch baking dish.
STEP 4. Refrigerate for 30 minutes, slice into squares and serve cold!
Tips and Tricks
Be gentle: Make sure to press the mixture into the pan GENTLY! The firmer you press, the firmer the finished treats will be and they may be difficult to get out of the pan
Melting white chocolate: You can use the microwave to melt the white chocolate chips and peanut butter. Place them in a microwave safe glass bowl and zap for 30 – 45 seconds at a time, stirring between rounds until everything comes together.
Be even: When folding the chocolate chips and marshmallows in, check to make sure they're evenly distributed throughout the whole rice krispie mixture. That way you get all the flavors and textures of the avalanche bark in every bite!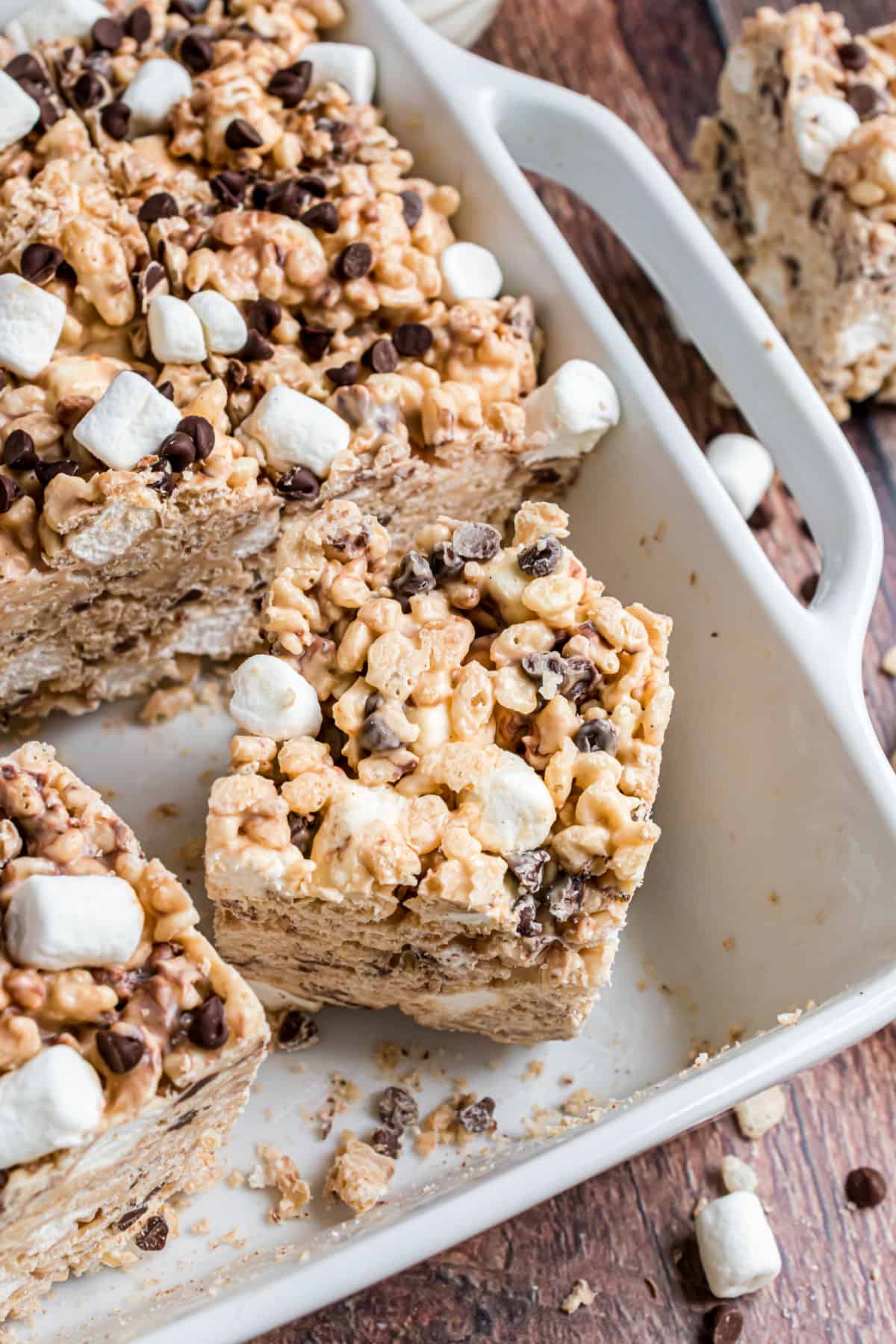 Creamy and soft, this 3 ingredient easy Tiger Butter Fudge recipe is a chocolate peanut butter lover's dream! Make a batch today in just minutes!
My worlds have collided. This Krispie Treat Fudge is the best of both fudge and gooey marshmallow treats!
These bars are so delicious that I know you won't be able to make this Rocky Mountain Avalanche Bars recipe just once!