Chocolate Peanut Butter Lasagna is a no bake, light yet decadent dessert! Packed with flavor, you'll watch this disappear in no time!
Love the chocolate peanut butter combo? Our readers are obsessed with these thick and fudgy Peanut Butter Chocolate Chip Bars! Or try baking up a batch of Peanut Butter Blossom Cookies.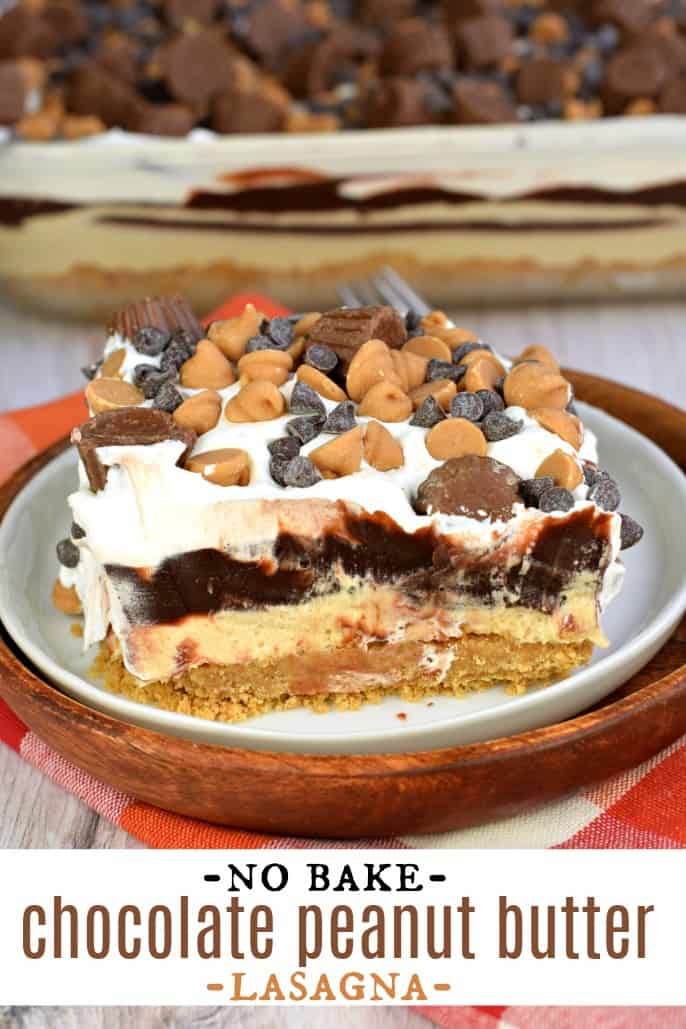 Why this Recipe Works
The combination of chocolate and peanut butter is always a win. If you love peanut butter cups, today's recipe is for YOU!
When you add in cookies, fudgy chocolate pudding, and whipped cream, you've got a home run dessert!
Oh and did I mention this is a No Bake dessert? Perfect for any time of year!
Slap a lid on this treat and take it to your favorite pot luck or family party. It's loved by kids AND adults!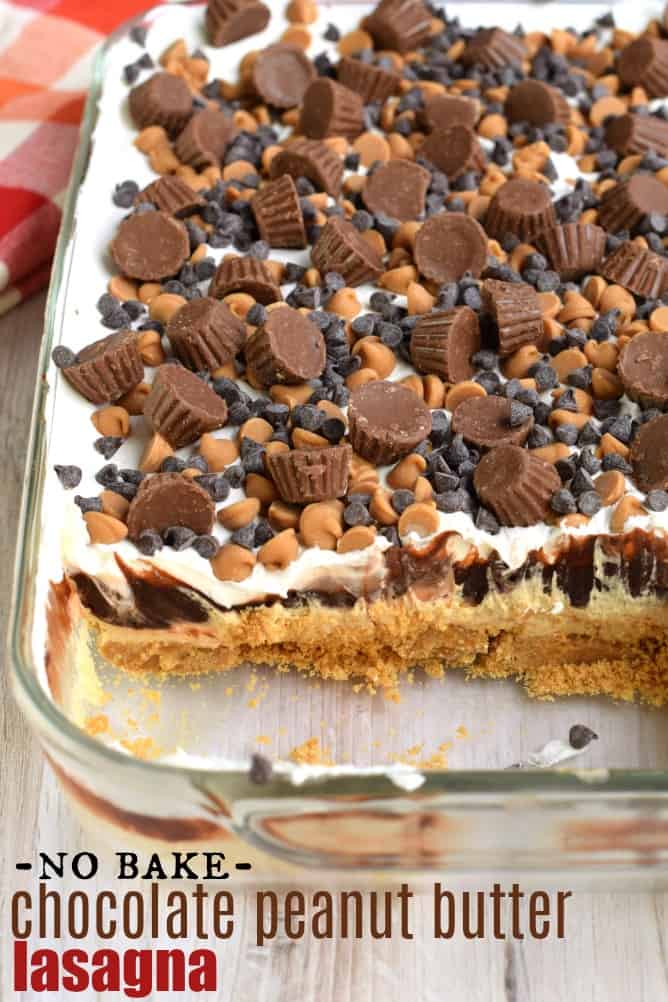 How to make Chocolate Peanut Butter Lasagna
You may remember this Chocolate Chip Cookie Lasagna recipe from awhile back. No bake dessert with layers of chocolate chip cookies, creamy cheesecake, fudge pudding, and whipped cream! Today's recipe is a variation of that sweet treat!
Start by choosing your favorite cookie for the crust. I chose Nutter Butters for their peanut butter flavor, but Oreo cookies are also a great choice!
Crush cookies in a food processor to get a fine crumb, then add melted butter. Press the cookies into a 9×13-inch baking dish. Set aside.
For the peanut butter layer, beat the softened cream cheese with peanut butter and powdered sugar for several minutes, scraping down the sides of the bowl as needed. Once fluffy, fold in Cool Whip.
Spread over cookie layer using an offset spatula. Set aside.
For the chocolate layer, whisk together chocolate pudding with milk until smooth. Two things to note:
Use INSTANT pudding mix, not the cook and serve variety.
Use less milk to make this thick (be sure to use accurate measurements as detailed below in the recipe card)
Once your pudding mix is fully whisked, pour over peanut butter layer.
Top the pudding with Cool Whip. I also added some peanut butter chips, mini chocolate chips, and mini peanut butter cups.
Refrigerate for about 3 hours until set (or overnight). Slice and enjoy!
Everyone loves easy, no bake desserts. Here are some of my favorite chocolate peanut butter NO bake treats!
Looking for an easy, no bake treat idea? How about whipping up some Chocolate Peanut Butter Grahams?
Peanut Butter Rice Krispie Treats topped with melted Reese's PB morsels and mini Reese's PB cups. A delicious twist on a childhood favorite!
Easy recipe for No Bake Chocolate Oatmeal Cookies! The peanut butter with chocolate and oats gives these cookies so much flavor!
This No Bake Pumpkin Cheesecake Recipe is the perfect holiday dessert. Easy gingersnap crust with a creamy pumpkin cheesecake filling chock full of chocolate chips!