Lucky Charms Marshmallow Treats – Like Rice Krispie Treats but made with Lucky Charms cereal. Colorful marshmallows make these easy treats magically delicious!
Love marshmallow treats? Try our scotcheroos for a cornflake, peanut butter, and marshmallow dessert! Of course you could always make a gooey batch of Peanut Butter Rice Krispie Treats too if you're craving a nutty treat.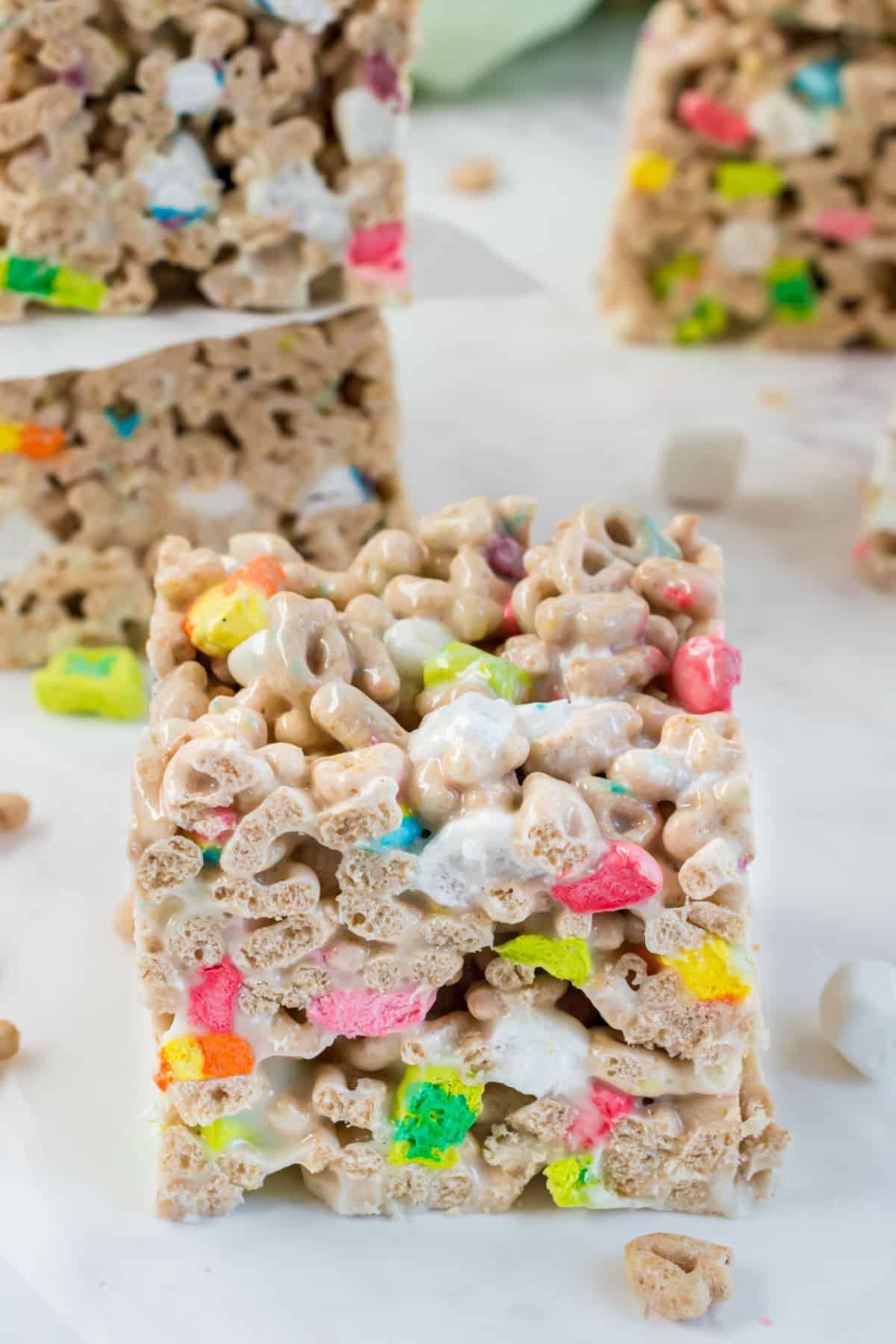 Why this Recipe Works
Did you know you can make Rice Krispie Treats with different kinds of cereal? This easy recipe has a lucky twist!
I've shared plenty of delicious Rice Krispie Treats recipes on the blog. Today's treat bars uses Lucky Charms cereal instead of puffed rice.
A box of lucky charms has the perfect balance of toasted oats and marshmallow bites. You'll love the way the rainbow, unicorn and clover shaped marshmallows add color to a plain cereal treat.
This no-bake recipe requires only four ingredients.
Mini marshmallows are melted with butter, then mixed with the lucky charms. You fold even more marshmallows into the batter before letting them set.
Lucky Charms Treat Bars look party ready with all that bright color.
Texture! You'll love the soft crunch from the cereal and the pillowy sweet marshmallows in each bite!
If you love marshmallows, Lucky Charms Treats are a must try. They're a hit with kids but adults will love them too!
Ingredient Notes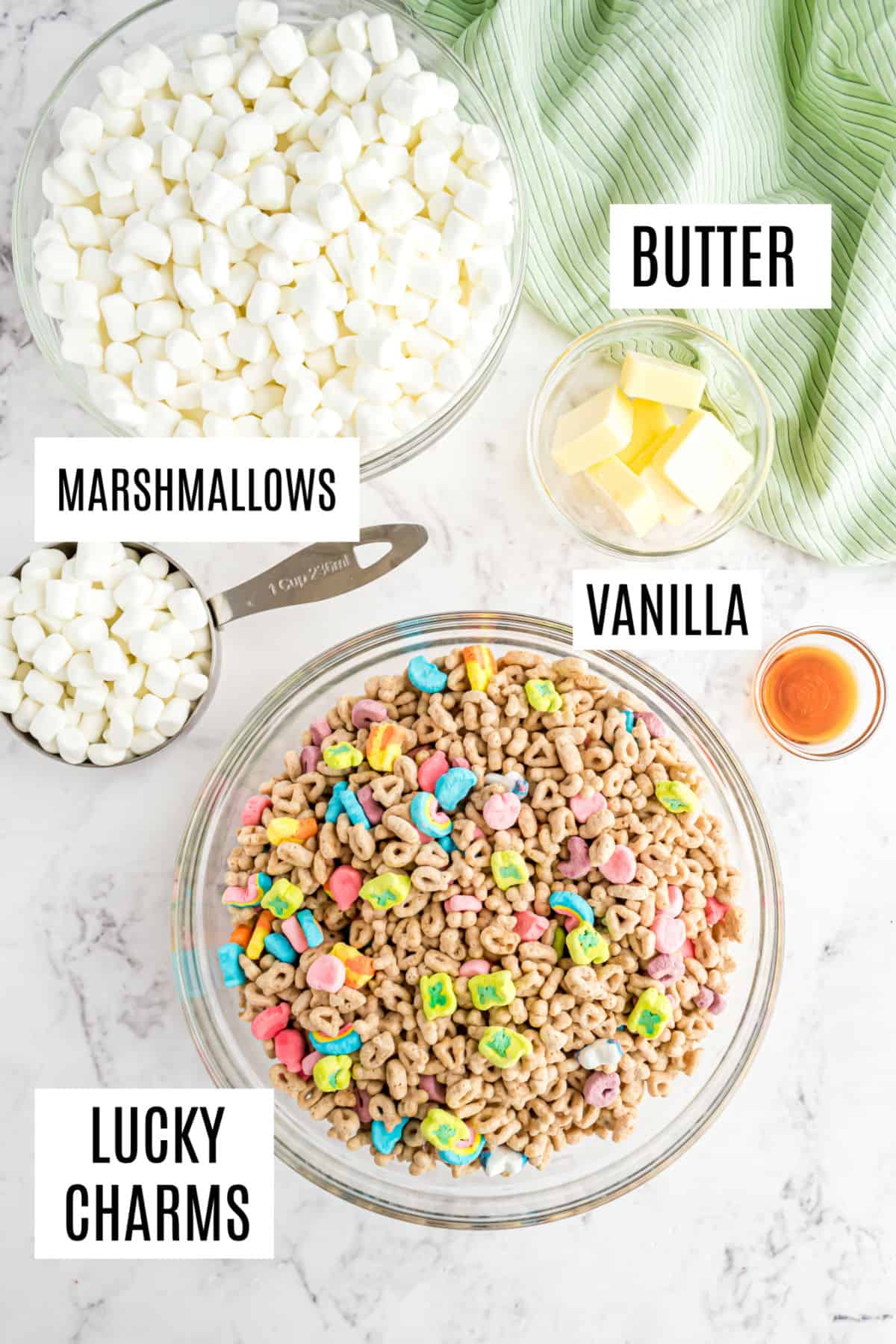 Lucky charms cereal. I used original lucky charms. The chocolate or honey flavors would be delicious in these treats too.
Marshmallows. 9 cups of mini marshmallows are needed for today's gooey recipe! (swap this out for homemade marshmallows instead)
Butter. I use salted butter for my treats..but unsalted works great too!
Vanilla extract. Use my homemade vanilla extract for best results!
Easy Instructions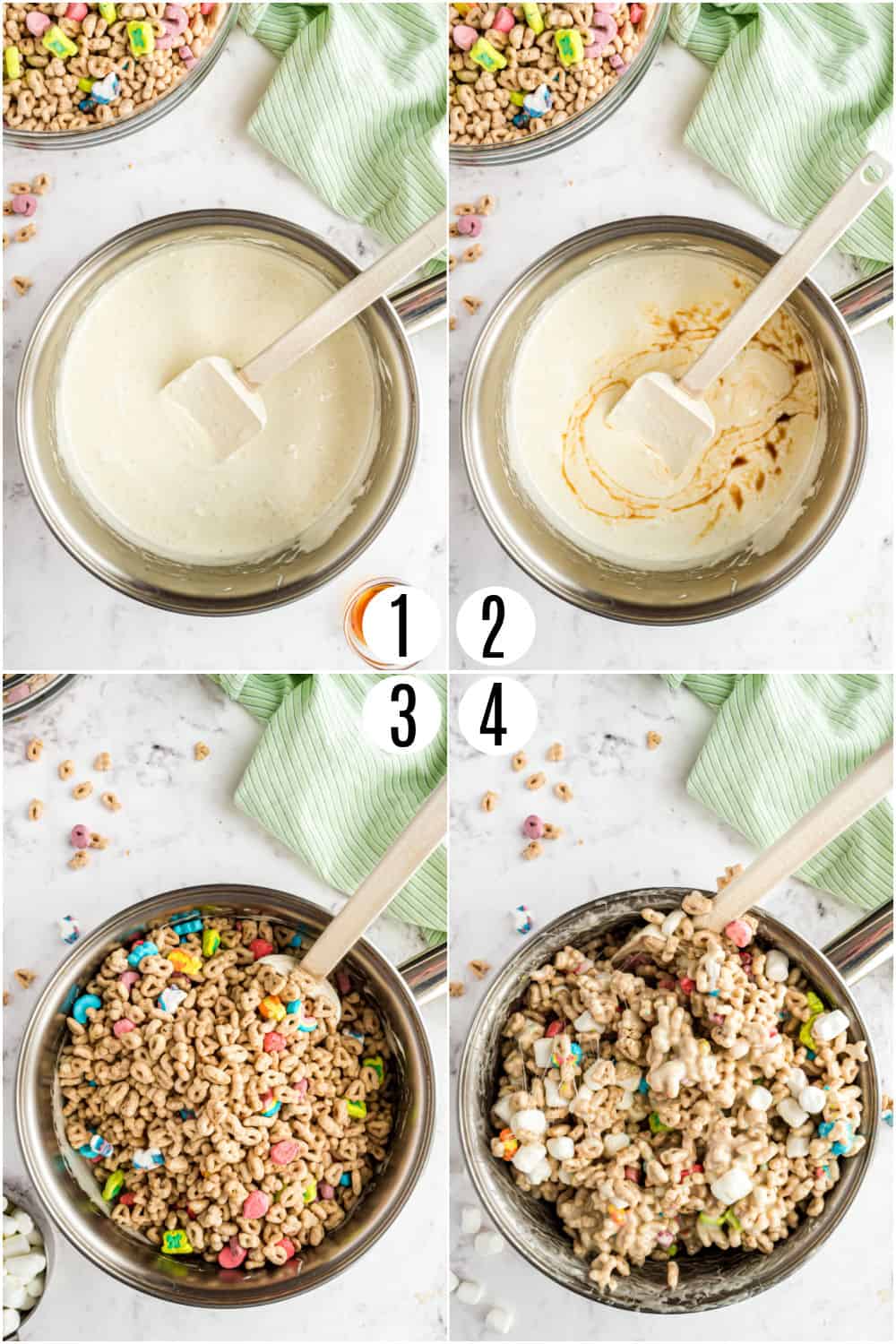 Lucky Charms Treats are just as easy to make as their rice krispie counterpart.
Melt butter in a sauce pan and add in mini marshmallows.
When the marshmallows are melted, stir in vanilla extract and the cereal. Then fold in another cup of mini marshmallows.
Press the mixture into a parchment lined baking pan and let them set until firm. Slice and enjoy.
Note: Lucky charms are crunchier than rice krispie treats. So if you're expecting a softer treat, this is not it. These bars are THICK. If you want thinner bars, use a 13×9 pan instead!
Tips and Tricks
Use fresh ingredients. If your marshmallows and cereal are stale, your treats will taste stale too. (This isn't the time to use that forgotten bag opened bag of marshmallows at the back of your pantry!)
Don't press too hard. When adding the treats to the pan, use a light touch. The harder you press, the harder your Lucky Charms Treats will be.
Prevent Sticking. If your treats are sticking to your hands when you press them, dip your fingers into water first.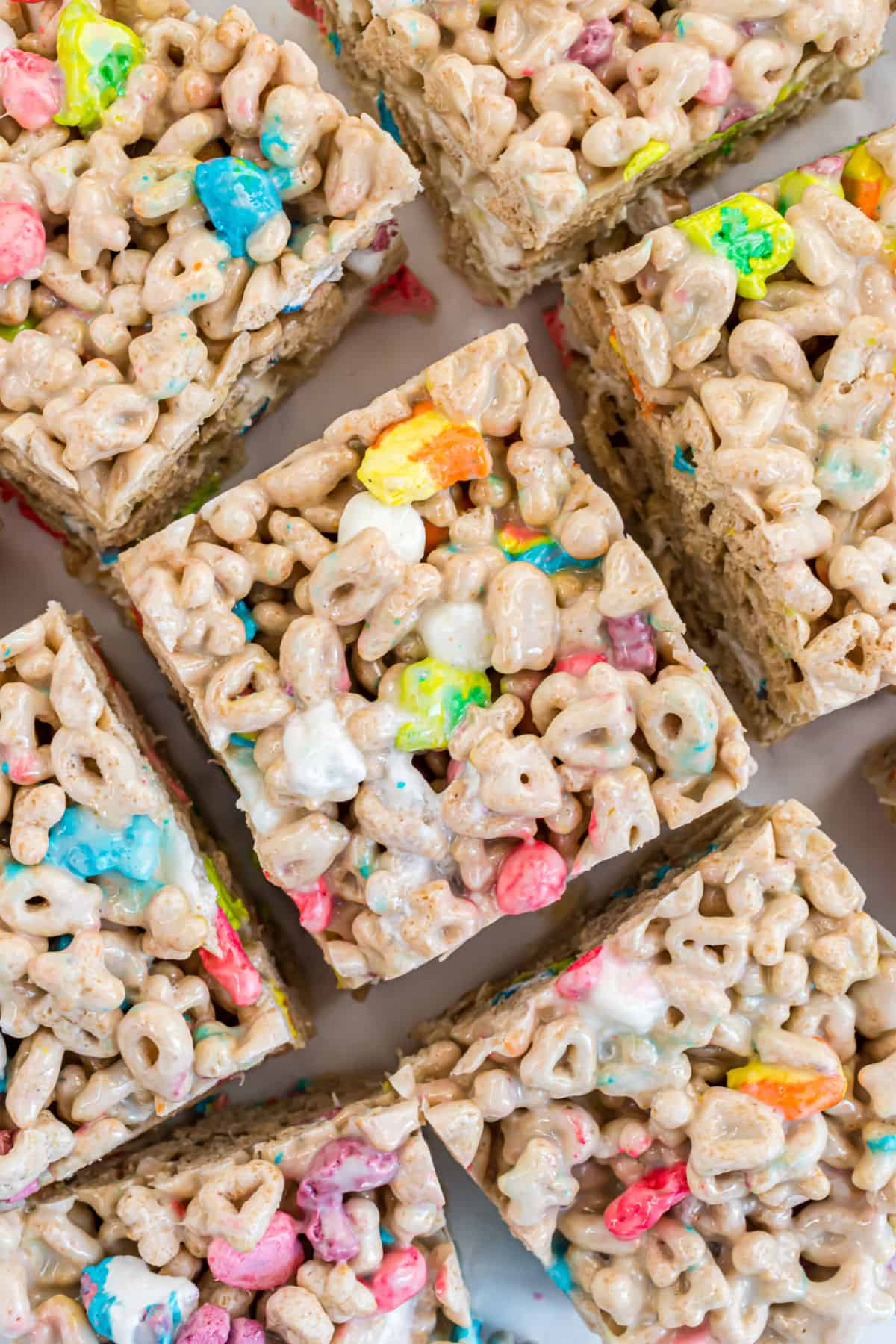 Recipe FAQs
How many marshmallows do I need for this recipe?
To make this recipe, you'll need one 16 ounce bag (or about 9 cups) of mini marshmallows.
How do you store Lucky Charms Treats?
Store the treats in an airtight container at room temperature. You do not need to chill these bars.
Are Lucky Charms treats gluten free?
Yes, this recipe is gluten free! Just double check the label on your marshmallows. Most, but not all brands, are gluten free.
Can this recipe be made with green lucky charms?
I have not tested these treat bars with the green special edition lucky charms. That said, I think the green color might melt into the bars so you can't see the colorful "charms" quite as well. It should still taste good though!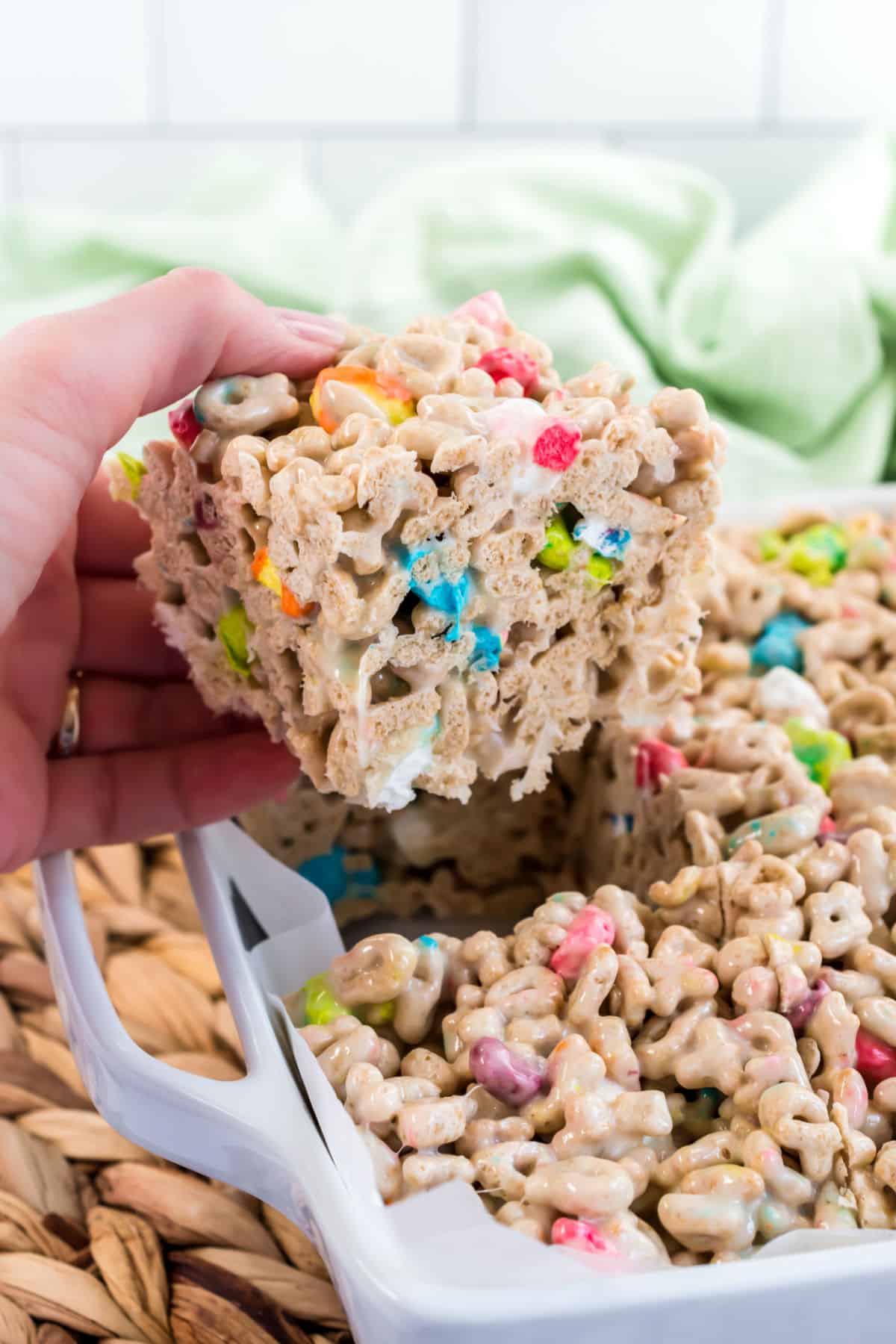 Every day is your lucky day when Lucky Charms Treats are on the menu. Easy, no bake, festive and delicious!