Rich and creamy, this No Bake Chocolate Cheesecake is the perfect weeknight dessert or holiday treat! Simple and delicious.
If you love easy chocolate treats, be sure to try our chocolate graham crackers. Or give this easy saltine toffee a try next.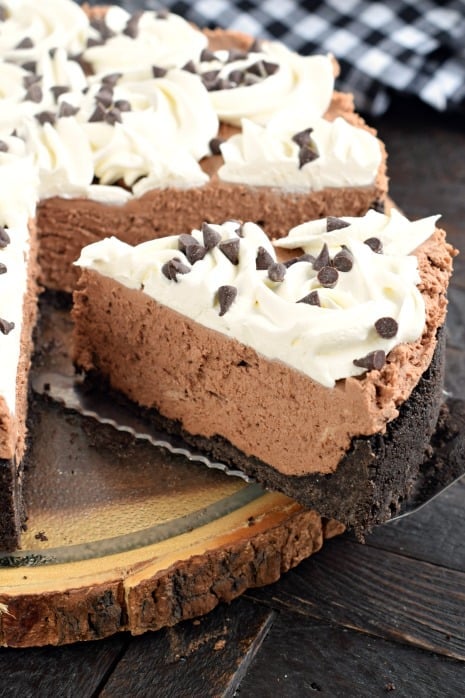 Why this Chocolate cheesecake recipe is best:
There are several desserts that always seem to go over exceptionally well at my house…rice krispie treats and cheesecake!
When it comes to cheesecakes, I'm no stranger to creating this fabulous treat! I've got a little of everything on the blog here…including a delicious Chocolate Cheesecake.
But sometimes, I want to NOT turn on my oven. And while this No Bake Cheesecake is fantastic, a chocolate version had to be done!
No oven required
Creamy chocolate flavor
Easy prep!
Can be topped with all your favorite candies
You'll love the chocolate flavor in today's cheesecake. The combination of melted chocolate with cocoa powder provides a smooth and rich chocolate taste and texture!
My family all agreed, this Chocolate Cheesecake is better than any other cheesecake I've ever made. EVER.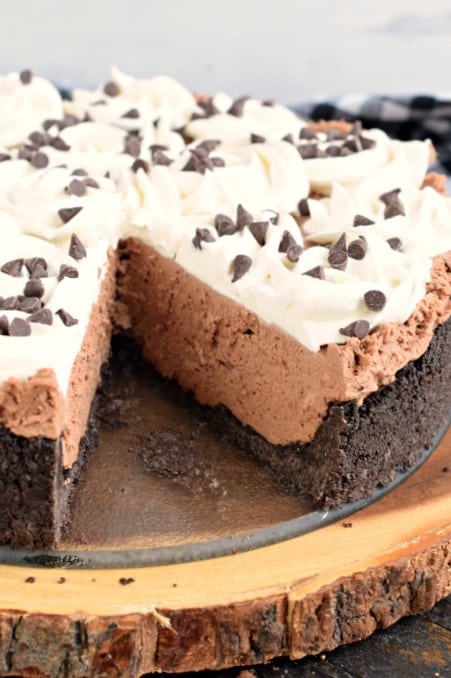 How to Make a No Bake Chocolate Cheesecake
Unlike my traditional no bake cheesecake, this recipe doesn't use JELL-O or sweetened condensed milk. I do cheat and use Cool Whip in the filling, but you can totally make homemade whipped cream instead (which is what I use to top this cheesecake).
STEP 1. Make the oreo pie crust.
In a food processor, pulse Oreo cookies until fine crumbs. This is a thick crust, so keeping the cream filling helps bind the crumbs and create a perfect texture.
Add melted butter to the crumbs and press into a 9-inch springform pan. Make sure to press the crumbs partly up the sides of the pan too.
Freeze crust until filling is ready.
STEP 2. Cheesecake Filling.
Melt semi sweet chocolate morsels in a microwave safe bowl for 1 minute. Stir until smooth (if needed, heat an additional 15-30 seconds). Set aside.
In a mixing bowl, beat softened cream cheese with sugar, vanilla extract, and cocoa powder until fully combined (scrape down the sides of the bowl as needed).
Add in melted chocolate and mix until smooth. Fold in Cool Whip.
Pour cheesecake filling into prepared cookie crust.
Refrigerate cheesecake for 4 hours, or overnight.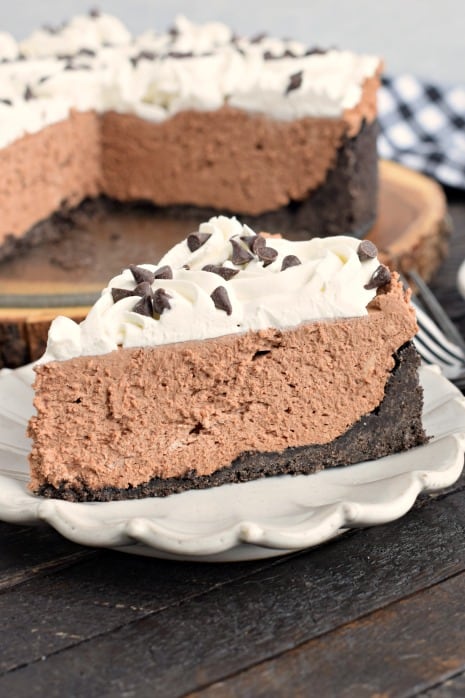 STEP 3. For the topping.
Either make homemade whipped cream or use Cool Whip to swirl on top of the cheesecake. You can put it on the cheesecake before refrigerating it, or right before serving.
For the whipped cream topping, beat cold heavy whipping cream with powdered sugar on high speed until stiff peaks form (about 3 minutes).
Pipe onto the top of the cheesecake or spread it evenly and sprinkle with chocolate chips.
STEP 4. To serve.
Before removing the springform pan, slide a butter knife around the edge of the pan first. Slide the pan off and slice and serve. ENJOY.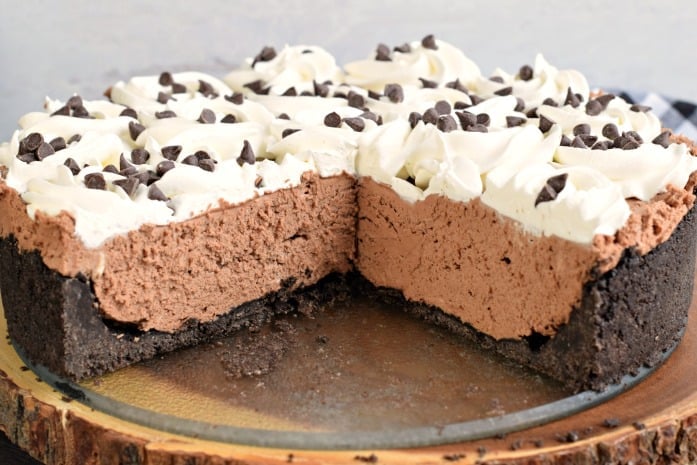 What to put on top of cheesecake
Fresh Berries
Chocolate chips
Crushed Candy Canes – for Christmas!
How to store Chocolate No Bake Cheesecake
I love that this cheesecake can be made ahead of time. It makes it perfect for holidays and parties!
Store this cheesecake in the refrigerator for up to 5 days.
You can also freeze this cheesecake. After chilling for 4 hours, wrap in plastic wrap, then in foil for up to 60 days. Thaw in refrigerator overnight before serving.
Tips for Perfect Chocolate Cheesecake
Swap out the Oreos for any other cookie you prefer. Nutter Butters, Grasshoppers, and Graham Crackers are all delicious options.
Make sure your cream cheese has been softened. This helps the cream cheese blend smoothly with the sugar and cocoa.
Plan ahead to chill the cheesecake for at least 4 hours.
You can also make this cheesecake in a 9-inch square baking dish.
Make this delicious sugar free chocolate cheesecake next! Or give our no bake strawberry cheesecake a try soon.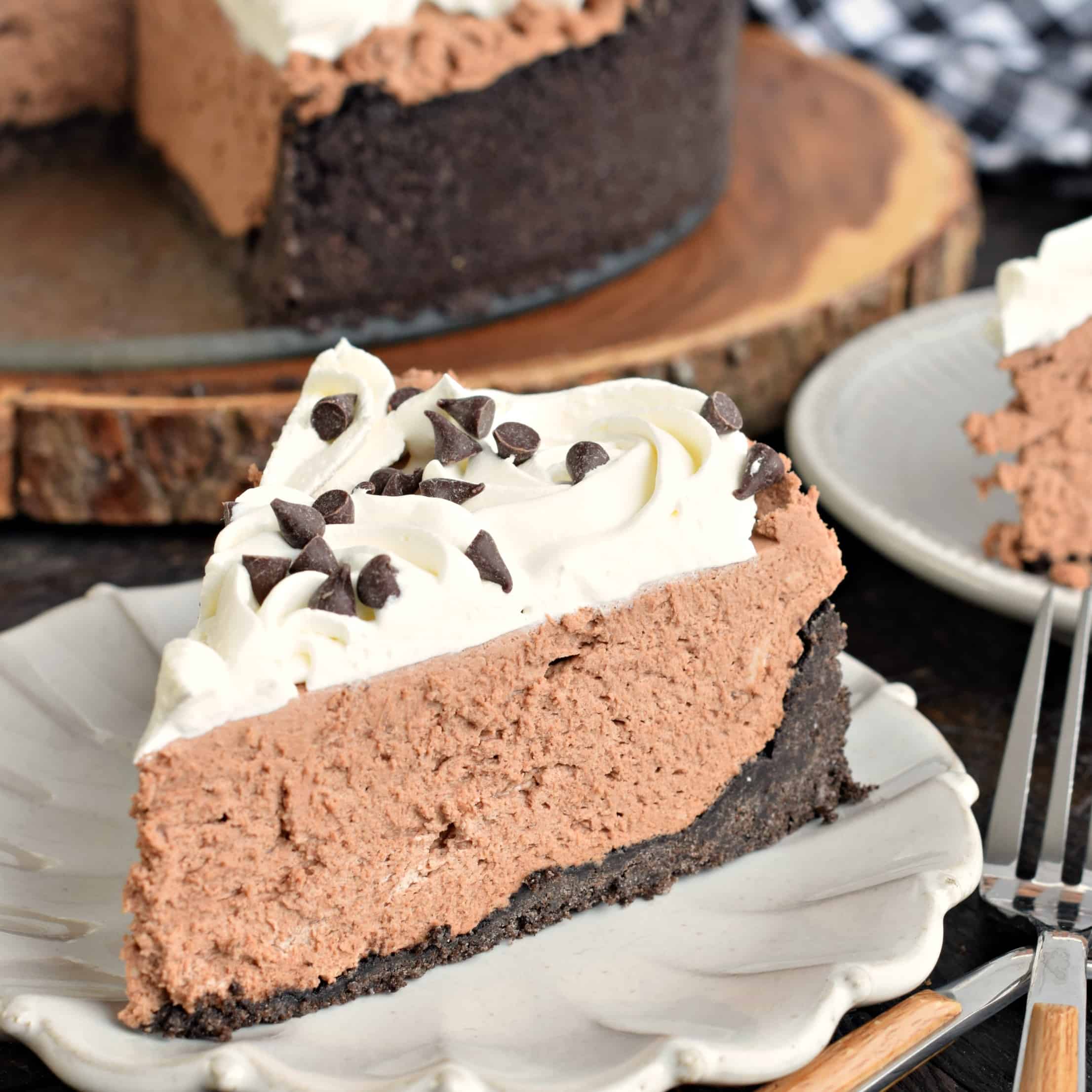 More Cheesecake Recipes
Rich and creamy, this No Bake Chocolate Cheesecake is the perfect weeknight dessert or holiday treat! Simple and delicious.