This No Bake Lemon Cheesecake is a creamy, easy dessert! You'll love the graham cracker crust topped with a tart citrus cheesecake filling!
Love cheesecake? Our vanilla cheesecake recipe is flavorful and baked to perfection. I've got all the tips and tricks too. Readers love our easy Oreo Cheesecake recipe for a no-bake treat.
Why Make No Bake Cheesecake
Regardless of the time of year, a cheesecake is always a delicious idea for dessert.
However, sometimes you don't want to run your oven for an hour, like you do with my lemon cheesecake recipe.
What you REALLY want is a creamy LEMON cheesecake that takes only a few minutes to whip up in the morning and have it ready by dinner time dessert.
Using my favorite no bake cheesecake recipe as a starting point, I got to work creating a lemon version!
What I love about this recipe
No gelatin needed
Bursting with lemon flavor
Makes TWO cheesecakes
Check out all our no bake desserts when you need more ideas! Or give our no bake strawberry cheesecake next! Everyone begs for our no bake nutella cheesecake recipe!
How to Make No Bake Lemon Cheesecake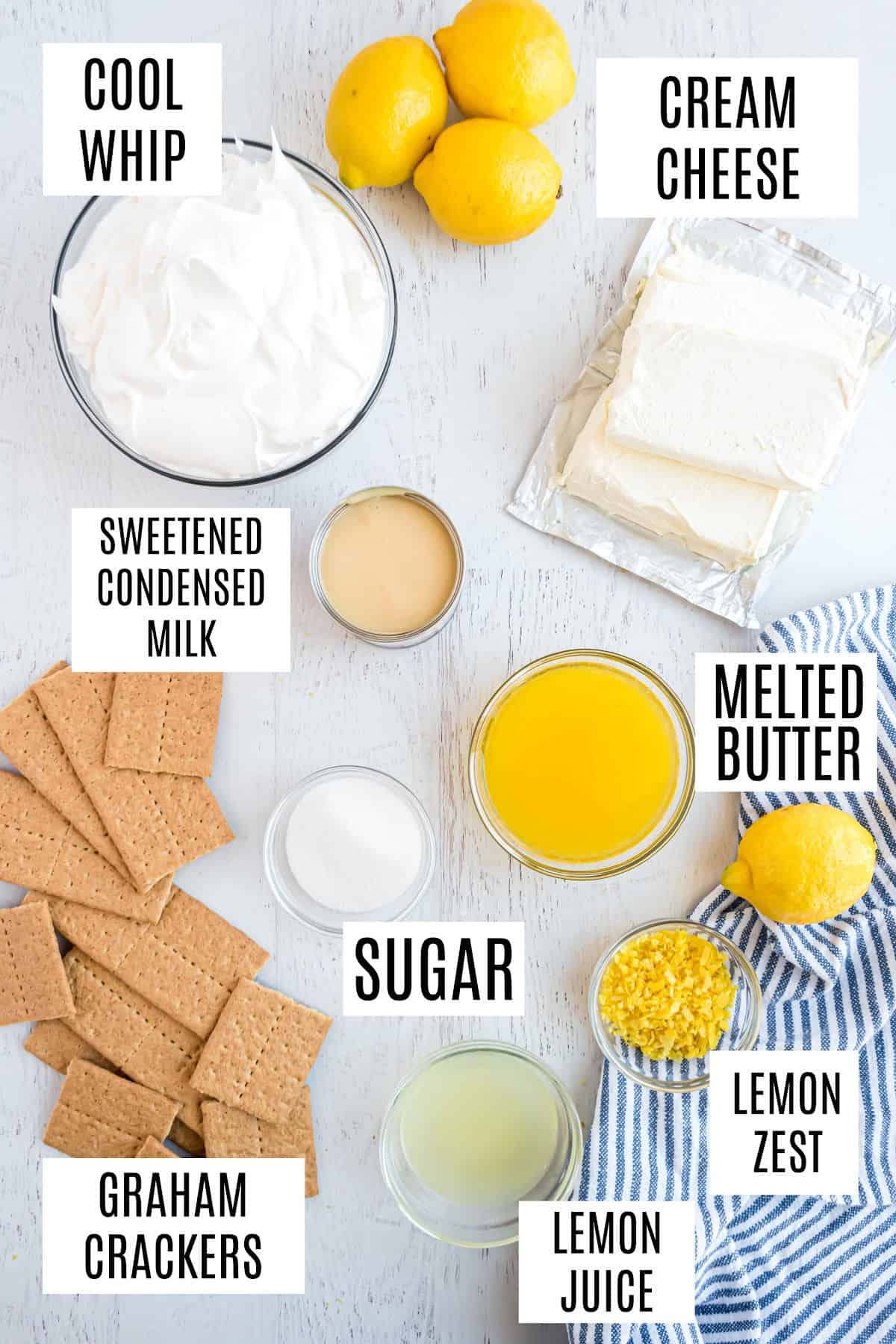 Crust. For my no bake cheesecakes I usually use a homemade graham cracker crust. Buttery and delicious, they're easy to make.
You could certainly buy the pre-made crusts, or swap out the graham crackers for Nilla Wafers, butter cookies, or Golden Oreos!
Filling. Beat softened cream cheese with sweetened condensed milk for about 3-4 minutes. This creates the creamy, sweet base.
Add in lemon juice and zest, beating until smooth. Use my tips and trick on how to zest a lemon!
Fold in Cool Whip and pour into two crusts!
Chill. Refrigerate cheesecakes for about 3 hours (or more). This allows the filling to set up and the lemon flavors to mingle!
How to Serve
To serve, slice cheesecake and enjoy.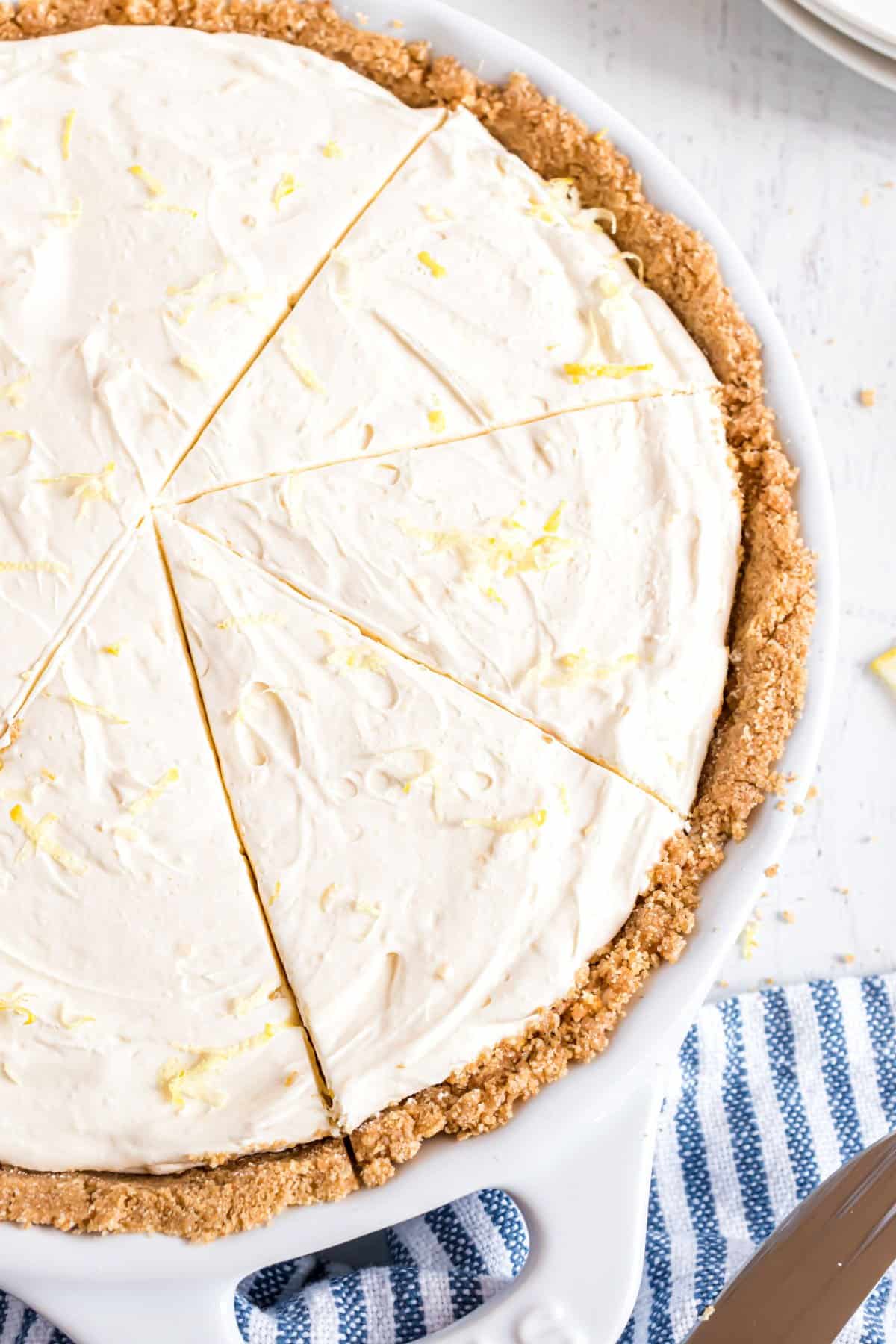 Topping options:
Lemon zest mixed with granulated sugar and sprinkled over the top.
Top the cheesecakes with a thin layer of homemade Lemon Curd for extra citrus flavor!
Add some toasted coconut to the top for a flavorful twist.
Tips and Tricks
Start with softened, room temperature cream cheese for the creamiest, no lump, filling. Be sure to choose the block of cream cheese, not the spreadable kind in a tub.
When adding the condensed milk, keep mixing until smooth!
For best results, store cheesecake in refrigerator for up to 4 days.
Freeze cheesecake. Wrap the top in plastic wrap and cover the entire cheesecake in foil (or airtight container). Freeze for up to 30 days. Thaw in refrigerator overnight, slice and enjoy.
Make one in a square baking dish instead! Line a 9-inch square baking dish with foil, press the crust mixture in the bottom (not on sides). Add filling and chill. Cut into squares!
Want a 13×9 instead? Press all the crumbs into the bottom of a foil lined 13×9, top with all the filling, chill, and enjoy.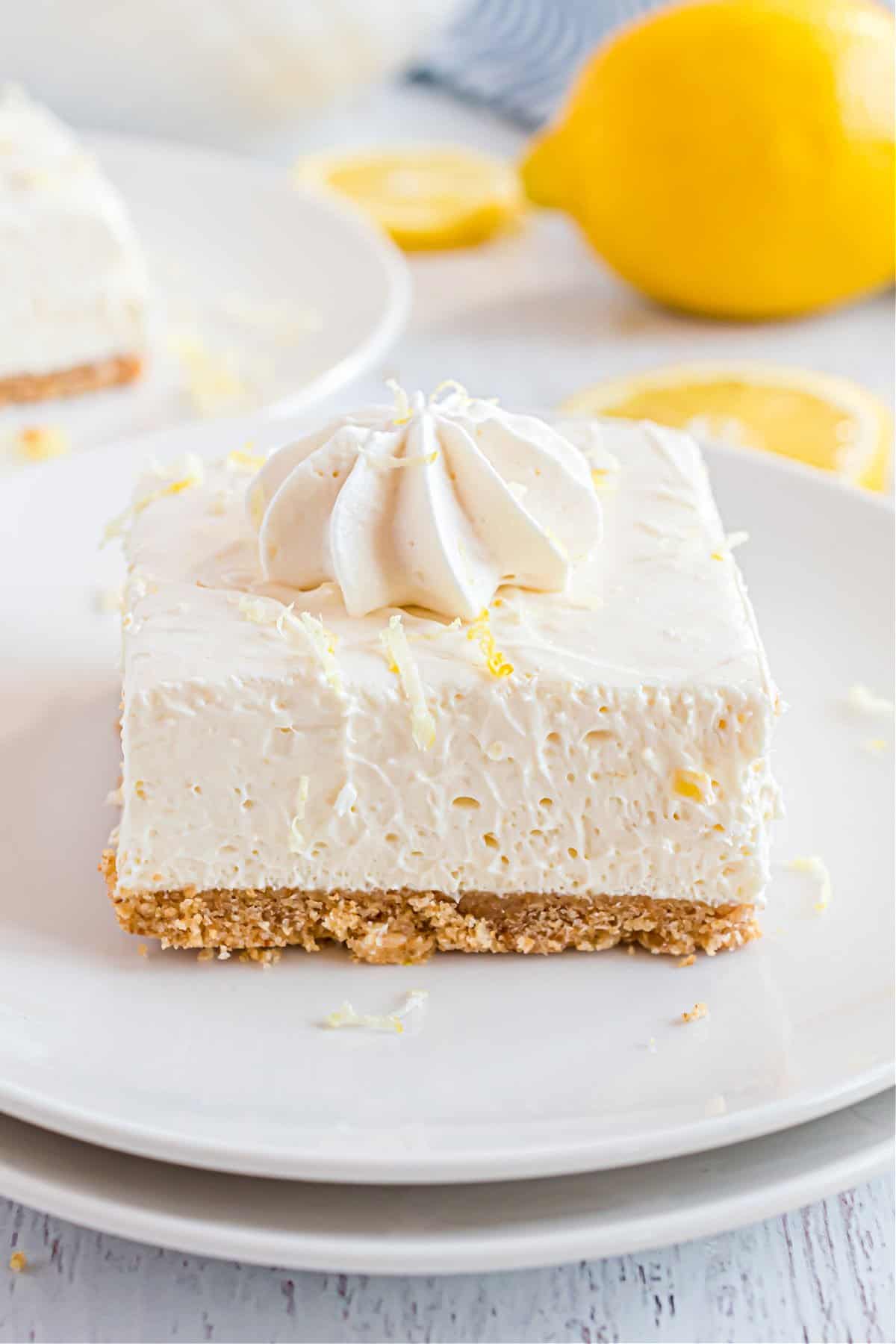 This No Bake Lemon Cheesecake is a creamy, easy dessert! You'll love the graham cracker crust topped with a tart citrus cheesecake filling!