Sweet, tart and perfectly smooth, this Easy Lemon Sorbet recipe is the perfect summer palate cleanser. Enjoy it on its own or with a shot of vodka to kick off happy hour!
No ice cream maker needed for today's recipe. If you're looking for a creamier frozen treat, try our homemade Chocolate Ice Cream.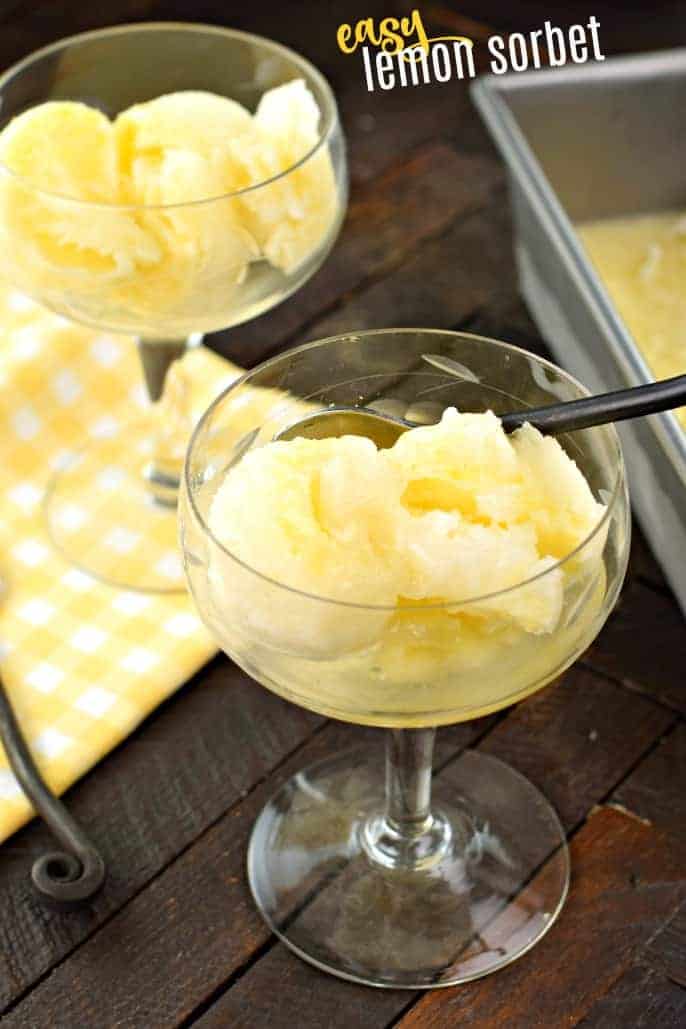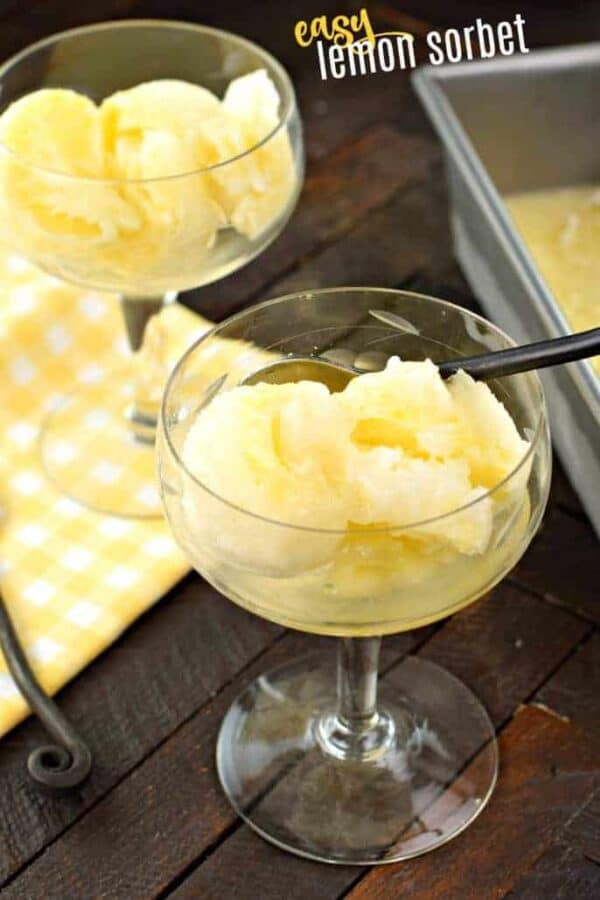 What is Sorbet
Sorbet is a frozen dessert made with frozen sweetened fruit juice or flavored syrup. It's ice cold and sweet like sherbet and ice cream, but contains no dairy.
Some sorbets contain alcohol or liqueur for a softer, more drinkable consistency. You can enjoy them as a light dessert, an afternoon refreshment or even a palate cleanser between courses of a large meal!
I love all kinds of sorbets, but my favorite are the ones on the tarter side. This easy Lemon Sorbet is pure delight for fans of cold, fruity desserts.
It's sweetened just enough with the perfect lemon pucker!
Delicious with or without vodka.
Only 4 ingredients.
No special equipment necessary!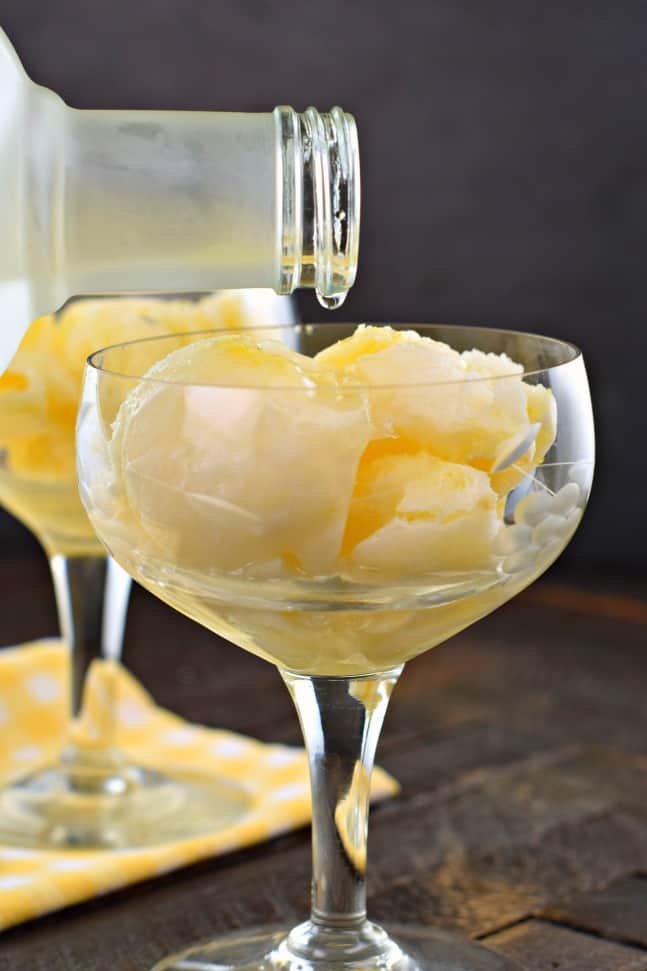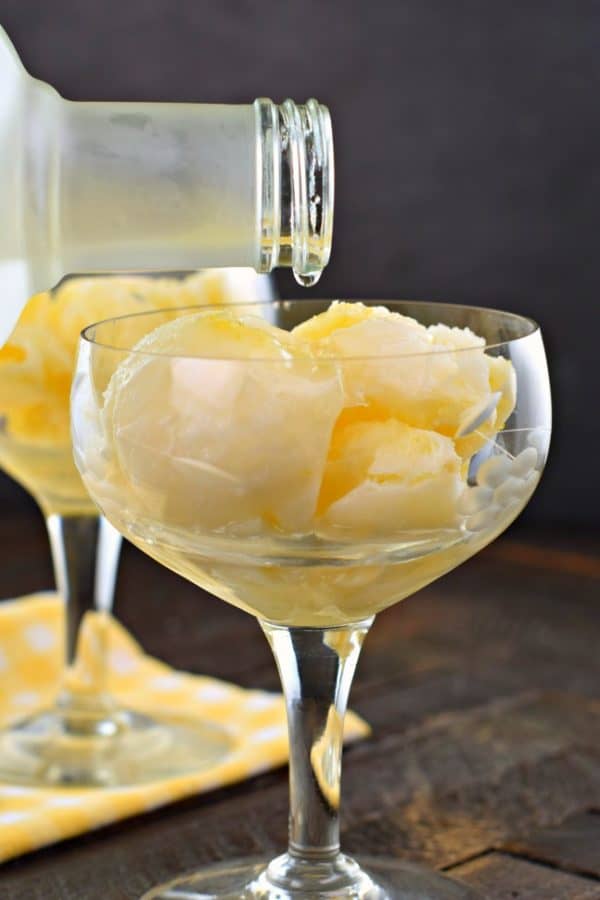 Ingredient Notes
Sugar. It's dissolved in water to form a simple syrup.
Lemon peel. Check out my tips and tricks for how to zest a lemon.
Lemon juice. You need a full cup of fresh squeezed juice for this lemon sorbet recipe!
Vodka. An optional addition for the grown ups!
Tips and Tricks
For the simple syrup: Mix together to sugar and water in a saucepan. Boil for one minute before adding the lemon peel.
Let the syrup cool before adding lemon juice to the mixture.
Freeze the sorbet mixture for at least 4 hours, or until firm.
I love this scooped into a fancy glass for serving! Add a shot of vodka and it doubles as a fancy frozen cocktail too.

Recipe FAQs
Is lemon sorbet healthy?
Lemon sorbet is not necessarily a health food but it is a better-for-you-option than many frozen desserts. It's naturally fat free and lower in calories than ice cream, with a hefty dose of Vitamin C from the fresh lemon juice.
How can I make it sugar free?
Make this sorbet sugar free by making it with your preferred sugar substitute instead of granulated sugar. Granulated monk fruit or stevia would both work.
What other liquors could I add?
Any clear liquor would taste good in this sorbet. Try it with a shot of gin or white rum instead of vodka for a fun twist!
How do I store sorbet?
After the sorbet is frozen completely, transfer it to a freezer safe airtight container with a lid. Store in the freezer for up to 2 months.
Can I double this recipe?
Yes, this sorbet recipe is easy to double with great results!
Can I make it with limes instead of lemons?
Yes, limes are a delicious option for this sorbet recipe. Or use half and half for a super citrusy treat!
More Easy Dessert Recipes
Cool off with this tangy, sweet easy lemon sorbet. Easy to make with or without vodka!