Looking for a beautiful spring dessert idea? This Jelly Bean Fudge is packed with flavor and fun!
**This post is sponsored by Jelly Belly® jelly beans**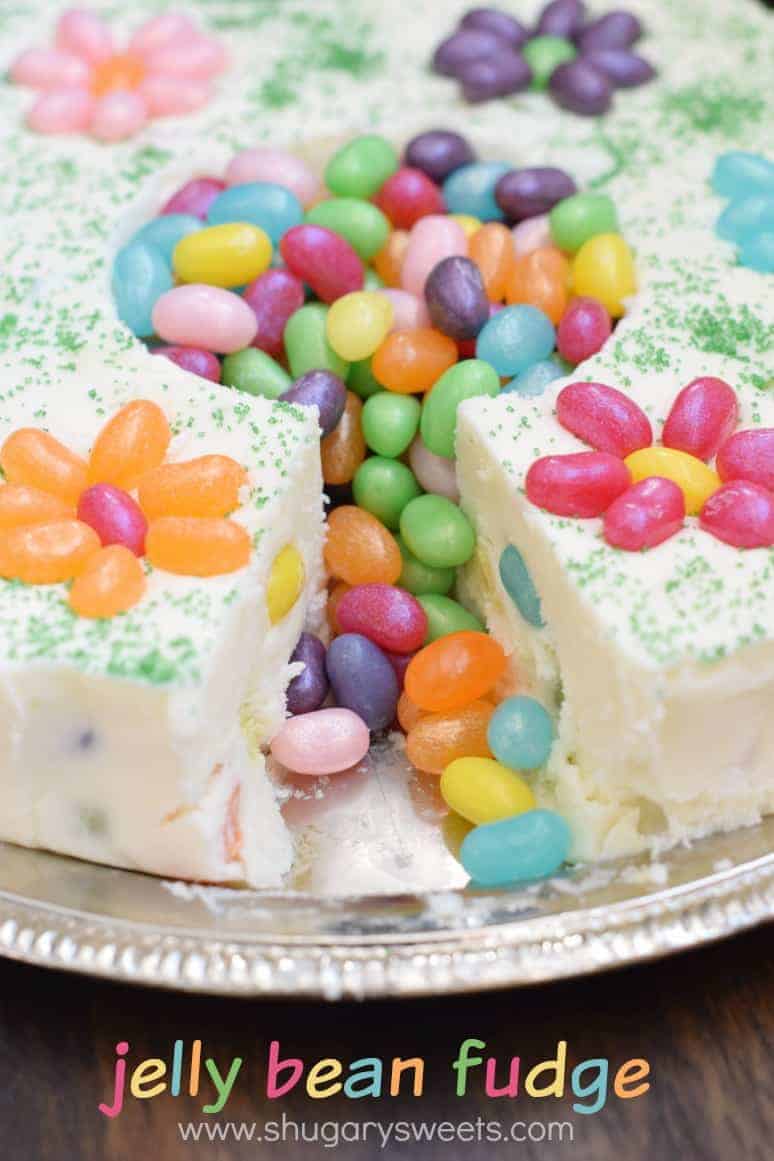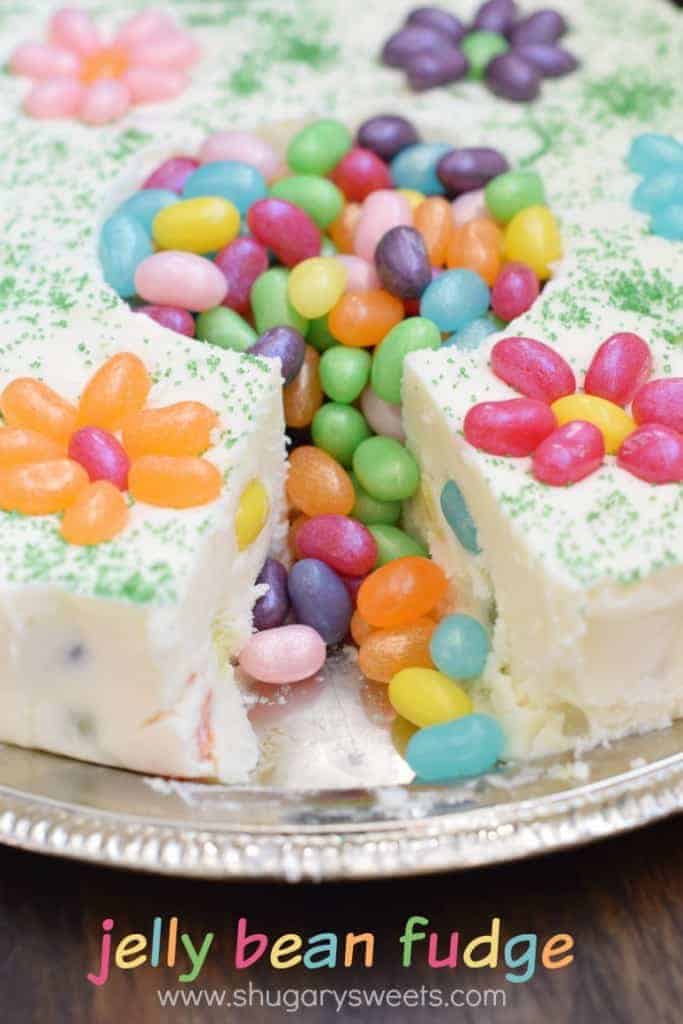 Do any of you sit around, watch tv, and think about food? It's normal right? It's also normal to hide "said food" from family members. Am I still right?
I grew up with three brothers, so hiding food is how I managed to enjoy my favorites. Mom would come home from the grocery store and I never complained about helping her unload. To me, this was my opportunity to scope out the goodies and "hide" my favorite items. You know, my favorite candy, my favorite cereal, etc. My brothers would never know there was a box of fruity sugary cereal in my room because they never saw it in the first place! If you've ever seen 3 boys pour themselves a huge tupperware bowl of cereal, you would understand how a little girl would be left with the crumbs in the bottom of the bag. It was survival of the fittest…or outsmart the boys!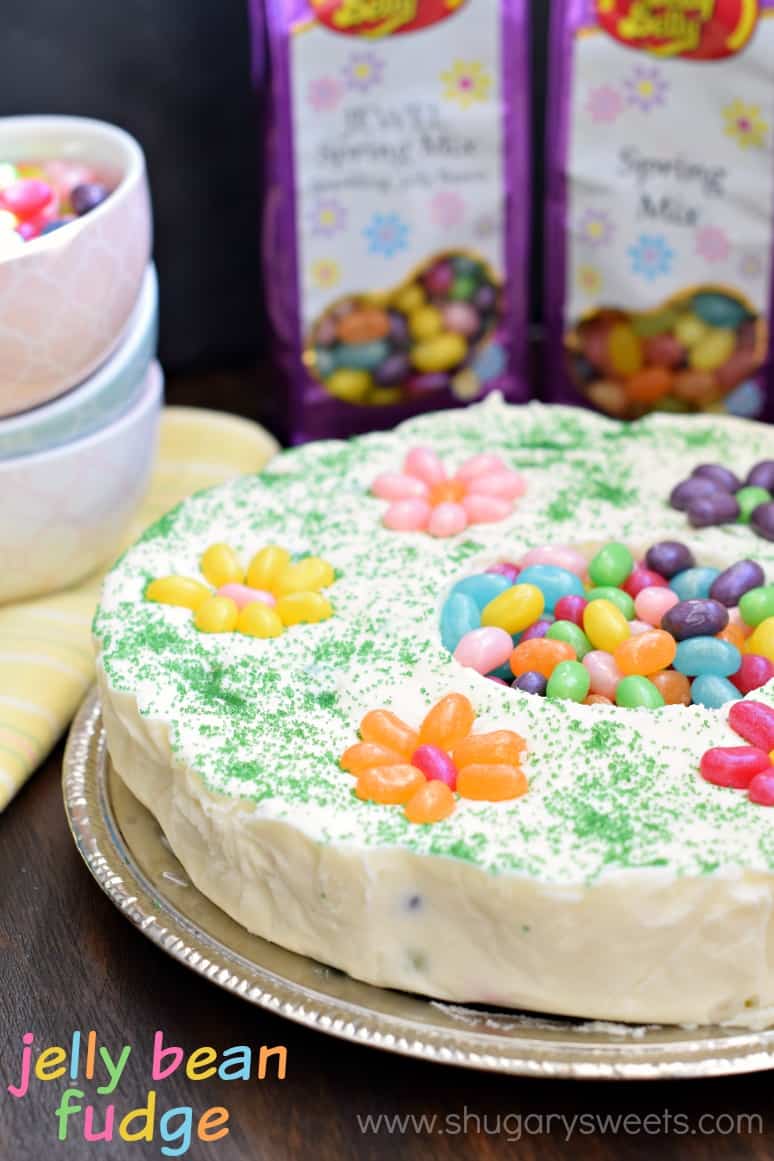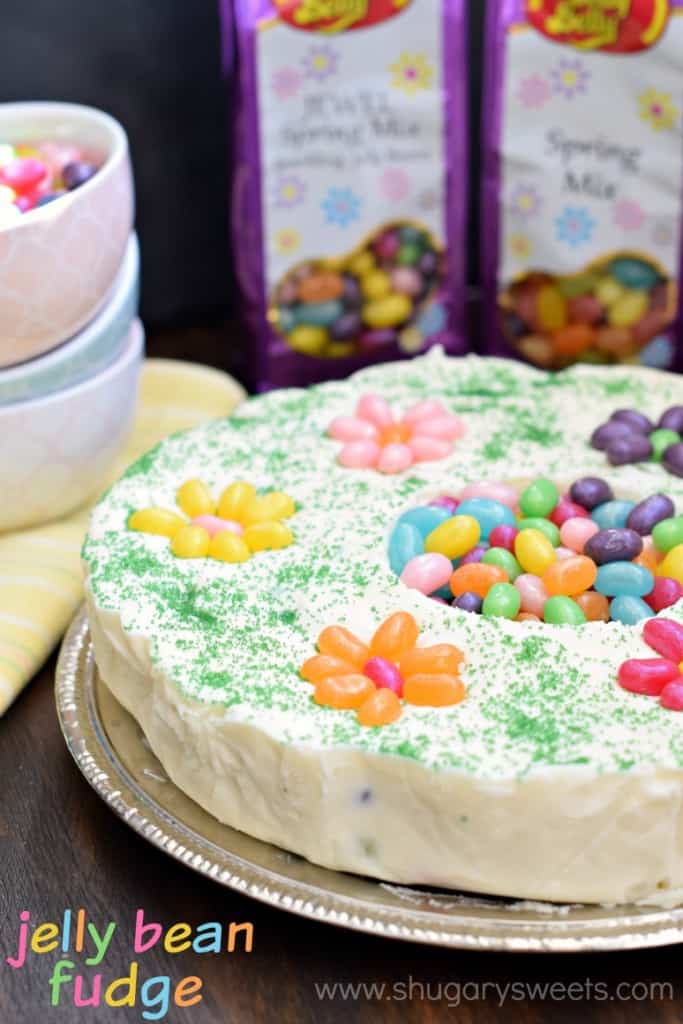 Anyway, I've noticed that as an adult I still have a tendency to hide food. Not necessarily in my room, but I'll push those cookies to the back of a cabinet and behind the jars of olives and green beans where my kids are sure to not take a second glance.
Or I'll buy my favorite candy and hide it in cabinet with the pots and pans.
And then, while sitting and watching my favorite tv shows, I think about food. And where in the world did I put it and hide it!?!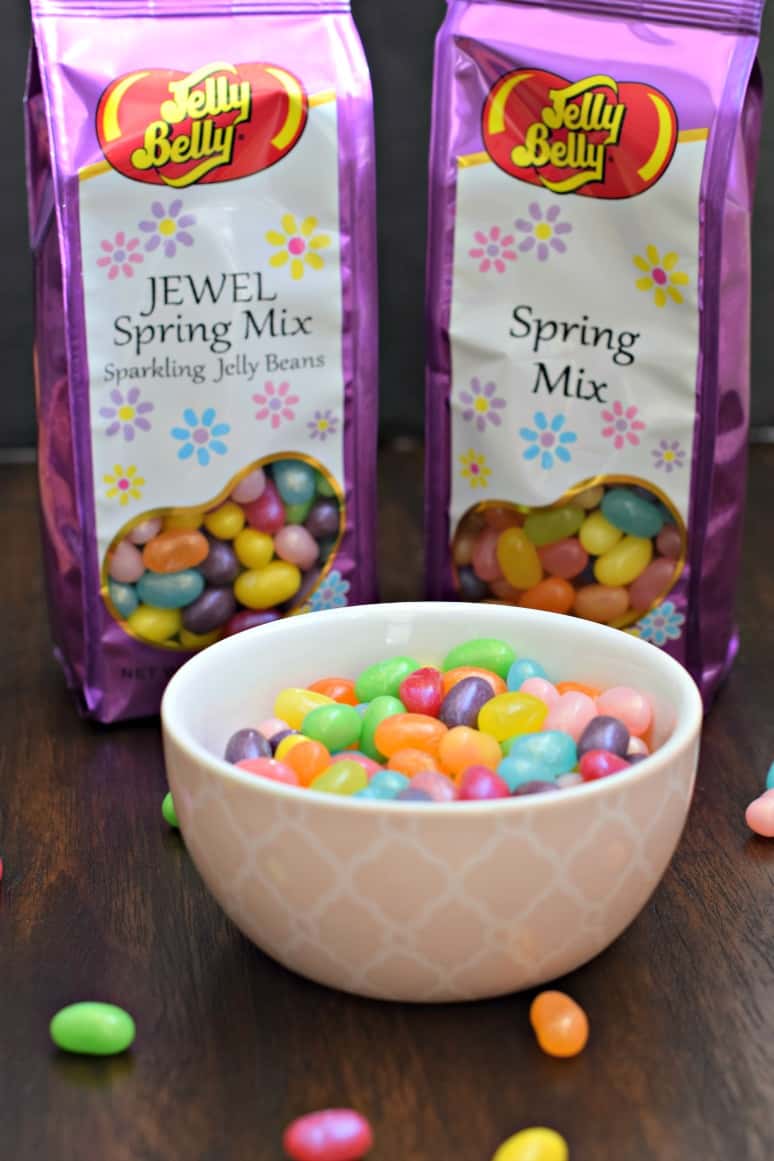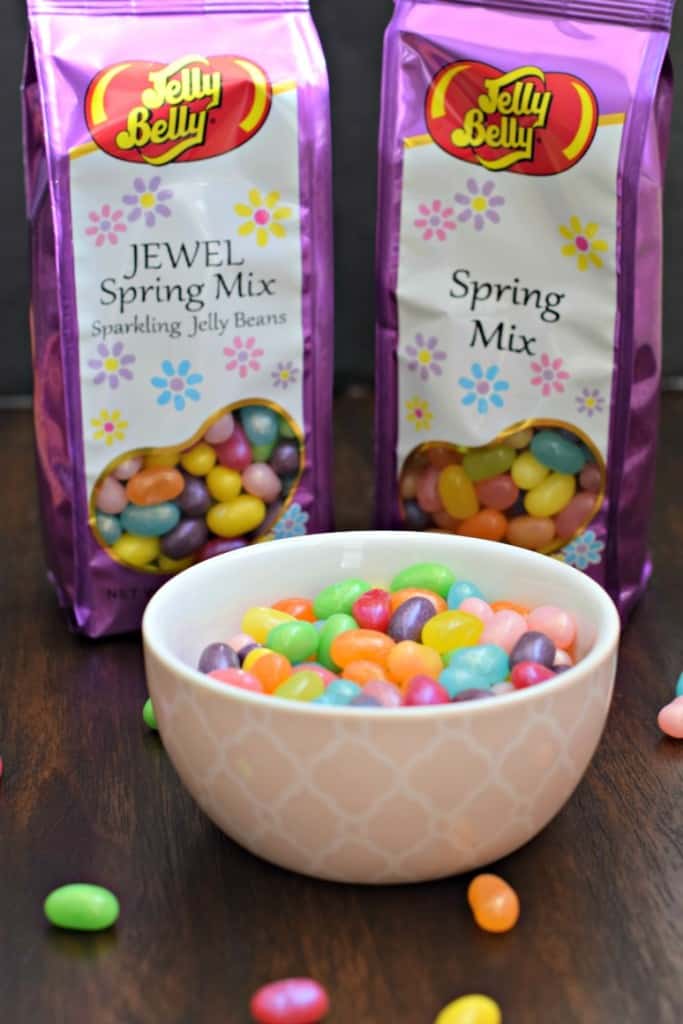 Jelly Belly® jelly beans are one of those "favorites" that I hide. These are premium GOURMET jelly beans. You can share with your kids, if that's the kind of parent you are, but I prefer to store these away for some "me time."
Unless of course I'm creating a fun treat. One for kids AND adults. How great is this easy, Jelly Bean Fudge ring? Wouldn't it be gorgeous on your Easter dessert table? Or for Mother's Day? Wrap it in cellophane and it would make a wonderful gift for new mom, or a teacher, or a friend's birthday!
As I stared at the packages of Jelly Belly® jelly beans, the cute pastel flowers spoke to me! I knew I had to decorate this special fudge with some adorable jelly bean flowers.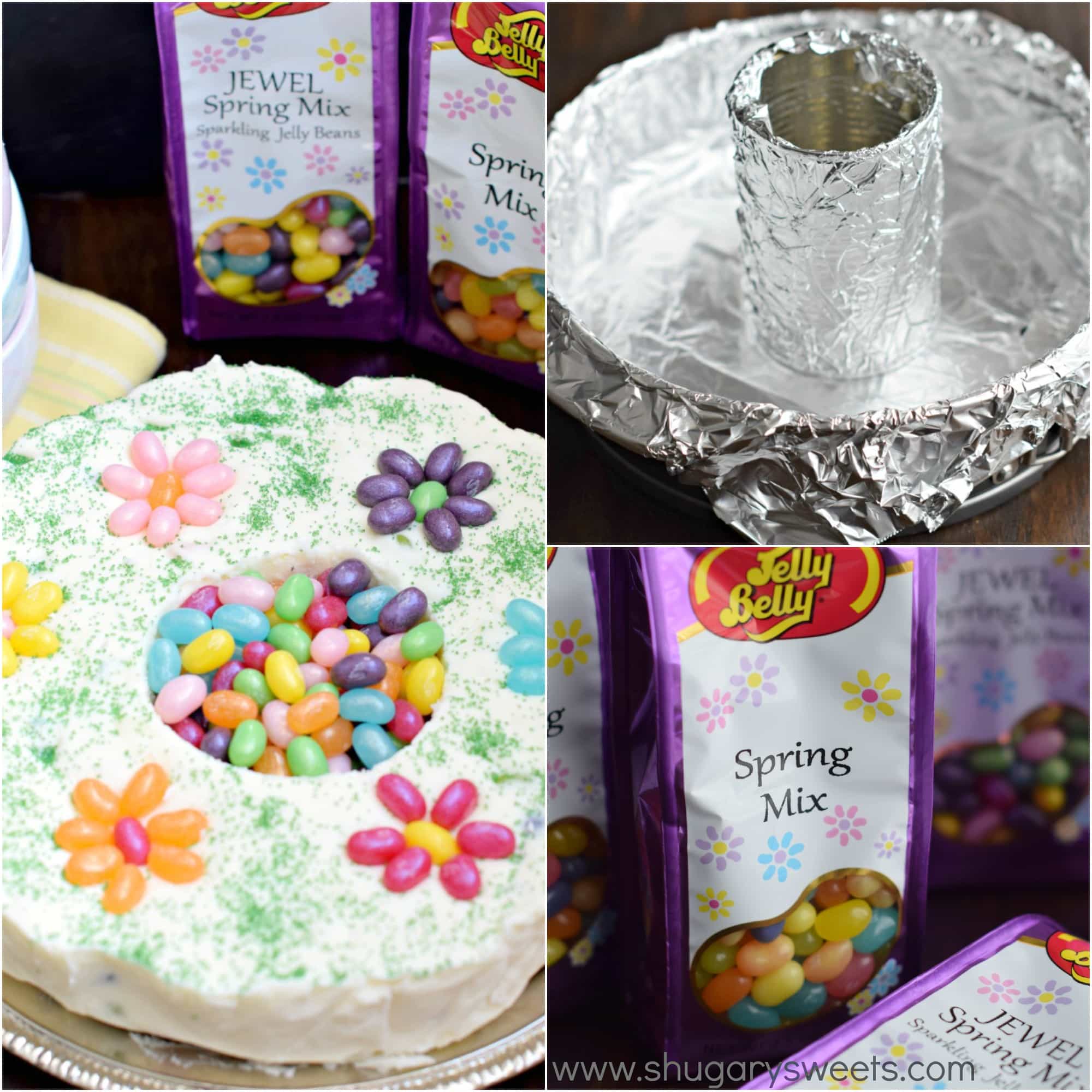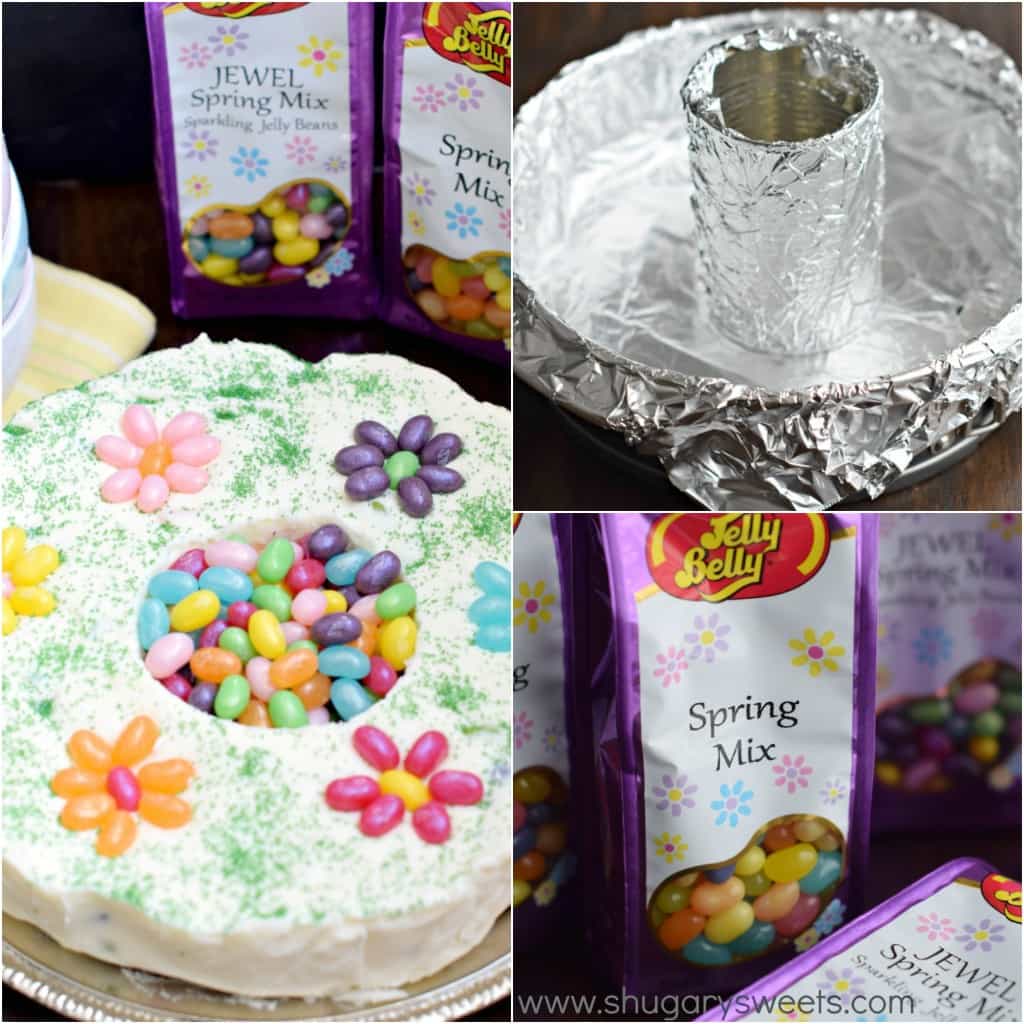 How to make Jelly Bean Fudge
Making this fudge is super easy too.
I used my 9 inch springform pan and wrapped it in foil. I then took an empty can (it was those green beans from my pantry in case you were wondering) and wrapped that in foil too.
Press the foil real firm around the can and the edges of the pan. Set this aside while you make the fudge.
For the fudge, there is no candy thermometer needed. Just follow the recipe below.
Slowly stir in your Jelly Belly® jelly beans (I used the Spring Mix for inside the fudge) and pour your hot fudge mixture into your prepared pan.
Sprinkle with your green sanding sugar.
Then, use the JEWEL Spring Mix of the Jelly Belly® jelly beans to create fun flowers for the top of the fudge. Press them in gently on the top of the fudge.
When you're all finished decorating, refrigerate the fudge, uncovered, for at least 4 hours (or more)!
When you're ready to place on a plate, unclasp the springform pan to release the fudge. Peel away the foil, gently.
For the center can you may need to use a small butter knife and wiggle the can out carefully.
Place your fudge ring on a serving plate and fill the center with extra Jelly Belly® jelly beans. Leave a small knife near the plate, so your friends and family can serve themselves. ENJOY!!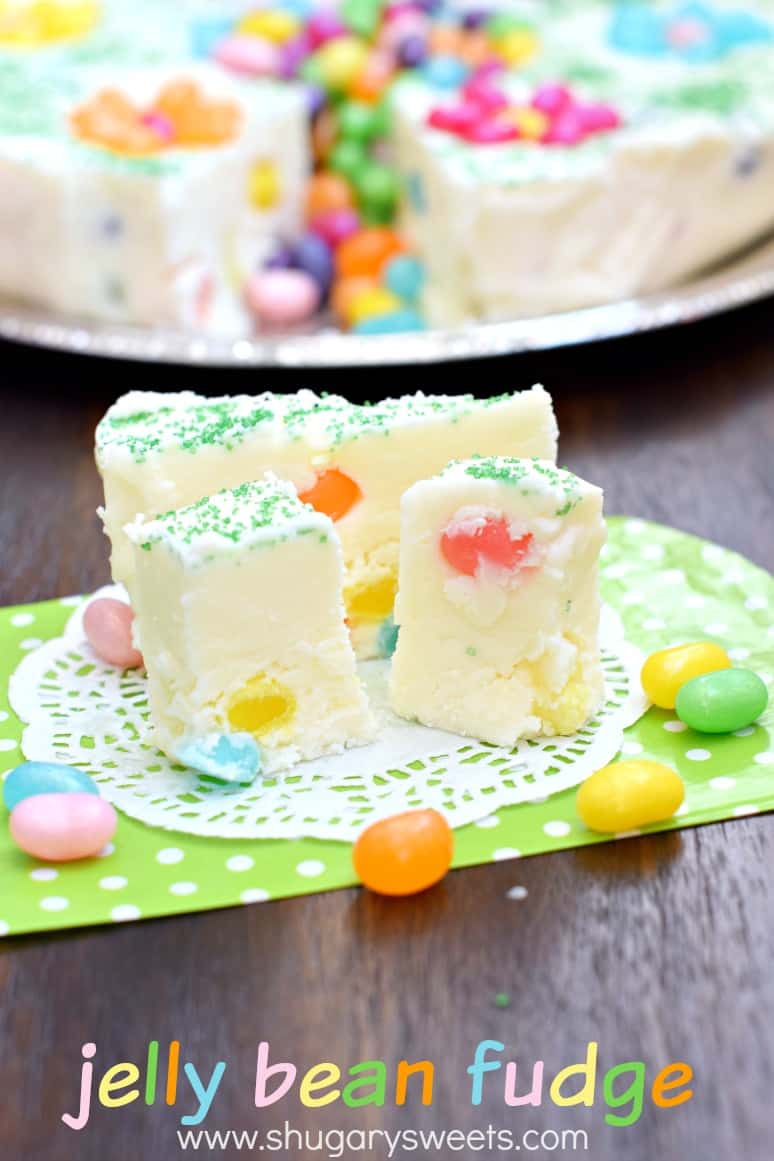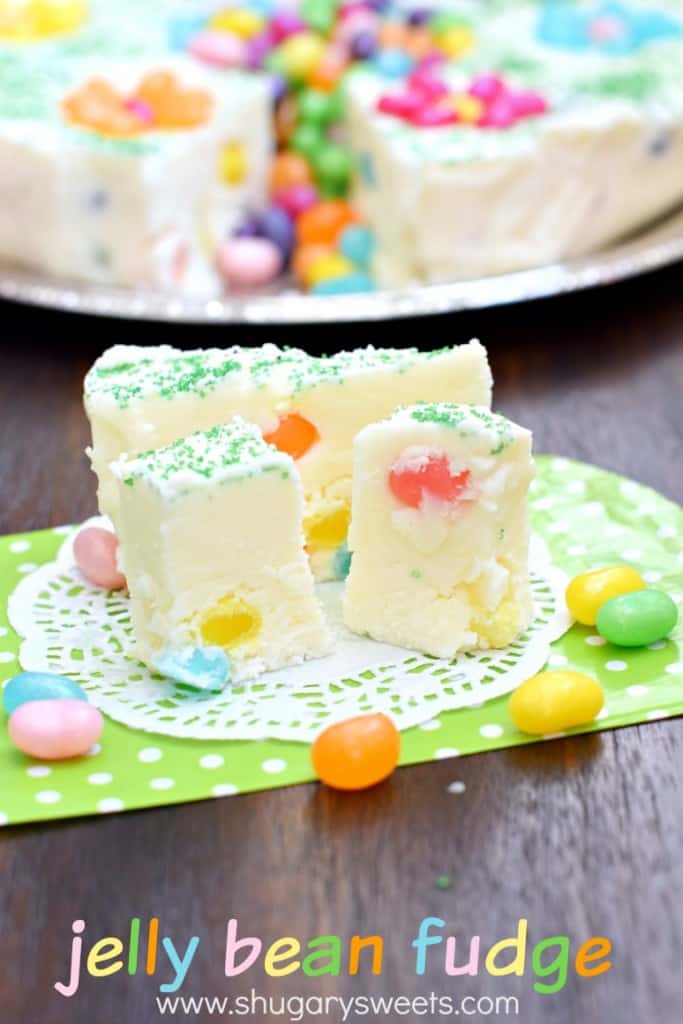 Yield: 81 pieces
Jelly Bean Fudge
Total Time
4 hours
28 minutes
Fun and festive Jelly Bean Fudge recipe!
Ingredients
1 jar (7oz) marshmallow cream
1 bag (11oz) white chocolate morsels
2 cup granulated sugar
3/4 cup heavy cream
3/4 cup unsalted butter
pinch of salt
1 1/2 cup Jelly Belly® jelly beans (spring mix)
2 cup Jelly Belly® jelly beans (JEWEL spring mix), for garnish
1 Tbsp green sanding sugar
Instructions
Prepare a 9inch springform pan by lining it with foil. Wrap foil around an empty fruit or vegetable can. Place in center of springform pan and set aside.
In a large mixing bowl, add the marshmallow cream and white chocolate morsels. Set aside.
In a large saucepan, add sugar, heavy cream, unsalted butter and salt. Bring to a boil over medium high heat, stirring frequently. Once boiling, continue to boil for a full 4 minutes, stirring constantly. Remove from heat and pour over marshmallow mixture. Using an electric mixer, blend for about one minutes, until morsels are melted and mixture is smooth.
Fold in the 1 1/2 cup Jelly Belly® jelly beans, until combined. Pour into prepared pan. Sprinkle with green sanding sugar. Using the JEWEL spring mix of Jelly Belly® jelly beans, arrange into flowers on top of fudge. Once decorated, place fudge, uncovered, into the refrigerator for 4 hours, or overnight.
When ready to serve, remove fudge from springform pan by releasing the latch. Unwrap the foil and place on a serving plate. You may need to use a butter knife to gently cut and remove the center can, wiggling it out gently. Fill center of ring with remaining Jelly Belly jelly beans. Serve with a knife so guests can cut their own pieces! ENJOY.
Nutrition Information:
Yield:
81
Serving Size:
1 piece
Amount Per Serving:
Calories:

86
Total Fat:

3g
Saturated Fat:

2g
Trans Fat:

0g
Unsaturated Fat:

1g
Cholesterol:

7mg
Sodium:

9mg
Carbohydrates:

15g
Fiber:

0g
Sugar:

13g
Protein:

0g

**This post is sponsored by Jelly Belly® jelly beans. While I have been compensated to create this lovely Spring recipe, all opinions and views are 100% my own!**