Easter Blondies filled with pastel candy! Chewy blondie recipe with festive m&m's or mini eggs! Easy one pan recipe.
Love fast and easy bar cookies? Our M&M cookie bars are chewy and delicious, and bake up in a pan. Or give our peanut butter bars a try next!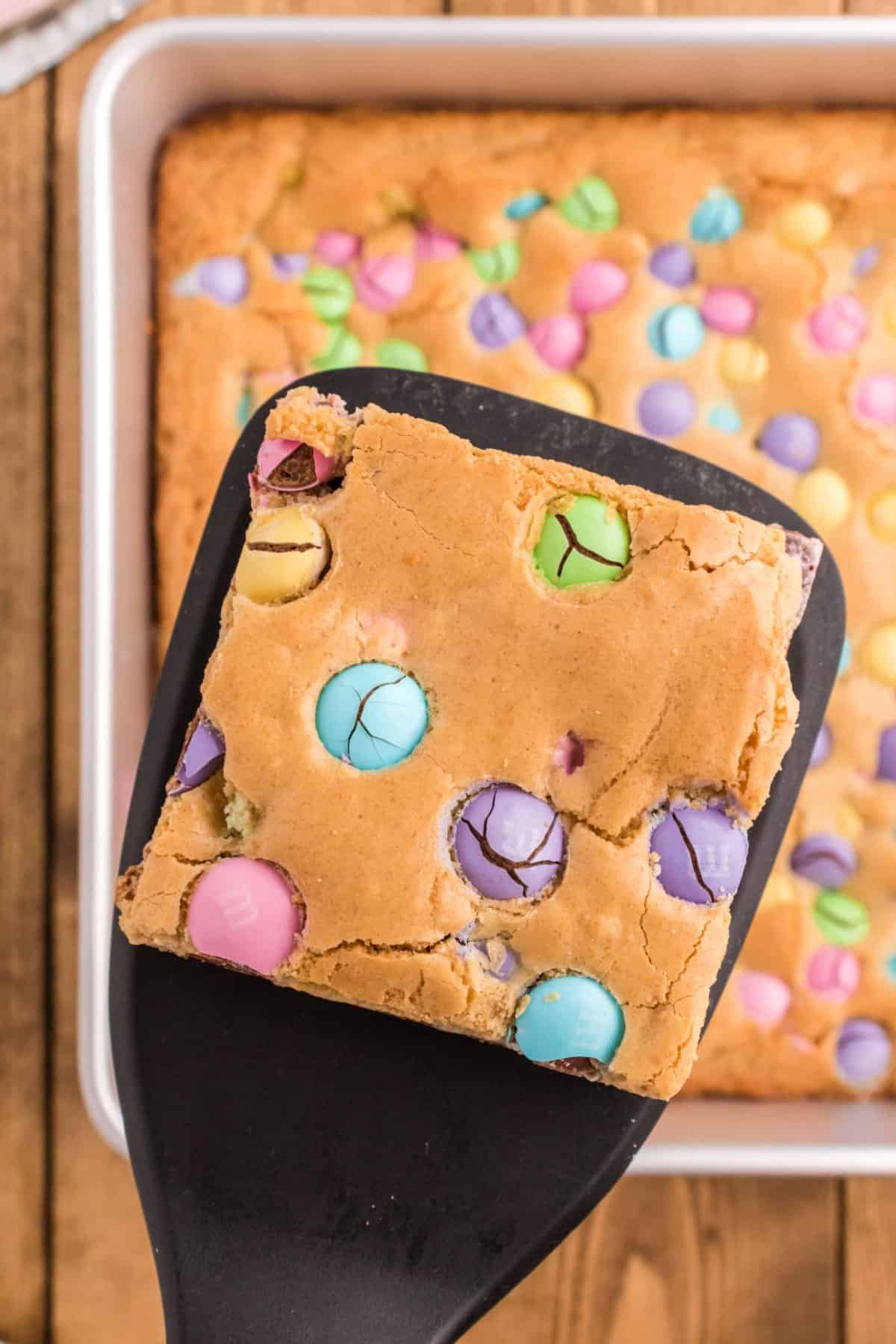 Why Bake Blondies
These thick, chewy blondies are so delicious and will looks beautiful on your Easter dessert table!
Fudgy brownies tend to get all the attention (for a good reason) but I often forget how much I love blondies!
Texture. With a texture that's somewhere between thick fudgy brownies and chewy cookies, blondies are especially wonderful when they have candy folded in.
Easy. I'm a big fan of easy desserts that don't take a lot of steps and blondies definitely fit the bill. It's as easy as making drop cookies but you don't even have to scoop the dough into balls! Just press everything in the dish and bake.
Love chewy blondies? Try our pumpkin blondies next!
Ingredients for Blondie Bars
Here's what you need to make delicious chewy blondies: Be sure to scroll down to our recipe card for measurements and directions.
Brown sugar– gives these blondies the chewy texture like brownies.
Butter – Melting the butter achieves a chewy texture as well.
Eggs
All purpose flour
Baking soda
Baking powder
Vanilla – be sure to use pure vanilla extract, or try our homemade vanilla extract.
Salt – Here's why I always use kosher salt in my baking.
Pastel Candy- whether you choose holiday M&M's or Hershey eggs, toss in your favorites.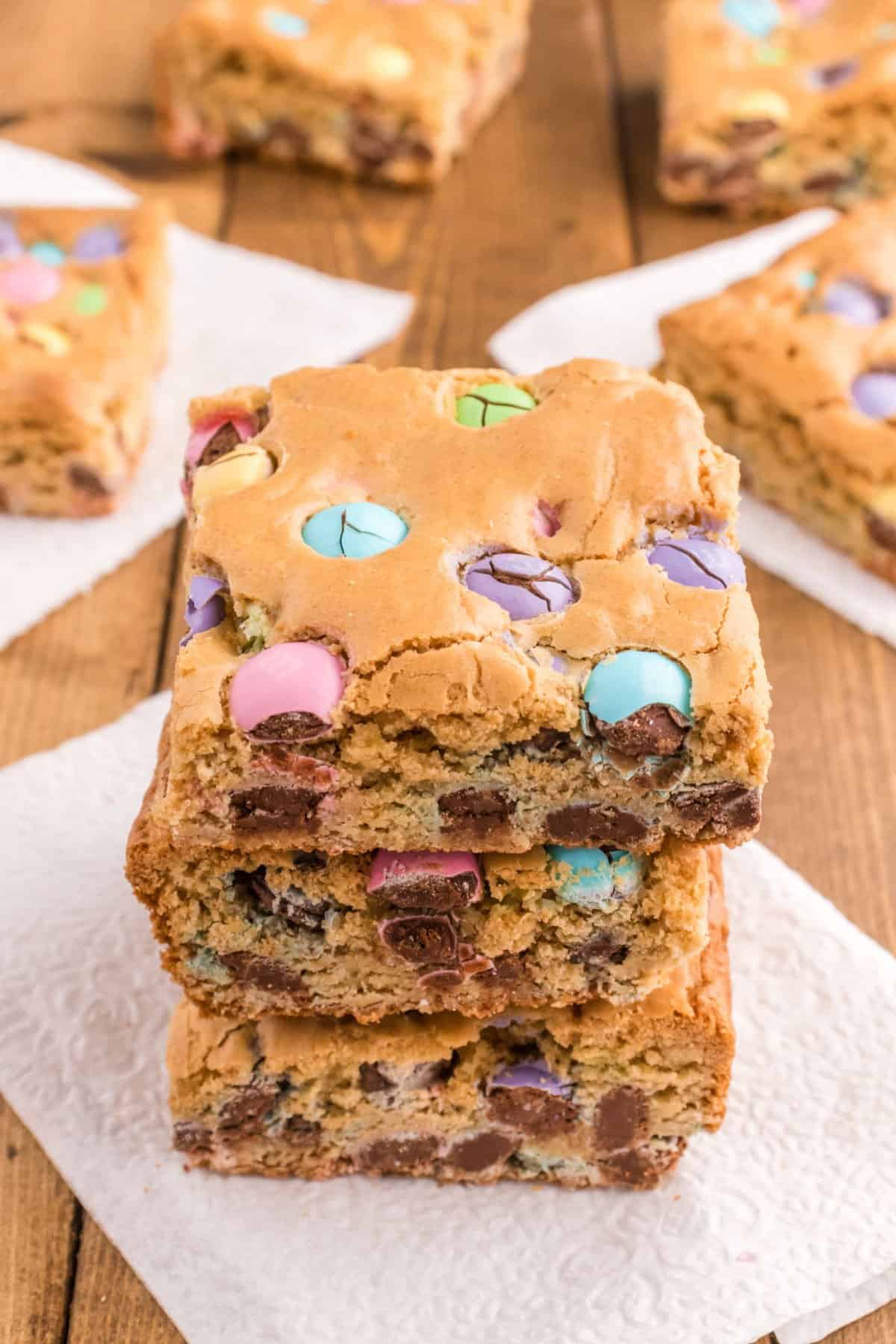 Mix In Ideas
Blondies are easy to make an so adaptable to all kinds of add ins and toppings. This recipe makes perfect blondies for any time of year, not just Easter!
You can skip adding the candy altogether for a straightforward basic blondie, or substitute with another chocolate coated candy. Here are some other delicious ideas to add to your blondies:
Chocolate chips – Milk chocolate, dark chocolate or semi-sweet
Peanut butter cups – Mini sized or full sized chopped into pieces
M&Ms – Red and green M&Ms turn these into holiday treats!
Reese's pieces
Peanut butter chips
Butterscotch chips
White chocolate chunks (with or without and macadamia nuts!)
Get creative and have fun making your own crowd pleasing blondies!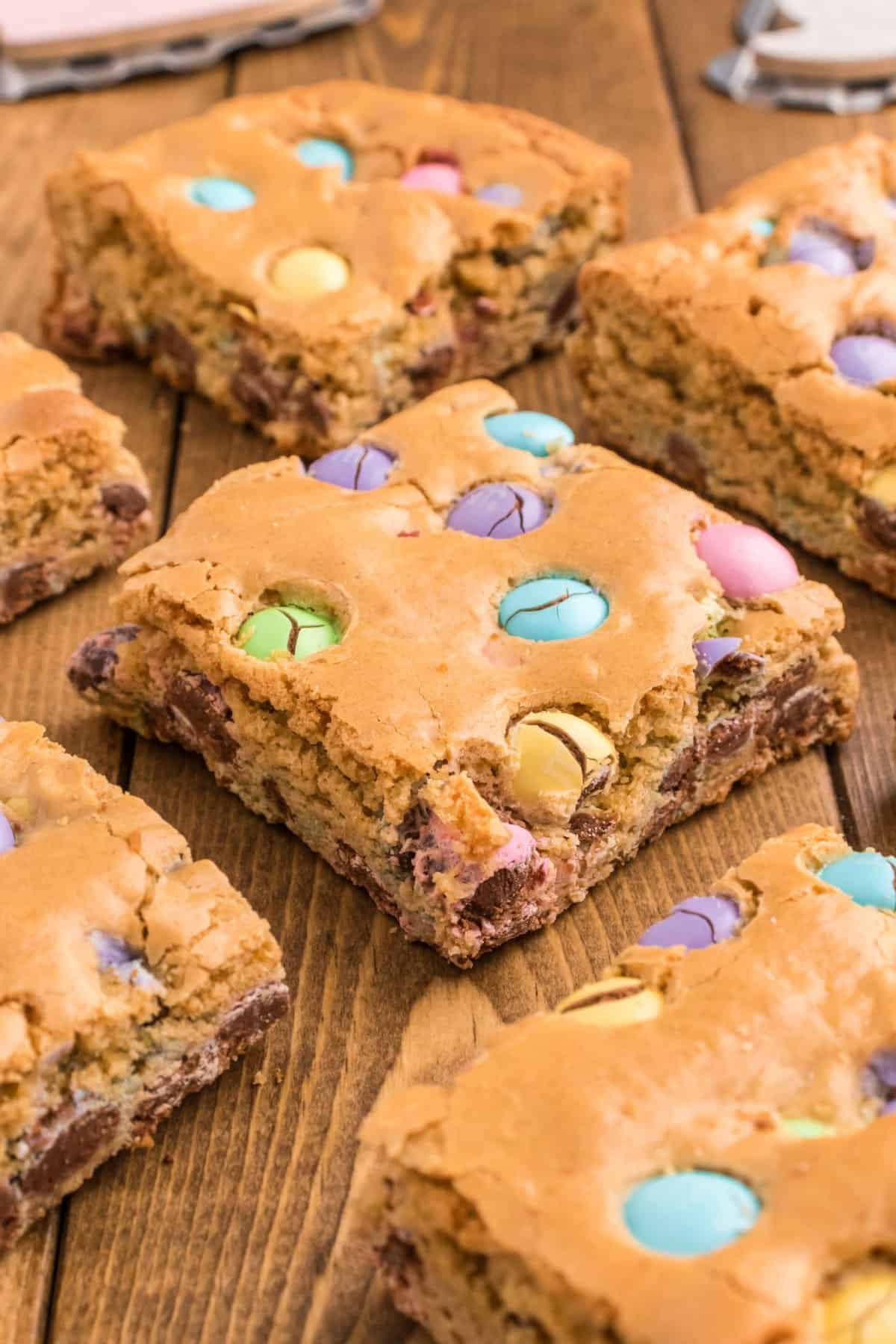 Storing Blondies
Store: I keep my cut blondies bars in an airtight container at room temperature. They'll last about a week, but mine always disappear within a day or two because we love them so much.
Can you freeze blondies?
Yes! These bars freeze beautifully. Cut into bars, then freeze with sheets of wax paper between layers of bars to keep them from sticking together. Let thaw and enjoy.
Blondies made with love are extra appealing with the addition of chocolate Easter eggs! Make these for your next springtime party or as the finale for your family's Easter dinner .