Soft and chewy M&M's Cookie Bars. Packed with brown sugar and chocolate, you won't be able to resist these cookie bars!
Love M&M candies? Be sure to try these thick and fudgy M&M Brownies for a chocolate treat. Or, give our M&M Fudge recipe a try for the holidays!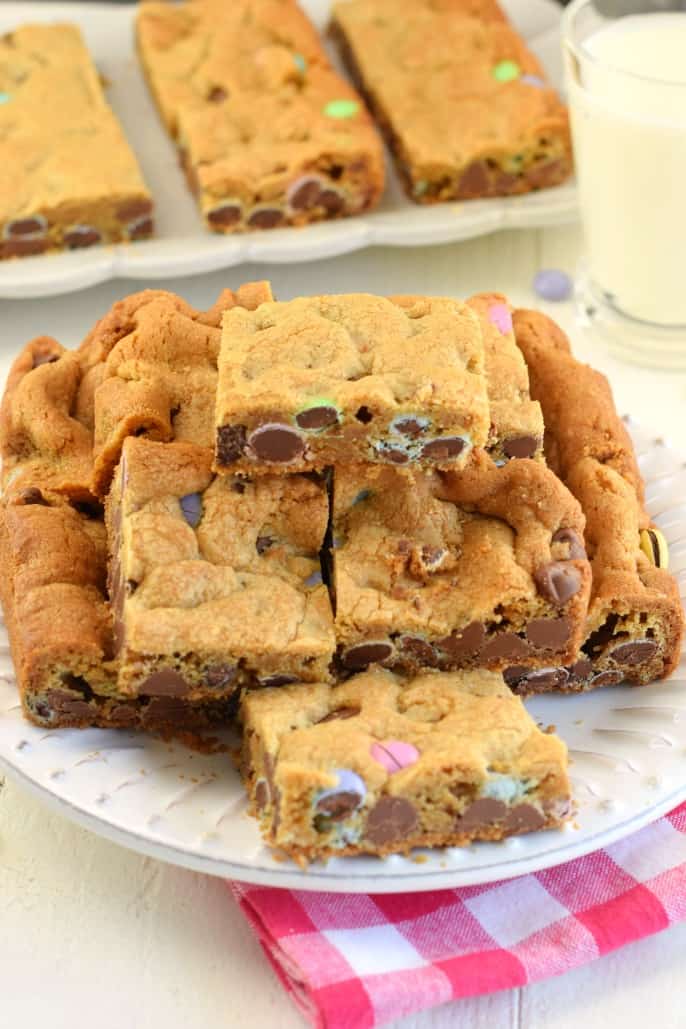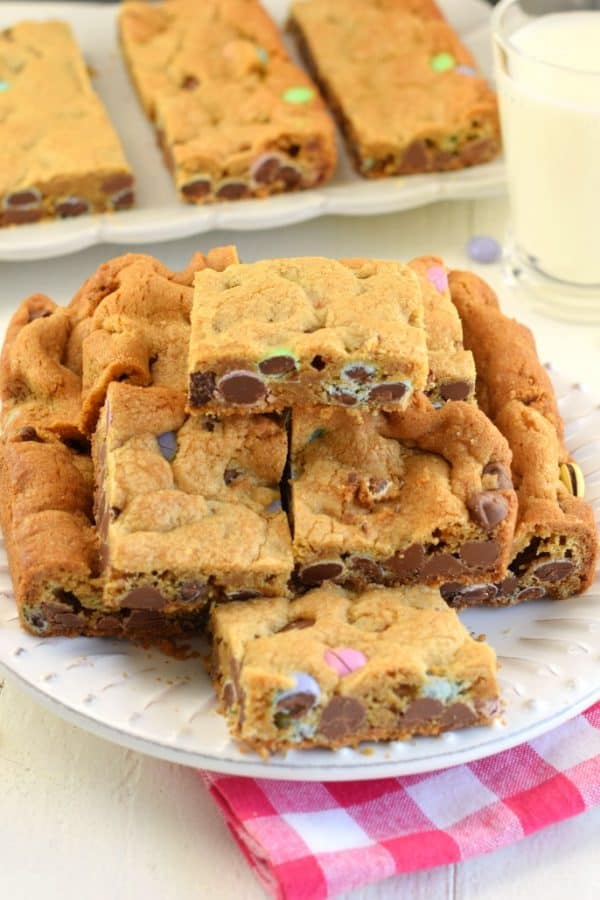 Sometimes you just crave a chocolate chip cookie. I know this from experience.
But, you also don't feel like scooping dough for an hour. You'd rather just be eating the cookie dough at that point!
The answer?
Chocolate Chip Cookie Bars! Today's M&M's cookie bars are the perfect, chewy cookie you've been craving.
And there's no chill time for the dough. Literally mix it up, press it in a pan, and bake. Eat warm if you desire!
How to make M&M's Cookie Bars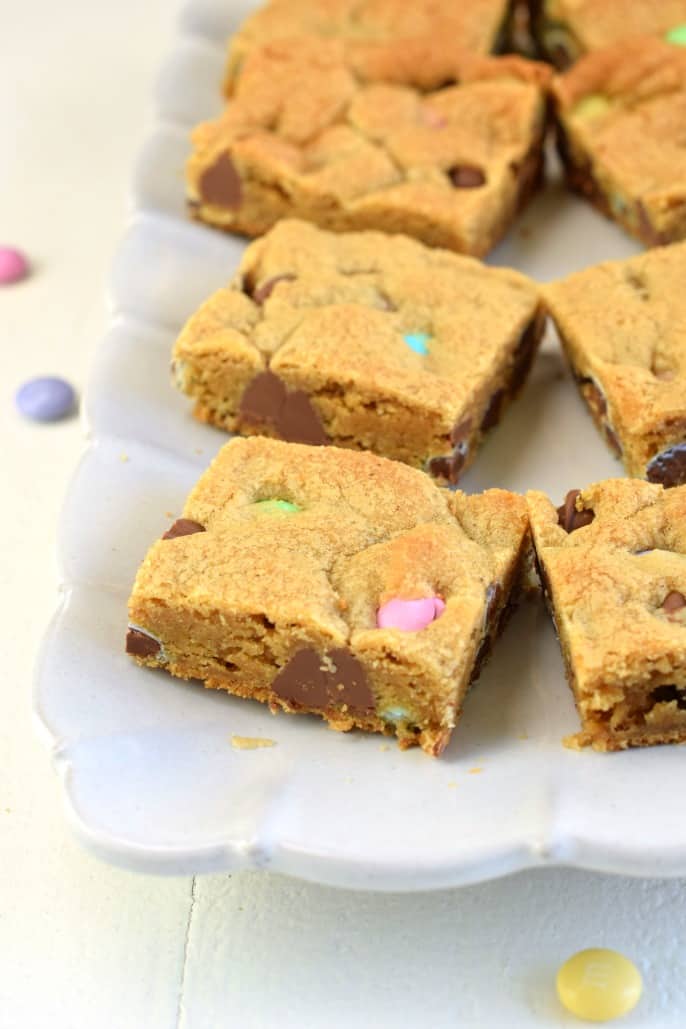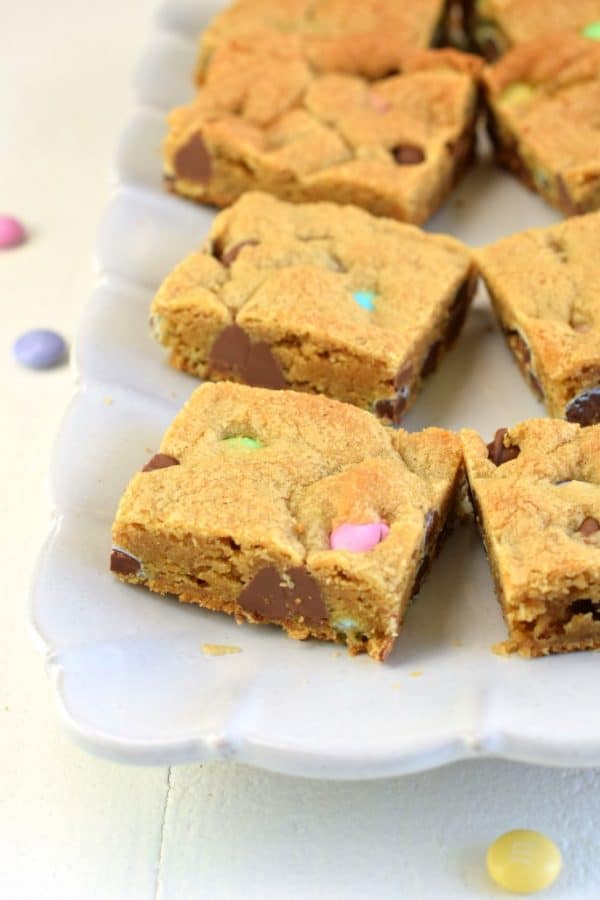 Using my Perfect Chocolate Chip Cookie recipe, I set to work to create these delicious, chewy cookie bars!
I love using butter flavor Crisco, as it gives them a chewy inside with a crunch on the outside. You can substitute unsalted butter if you prefer, but just know the texture will be slightly different.
Preheat oven to 375 degrees F. Line a 13×9 baking dish with parchment paper.
In a large mixing bowl, combine butter (Crisco) with brown sugar, milk, and vanilla extract until creamy.
Add in egg and beat until blended.
Add the dry ingredients: flour, salt, baking soda, and cinnamon. Mix until blended
PRO TIP: Don't skip the cinnamon. It gives a hint of flavor to these delicious cookies!
Fold in milk chocolate chips and M&M's candies. You can use any color or variety of M&M's you prefer!
Press cookie dough into bottom of baking dish. Bake for 20-22 minutes, until lightly browned.
Allow to rest in baking pan, center may appear to be a little under cooked, but will firm up as it cools.
Cut and enjoy!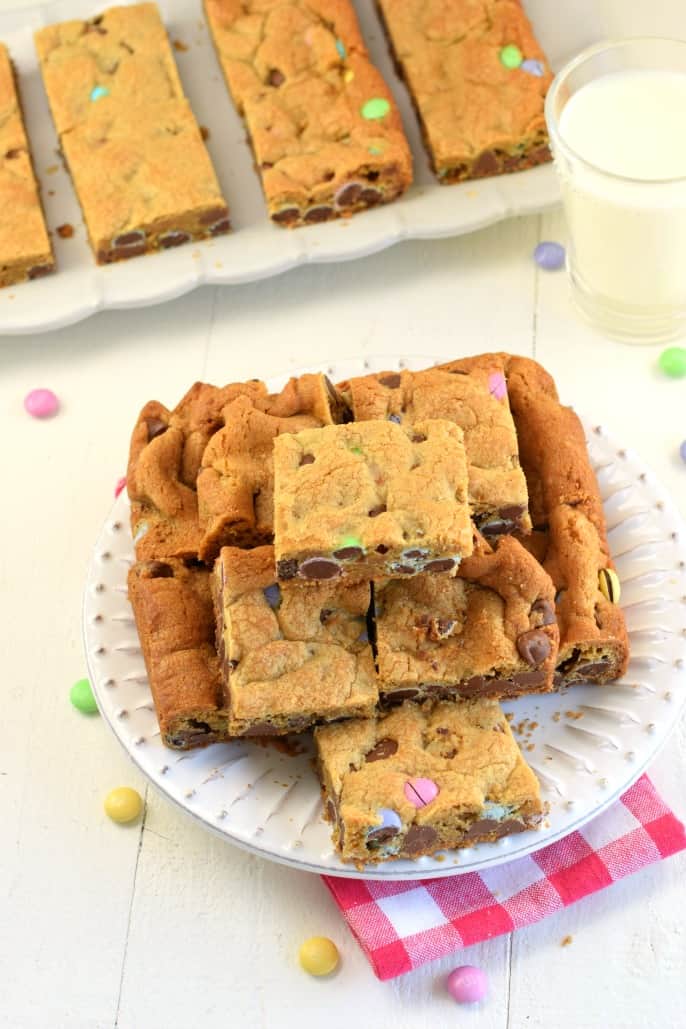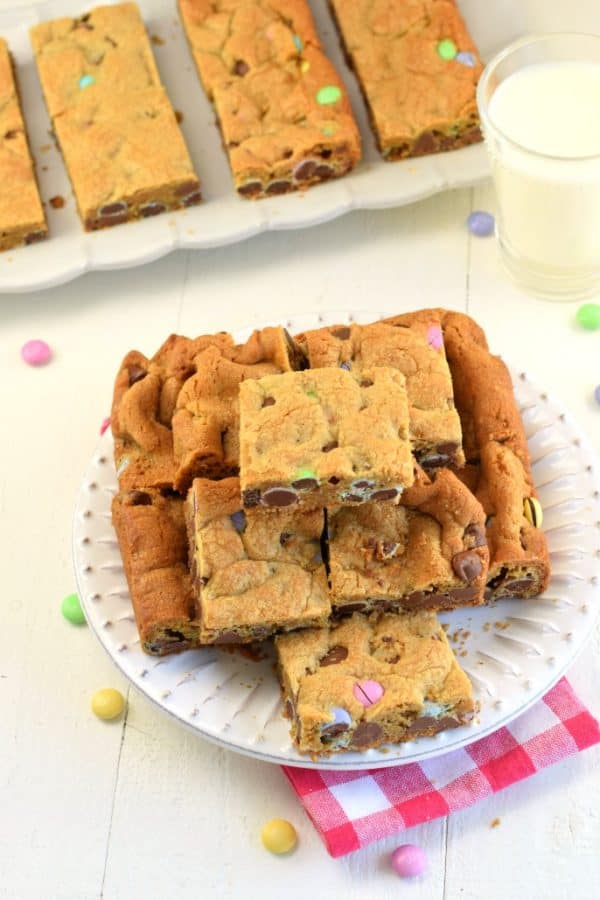 How to store M&M Cookie Bars
Once cooled, cut and store in airtight container at room temperature.
M&M Cookie Bars are best enjoyed within 5 days for best flavor.
Can you freeze cookie bars?
Yes!
At my house, there is always an abundance of desserts. And at any given time you can find a freezer of cookie dough, quick breads, and cookie bars.
To freeze cookie bars, slide bars into an airtight container or ziploc freezer bag. Store for up to one month for best results.
Thaw at room temperature overnight and enjoy.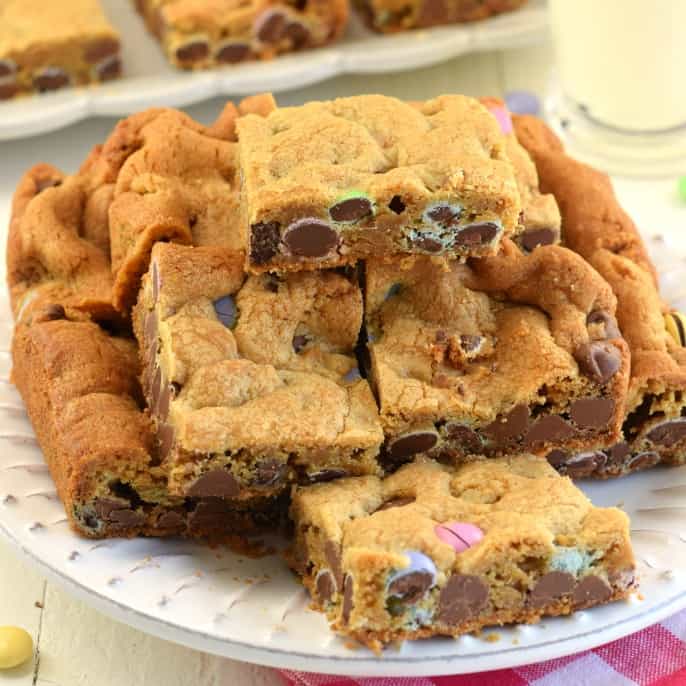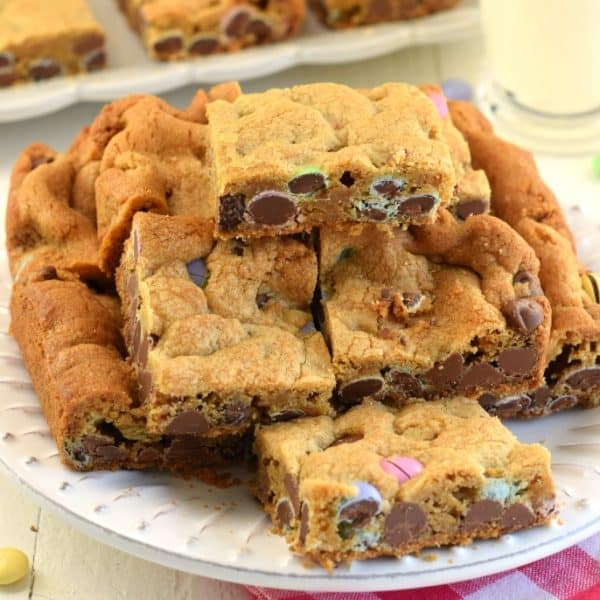 What other mix ins could I add to cookie bars?
The options are plentiful. Just one walk down the candy aisle and you can change up the flavor easily!
More cookie "BAR" recipes
Cookies are always easier to make when they are made into cookie bars. No scooping dough, just bake and enjoy!
These Gingerbread Cookie Bars are soft and chewy and topped with a delicious cream cheese frosting. Whip up a batch this holiday season!
Peanut Butter Revel Bars are a sweet, chewy cookie bar, perfect for potlucks, holidays, and bake sales. Also freezes well for later!
Melt in your mouth, Raspberry Shortbread Bars with a delicious crumble on top!
A classic sugar cookie made easy by making them into bars. Frost with a generous layer of buttercream, tinted in your favorite color! Frosted Sugar Cookie Bars are a family favorite!
7 Layer Cookie Bars Recipe topped with coconut, pecans, chocolate and butterscotch. You'll love this easy Magic Bar recipe any time of year!