Chewy M&M's Chocolate Chip Cookie Bars are thick and delicious and perfect when you need a quick dessert. Perfect for holidays and bake sales too!
Our family loves cookie bars! These Peanut Butter Chocolate Chip Cookie Bars are thick and fudgy! Or bring new flavor to your house and try these Cranberry Orange Cookie Bars!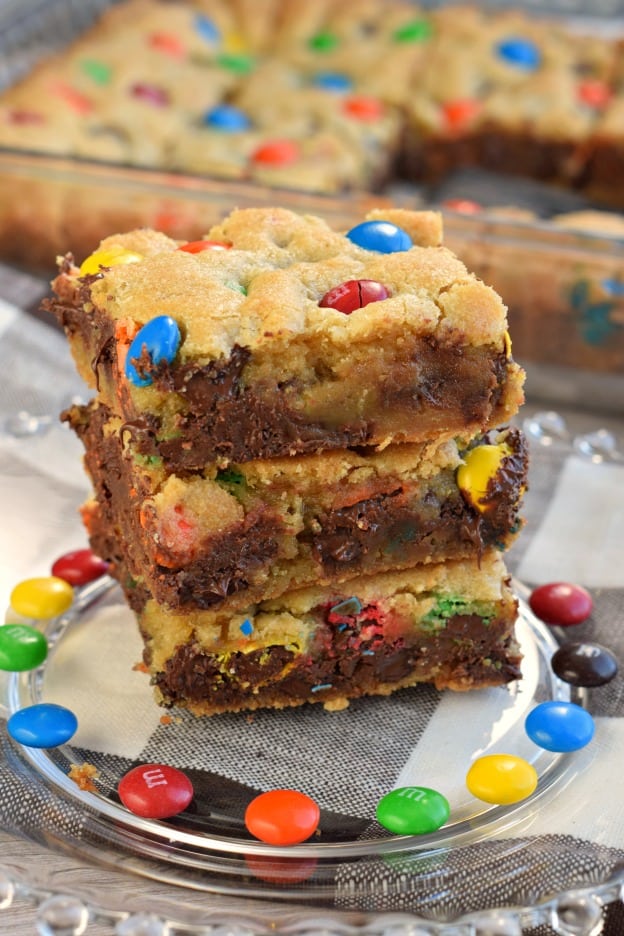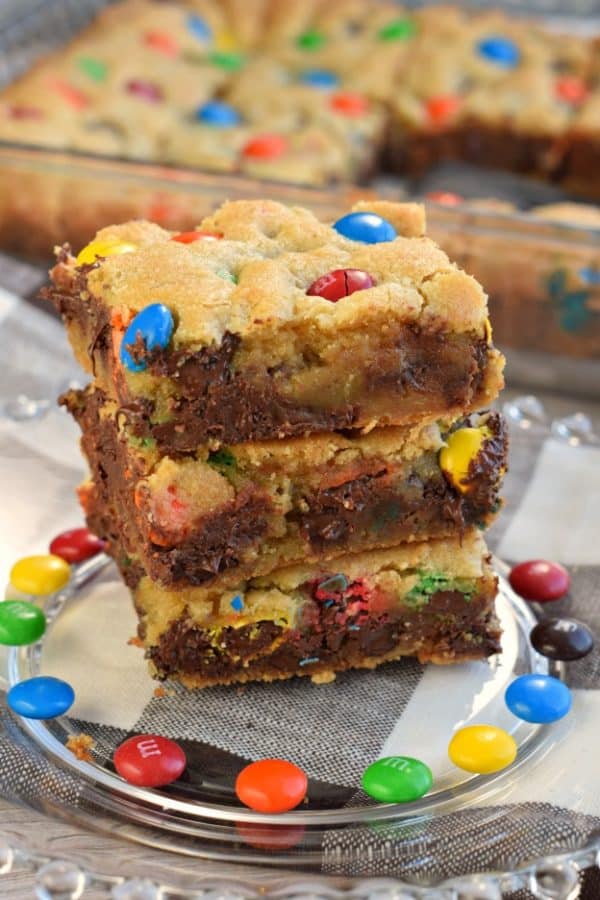 Why this Recipe Works
Sometimes life is busy and when you're craving cookies you just don't have time to bake batch after batch.
That's when a delicious chocolate chip cookie bar comes to the rescue.
All the same chewy chocolate chip cookie flavor, with much less work.
Today's M&M Chocolate Chip Cookie Bars are thick and chewy, but super easy to make!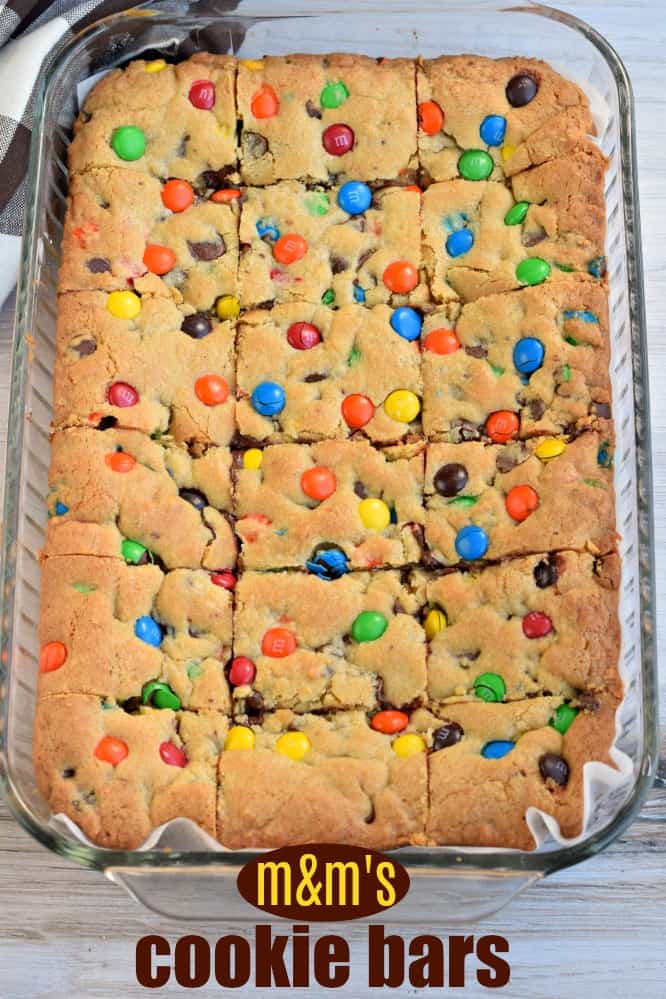 How to Make M&M Cookie Bars
First, know that these cookie bars are so versatile and can stand up to any of your favorite mix-ins. Love holiday M&M'S candies? Add them in.
Love butterscotch chips with macadamia nuts. Add it in.
Got a taste for toffee bits with walnuts? Add it in.
I chose to do a combination of semi-sweet chocolate chips with original M&M's candies. Classic. Delicious.
Prep your pan, preheat the oven.
First, line a 13×9 baking dish with parchment paper (or foil). Do NOT use wax paper. For THINNER bars, you can use a 15×10 inch baking sheet and cook for less time.
Preheat oven to 350 degrees F.
Make the cookie dough.
In a mixing bowl, cream together the unsalted butter with granulated sugar and brown sugar. Add the eggs and vanilla extract and beat until well combined.
Add the flour, baking soda, cornstarch, and kosher salt. Blend until dough forms.
Fold in chocolate chips and candies.
Drop dough into prepared pan and spread evenly. Add more candies on top if desired.
Bake in preheated oven for 35 minutes. Remove and cool before cutting.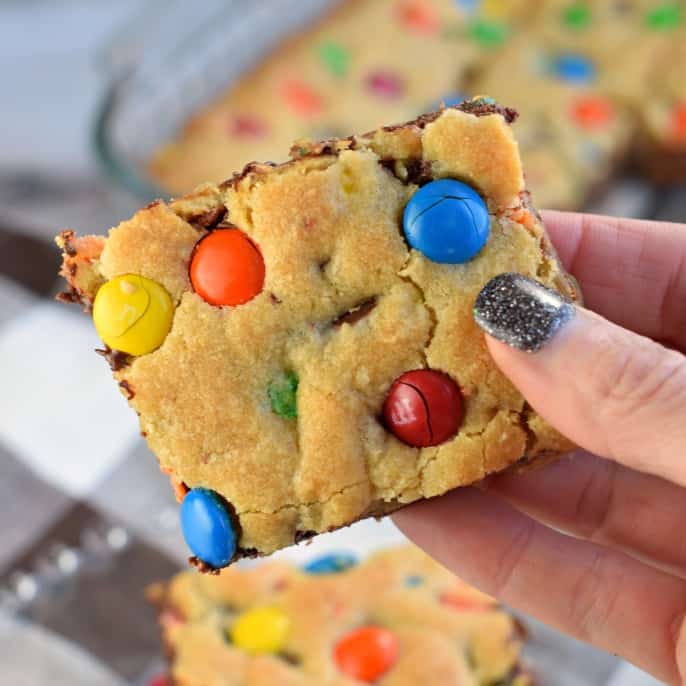 Tips and Tricks
Add cornstarch to help keep these cookie bars soft! Just one teaspoon is enough, but if you want to omit it, that's fine too!
One extra egg yolk. You're wondering if it's worth it. Should you skip it? Should you add the whole egg? Why just an extra egg yolk? Well, the extra egg yolk is just enough egg in this recipe to help these bars stay chewy and soft. Yes, you can toss in a whole egg if you prefer…but you came here for the PERFECT Chocolate Chip Cookie Bar…and this extra egg yolk is why it's the best!
When spreading the cookie dough into the baking dish, dip your fingers in flour first. This keeps the dough from sticking to YOU!
Remove from oven when lightly browned. Don't overcook. These bars will continue to bake for a few minutes in the dish.
I like my cookie bars with extra chocolate chips. You'll see the fudgy center of my cookies bars, that's because I always throw in an extra 1/4-1/2 cup chocolate chips. Add to taste!
Store cookie bars in airtight container for up to 3 days.
For freezing, wrap cookie bars in parchment paper, then in a freezer safe ziploc bag or container. Thaw at room temperature before eating.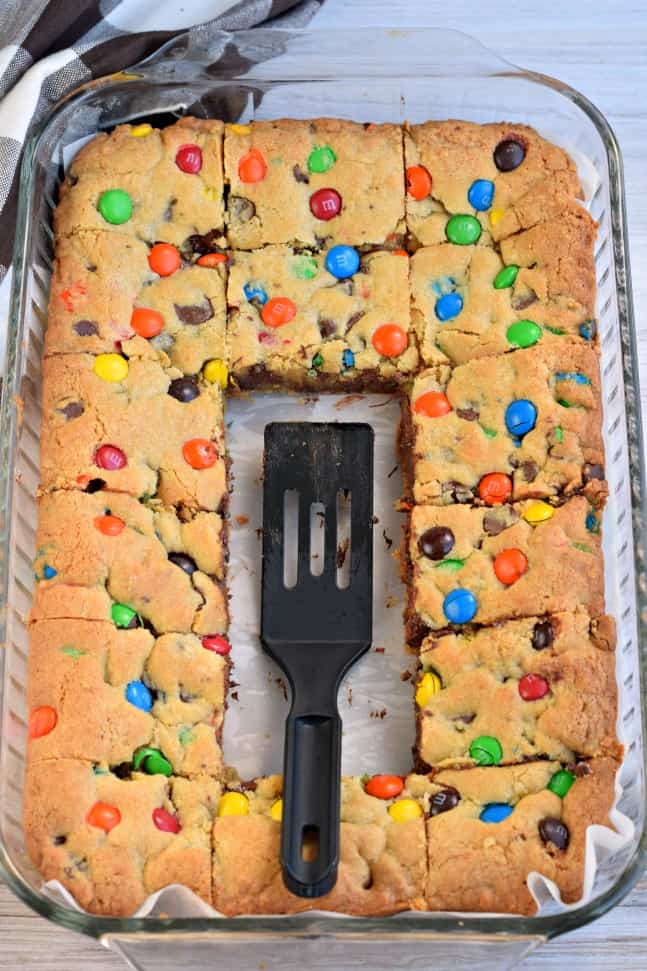 More Cookie Bar Recipes:
Melt in your mouth, Raspberry Shortbread Bars with a delicious crumble on top!
Whether it's Game Day or Monday, these Easy Frosted Chocolate Nut Cookie Bars are sure to be a hit! Even my family, who hates nuts in their cookies, loved these bars!
Butterfinger Fudge Cookie Bars are peanut butter cookies, topped with a soft chocolate fudge layer and crushed Butterfingers. You're going to want to make these…trust me!
Hate making cutout gingerbread cookies? These Gingerbread Cookie Bars are soft and chewy and topped with a delicious cream cheese frosting. Whip up a batch this holiday season!
A classic sugar cookie made easy by making them into bars. Frost with a generous layer of buttercream, tinted in your favorite color! Frosted Sugar Cookie Bars are a family favorite!