Soft and chewy M&M Cookie bars topped with a sweet rainbow buttercream frosting. These frosted Rainbow M&M Cookie Bars are dreamy and delicious!
Love cookie bars? These Peanut Butter Chocolate Chip Bars are gooey and delicious with puddles of peanut butter! Or try our favorite Frosted Sugar Cookie bars for an treat!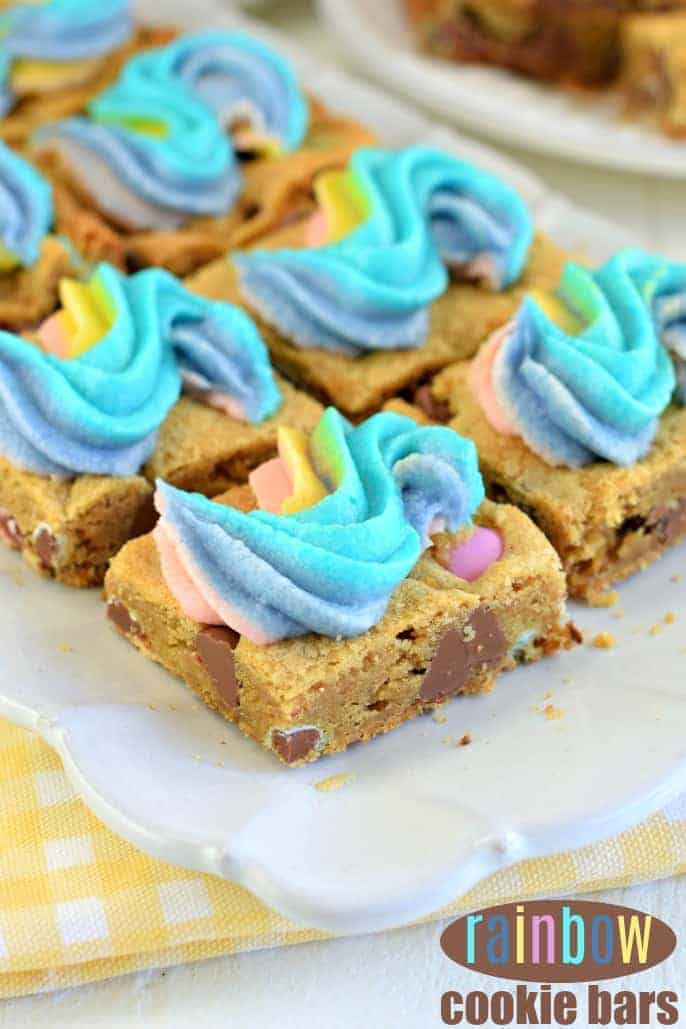 Why this Recipe Works
I love frosting.
While some of my family scrapes the extra frosting off their cake, I pile it on to my slice.
If you love rainbow treats, give our rainbow frosting board a try next. You can even add some of today's cookie bars to the board!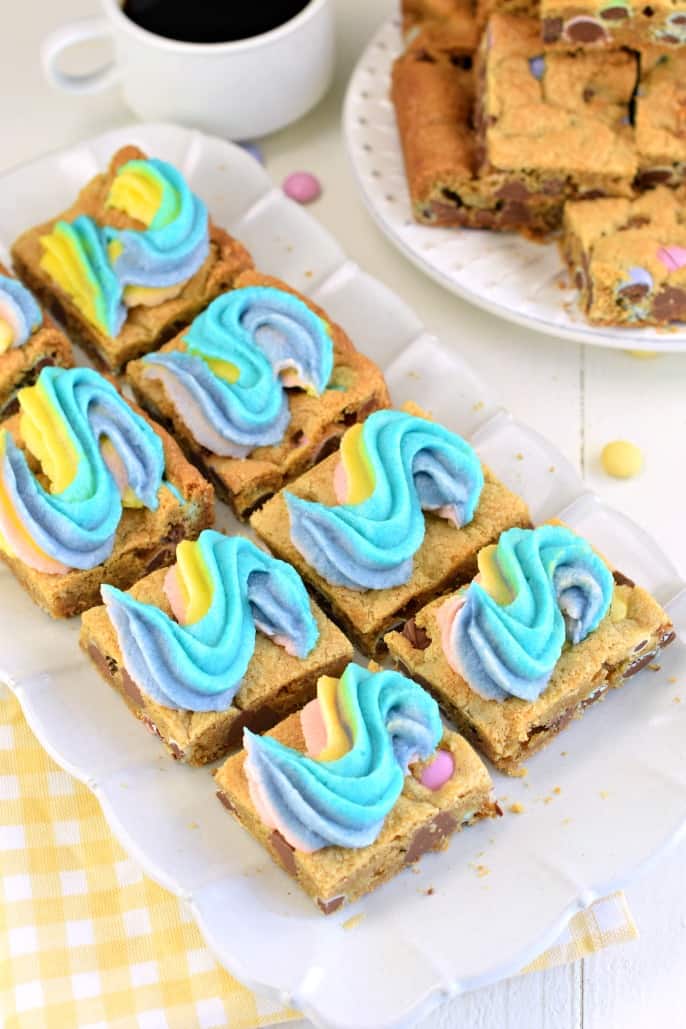 How to Make Rainbow Frosting
Start by making your basic white buttercream frosting.
I make a larger batch so that I can put a decent sized "rainbow" on each individual cookie bar (or cupcake!). You can cut the batch in half if you think you prefer less frosting.
Begin by beating softened butter for about 3 minutes using an electric mixer with whisk attachment. Scrape down the sides of the bowl as needed, until you see the butter turn pale in color, and smooth.
Add powdered sugar, milk, and pure vanilla extract.
Beat an additional 3-5 minutes until light and fluffy.
Now decide how many colors in your rainbow!
PRO TIP: Use Americolor gel colors for more vibrant colors that require less drops. Each of my colors was ONE drop of gel.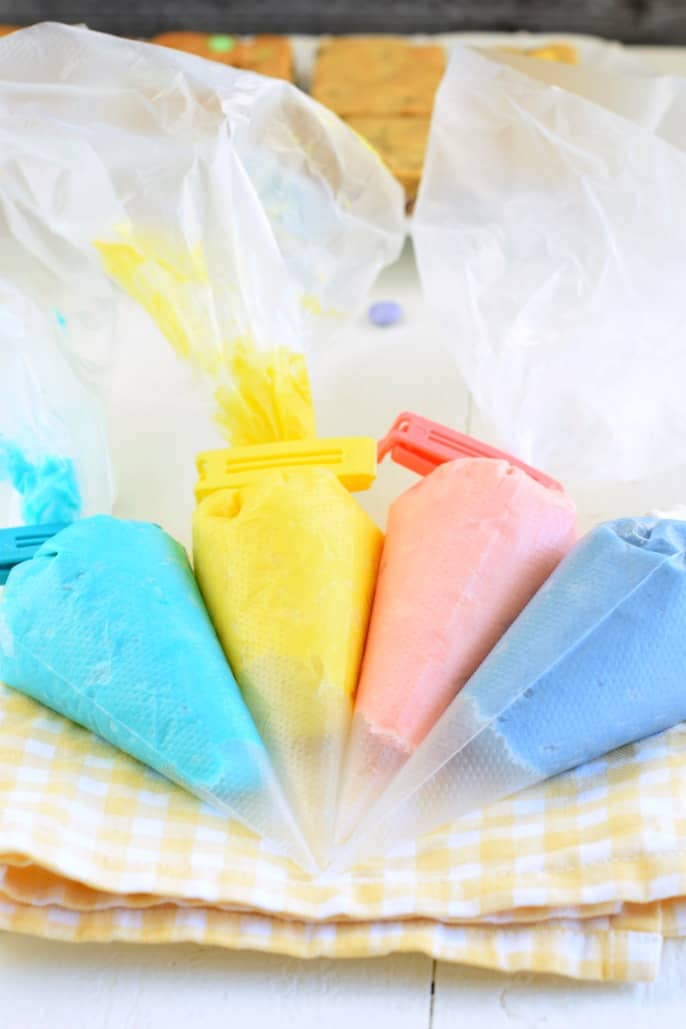 I chose four pastel colors for my spring cookies!
Separate your frosting into small bowls (for each color). Add one drop of gel coloring to each bowl, stir until no white frosting is seen. Add more color if desired.
Spoon frosting into small 12-inch disposable frosting bags. Snip off the tips.
Carefully slide all four bags into a LARGER frosting bag. I used an 18-inch bag with star tip attached.
Pipe frosting onto cooled cookie bars!
This is also very pretty piped onto cupcakes!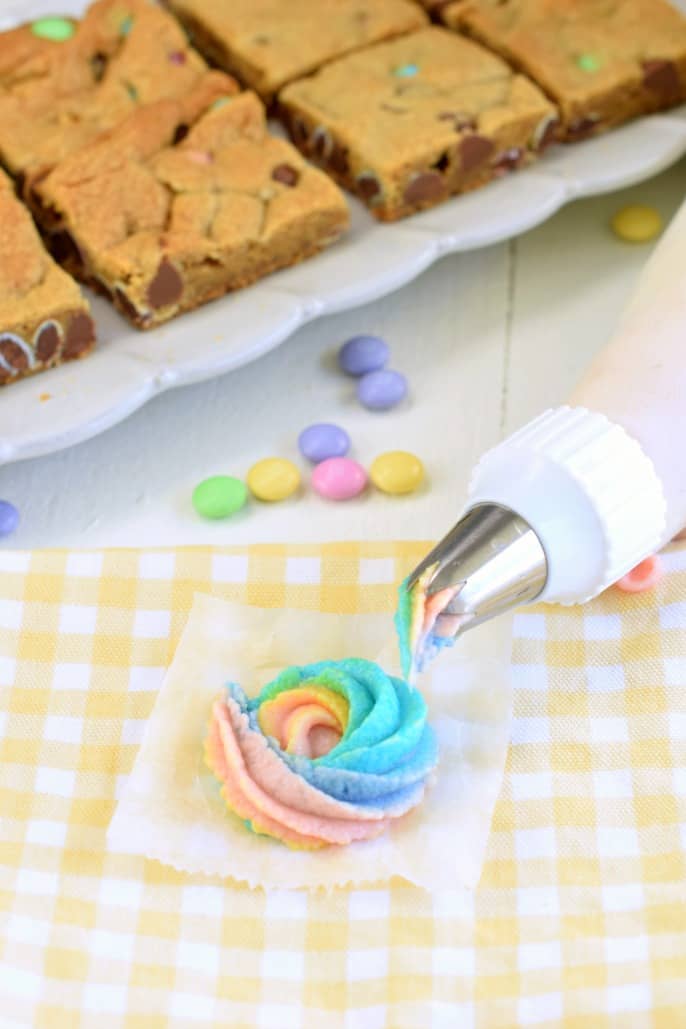 Can I freeze frosting?
Yes!
Frosting will stay good in the refrigerator for 4-5 days.
However, should you choose to freeze frosting, it can keep in an airtight container for up to 3 months in the freezer.
Thaw frosting overnight in the refrigerator.
You may need to beat it again with your mixer to get it light and fluffy, and you may need to add 1-2 TBSP of milk too.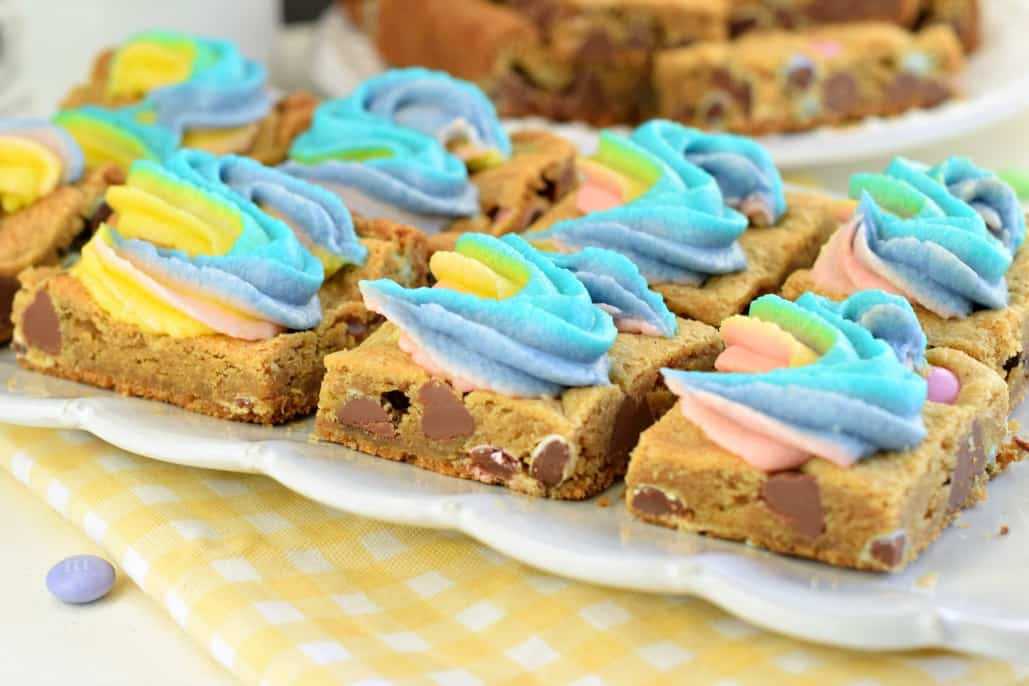 What can I do with leftover frosting?
Help! This was too much frosting for me.
While I personally don't understand that phrase, I do know that some people don't like as much frosting as I do.
In addition to freezing frosting, you can also pipe it onto sugar cookies for a delicious treat.
Or add frosting to these Bakery style brownies.
Still not sure how to use your leftover frosting?
Make a batch of Buttercream Truffles. That's right, sweet candy made from your LEFTOVERS. Dream come true!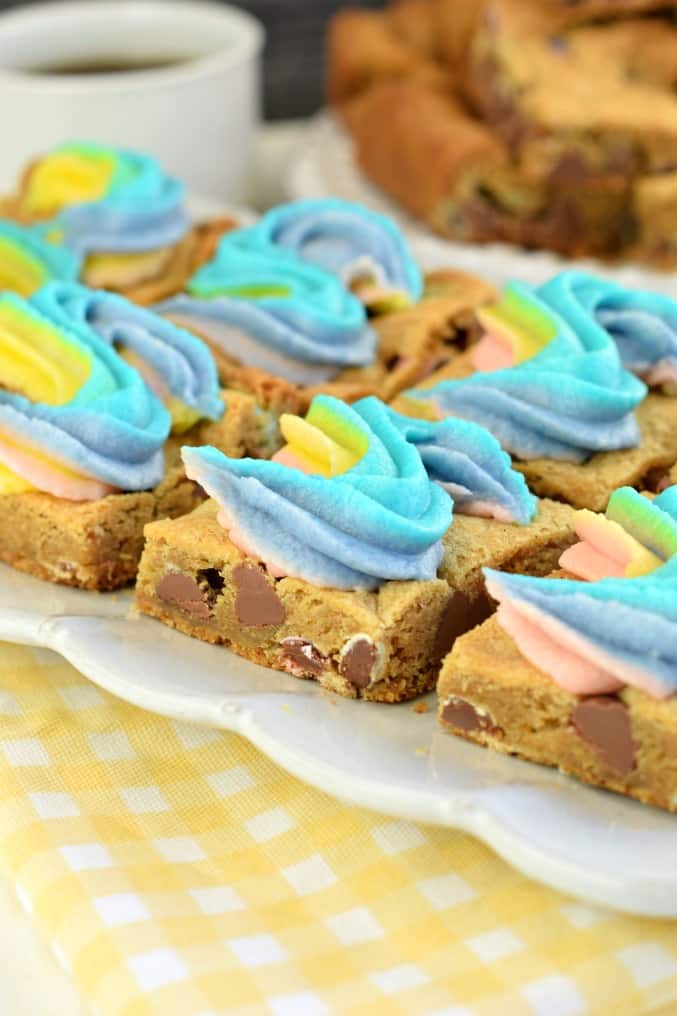 More Rainbow Desserts
My family loves these soft and chewy M&M Cookies. They're basically M&M Chocolate Chip, with a delicious chewy texture!
These Rainbow Chip Brownies are made using the best homemade buttermilk brownie recipe! Move over Cosmic Brownies from Little Debbie…these are too delicious to compare!
You'll love these decadent Rainbow Fudge Cookie Bars. Chocolate Chip Cookie bars topped with a sweet fudge and rainbow chips!