Rainbow Chip Brownies
These Rainbow Chip Brownies are made using the best homemade buttermilk brownie recipe! Move over Cosmic Brownies from Little Debbie…these are too delicious to compare!
Be sure to sign up for my email…new recipes in your inbox!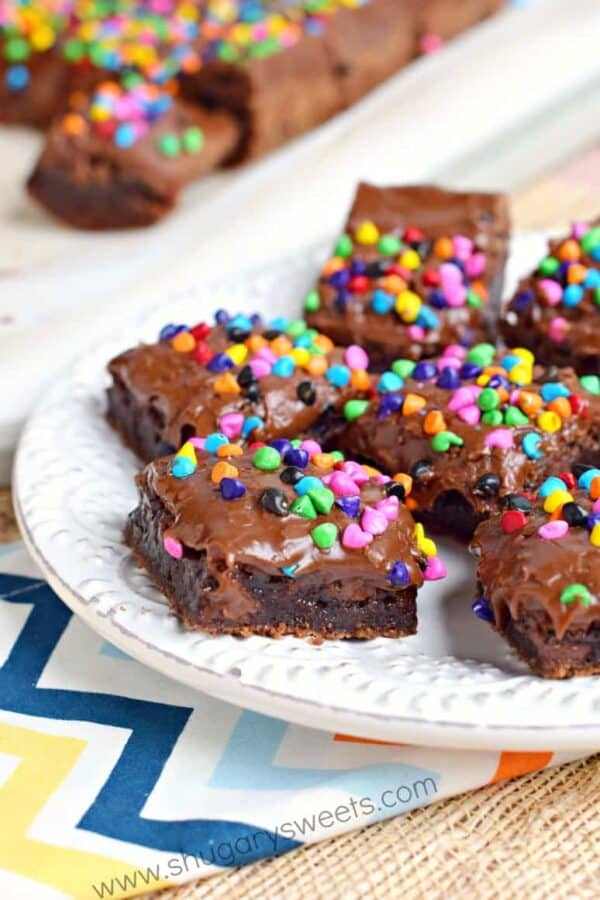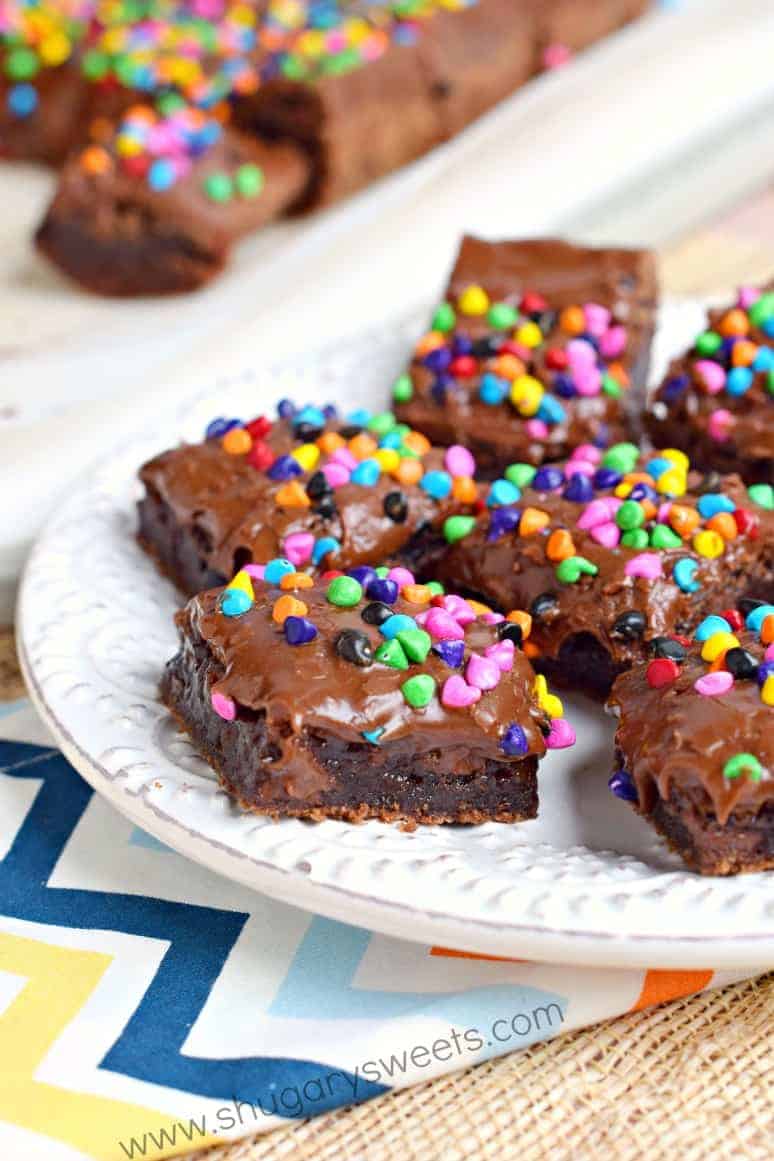 It seems like overnight the weather has changed. One minute it's sunny and gorgeous, and the heat is unbearable. And now, all of a sudden, the chill is in the air and the wind is insane.
Or at least that's what it's like here in Chicago!
I always think I love summer. Until it becomes so incredibly hot and unbearable to even be outdoors. And then I dream of the weather getting chilly. But when it starts getting too cool, I become a whiner too. I hate being cold!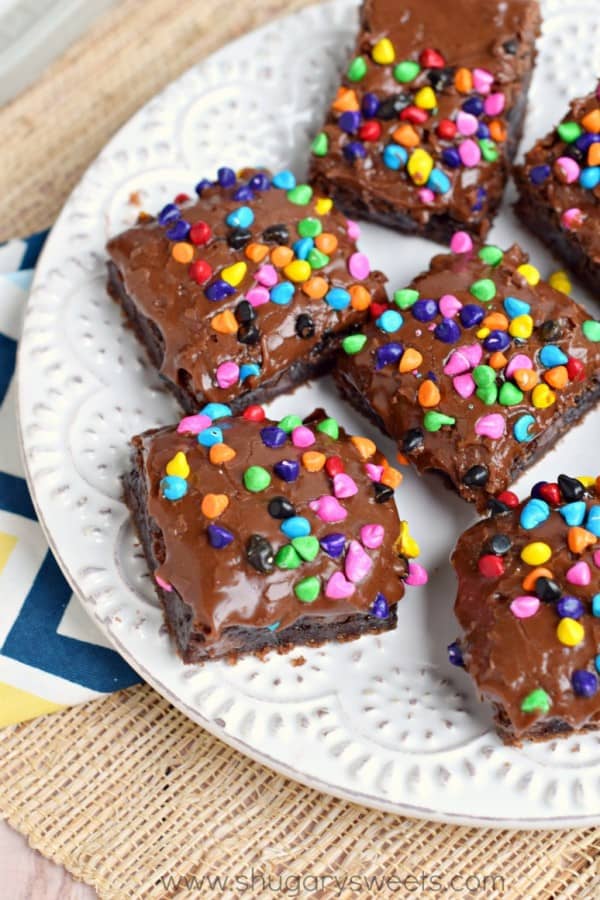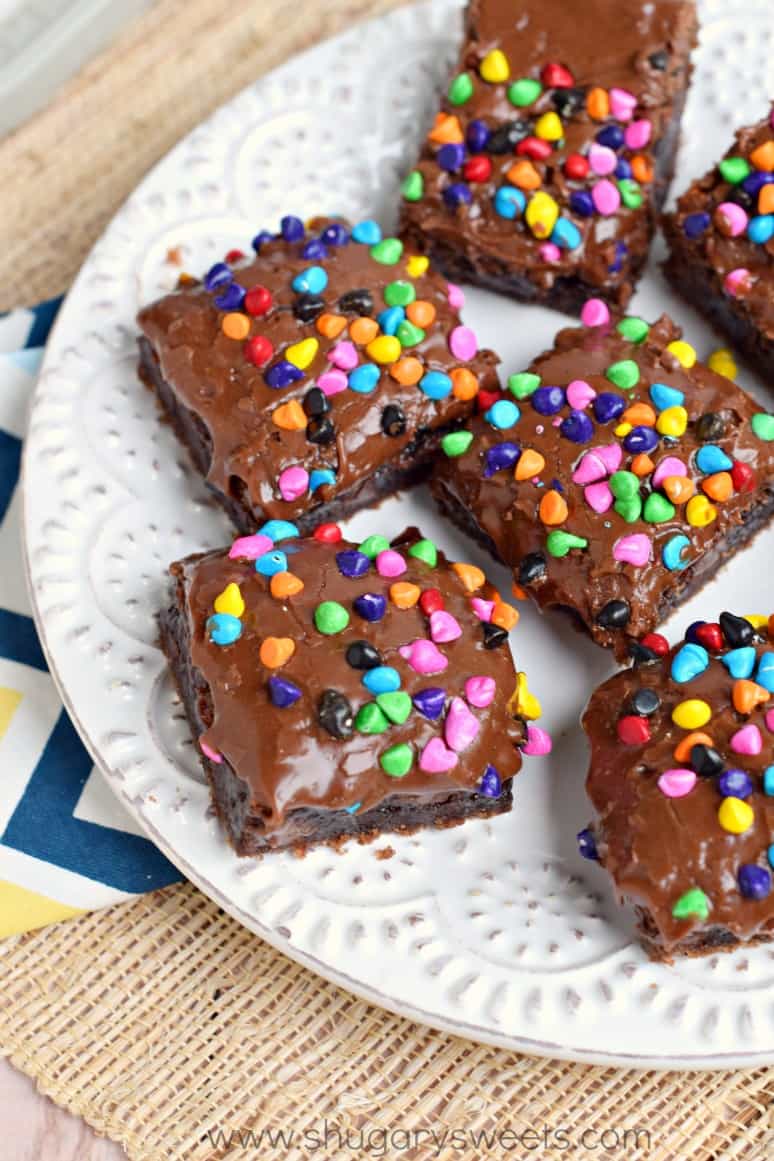 Know what warms me up? A hot cup of coffee and one of these Rainbow Chip Brownies. I used my favorite Buttermilk Brownie recipe as that base to these chewy, decadent treats. And of course I had to sprinkle them generously with rainbow chips!
Rainbow chips are not just any sprinkles. They're little pieces of chocolate in a hard candy coating! They are AWESOME to add to cake batter or frosting. Or cookies! But they taste amazing on top of brownies too.
You may remember growing up and eating Cosmic Brownies from Little Debbie. These fudgy treats remind me of that childhood staple. Except these taste good, haha!!! No offense to Debbie and her baking skills…but these homemade brownies are delicious! I also have a homemade oatmeal cream pie recipe if you're looking for something else!
Connect with Shugary Sweets!
Facebook | Twitter | Google+ | Pinterest | instagram | Bloglovin'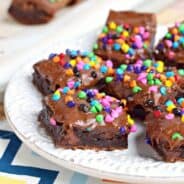 Rainbow Chip Brownies
Yield: 40 small bars
Prep Time:25 minutes plus 2 hours refrigeration time
Cook Time:20 minutes
Ingredients:
For the Brownies:
1/2 cup unsalted butter
1/2 cup canola oil
2 cups granulated sugar
2 large eggs
1/4 cup buttermilk
1/2 tsp vanilla extract
2 cups all-purpose flour
1 tsp baking soda
1/2 tsp kosher salt
1 cup semi-sweet chocolate morsels
For the Frosting:
1/2 cup unsalted butter
1/2 cup buttermilk
4 cups powdered sugar
1 cup rainbow chips
Directions:
Preheat oven to 400F. Line a 13x9-inch baking dish with parchment paper. Set aside.
For the brownies, in a small saucepan over medium high heat, combine butter, cocoa powder and oil. Bring to a boil and remove from heat.
In a large mixing bowl, combine granulated sugar, eggs, buttermilk and vanilla. Slowly whisk in the butter mixture. Add in flour, baking soda, and salt. Stir just until combined. Fold in chocolate chips.
Pour into prepared baking dish and bake for 20 minutes. Remove from oven and cool.
While cooling, prepare the frosting. Combine butter, buttermilk and cocoa powder in a small saucepan. Whisk over medium heat until mixture begins to boil. Remove from heat.
In a mixing bowl, combine powdered sugar with butter mixture. Beat for several minutes until smooth. Pour over brownies. Sprinkle immediately with rainbow chips!
Refrigerate for about 2 hours, until set. Cut and enjoy. I store these in the refrigerator for best results!
MAKING THIS RECIPE? Share it with me on Instagram using the hashtag #ShugarySweets so I can see what you're cooking up in the kitchen!
Love today's Rainbow Chip Brownies recipe? I've got some more delicious brownies on the blog: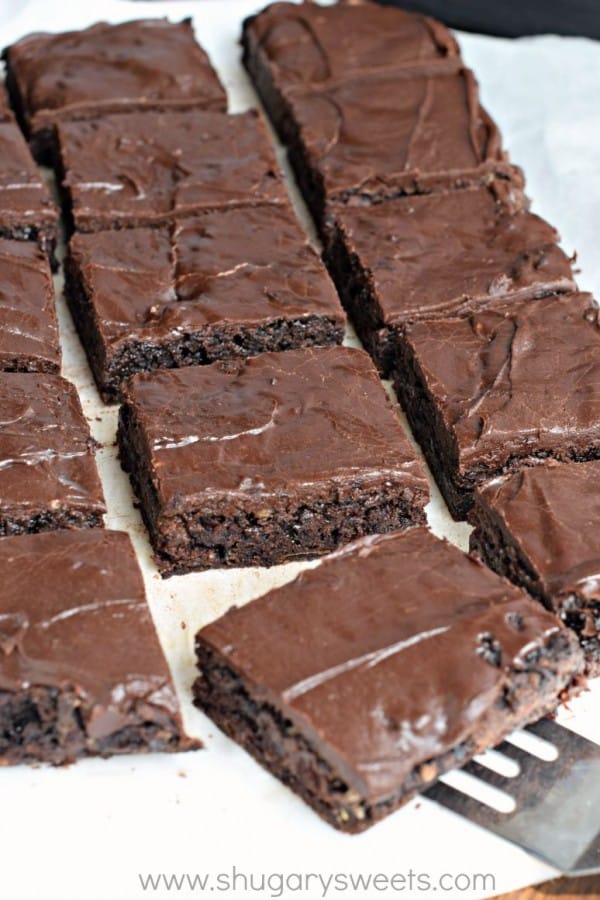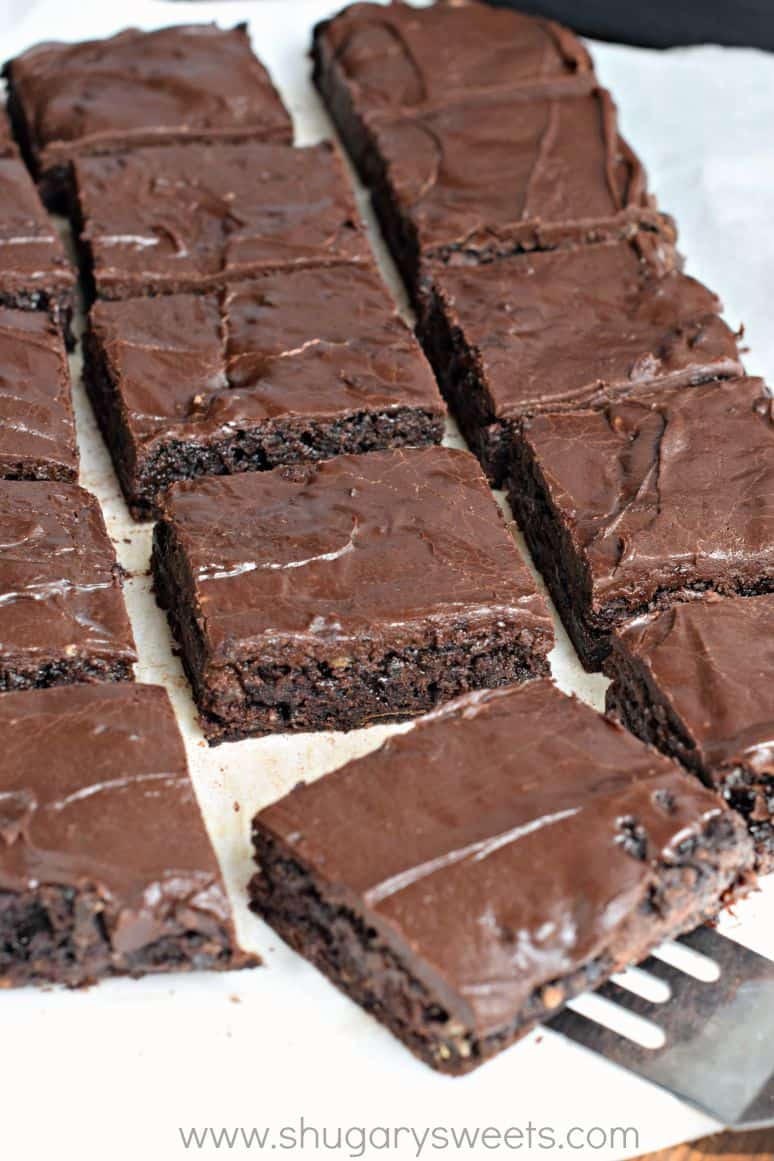 Fudgy Zucchini Brownies: no one will know that you snuck in some veggies, these are still so decadent and sweet!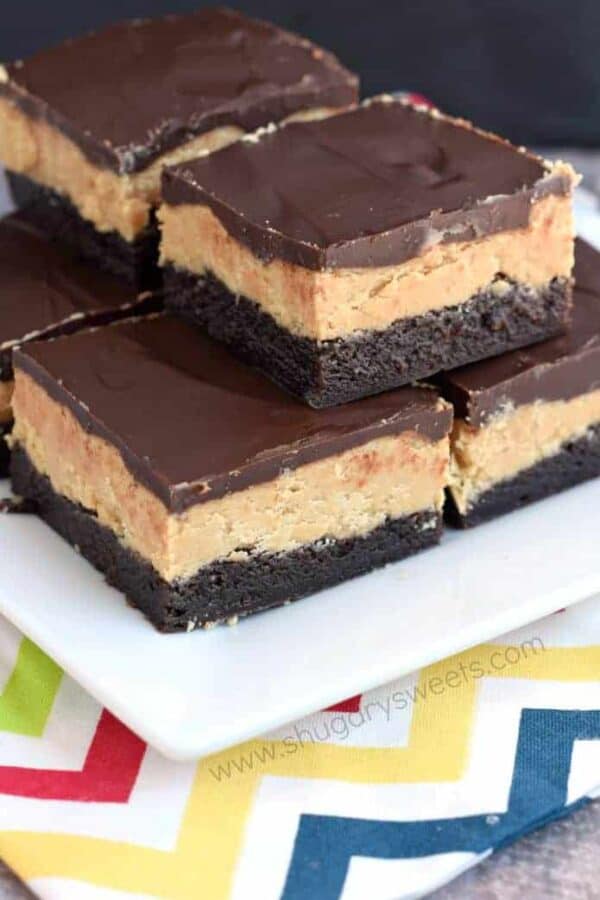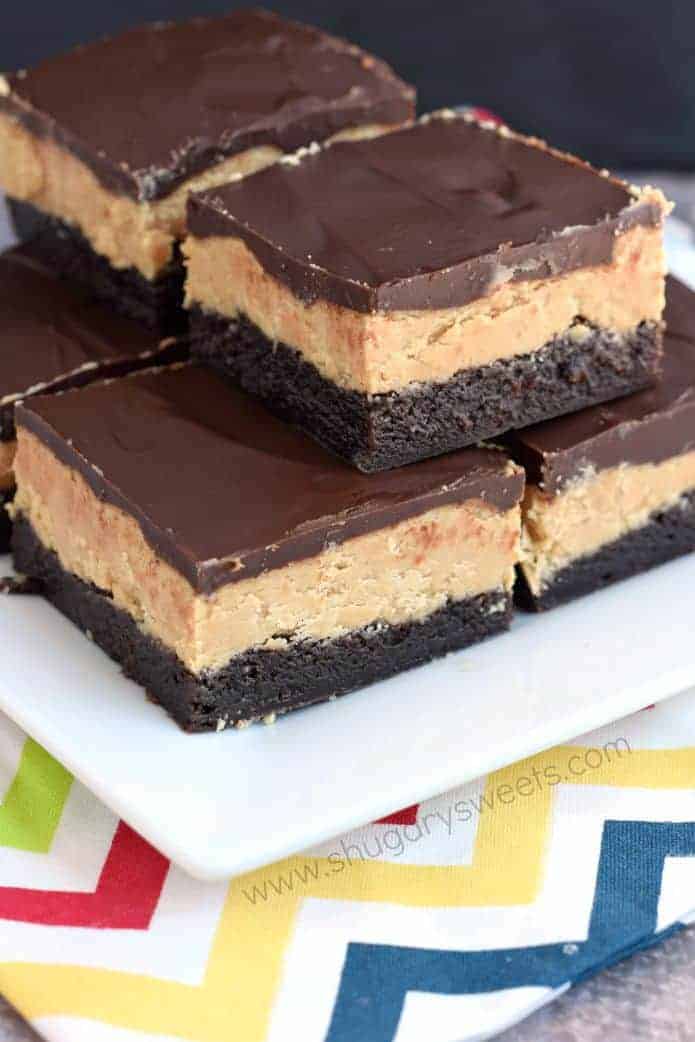 Buckeye Brownies: fudgy brownies topped with a peanut butter filling. All covered in a rich, chocolate ganache!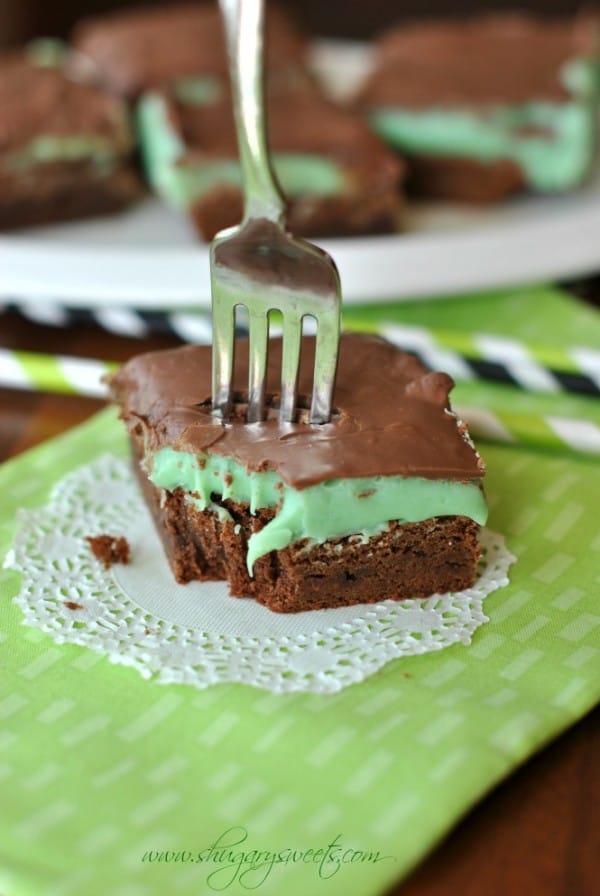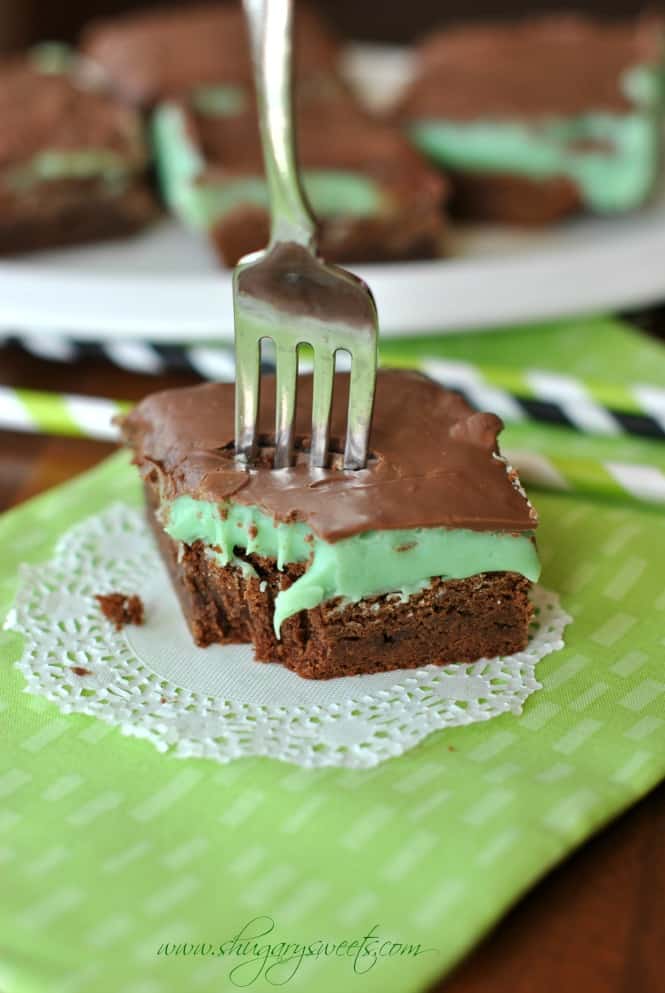 Chocolate Mint Brownies: sweet and minty, the perfect after dinner dessert!
Still looking for more brownie recipes? Stop by these blogs:

**There may be affiliate links in this post! By clicking on them, or purchasing recommended items I may receive a small compensation. However, I only recommend products I love! Thank you for supporting Shugary Sweets! See my disclosure policy for more info**