These Rainbow Chip Brownies are made using the best homemade buttermilk brownie recipe! Move over Cosmic Brownies from Little Debbie…these are too delicious to compare!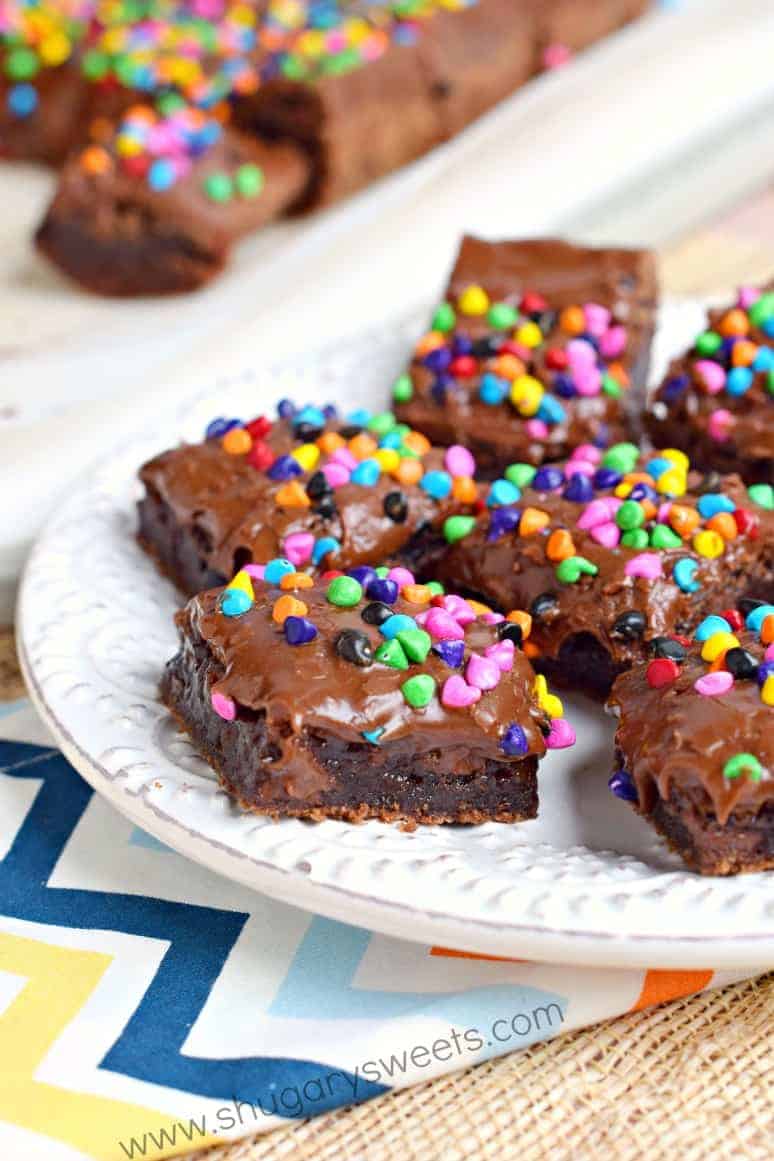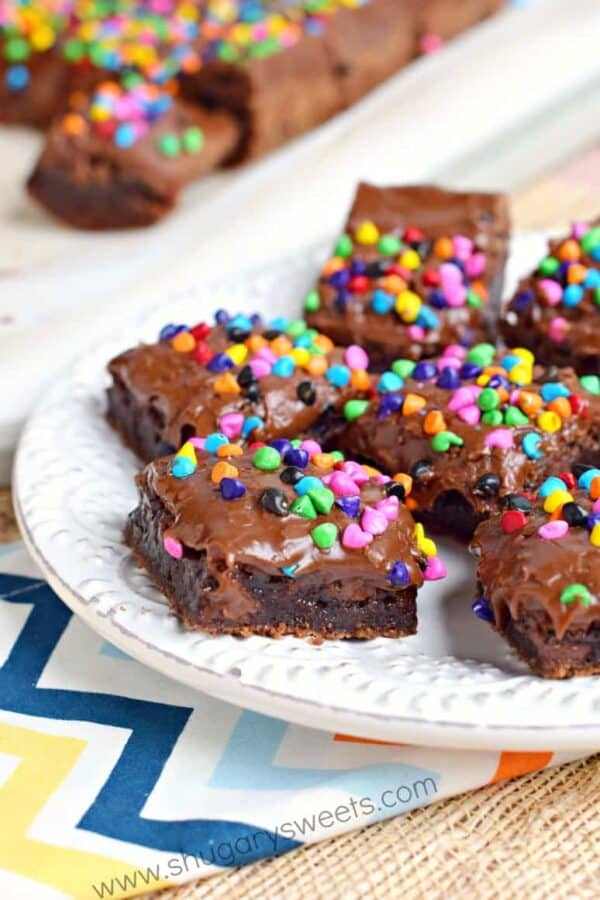 Click HERE to save recipe to Pinterest
It seems like overnight the weather has changed. One minute it's sunny and gorgeous, and the heat is unbearable. And now, all of a sudden, the chill is in the air and the wind is insane.
Or at least that's what it's like here in Chicago!
I always think I love summer. Until it becomes so incredibly hot and unbearable to even be outdoors. And then I dream of the weather getting chilly. But when it starts getting too cool, I become a whiner too. I hate being cold!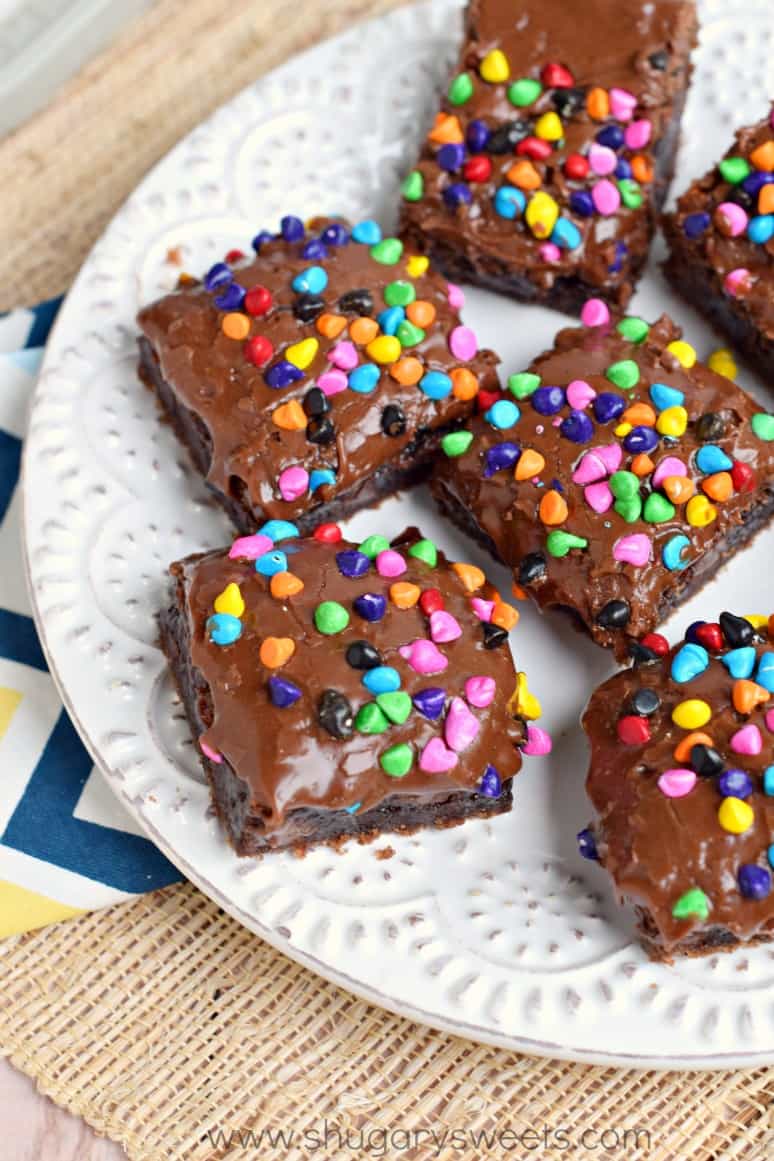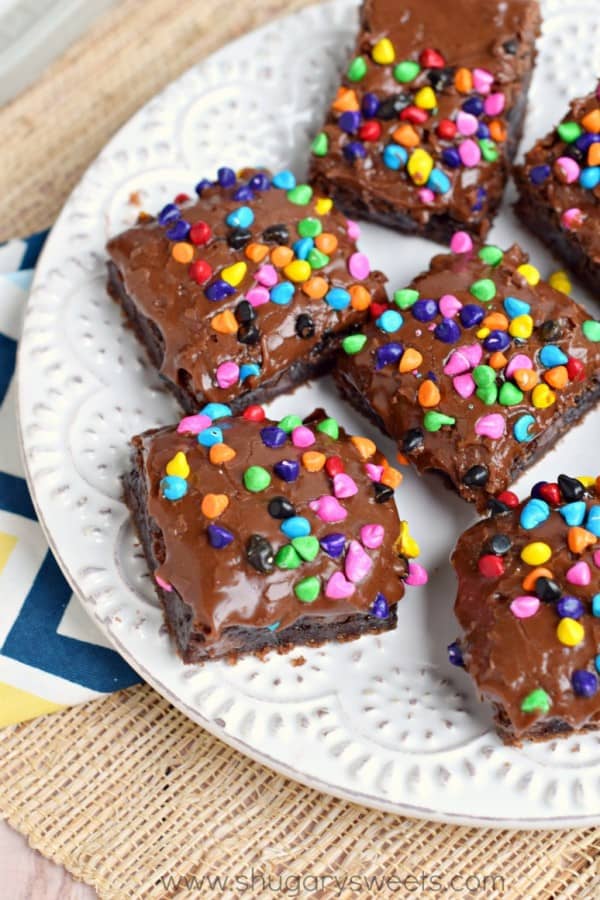 Know what warms me up? A hot cup of coffee and one of these Rainbow Chip Brownies. I used my favorite Buttermilk Brownie recipe as that base to these chewy, decadent treats. And of course I had to sprinkle them generously with rainbow chips!
Rainbow chips are not just any sprinkles. They're little pieces of chocolate in a hard candy coating! They are AWESOME to add to cake batter or frosting. Or cookies! But they taste amazing on top of brownies too.
You may remember growing up and eating Cosmic Brownies from Little Debbie. These fudgy treats remind me of that childhood staple. Except these taste good, haha!!!
No offense to Debbie and her baking skills…but these homemade brownies are delicious! I also have a homemade oatmeal cream pie recipe if you're looking for something else!
How to Make Rainbow Chip Brownies
Preheat oven to 400 degree F. Line a 13×9 baking dish with parchment paper to make it easy to remove brownies from pan.
In a small saucepan, over medium high heat, combine butter, cocoa powder and oil. Bring to a boil and remove from heat.
In a large mixing bowl, combine sugar, eggs, buttermilk and vanilla. Slowly whisk in the butter mixture. Add in flour, baking soda, and kosher salt. Stir just until combined. Fold in chocolate chips.
PRO TIP: Don't have buttermilk? Make my easy buttermilk substitute with just milk and lemon juice (or white vinegar)!
Pour into prepared baking dish and bake for 20 minutes. Remove from oven and cool.
For the frosting, combine butter, buttermilk, and cocoa powder in a small saucepan. Whisk over medium heat until mixture begins to boil. Remove from heat.
In a mixing bowl, combine powdered sugar with warm butter mixture. Beat for several minutes, until smooth. Pour over cooled brownies and sprinkle with rainbow chips.
Refrigerate for at least two hours (or overnight). Cut and enjoy!