Rich fudgy brownies topped with a soft chocolate mint layer. Chocolate ganache gives these Chocolate Mint Brownies a decadent finish!
Looking for more delicious brownie ideas? Try these Salted Caramel Brownies next! Or try our loaded Oreo Brownies for a delicious treat.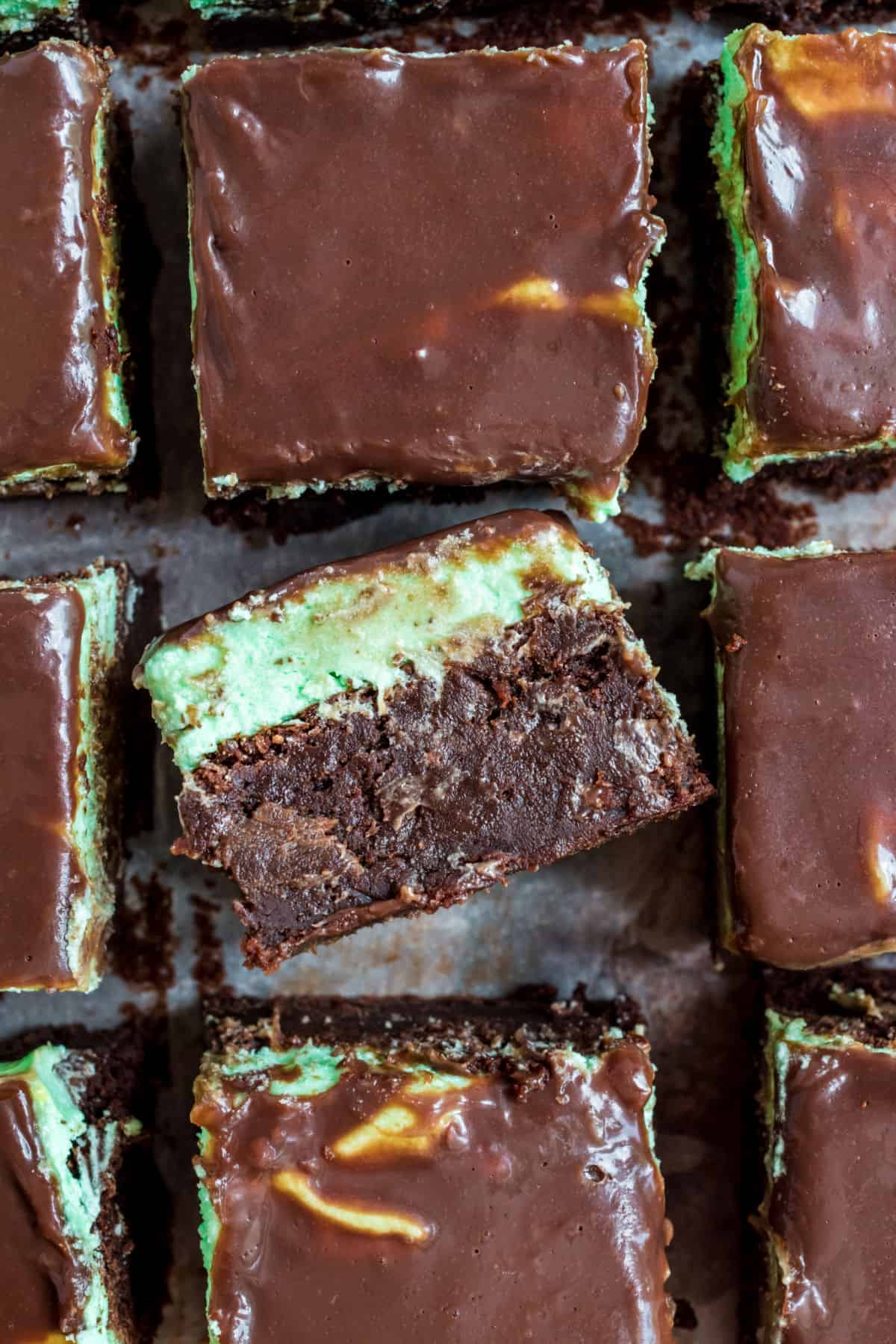 Why this Recipe Works
If you love Andes Mints, you'll go head over heels for this Chocolate Mint Brownie recipe.
They look so pretty on a plate too: Chocolate layers with the pop of mint green in the center!
These brownies are the ultimate treat for anyone who loves the combination of chocolate and mint.
Don't forget to try our cheesecake brownie recipe next!
Ingredient Notes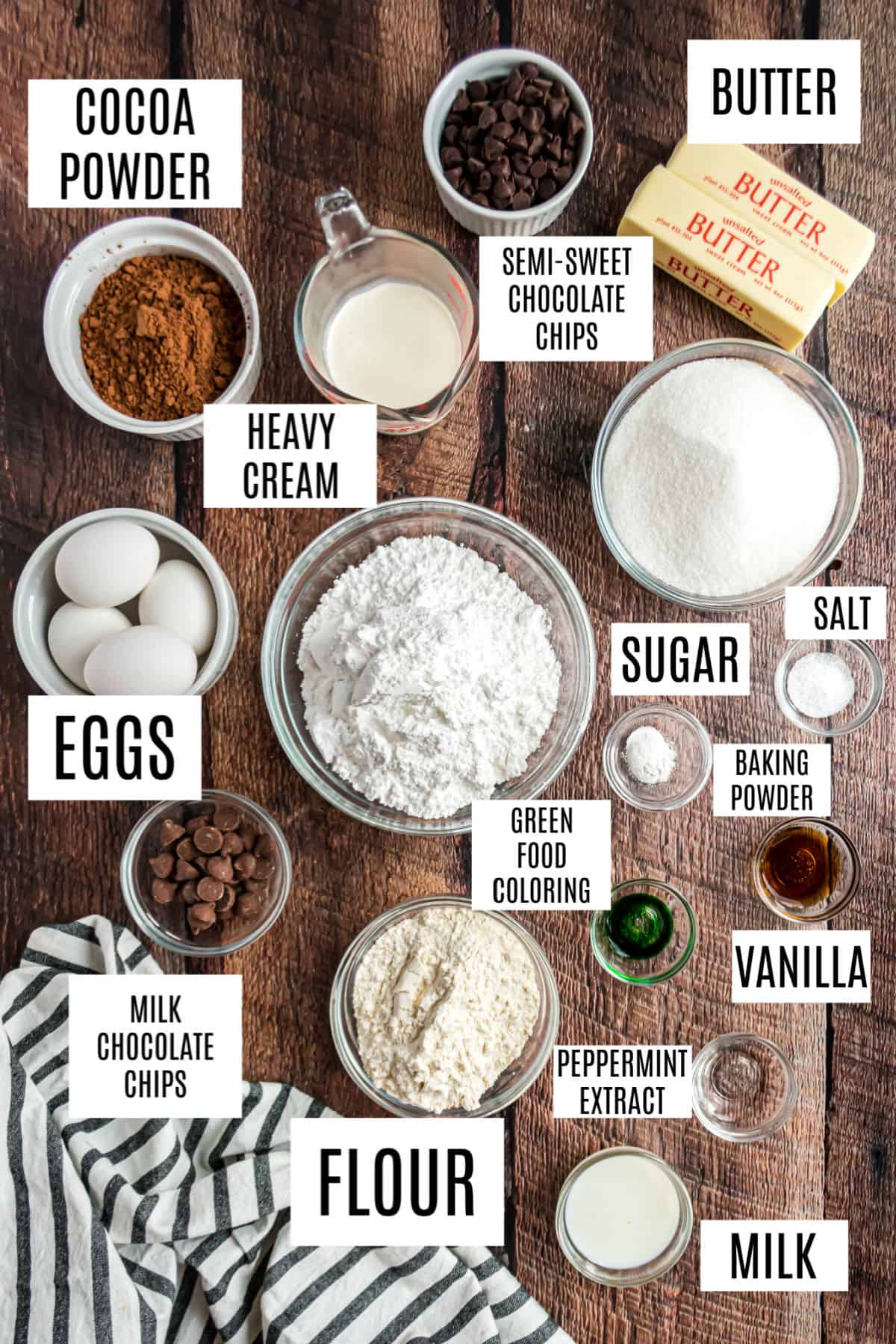 Today's recipe uses our favorite fudgy brownie as the base. It's an easy, from scratch recipe that we use often and is loved by all!
Easy Instructions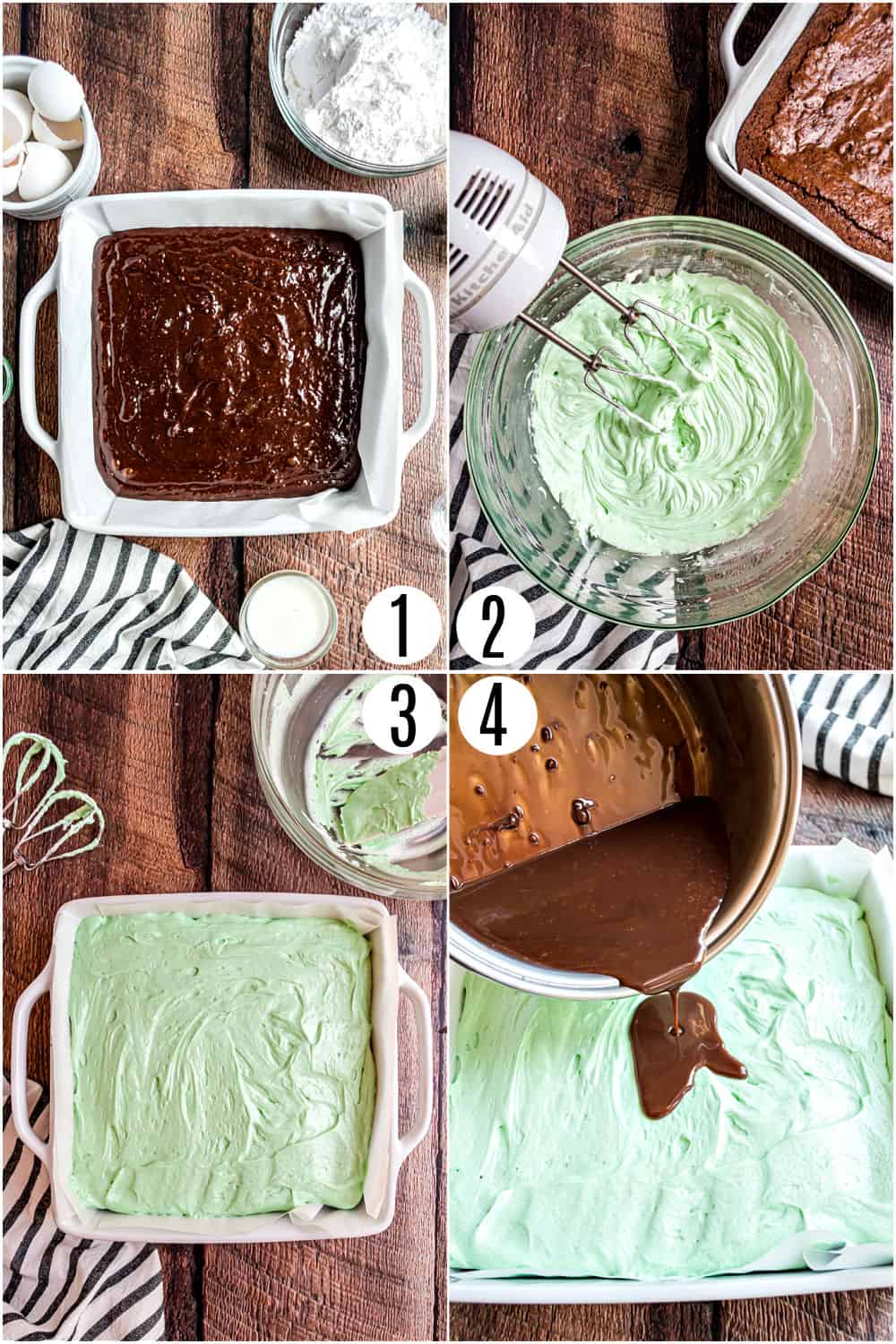 STEP 1. Brownie layer
Melt the butter in a saucepan. Stir in chocolate chips and sugar until melted.
Add the remaining wet ingredients, followed by the dry ingredients. Pour batter into a brownie pan and bake for 35 minutes.
EASY TIP: Swap out the homemade brownie layer for a boxed brownie layer.
STEP 2. Mint filling
Beat together all the ingredients until the filling is fluffy and smooth. When the brownies are fully cooled, spread filling on top.
Chill the mint brownies in the refrigerator while you make the ganache.
STEP 3. Chocolate ganache
Warm heavy cream in a saucepan. Remove the pan from heat and stir in the chocolate chips. Continue stirring until the chocolate melts and the mixture is smooth.
Pour the ganache over the mint layer of the brownies. You can use a spatula to make sure the tops of the brownies are fully covered.
Return the pan to the fridge. Let the brownies chill for one hour. Then, slice and serve!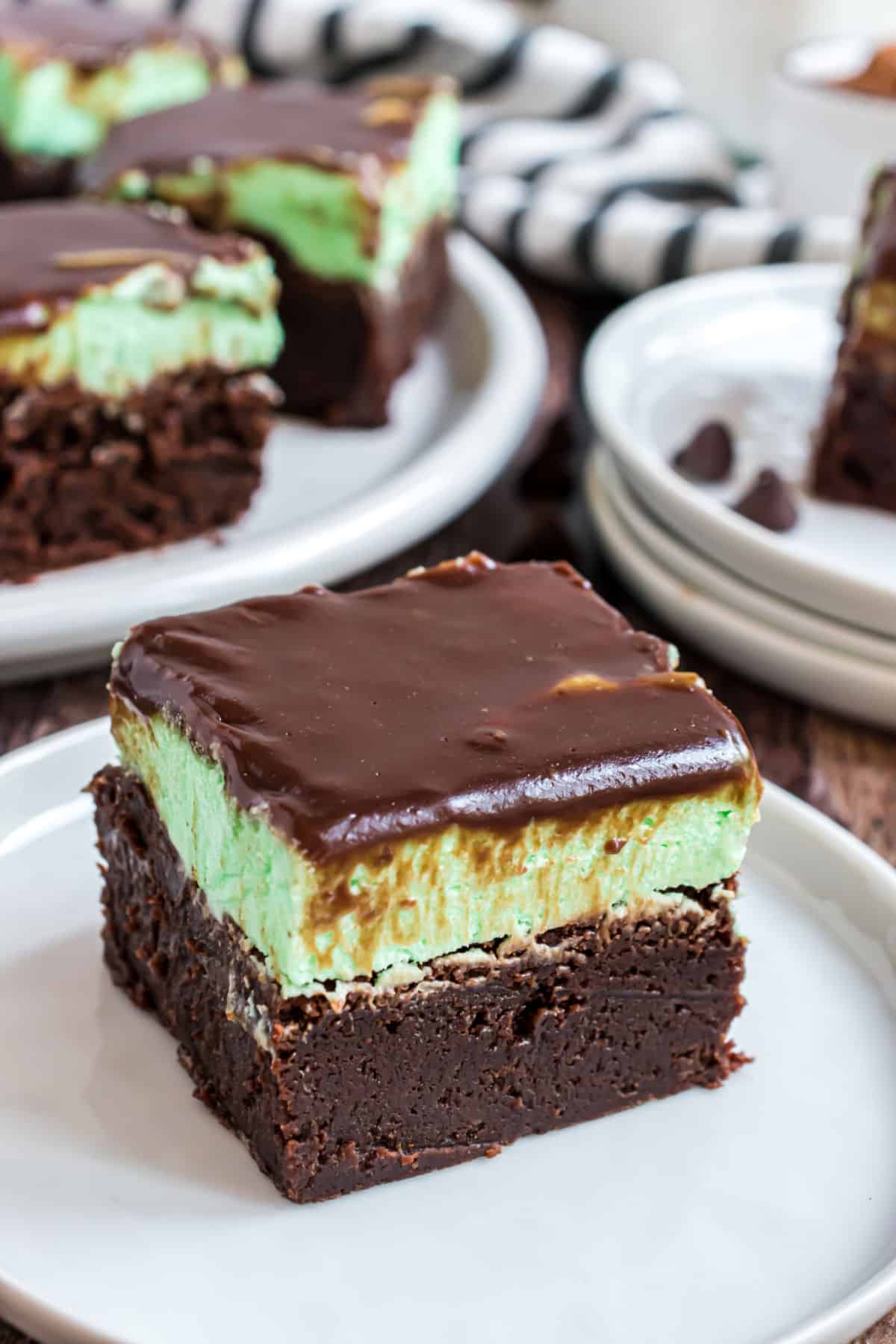 Tips and Tricks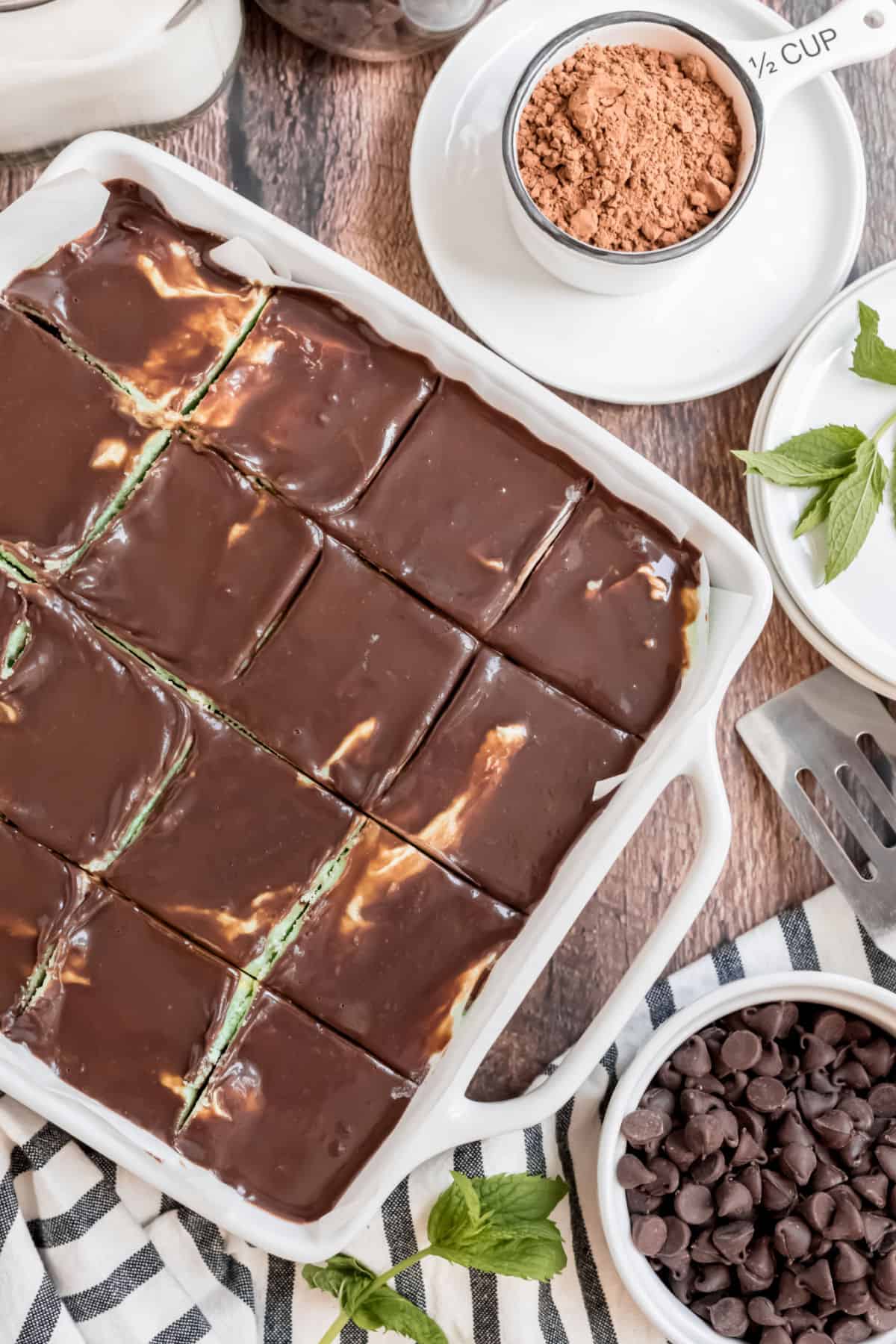 Recipe FAQs
Can I use semi-sweet or dark chocolate in the ganache?
Yes, you can! We chose milk chocolate to mimic Andes Mint flavor, but dark chocolate would be delicious too.
How do you store Chocolate Mint Brownies? Do they need to be refrigerated?
Once the brownies are set up, you can store them at room temperature in an airtight container. If you like the taste when they're cold (we do), feel free to store them in the fridge instead! It's up to you.
I only have salted butter! Can I still make these brownies?
Yes, salted butter can be substituted for the unsalted butter. I would just leave out the added kosher salt in the brownie batter to compensate for the extra saltiness in your butter.
Rich and chocolatey with just the right amount of mint flavor, Chocolate Mint Brownies are perfection. Wow your friends and family with this beautifully indulgent dessert recipe!