One taste of these fudgy Chocolate Chip Brownies with Chocolate Chip Frosting and you'll agree they are the most wonderful Zucchini Brownie you'll ever enjoy.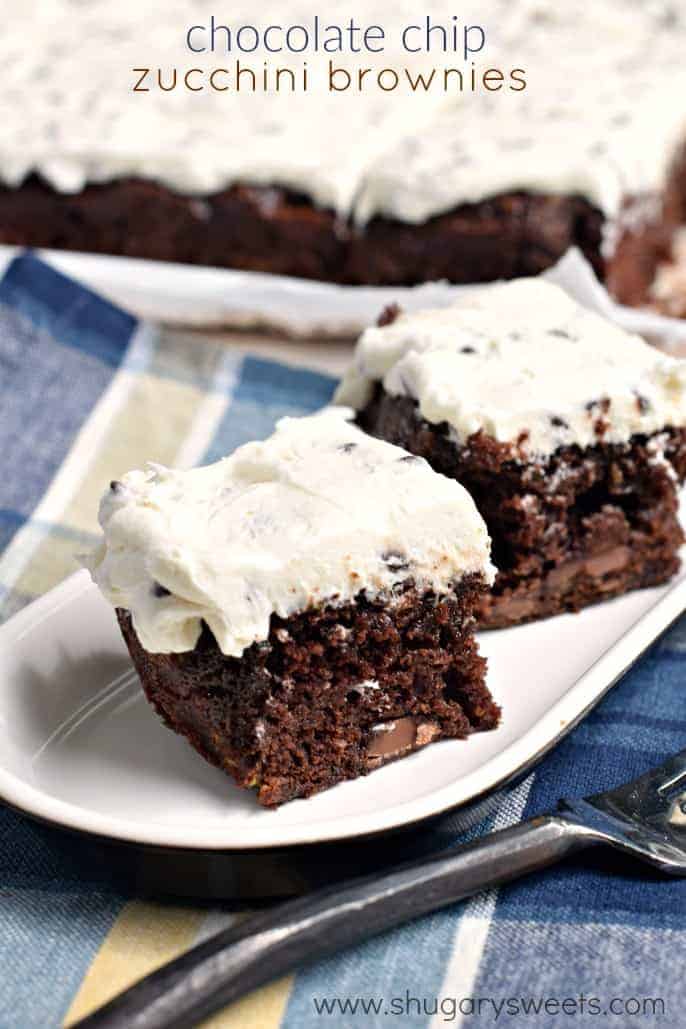 Another baked treat born out of my garden deciding to go Zucchini crazy!
My kids had no idea that the brownies I served them contained vegetables. There's no zucchini flavor in these Chocolate Chip Brownies but the shredded zucchini in the batter makes them oh-so-moist.
Add some chocolate chip frosting on top and you have a rich treat that may just slide it's way to the top of the list of best brownies you've ever eaten.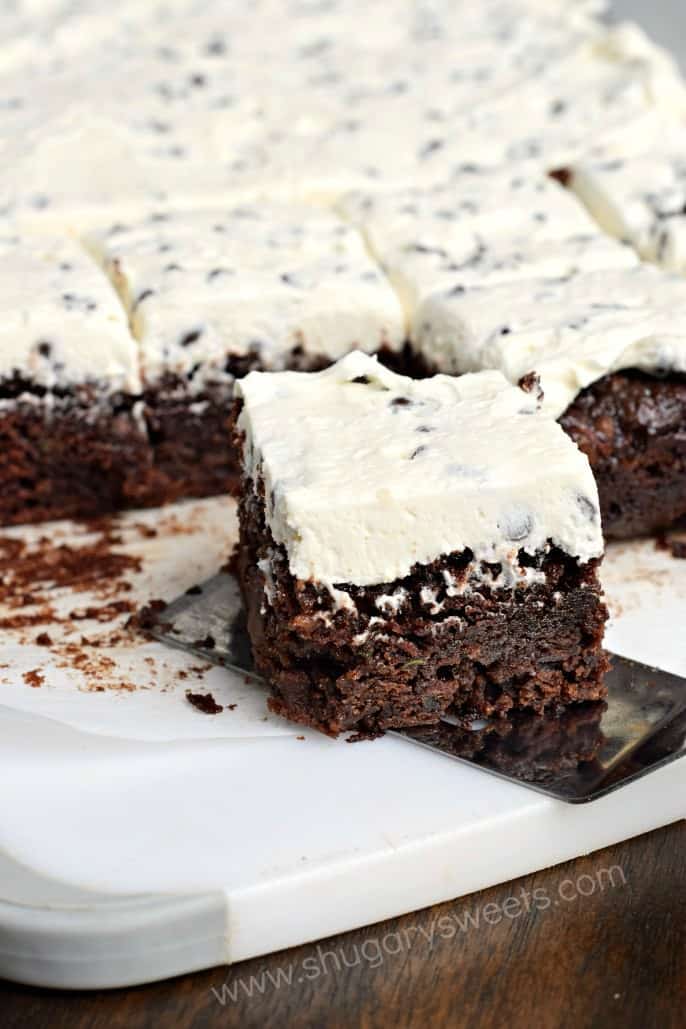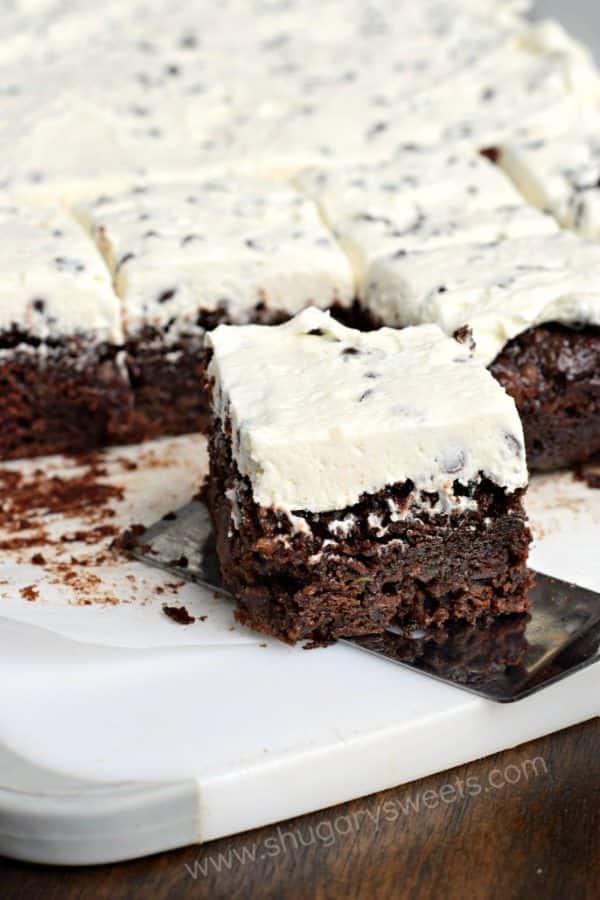 The brownies are so rich and gooey on their own. But, if you've read any of my other Brownies recipes before you'll know that when it comes to brownies, I believe in frosting.
In fact, when it comes to LIFE, I believe in frosting.
If you're gonna eat a gooey chocolate chip brownie, you might as well do the thing right! The chocolate frosting on top is good enough to eat straight out of the bowl with a spoon.
Believe me, if I didn't already have brownies in the oven, that's exactly what would have happened!
How to shred zucchini
Just like when you make Chocolate Chip Zucchini Bread and Cinnamon Frosted Zucchini Bars, you'll need to shred your zucchini before adding it to the brownie batter.
I love using a grater to shred my zucchini! Slice off the end tips, then peel the skin off the zucchini with your vegetable peeler first. Then hold the zucchini against the top of the grater and pull downward.
You can also use a food processor fitted with the shredder attachment to shred the zucchini for your chocolate chip brownies. If you use the food processor, cut the squash in half lengthwise and scoop out the seeds first.
Just be careful not to overdo it or you'll end up with a zucchini puree.
How to make Zucchini Brownies
Wanna know my other favorite thing about these Zucchini Brownies?
You only need one bowl.
Mix up all the ingredients for the brownies in one large bowl (no electric mixer required). Let the mixture set in the bowl for about 5-10 minutes. This allows the moisture from the zucchini to distribute. Don't fret if the batter seems dryer or thicker than a traditional brownie batter. TRUST ME.
Pour the batter in to your brownie pan, bake and let cool completely before adding the frosting.
Chocolate Chip Frosting
This is a creamy whipped vanilla frosting with mini chocolate chips folded in. The icing is thick and spreadable and I love the taste of the vanilla paired with the fudgy brownie.
To make the frosting, just whip butter and powdered sugar together, along with vanilla and whipped cream. Fold the mini morsels in at the end.
When the pan of brownies is completely cooled, spread the frosting evenly over the top. Cut into squares and serve, preferably with a glass of milk!
Chocolate Chip Frosting isn't just for brownies! This would also be delicious on a simple chocolate cake or a batch of cupcakes. . . but I strongly recommend you try it on these Zucchini Brownies first!
No one is sorry to have brownies in their life. No one.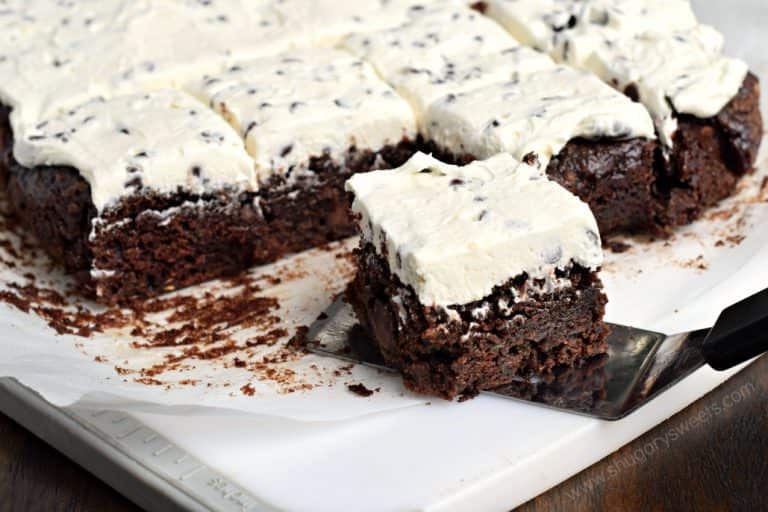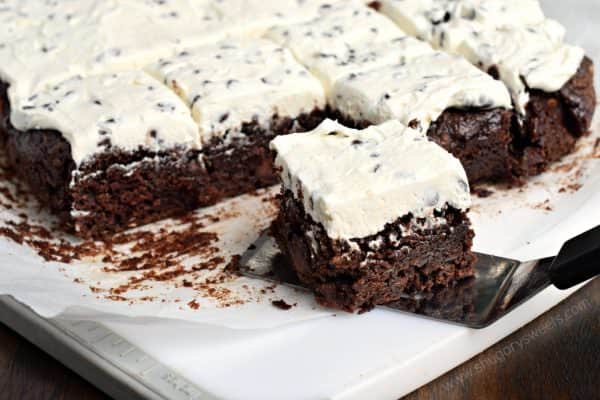 Tips & Tricks
I use semi-sweet chocolate chips for the batter, and mini chocolate chips for the frosting. I like the smaller sized chips in the frosting, but go with what's in your pantry.
If you have a ton of zucchini about to go bad, but it's more than you need in the Zucchini Brownies recipe, go ahead and grate it all. You can freeze whatever you don't use right away, so you can have delicious Zucchini bread, cakes, muffins and brownies all year long.
REFRIGERATE. I find these brownies taste best COLD. Plus it makes them easier to cut and serve. I bake them in the evening, and refrigerate them overnight. THEN, the next day I'll put on the frosting. Or bake in the morning, refrigerate, then frost before dessert.
I also STORE them in the refrigerator. It's not necessary, but again, I LOVE these chilled!
If you want to freeze these brownies, do so before you add the frosting. Cut into squares and store in a freezer safe container. When you're ready to serve them, thaw and make the frosting fresh!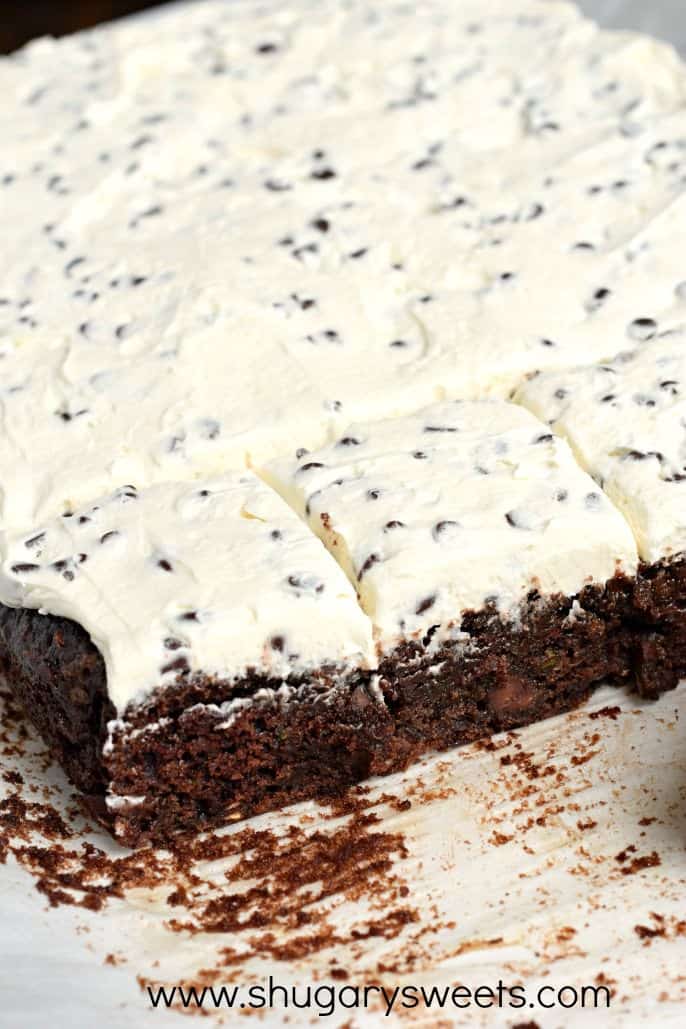 Love brownies? I've got you covered….
Ooey gooey Chocolate Chip Brownies are even more irresistible when you slather them in whipped cream chocolate chip frosting No one will ever know the secret ingredient is a vegetable!