These thick and fudgy Mint Chocolate Chip Brownies are rich, decadent and refreshingly minty! The thick layer of mint chip buttercream frosting sets these brownies apart from the crowd.
Love chocolate and mint? Be sure to try our mint chocolate chip cupcakes for a delicious dessert. Or give this minty meringue cookie recipe a try instead!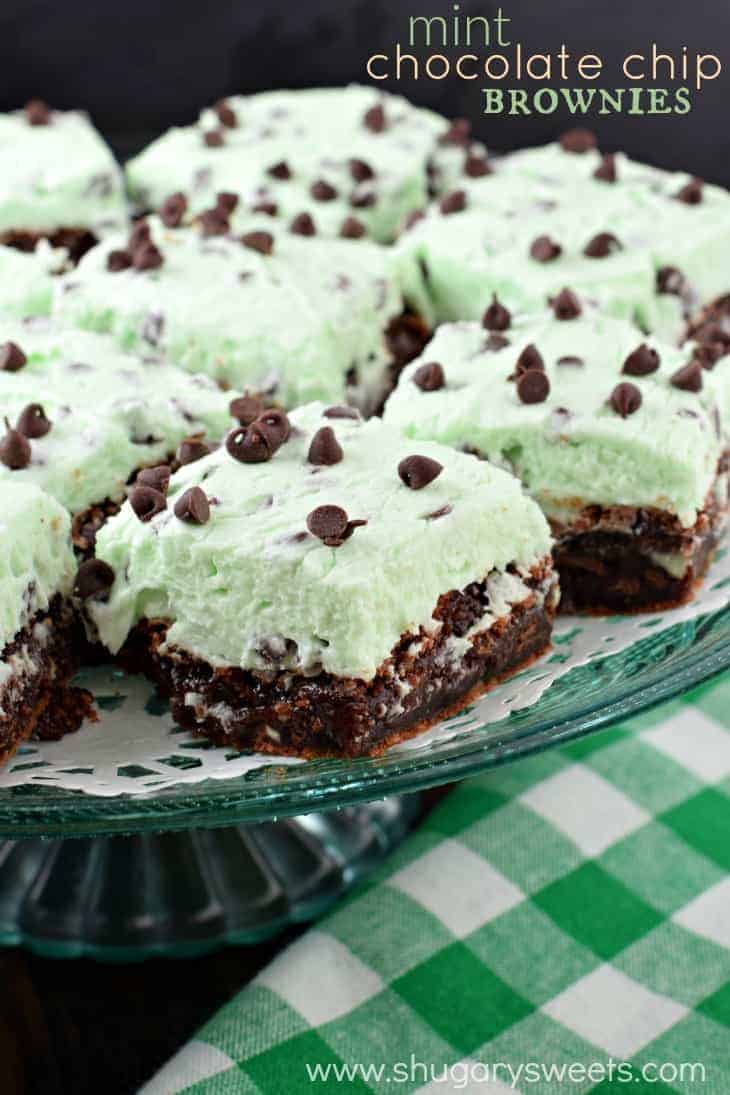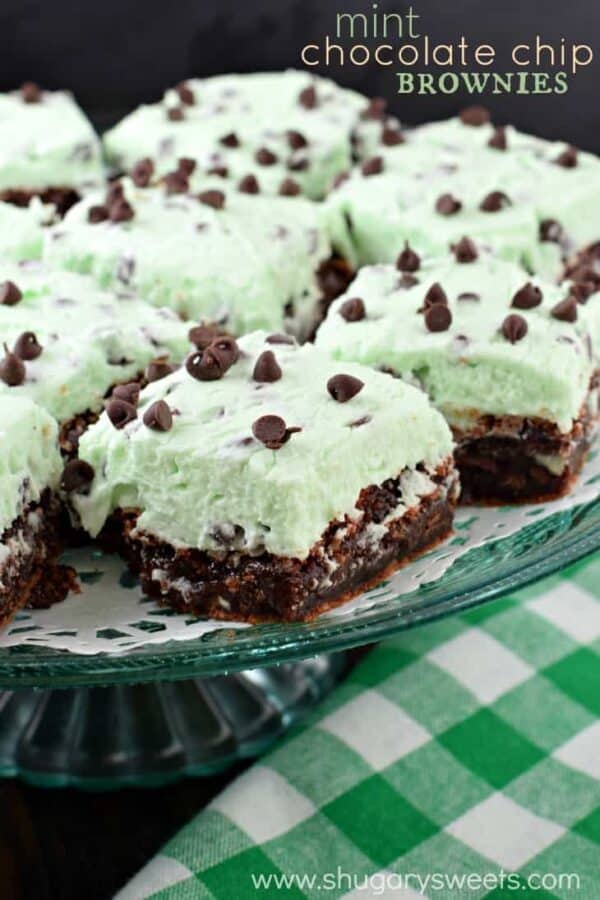 Why This Recipe is Best
We are serious mint chocolate chip lovers in this house. So much so that my children are known to request this Mint Chocolate Chip Cake on their birthdays.
Today though, we are all about the brownies. Whether you're looking for a St. Patrick's Day dessert or just need to satisfy a craving for mint and chocolate, you'll love these brownies.
Based on my Buttermilk Brownies
Topped with mint green frosting
Garnished with mini chocolate chips
Tastes like Andes Mints or Thin Mint cookies in brownie form!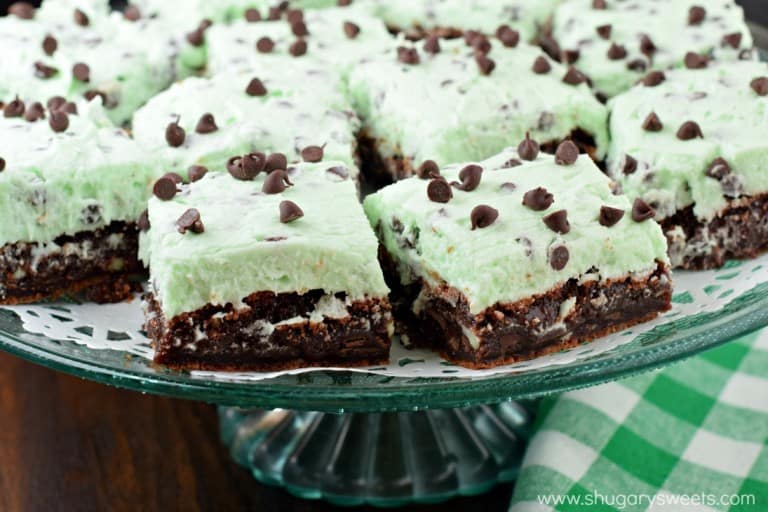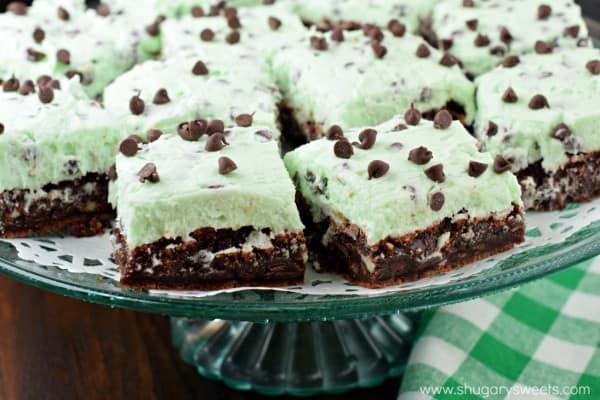 Ingredient Notes
Dark chocolate cocoa powder makes a world of difference in the flavor of homemade brownies. I love the Rodelle brand in this recipe.
Buttermilk gives the brownies a super moist, fudgy consistency. This homemade buttermilk substitute works beautifully for baking too.
Andes baking chips – You can find these in the baking aisle near the chocolate chips. They're like the center of an Andes mint candy in the form of small baking bits you can fold right into the brownie batter.
Green food coloring is optional for making the frosting green. I find the gel food coloring works better than the liquid kinds when added to frosting.
Peppermint extract flavors the mint frosting. Make sure to use "peppermint" extract NOT "mint" extract. I find mint extract has a toothpaste flavor that I want nowhere near chocolate brownies!
Semi sweet chocolate chips are folded into the frosting for a classic "mint chocolate chip" appearance. Plus–more chocolate!
Easy Instructions
How to make the brownie batter:
Melt butter in a sauce pan over medium heat. Add oil and cocoa powder then whisk constantly until it comes to a boil. Remove from heat.
Combine sugar, buttermilk and eggs with the butter mixture. Then add flour, baking soda and salt. Fold in the mint baking chips.
Bake:
Pour the batter into a lined rectangular brownie pan. Bake for 20 minutes and let cool in the pan.
Frost and chill:
Beat the butter until it's pale in color. Add the remaining frosting ingredients and beat until combined.
Spread frosting over cooled brownies. Stick the whole pan in the fridge for 2 hours. Slice into squares and enjoy!
Tips and Tricks
Best served cold. Mint Chocolate Chip Brownies taste incredible straight out of the fridge
Keep covered. When you're not eating the brownies, keep them covered with plastic wrap or foil. Cut brownies can be stored in an airtight container.
Do not over mix. Only stir together the brownie batter ingredients until just combined. If you over mix, the brownies will be more tough and dense.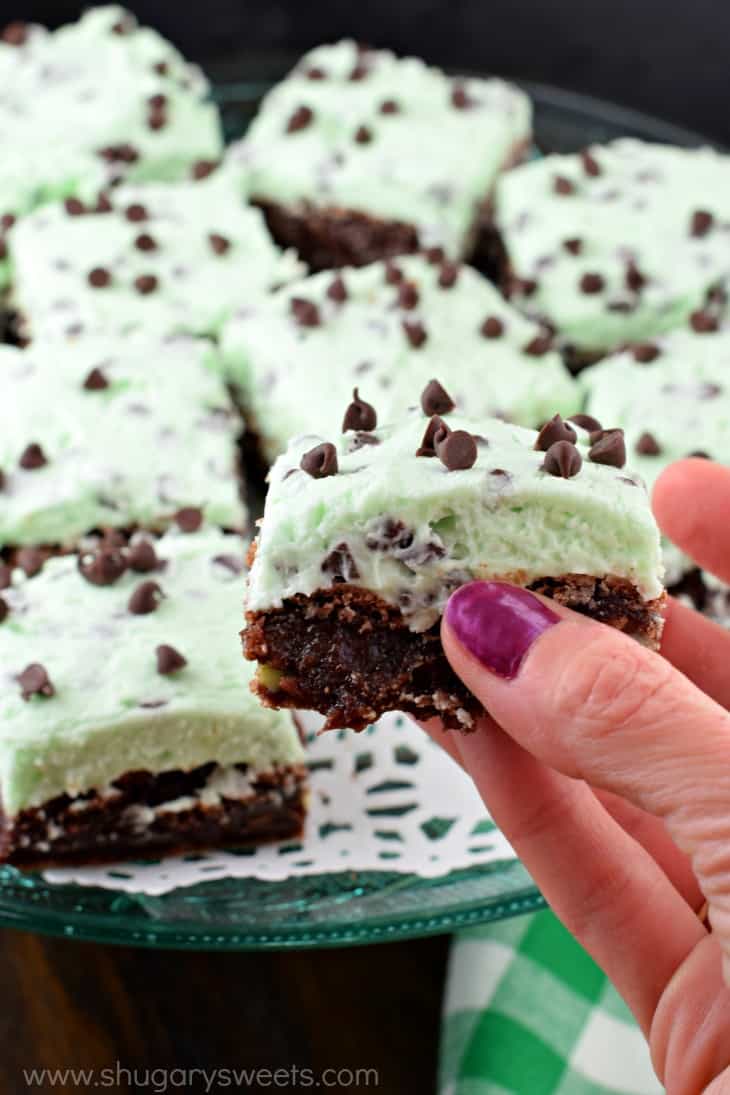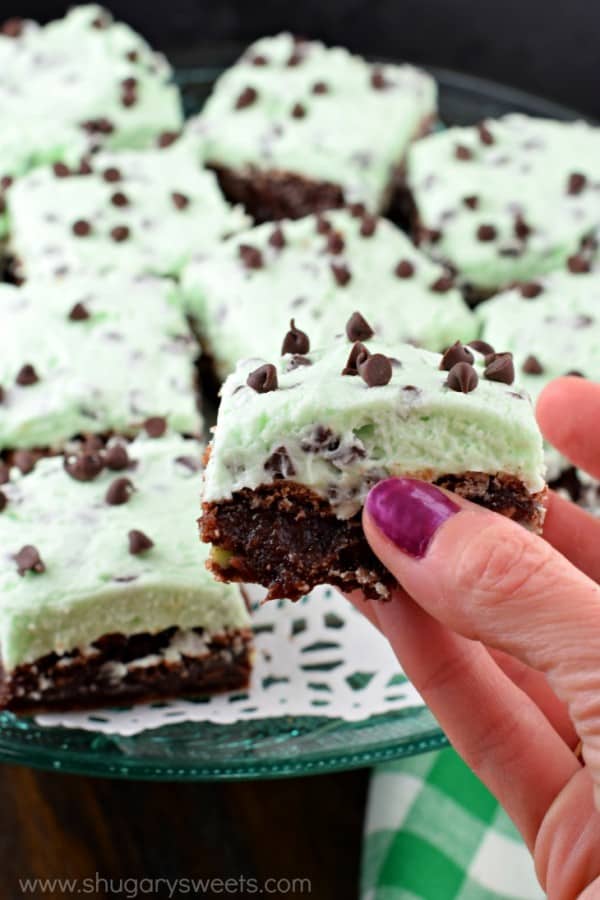 Recipe FAQs
I'm in a hurry. Can I make these brownies without chilling them?
I don't recommend skipping the chilling step. Refrigerating helps the frosting "set up" on the brownies and brings out more of that cooling minty flavor.

What kind of pan do I need for this brownie recipe?
For this recipe, I used a 13 x 9 inch baking dish rather than a square brownie pan.
If you only have a square pan, you can still make this recipe but the brownies will be thicker. (Not necessarily a bad thing!)

Can I use regular cocoa powder instead of dark cocoa?
Yes, but make sure the cocoa powder is high quality, not the cheap stuff. Ghirardelli and Rodelle brands are perfect. The cheaper brands, like Nestle or generic store brands, just don't taste as good in these mint brownies.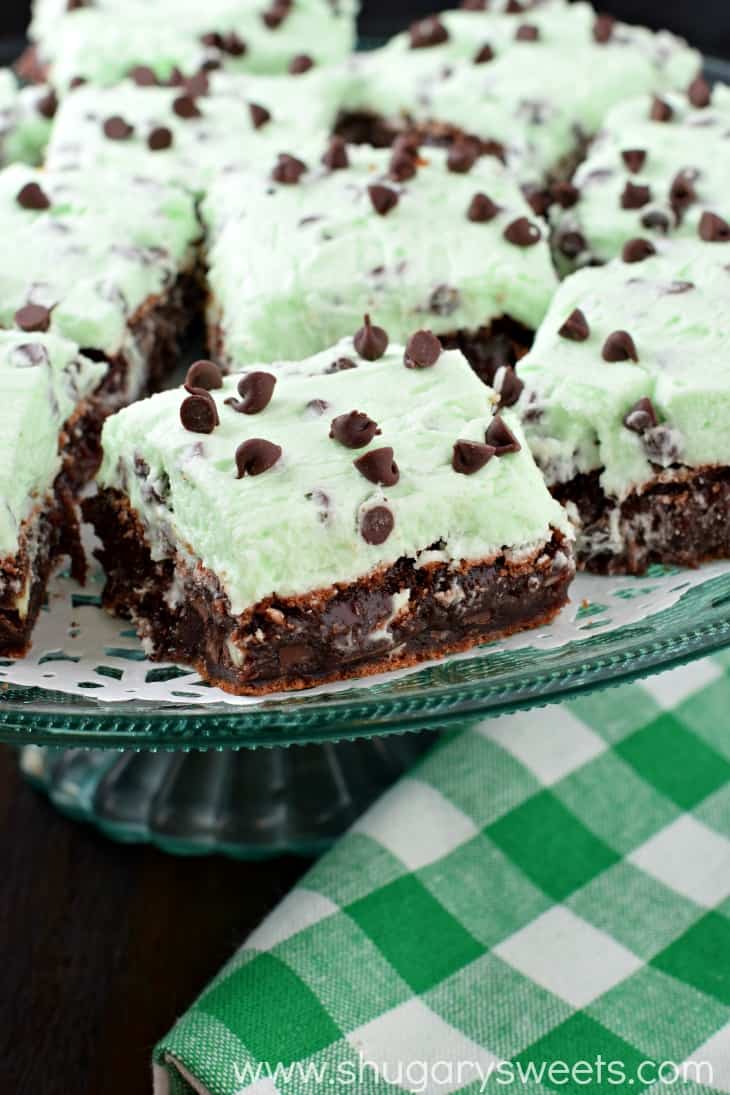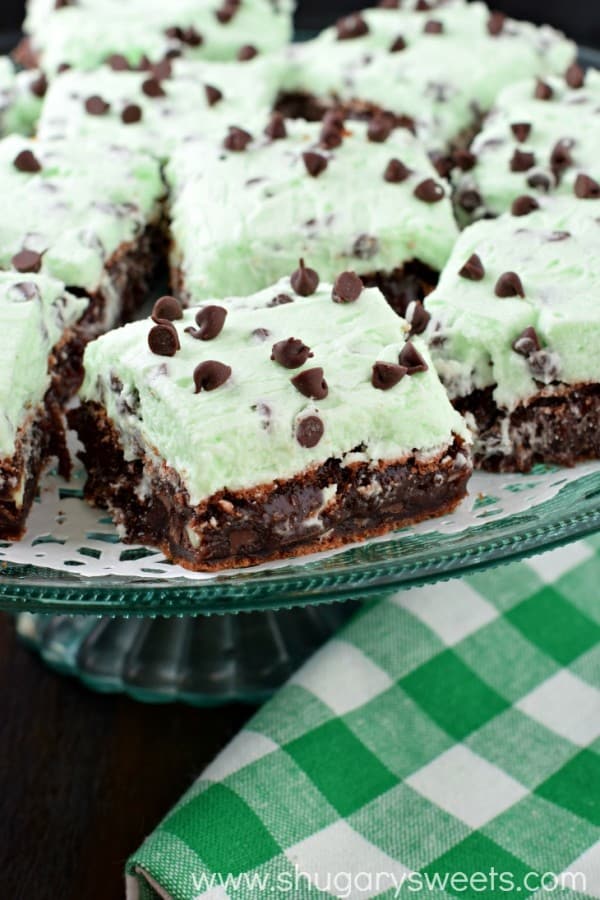 Rainbow Chip Brownies: based off my favorite buttermilk brownie recipe, these give Little Debbie a run for their money!
Zucchini Brownies: I've packed some veggies in this brownie. It adds moisture and the kids will never know!
Love mint chocolate chip? Meet your new favorite brownies!