These thick and fudgy Mint Chocolate Chip Brownies are rich and decadent brownies topped with a sweet mint chocolate chip buttercream frosting!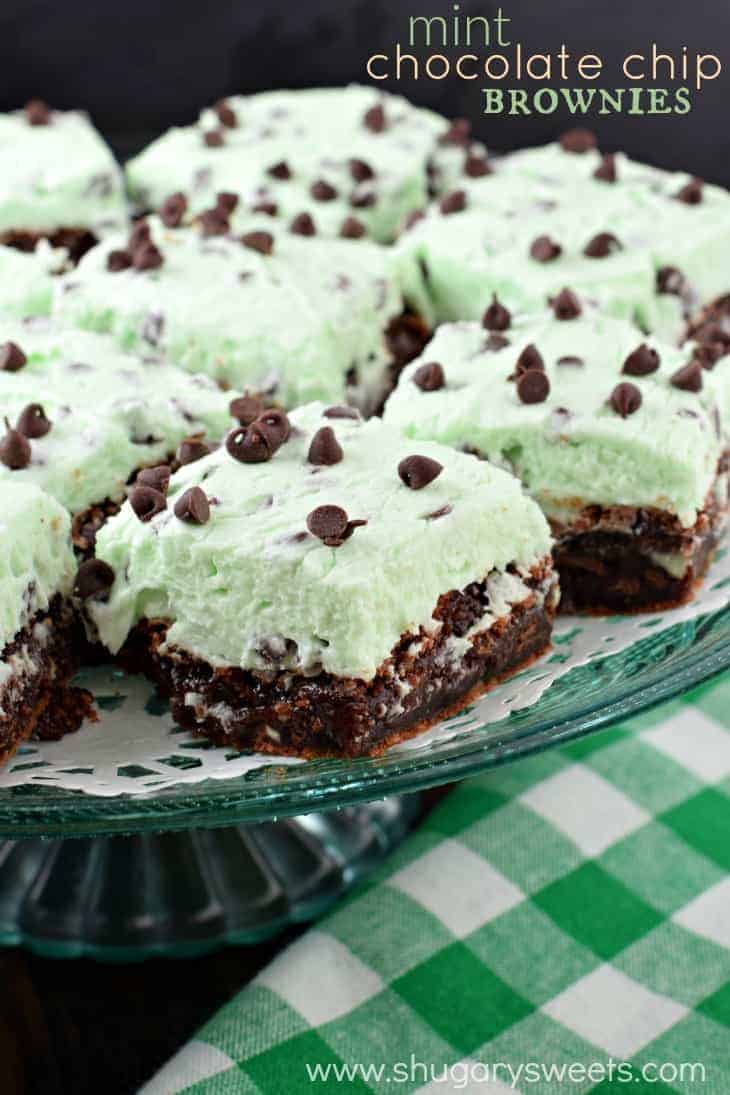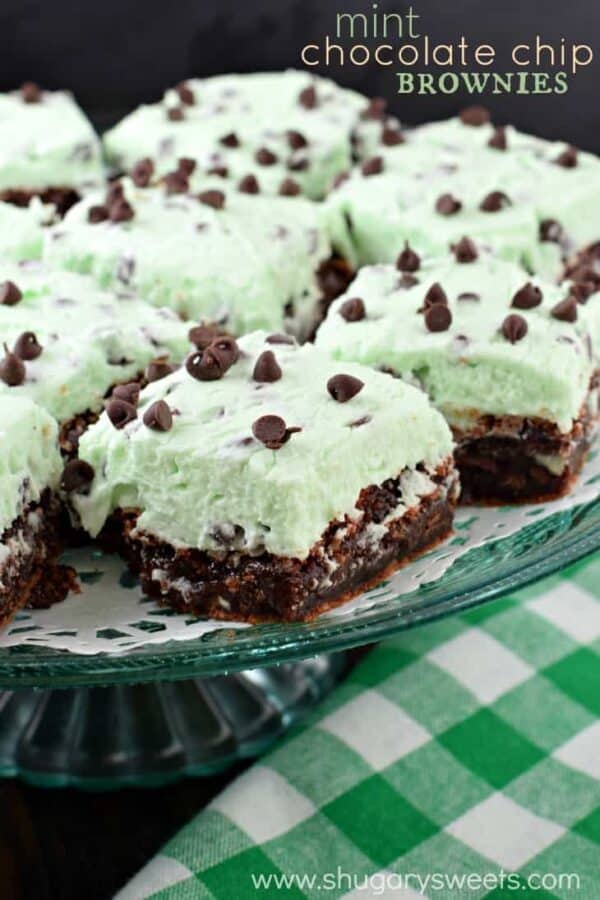 We are serious mint chocolate chip lovers in this house. So much so, that many years ago I made this crazy Mint Chocolate Chip Cake for my son's birthday! It was dreamy, and decadent, and has been made several times since then!
But I don't stop with just brownies when it comes to mint chocolate chip! I love it with cupcakes, cookies, and fudge too!
Today though, we are all about the brownies. Since St.Patrick's Day is just around the corner, I found it only fitting that I create a green dessert for your enjoyment!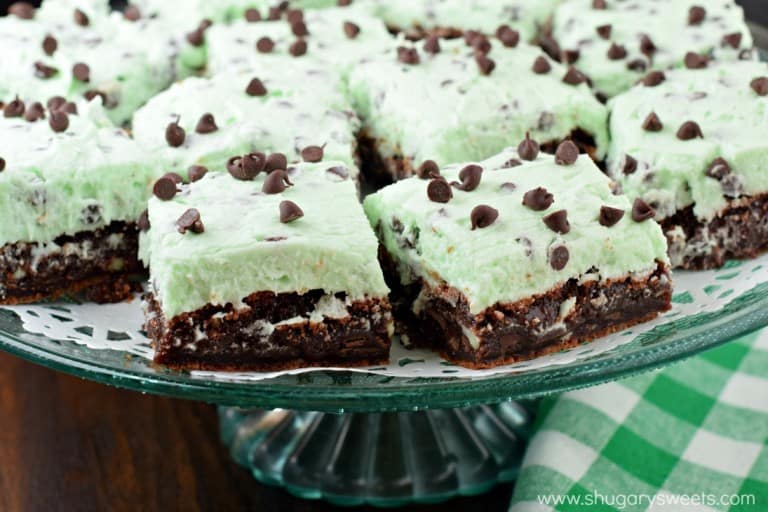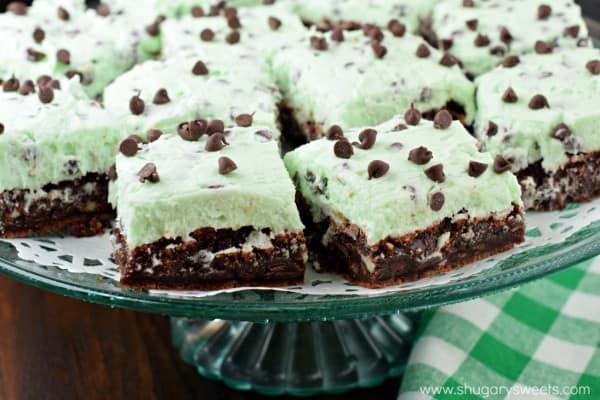 The base of today's brownie is my favorite recipe of all time. It's based off these Buttermilk Brownies! Once you give this recipe a try, I guarantee you won't need another brownie recipe, ever.
How to make Mint Chocolate Chip Brownies
It's so easy to whip up a batch of homemade brownies. I know buying the boxed mixes are easy and convenient…but today's recipe is super delicious, you may never buy a boxed mix again.
If you're looking at the ingredients list and thinking, I don't have BUTTERMILK, it's okay.
You can either use regular milk, or make your own butter milk by adding 1 tsp of lemon juice to your 1/4 cup of milk. Whisk it together and let that sit for about 5-10 minutes (it may slightly curdle, that's a good thing)!
You can also use greek yogurt in place of the milk in this recipe. So many options! I always keep a container of THIS in my refrigerator. The taste is SPOT ON to buttermilk, and I never worry about not having some on hand. (you can buy it online, or I find it in the baking aisle of my grocery store)
To give these brownies a kick of mint, I added in some of these Andes Creme de Menthe
I like to under cook my brownies just a minute or two to give a little fudgy center. If you like them a little less soft, add a couple minutes to the bake time!
Speaking of soft, fudgy brownies, these are more dense than cake-y. So if you're looking for them to be dry (even after adding a few minutes to the baking time) that isn't going to happen.
I use the least amount of flour possible to keep these rich and decadent. If you TRULY want a cake-like brownie, you can try adding in a little more flour. But, why? haha!!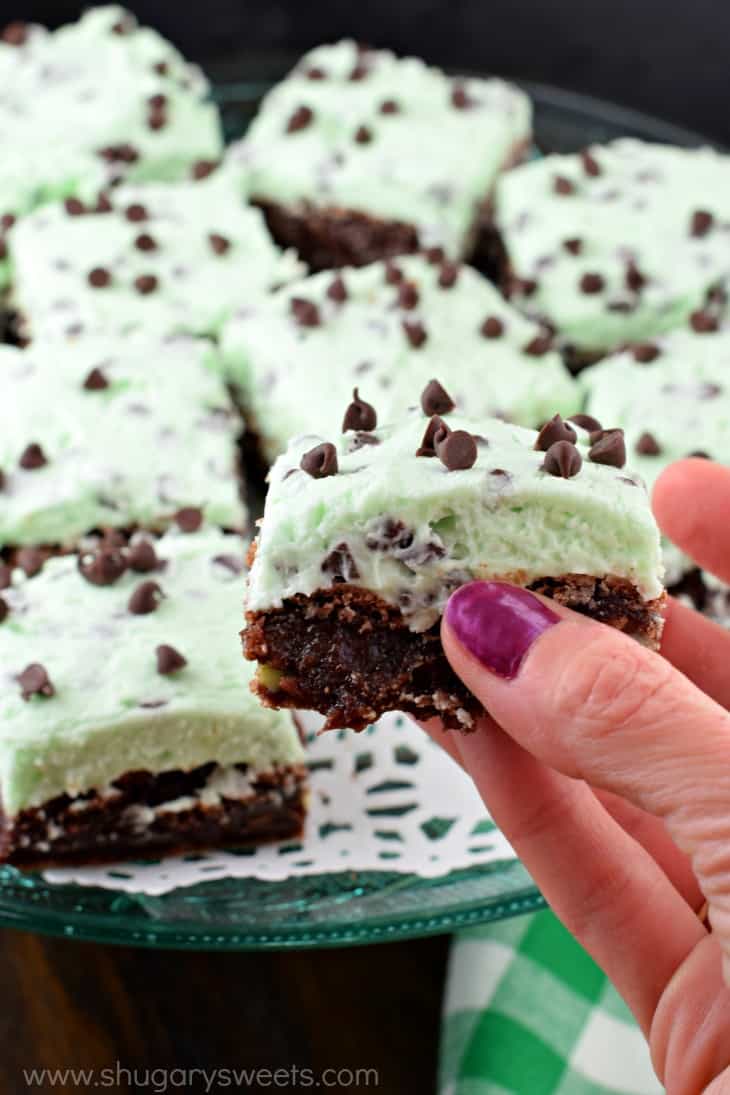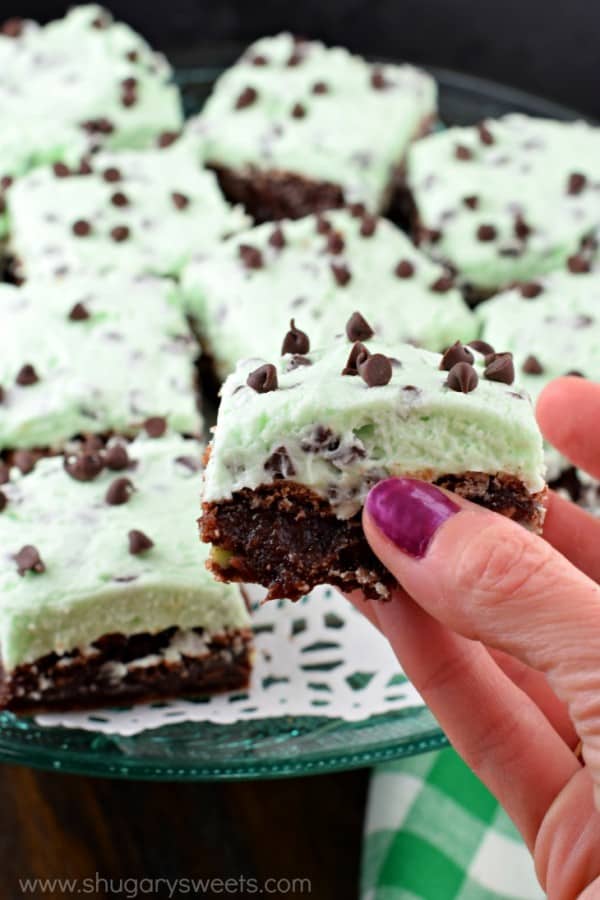 How to make Mint Chocolate Chip Frosting
And now…the frosting. The most magical part of these brownies. Well, no, that's not true. I do love the base of these brownies, but if you know me, you know that frosting is my jam. My love. MY TRUE LOVE. Which is why, as you can see, I like a good ratio of brownie to frosting.
If that's not your thing…feel free the cut the frosting recipe in half. But, why?
The key to giving this frosting a whipped texture (and not a heavy buttercream texture…even though it IS buttercream) is to beat the butter for about 3-4 minutes BEFORE adding anything to it.
You want to whip it with an electric mixer (with the whisk attachment) so that it's pale in color. This will let you know it's time to add in the other ingredients.
Then, once it's all been added (except for the mini chocolate chips) you're going to BEAT it another 3-5 minutes. Light and fluffy! You can add in a little more milk if needed, too!
Fold in those mini chips and time to spread it on your cooled brownies.
Heavenly. ENJOY!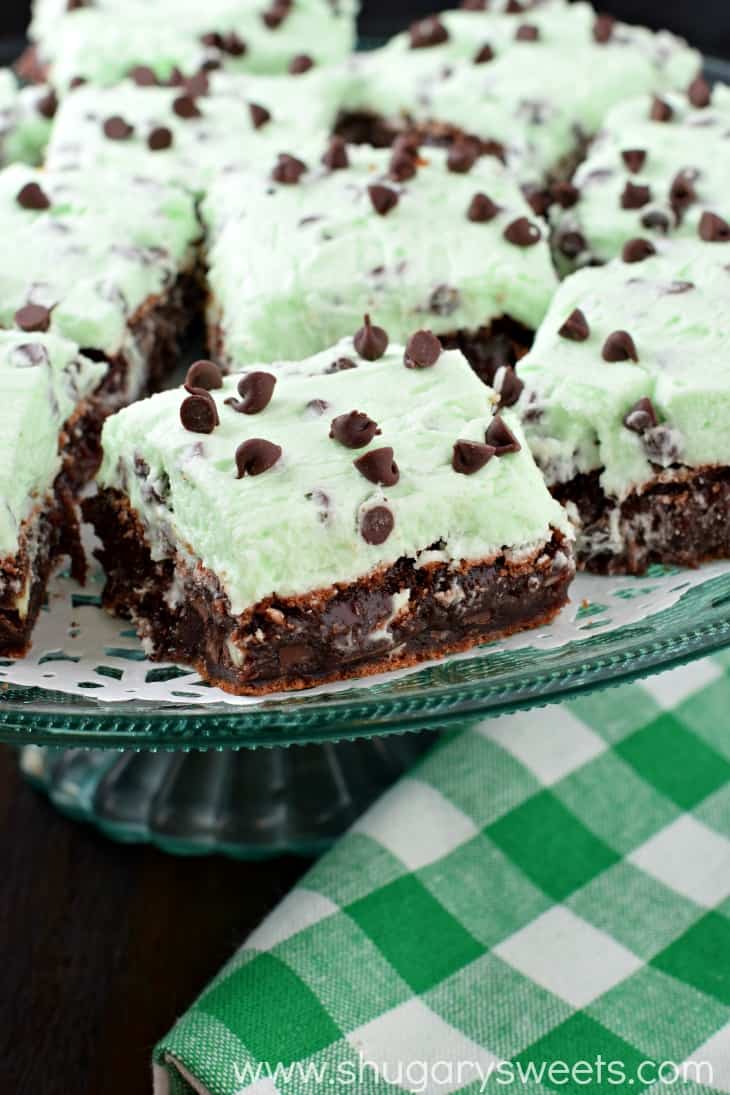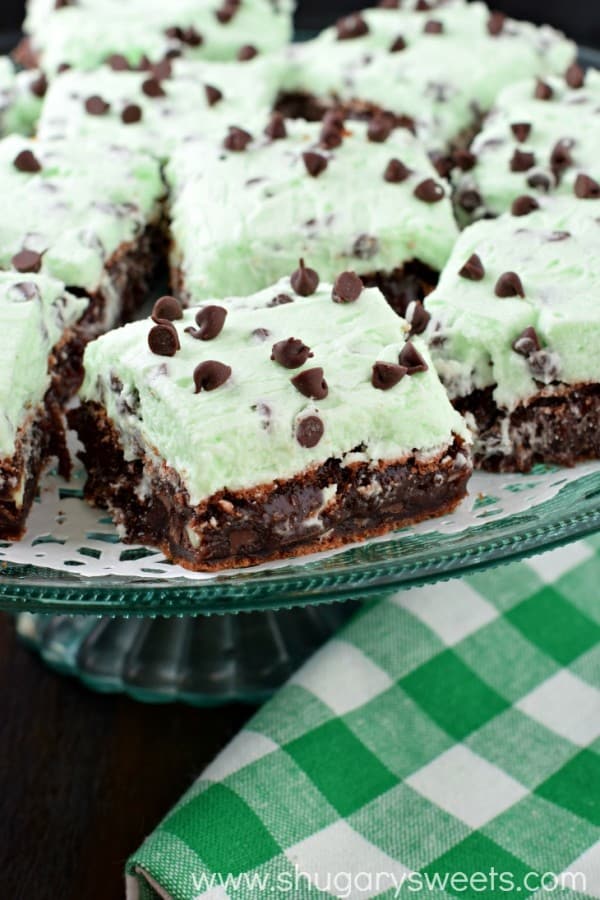 Rainbow Chip Brownies: based off my favorite buttermilk brownie recipe, these give Little Debbie a run for their money!
Zucchini Brownies: I've packed some veggies in this brownie. It adds moisture and the kids will never know!
Milky Way Brownies: thick and fudgy with a frosting to die for!
Recipe originally published February 18, 2016