Do you have a garden overflowing with fresh zucchini this time of year? Put them to good use with this Chocolate Zucchini Cake! Covered with an irresistible chocolate glaze, this Bundt cake is dark and rich with the perfect amount of sweetness.
The best reason to grow zucchini is all the delicious baked goods you can make! Stock up your freezer with some Chocolate Chip Zucchini Bread and Lemon Zucchini Cake this summer.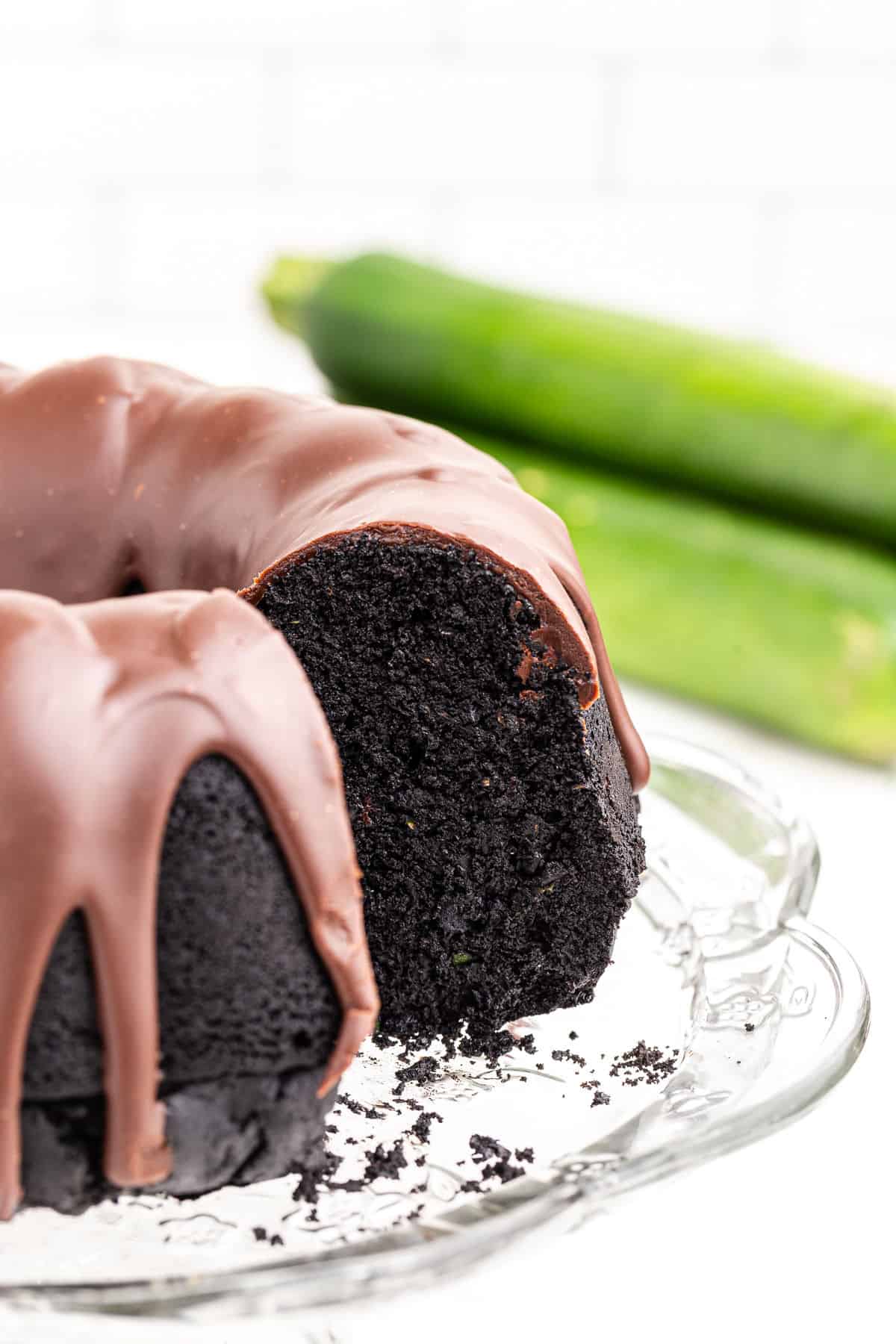 Why this Recipe is Best
This Zucchini Cake is a dark chocolate lover's dream come true. Dark cocoa powder and espresso bring out a rich dimension of chocolate flavor that will make you swoon.
Need more reasons to LOVE this cake recipe?
It's a bundt cake which means you don't have to fuss with frosting bags and precise decorating. Just pour the chocolate ganache on top and voila!
Shredded zucchini keeps the cake extra moist. Zucchini cakes stay moist even days later, making them a great make ahead option.
Chocolate morsels folded into the batter add an extra decadent touch.
Chocolate Zucchini Cake is freezer friendly! You can make it on a weekend and stash it away for a future special occasion.
Ingredient Notes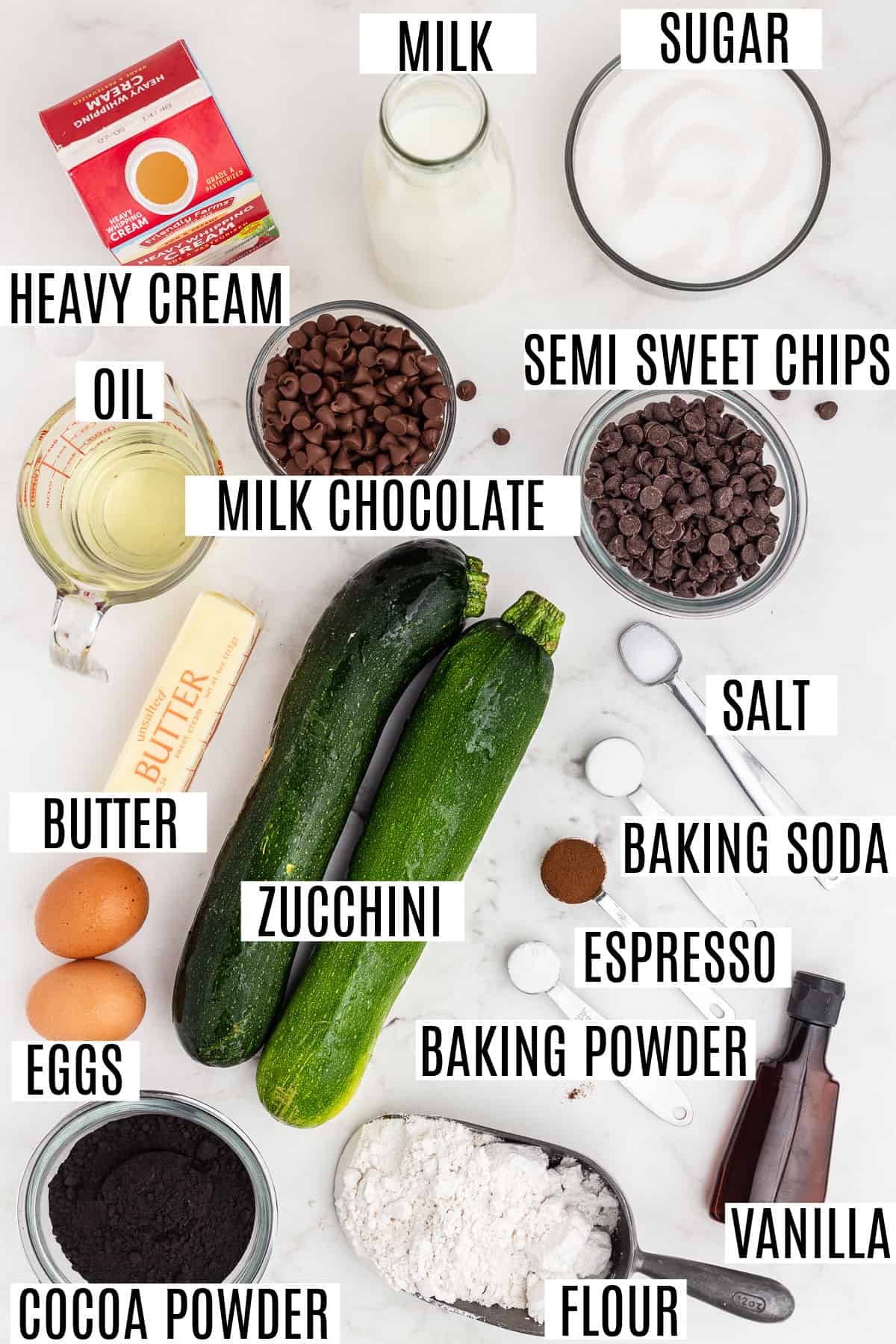 Espresso powder. This doesn't make the cake taste like coffee! A strong instant coffee or espresso powder helps enhance the natural flavors of the chocolate. I use THIS ONE on Amazon (you'll see this in several of my recipes, including my tiramisu cupcakes and our chocolate pound cake).
Dark Cocoa Powder. Use a GOOD quality cocoa for best flavor. Hershey's Special Dark or Ghirardelli are good choices.
Shredded zucchini. Freshly grated or frozen thawed shredded zucchini can both be used here. Use our guide on how to shred zucchini.
Easy Instructions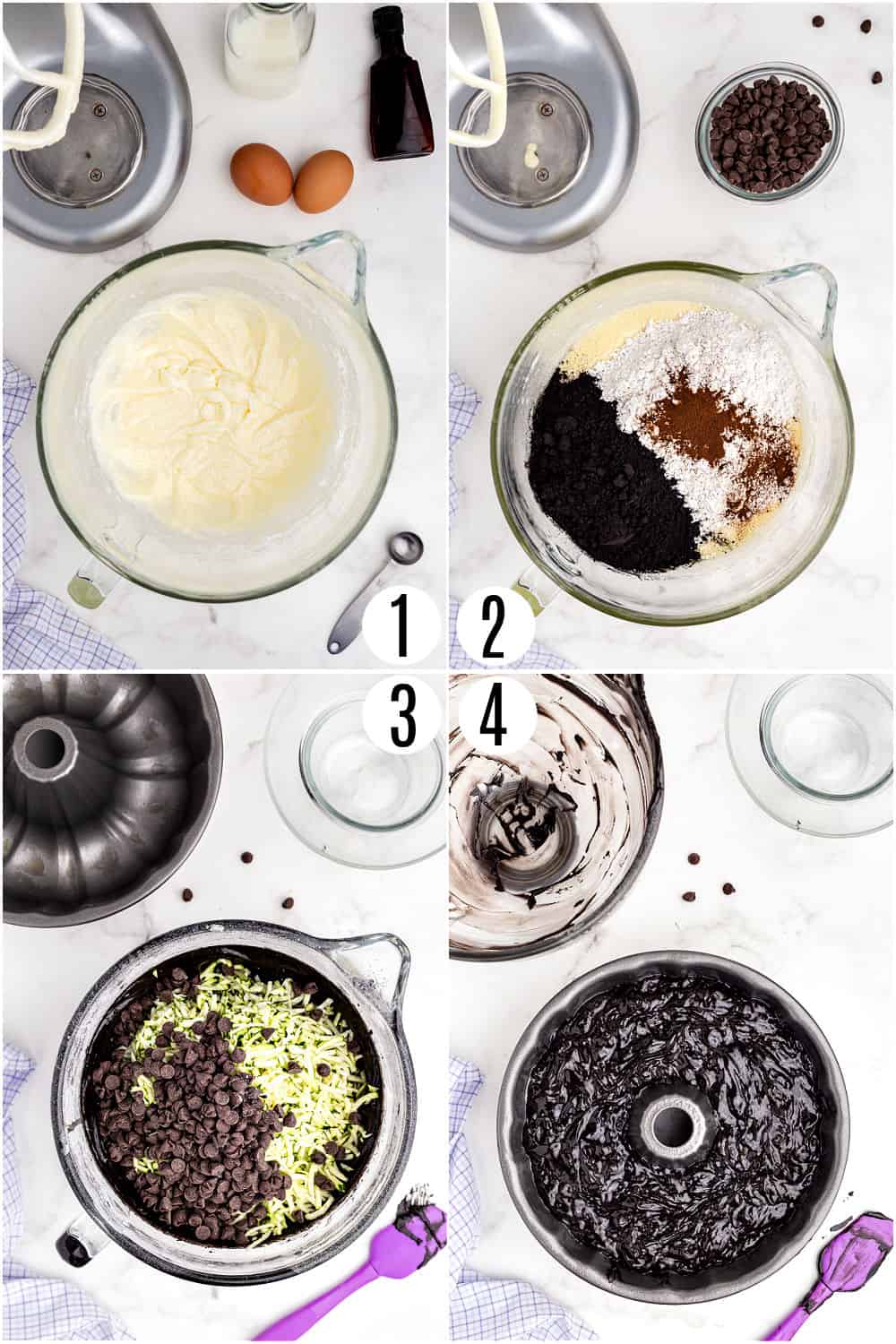 Combine cake ingredients:
Start by beating butter and sugar with baking soda, baking powder, oil and kosher salt. Mix in the eggs and vanilla extract.
Beat in flour, cocoa powder and espresso powder. Then, fold in zucchini and chocolate chips.
Bake:
Pour batter into a greased bundt pan. Bake for 1 hour.
Let the cake cool in the pan for about 15 minutes. Invert onto a serving platter and let the zucchini bundt cake cool completely.
Make the ganache:
Heat the heavy cream in a double boiler. Stir in the chocolate chips and whisk until melted and smooth.
Glaze and serve:
Pour slightly cooled glaze over the top of the bundt cake. Allow the chocolate glaze to set for about 15 minutes before serving.
Slice and enjoy!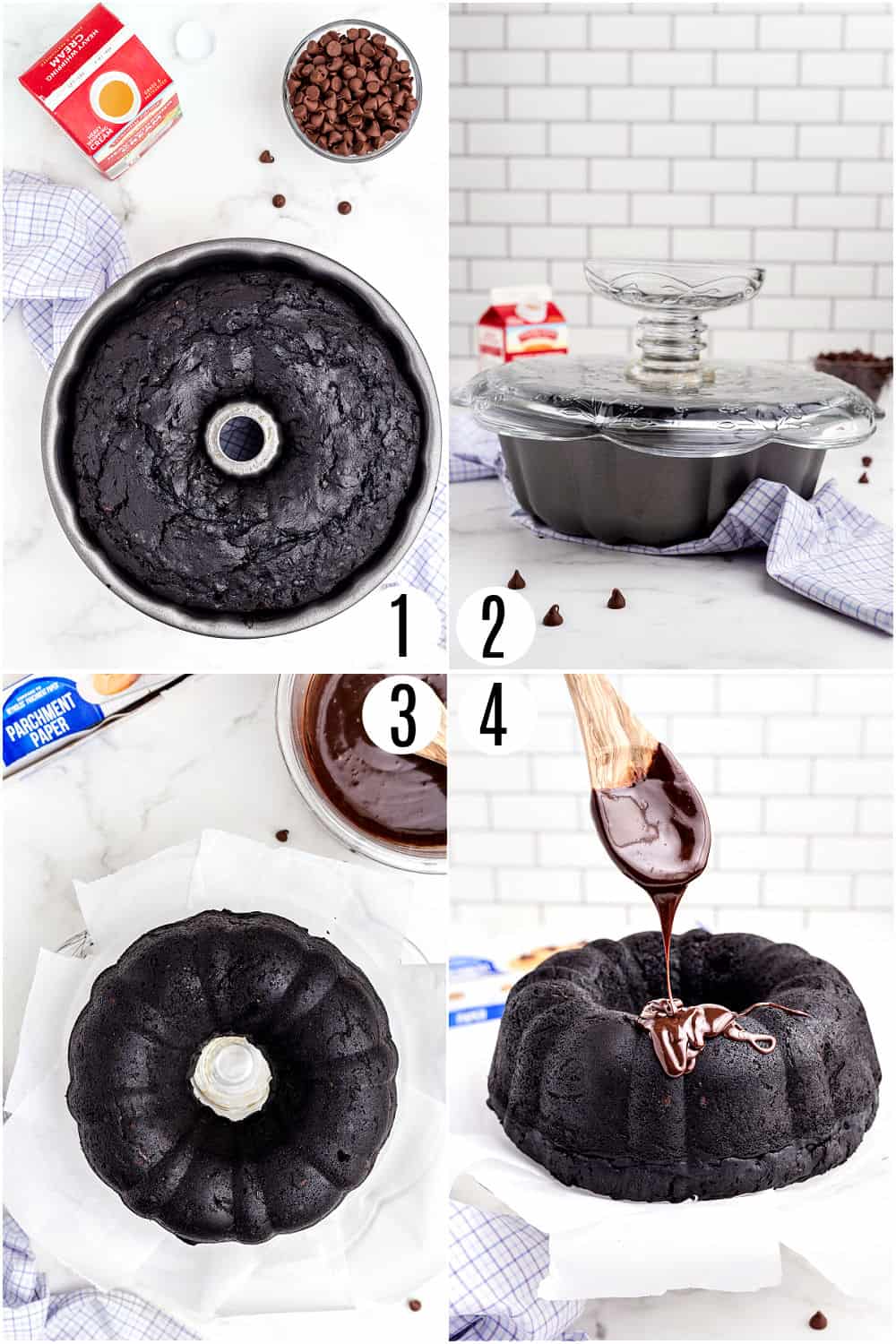 Tips and Tricks
How to shred zucchini: Use a box grater to shred zucchini into fine pieces. You can also use a food processor to grate it but be careful not to puree.
Using frozen zucchini. You can make my Chocolate Zucchini Cake recipe with frozen zucchini too! Thaw the zucchini and squeeze out any excess water with a paper towel. Then add it to the cake batter as directed.
Best way to pour ganache on a bundt cake. Place strips of parchment paper under the edges of your cake before adding the glaze. After pouring glaze over the cake, remove the parchment strips. Your cake platter will be neat and clean!
Serve: Serve slightly warm with a dollop of fresh whipped cream or scoop of vanilla ice cream. Or drizzle some heavy whipping cream on it for a decadent treat.
Recipe FAQs
What's the best way to store Zucchini Cake?
Store this cake in a cake saver at room temperature. It will keep fresh for about 5 days.
How do you freeze this cake?
Wrap unglazed Chocolate Zucchini Cake in plastic wrap, then place in a heavy freezer bag. When ready to eat, thaw on the counter and add glaze before serving.
What size Bundt pan do I need?
This Zucchini Bundt Cake recipe was tested using a 12 cup Bundt pan.
Should I peel my zucchini before shredding it for this recipe?
You don't have to peel the zucchini first, unless you prefer to! This is a dark cake so the green pieces won't be easily visible.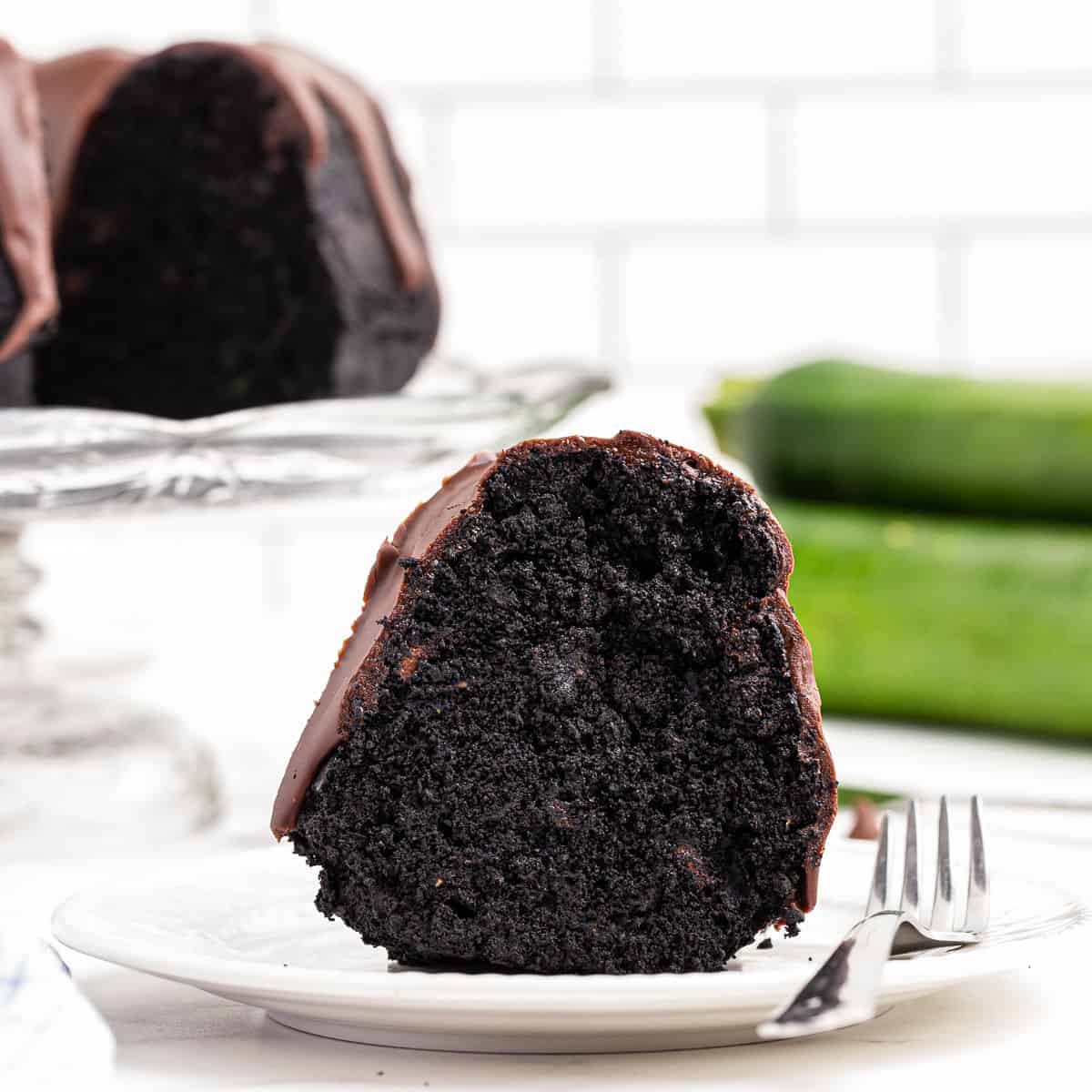 Go ahead and plant some extra zucchini in the garden this year. Then save this Chocolate Zucchini Bundt Cake recipe as something to look forward to!