This Peanut Butter Sheet Cake is an unbelievably moist, rich, peanut butter cake with creamy peanut butter frosting poured on top. Similar to Texas Sheet Cake, but for the peanut butter lover instead!
Love Peanut Butter? Be sure to try our thick and fudgy Peanut Butter Brownies. Swirls of peanut butter in the batter. Speaking of swirls, our Peanut Butter Chocolate Chip Cookie Bars have swirls AND puddles of peanut butter. What's not to love?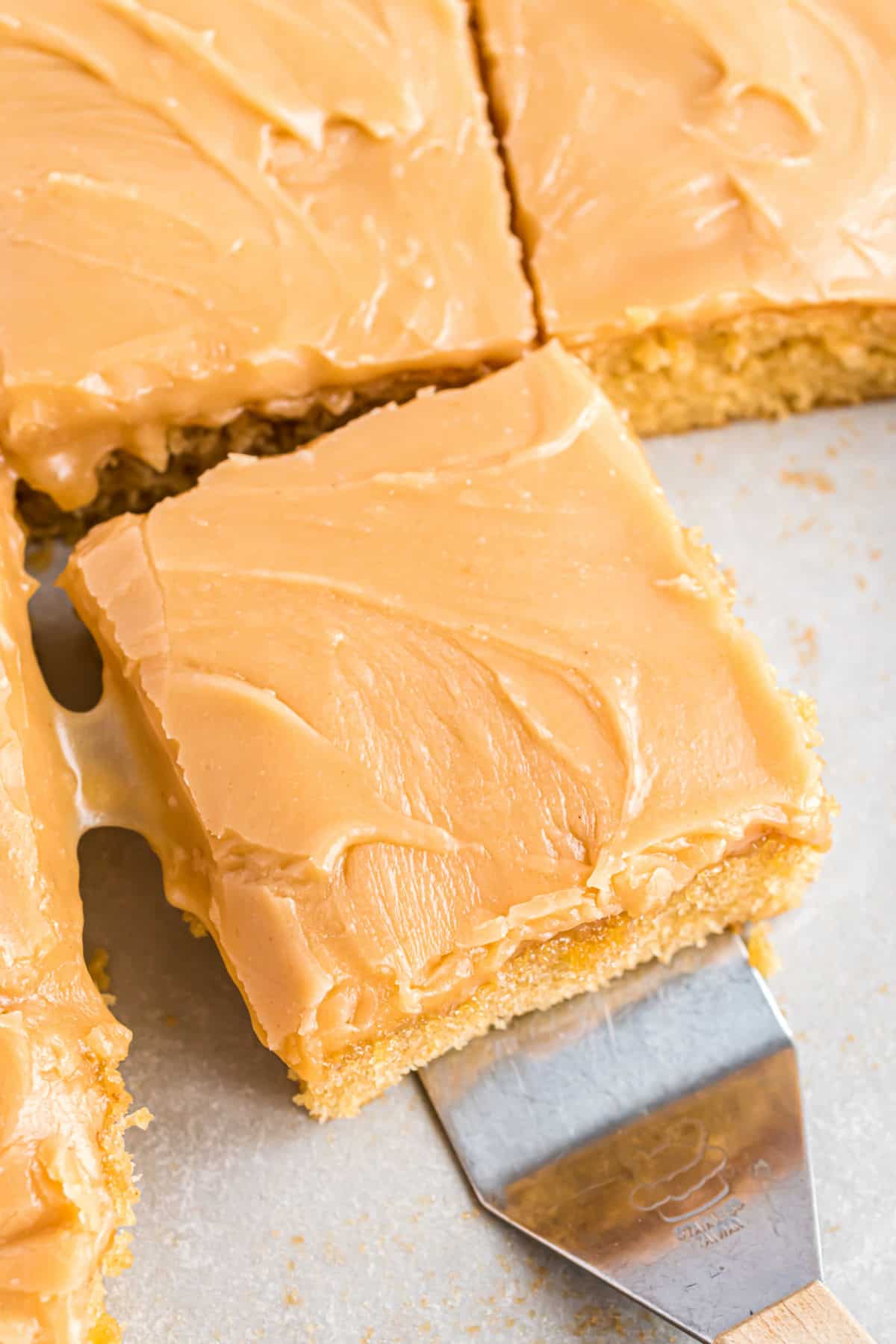 Peanut Butter Texas Sheet Cake
Almost everyone's had Texas Sheet Cake before, right? I first tried Chocolate Buttermilk Sheet Cake when I was a kid and fell in love with the fudgy texture covered with melty frosting.
We're serious peanut butter lovers at this house, so I decided I needed to figure out a version of sheet cake that would deliver that swoon-worthy fudgy moist texture along with serious peanut flavor.
We love our easy Peanut Butter Cake around here but I was in the mood for something more like a traditional Texas Sheet Cake but with peanut butter.
Never be satisfied with just some peanut butter when you could have all the peanut butter. I also put creamy peanut butter into the soft frosting that goes on top of this cake.
My family went nuts over Texas Sheet Cake with Peanut Butter (forgive the pun) and I can't wait for you to try it.
Ingredient Notes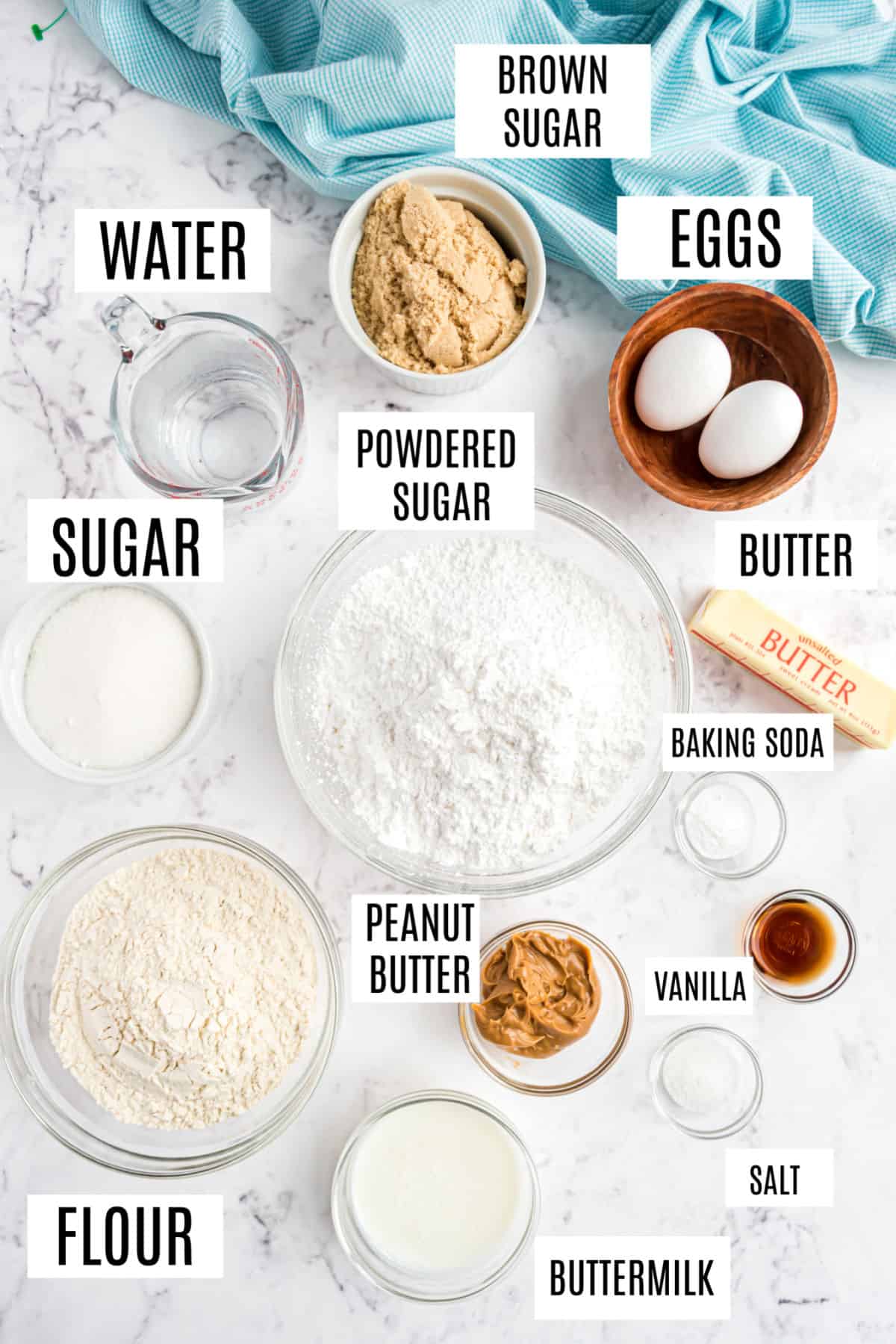 Sheet Cakes are so easy to make and decorate. If icing with buttercream isn't your strong suit, you'll love how fuss free it is to decorate this peanut butter cake.
To make sheet cake, you don't use a usual cake pan. Instead, you need a sheet pan style cookie sheet. I used a 12×18 inch style baking sheet to make Peanut Butter Sheet Cake.
Peanut Butter– choose a shelf stable peanut butter like Jif or Skippy for best results!
Vanilla Extract– use pure vanilla, not imitation!
All-Purpose Flour- we tried using cake flour on this sheet cake, but it resulted in a too delicate cake. The all-purpose flour held up to the delicious peanut butter frosting.
Buttermilk– if you don't have any on hand, use my easy buttermilk substitute!
Easy Instructions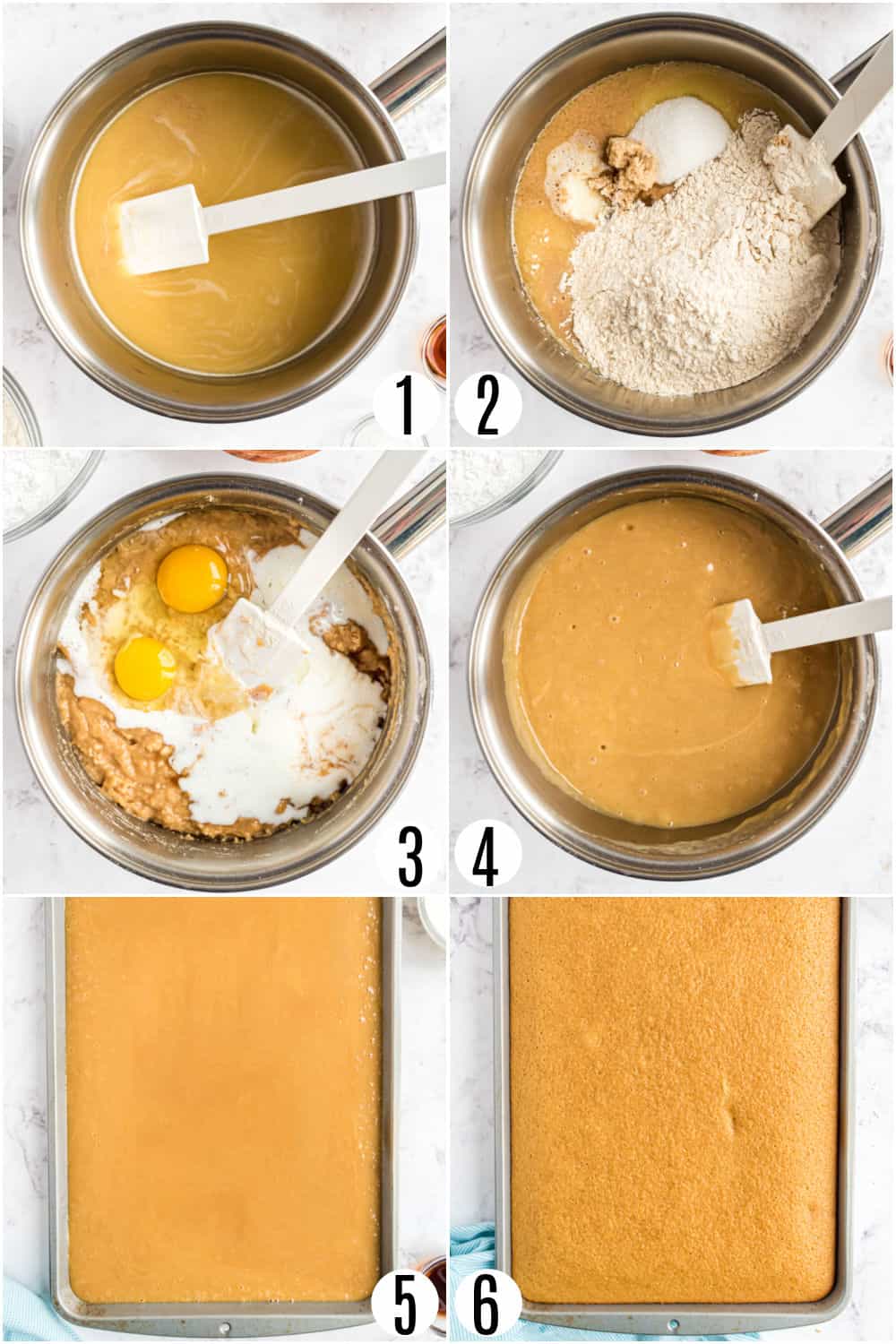 Prep. Preheat oven and line the bottom of a baking sheet with parchment paper.
Cake Batter. Make the cake batter in a saucepan by adding peanut butter, water, and butter. Boil then remove from heat. Add ingredients, pour into pan, and bake.
Peanut Butter Frosting. Add to the cake whle the cake is still warm. It will soak into the cake creating a "gooey" texture on top similar to a texas sheet cake.
No messing with frosting bags or piping! Sheet cake looks as good as it tastes with no fancy cake decorating skills required.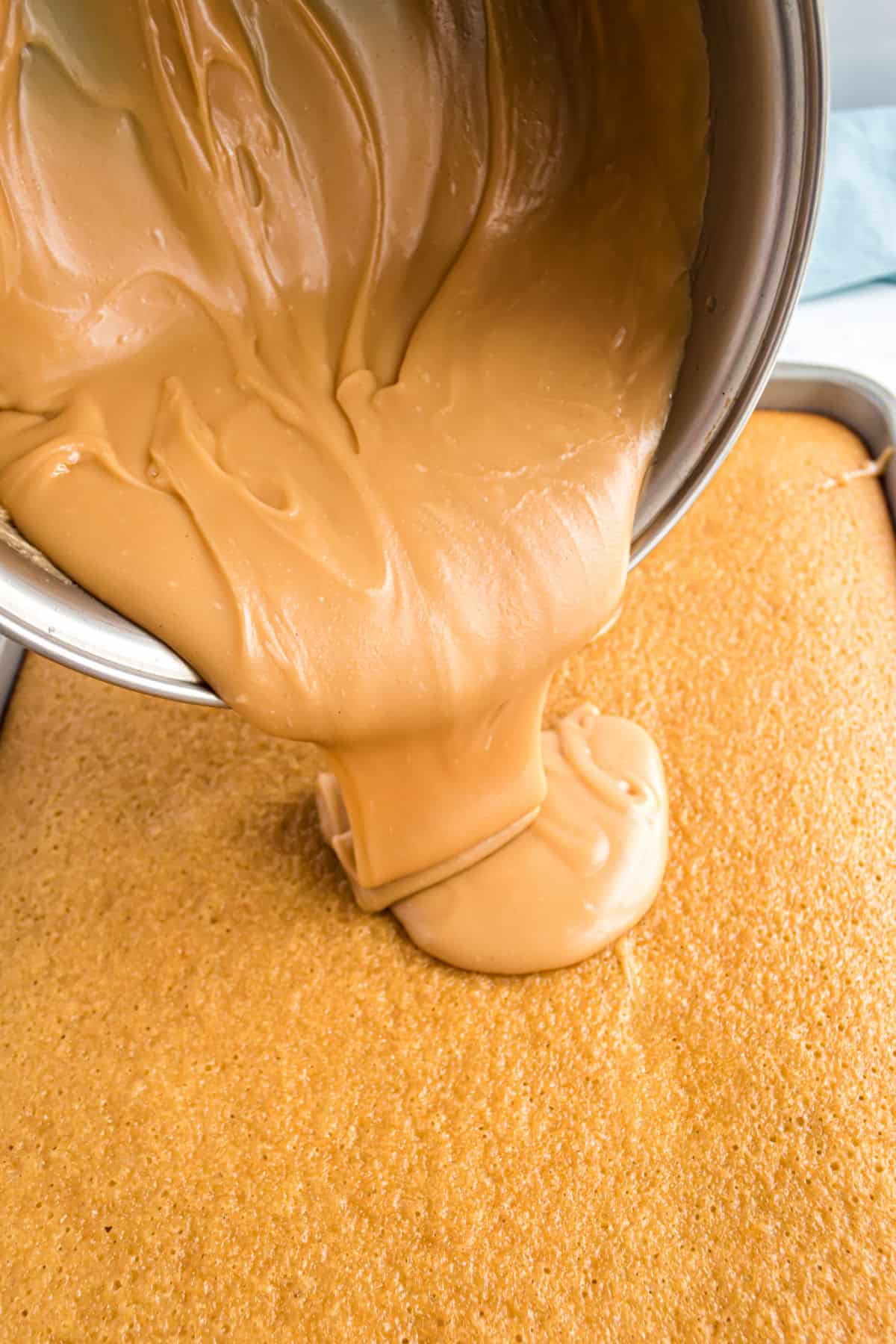 Recipe FAQs
How do you store sheet cakes?
This peanut butter sheet cake can be stored at room temperature for up to 4 days. Keep it in an airtight container or covered in plastic wrap for best taste.
Can you freeze sheet cake?
Sheet cakes are great for feeding a large family or crowd, but can also leave a small group with lots of leftovers. Fortunately, they freeze well. Store sheet cake in an airtight container in the freezer for up to 3 months.
What kind of peanut butter is best for cake?
Choose a shelf stable peanut butter, like Jif or Skippy for using in this peanut butter cake recipe. It has the perfect texture and sweetness needed.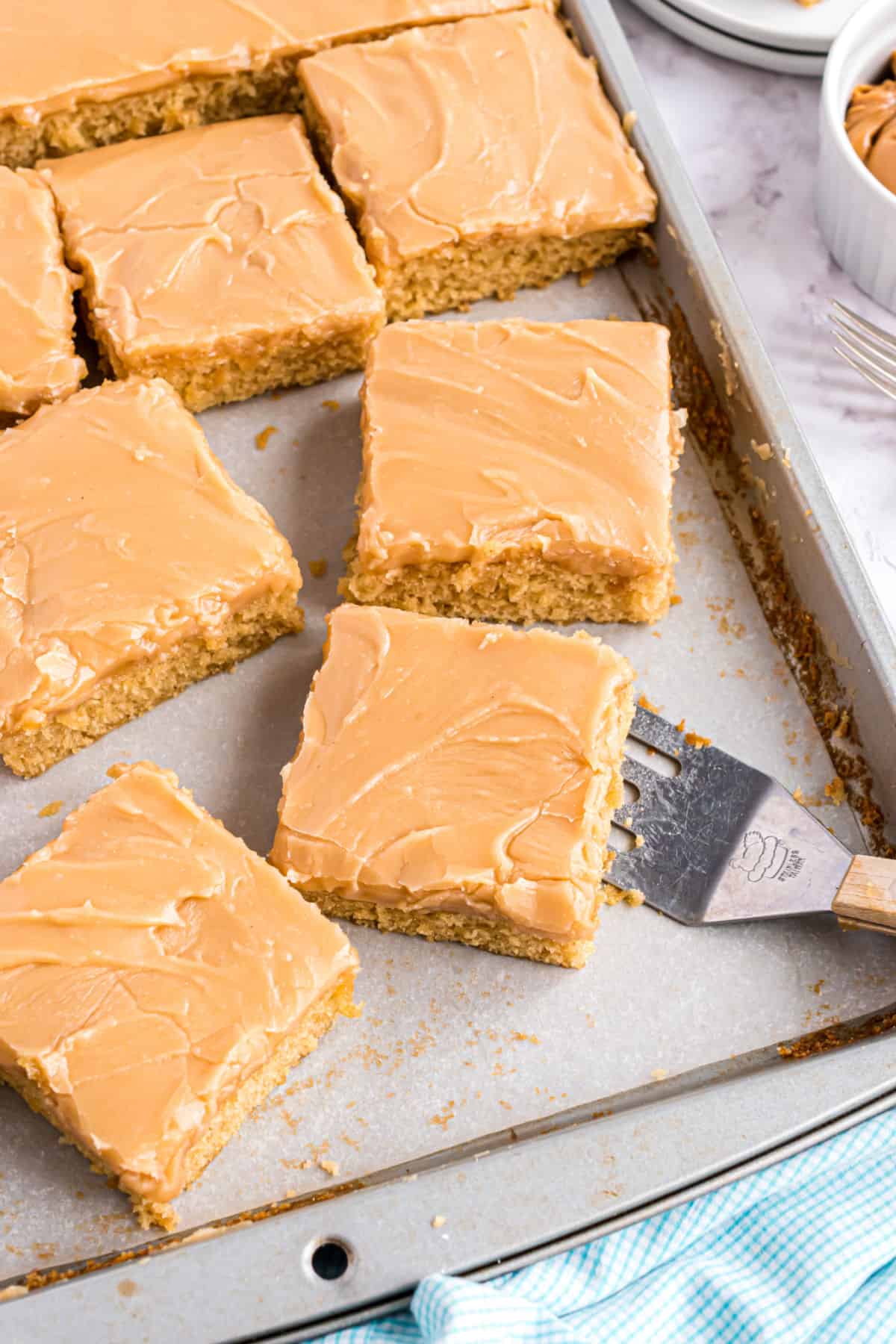 Tips and Tricks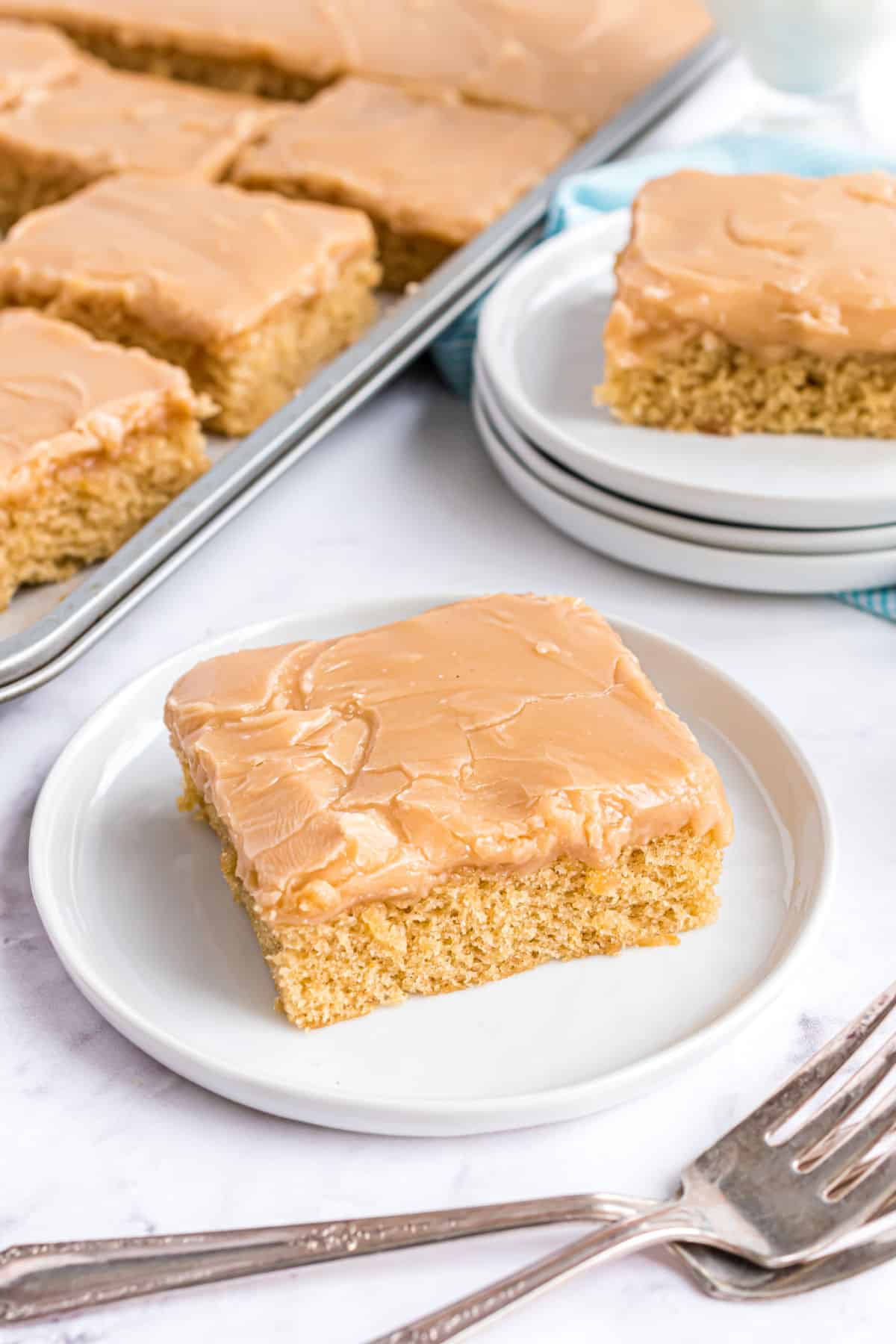 Make this cake this weekend for the peanut butter fans in your life and they're guaranteed to love you forever. Can't decide between chocolate sheet cake or peanut butter? Why not make them both!