Fresh citrus and juicy berries come together in this easy Lemon Blueberry Cake recipe. Made from scratch, it's topped with a sweet lemon cream cheese frosting!
Love blueberries? These Blueberry Cheesecake Cookies are so different, but so easy. Our family gobbles them up! Or give our favorite Blueberry Zucchini bread recipe a try soon.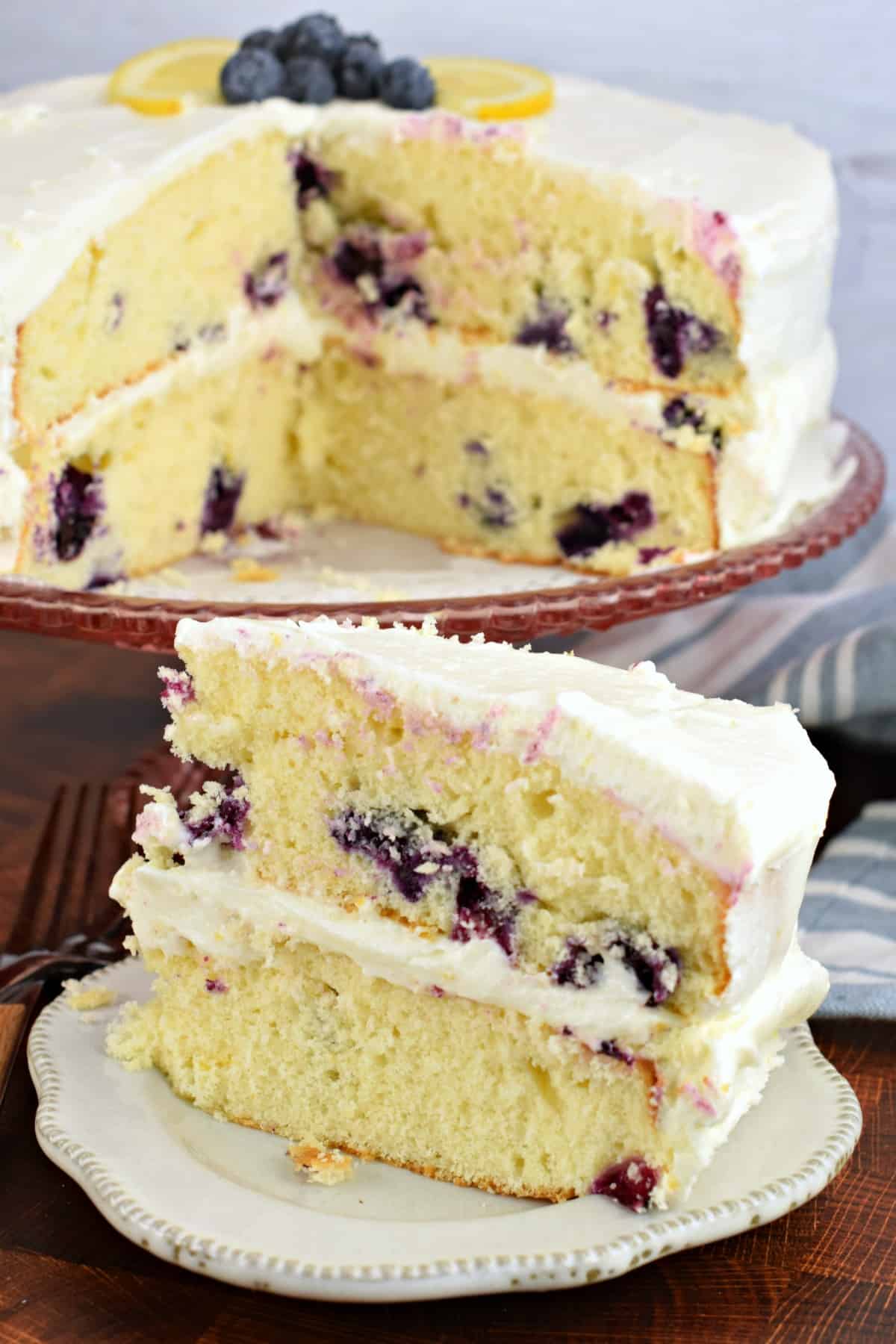 Why this Recipe Works
As you might have gathered from the abundance on lemon recipes on this sight, I love lemon cake in all its forms. I also can't get enough blueberries in the summer.
Putting the two together was a natural next step. I'm fully head over heels for the lemon blueberry cake recipe I'm sharing today.
As if the cake itself weren't enough to make me swoon, the creamy frosting puts this blueberry cake firmly in the "divine" category.
Unlike some of my other lemon cake desserts, like these Gooey Lemon Cake Bars, this is a cake made from scratch.
No boxed cake mix here! The results are impossible to match with a mix and it hardly takes any extra effort.
With this easy recipe, you'll be digging into a freshly baked slice of perfect lemon blueberry cake in no time.
Serve it up with a fresh cup of mocha or cold brew coffee.
PRO TIP: You can also make our lemon blueberry bundt cake for a delicious twist.
Favorite Lemon Blueberry Recipes: Scones | Hand Pies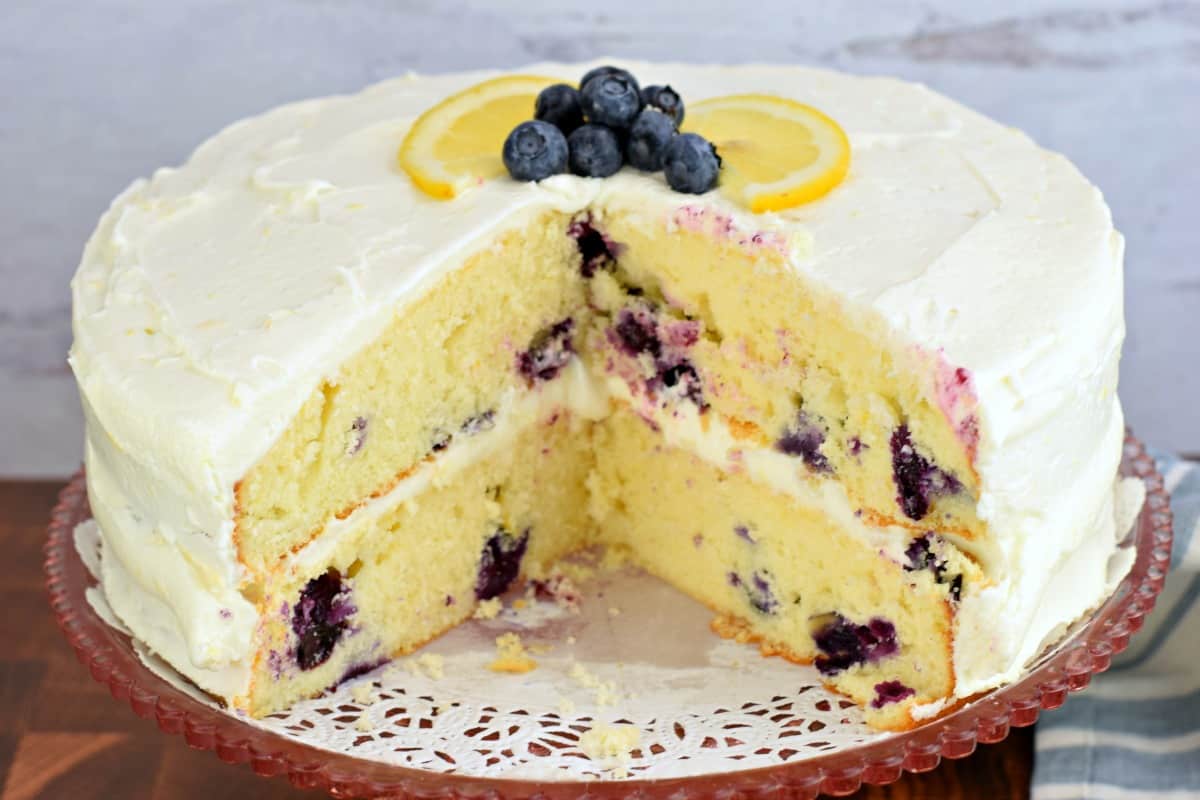 Ingredients Needed
Fresh Lemons- you'll want to zest and juice the lemons for both the cake AND the frosting. Use our guide on how to zest a lemon for best tips and tricks.
Milk– whole milk or buttermilk works great.
Butter– choose UNSALTED butter in this cake recipe.
Cake Flour– read more about how to measure flour and make your own cake flour!
Vanilla– use my guide to making your own vanilla extract. Super affordable.
Fresh blueberries – I highly recommend fresh vs frozen. Frozen will tint your cake purple!
How to Make Lemon Blueberry Cake
Whisk together the eggs and 1/4 cup of the milk in a small bowl until slightly combined. Set aside.
In a larger separate mixing bowl, beat butter, sugar, vanilla, lemon zest, and lemon juice for 2 minutes on medium speed, scraping down the sides of the bowl as needed. Add in dry ingredients and mix until combined. Beat in egg mixture until fully blended.
Add in remaining milk and beat for 3-4 minutes, scraping down the sides of the bowl. Fold in blueberries.
Spray two 9-inch cake pans with baking spray or use my homemade cake release. Pour batter into pans and bake in a 350 degree oven for 26-28 minutes. Remove and cool completely on wire rack.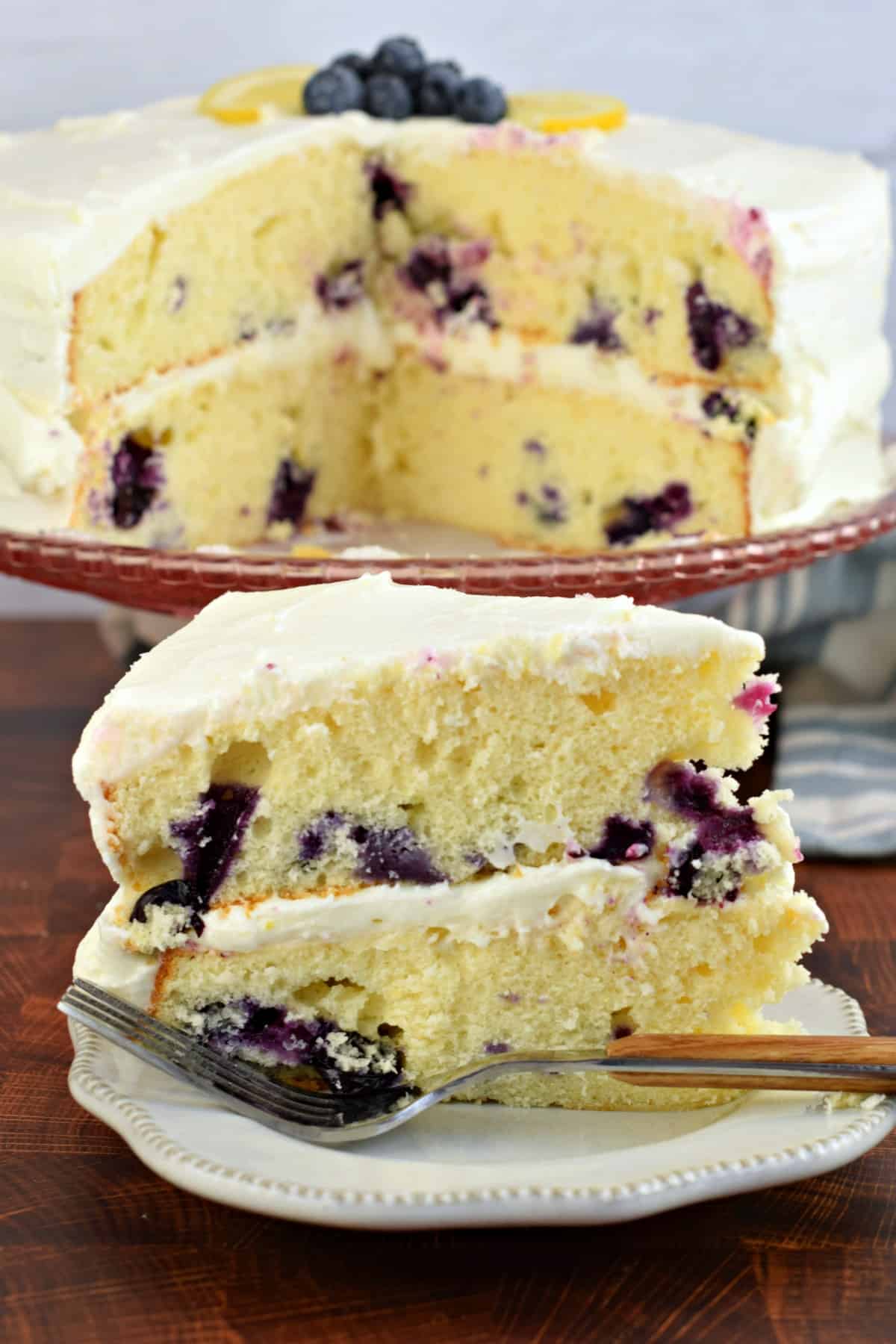 Lemon Cream Cheese Frosting
Cream cheese frosting and lemon blueberry cake are a match made in heaven. Adding just a little lemon juice and heavy cream to the frosting made it even better!
To make the frosting: Beat butter and cream cheese for 3 minutes using whisk attachment on an electric mixer. Add in powdered sugar, heavy cream, and lemon juice and zest.
Beat an additional 4-5 minutes, scraping down the sides of the bowl as needed.
I used this delicious lemon cream cheese frosting in our Lemon Poppy Seed cake too!
How to frost a layered cake
Once the cake is cooled and the frosting is made, it's time to assemble!
I recommend using a cake stand to make this easier. Place one layer on the stand, add a large amount of frosting to top and smooth with an offset spatula.
Top with second layer of cake and add the rest of the frosting on top of the entire cake.
Use the spatula to smooth the frosting over the sides, covering everything evenly.
The cake looks extra pretty garnished with fresh blueberries and lemon wedges, too! Plus, no one will complain about more blueberries to enjoy.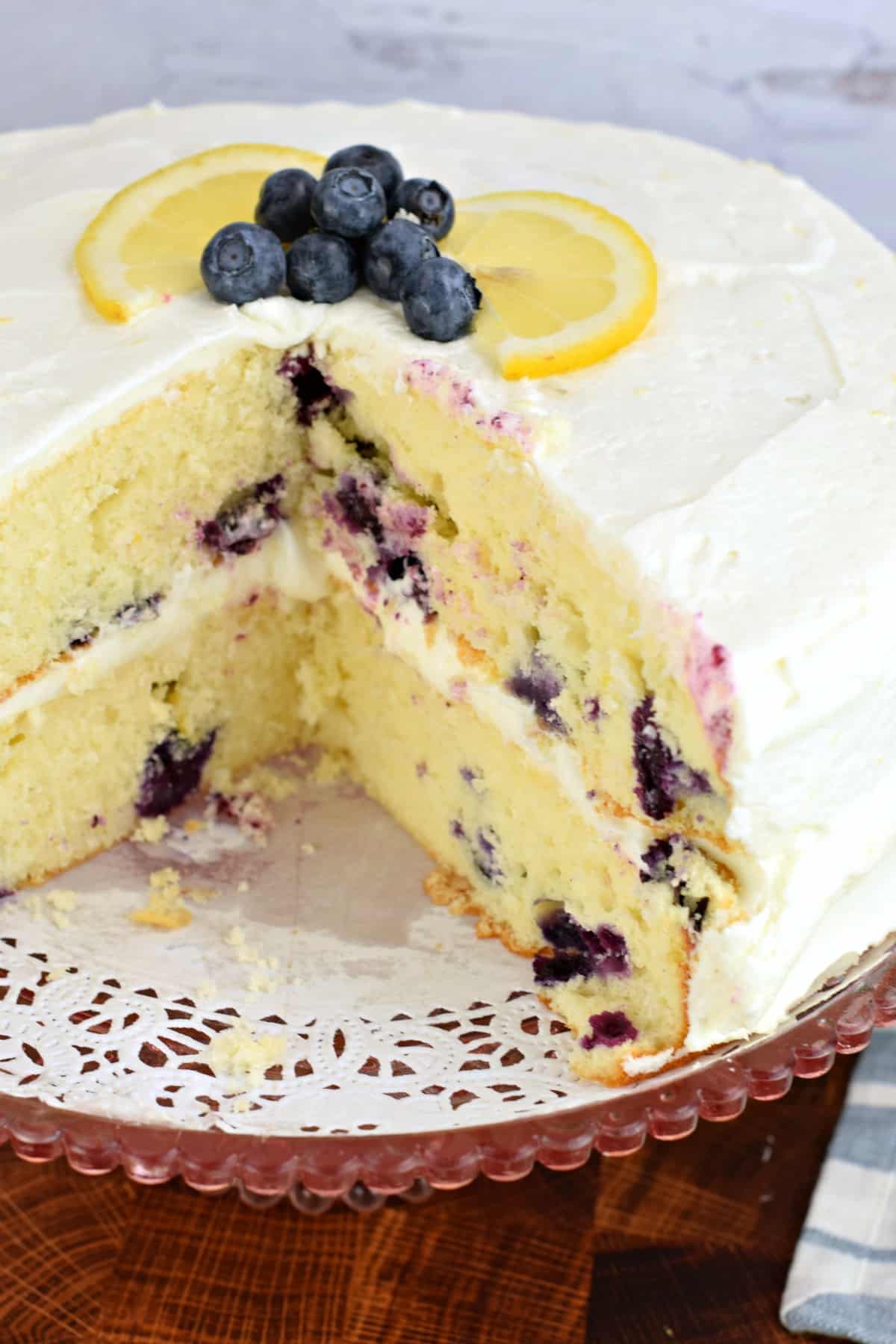 Tips and Tricks
Fresh blueberries work best in this cake. You CAN use frozen berries if needed, but be warned that they might tint it purple! To minimize this, toss the frozen berries with a little flour before adding them to the cake batter. The berries will likely seep their color into the cake, but it will still taste good.
Storage Tips. This is best stored in a cake saver (I use this one amazon), in the refrigerator. It's best eaten within 3 days.
You can also freeze today's recipe by slicing large pieces and placing them on plastic wrap. Wrap them up and slide into a ziploc freezer bag or other airtight freezer safe container. When ready to enjoy, thaw in refrigerator overnight.
Lemon Curd. Use my favorite lemon curd recipe and add a layer of curd between the cakes (with or without the frosting). It will really UP the lemon flavor!
Lemon Blueberry Cake puts all the best sweet summer flavors into one delicious and beautiful layer cake! I hope you love it, too.