These tasty dessert bars are like blueberry cheesecake and sugar cookies in one! Blueberry Cheesecake Cookie Bars are made with fresh berries and topped with a lemon glaze for even more great flavor. Best of all–they're a cinch to make!
When you can't decide between cookies and cheesecake, these easy bars are the solution! Like Lemon Cheesecake Bars, these treats are perfect for a sunny summer day.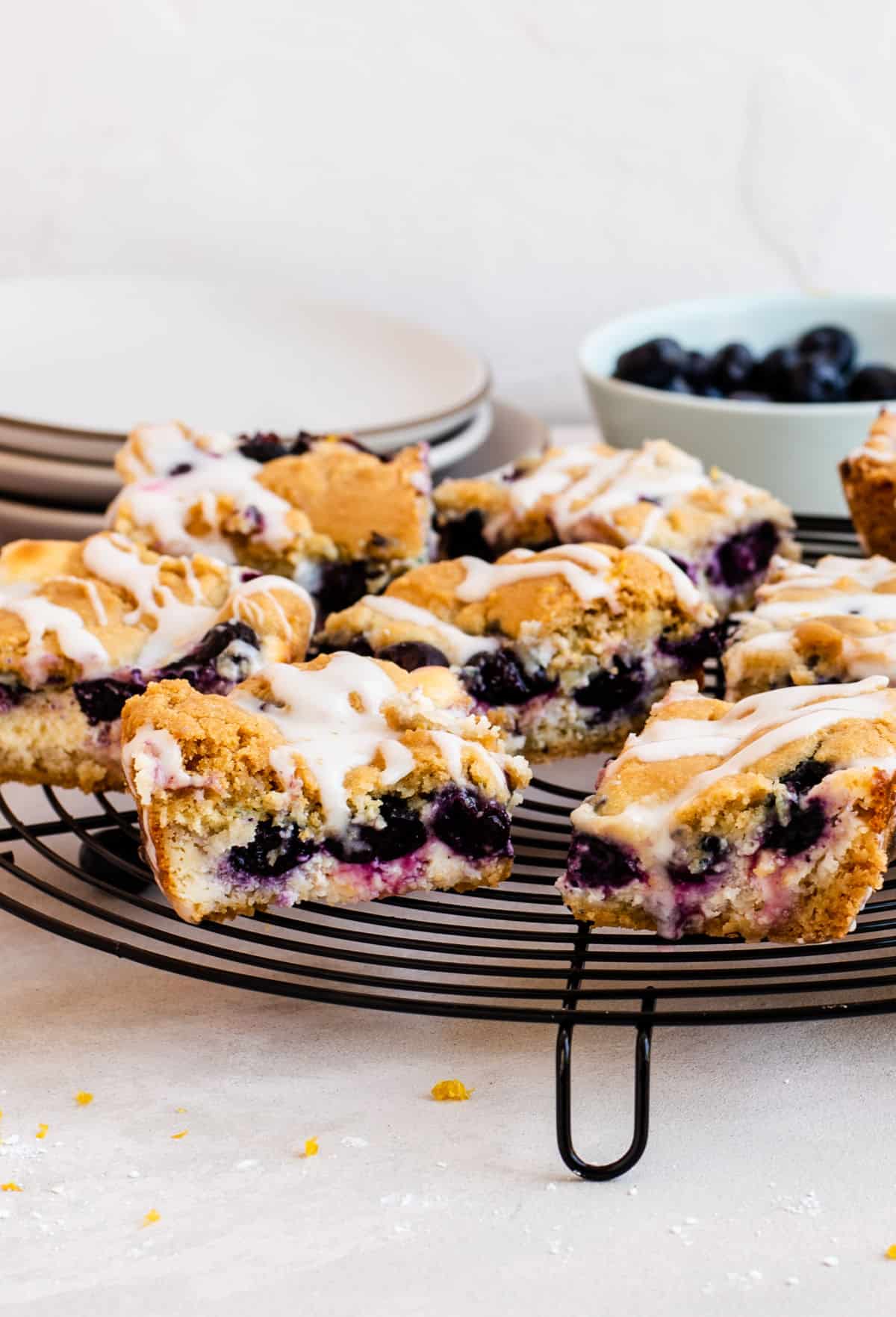 Why this Recipe Works
Easy ingredients. Using refrigerated cookie dough makes the recipe extra convenient!
Made with real blueberries. You get bright juicy berry goodness in every bite thanks to the real fruit in these bars.
Layers of cheesecake and cookie crust. A soft cream cheese filling is baked over the sugar cookie layer. This recipe has the perfect combo of textures and flavors.
Lemon glaze adds the final touch. You'll love the tangy sweet icing drizzled over the baked cheesecake cookie bars.
If you love berries, cheesecake and cookies (who doesn't?) these Blueberry Cheesecake Cookie Bars will win you over faster than you can say, "Time for dessert!"
Ingredient Notes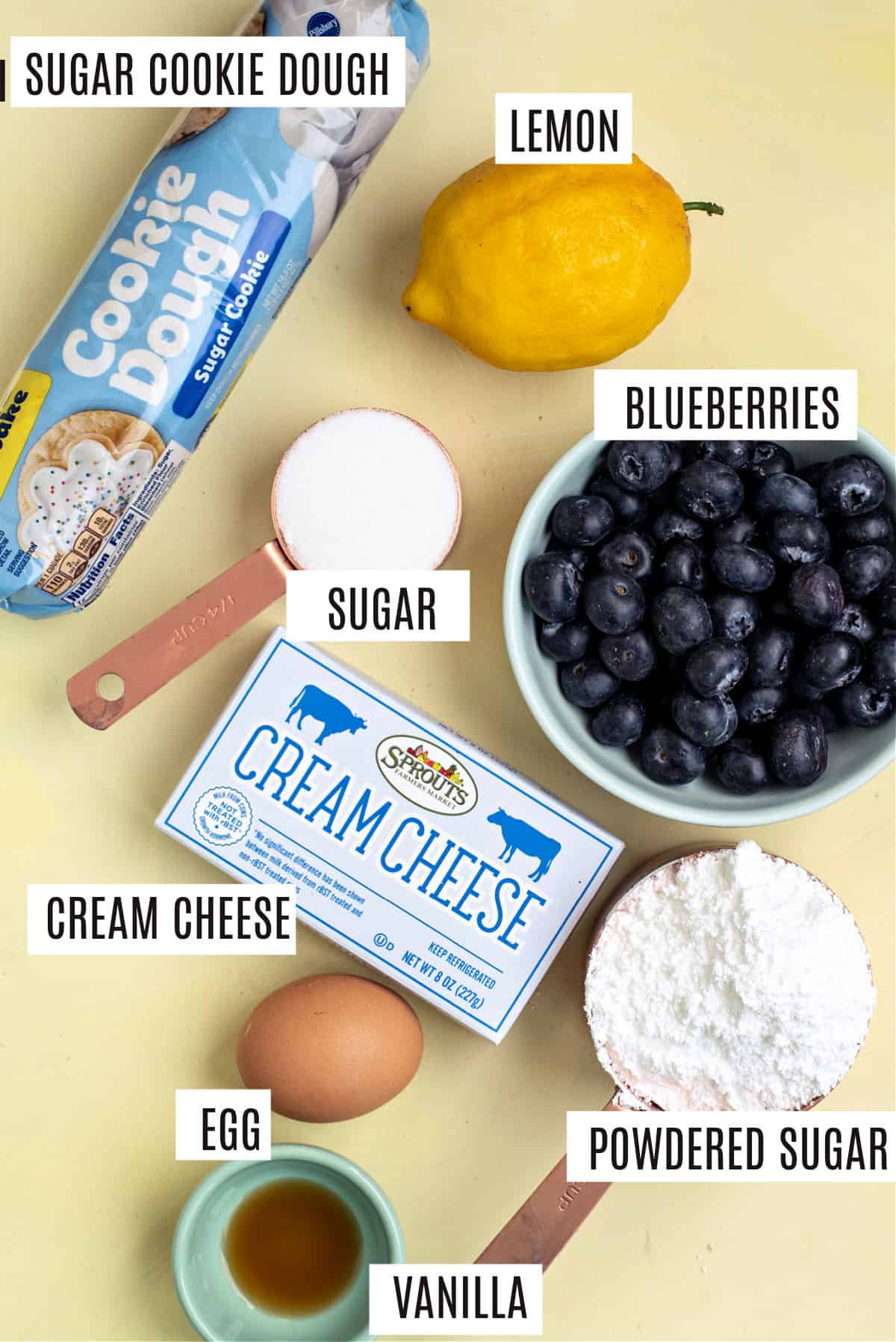 Fresh Blueberries. You can also make this recipe with raspberries, blackberries or strawberries!
Sugar Cookie Dough. You can use any brand of refrigerated dough, or try this homemade sugar cookie recipe.
Cream Cheese. Full fat cream cheese provides a rich creamy flavor for the filling!
Easy Instructions
STEP 1. Press half the cookie dough into the bottom of a baking dish. Set aside the other half of the dough.
STEP 2. Beat the cream cheese with sugar, vanilla extract and lemon zest. (Get our tips on how to zest a lemon). Spread it over the cookie dough and sprinkle fresh blueberries over the whole thing.
STEP 3. Crumble the other half of the cookie dough on top. Bake the bars for about 50 minutes, then refrigerate them for 2 hours.
STEP 4. Whisk together the glaze ingredients and drizzle lemon glaze over the chilled bars.
Return Blueberry Cheesecake Cookie Bars the fridge until ready to slice and serve!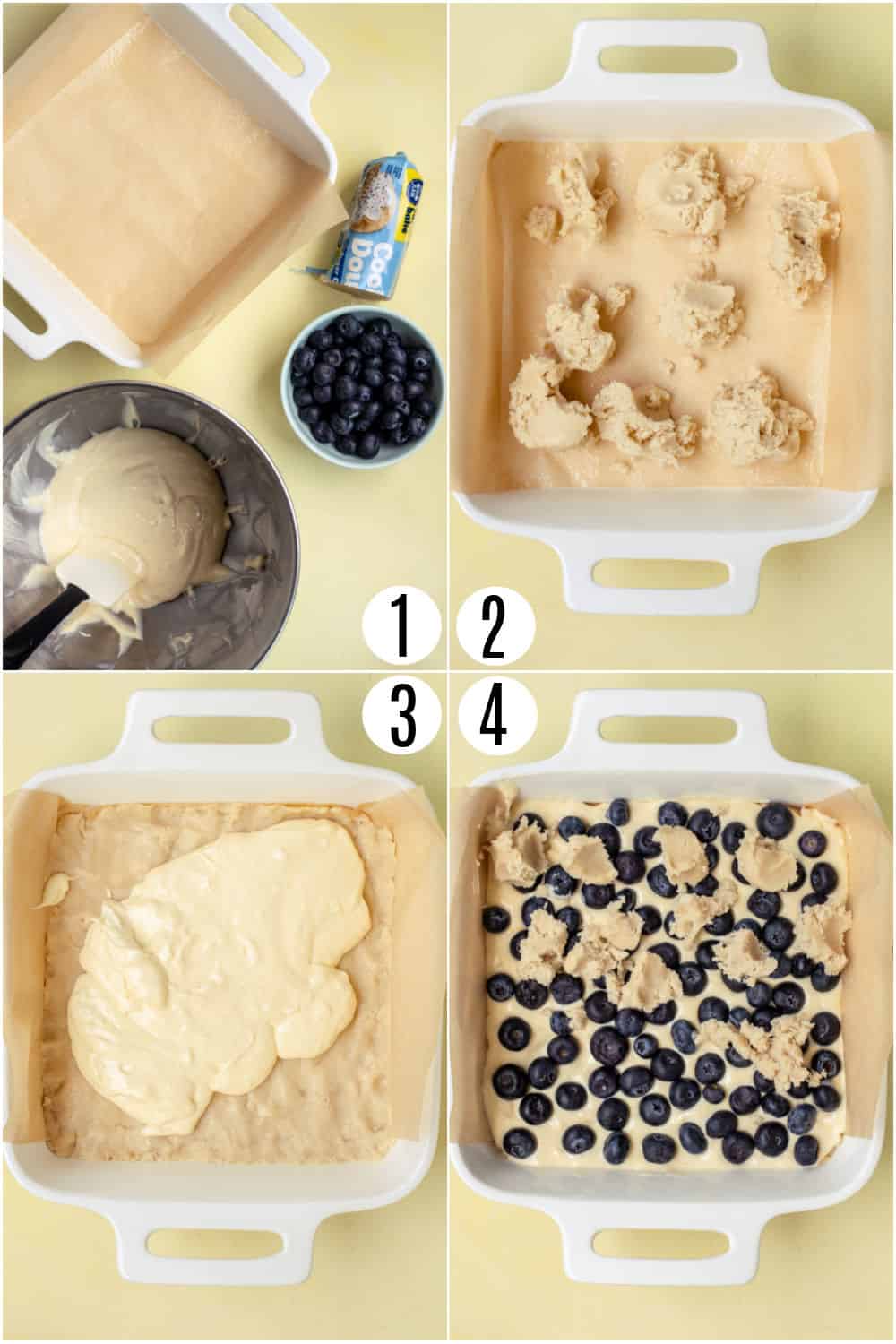 Tips and Tricks
Line your baking dish with parchment paper. Before pressing dough into the pan, place a square of parchment paper on the bottom of your pan to prevent sticking.
Use full fat cream cheese. Regular cream cheese provides the richest, creamiest flavor for your cheesecake layer.
Storing. Keep Blueberry Cheesecake Cookie Bars in the fridge covered with plastic wrap. They'll keep well for about 3 – 4 days.
Love blueberries? Try our easy blueberry sweet rolls next. Topped with icing and served warm they are a delicious breakfast treat!
Recipe FAQs
Can I use frozen blueberries in this recipe?
Yes, you can swap the fresh berries for frozen. Just make sure to thaw the berries first! I prefer to thaw them overnight in the fridge before adding to the bars.
I want to use homemade sugar cookie dough in this recipe. How much will I need?
You will need 2 cups of homemade cookie dough to substitute for the refrigerated tube of dough.
Can I freeze Blueberry Cheesecake Cookie Bars?
Yes, you can store these bars in the freezer for longer storage. The berries may get a bit more "goopy" as they thaw after freezing but the bars will still taste good.
What is lemon zest?
Lemon zest is the colorful outermost layer of a lemon's skin. It gives these bars a hint of lemon fragrance and flavor. You remove the zest by using a micrograter or zesting tool to slide that outer layer of color off of a lemon peel.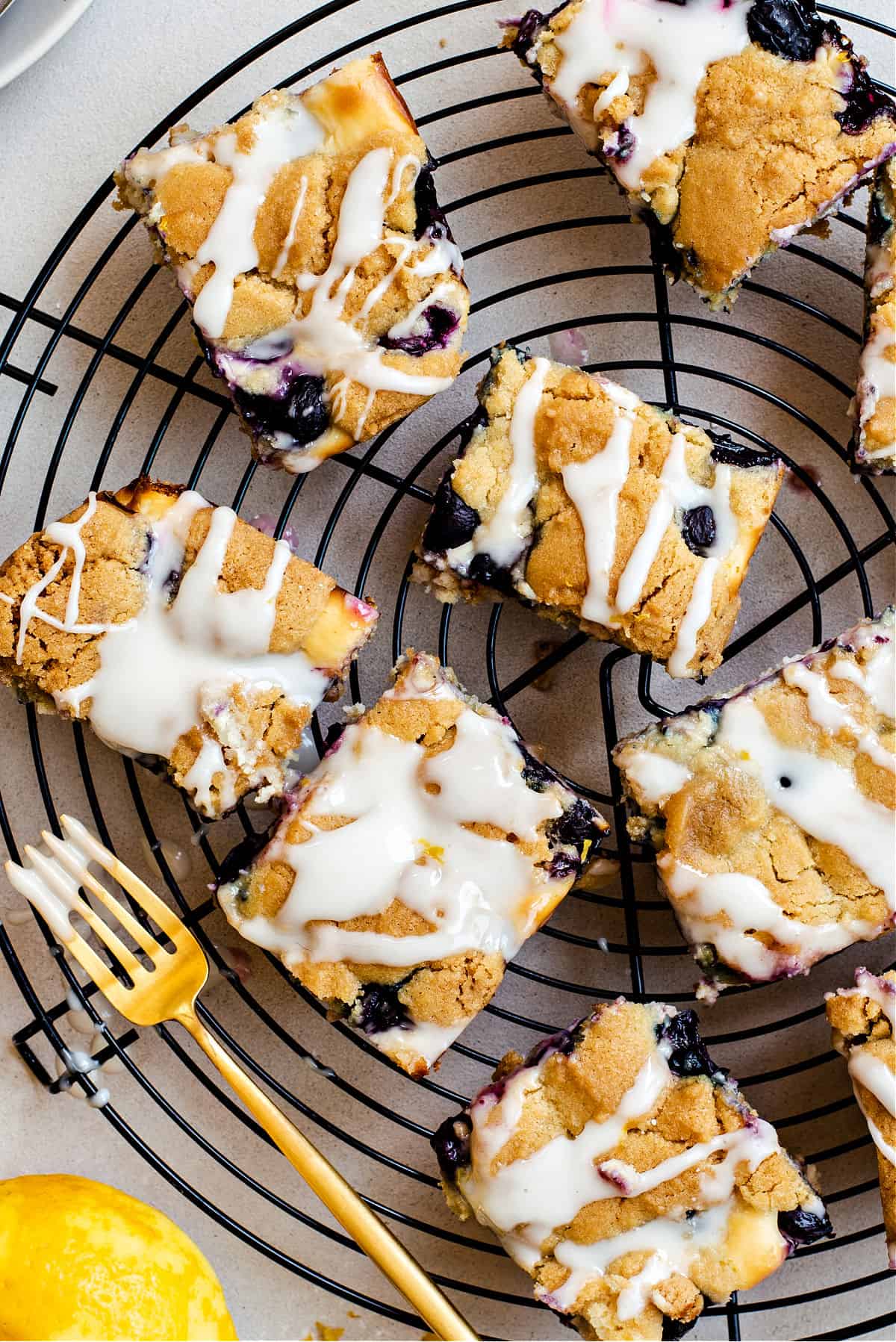 More Cookie Bars
Pick up a pint of fresh blueberries and make these easy Blueberry Cheesecake Cookie Bars. With fresh fruit and a dreamy cheesecake layer, this dessert is always a crowd-pleaser!