Taste the flavors of summer in this delicious Lemon Blueberry Bundt Cake. The zesty cake is bursting with fresh blueberries and drizzled with lemon glaze. An easy to make, easy to eat dessert for all occasions.
Lemon Cake is a year round treat for me. For a cake that's lemon, lemon and more lemon, try this Lemon Cake with lemon curd frosting recipe. Be sure to make a batch of our lemon curd too.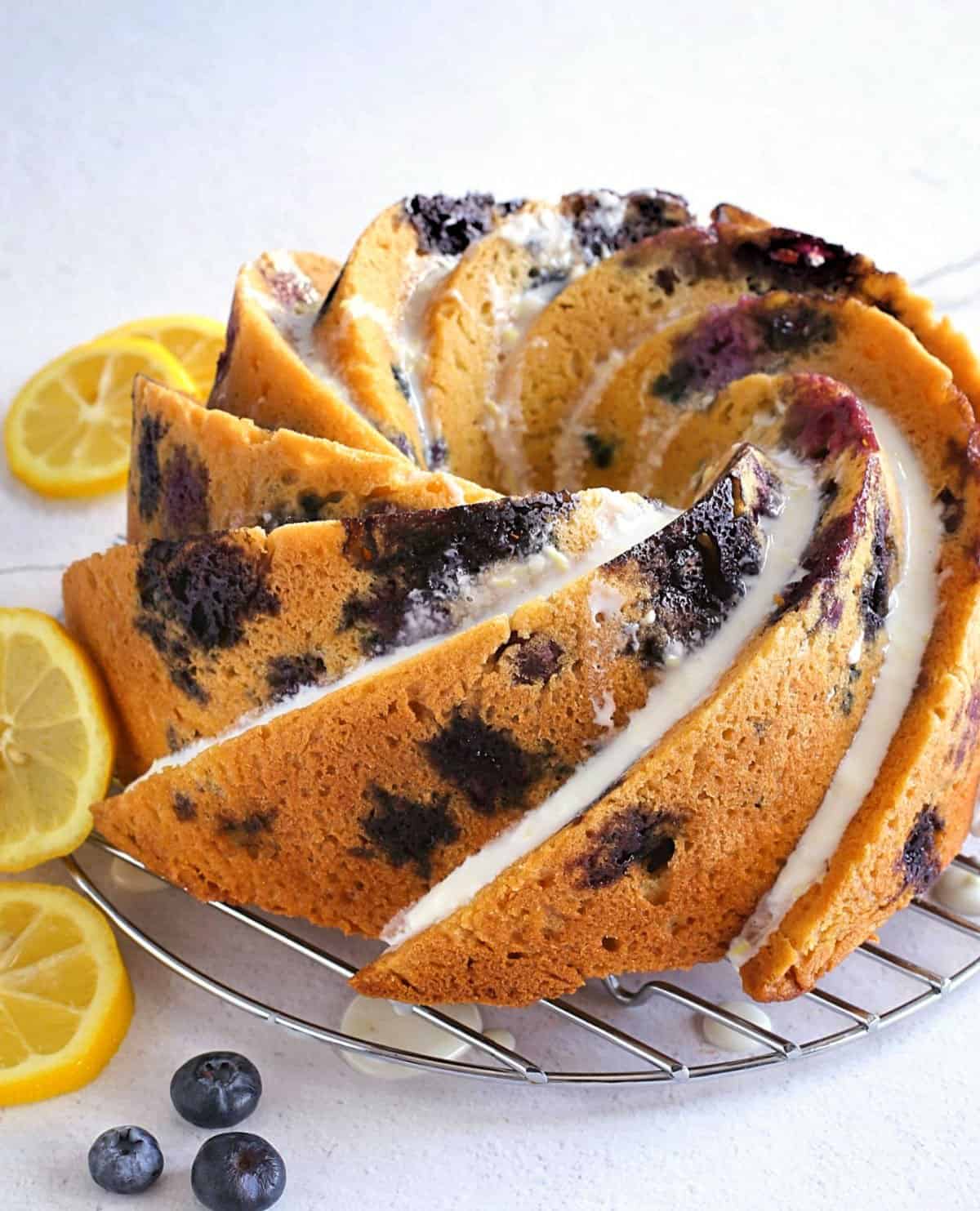 Why this Recipe Works
Today's recipe takes a perfect lemon cake and manages to make it even better. How? Blueberries!
If that's not enough to convince, here are more reasons you'll love this Lemon Blueberry Bundt Cake recipe.
Looks as good as it tastes.
Easy glaze topping. No frosting to pipe!
Made with FRESH blueberries.
Incredible lemon flavor.
I love bundt cakes when I need a dessert that will look impressive, without the fuss of frosting bags. This lemon bundt cake fits the bill perfectly.
Love lemon and blueberries? Try our moist lemon blueberry layer cake! Or give our blueberry scones with lemon glaze a try next.
Ingredient Notes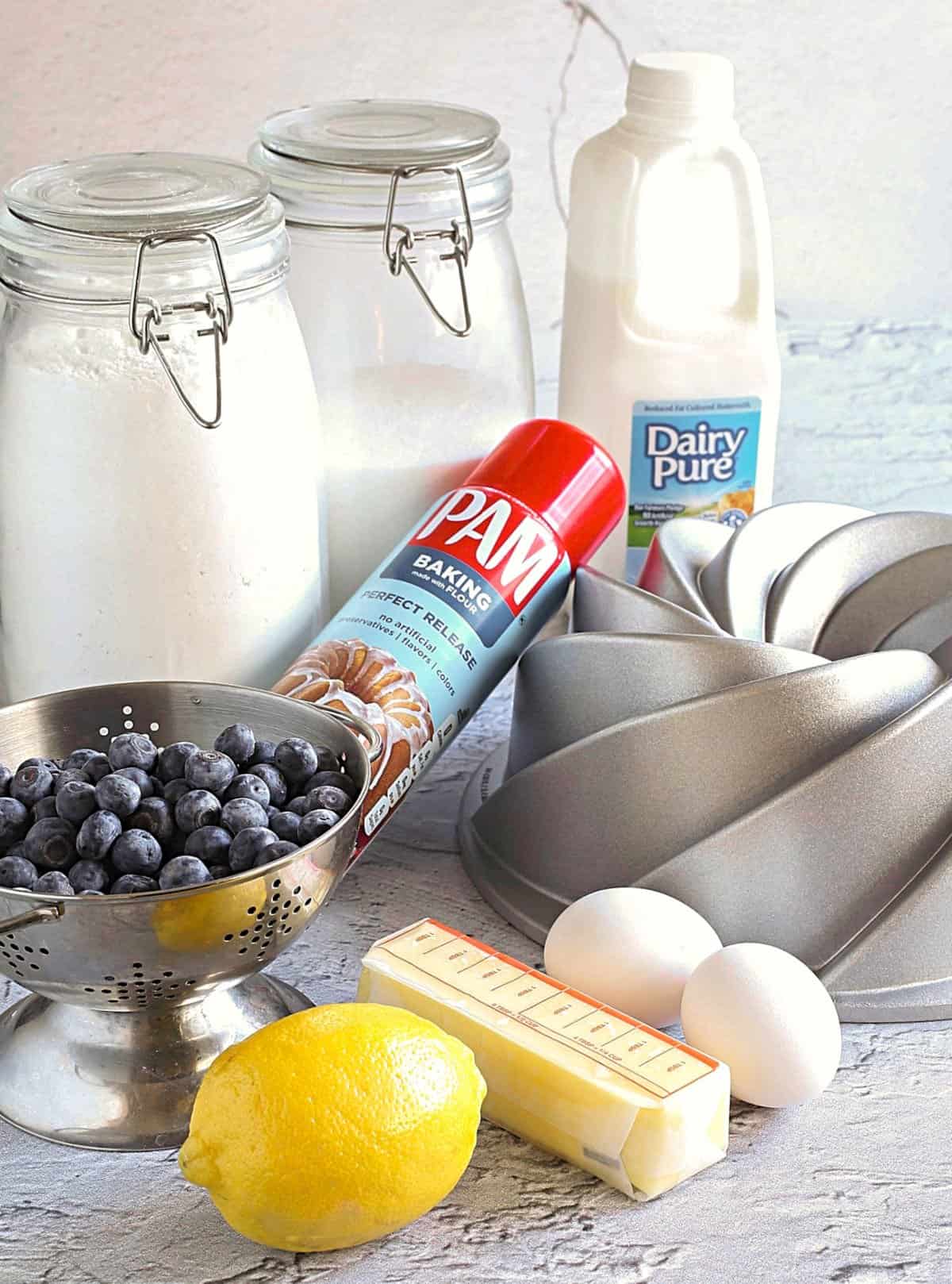 Making today's recipe is simple enough with ingredients you may already have in your pantry. Be sure to scroll down all the way to the recipe card for a complete list with exact measurements.
Lemons. You will use both the zest and the juice. Use our guide on how to zest a lemon for best results.
Fresh blueberries. Toss them with 1 tablespoon of flour before adding to the cake. Frozen blueberries work too.
Buttermilk. Store bought or use my homemade buttermilk substitute.
Easy Instructions
STEP 1. Preparation
Spray a floured bundt pan with baking spray. Preheat the oven.
STEP 2. Make the batter
Cream together butter and sugar until pale. Beat in eggs. Then beat in the butter milk, lemon juice and zest.
Sift the dry ingredients together in a separate bowl. Stir into the wet ingredients until just combined.
Fold in the blueberries by hand.
STEP 3. Bake
Pour the lemon blueberry cake batter into the bundt pan. Bake for 55 – 60 minutes. The cake is done when a toothpick inserted into the center comes out clean.
Allow the cake to cool fully in the pan before turning it out.
STEP 4. Lemon glaze
To make the glaze, whisk all the ingredients together in a bowl until smooth. Pour over the cooled cake.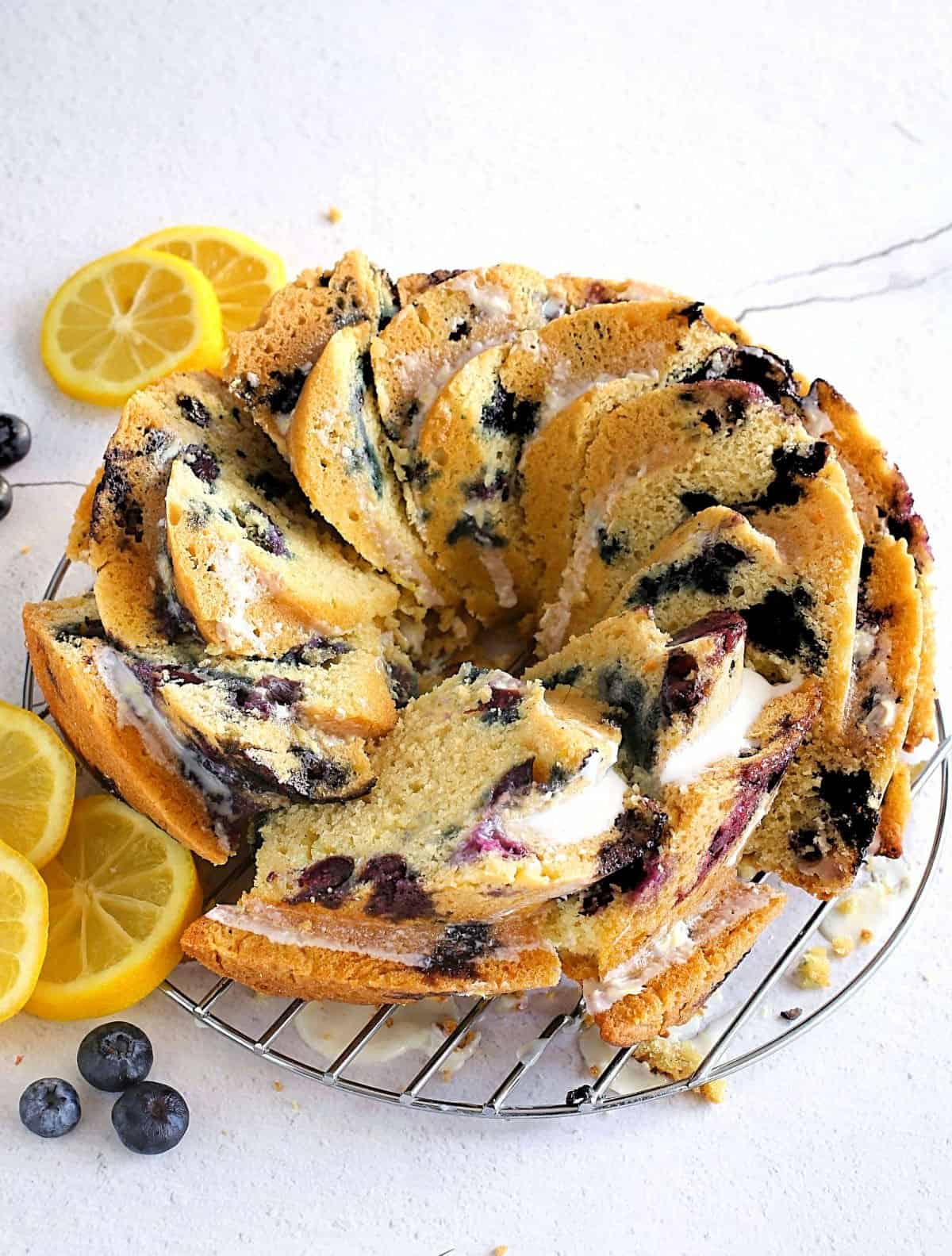 Tips and Tricks
Toss blueberries with flour. Coating fresh berries with flour is the key to getting them to "float" in the center of the cake. Without the flour, all the berries will sink toward the bottom.
Adjusting thickness of glaze. If the glaze is thicker than you'd like, add more milk a tablespoon at a time until you reach the consistency you prefer.
Use baking spray with flour in it. Just buttering and flouring the pan does not consistently work for bundt cakes. Regular baking spray also doesn't work here. I use Pam Perfect Release spray.
How to get the most juice out of a lemon: roll the lemon on a counter top a few times to soften it. This releases more juice when you squeeze it. If you keep your lemons in the fridge, you can also microwave them for a few seconds to soften them up a bit.
Recipe FAQs
Can I make this with frozen blueberries?
I don't recommend making this lemon blueberry bundt cake with frozen blueberries. Frozen berries have more water content and will bleed color into the cake.
How do you store lemon bundt cake?
Keep the bundt cake covered at room temperature until ready to serve.
Can you freeze this cake?
Yes, bundt cakes freeze beautifully. Freeze before adding glaze for best results. Let the cake cool completely, then wrap well in foil and a freezer bag. Store in the freezer for up to 3 months.
When ready to eat your frozen Lemon Blueberry Bundt cake, let it thaw and add the glaze before serving.
Do I need a stand mixer to make this recipe?
No stand mixer is necessary for this bundt cake recipe. It works just as well with a hand held mixer.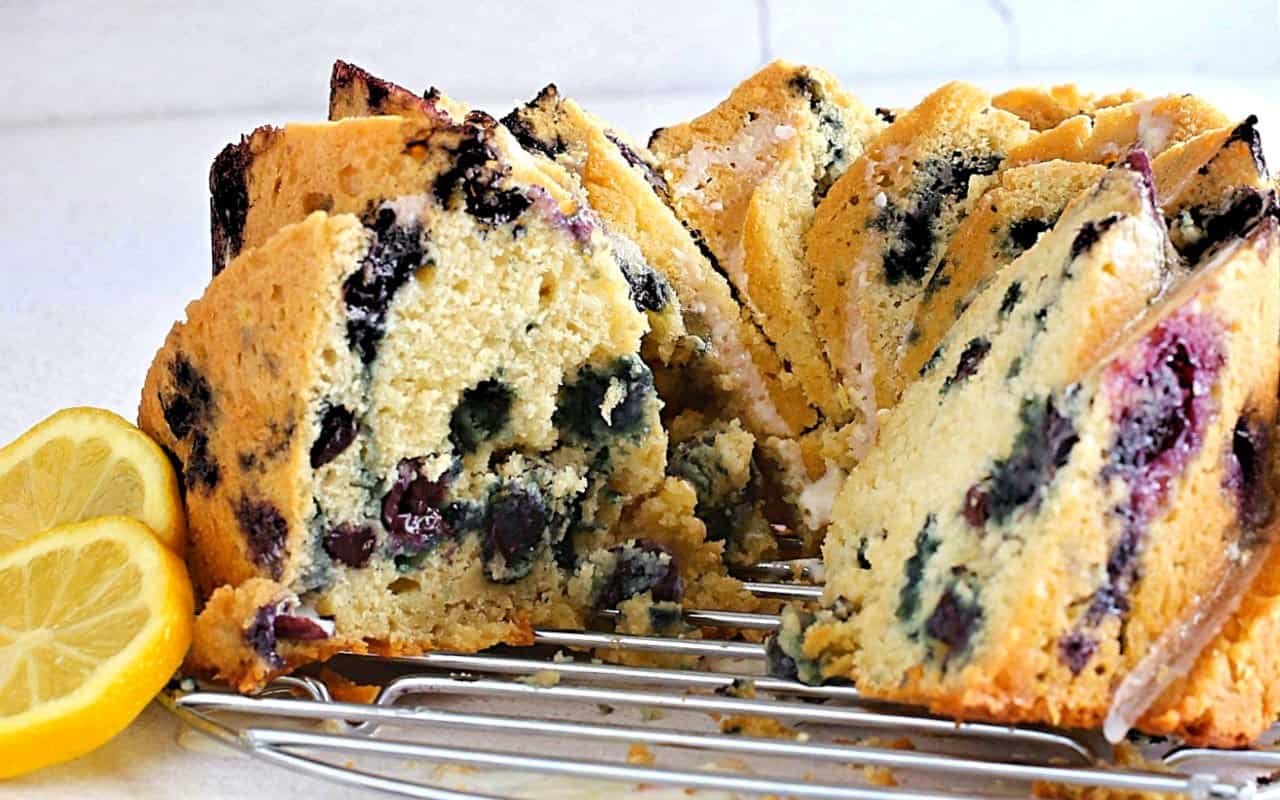 More Cake Recipes
No matter the season, easy Lemon Blueberry Bundt Cake is always a hit!