Homemade Lemon Cake with a middle layer of creamy lemon frosting and fresh lemon curd! Delicious and made entirely from scratch, this is one impressive cake. Yet easy enough for you to make too!
Love lemon desserts? Be sure to try out shortbread based Lemon Bars. Or whip up a batch of Lemon Crinkle Cookies!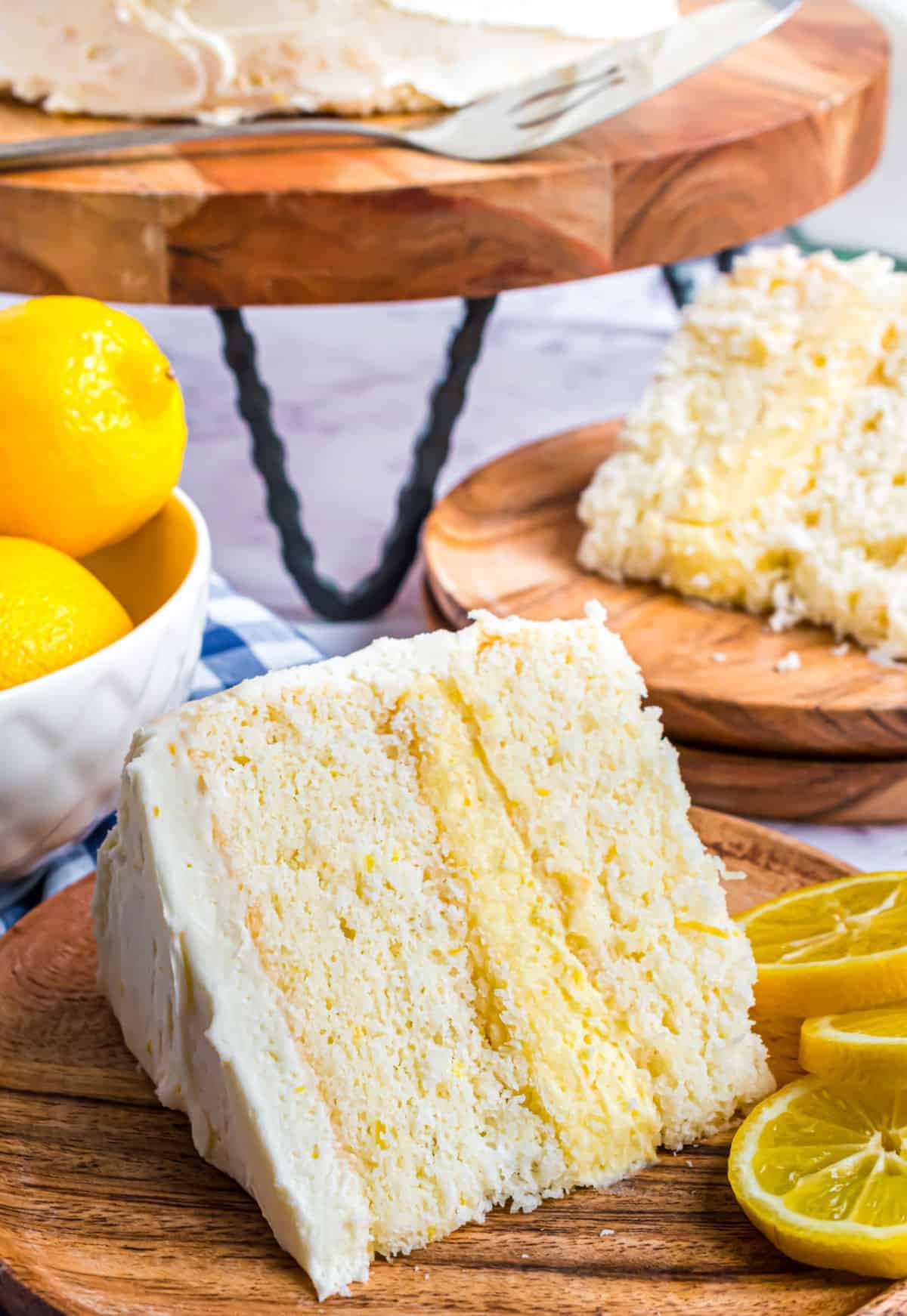 Why this Recipe is Best
This cake. Words hardly do it justice.
Lemon Cake has a stronghold over my heart. Okay, all lemon desserts do.
Seriously, have I mentioned how much I love lemon desserts? Has it been made clear to you all yet that I would choose a lemon treat over a rich chocolate brownie?
For instance, the only item on the hypothetical dessert buffet I'd choose over a good lemon dessert is a Rice Krispie Treat. That's because Rice Krispie Treats and I have a bond that goes WAY back. In all other cases, lemon will win out every time.
Today's lemon cake is based off my favorite white cake recipe and is completely from scratch.
But don't let that scare you. Let it inspire you instead to create the best lemon cake of your life!
Soft, tender crumb that holds up to the frosting layers
Moist cake balanced with fresh flavor
Lemon buttercream frosting bursting with citrus flavor
Creamy lemon curd filling made with homemade lemon curd and lemon frosting
Does that convince you yet to at least keep reading?
Ingredient Notes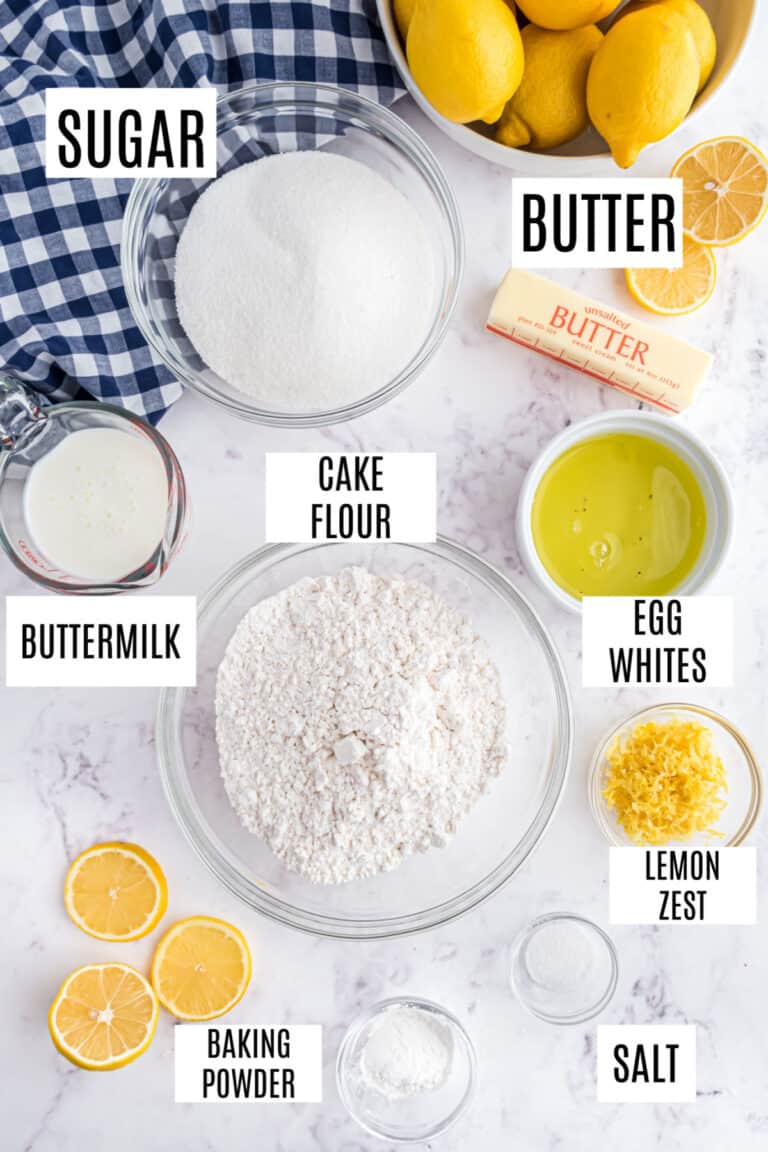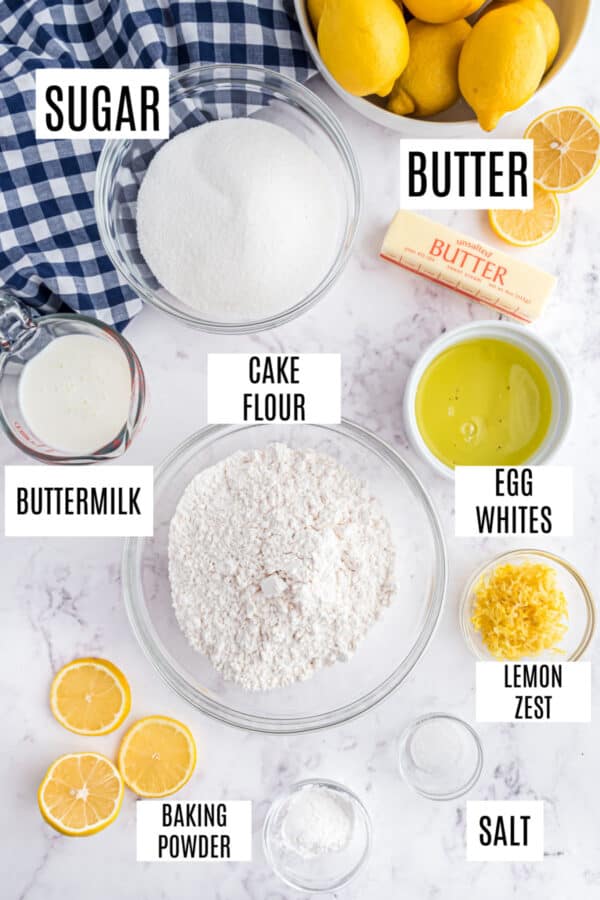 Cake Flour. This is a must when baking white cakes (and lemon cakes). It's how you achieve that perfect white cake texture. Read my tips on how to make cake flour if you don't have any on hand.
Buttermilk. The tanginess of buttermilk not only gives flavor to this cake, but also creates a slightly porous yet fine crumb! None on hand? Use my buttermilk substitute recipe.
Lemons. Always use fresh lemon zest and juice for desserts. The store bought lemon juice has a terrible aftertaste in frosting. You'll need to zest 2 lemons for the cake batter and 1 lemon for the frosting. (each lemon is about 1 Tablespoon of loosely measured zest).
Egg Whites. This recipe uses 5 egg whites, which is perfect because the lemon curd uses 5 egg yolks!
Lemon Curd. Mixing in some of the homemade lemon curd to a portion of the frosting creates and velvety smooth layer of frosting that pops with citrus flavor! You can skip the curd if you prefer, but if you want the ULTIMATE lemon cake, it's highly recommended.
How to Make a Lemon Layer Cake
Lemon Curd. If you'll be using lemon curd in the frosting, you'll need to get this made and refrigerated (needs to chill for 2 hours minimum).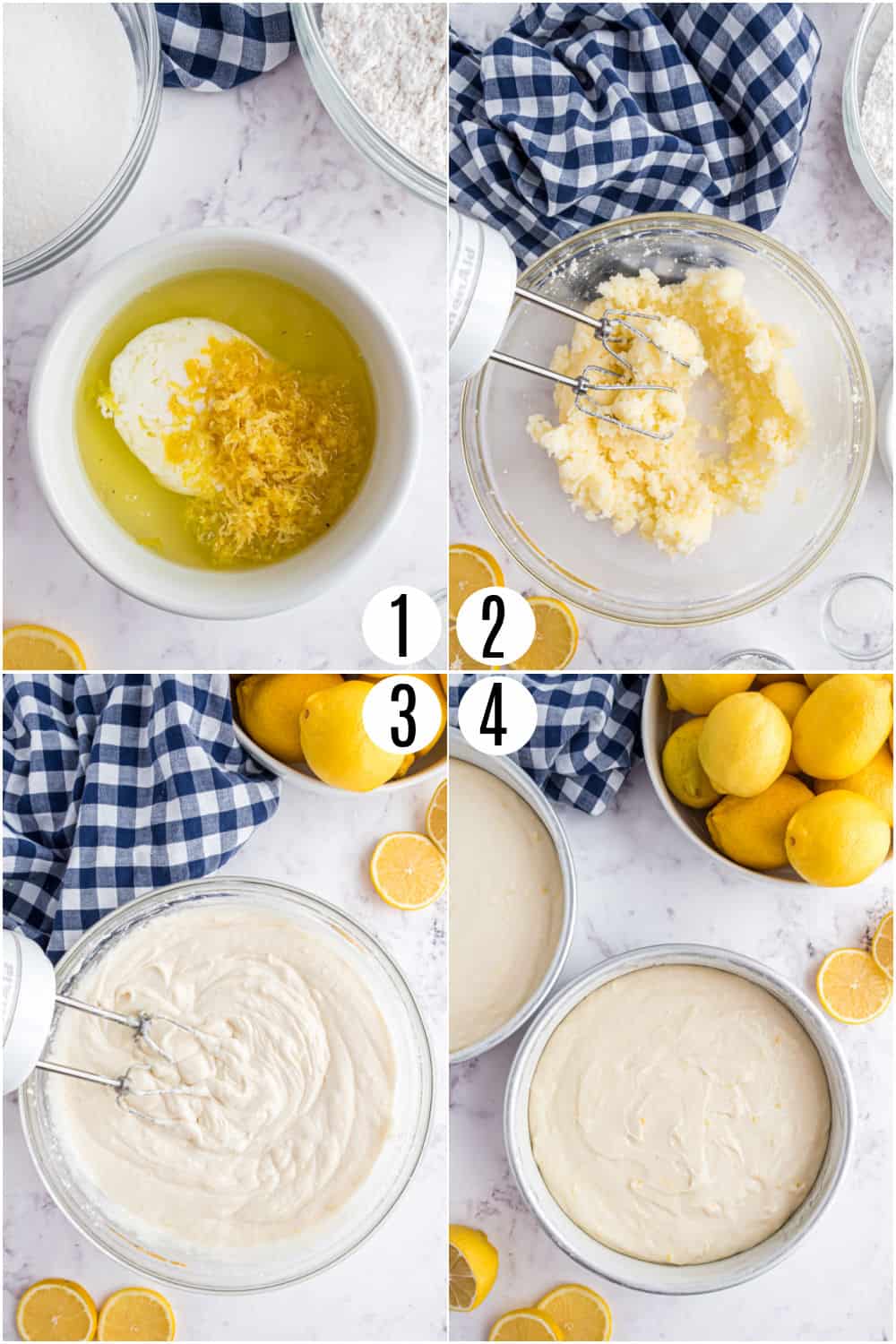 Cake Layers. First prepare the 9-inch cake pans. Use my homemade cake release (or generously grease with baking spray). Set aside.
Combine the egg whites with some of the buttermilk and lemon zest. Set aside.
Beat together the butter and sugar. Add dry ingredients then slowly add in egg white mixture. Beat in remaining buttermilk. Pour into cake pans.
Bake.
Frosting. Make a batch of homemade lemon buttercream frosting.
Portion out 1 cup of the frosting and mix it in a separate bowl with 1/4 cup of the homemade lemon curd. This is your filling for the cake.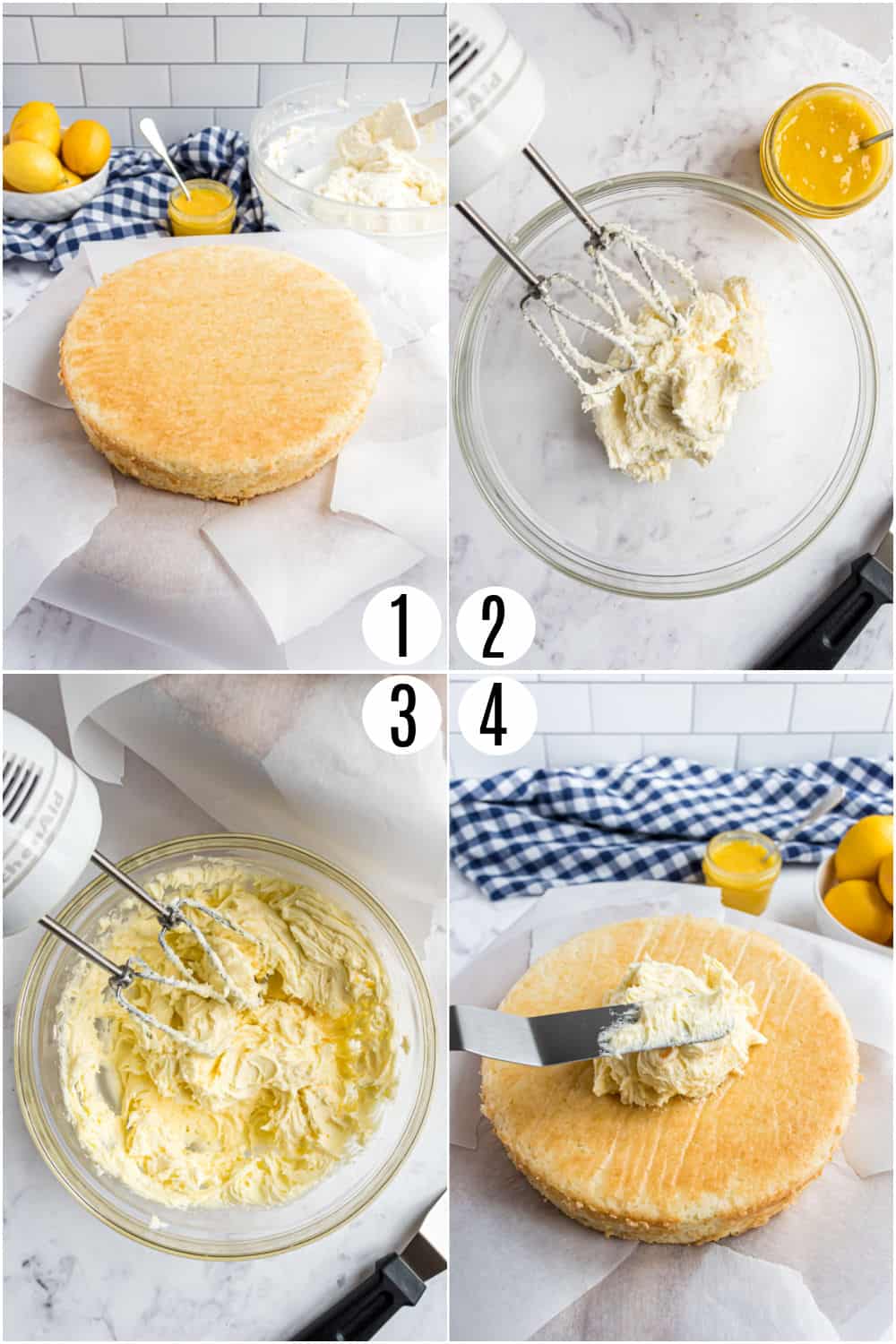 Assembly.
Put the bottom layer of the cake on a cake stand or serving platter. Spread the lemon curd frosting filling over this layer.
Top with the second cake layer. Spread the lemon buttercream frosting around the sides and on top of the cake. If your cake is real tender, you can do a crumb coating first (spread a thin layer, chill cake for 30 minutes, the spread remaining frosting over the chilled crumb coat).
Tips and Tricks
Egg Whites. It's easier to separate your eggs when they are cold. Save those egg yolks to make lemon curd.
Lemon cupcakes. You can use this lemon cake to make delicious Lemon Cupcakes.
Plan Ahead. Because you've got several components to this cake, plan ahead. Make the lemon curd the day before to make things easy. You can also bake the cake layers up to 1 day in advance as well. Wrap them in plastic wrap and store at room temperature.
Substitutions. Swap out the lemon frosting from cream cheese frosting (with or without lemon). So good!
Add Cheesecake. Turn this cake into something even more spectacular. Our Lemon Cheesecake Cake recipe features a cheesecake filling that is out of this world!
Add Poppy Seeds. Add a pop of texture like I did with this Lemon Poppy Seed Cake recipe!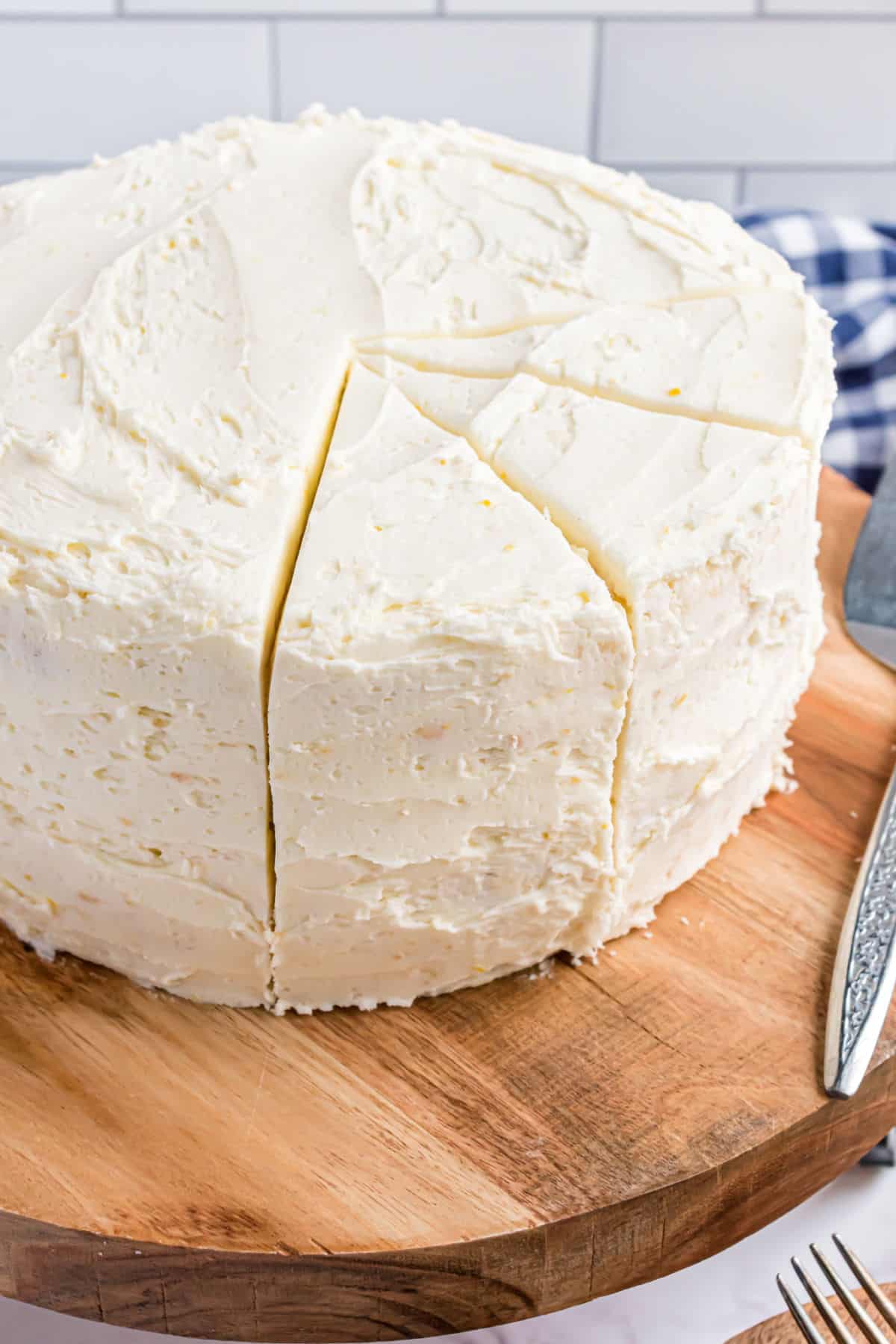 Recipe FAQs
Can you freeze Lemon Cake?
Yes. This lemon cake freezes well. Wrap the leftover slices of cake in plastic wrap and place in airtight container (or freezer bag). Thaw in refrigeratore overnight.
How do I make my cake layers level?
To make level layers of cake, you can slice the dome off the tops of a cooled cake using a serated knife. Or preven them from doming by using bake even strips instead!
How long does lemon layer cake stay fresh?
Most layer cakes stay fresh at room temperature, if properly covered for several days.
More Lemon Recipes