Orange, Lemon and Lime Citrus Cookies– Sweet cookies with citrus zest are rolled in sugar for a crackly exterior that yields to an incredibly chewy center. Change up your dessert routine with this fruity twist on a classic sugar cookie!
If you love tangy citrus flavor, have you tried our delicious Starbuck's copycat Lemon Loaf? It's a thick pound cake with sweet icing. Our orange bread recipe is also a reader favorite!
Why this Recipe Works
What makes these simple citrus cookies so dang delicious? It's a combination of the citrus flavor from the zest of real lemons, oranges and limes plus the extra sugar on top!
Instead of using extracts or artificial flavor additives, these cookies get their tasting notes from freshly grated zest. Every bite is filled with the sunny taste of citrus coupled with the pure sweetness of sugar crystals.
By rolling the cookies in sugar then sprinkling even MORE sugar on top, you give them a satisfying dimension of crunch that contrasts perfectly with the soft and chewy center of the cookie.
And like most drop cookies, these couldn't be any easier to make!
Just mix, roll, bake and eat!
If you love citrus desserts, be sure to our our melt in your mouth lemon shortbread cookies to your dessert list.
Ingredient Notes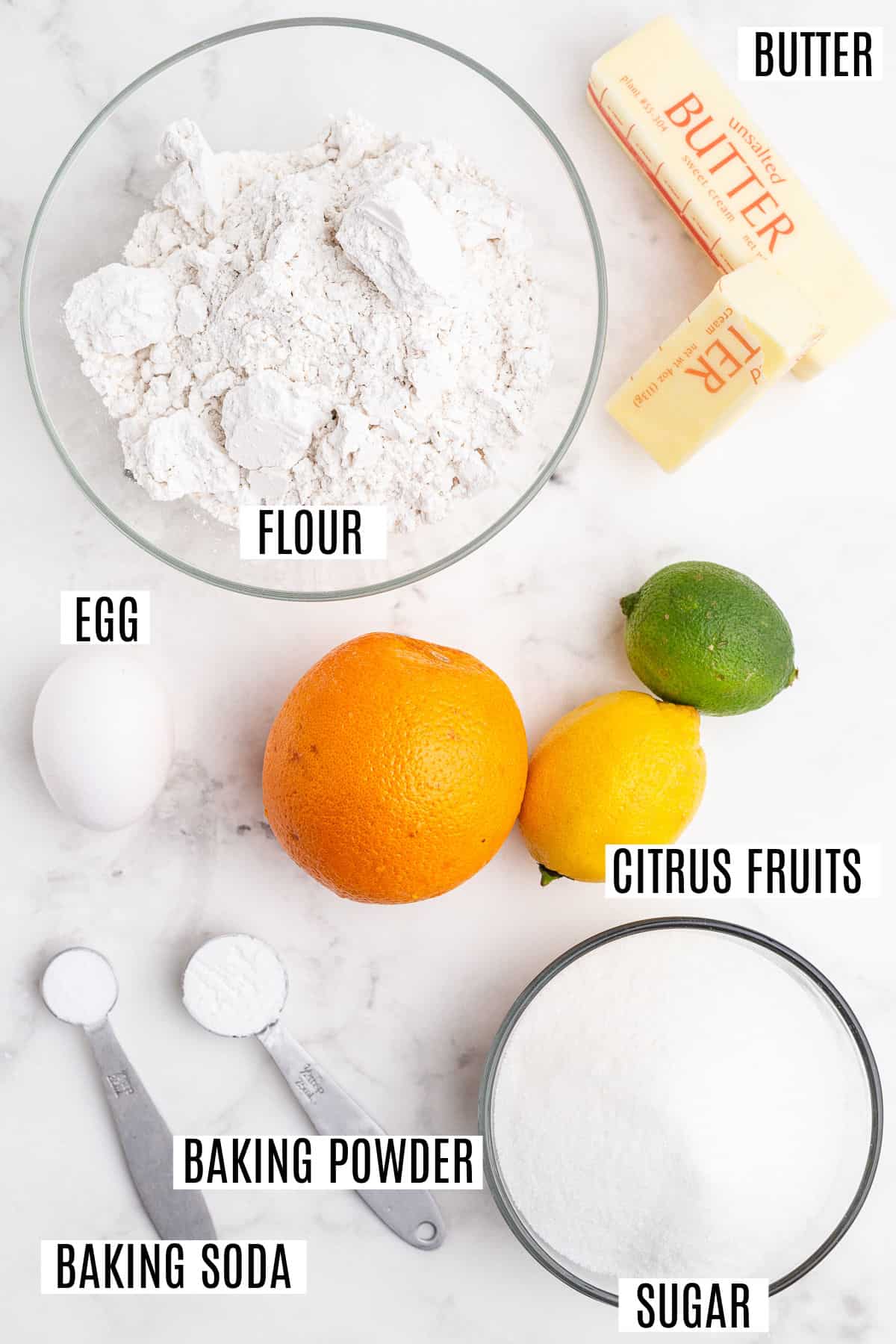 Lemon, Lime and Orange Zest – Use a zester to remove the outermost waxy layer of the skin, being careful to avoid the bitter white peel. Substitute all oranges for an orange cookie, all lemons for lemon cookies, etc. Or you can mix and match according to your preferences. Use our tutorial on how to zest lemons for best tips and tricks.
Unsalted Butter – Reduce the amount of added kosher salt in the recipe if using salted butter.
Granulated sugar- Divide the sugar. You'll use some in the cookie dough and more for rolling the cookies prior to baking.
Easy Instructions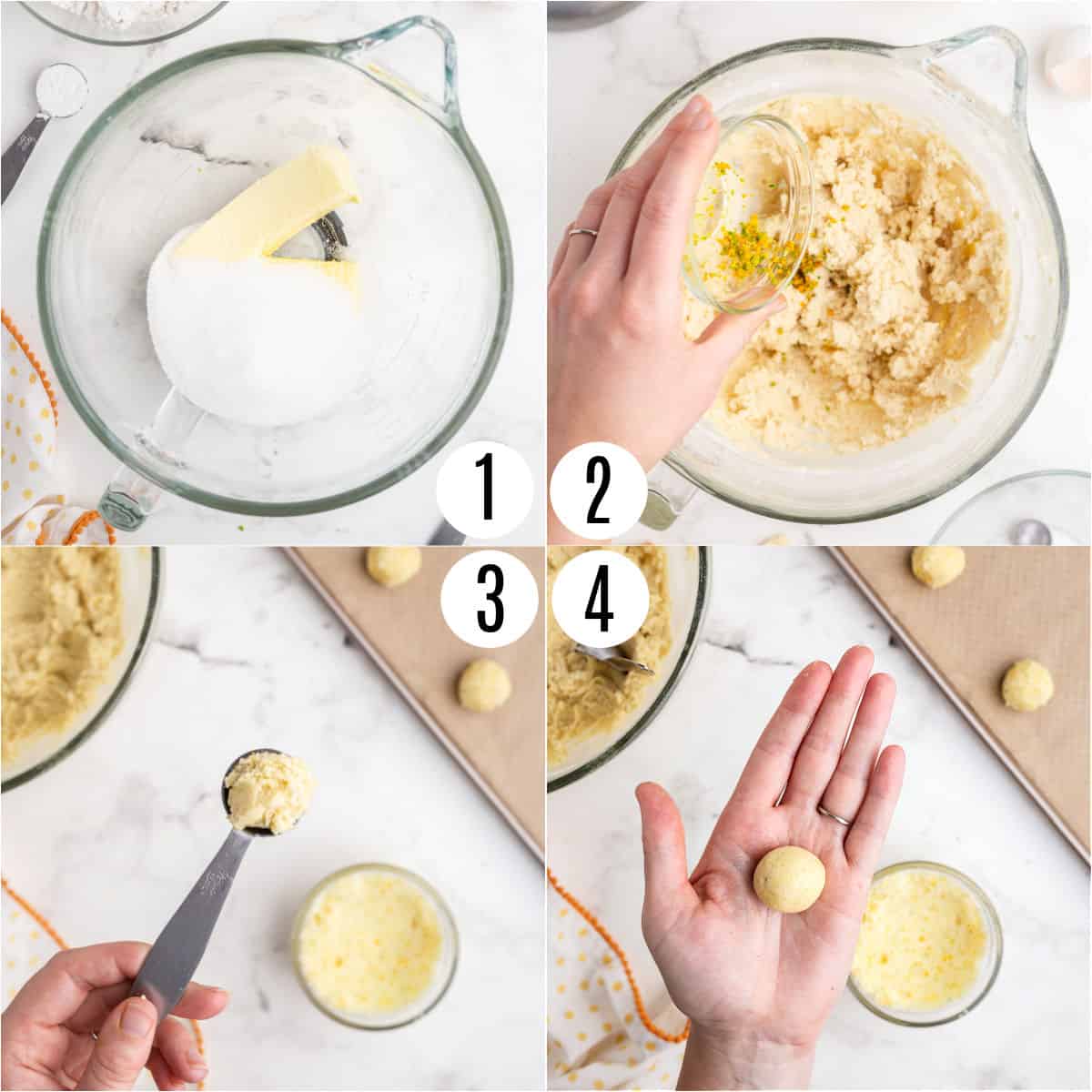 For the dough:
Zest the citrus and combine two teaspoons of zest with two tablespoons of granulated sugar. Set the remaining zest aside.
In a separate bowl, beat the butter with the remaining cup of sugar. Beat in one egg, followed by the dry ingredients.
Slowly add in the reserved zest.
To bake: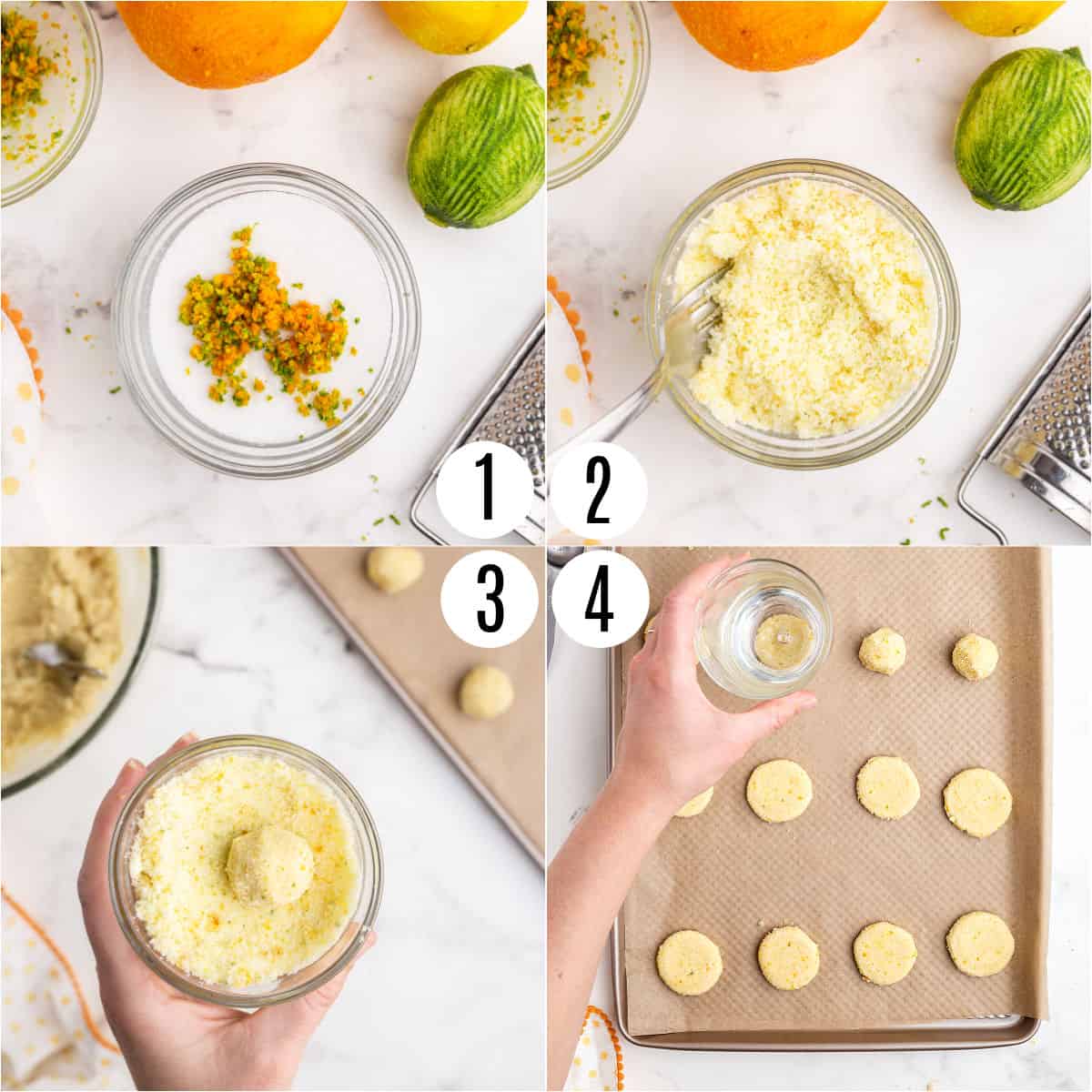 Form the dough into balls using your hands. Roll each ball in the sugar/zest mix and place on a baking sheet. Use the bottom of a cup to lightly press each cookie dough ball into a disk.
Bake for 10 -12 minutes, then transfer the cookies to a wire rack to cool.
Tips & Tricks
Add more sugar just before baking. After flattening the cookies into disks, I like to sprinkle a bit more sugar on top. This is totally optional but helps compensate for any sugar that sticks to the bottom of the glass you used to press the cookies.
No grater? No problem. Use a sharp knife to cut the zest off of the fruit, then finely mince before using in the recipe.
Mix up the citrus. I love the flavor the citrus cookies have when I use an equal amount of orange, lemon and lime. Feel free to mix it up with different varieties of orange, meyer lemons or tangerines.
Storing. Keep the cooled cookies in an airtight container at room temperature. They'll stay good for up to one week.
Love these cookies? Try adding citrus to our favorite chewy sugar cookies!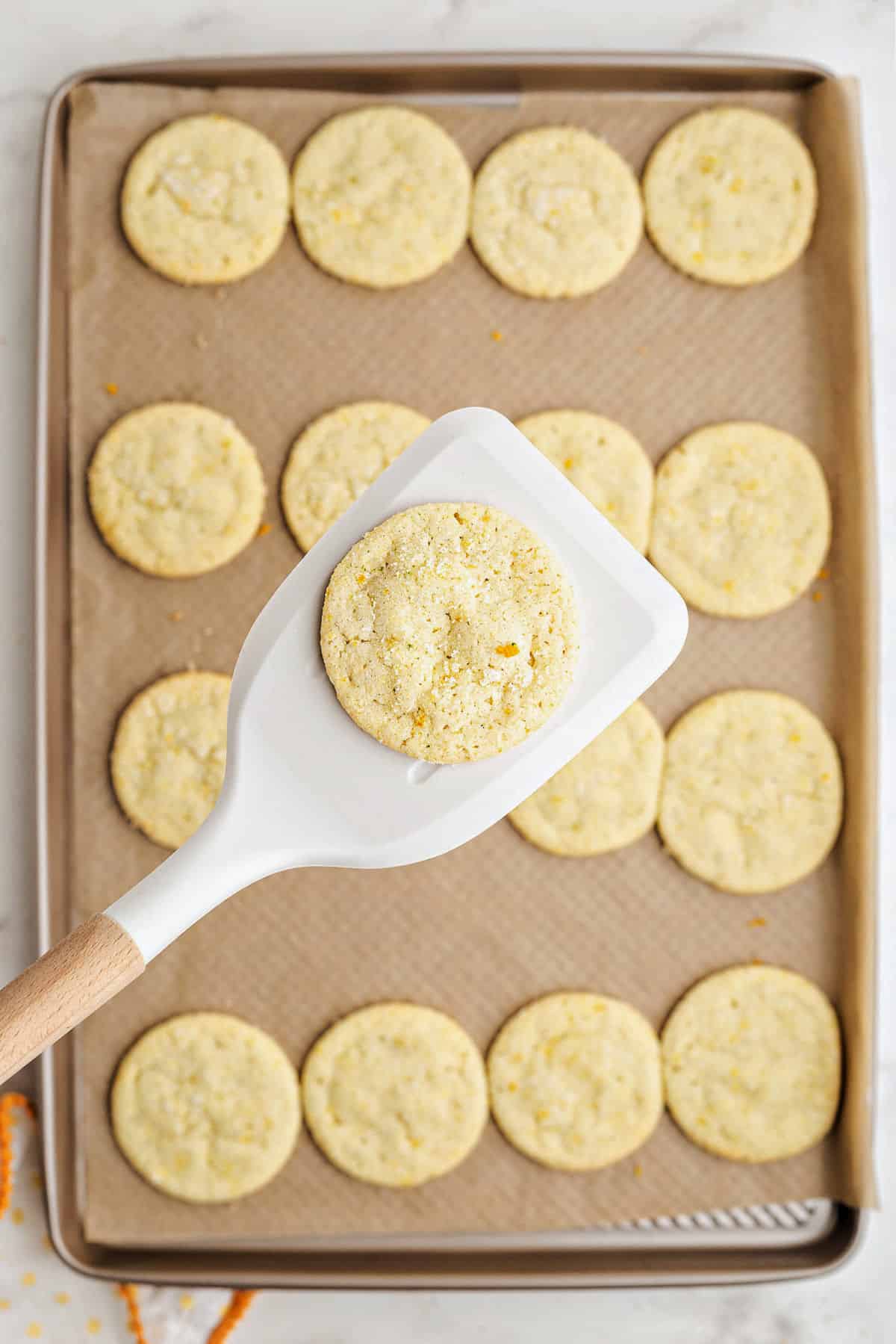 Recipe FAQs
How do you zest a citrus fruit?
The easiest way to zest an orange, lemon or lime is with a microplane zester. Hold the fruit in place over a bowl and drag the fruit down the grates. You'll see tiny flecks of the peel fall into your bowl! Consistent and perfect results every time.
Can you freeze citrus sugar cookies?
Yes, these cookies will freeze well! Store in freezer bags and thaw overnight in the fridge before enjoying. The sugar will lose some of its "crackle" but they still taste delicious.
What kinds of citrus fruit work best in this recipe?
Any juicy flavorful citrus fruit tastes great. I love using regular limes and lemons and navel oranges. The zest of cara cara oranges, tangelos and tangerines would also taste great in this citrus cookie recipe.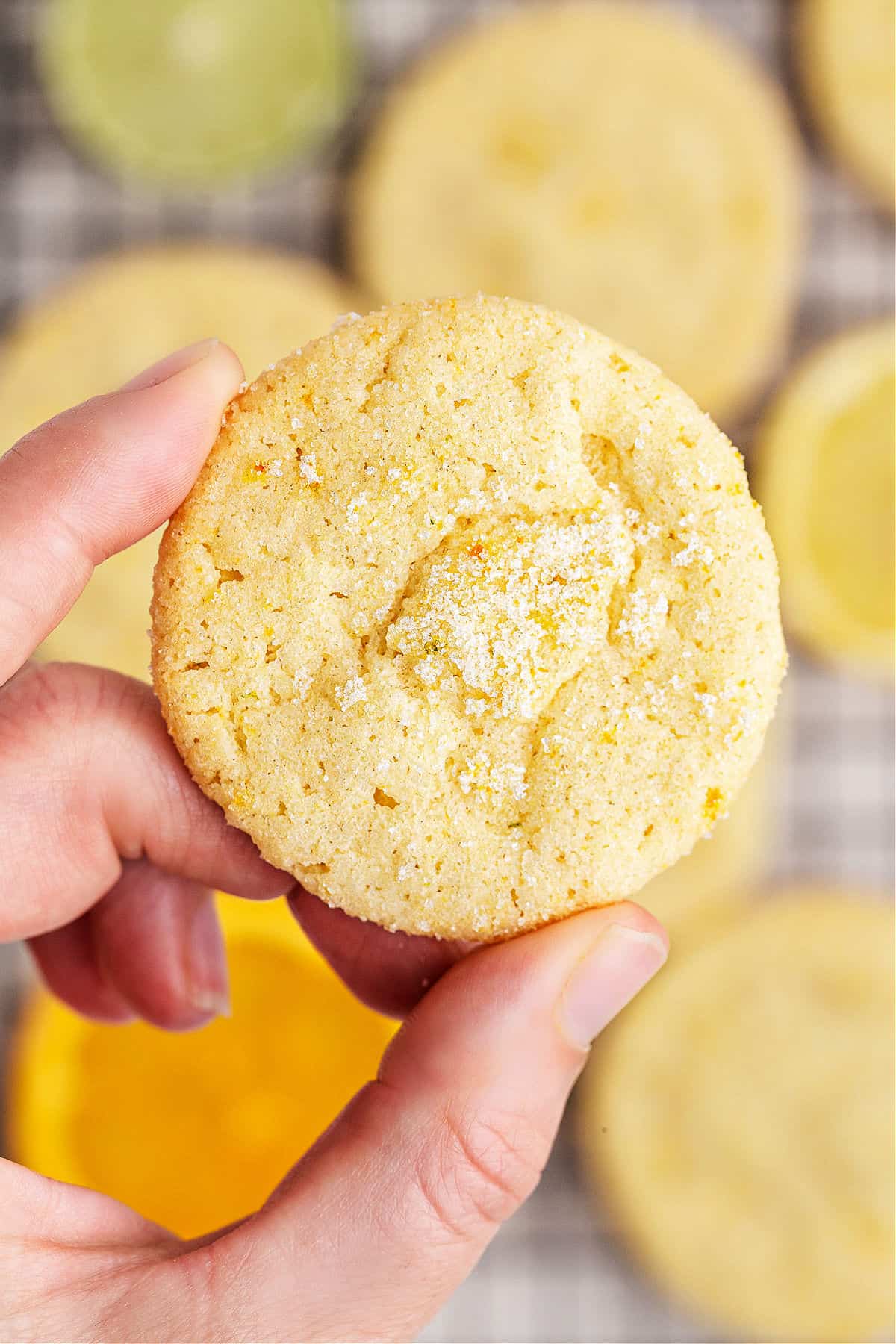 More Citrus Desserts
The bright citrus flavor in these cookies is downright irresistible! With lemon, lime and orange zest, Citrus Cookies make the perfect addition to your party platters, pot lucks or holiday cookie trays.