Lemon Bundt Cake or Italian Lemon Cream Cake is bursting with lemon flavor and makes a great breakfast cake! It's fast and easy, and beautiful too.
If you love bundt cakes be sure to try our chocolate zucchini cake recipe. Or give our classic pistachio cake (made in a bundt pan) a try soon.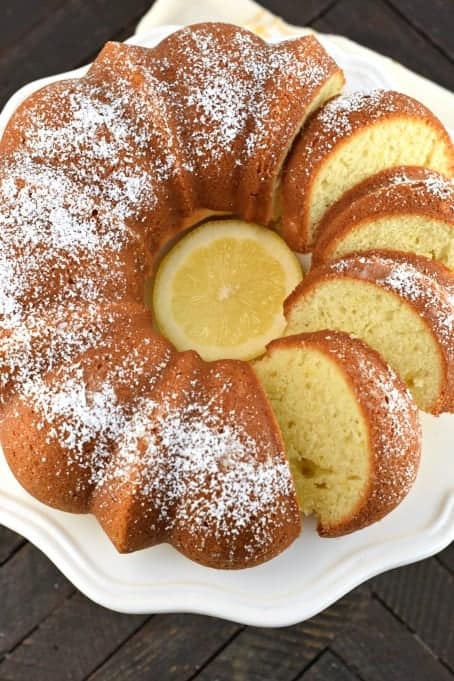 Why this Lemon Cake is Best
Breakfast cake. Yes you heard me right. Who doesn't love a big slice of cake with their morning cup of coffee.
While some people will just cut themselves a slice of leftover chocolate cake, I prefer a slightly less sweet hunk of cake myself.
Similar to having cinnamon coffee cake, today's Lemon Bundt Cake recipe is a soft, yet sturdy cake that's perfect for dunking. Or spread some homemade lemon curd over the top for an extra burst of citrus flavor.
Yes, this can make a delicious dessert as well, but why not have Lemon Cream Cake for breakfast and Ding Dong Cake for dessert? Best of both worlds.
Today's Italian Lemon Cream cake gets its name from the fresh cream in the batter. For a little bit more moisture (and flavor), try drizzling some fresh cream over the top after baking too. Less sweet than frosting, but SO delicious!
How to Make Lemon Bundt Cake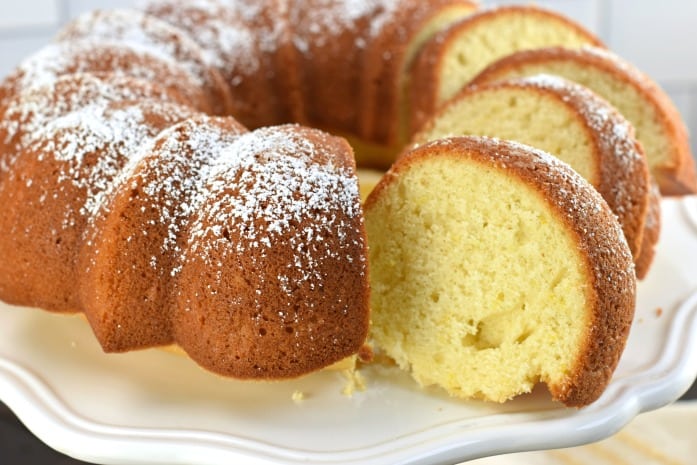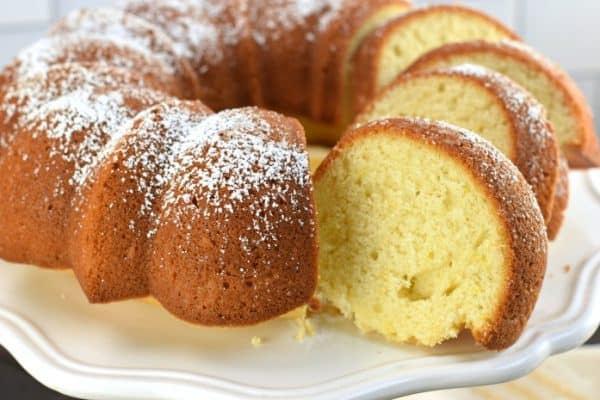 STEP 1. Preheat the oven to 350 degrees F. Grease and flour a 12-cup bundt pan generously. This cake is smaller and won't fill the pan, so you can use as small as a 9 1/2 inch bundt pan if you prefer.
STEP 2. Melt butter and set aside while you continue make the batter.
STEP 3. In a bowl, combine the all-purpose flour, baking powder, and kosher salt. Set aside.
STEP 4. In a large bowl, beat eggs until light and fluffy. Add in powdered sugar and beat again until fluffy.
STEP 5. Gently fold in the flour mixture, while alternating with the heavy whipping cream. I did this in about 3 additions.
PRO TIP: Check out my tips and tricks on how to measure flour properly!
STEP 6. Fold in the melted butter, lemon zest, vanilla extract, and lemon juice. Pour batter into prepared bundt pan.
STEP 7. Bake cake for 35-40 minutes, cool on rack in pan for 10 minutes. Invert onto a second rack or a cake plate and cool completely. Dust with powdered sugar and enjoy with fresh cream over the top!

Italian Cream Cake
An Italian Lemon Cream Cake is a more dense cake than a traditional fluffy cake that you may be used to.
It more closely resembles a pound cake recipe, but slightly less sweet. It's the perfect breakfast, and goes well with coffee or tea!
Much like this Swedish Almond Cake, it's traditionally served without icing! But feel free to make a sweet frosting or glaze if you desire. Or top it with a dollop of homemade whipped cream!
Can you freeze Lemon Cake
Yes! Sometimes we just don't want a whole cake sitting on the counter, so I like to slice individual pieces of cake, wrap them plastic wrap, then slide them into a ziploc freezer bag.
This is my favorite way to store fresh cake (that has no frosting), brownies, and bars.
You can also freeze the whole cake by wrapping in plastic wrap and two layers of foil. Store for up to 2 months in the freezer, thaw overnight at room temperature.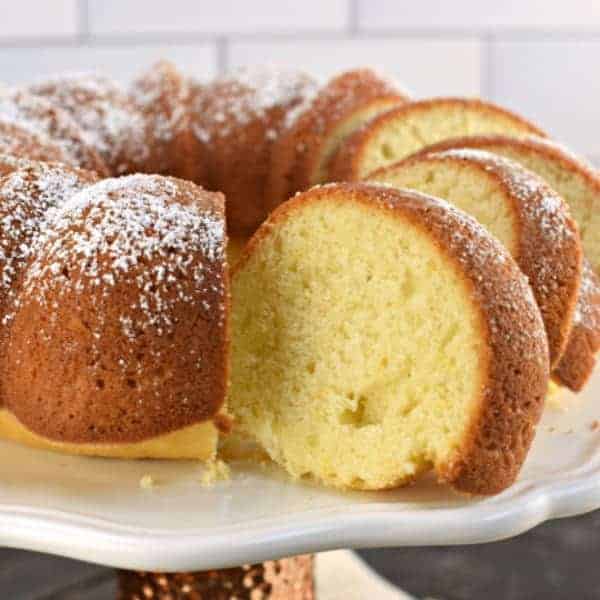 Tips and Tricks
Grease your pan thoroughly. I like to use homemade "goop" or baking spray that has flour already in it. Be generous, as there's nothing worse than a cake that sticks.
Use a good quality bundt pan. Norpro or Nordic Ware are my pans of choice, as I find they are great at keeping temperatures even and not browning too quickly (thinner, cheaper pans get TOO brown on outside)
Let your cake cool in the pan about ten minutes before inverting it onto a cake plate. This allows the sides to release slightly on their own, and firm up so it doesn't stick!
Do not over beat as you alternate the flour and cream. Mix until blended, then repeat…I use a wooden spoon for this, not an electric mixer.

This Lemon Bundt Cake recipe is bursting with lemon flavor and makes a great breakfast cake! It's fast and easy, and beautiful too. Top it with a dusting of powdered sugar and fresh cream.