Lemon Gooey Butter Cookies are moist, thick and so easy to make! Whip up a batch from scratch or grab a box of cake mix. These taste amazing both ways!
Every day should include lemon cookies! Make these Lemon Ricotta Cookies and these Lemon and Lime Citrus Cookies next.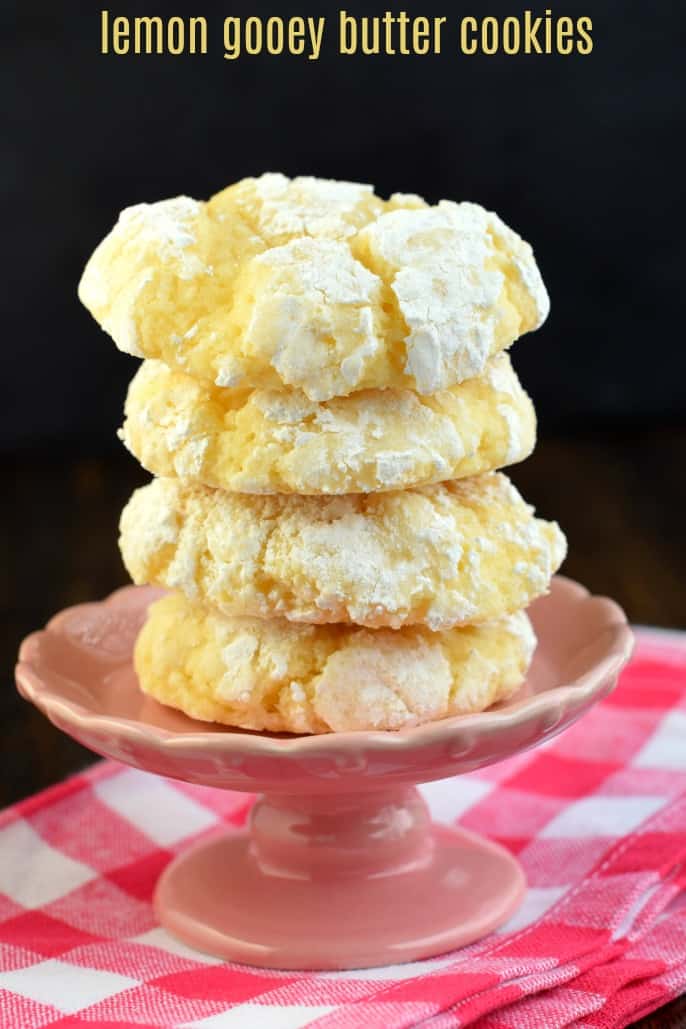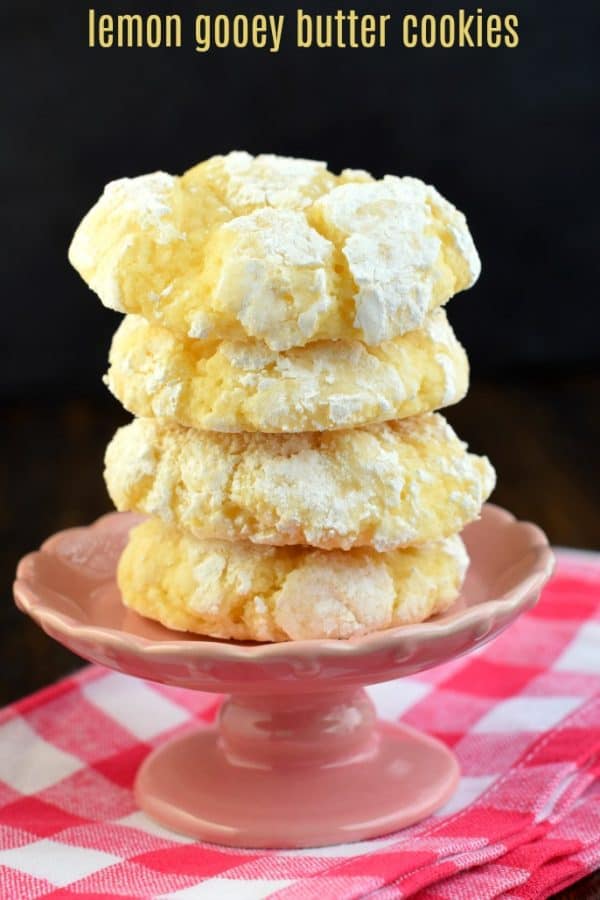 Why this Recipe Works
This recipe creates perfectly ooey-gooey butter cookies in no time.
Lemon extract gives the cookies a tangy citrus flavor.
The cookies are rolled in powdered sugar before baking, giving the gooey cookies a crackly edge.
It's made from scratch, with love! No need to open a box.
The zesty flavor and melt-in-your-mouth texture makes these Lemon Gooey Butter Cookies a delicious accompaniment to that afternoon cup of coffee.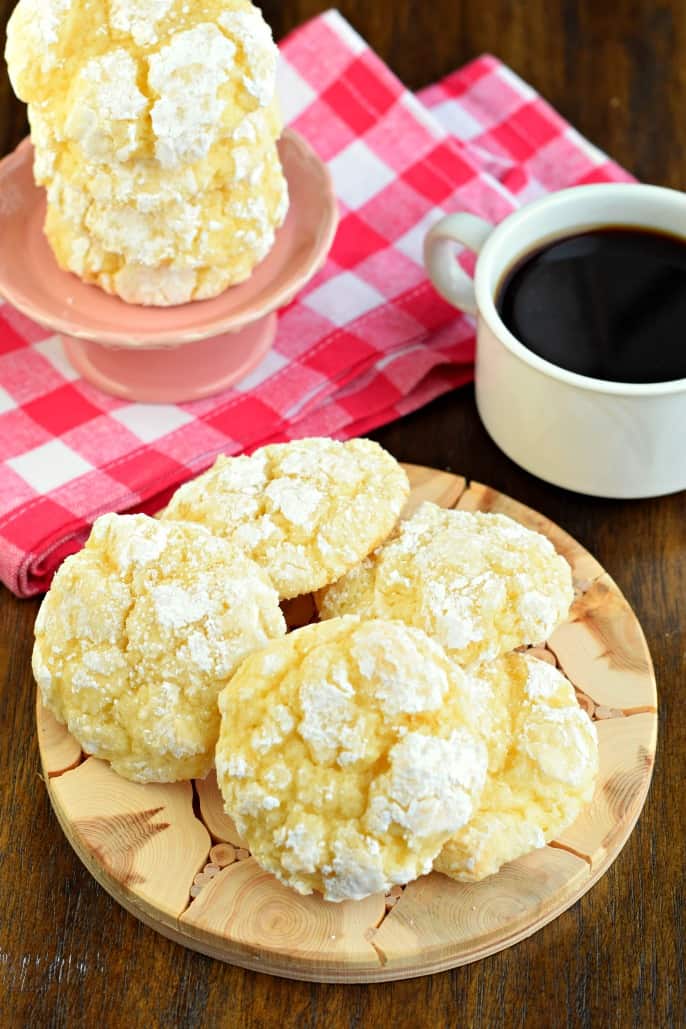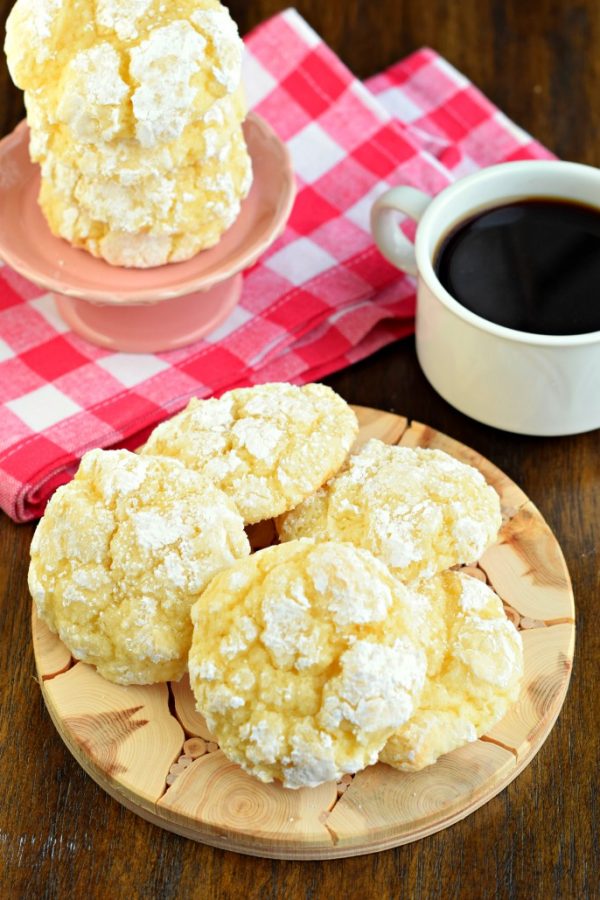 Ingredient Notes
Lemon extract. This handy ingredient is our secret for achieving the brightest lemon flavor. A little goes a long way!
Butter. We use unsalted butter in all of our recipes. If you only have salted butter, omit the added salt in the recipe.
Lemon zest. Using a little zest from a fresh lemon makes all the difference.
Cream cheese. Use full fat cream cheese in these Lemon Gooey Butter Cookies for best results. Don't forget to let it soften at room temperature for a few minutes first.
Easy Instructions
Make the dough.
Cream together butter, cream cheese and sugar. Add eggs, lemon zest and extract, followed by the dry ingredients. Beat until all ingredients are combined.
Chill the dough in the refrigerator for at least 30 minutes.
Roll cookies in sugar.
Scoop out about 2 tablespoons of chilled dough. Use your hands to roll each ball of dough in powdered sugar until evenly coated.
Bake.
Bake cookies for about 11 minutes. Let cool and enjoy!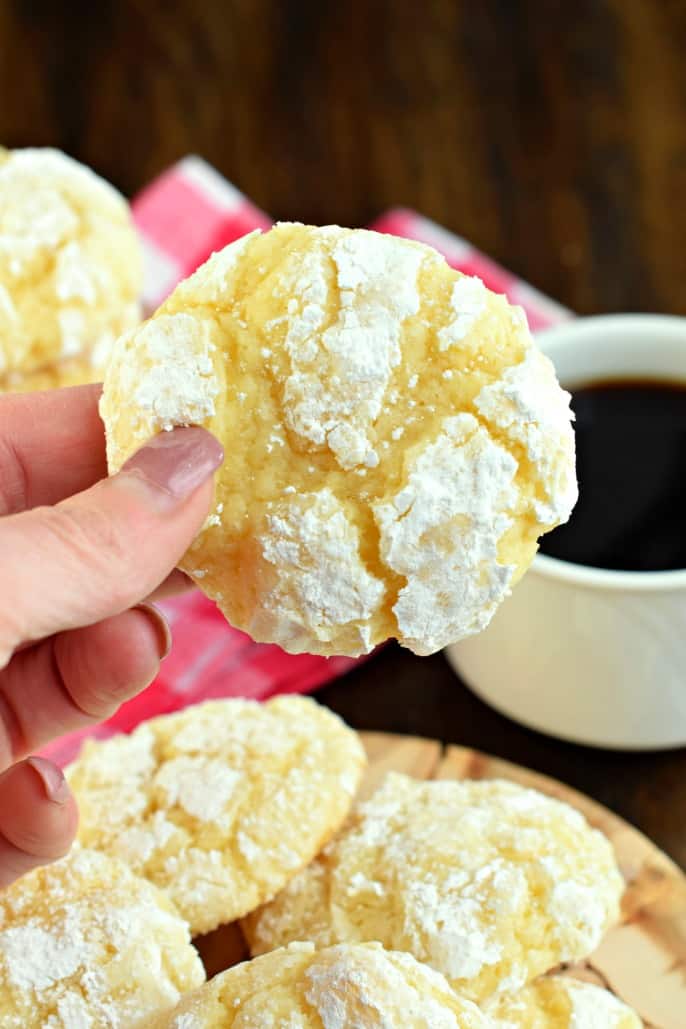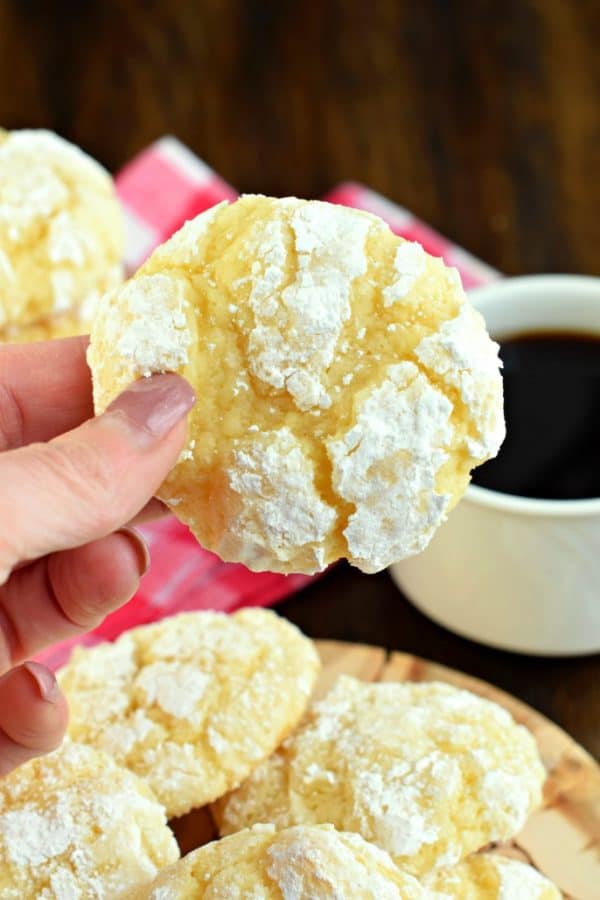 Tips and Tricks
First, make sure you chill the dough. This helps solidify the butter to a chilled state, which allows the cookies to stay fluffed and thick. You don't want flat butter cookies!
Store these cookies at room temperature in an airtight container. This will keep them soft and fresh for about a week!
You can freeze gooey lemon butter cookies by letting them cool completely, then transferring them to an airtight container that is safe for the freezer (or ziploc freezer bags). 
Dip your fingers in powdered sugar before working with the dough. This keeps the dough from getting stuck to your hands as you go.
Line the baking sheet with parchment paper for easy cookie removal and clean up.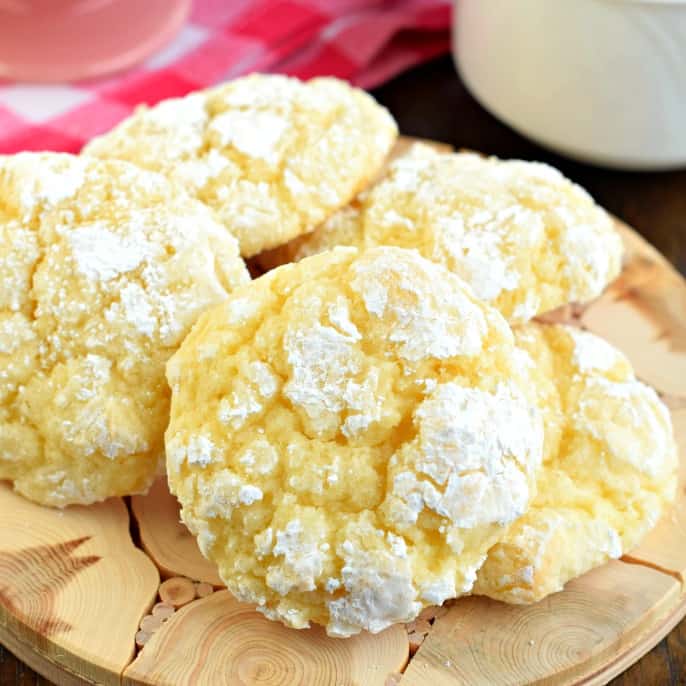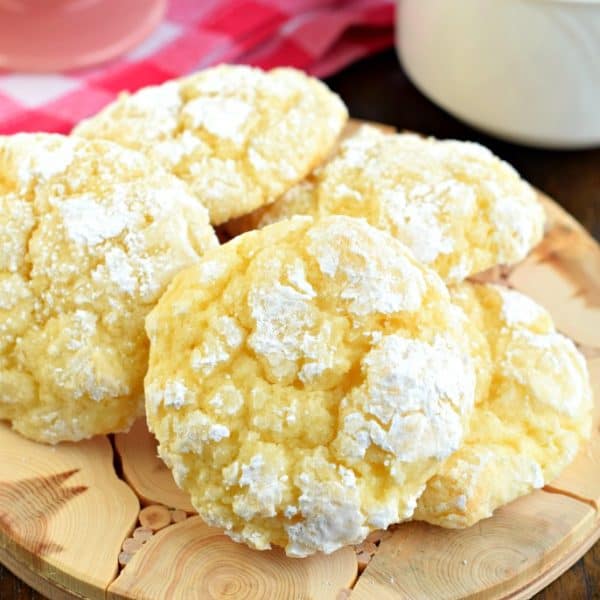 How to substitute with a cake mix
Want to make these Lemon Gooey Butter Cake Cookies with a cake mix?
Here's what you'll need.
One box of lemon cake mix (or yellow cake mix)
1/2 cup butter
1 package cream cheese
1 Large egg
1 lemon, zested
powdered sugar
Beat butter and cream cheese together. Then beat in the cake mix and lemon zest. Chill dough and proceed with the recipe below as directed.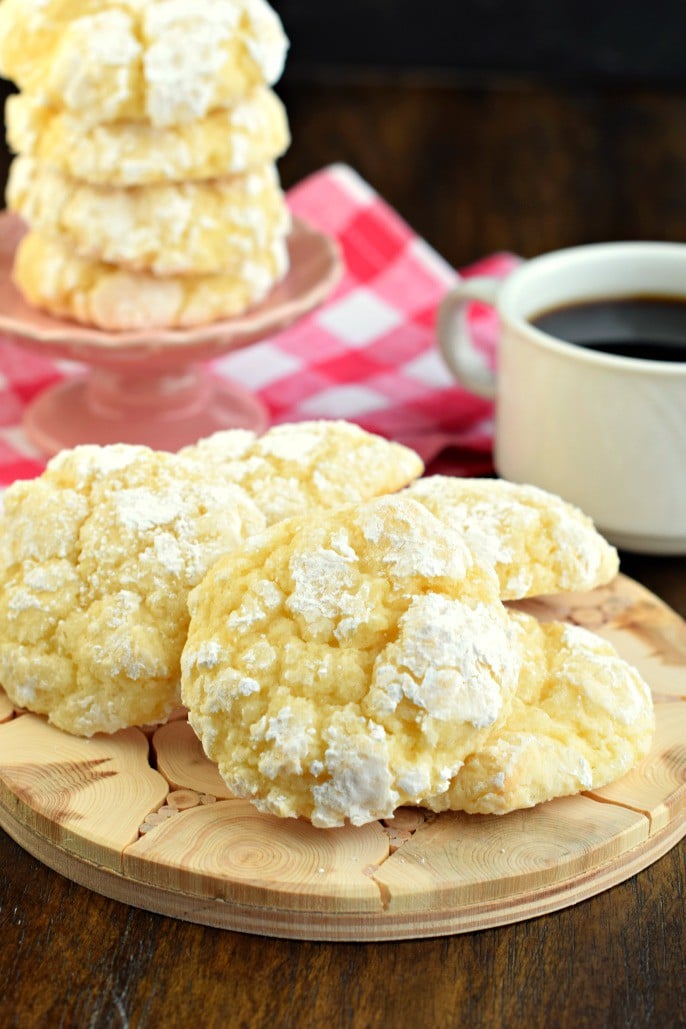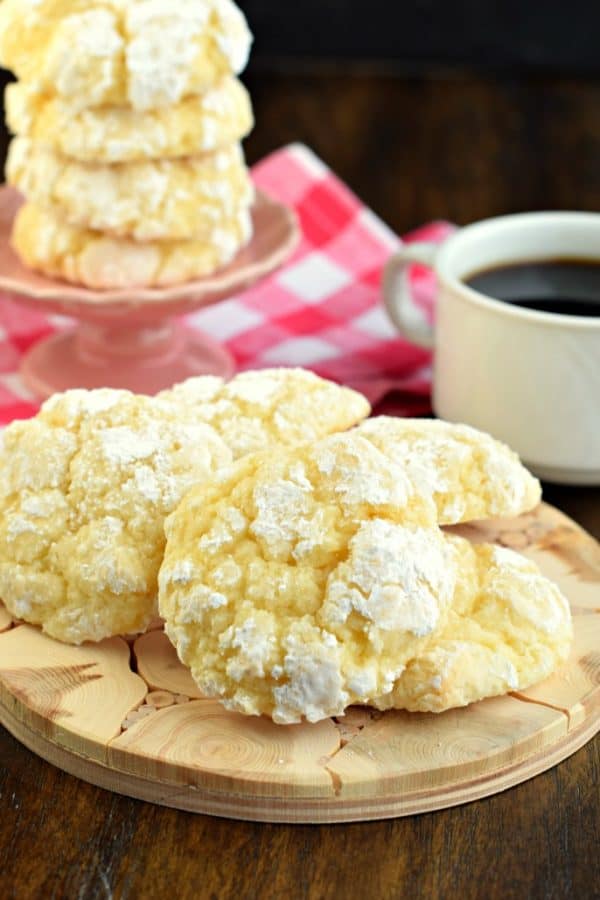 Recipe FAQs
Is powdered sugar the same as confectioner's sugar?
Yes, it is! It's labeled as one or the other, depending on the brand. So if your box says "confectioner's sugar" it can still be used in this recipe!
What's the best way to zest a lemon?
You can use a citrus zester to remove the zest from the fruit, or a handheld microplane grater. Hold the lemon and the zesting tool over a bowl. Place the tool against the skin of the lemon and use light downward strokes to remove the colorful part of the peel.
How can I make these more yellow?
Made as directed, these cookies will be a very pale color. For a more yellow lemony look, add a couple drops of yellow food coloring to the dough before baking.
More Cookie Recipes
You can always check my cookie archives for some great recipes. But I'll highlight a few of my absolute favorites to get you started.
Chewy M&M's Chocolate Chip Cookie Bars are thick and delicious and perfect when you need a quick dessert. Perfect for holidays and bake sales too!
These Caramel Frosted Sugar Cookies are irresistible. Chewy sugar cookies with a no-chill dough topped with a sweet and salty caramel frosting!
Butter Cookies are the perfect Christmas cookie recipe, but can be enjoyed any time of year. Whether you pipe them, scoop them, or slice and bake these cookies, they're melt in your mouth delicious!
Delicious, festive, easy, melt in your mouth Strawberry Meringues dipped in chocolate! My favorite cookie recipe!
More Lemon Desserts
Unbelievably gooey Lemon Butter Cookies are the melt-in-your-mouth treat you've been craving. Cheery and sweet, they're delicious made from scratch or with a box of cake mix!