Lemon Meringue Fudge has all the zesty sweetness of a lemon meringue pie in bite-sized squares of fudge. This easy lemon fudge recipe brings layers marshmallow "meringue" with homemade lemon curd. A sprinkle of graham cracker crumbs adds the perfect finishing touch!
For a different variation on homemade lemon fudge, try my Pink Lemonade Fudge recipe too!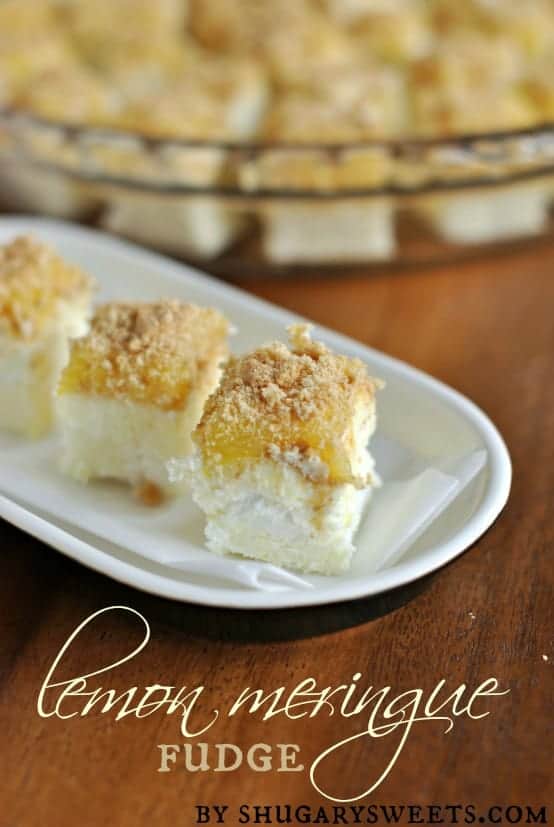 Why this Fudge is Best
Craving Lemon Meringue Pie but don't have time to mess with making meringue from scratch? This fudge recipe is the solution.
10 minutes to prepare. Lemon Meringue Fudge takes a fraction of the effort and time it takes to make the pie version.
Perfect blend of flavors. You'll love the sweet and creamy vanilla paired with bright, tangy lemon.
Ideal for sharing. It's a dessert you can eat with your hand!
Easy lemon fudge. No candy thermometer needed for this recipe.
Ingredient Notes
Marshmallow fluff. Also called marshmallow "creme", it gives the fudge its soft consistency and "meringue" like flavor.
Lemon curd. Use my easy Lemon Curd Recipe or any store bought lemon pie filling.
Lemon zest. This outer layer of peel is where lemons keep all their zippy fragrance and flavor. Check out my guide for How to Zest a Lemon for the best ways to get the most zest from your citrus.
Graham cracker crumbs. Pulse whole graham crackers in the food processor to form crumbs. Or use a store bought package of graham cracker for this Lemon Meringue Fudge crumbs if you prefer.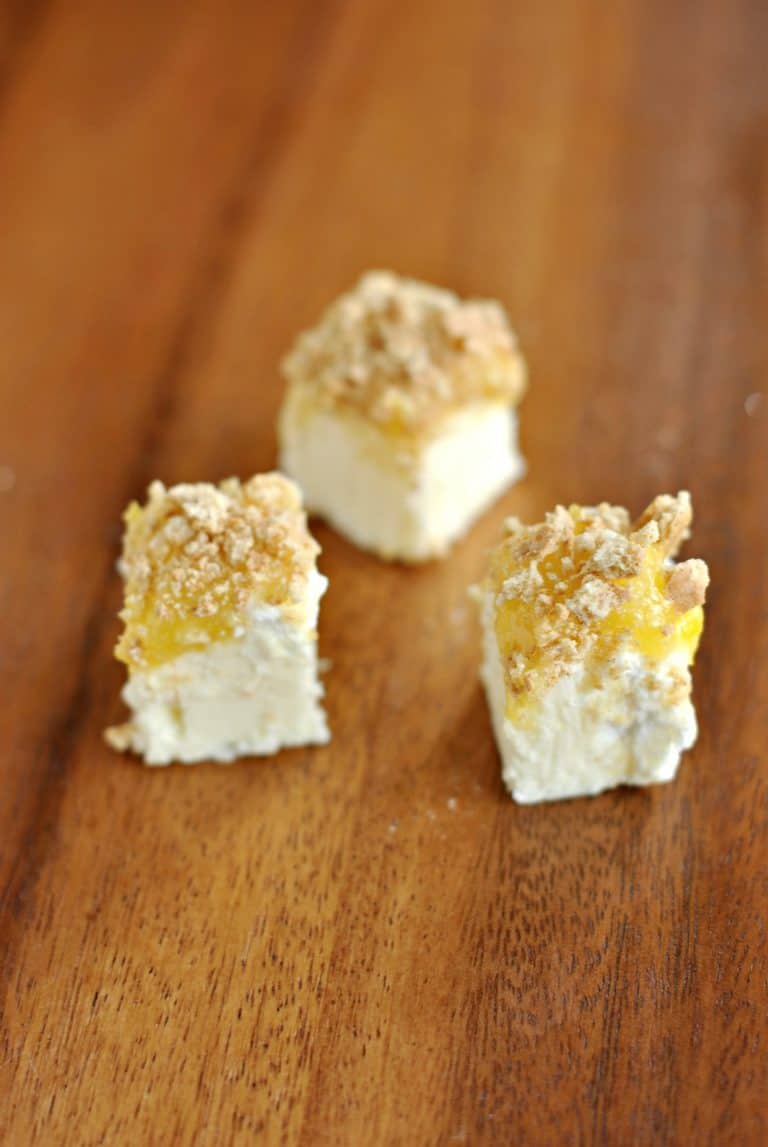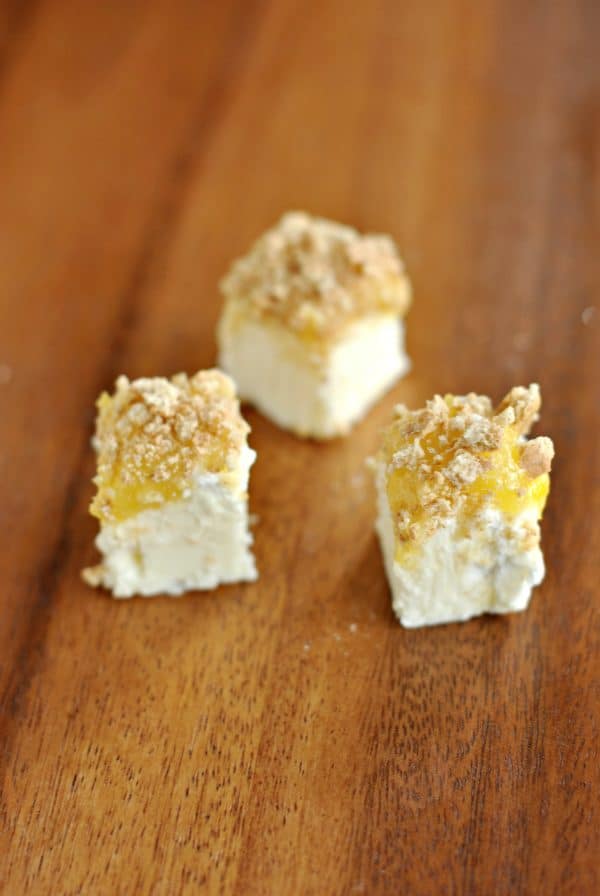 Easy Instructions
If you've made any of my other fudge recipes, the directions for making lemon meringue fudge will look familiar.
You'll beat white chocolate chips and marshmallow fluff with a hot mixture of boiled butter, cream and sugar. Once the fudge mixture is smooth, it's time to fold in a bit of lemon curd and mini marshmallows.
Now pour the mixture into a baking pan. Top with lemon curd and graham cracker crumbs.
Let Lemon Meringue Fudge chill for at least 3 hours then slice and enjoy!
Tips and Tricks
Make the lemon curd first. If you're using store bought lemon curd or pie filling, have it out and ready to go before you start making the fudge.
Serve chilled. This lemon fudge tastes amazing cold straight from the fridge!
Slice as you go. Fudge stays soft and fresh longer when it's stored in a larger block. Cut off only as much fudge from the block as you will eat (or serve) at one time.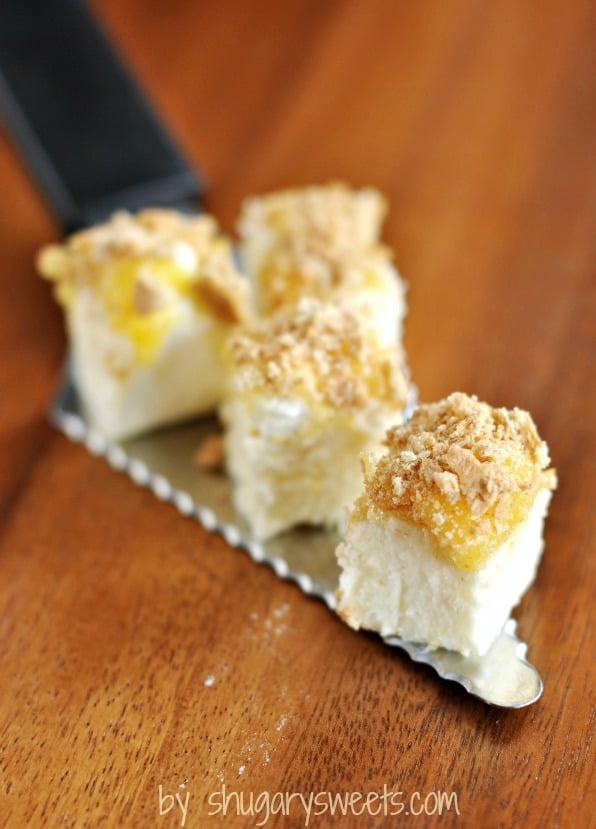 Recipe FAQs
Can fudge be frozen?
In general, yes. But today's lemon meringue fudge recipe is unique with the lemon curd and graham crackers on top.
If you choose to freeze this fudge, DO NOT top with the extra curd or crackers. Instead, let the fudge chill in the fridge until firm. Then store it tightly wrapped in the freezer.
Let frozen fudge thaw overnight in the fridge before adding the lemon curd and graham cracker crumbs on top. Slice, serve and enjoy!
Can I make this with regular sized marshmallows?
Yes, regular marshmallows can be used if you don't have miniature ones. Chop them into smaller pieces before adding to the fudge.
Why is my fudge too soft to slice?
If your fudge is too soft to cut, it likely needs a bit more time to set. Place it back in the refrigerator for another 30 minutes then check the consistency again.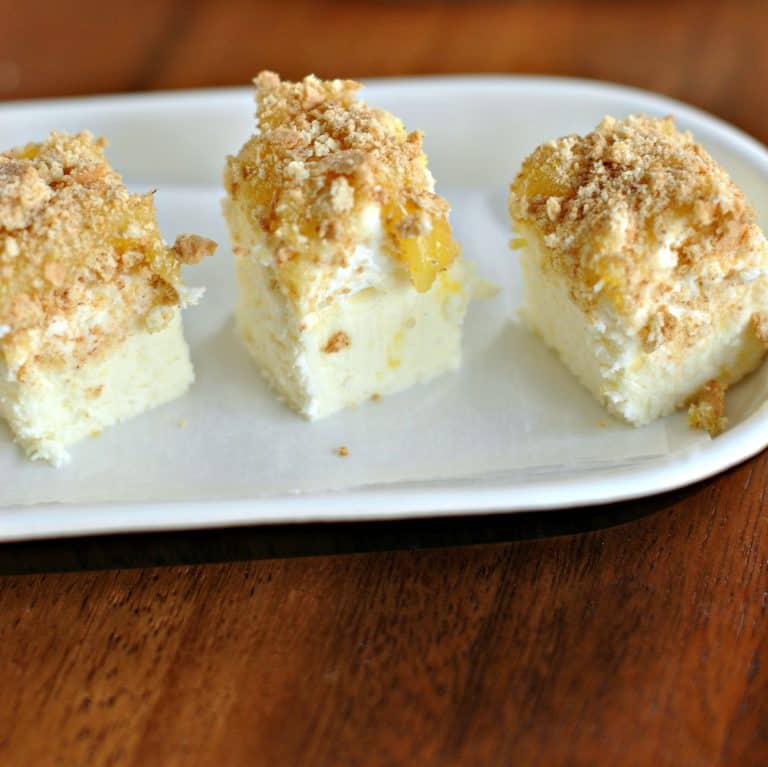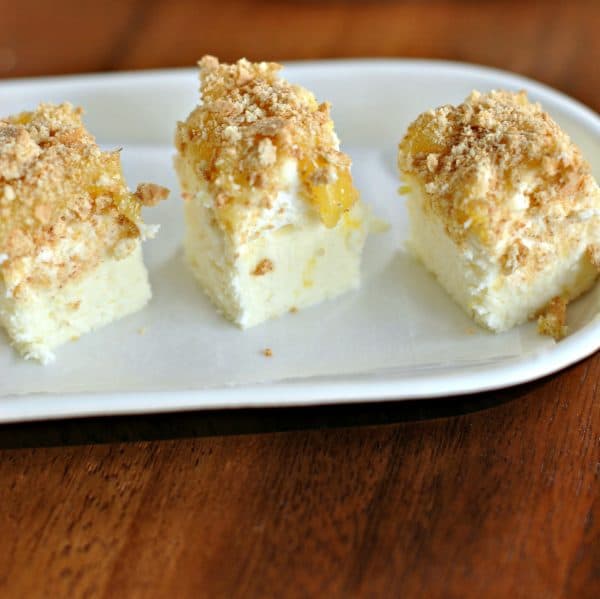 More recipes using Lemon Curd
So now that you now how to make homemade lemon curd, you're wondering, what else can I use it in?
Here are some of my favorite recipes using this golden treat!
Homemade Lemon Cake with a layer of creamy lemon frosting and fresh lemon curd! From scratch and delicious! It's my take on Olive Garden's Lemon Crumb Cake recipe.
A gorgeous Lemon Tart with a buttery, rich Macadamia Nut Crust. Decorate the top of this pretty tart with some homemade Whipped Cream.
Easy, 3 ingredient, Oven Baked Lemon Hand Pies Recipe: flaky, baked hand pies with a sweet lemon filling! Don't forget the dusting of powdered sugar on top! You can use lemon curd or pie filling in this recipe!
Creamy, delicious Lemon Cheesecake has the perfect consistency and is topped with a homemade Lemon curd!
Lemon Meringue Fudge is a sweet, tart, chilled fudge that's perfect for a sunny spring day. Less work than making a pie—same delicious taste!