This Cinnamon Sour Cream Coffee Cake is a tender cake filled with a cinnamon swirl and topped with a delicious brown sugar streusel.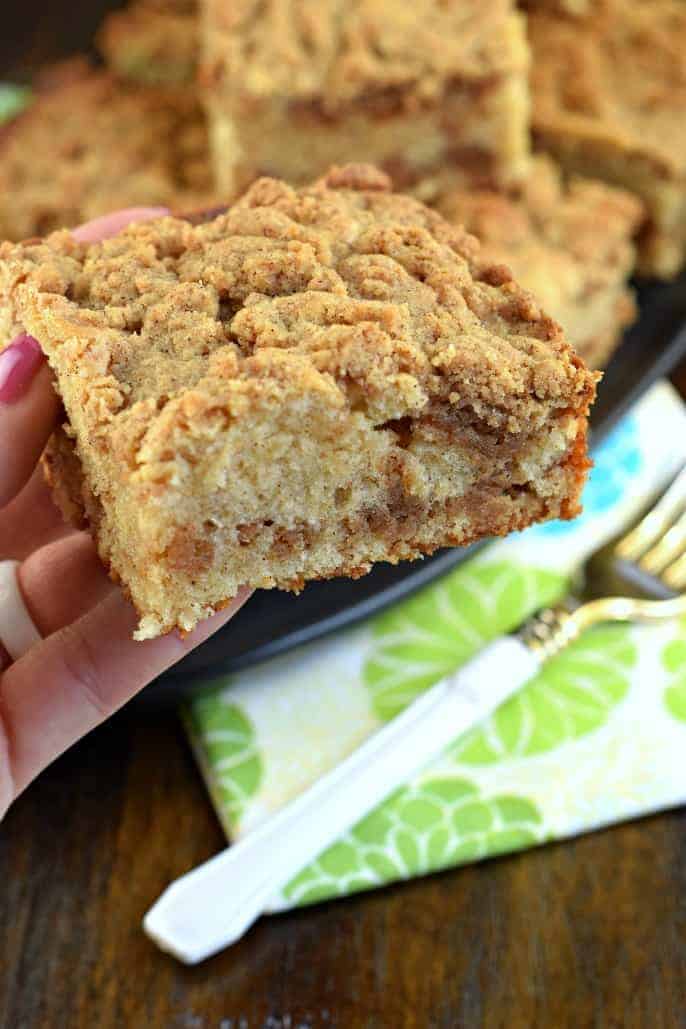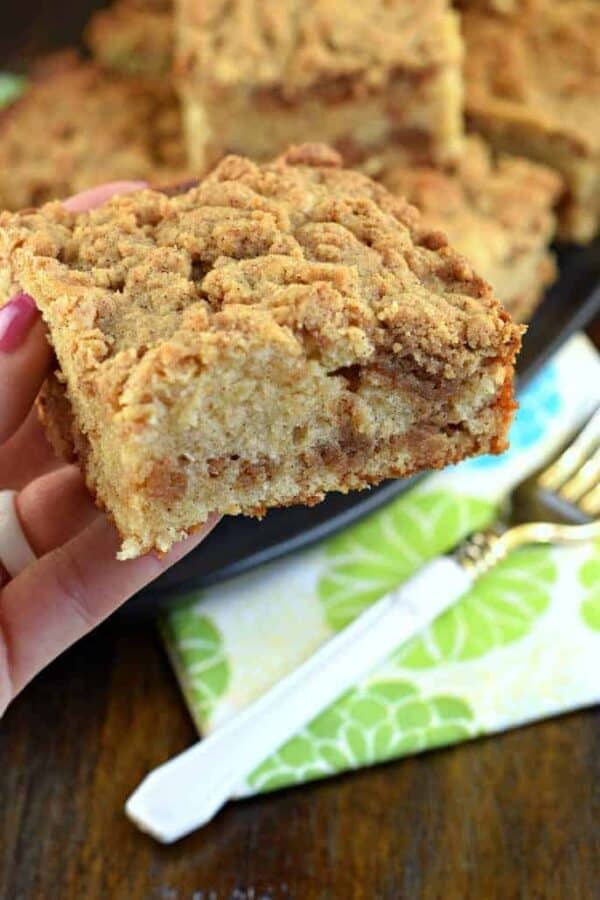 Click HERE to save recipe to pinterest!
Another day, another coffee cake recipe. Seriously, if you check my breakfast archives, you'll find dozens of sweet breakfast treats!
Why? Because why not? Having a slice of coffee cake, a muffin, a doughnut, or a piece of biscotti is my favorite side kick to my steaming hot cup of coffee. They go together like peanut butter and jelly 🙂
Today's Cinnamon Sour Cream Coffee Cake recipe comes from my friend Mary at Barefeet in the Kitchen. You've seen a few recipes of hers around here already. Like these crazy delicious Almond Bars, and this Caprese Chicken Skillet.
Well, my talented friend put out another cookbook, called "The Weekday Lunches and Breakfasts Cookbook." (get it on Amazon!) And let me tell you guys, it's packed with wonderful ideas. I'm not a big lunch person (usually cause I filled up on breakfast pastries)…but many of her lunch ideas would make delicious, easy dinner recipes! Perfect if you lead a busy life (who doesn't??)!
Anyway, back to the coffee cake. Sour Cream. It's the key to a moist texture. So don't even think about asking if you can skip it. Remember this Sour Cream Banana Bread recipe that I have claimed is THE BEST BANANA BREAD EVER??? It's because of the sour cream. It does something wonderful to baked goods.

How to make Cinnamon Sour Cream Coffee Cake:
Preheat oven to 350 degrees F. Spray a 9-inch square baking dish with baking spray.
In a medium bowl, combine streusel ingredients and mix with a fork until thick and crumbly. This is a lot of streusel….it's a good thing 🙂
In a large mixing bowl, combine the butter and sugar for the cake layer. Mix until light and fluffy, about 3 minutes. Beat in the eggs, one at a time. Add vanilla.
Add the flour, baking powder and cinnamon to the batter. Fold in the sour cream.
Pour half the batter  into the bottom of your prepared pan. Spread with an offset spatula (it will be a thin layer, don't worry). Add about half of the cinnamon streusel layer. Spoon the remaining batter over the top and finish with the remaining streusel.
Bake in preheated over for about 40 minutes, until lightly browned. Cool completely before slicing.
Store in airtight container at room temperature. To freeze, place slices in ziploc freezer bag and freeze. Thaw at room temperature and enjoy!
Want to know how to make the best coffee cakes? Check out some of these delicious recipes: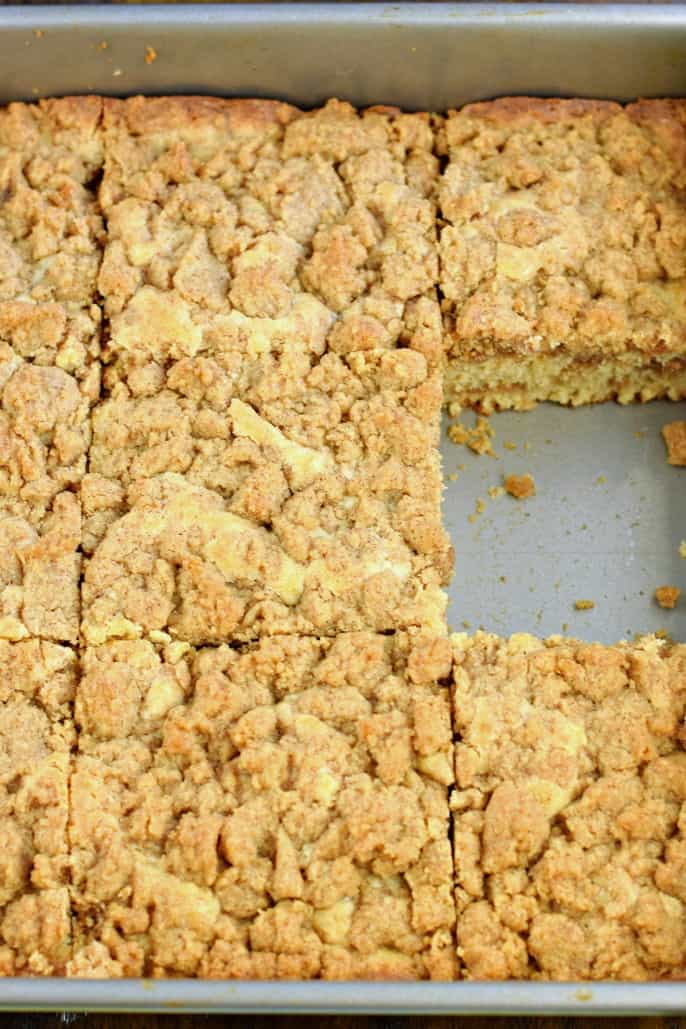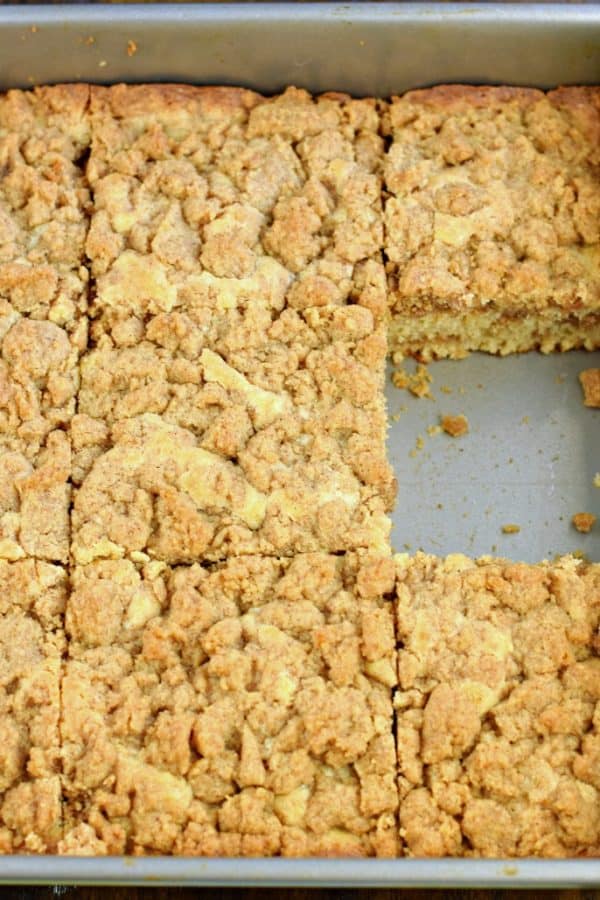 Cinnamon Sour Cream Coffee Cake recipe: