This Cinnamon Maple Coffee Cake is a delightful breakfast! Sweet, comforting and drizzled with maple glaze, coffee cake makes any morning better.
While many mornings we love a stack of buttermilk pancakes, or our easy waffle recipe, sometimes we just crave coffee cake. Our lemon coffee cake is a reader favorite!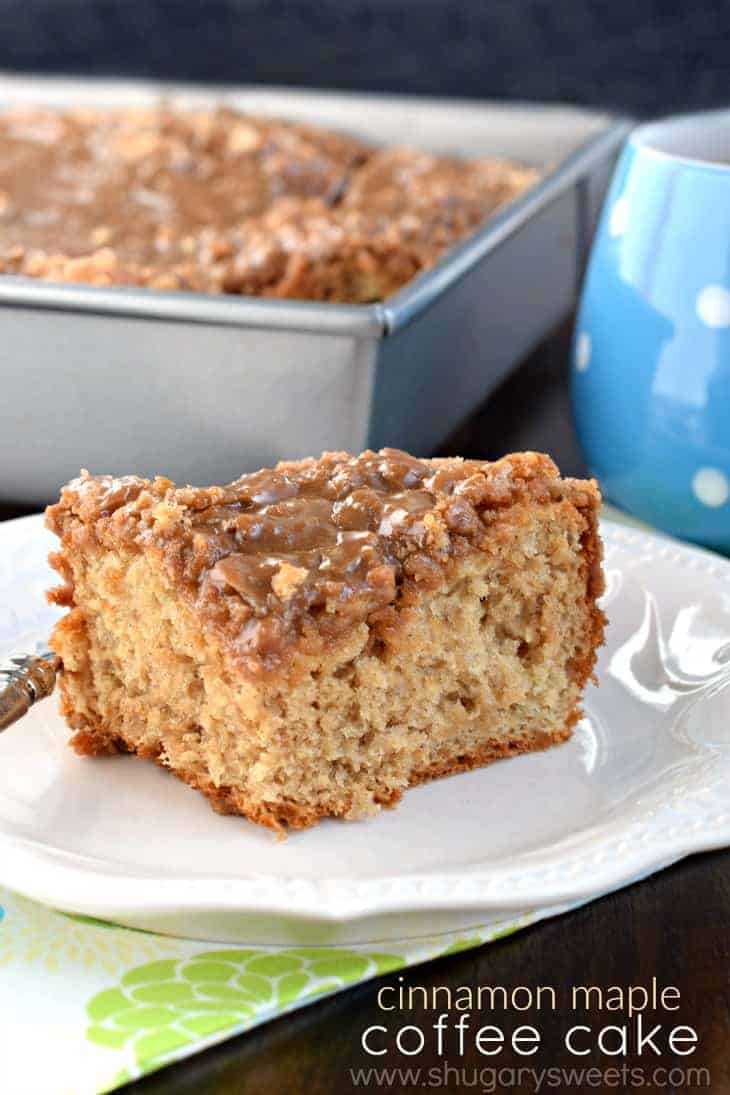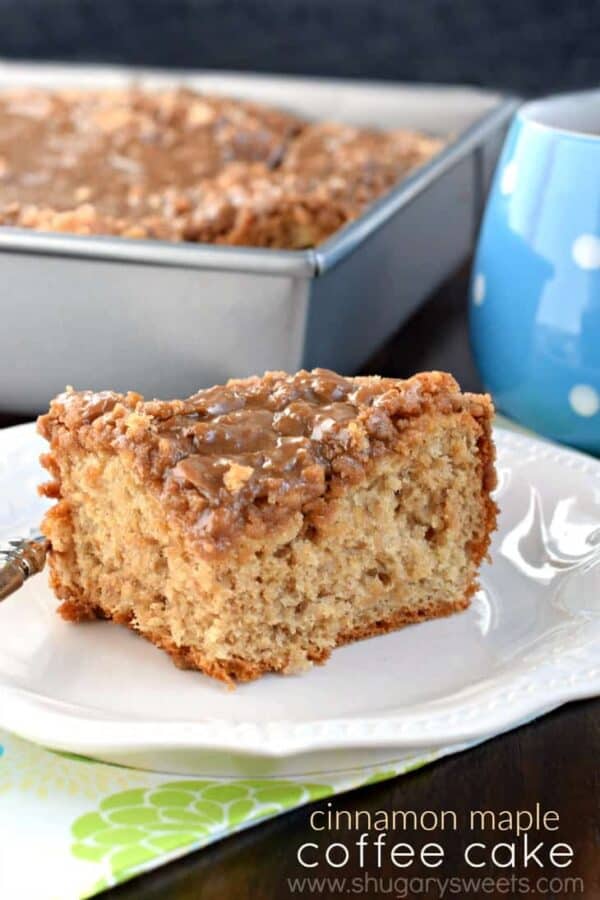 Why This Coffee Cake is Best
You may all remember a few months ago I made this Cinnamon Apple Coffee Cake?
I have to say the edge pieces were my favorite. They had a chewy texture (like a cinnamon roll), and the buttery streusel topping gave this a little extra crunch on top!
It put the idea in my head for this Cinnamon Maple Coffee Cake. Made with a yeast dough and a generous amount of streusel topping, it's like all the best parts of a cinnamon roll and coffee cake in one!
Cinnamon and maple flavors are baked right into the dough.
Leavened with yeast for a fluffy, chewy texture.
Crispy streusel topping baked on top.
Covered with a simple maple glaze for even more flavor!
Love the maple glaze? Try it on our easy pumpkin coffee cake!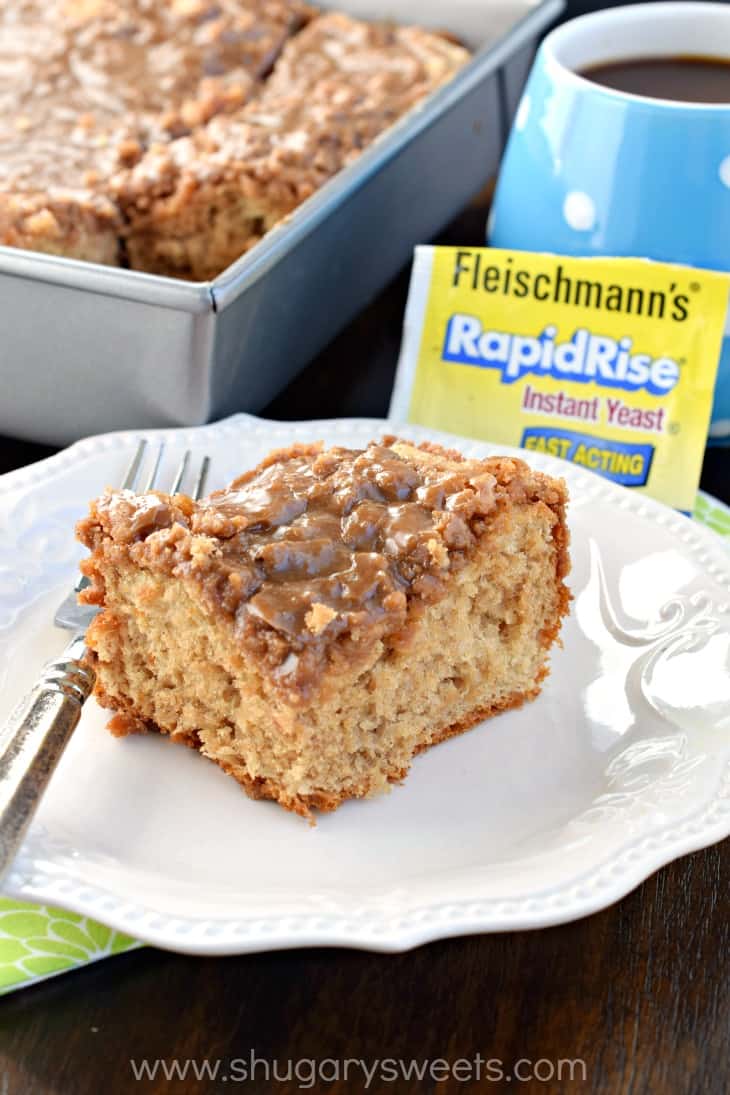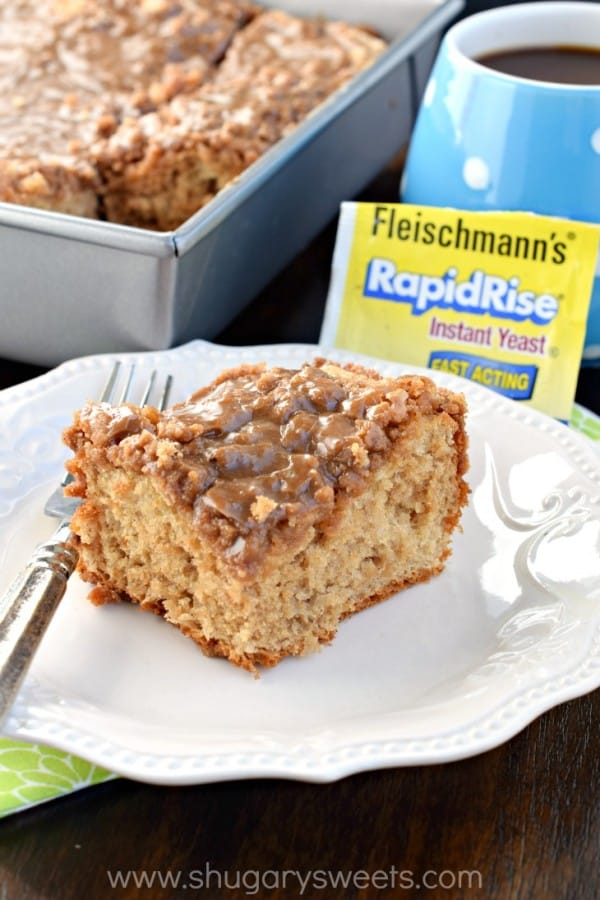 Ingredient Notes
Rapid rise yeast – Using this quick acting yeast cuts down on the time it takes for the dough to rise. No need to proof it first!
Flour- one issue people have when making a yeast dough is it being too dense. Be sure to use our tips and tricks on how to measure flour to avoid this mishap!
Sugar- this dough uses granulated sugar to sweeten it up! You'll use light brown sugar in the streusel and powdered sugar in the glaze!
Maple flavoring – The cake and glaze are both flavored with this highly concentrated extract. We love it because you only need a couple of teaspoons for a distinct maple taste and aroma.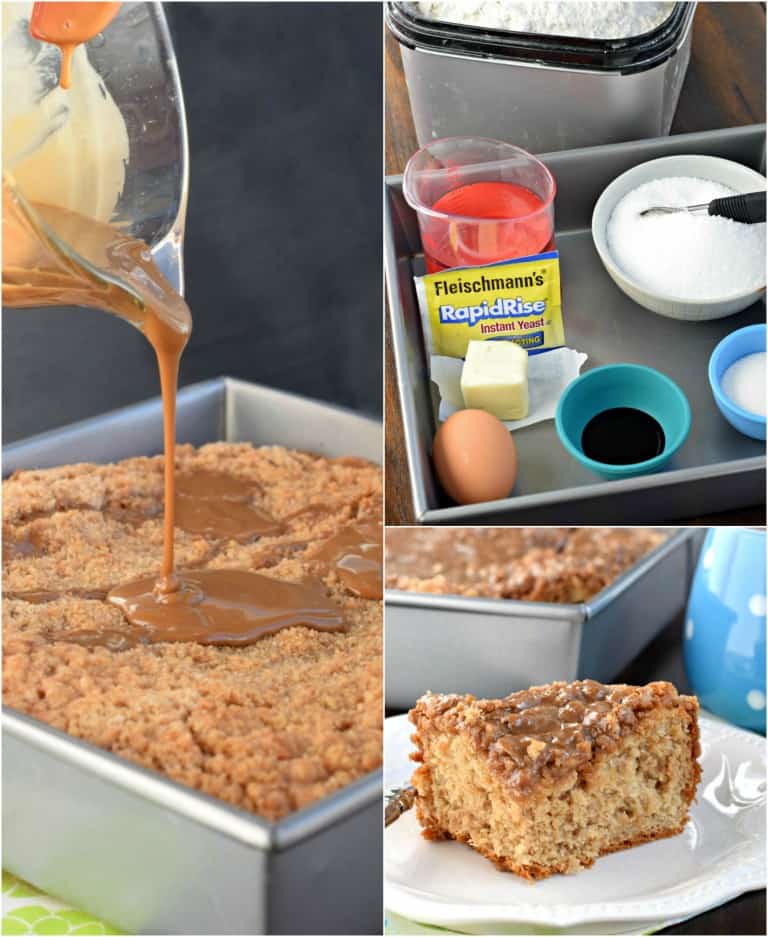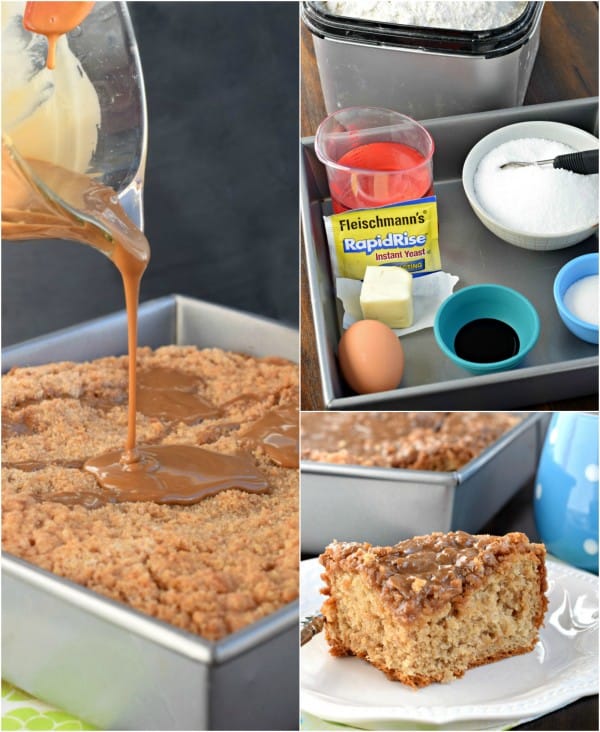 Recipe Tips and Tricks
When heating the water and butter, do NOT overheat. I use a kitchen thermometer for this. You don't want to scald the yeast (because then it won't rise).
Once you've made the "dough" and pressed it into the pan, cover this with a clean kitchen towel and allow it rise for about 45 minutes.
While the dough was rising, I whipped up the streusel topping. You can use a pastry blender to cut in the butter, but I always find using my hands works best. You want to mix until it's "crumbly" with small pieces of butter still visible.
After baking, allow the cake to cool slightly before adding the glaze.
I recommend that you store it covered at room temperature for up to 3 days. Mine started to get a little stale by day 4, but I popped a piece in the microwave for 15 seconds, and it was perfect. So there's that.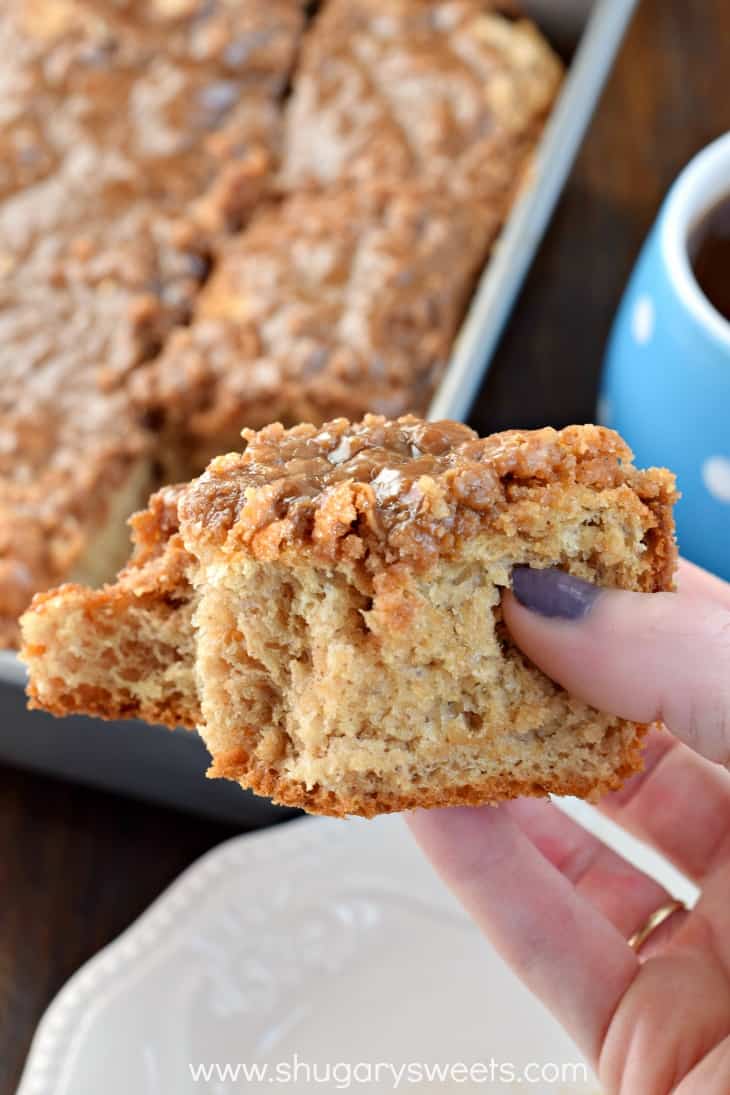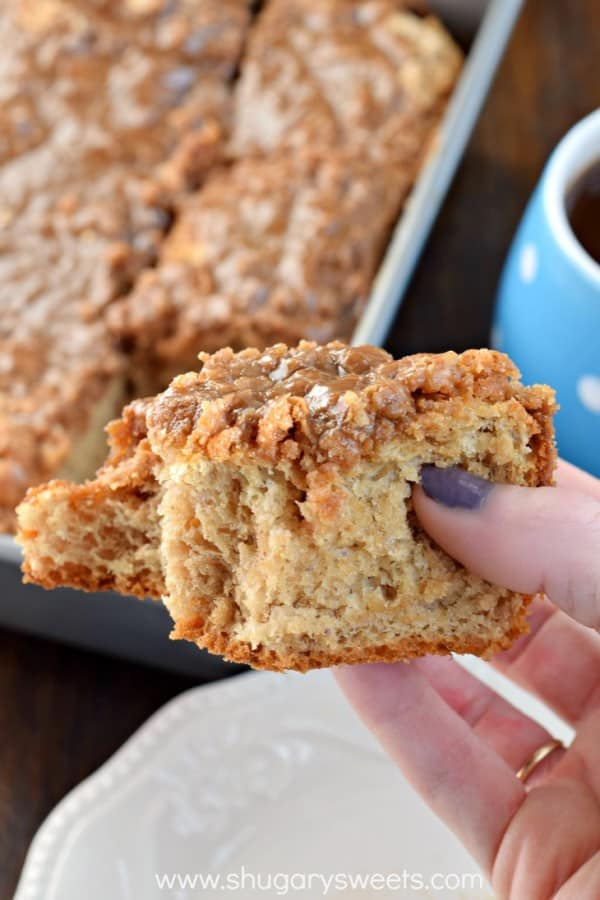 Recipe FAQs
Can I use maple syrup instead of maple flavoring?
No, maple syrup won't work. It's much less concentrated than maple extract or maple flavoring and wouldn't give your coffee cake any added flavor.
What's the difference between maple flavoring and maple extract?
Maple extract is made from actual maple sap. Most bottles labeled "maple flavoring" are artificial or imitation maple extracts. Either one can be used in this recipe!
Can I make this coffee cake recipe with active dry yeast instead?
Yes, you can use active dry yeast instead of the Rapid Rise. The dough will take longer to double in size (up to 2 hours rather than 45 minutes).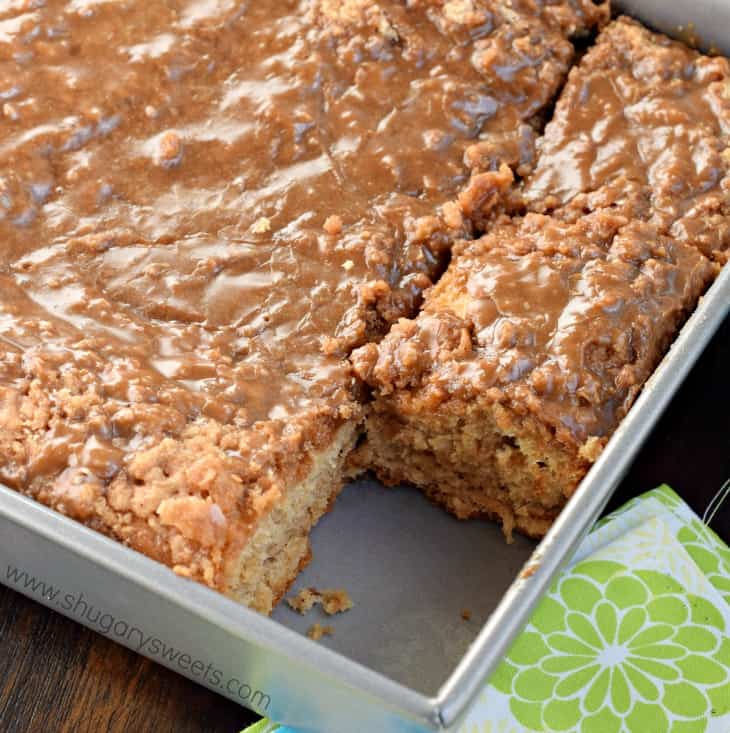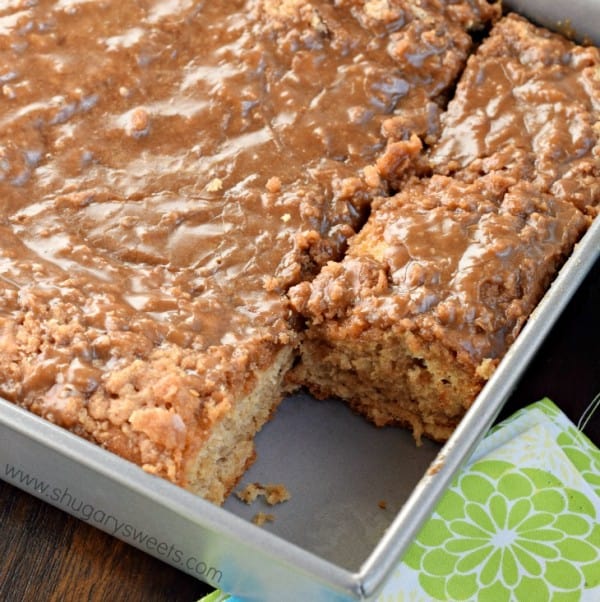 More Easy Breakfast Recipes
Your kitchen is going to smell incredible when you make your Cinnamon Maple Coffee Cake. Brew a fresh pot of coffee and enjoy a slice of sweet cinnamon paradise!