Sweet and comforting, this Cinnamon Maple Coffee Cake is a delightful breakfast!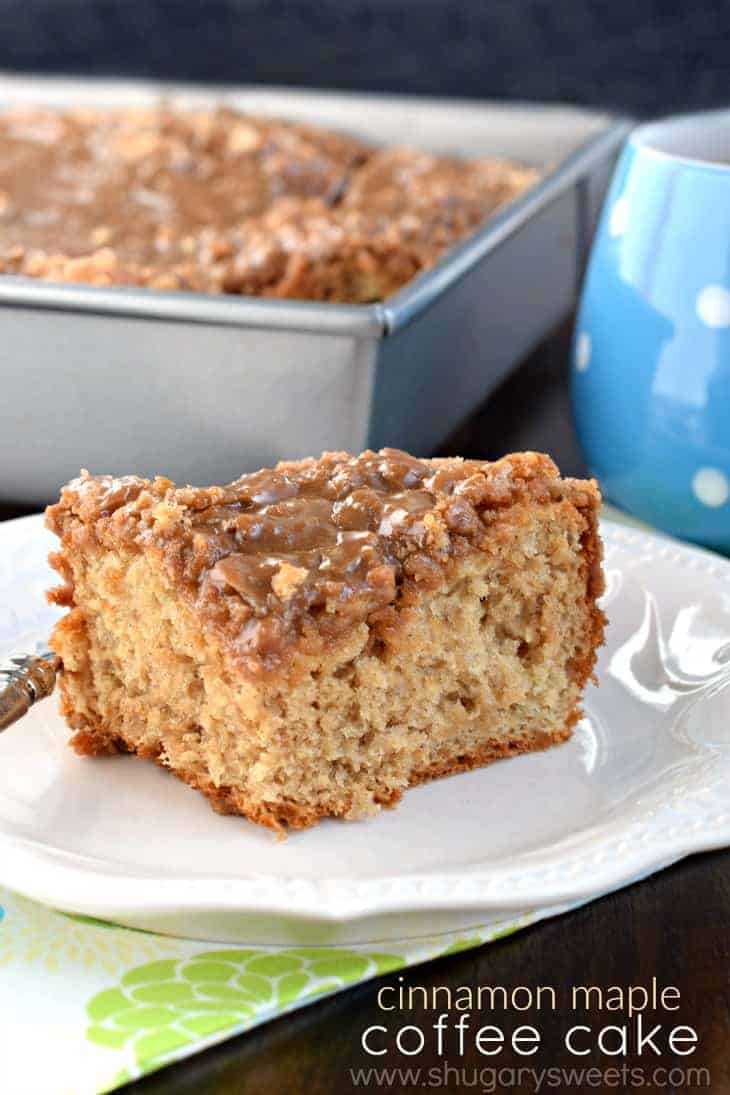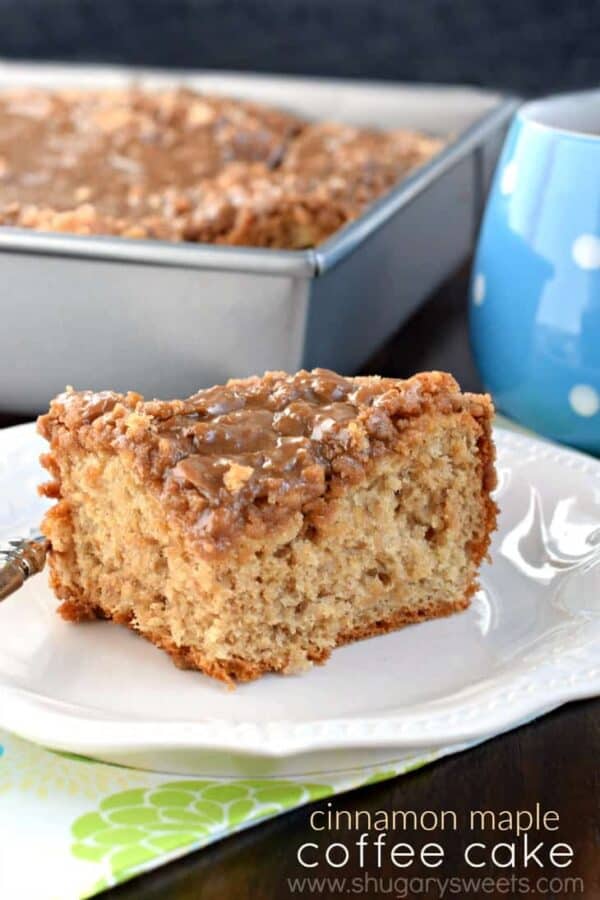 You may all remember a few months ago I made this Cinnamon Apple Coffee Cake for Fleischmann's® Yeast?
Yes? You remember? Do you also remember me telling you how EASY it is to make recipes using yeast? It's nothing to be afraid of my friends. If I can do it, so can you.
Starting the New Year and getting back to the basics is a goal I have heard several of you say back on facebook. So, it's only fitting that today's recipe is for an easy recipe you can enjoy with your family anytime and share the love of something homemade and delicious.
D
o
n
'
t
f
e
a
r
t
h
e
y
e
a
st
,
y
ou've got this!!
By the end you'll have a delicious breakfast cake to enjoy with a cup of your favorite hot beverage (of course mine would be coffee, duh).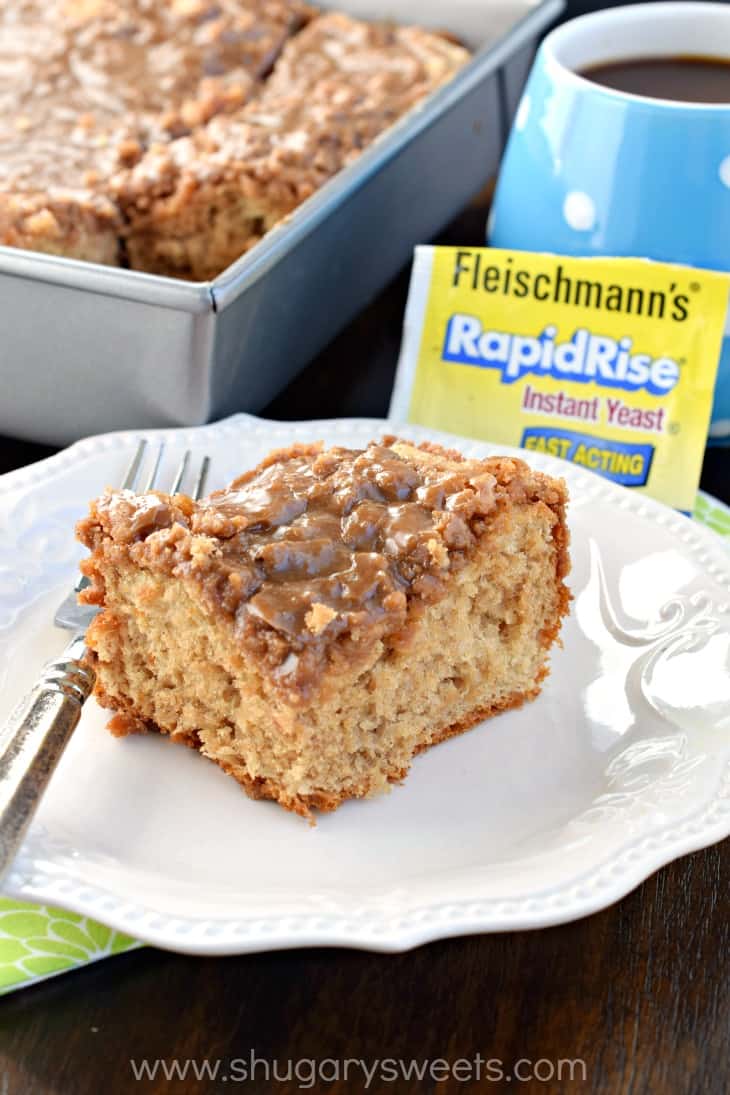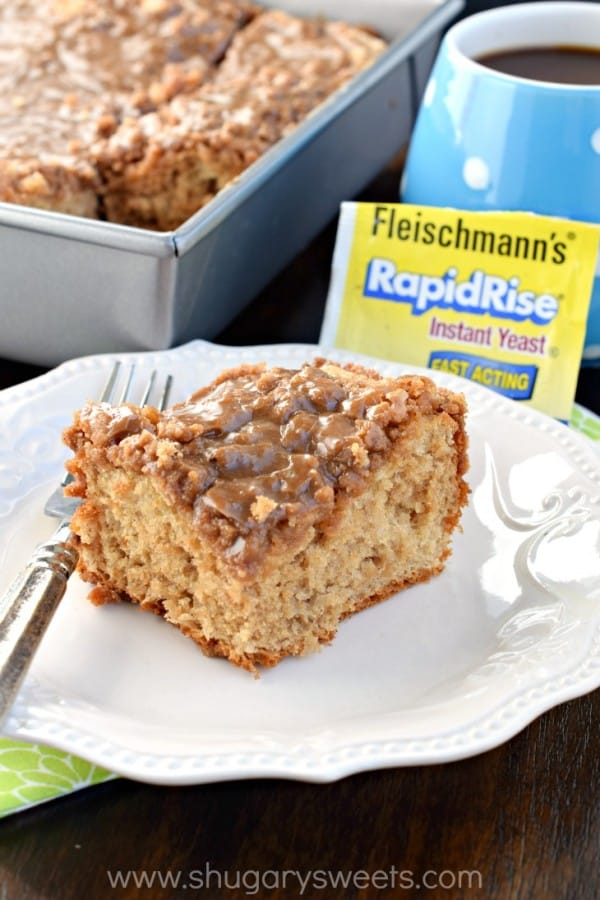 Today's recipe is adapted slightly from this Beginner's Cinnamon Streusel Coffee Cake recipe. With a few of my own variations and the delicious addition of MAPLE, I think we have something here that you and your family will really enjoy.
Last week I asked on instagram (do you follow me??) if you love MAPLE. I'm so glad so many of you said yes. One of my favorite donuts is a Maple Glaze, so I knew adding this flavor to the coffee cake would be delicious. I also added some maple into the dough mixture, as well as some extra cinnamon and nutmeg! It turned out fantastic you guys.
Y
o
u
'
l
l
w
a
n
t
t
o
d
o
u
b
l
e
t
h
e
b
a
t
c
h
t
o
b
a
ke
a
l
i
t
t
l
e
e
x
t
r
a
a
n
d
p
a
ss
o
n
a
l
l
t
h
e
m
a
p
l
e
d
e
l
i
ci
o
u
sn
e
ss
a
n
d
m
a
k
e
so
m
e
o
n
e
'
s
d
a
y
.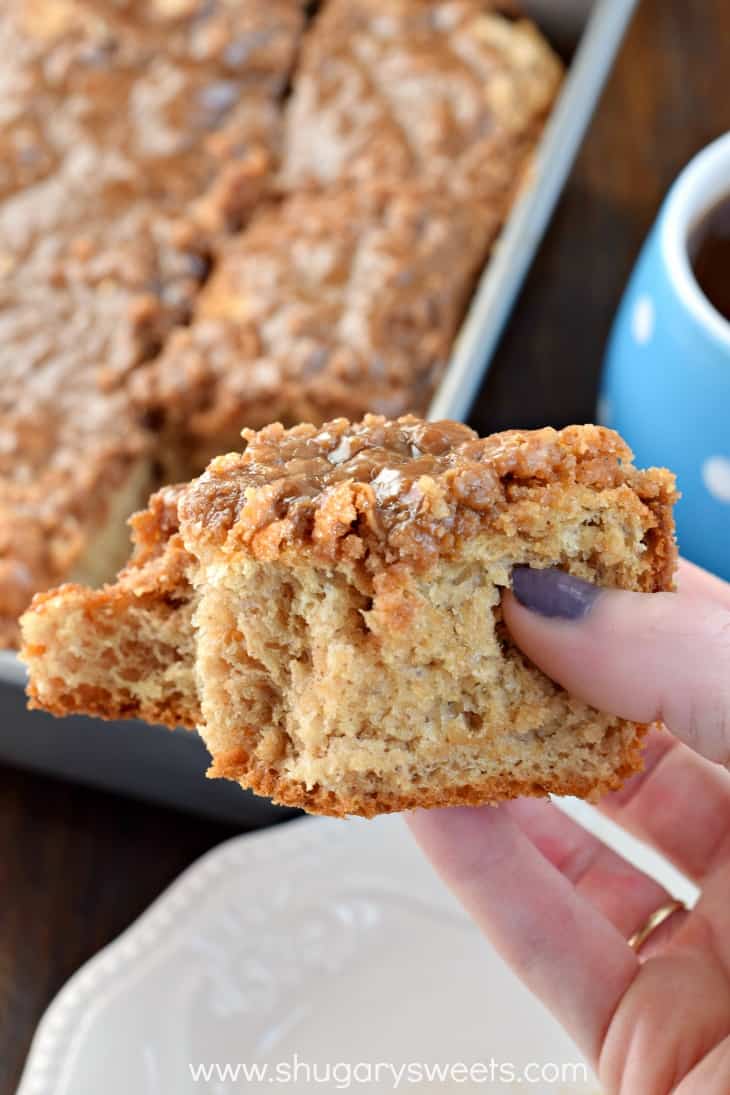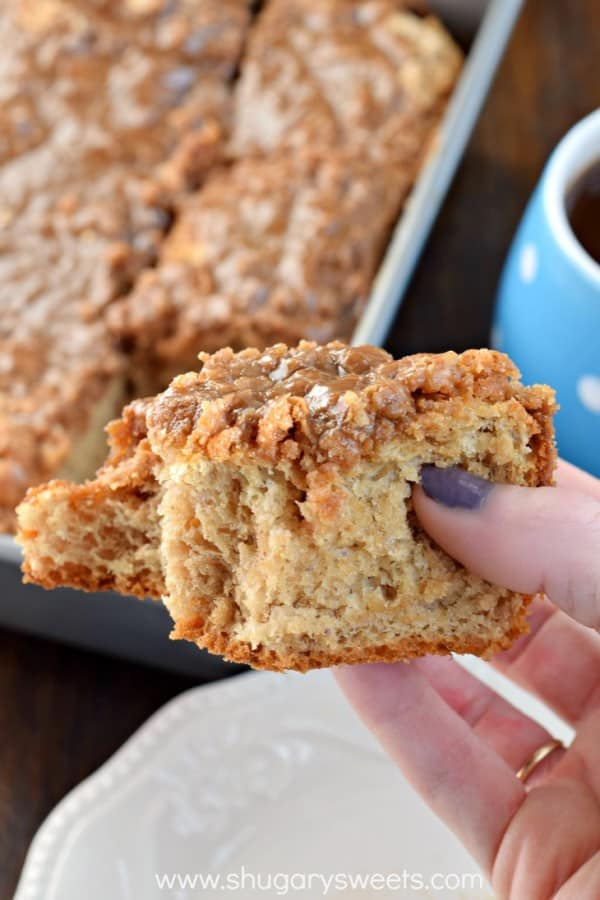 I have to say the edge pieces were my favorite. They had a chewy texture (like a cinnamon roll), and the buttery streusel topping gave this a little extra crunch on top! Two thumbs up from this girl.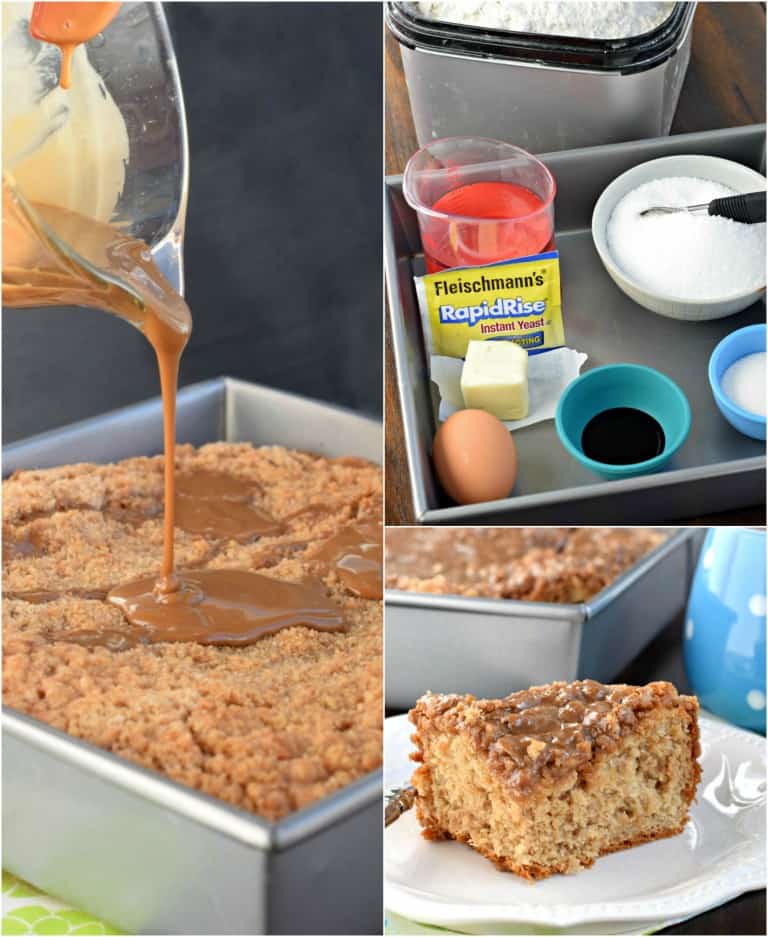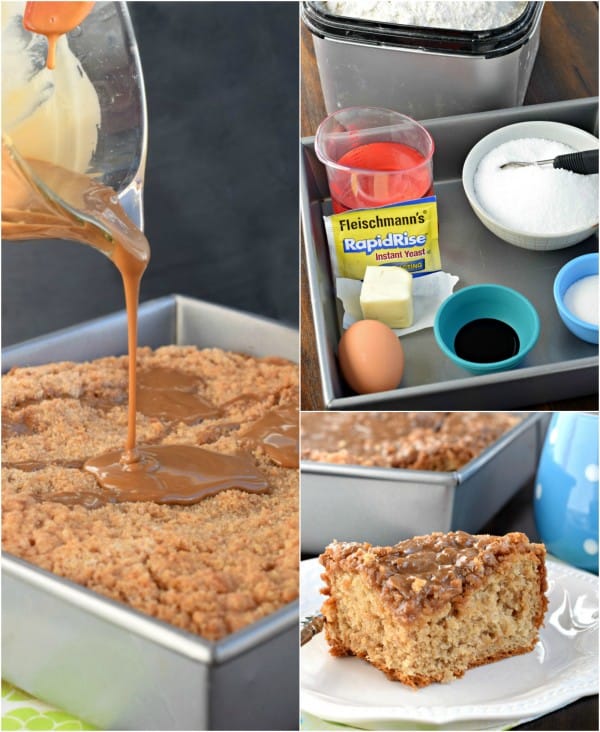 A few notes about this recipe:
When heating the water and butter, do NOT overheat. I use a kitchen thermometer for this (you can find these at most Target/Walmart/etc). You don't want to scald the yeast (because then it won't rise).
Once you've made the "dough" and pressed it into the pan, cover this with a clean kitchen towel and allow it rise for about 45 minutes. My house is very cold right now, so I stuck mine inside my microwave (not turned on, of course). It's nice and warm in there…I wish I could have crawled in myself!
While the dough was rising, I whipped up the streusel topping. You can use a pastry blender to cut in the butter, but I always find using my hands works best. You want to mix until it's "crumbly" with small pieces of butter still visible.
After baking, allow the cake to cool slightly before adding the glaze.
I recommend that you store it covered at room temperature for up to 3 days. Mine started to get a little stale by day 4, but I popped a piece in the microwave for 15 seconds, and it was perfect. So there's that.
And there you have it, a delicious breakfast cake that's easy enough for beginner bakers! You're going to love this one and your family will too! Bake it now or bookmark it for later to serve your family a delicious breakfast this weekend! Surprise your neighbor or family member with an extra batch.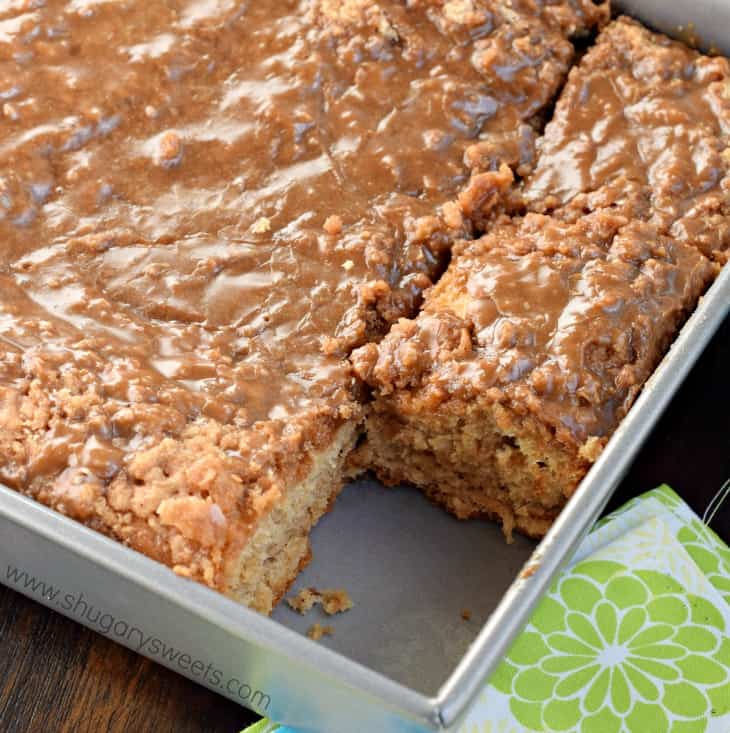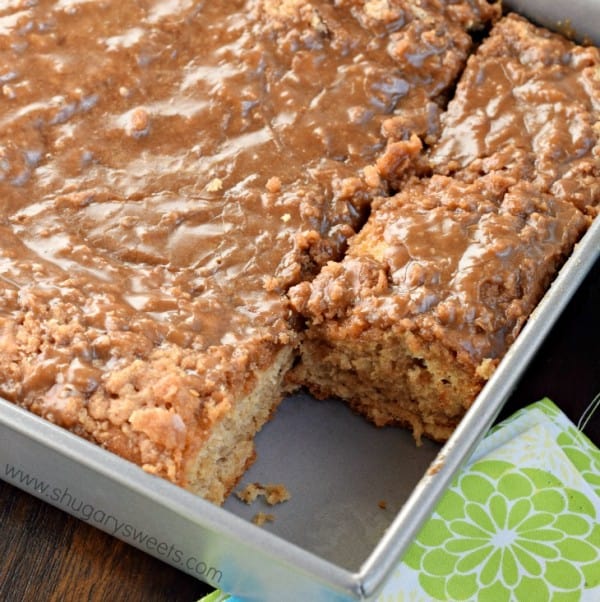 Connect with Fleischmann's® Yeast:
website | facebook | pinterest


**I am working with with Fleischmann's® Yeast as a Bake a Little Extra Blog Ambassador. While I have been compensated for this recipe post, all opinions about the product are 100% my own!**