Cinnamon Rolls need no introduction. These are ooey-gooey fluffy rolls of cinnamon sugar heaven–the very BEST and easiest homemade cinnamon rolls you'll ever make.
For a fun twist, give this cinnamon roll cake a try, perfect for breakfast or dessert! And these pumpkin cinnamon rolls are a delicious fall favorite.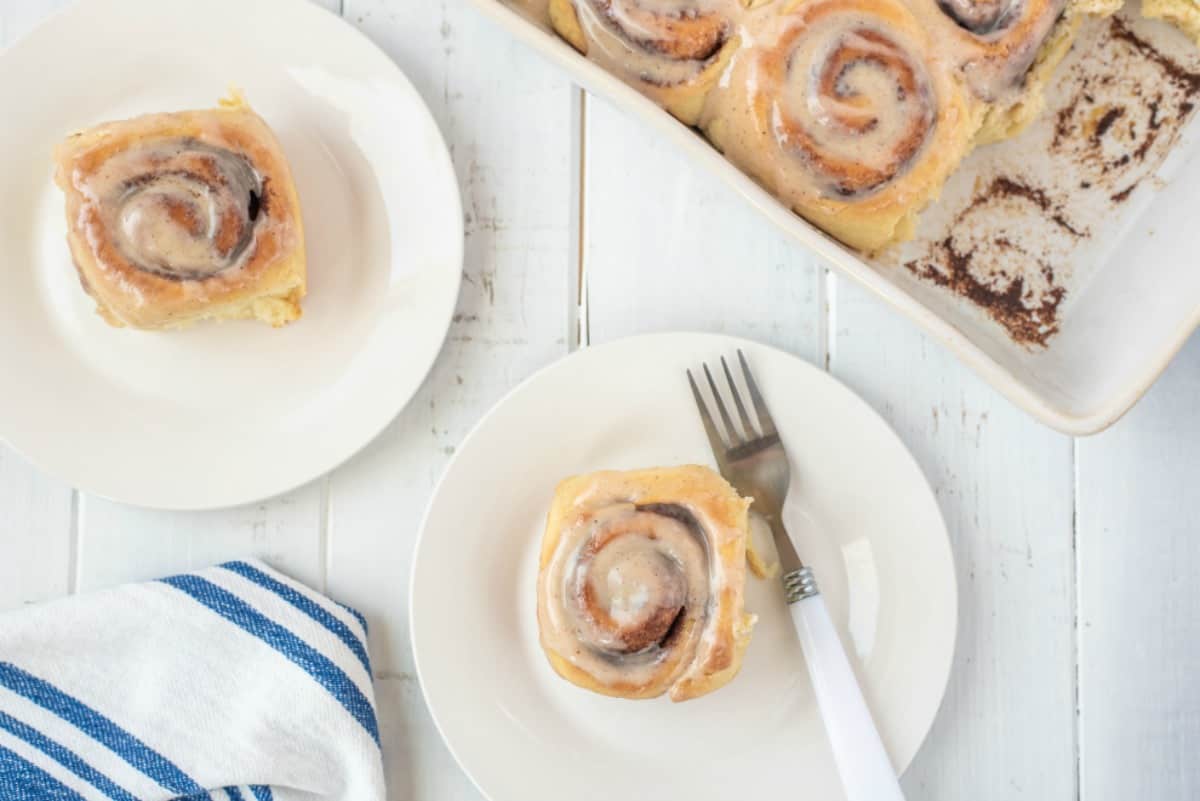 The Best Cinnamon Roll Recipe
One of life's greatest joys is biting into a hot cinnamon roll fresh from the oven. The doughy buttery layers swirled with cinnamon filling, the sweet icing and the intoxicating aroma filling the kitchen is probably the closest we can get to experiencing heaven on earth.
When it comes to breakfast recipes, I'm a sucker for sweet pastries, pancakes, waffles, and coffee cake.
But I also like cinnamon rolls. Just a little bit. Y'all remember this Cinnamon Roll Cake?
I've tried lots of cinnamon roll recipes over the years. From old family recipes to several of the hundreds (thousands?) circulating the Internet, I've given them all a shot on my quest to make the best ever cinnamon rolls.
I can say with confidence this is my very favorite homemade cinnamon roll recipe!
If you've been popping open cans to make cinnamon rolls at home, welcome to the first day of the rest of your cinnamon roll life.
Sure, refrigerated dough is convenient. There are times when, for whatever reason, we all must settle for canned rolls to get our cinnamon roll fix. It happens.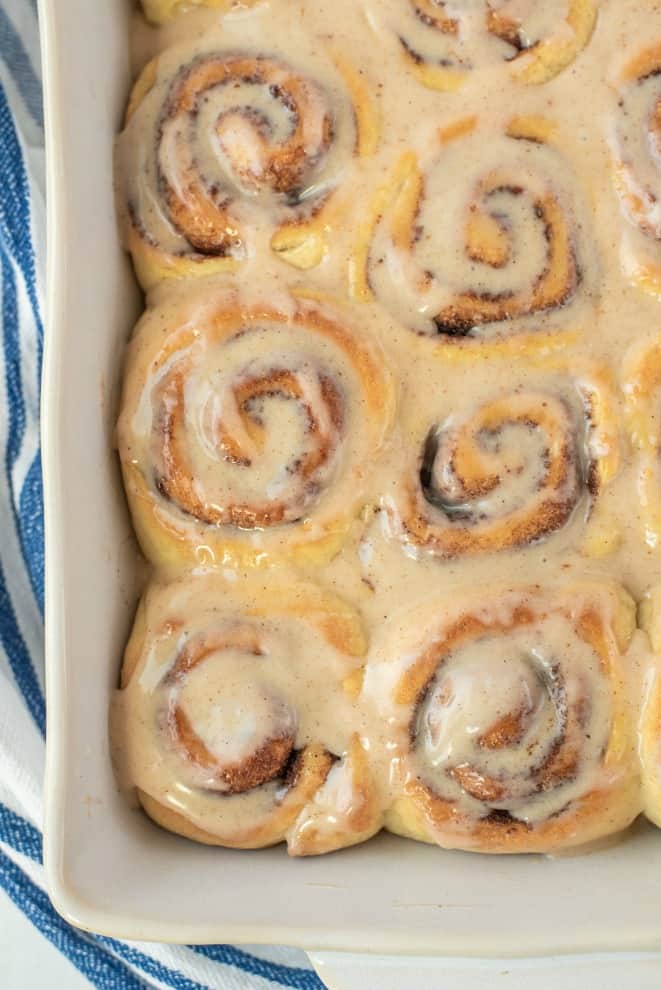 But here's the honest-to-goodness truth: You simply cannot beat the taste of homemade cinnamon rolls made from scratch.
It takes just a bit more effort and and the results are undeniable. Sticky, sweet, ooey-gooey, irresistibly cinnamon-y rolls are worth the extra time and energy. You can even prep the dough in advance and be ready to bake a fresh pan of earth shatteringly good homemade cinnamon rolls first thing the the morning.
And of course, no cinnamon roll is complete without frosting. I love this cream cheese frosting on my rolls!
It has just a bit of extra cinnamon in it, along with nutmeg, to make these sweet rolls extra tempting.
Delicious homemade cinnamon rolls start by making a yeast dough that you let rise until doubled in size. We use this same recipe to make our delicious Apple Cinnamon Rolls too! Or give our blueberry sweet rolls a try next.
Ingredient Notes
For this recipe, you need active dry yeast. I buy mine in packets to make measuring easy (one batch of cinnamon rolls = one packet).
Along with the active dry yeast, here's what else you need to make the dough for cinnamon rolls:
Recipe and ingredients at a glance; scroll down for the full recipe with amounts!
Flour
Milk
Sugar
Egg
Salt
Warm Water
Butter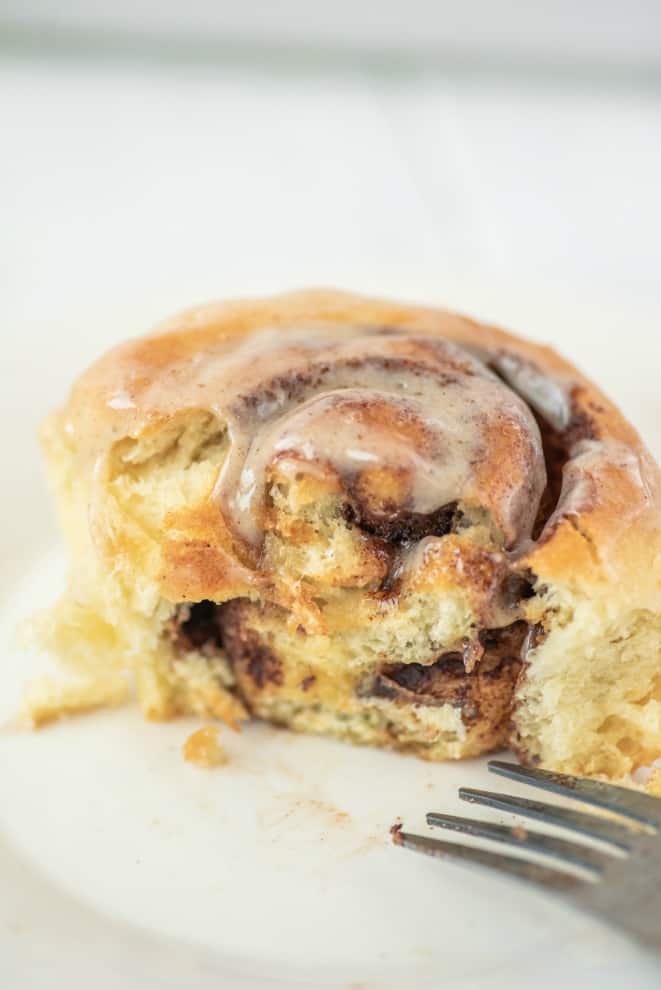 To make the dough:
STEP 1. Heat the milk and butter
In a saucepan, heat milk until just starting to bubble. Remove from heat and add in butter. Stir occasionally until butter is completely melted. Let cool until lukewarm.
STEP 2. Proof the yeast
In another bowl, dissolve yeast in warm water with one teaspoon sugar. The yeast will begin to bubble up and become slightly frothy looking, this will take several minutes.
STEP 3. Combine, mix, knead!
In a large bowl, mix together 2 ¼ cups of the flour, sugar, and kosher salt.
When milk mixture has cooled enough, add yeast mixture to saucepan and stir to combine. Pour liquid into dry ingredients along with the egg and mix well.
Stir in remaining flour, ½ cup at a time, until dough pulls together, and away from sides of bowl. Knead on a well-floured surface for about 5 minutes.
Place in oiled bowl and cover with a towel or plastic wrap. Let rest for 30 – 45 minutes minutes.
STEP 4. Roll out the dough
Turn dough onto well-floured surface and sprinkle with more flour on top then roll into a rectangle.
Now it's time to make that wonderful cinnamon sugar filling!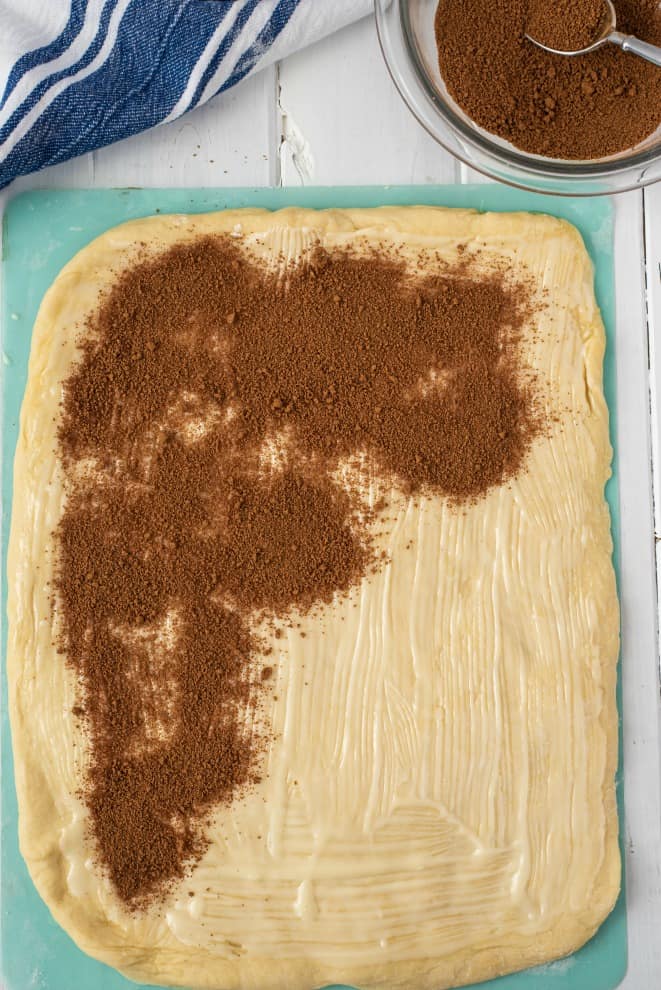 To make the cinnamon roll filling:
Combine cinnamon and brown sugar in a small bowl.
Spread melted butter over the surface of the rectangle of dough. Sprinkle the cinnamon sugar mixture on top then roll up the dough into a cylinder and pinch the ends to form a seam.
Baking cinnamon rolls:
Use a very sharp serrated knife or a string of dental floss to cut the dough into 12 even portions. Place the cinnamon rolls on a greased baking dish, cover with a towel and let them rise until doubled in size.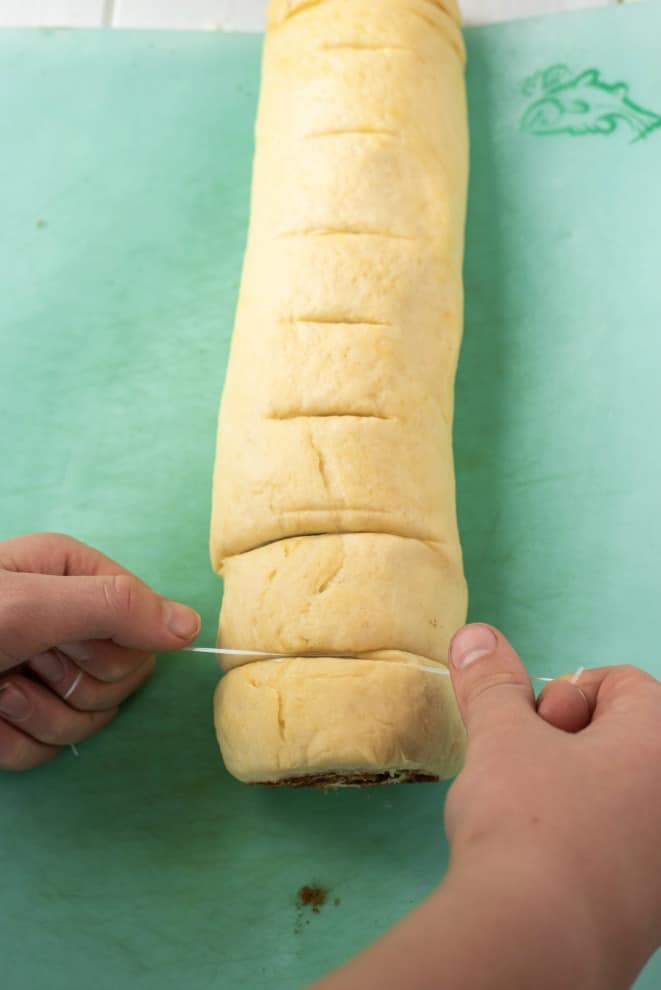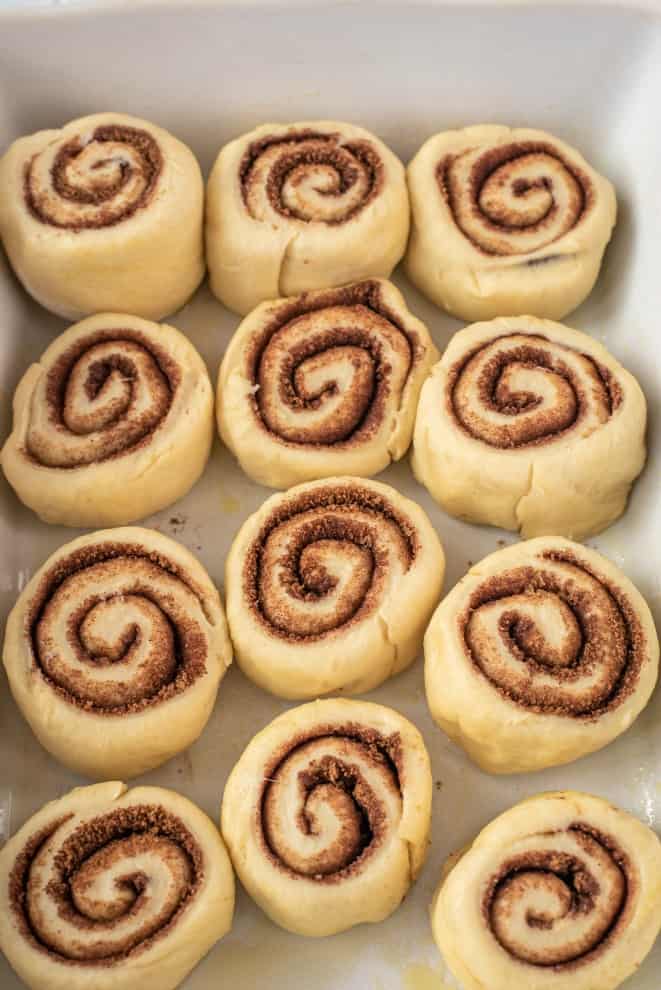 For me, this takes about 45 minutes.
PRO TIP: Before baking, drizzle cinnamon rolls with about 1/2 cup of heavy whipping cream. This creates an even more MOIST Cinnabon style roll.
Bake your cinnamon rolls until golden brown (20 to 25 minutes). While they're baking–and filling your kitchen with the delicious smell–get your frosting ready.
To make the cream cheese frosting:
You need. . .
Butter
Cream Cheese
Vanilla
Powdered Sugar
Milk
Cinnamon
Nutmeg
Mix butter and cream cheese with electric mixer until smooth. Add powdered sugar and mix on low speed until combined. Mix in the milk, vanilla, and spices and beat on medium speed for one minute.
Spread frosting over the rolls when still hot from the oven! Serve warm and enjoy cinnamon roll bliss.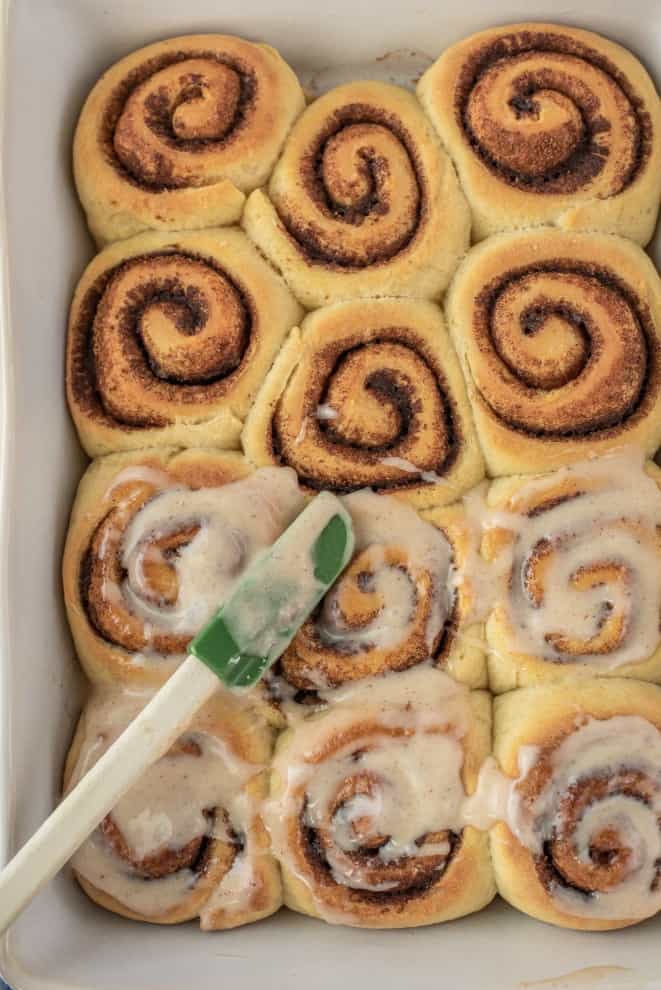 Make Ahead Cinnamon Rolls
If you want to treat your family to freshly baked cinnamon rolls first thing in the morning, I recommend preparing the dough the night before!
After dividing the dough into rolls, place them on your baking sheet, cover with plastic wrap and set them in the fridge overnight. About an hour before baking, remove them from the fridge and let them rise again.
These keep well covered with plastic wrap for about 3 days after baking. Once they cool, I like to heat mine in the microwave for a few seconds to get that warm-from-the-oven taste every time.
More Cinnamon Recipes
Are you craving these sweet, delicious, perfect cinnamon filled rolls yet? Go ahead and make them right now–your family will thank you!