If you're looking for a delicious dessert, give this Cinnamon Roll Cheesecake Cake a try! Layers of homemade cinnamon cake and cinnamon cheesecake topped with a sweet, cinnamon frosting!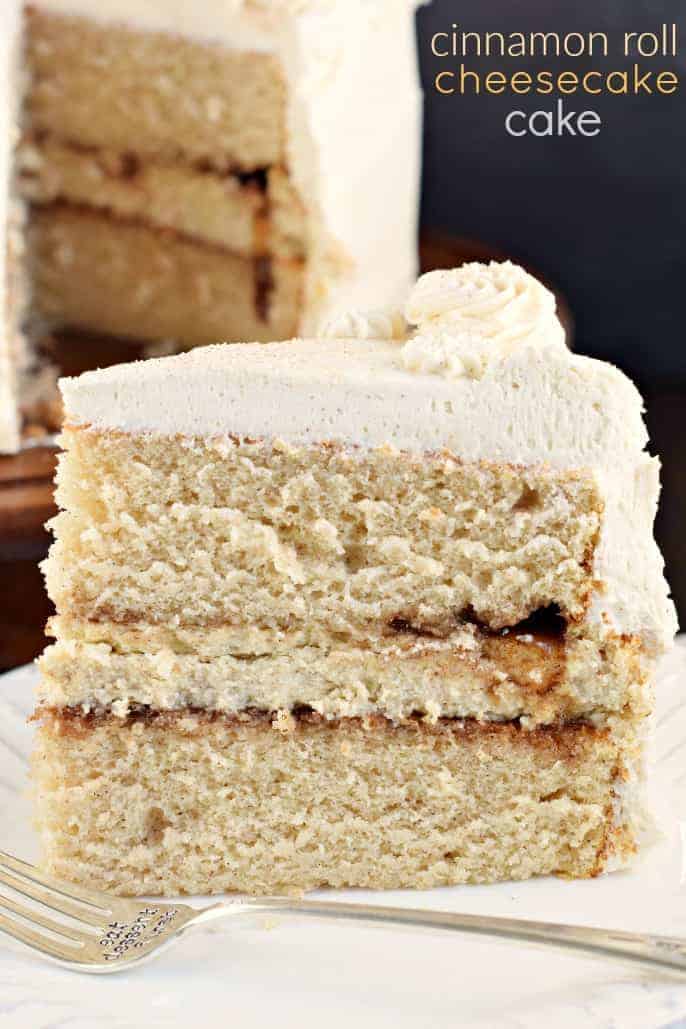 I have a serious weakness for cake. And I can't say for sure, but it's definitely the frosting that draws me in and keeps me eating 😉
But seriously, when my friend Lindsay asked me to bake a recipe from her new cookbook, Simply Beautiful Homemade Cakes, I was like "heck ya I will." You guys, every single recipe in this cookbook looks amazing. And I know this because there are photos for every single recipe too. DROOL.
Know what else I love about this cookbook? The pages of tips and tricks for measuring, preparing your pans, cake storage, etc. ALL of which have plenty of photos!
And let's not forget the last chapter which is how to take your cake from average to beautiful. I really should have paid attention to that chapter, because I completely fail when it comes to decorating a cake. I don't know if it's just my excuse for laziness, but I am the worst. Lindsay has gorgeous step by step photos for even the worst, like me, haha!!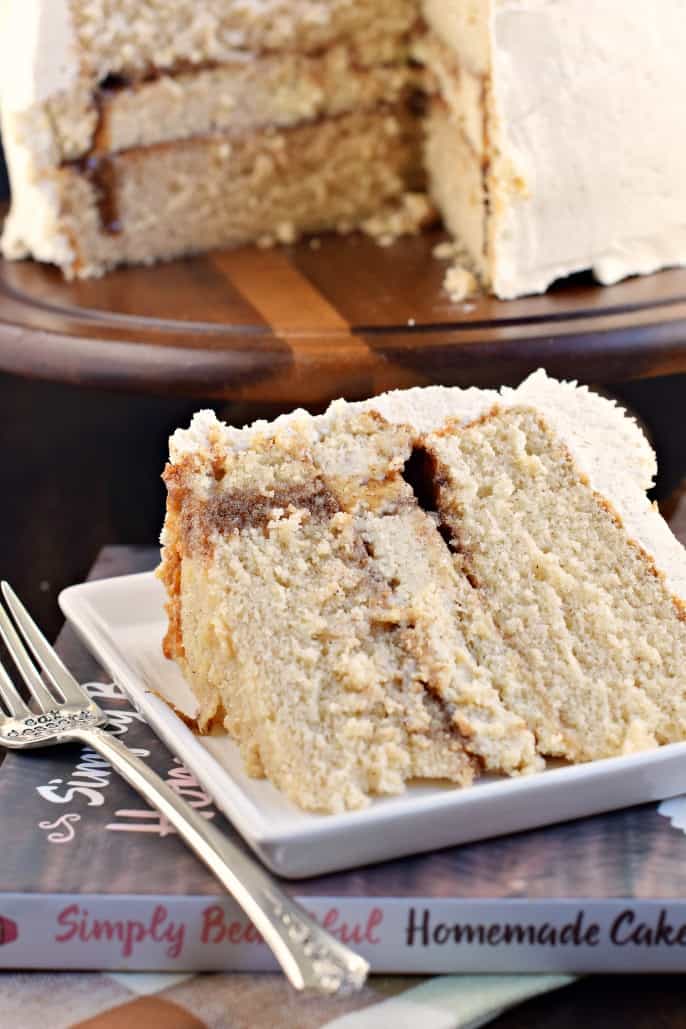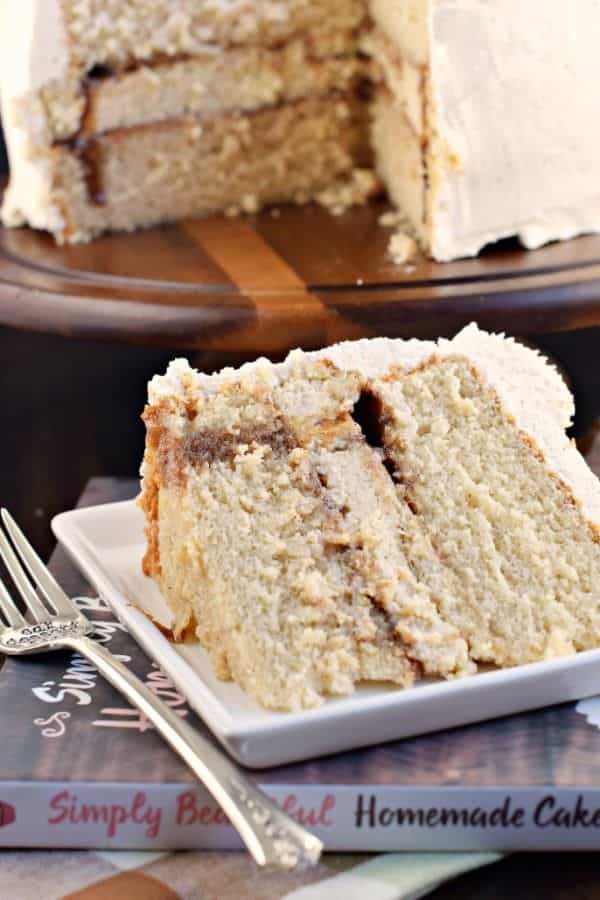 In looking at all of Lindsay's gorgeous recipes, I decided to go with the Cinnamon Roll Layer Cake. But I added my own twist. You see, I don't own (3) 8-inch cake pans. And I didn't realize I needed 3 until the day I decided to bake this cake (does anyone else skim directions to a recipe and THINK they are prepared only to find out they are not?).
Well, I improvised here and used my (2) 9-inch cake pans. And I prayed that the cake would turn out (which it did, with a little timing change)! I also baked up a sweet, cinnamon cheesecake to put in the center, making this a Cinnamon Roll Cheesecake Cake.
Why? Because I FREAKING LOVE CHEESECAKE CAKES. It's the ultimate cake. The cake that keeps on giving. Unlike a turducken, this one is delicious (although maybe a turducken is tasty? not sure).
Red Velvet Cheesecake Cake, Pumpkin Cheesecake cake, and Carrot Cake Cheesecake Cake are among my most popular recipes!
But back to the cake. I still resulted in a stunning triple layer cake, and I even used her delicious cinnamon glaze (DO NOT SKIP THIS STEP).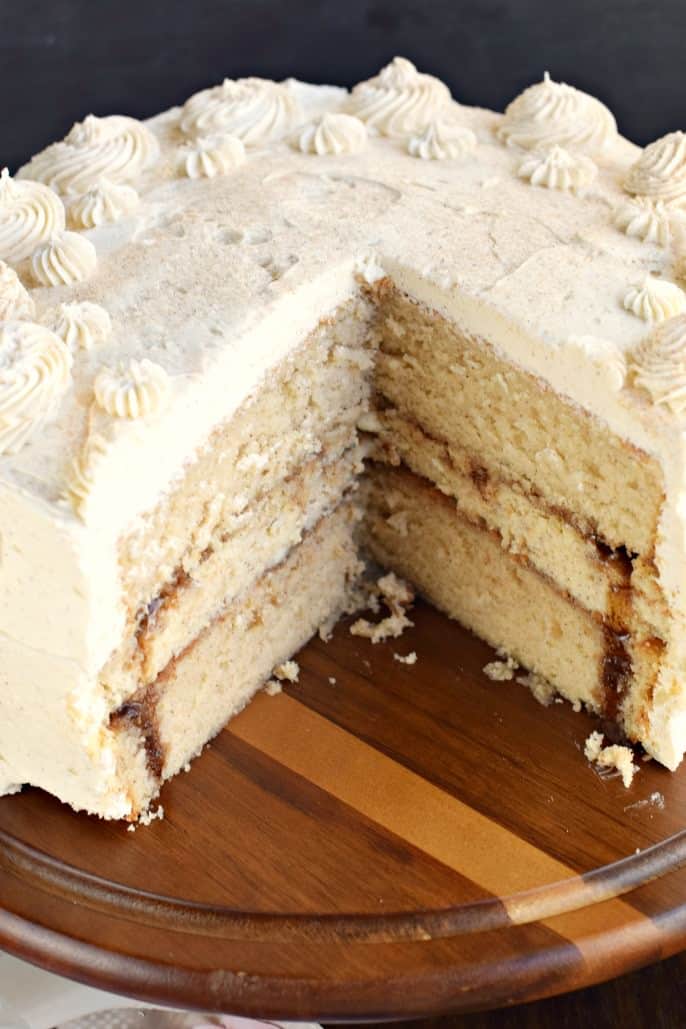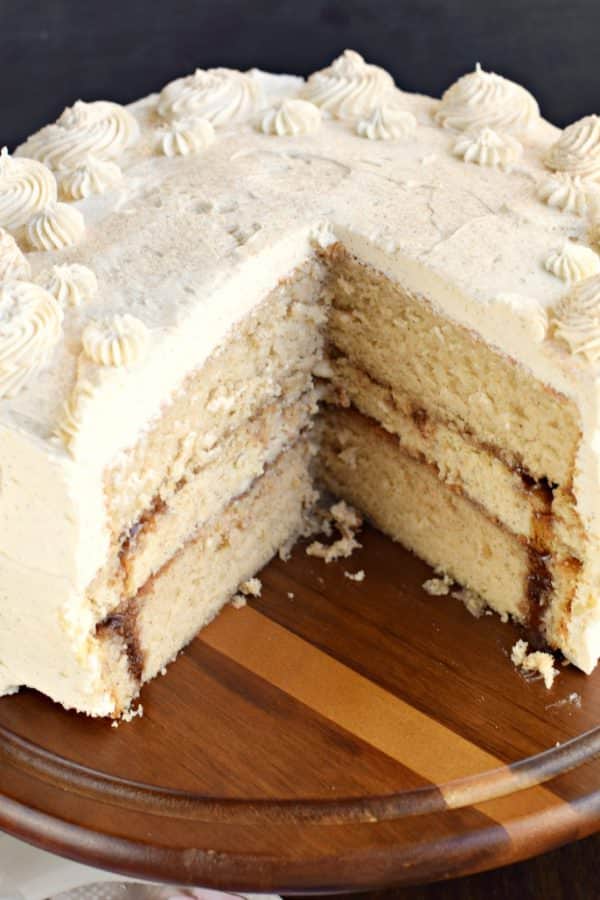 How about a few tips and tricks in making this cake:
READ the directions before starting. Don't skim them like me. Read them. And double check your ingredients, as well as the time it takes to bake and assemble this beautiful dessert.
Bake the cheesecake layer first. You can even bake the cheesecake layer a day in advance and refrigerate it until you're ready to use. You want the cheesecake layer to be chilled before assembling and eating anyway, so it just makes sense to start on that one early! I always use a water bath for my cheesecake, it's not as hard as it sounds, and it really does help keep your cheesecake from cracking (and keeps it moist)! Just make sure to follow my directions and wrap your springform pan bottom (on the outside) with foil. You don't want water creeping into your cheesecake. Gross.
I always line the bottom of my cake pans with parchment paper. Trace your cake pan on the parchment, cut out the circle and place it in the bottom of the pan. Grease it with baking spray too…it's like the extra step to make certain that your cakes will release!
I also use these Wilton bake even strips. I swear by them. I don't like to level and slice a cake, mainly because I don't like waste. But also because I'm horrible at making it even, it's like grade school bangs…you keep trimming and trimming to make it even till eventually you're like "WHAT HAPPENED HERE." Get the bake even strips. Trust me.
Lindsay's frosting recipe calls for a combination of butter and shortening. Which I'm sure is delicious, but in my failure to read a recipe, I realized I didn't have any shortening on hand. So I used an all-butter version of her frosting. And it's okay, because I needed less frosting since I wasn't putting any between my layers. We have cheesecake in there. I'm not a savage, I don't NEED frosting between layers of cake and cheesecake (although I'm sure it would be amazing).
Don't forget the cinnamon glaze layer. I poured half on my bottom layer of cake, and the remaining half on top of the cheesecake. That way it looked like the glaze was in the center only. DELISH.
Finally, add a few swirls of frosting on top of the cake with any tip on hand…or follow the gorgeous photos in Lindsay's cookbook! I know you can do it.
Finally for real….ENJOY. And share. This is a LOT of cake. And I'm a pretty good judge of servings…this one feeds a crowd! Perfect for the upcoming holidays, a special birthday, or a really hungry group of athletes!
If you have a cake lover in your family, this would make a great holiday gift. Pair it with a beautiful cake stand or cake server and WHAM, you're done. And hopefully it's the gift that keeps on giving, meaning your family will BAKE you a cake to share! You can purchase Simply Beautiful Homemade Cakes on Amazon!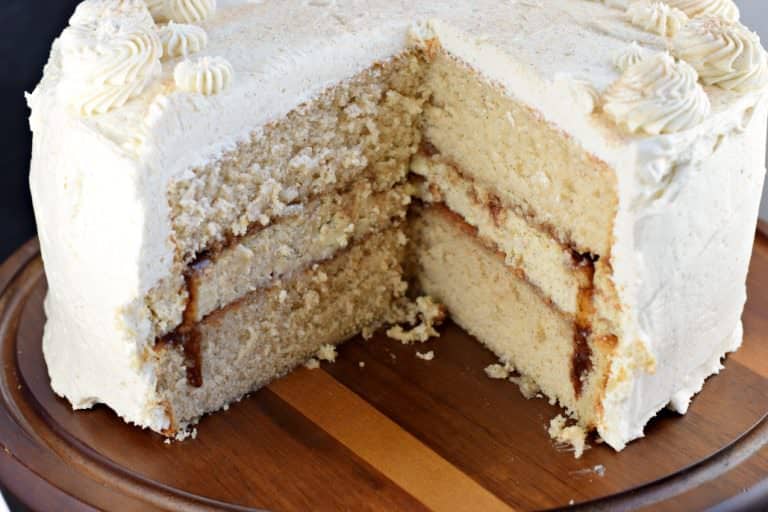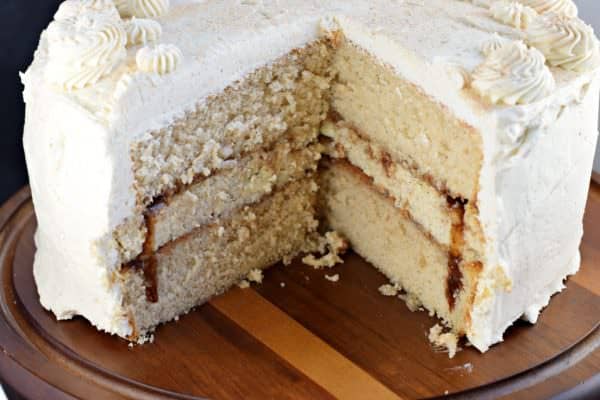 More Cake Recipes:

**This post may contain affiliate links which won't change your price but will share some commission. See my disclosure policy for more info**