If you're looking for a delicious dessert, give this Cinnamon Roll Cheesecake Cake a try! Layers of homemade cinnamon cake and cinnamon cheesecake topped with a sweet, cinnamon frosting!
Our easy cinnamon cake is delicious on it's own too! Or give this delicious, easy cinnamon cupcake recipe a try next.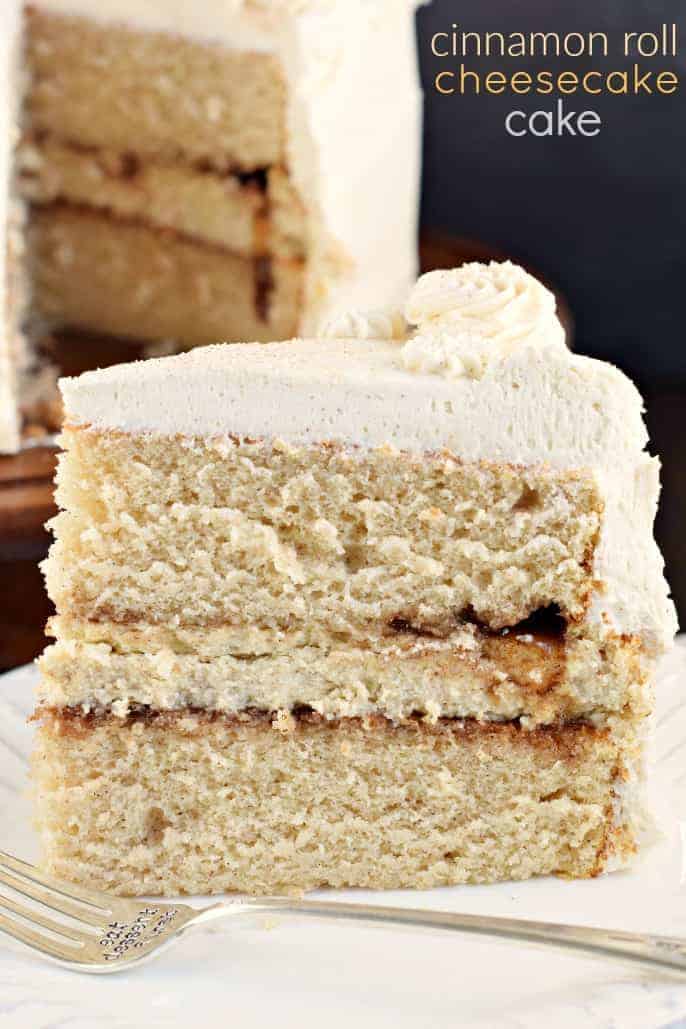 Why You'll Love It
When my friend Lindsay asked me to bake a recipe from her new cookbook,  Simply Beautiful Homemade Cakes, I was like "heck ya I will." You guys, every single recipe in this cookbook looks amazing. And I know this because there are photos for every single recipe too. DROOL.
In looking at all of Lindsay's gorgeous recipes, I decided to go with the Cinnamon Roll Layer Cake. But I added my own twist. You see, I don't own (3) 8-inch cake pans. And I didn't realize I needed 3 until the day I decided to bake this cake (does anyone else skim directions to a recipe and THINK they are prepared only to find out they are not?). So I decided to add a cheesecake as my third layer.
There's a lot to like about this recipe, but foremost I was excited to combine three of my personal favorite desserts: cheesecake, cinnamon rolls, and cake.
Here's a few reasons why I think you'll love it too.
If you're looking to impress, the three layer presentation is gorgeous. Even if you're not a good cake "decorator," this cake is class without a lot of effort.
The sweet cinnamon frosting is perfectly light, sweet and not too much to handle.
It's easy to store. If you don't want to eat the full cake in a single sitting (you might), freeze it and pull out a piece whenever you need cake.
Once you've made this dish a time or two, it can also be fun to dream up your own variations. One of my readers customized theirs by substituting the sweet frosting with Italian meringue. I'd love to hear what you can dream up too!
Red Velvet Cheesecake Cake, Pumpkin Cheesecake cake, and Carrot Cake Cheesecake Cake are among my most popular recipes!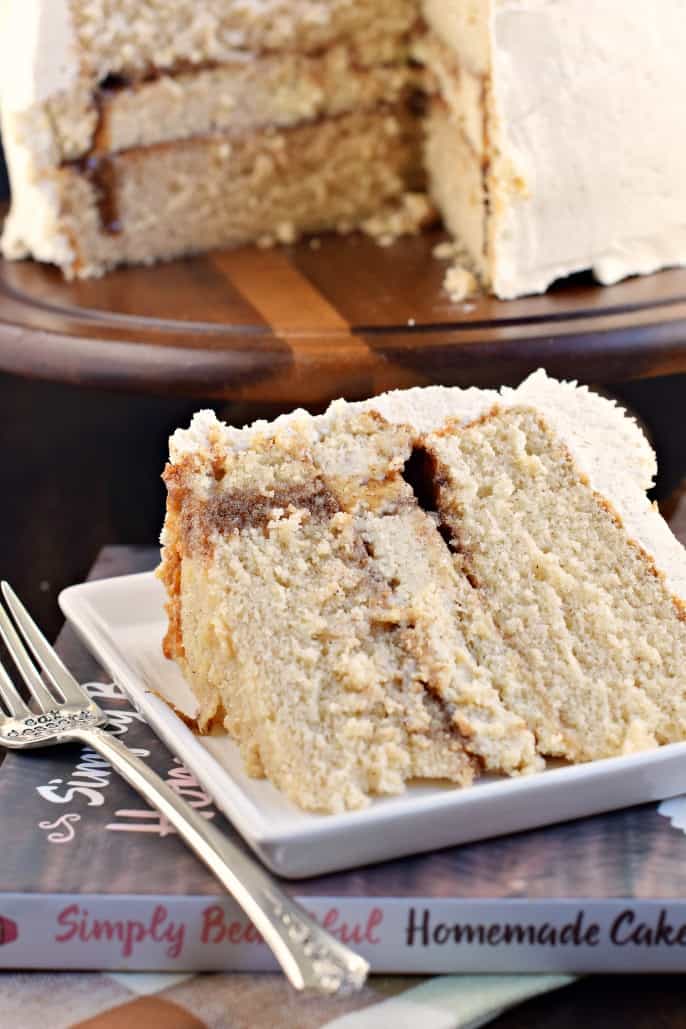 Ingredient Notes
Cinnamon – Adds sweet, spicy flavor to the whole cake. 
Cream cheese – Essential for the creamy cheesecake layer.
Sour cream – Adds tangy richness to the cheesecake and cake layers.
Unsalted butter 
Powdered sugar – Gives structure and sweetness to the frosting.
Light brown sugar – Adds a hint of caramel flavor to the glaze. 
Granulated sugar 
Kosher salt – Balances out the sweet flavors and enhances the flavors.
Eggs – Add richness and lightness to the cheesecake.
Egg whites – Helps to lighten the cake's texture. 
Heavy whipping cream – Thins out the cheesecake batter without affecting its richness. 
Milk
All-purpose flour– Use our guide on how to measure flour so that you don't end up with a dense cake.
Baking powder – Helps the cake rise, so it's light and fluffy. 
PRO TIP- We love making our own homemade vanilla extract, but if using store bought, be sure it's pure extract, not imitation (for best flavor).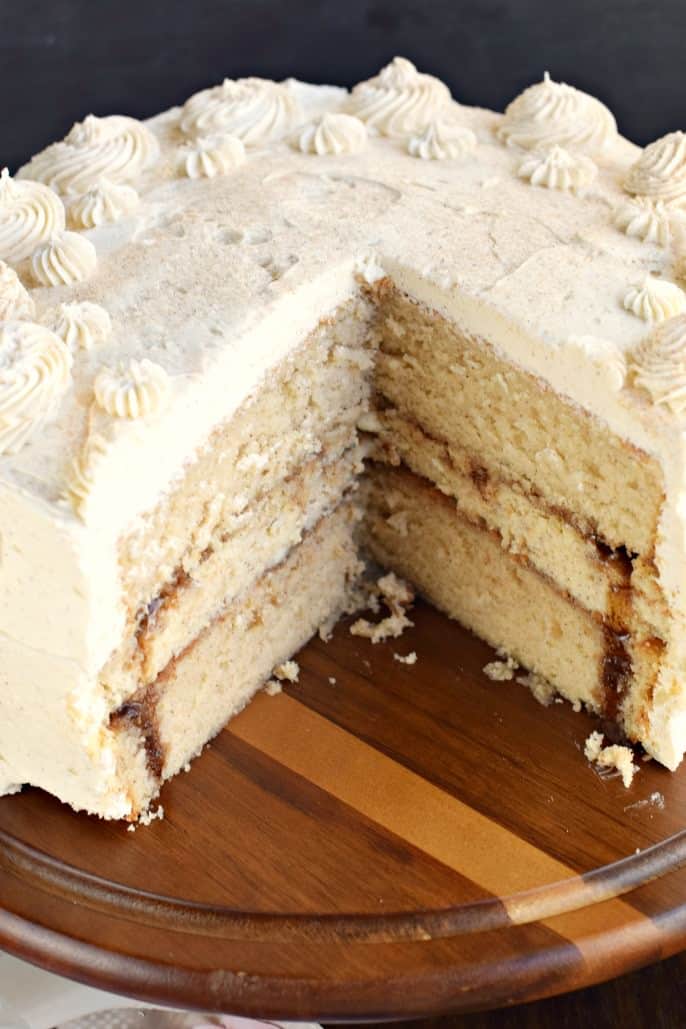 Easy Instructions
The great news is that there is very little hands-on time required for this recipe, but it doesn't happen all at once. Fortunately, the time planning isn't complex and I've added my simple suggestions in the overview below,
Make the cheesecake. Mix all of the ingredients until they're fluffy, about 3 minutes, and then bake it for 45 minutes in a springform pan. I'd suggest completing this step the night before so the cheesecake has ample time to cool and form.
Bake the cake layers. This is a great morning activity, if you'll be assembling in the afternoon. Cream the butter. Incorporate wet and dry ingredients to make batter. Then bake it in equally portioned cake pans for 35 minutes. Cool completely on a wire rack.
Prep frosting and glaze. You'll need 10 minutes, two small mixing bowls, and a little bit of elbow grease to whisk the glaze and fluff the frosting.
Assemble it! Start with one layer of cake on a cake stand. Layer on glaze, cheesecake, more glaze, and the final layer of cake. Now frost it!
If you're feeling fancy, you can also use a piping bag to create decorative swirls atop the cake.
Tips & Tricks
The main key to success with this recipe is time planning, and the great news is that it's not complicated. Make this cake over two days! 
Don't rush assembly. A little extra time and attention to detail will go a long way toward supreme presentation for your cake.
While you can prepare the bread cake layers the day before, they may lose some moisture over night. If you do take this approach, wrap each layer in saran wrap after it's cooled to help retain moisture.
To loosen the cheesecake from the pan without breaking it, run a paring knife or small offset spatula around the inside rim of the pan.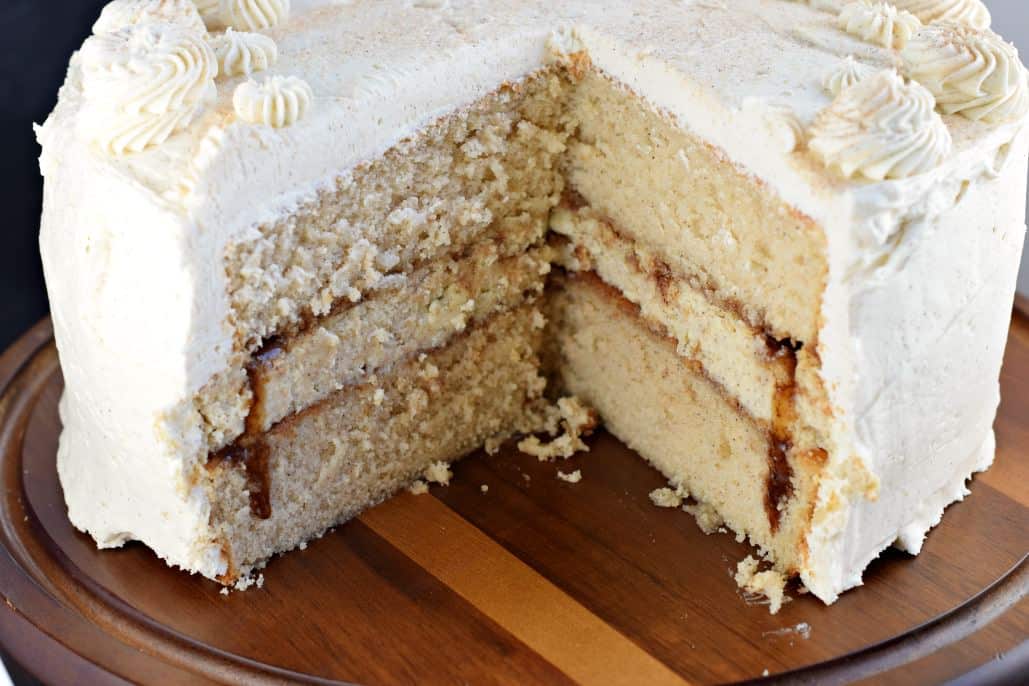 Serving Suggestions
If you're looking for a full dessert experience, try serving slices of this Cinnamon Roll Cheesecake Cake with a spiced coffee drink. My copycat Pumpkin Cream Cold Brew and Apple Crisp Macchiato are sweet, spicy, and full of fall flavors.
Or try pairing it with my Brown Sugar Latte, topped with whipped cream and a caramel drizzle for peak enjoyment.
Recipe FAQs
What should I do with leftover egg yolks from this recipe?
You can use your leftover egg yolks from this cake in a recipe like lemon curd.
How do I know when the cheesecake is fully baked?
When the cheesecake is done, the center should be set. If you give the pan a little shake, there shouldn't be more than a slight jiggle in the center. Leaving the pan in the oven for 30 minutes after turning the heat off ensures its doneness.
How do I make sure my cakes are done?
To test your cake's doneness, the top should spring back when you press lightly on the cake. Or test it by poking the center with a toothpick. If it comes out dry, the cake is done.
Is it necessary to refrigerate the cheesecake?
It's important to refrigerate the baked cheesecake for at least 4 hours. This allows it to set up properly. We prefer to make it the night before serving.
More Cake Recipes