Pumpkin Cheesecake Cake: two layers of delicious pumpkin cake with a creamy cheesecake center. Frosted with cream cheese frosting! You'll love this holiday dessert.
If you love our pumpkin bundt cake (with cheesecake swirl), today's recipe takes that to a new level. Our delicious cheesecake is stuffed between two thick layers of moist pumpkin cake!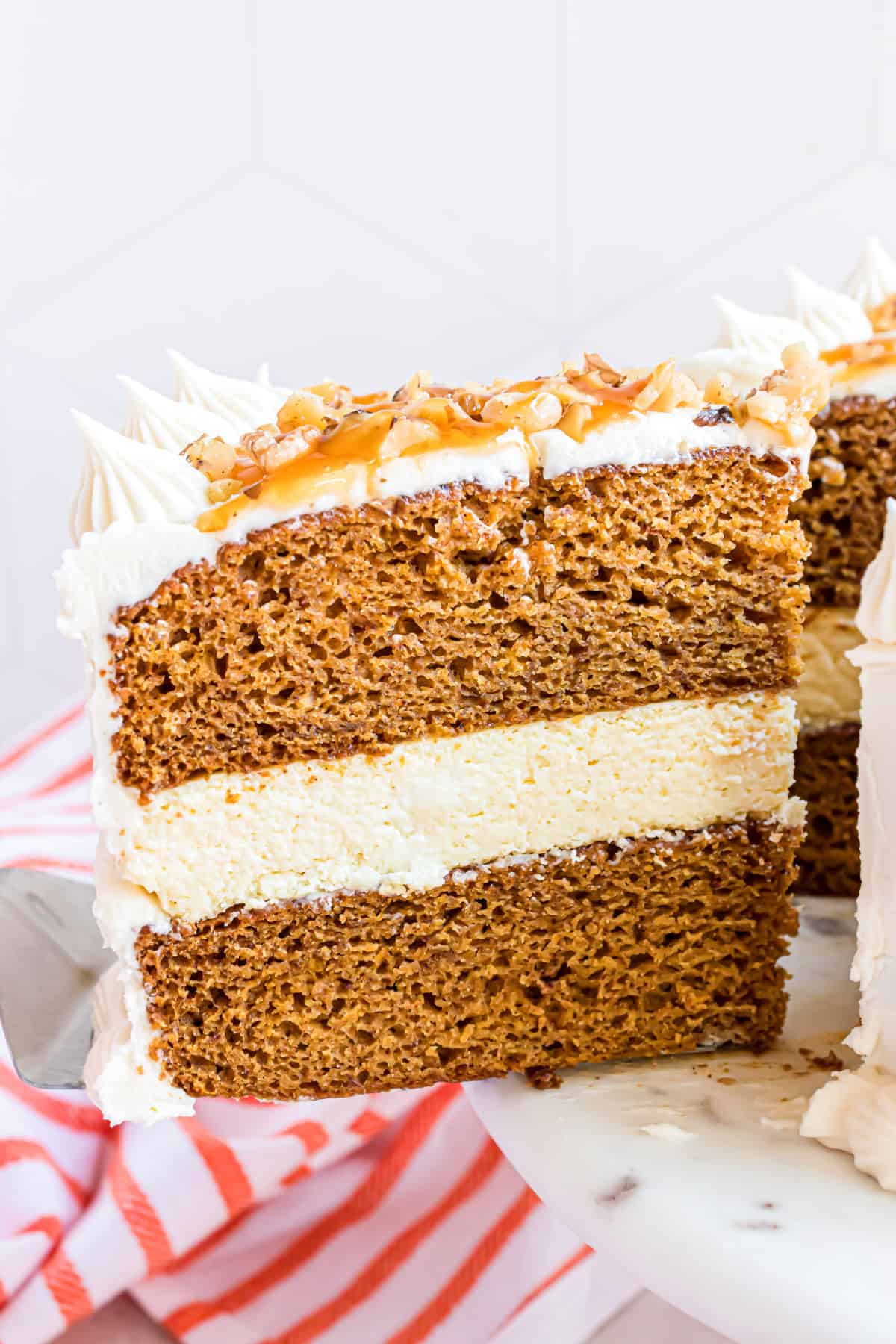 Why This Cake is Best
Pumpkin Cheesecake Cake Cake is TWO incredible desserts in one.
If you've never made cheesecake cake before, prepare to have your mind blown. Decadent, flavorful and full seasonal spices, this Pumpkin Cheesecake Cake makes a delicious addition to any holiday dessert table.
A homemade cheesecake is sandwiched between layers of pumpkin cake.
It's slathered with generous amounts of rich cream cheese frosting.
Crunchy pecans and a caramel drizzle add the finishing touch!
Love today's recipe? Try our red velvet cheesecake cake next! Or give our layered pumpkin cheesecake a try next.
Ingredient Notes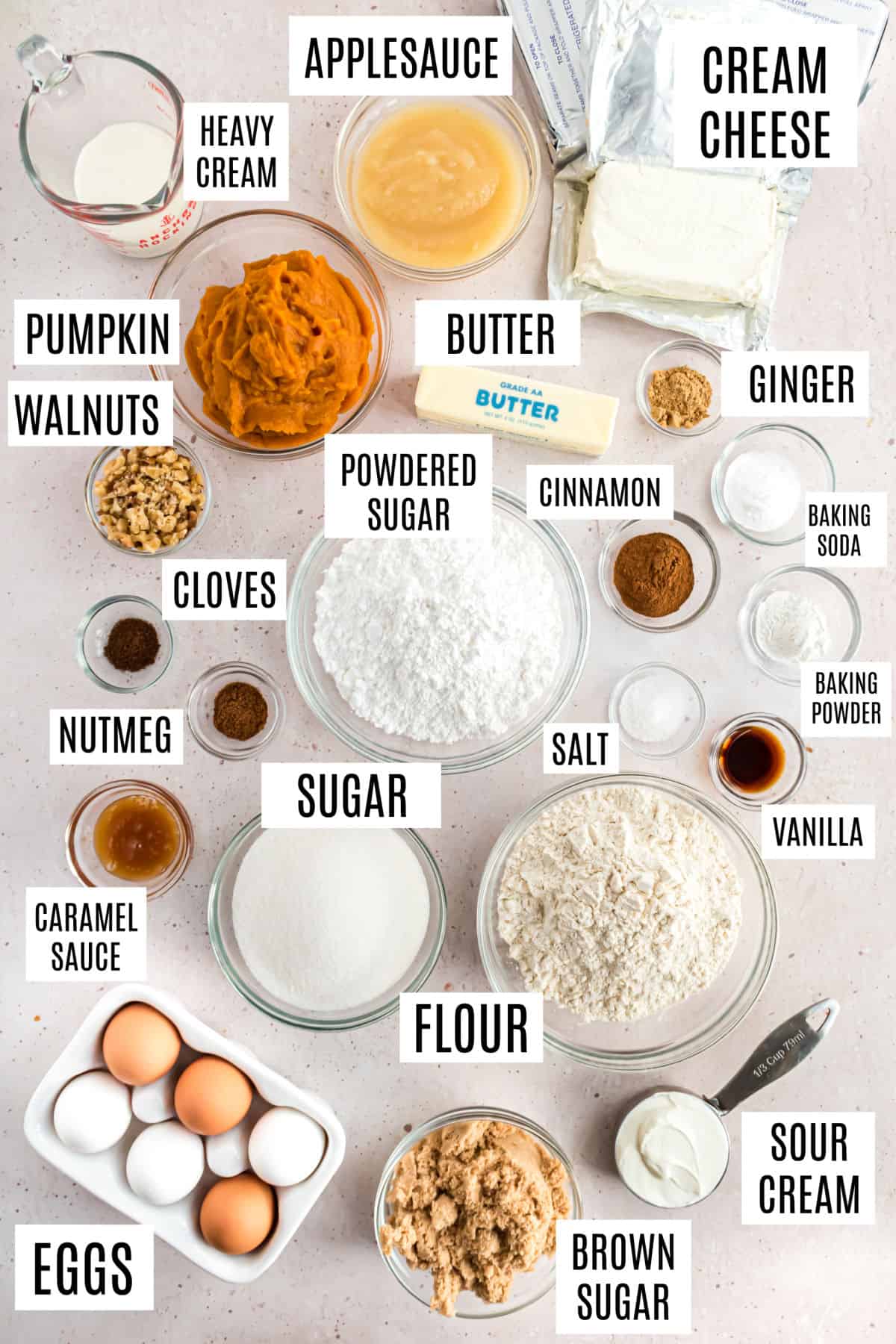 Pure pumpkin puree – We used canned pumpkin in the cake layer. Make sure to use only pure pumpkin, NOT pumpkin pie mix in today's recipe.
Applesauce – Makes the cake tender and moist without needing to add oil or butter. Use our homemade applesauce for great flavor!
Spices – A blend of cinnamon, cloves, ginger and nutmeg gives the dessert the perfect cozy fall flavor! You can swap the individual spices for two tablespoons of Pumpkin Pie Spice if you prefer.
Cream cheese – You will need full-fat cream cheese for both the cheesecake layer and the frosting.
Sour cream – Blended into the cheesecake filling, it makes the cheesecake smoother and tangier than cream cheese alone.
Caramel sauce – You can use any bottled caramel ice cream topping for drizzling over the finished cheesecake.
Cheesecake Layer Notes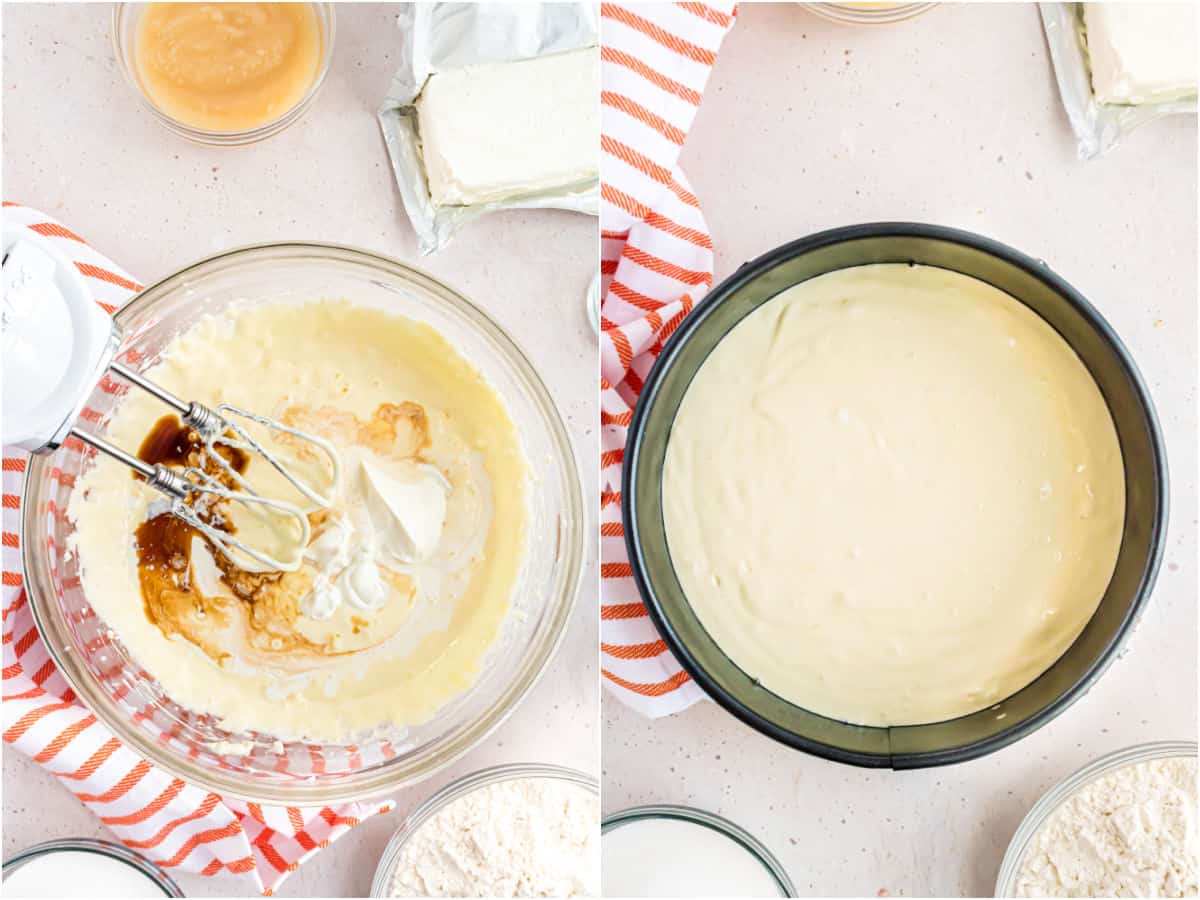 If you've ever made a cheesecake before, you know that cheesecake fillings can be a little temperamental. But you don't need expert baking skills or a degree in chemistry to make this cheesecake cake!
Follow these tips and methods and you'll be on your way to creating a perfect cheesecake layer for this pumpkin cake.
Preheat your roasting pan. Stick the pan in the oven while it preheats. This will help the water bath come to the right temperature more quickly.
Wrap the springform pan in foil. A layer of foil along the bottom and sides of the pan helps with removing the baked layer.
Bake the cheesecake in a water bath. Put the springform pan with the cheesecake filling directly into the roasting pan.
Use boiling water. Pour the boiling water into the preheated roasting pan before baking the cheesecake layer.
Let the cheesecake rest. After baking, turn off the oven and leave the cheesecake insider for an additional 30 minutes. This reduces the likelihood that the cheesecake will crack.
Once your cheesecake layer is baked and cooled, you'll transfer it to the refrigerator to chill until you're ready to assemble the Pumpkin Cheesecake Cake.
If you won't be be assembling the dessert within 24 hours, freeze the cheesecake layer instead!
How to Assemble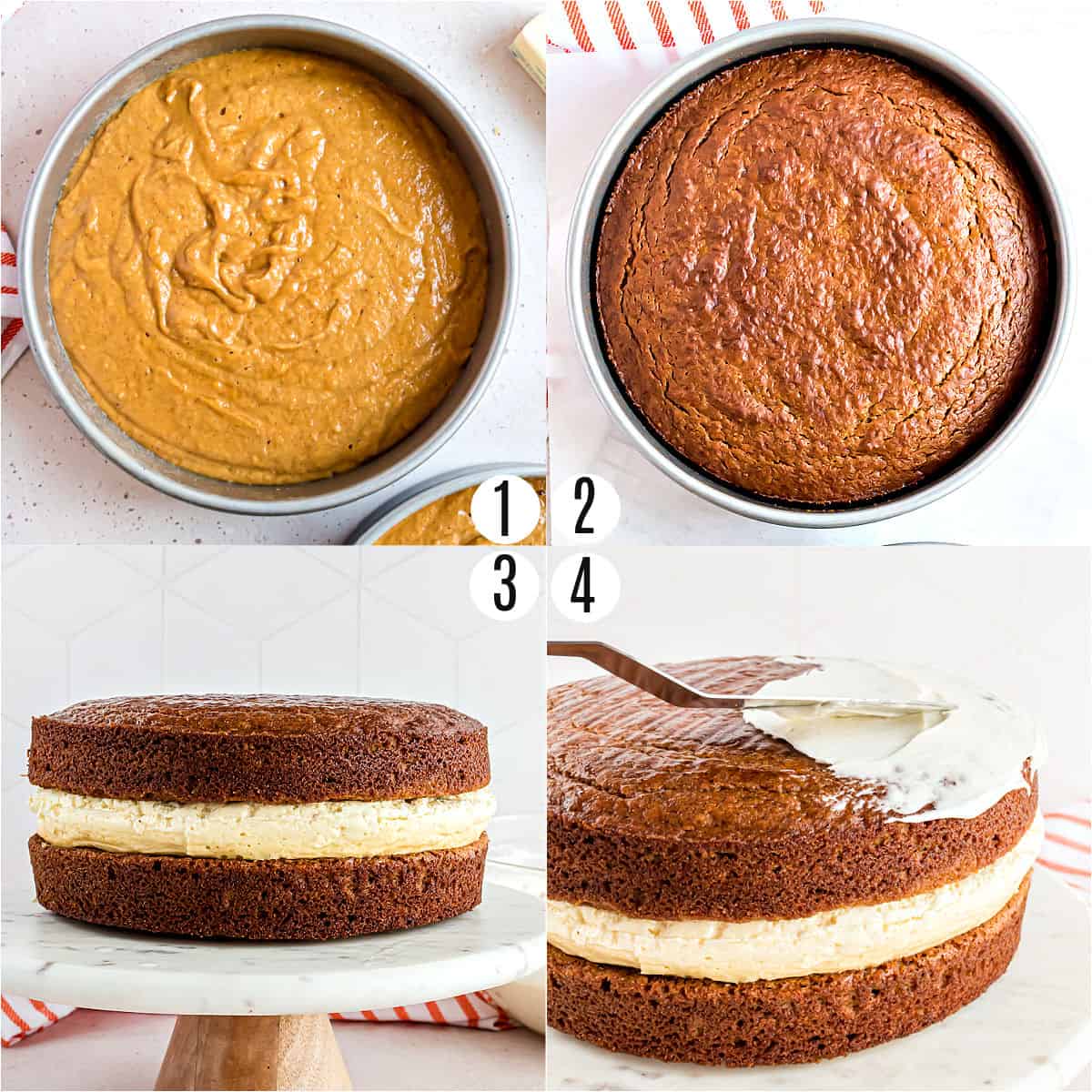 Assemble the layers in this order.
Pumpkin Cake
Cheesecake
Pumpkin Cake
Cream cheese frosting
Sprinkle chopped, toasted pecans and drizzle caramel syrup on top. Cover and refrigerate the assembled cheesecake cake until dessert time!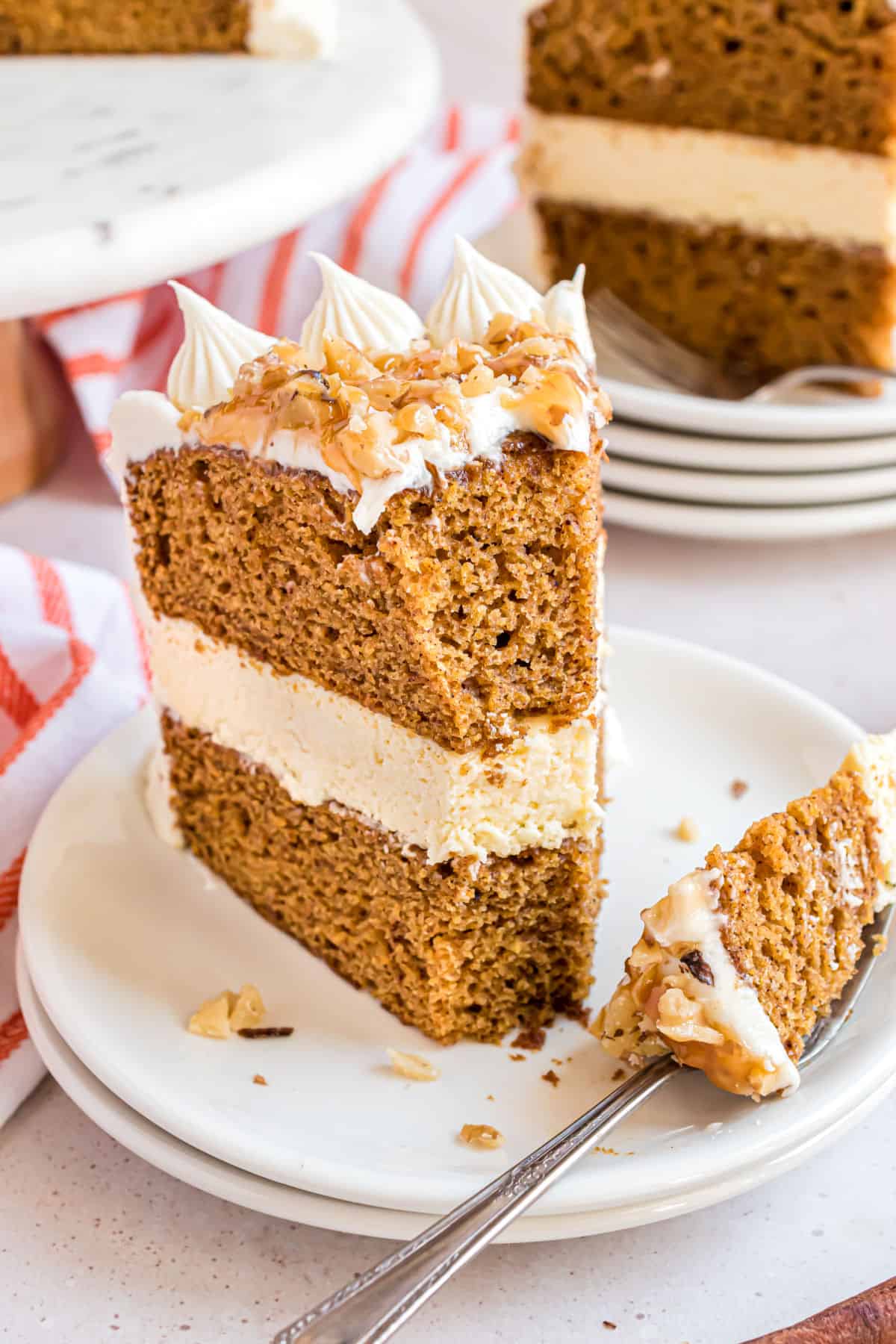 Tips and Tricks
Cheesecake cake is cold and firm when it's fresh out of the fridge. Let the chilled cake sit for 15 minutes at room temperature before slicing and serving.
You can make all the layers of this pumpkin cheesecake cake days, or even weeks, ahead of time. Freeze the layers individually wrapped until ready to assemble.
Don't forget to spray the inside of your springform pan with baking spray! I also cut out a circle of parchment paper to place at the bottom of the pan to prevent sticking.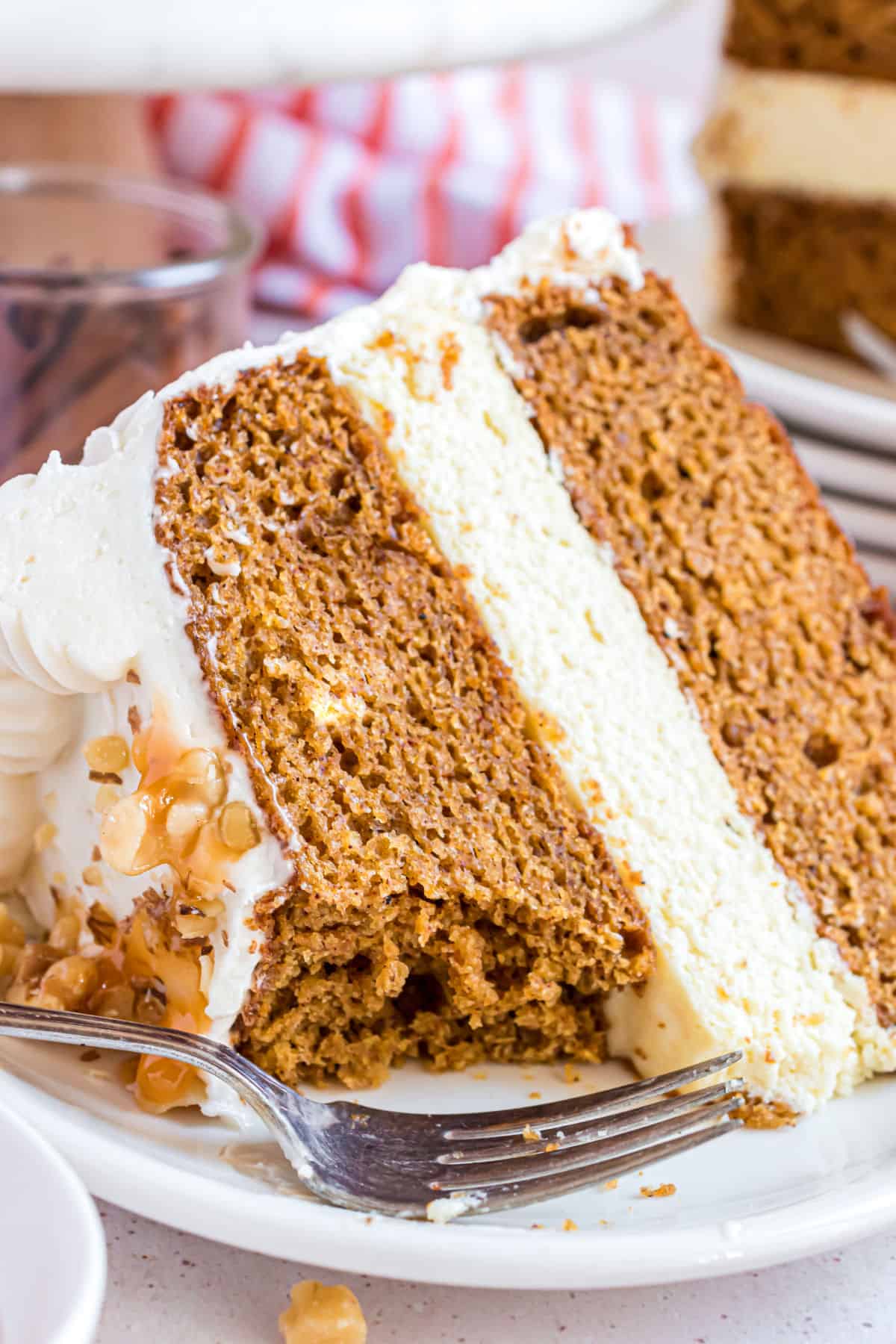 Recipe FAQs
How do I store cheesecake cake?
After assembly, the pumpkin cheesecake cake should be stored tightly covered in the refrigerator.
Can I freeze cheesecake cake?
Yes, you can freeze the assembled dessert if desired. Freeze before adding the pecan and caramel topping for best results. Frozen cheesecake cake stays good for about 2 months.
Can this be made without nuts?
Of course! If you need this dessert to be nut free, or just don't like pecans, feel free to leave them out. Pumpkin cheesecake cake tastes delicious with or without the toppings!
Why leave the cheesecake in the oven after baking?
Because rapid temperature changes lead to cracked cheesecakes! By letting the cheesecake and oven cool down at the same time, the temperature change is gradual.
What to do if my cheesecake layer cracks?
The bad news is there's no way to fix cracked cheesecake. The much better news is that no one will see the crack. You're going to hide it underneath a layer of pumpkin cake anyway!
Since cracking doesn't affect the great taste of the cheesecake you can assemble and serve this pumpkin dessert worry free!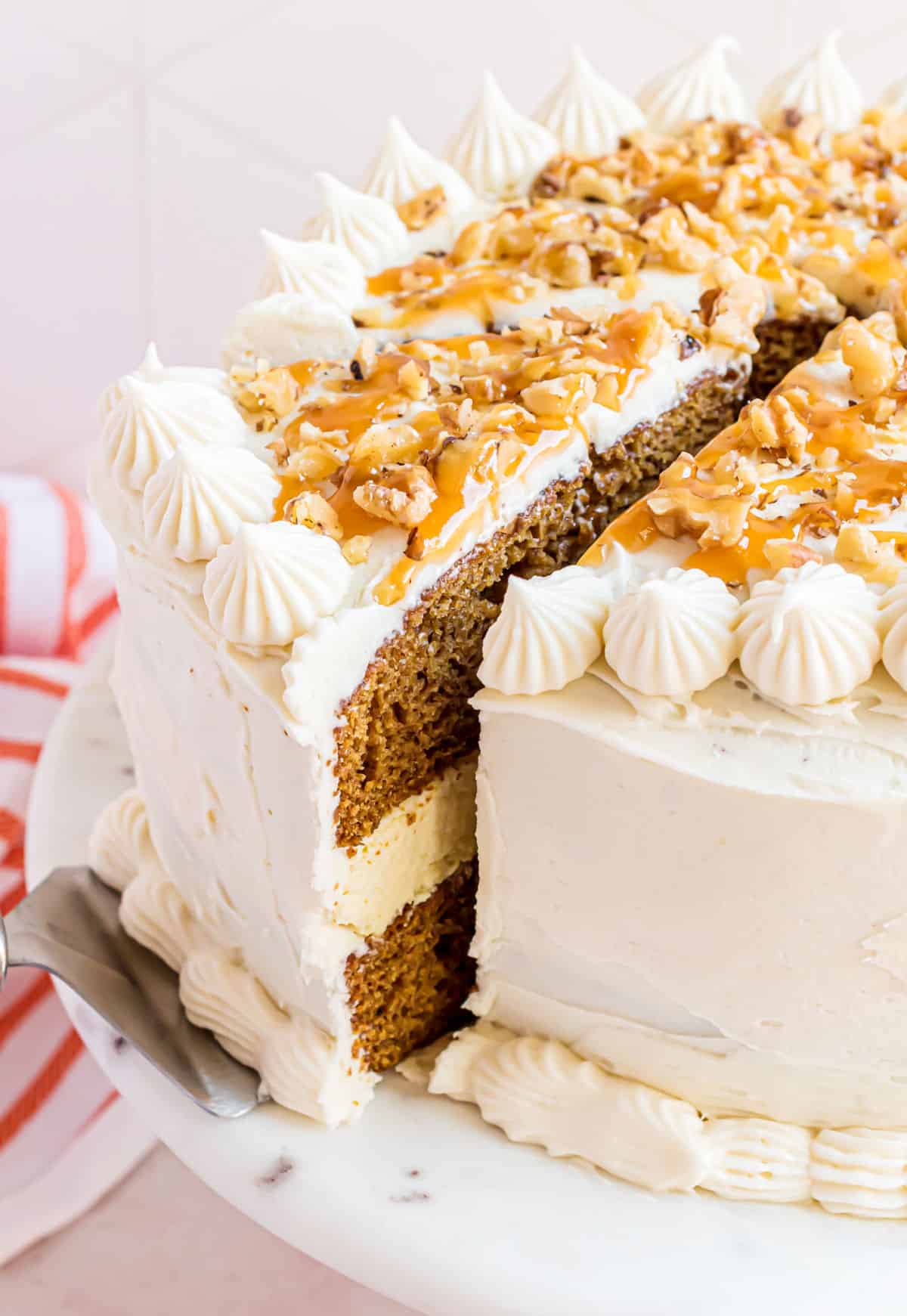 More Cheesecake Cakes
Like my Pumpkin Cheesecake Cake recipe? You may also enjoy some of my other cheesecake cakes!
Salted Caramel Chocolate Cheesecake Cake is another perfect option during cooler fall weather.
During the holidays, I love Eggnog Cheesecake Cake and Chocolate Peppermint Cheesecake Cake.
I have even turned breakfast into dessert with Cinnamon Roll Cheesecake Cake!
Lemon Cheesecake cake features two layers of moist lemon cake, creamy cheesecake, and buttercream frosting bursting with citrus flavor!