How about baking up a Pumpkin Cream Cheese Bundt Cake this fall? Your house will smell amazing with all those seasonal spices–and the taste of the cream cheese filling will knock your socks off.
Love bundt cakes? Be sure to try our cream cheese swirled Carrot Bundt Cake recipe too! Or give this gorgeous Cinnamon swirl bundt cake a go.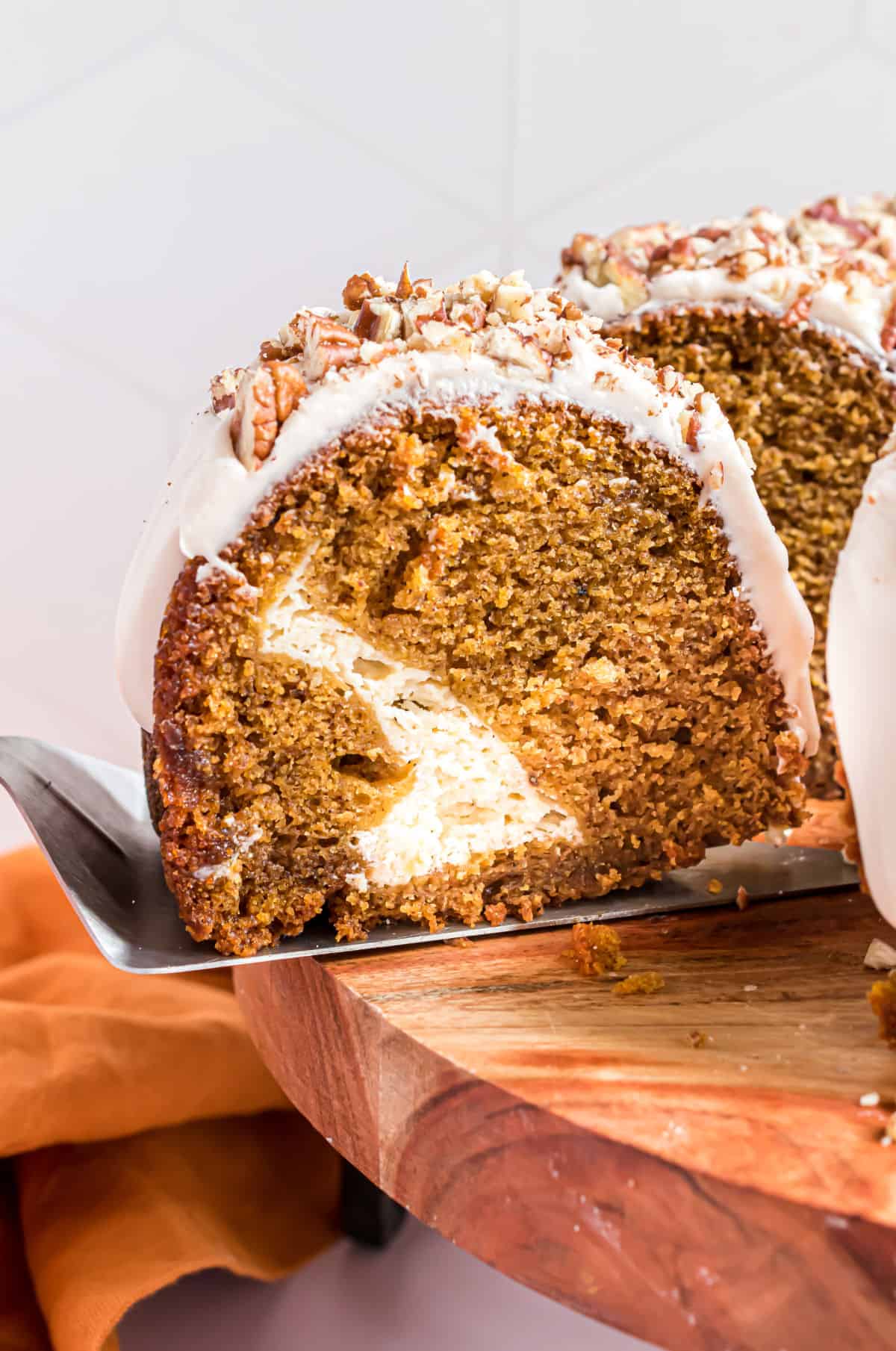 Why this Recipe is Best
I love this recipe for Pumpkin Cream Cheese Bundt Cake. The cake base is a classic pumpkin cake with warm spices like cinnamon, nutmeg, ginger and cloves.
When combined with the cheesecake filling, drizzled with cream cheese glaze and topped with chopped pecans, it is absolute perfection.
To enhance the flavor of the finished cake, I added some maple extract to the cheesecake filling and the cream cheese glaze.
You may remember from my Mini Pumpkin Muffins, Pumpkin Muffins with Maple Glaze, and Pumpkin Cupcakes my love of maple and pumpkin together. It's no surprise that I once again went with this delicious fall flavor profile.
If you've never tried maple and pumpkin together, I can bet it'll be your new favorite combination.
Ingredient Notes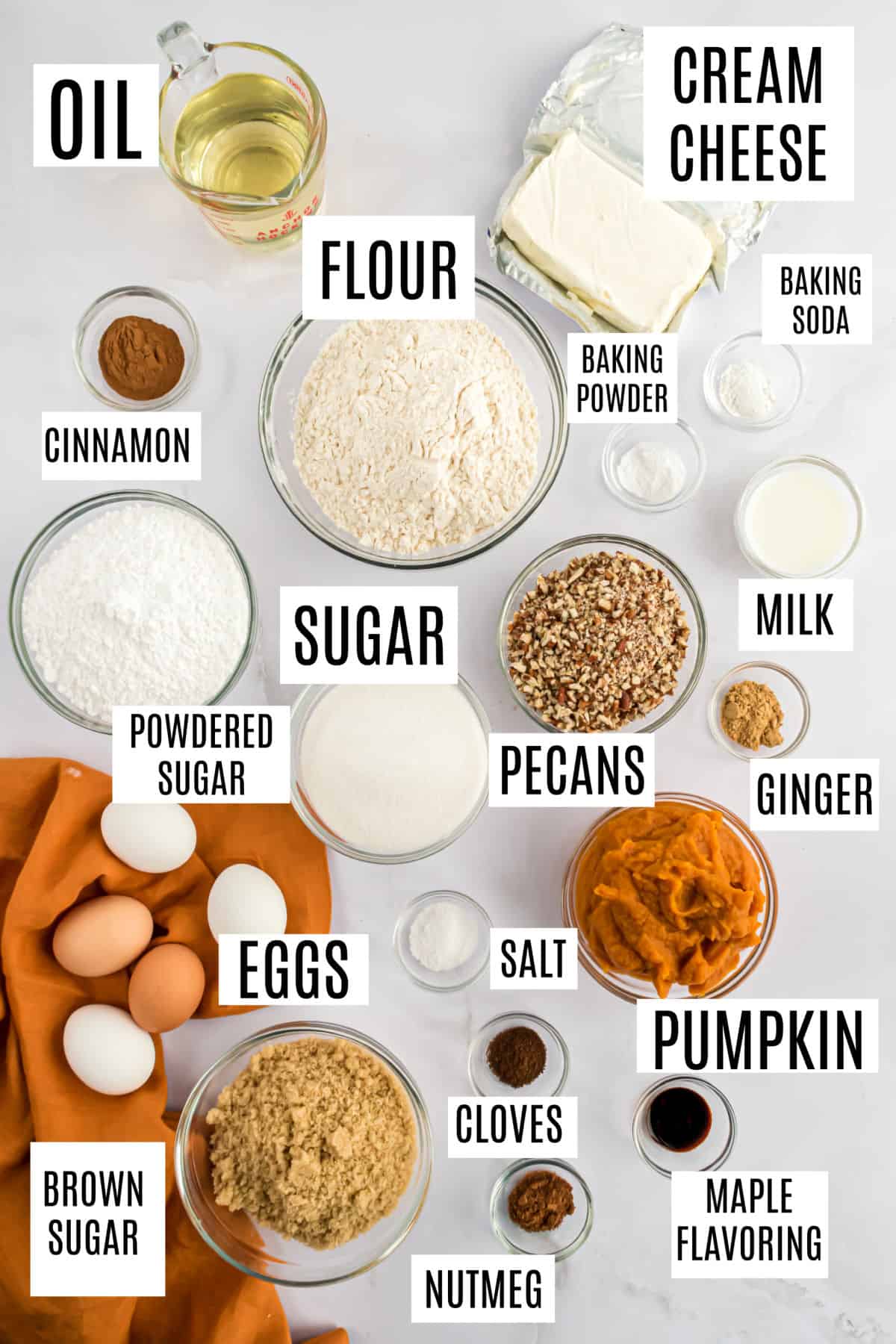 Canned pumpkin. Make sure to use real pumpkin puree here. Do NOT use pumpkin pie mix! Sometimes the cans look the same, so make sure to double check.
Maple flavoring. This highly concentrated maple flavor works beautifully in the cream cheese filling and the frosting. You can also use real maple extract with good results.
Spices. Feel free to swap out the spices for an equal amount of pumpkin pie spice mix!
Pecans. While it's not necessary, it's even more delicious when you toast the pecans before using! Adds an extra nutty flavor.
Easy Instructions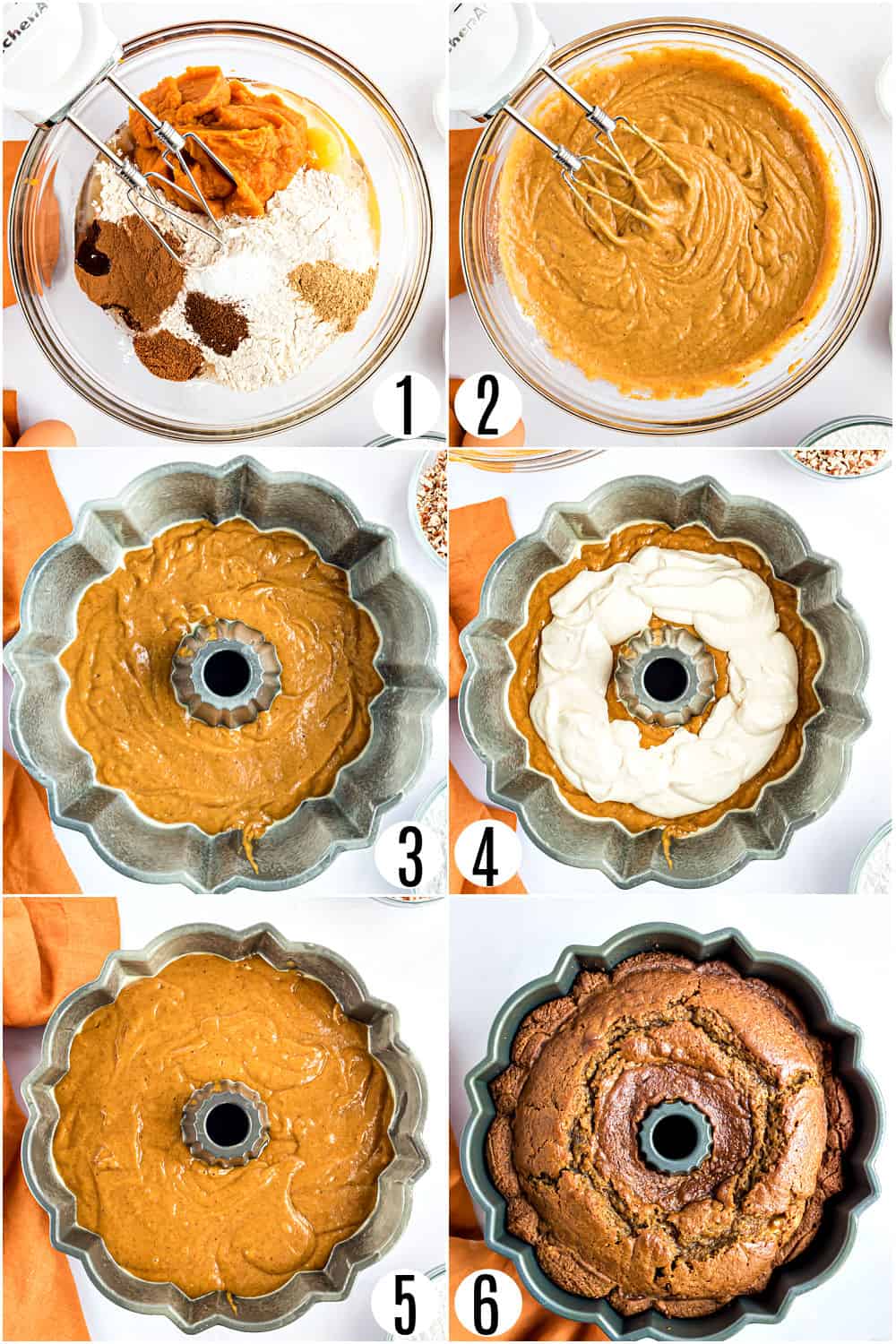 First, mix together the ingredients for the cake batter. Then, beat together the filling ingredients in a separate bowl.
Spray a bundt pan with baking spray.
Add half the cake batter to the pan. Cover it with the cream cheese layer. Pour the remaining cake batter on top.
Bake the pumpkin bundt cake for about 1 hour. Let cool and invert the pan to turn out the cake onto a platter or plate.
Once the cake is cooled, beat together the frosting ingredients until smooth. Spread or pour over the cake, then sprinkle with chopped pecans.
If you love the flavor of pumpkin pie, you're going to love today's cake recipe!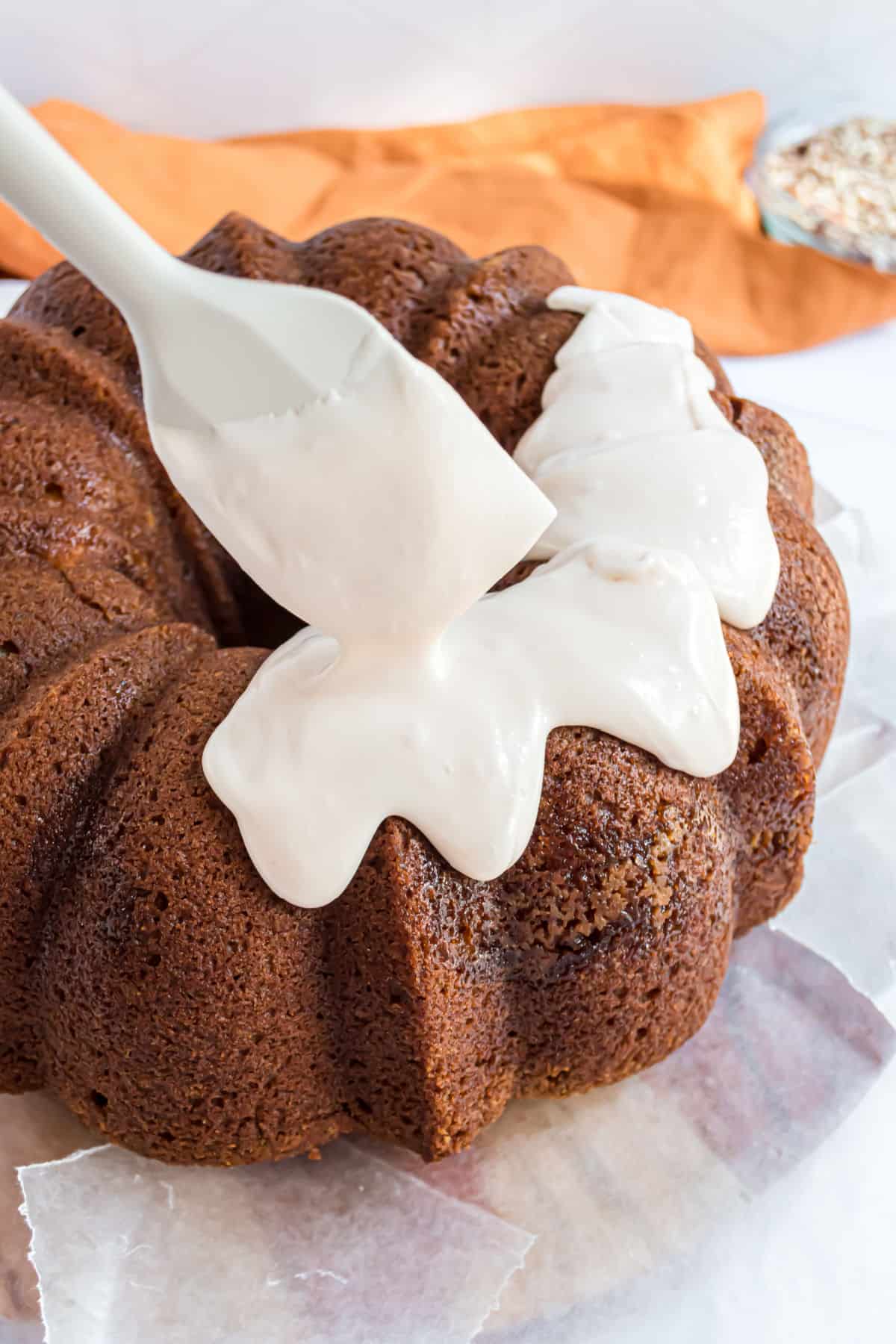 Tips and Tricks
If you like a thinner icing instead of thick frosting, add more milk to the frosting a spoonful at a time.
Make sure not to let the cream cheese filling touch the sides of the bundt pan. Use a spoon to transfer the filling to the pan carefully.
Let the cream cheese soften at room temperature before using.
Recipe FAQs
Can you freeze this cake?
Yes, you can freeze this cake either before frosting or afterward. Double wrap in freezer bags and keep frozen for up to 3 months. Let it thaw in the fridge overnight before enjoying. If freezing, I would wait to add the pecans until after the cake is thawed for optimum crunch!
Can I use maple syrup instead of maple flavoring?
No, maple syrup won't work the same way in this recipe. Maple flavor and maple extract are highly concentrated, so they deliver lots of rich maple flavor without adding extra liquid or sugar (like syrup would.)
I don't have baking spray. What's the best way to grease the bundt pan.
If you don't have baking spray, you can grease the pan with a butter wrapper or a tiny bit of vegetable oil. If using oil, dab a little on a paper towel, then rub the paper towel all over the insides of a pan until lightly covered.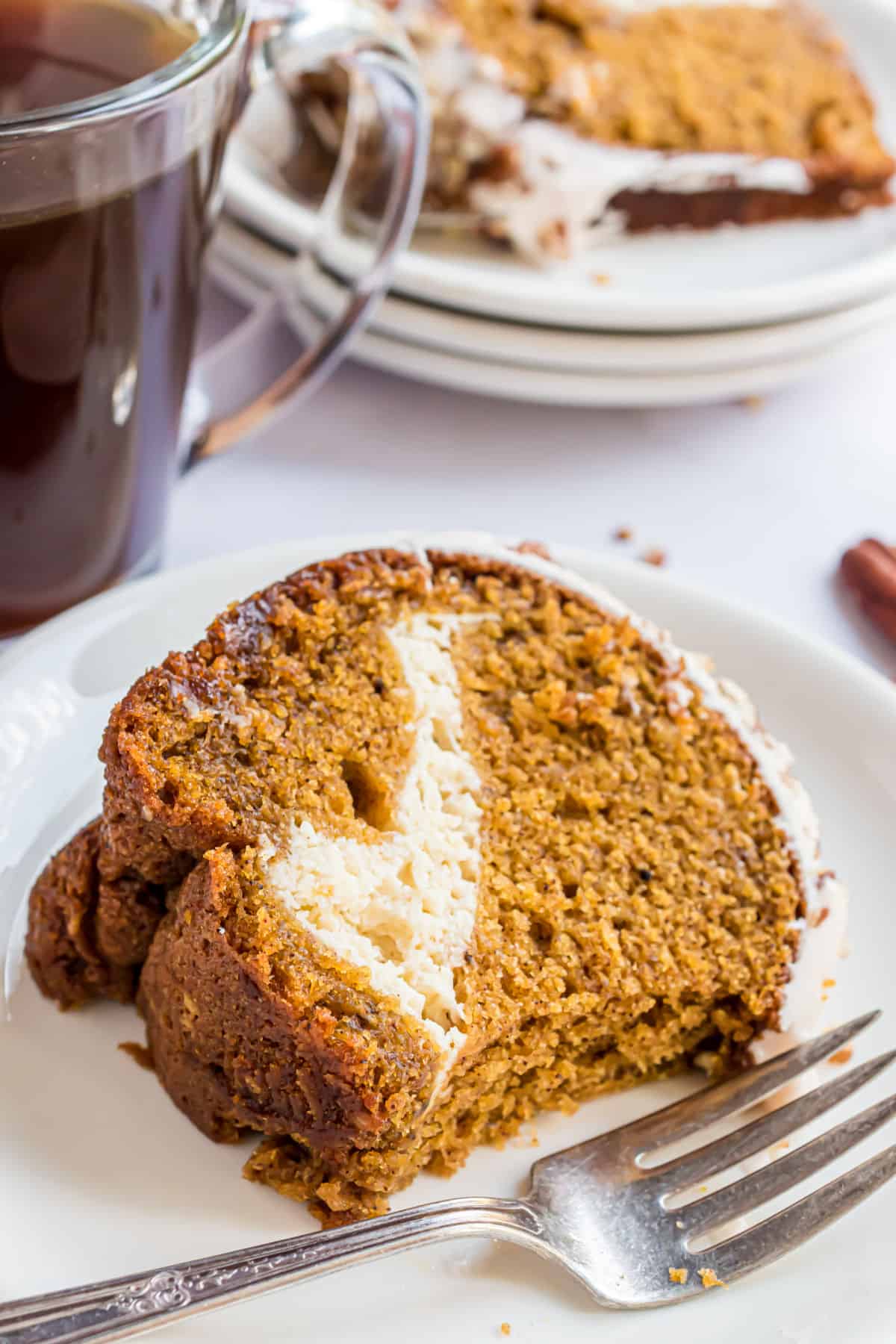 Pumpkin Bundt Cake gets even better when you fill it with cream cheese! A hint of maple and warming spices will have you ready to pull on your coziest sweater and watch the leaves fall.