This Cinnamon Swirl Bundt Cake makes a delicious breakfast or dessert. Cinnamon glaze is the literal "icing on the cake" in this easy bundt recipe!
Love bundt cake? Our pumpkin bundt cake is a delicious fall treat, with swirls of cheesecake in the middle. Or give our chocolate zucchini bundt cake a try next, with it's fudgy icing!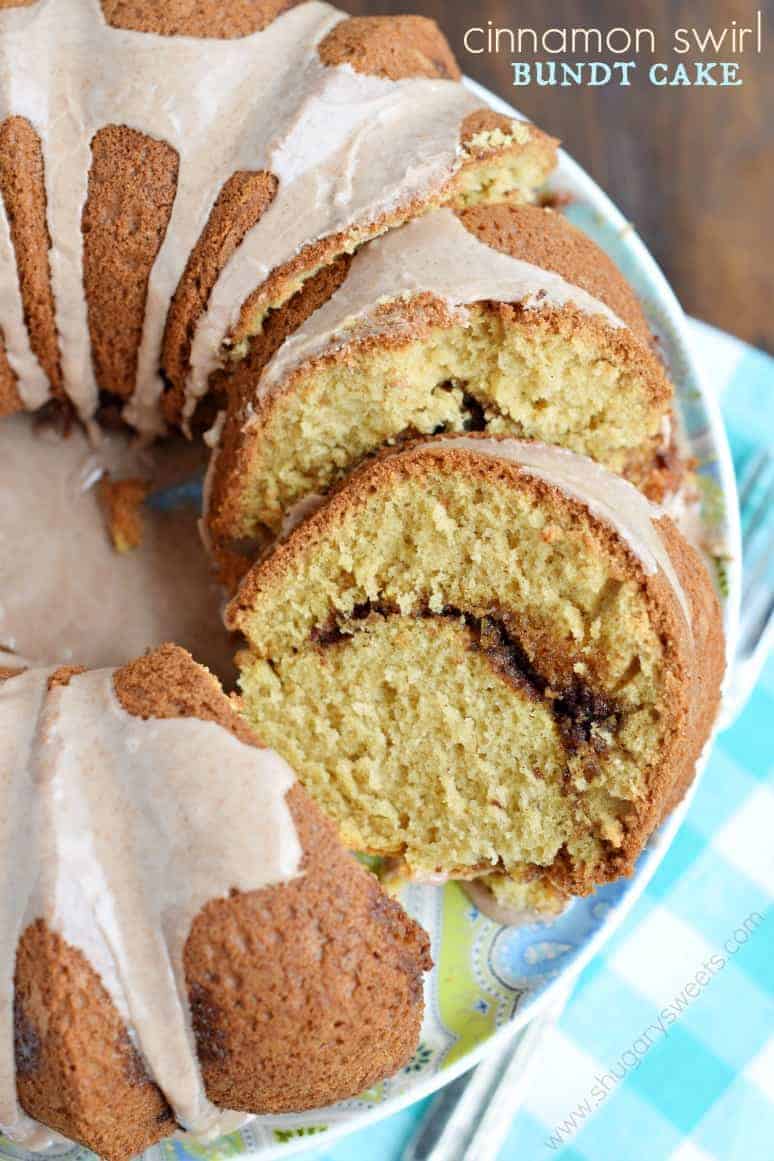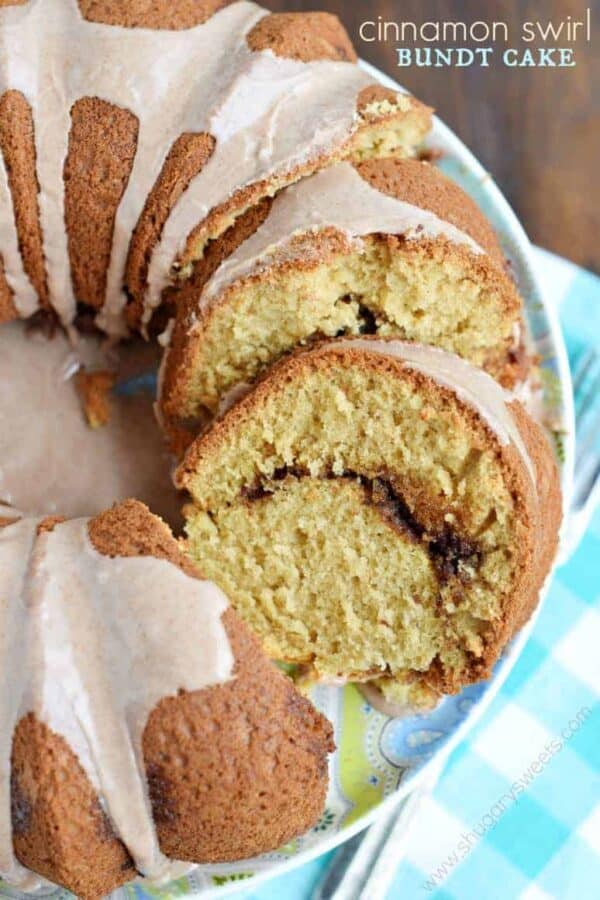 Why This Cake is Best
Time to dust off your tube pans, friends. You do not want to miss out on this cinnamon cake!
Don't have a bundt pan? This Cinnamon Sour Cream Coffee Cake is baked in a sheet pan instead. Or try our Pumpkin Streusel Coffee Cake for something different!
Beautiful classic bundt shape.
Moist, soft and sweet.
Swirled with cinnamon.
Drizzled with cinnamon glaze!
Cinnamon Swirl Bundt Cake has it all. Like all of the best coffee cakes, it's one you can enjoy any time of day.
Enjoy it for breakfast with a fresh mug of coffee. Or serve it as dessert after a long day. The warming cinnamon flavor and aroma make it a great choice for the holidays, but we'd happily eat it all year long.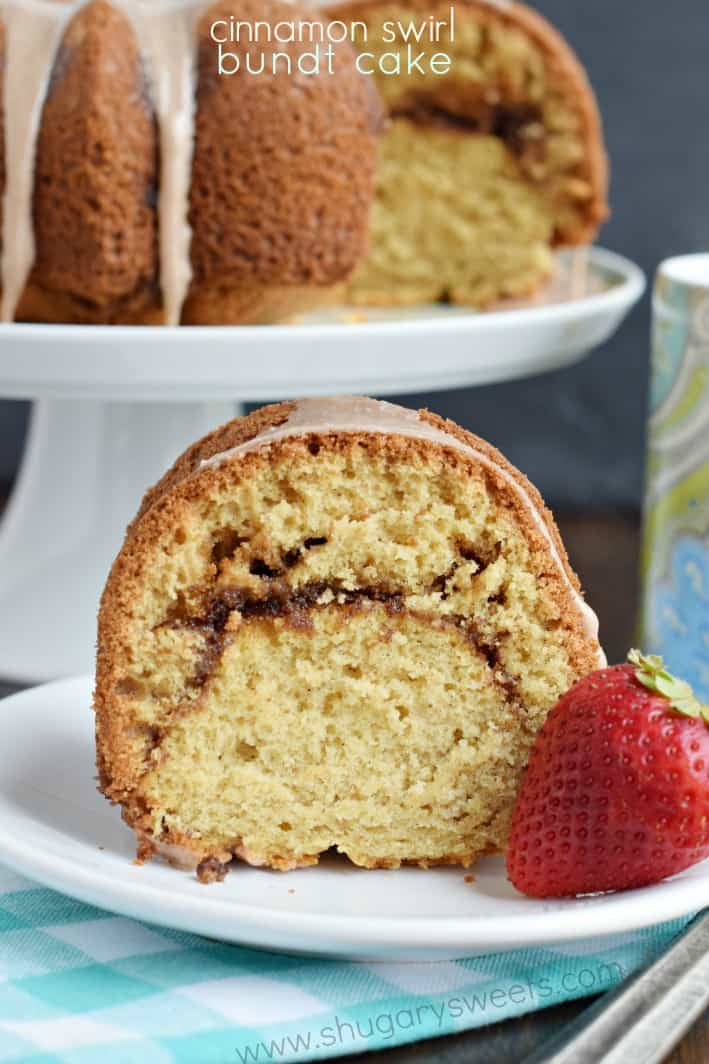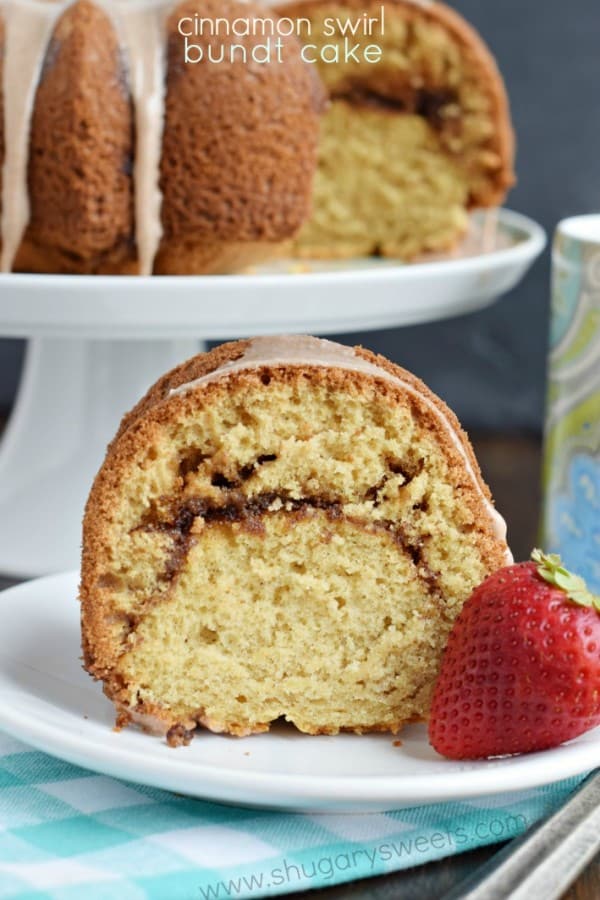 Ingredient Notes
This cake starts with a simple batter made with familiar ingredients like butter, eggs, flour and sugar.
Here's what you need to add that "cinnamon swirl" factor.
Cinnamon – Adding cinnamon to the batter infuses the entire cake with that warm, sweet spice flavor.
Brown sugar – It's combined with more cinnamon to create the filling swirled into the batter."
Cinnamon glaze – Powdered sugar, milk are combined with even more cinnamon to create the icing drizzled over the baked cake.
Tips and Tricks
My favorite part of this cake is the swirls of cinnamon filling inside! Here's how to create a pretty swirl pattern with the cinnamon sugar.
Add half the batter to your bundt pan.
Sprinkle the cinnamon sugar all over the batter.
Pour the rest of your batter on top.
It really is that easy. When the cake is baked, cooled and sliced you'll see the perfect cinnamon swirl layer in the center.
The cinnamon glaze is another element that sets this cake apart from the crowd.
Ideally, the glaze should be thin enough to pour, but thick enough to set up on the cake without dripping off.
You can make it as thin or as thick as you want, just by adding more milk. If you accidentally make it too watery, just whisk in more powdered sugar until you get the right consistency.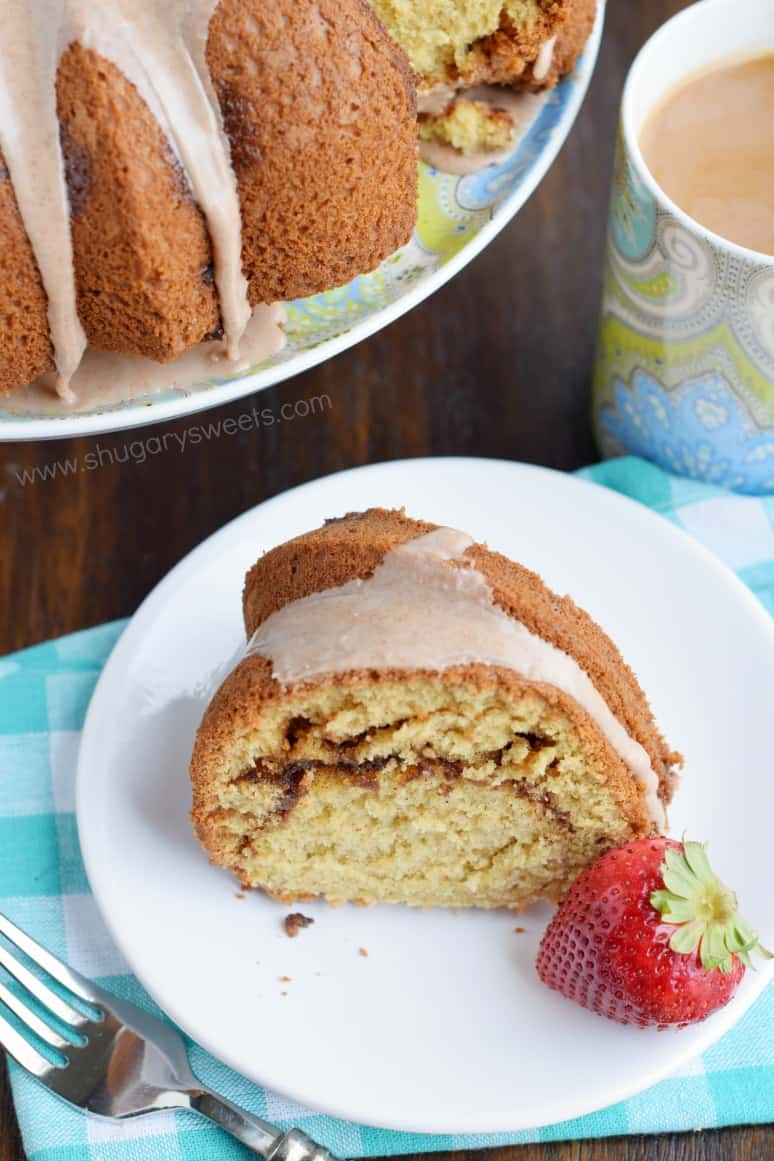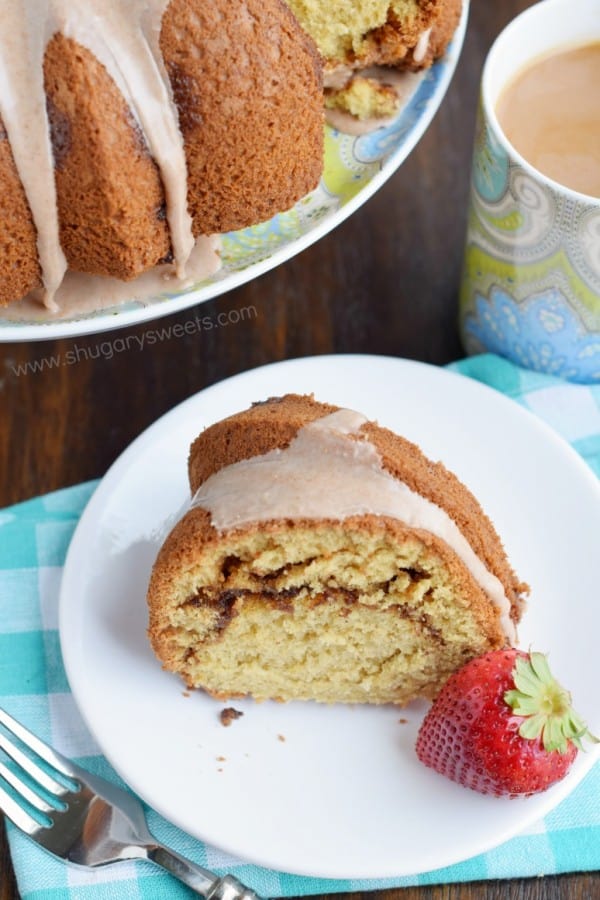 How to get Bundt Cake out of pan
For years I couldn't get the perfect "release" on my bundt cakes.
And I realized it has 99% to do with the pan. After purchasing this pan, no issues. EVER.
I usually wipe it with a little crisco and sprinkle with flour, and voila…it releases EVERY. SINGLE. TIME. You can also use the baking spray that has flour in it, if you prefer. I'm always afraid that it will cause build up in my bundt pan and affect the non-stick aspect of the pan.
Our homemade goop (or cake release) is perfect for bundt pans too.
Don't forget to make the cinnamon glaze. I made a very thin glaze, unlike some of my other "frostings." Remember, you want to make sure that people accept this "cake" as breakfast, haha, so don't overdo it on the frosting. Otherwise it will take some convincing!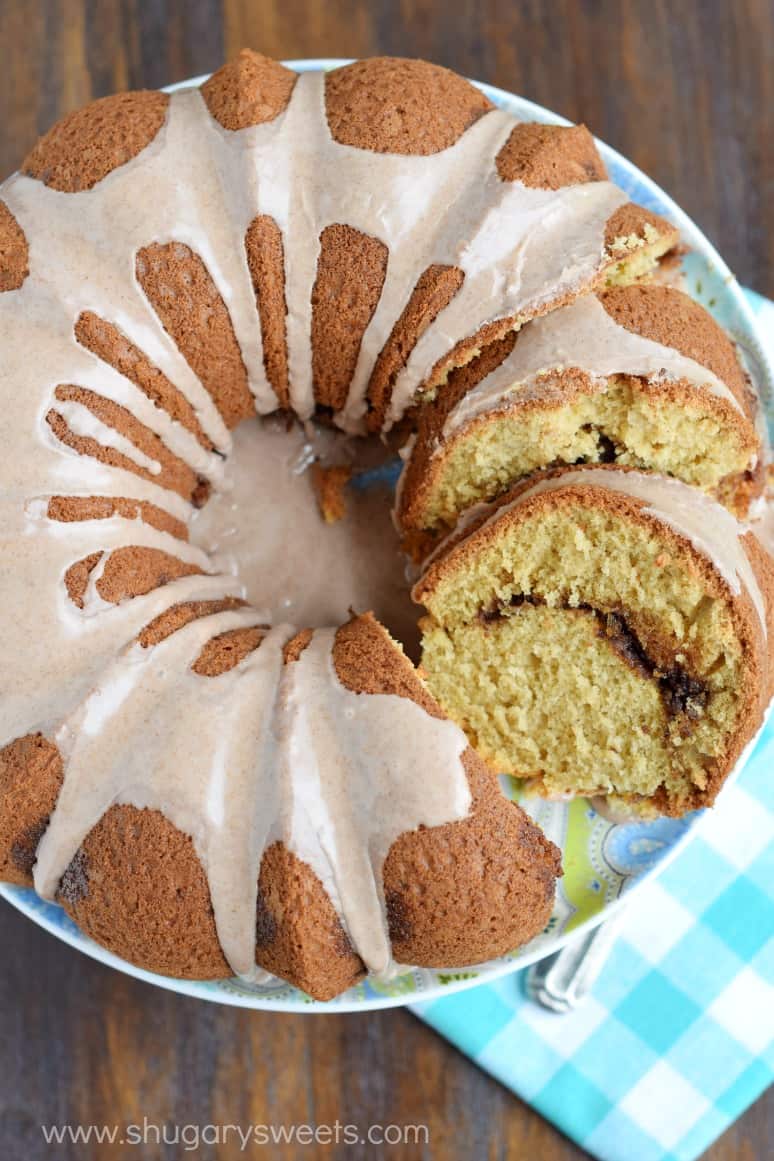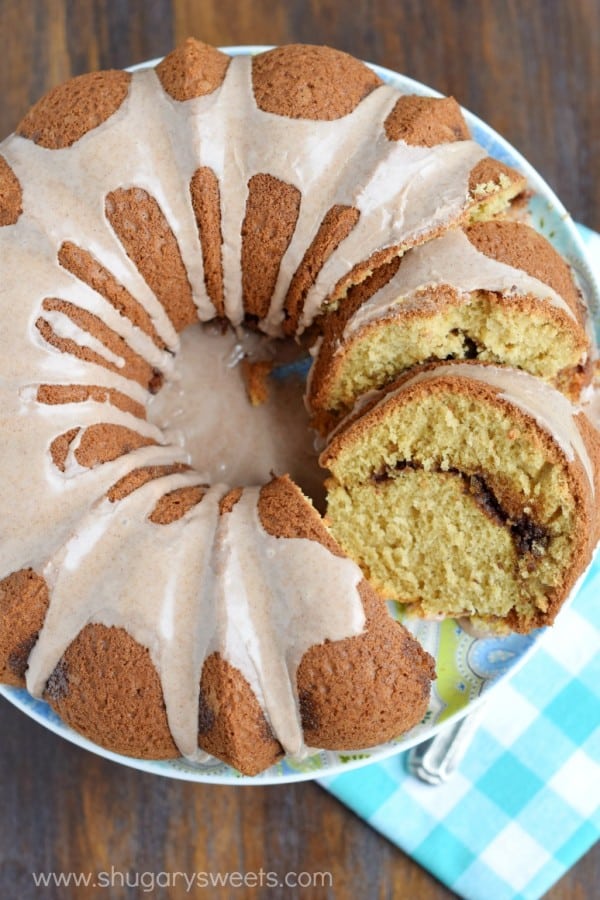 How to store a Bundt Cake
Store this cake, covered, in a cake saver or airtight container at room temperature. Will stay delicious for about 4-5 days.
You can freeze this Cinnamon Swirl Bundt Cake too!
Wrap slices in plastic wrap and place in freezer safe container or ziploc bag. Thaw overnight at room temperature and enjoy.
More Easy Cake Recipes