This Cinnamon Swirl Bundt Cake would be perfect for breakfast or dessert! The cinnamon glaze is truly the "icing on the cake!"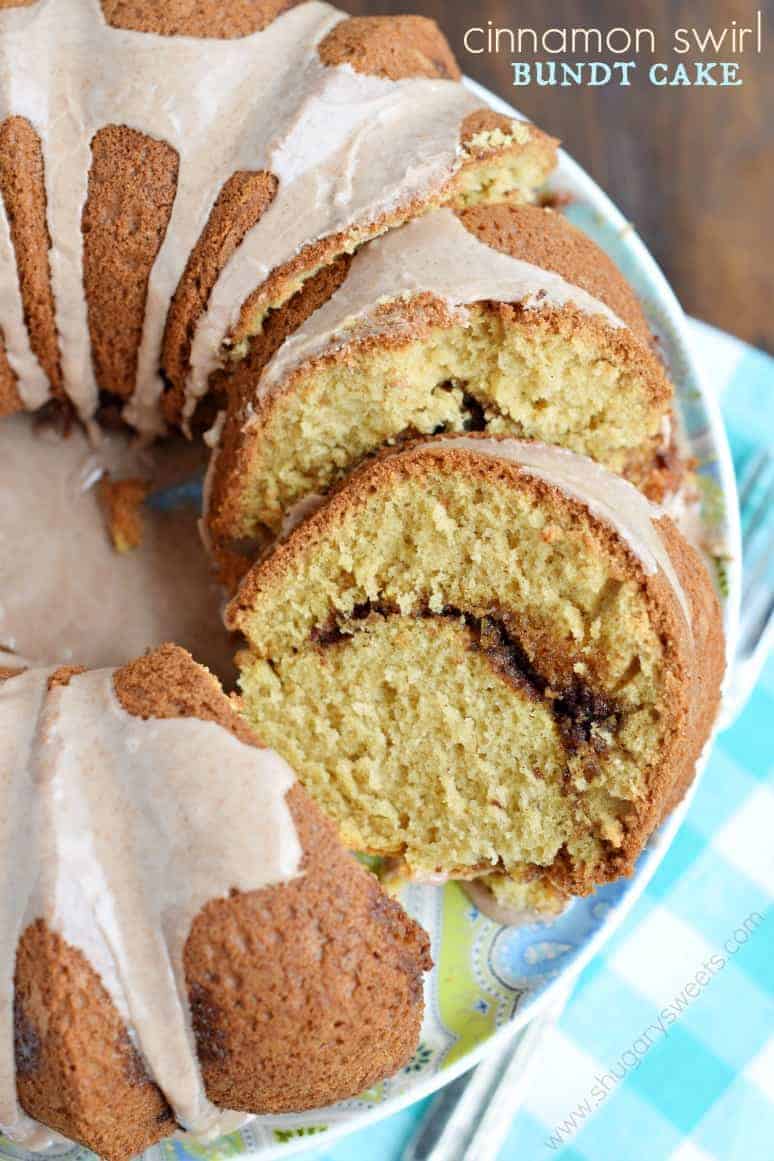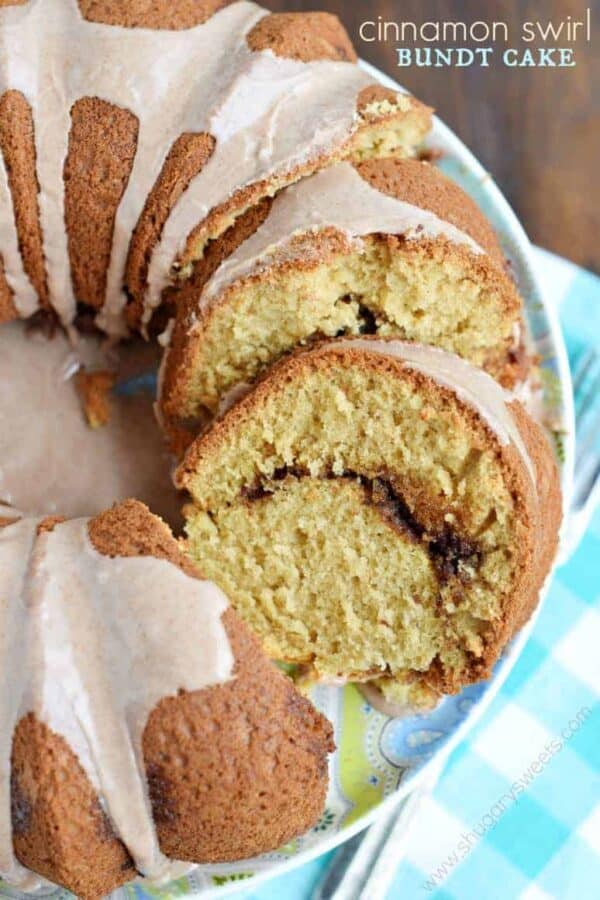 I realize I just shared a breakfast cake last week, but Mother's Day is just around the corner and I thought I would give you options.
You could make last week's Lemon Crumb Cake or today's Cinnamon Swirl Bundt Cake. But why choose? Make both, I say!
Speaking of mothers….it's happened. I've become my mother. Actually, I think I've become a senior citizen in general.
A couple days ago I found myself talking to the birds and squirrels. And whistling in the back yard as I filled my bird feeders. Who does that besides Mary Poppins?
Old people.
I have nothing against old people. I embrace this elderly side of myself. I just have to chuckle that this is where I am in life. Spending hours watching the birds and squirrels in my yard, while singing a happy tune.
How to make Cinnamon Swirl Bundt Cake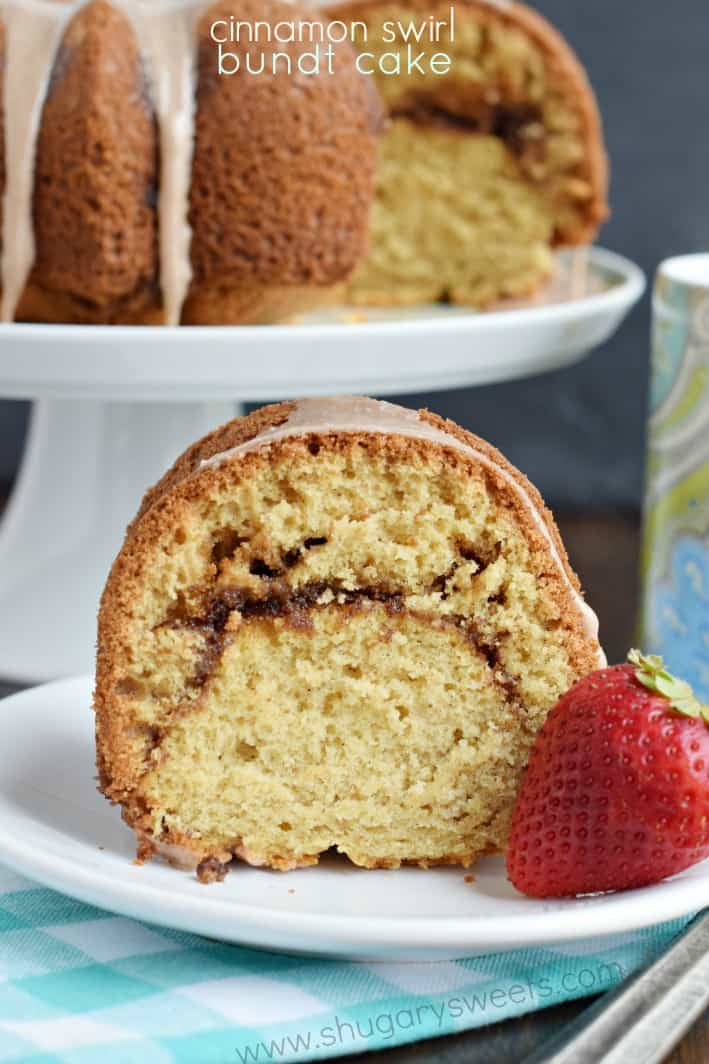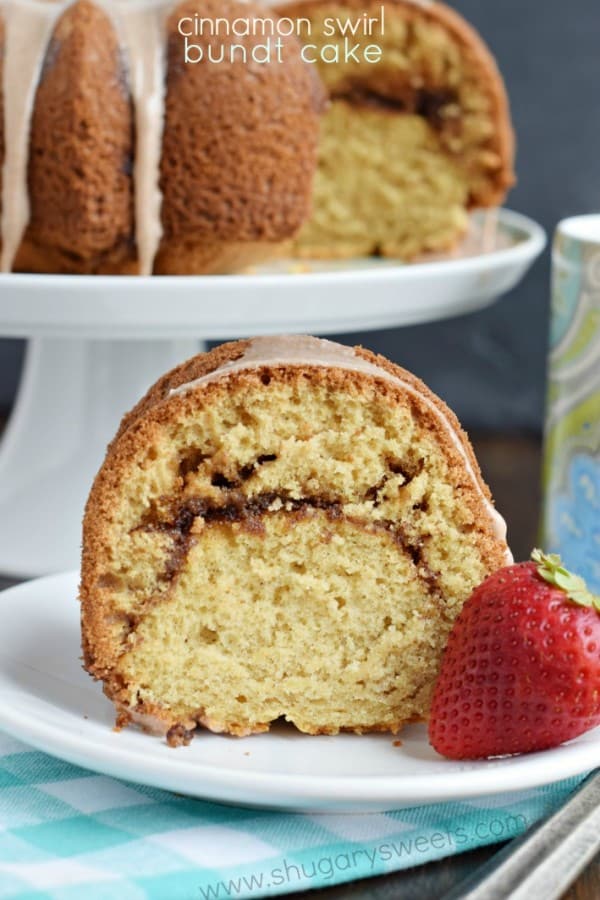 But let's face it…I'm going to make one heck of a grandmother one day!
All the children of the world will want to come to my house for treats. And today's Cinnamon Swirl Bundt Cake is one of those treats that screams "come spend time with granny!!"
Now for the cake directions.
Grease and flour a 12 cup bundt pan. Set aside.
Preheat oven to 350 degrees F.
In a large bowl, combine flour, sugar, baking powder, baking soda, and salt. Beat in softened butter until mixture is crumbly.
Add in eggs, vanilla extract, cinnamon and milk. Beat for 3-4 minutes until smooth and fluffy.
In a small bowl, combine brown sugar and cinnamon for the swirl. Use a fork to blend evenly.
Pour half of the cake batter into the prepared bundt pan. Sprinkle the sugar mixture over the batter. Top with the remaining cake batter.
Bake for one hour until lightly browned. Allow to cool in pan about 10 minutes, then flip onto a cake plate to cool completely.
For the glaze, whisk the powdered sugar with milk and cinnamon. Add more milk if needed to get desired consistency. Drizzle over cooled cake.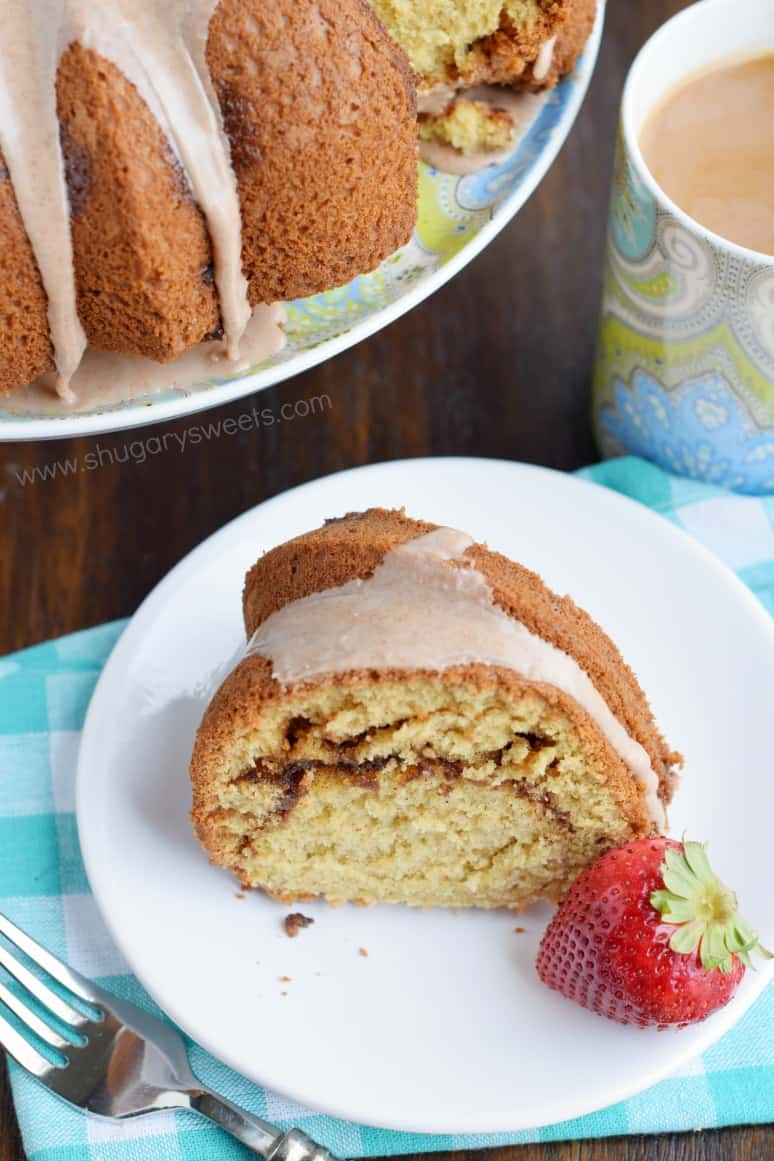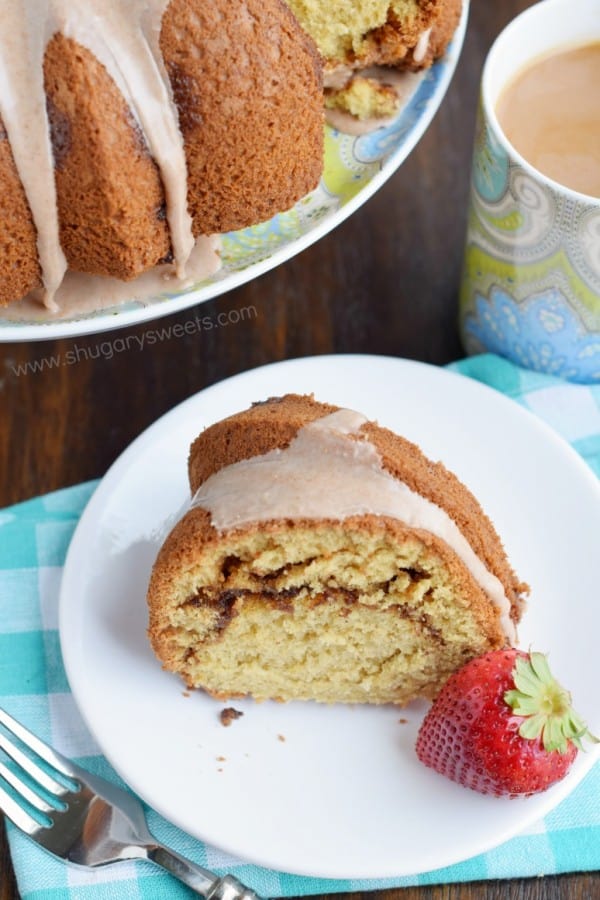 How to get Bundt Cake out of pan
For years I couldn't get the perfect "release" on my bundt cakes.
And I realized it has 99% to do with the pan. After purchasing this pan, no issues. EVER.
I usually wipe it with a little crisco and sprinkle with flour, and voila…it releases EVERY. SINGLE. TIME. You can also use the baking spray that has flour in it, if you prefer. I'm always afraid that it will cause build up in my bundt pan and affect the non-stick aspect of the pan.
Don't forget to make the cinnamon glaze. I made a very thin glaze, unlike some of my other "frostings." Remember, you want to make sure that people accept this "cake" as breakfast, haha, so don't overdo it on the frosting. Otherwise it will take some convincing!
Now, while you all are in the kitchen baking…I'm going to head outside to relax with my friends. Mr Squirrel and Mrs. Robin.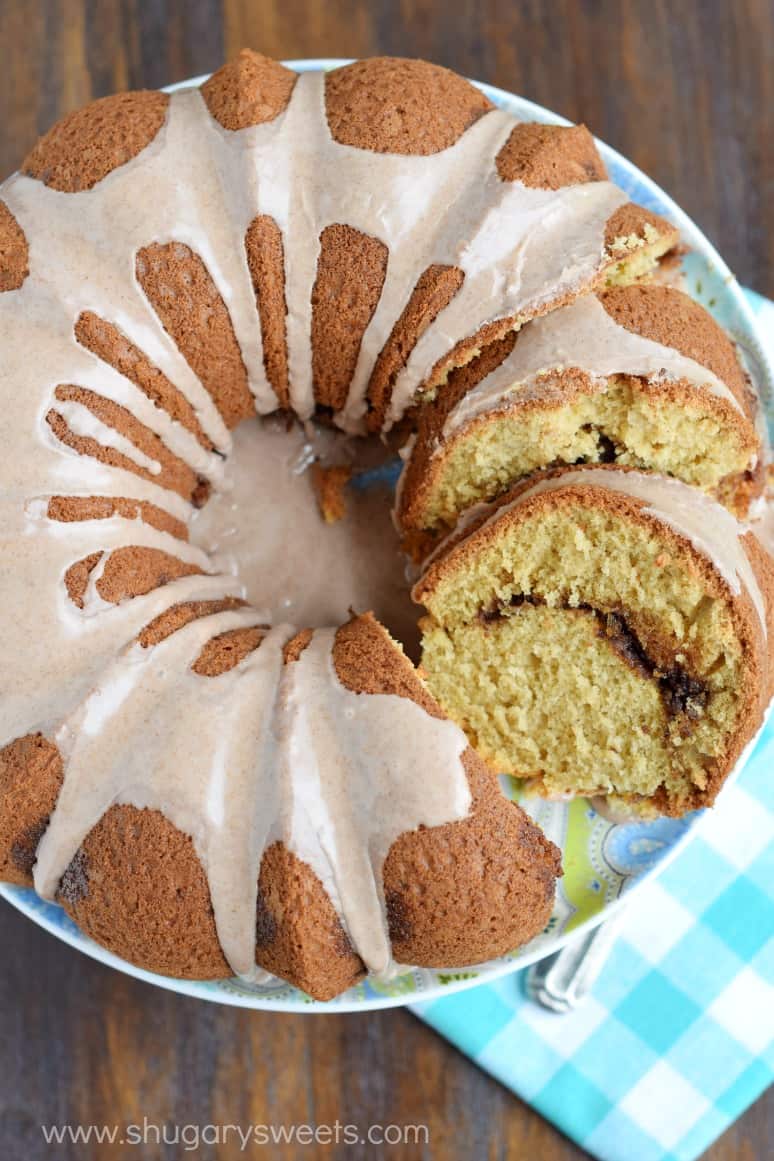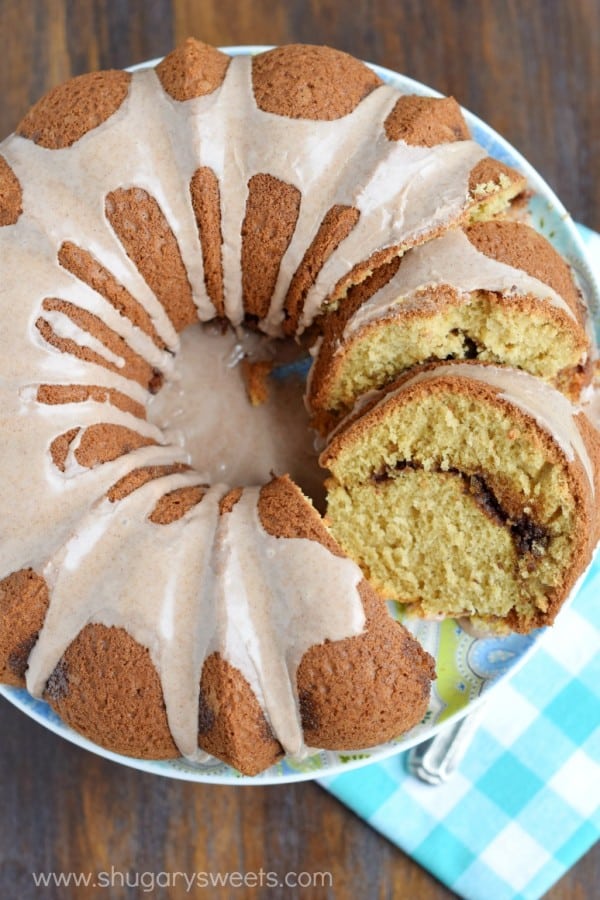 How to store a Bundt Cake
Store this cake, covered, in a cake saver or airtight container at room temperature. Will stay delicious for about 4-5 days.
You can freeze this Cinnamon Swirl Bundt Cake too!
Wrap slices in plastic wrap and place in freezer safe container or ziploc bag. Thaw overnight at room temperature and enjoy.
Looking for more bundt cake recipes? Here are a few of my favorites!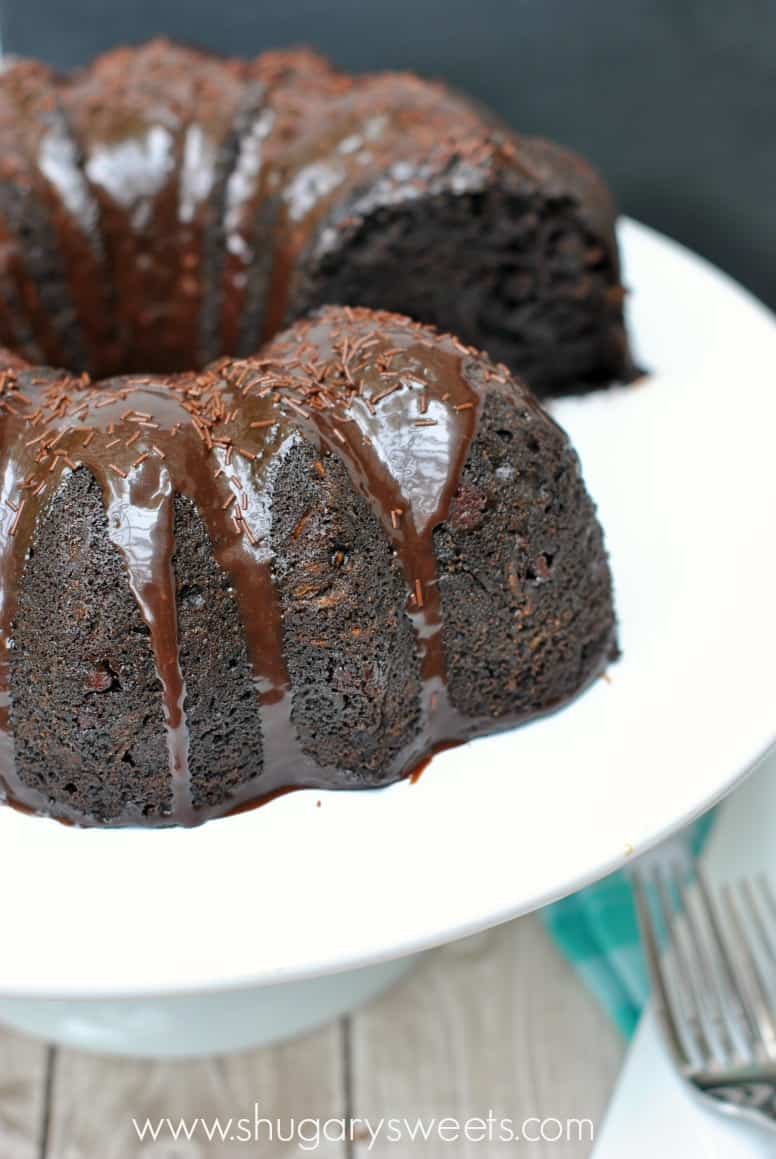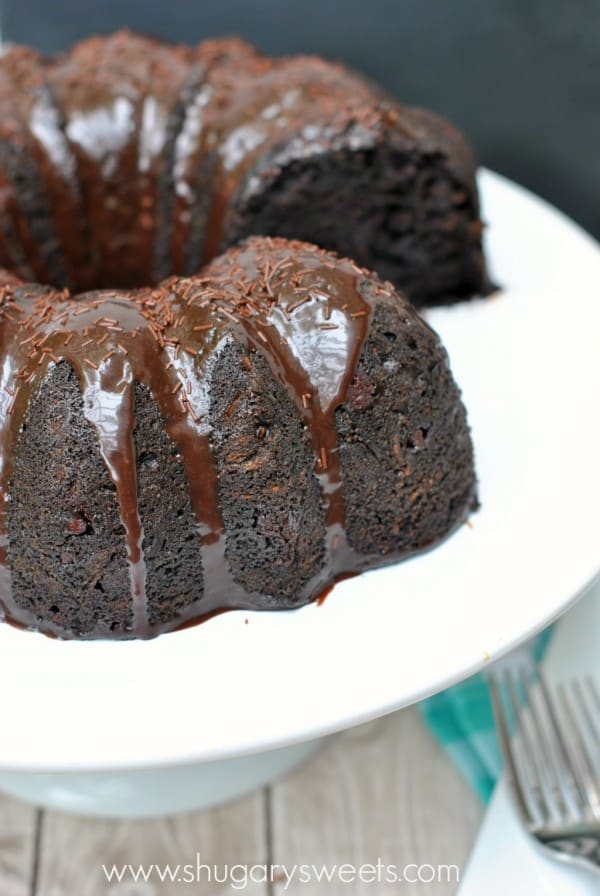 Chocolate Zucchini Bundt Cake: rich and fudgy, this is a great recipe to add a little extra veggies without the kids knowing!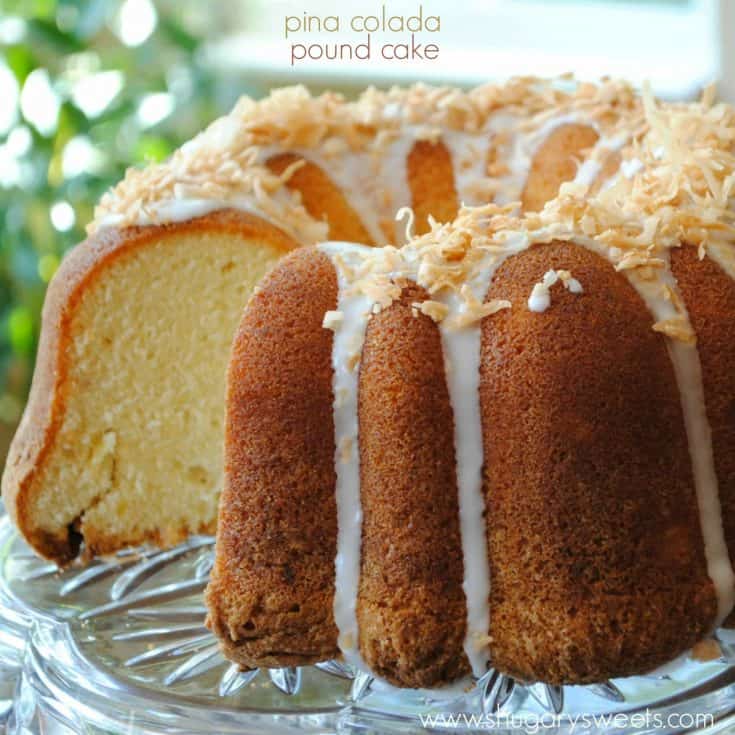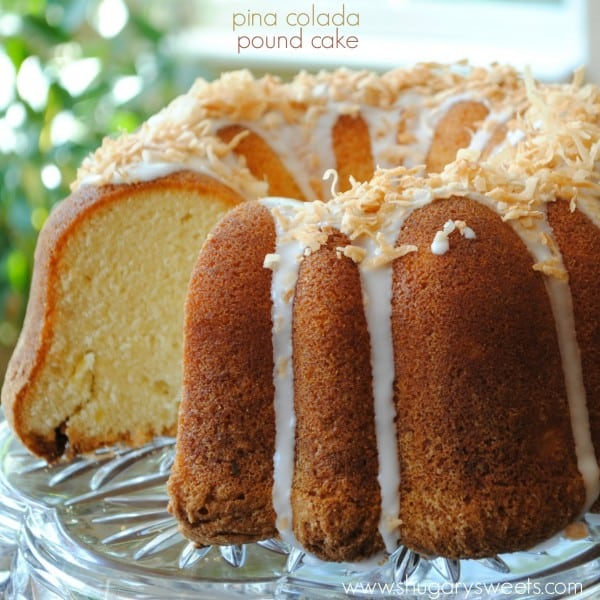 Pina Colada Pound Cake: perfect pound cake with rum flavor, pineapple and coconut!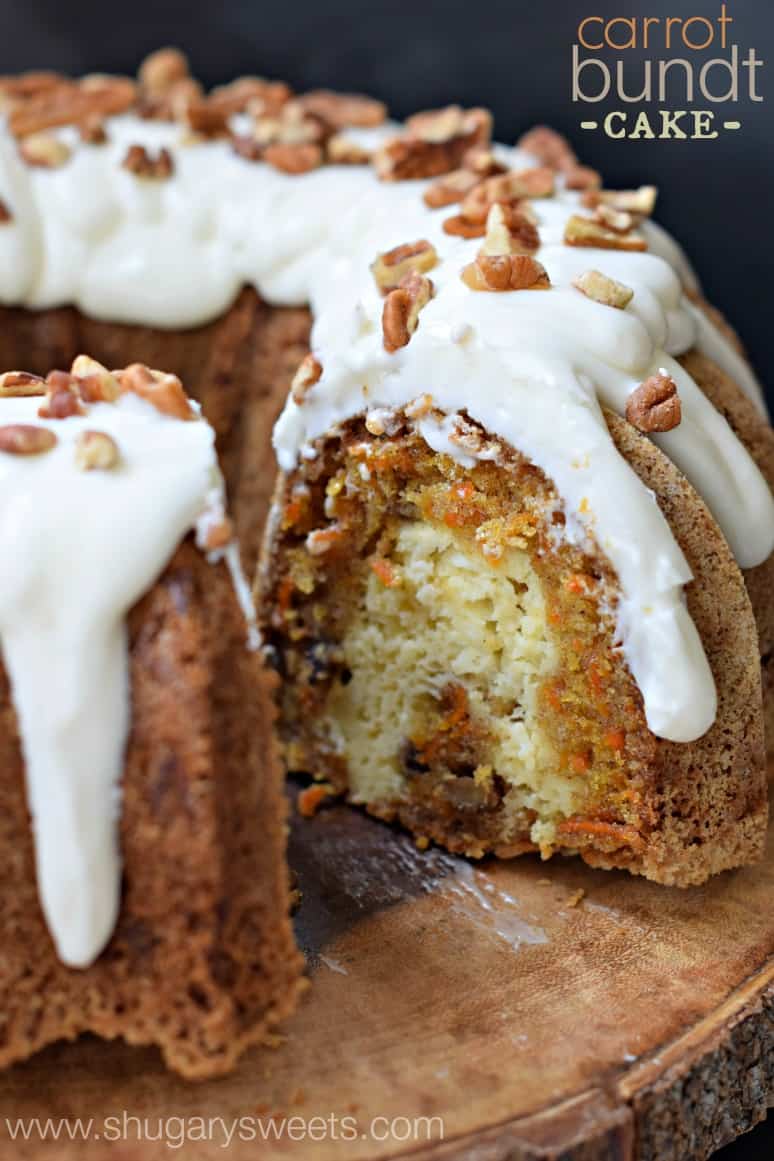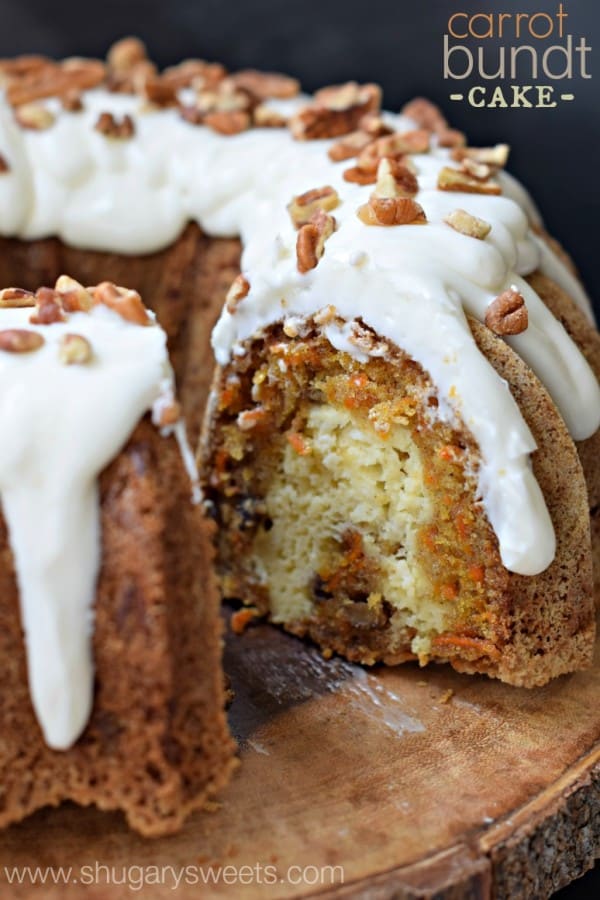 Carrot Bundt Cake: delicious carrot cake with cheesecake filling and cream cheese frosting!
Recipe originally published April 27, 2015