The most beautiful, delicious layered cake! Salted Caramel Chocolate Cheesecake Cake is exactly what you were looking for. Two rich chocolate cakes with a sweet cheesecake center. Topped with caramel frosting, chocolate ganache, and more salted caramel sauce.
Love salted caramel? Be sure to try this reader favorite Salted Caramel Cookie recipe! Or these thick and fudgy Salted Caramel Brownies.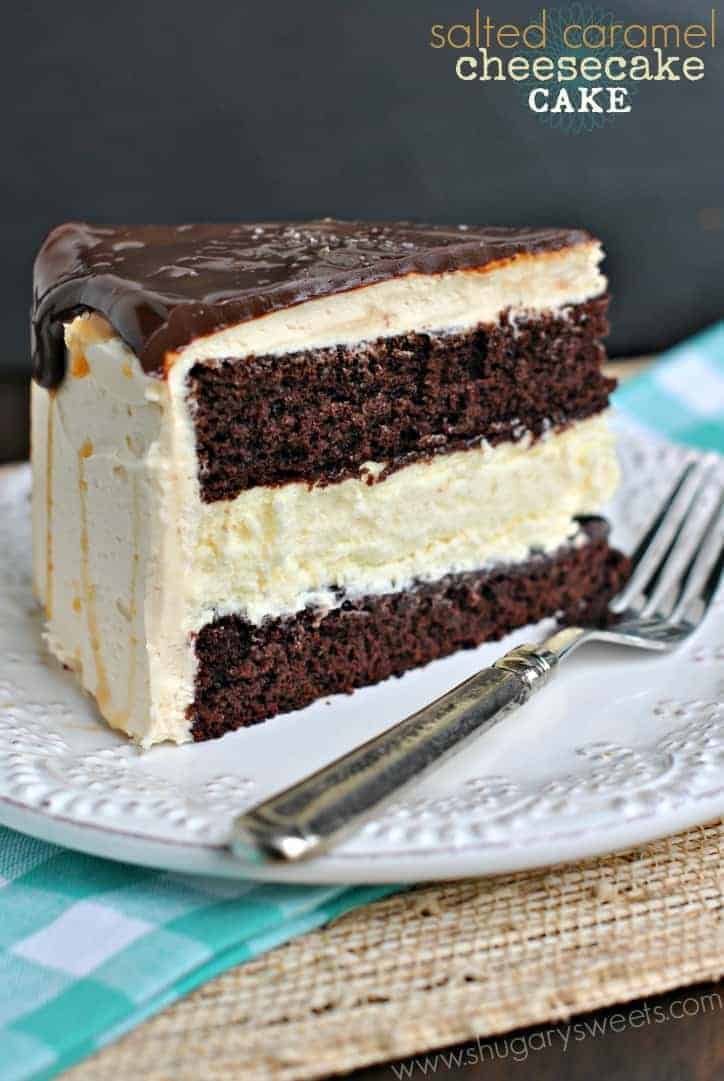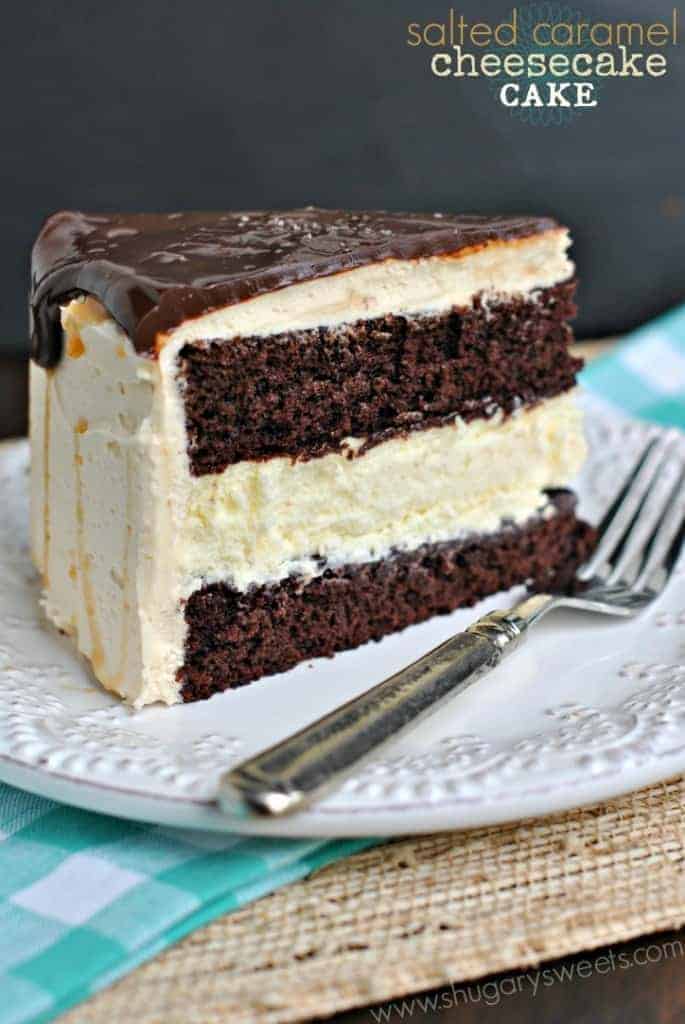 Why this Recipe is Best
You don't have to choose between cheesecake and layer cake. Cheesecake Cakes are the delicious marriage of two favorite desserts.
This Salted Caramel Chocolate Cheesecake Cake combines rich chocolate with sweet caramel with the perfect hint of sea salt. And you simply can't beat the layer of creamy cheesecake in the middle!
With this recipe, you can make the cheesecakes ahead of time and stash them in the freezer. Then, when you're ready for a cheesecake cake, just bake up a box of cake mix and assemble!
Or go ahead and make everything the same day. It's hard to wait when you know this Salted Caramel Cheesecake Cake is on the dessert menu.
Ingredient Notes
Chocolate cake mix.You can't beat the convenience of your favorite boxed mix. Or make your cake from scratch with this dark chocolate cake recipe. Both are amazing!
Caramel sauce. I have used both homemade caramel sauce or a store bought sauce in this recipe.
Kosher salt. Use a coarse salt such as kosher salt or sea salt crystals for topping the cheesecake cake.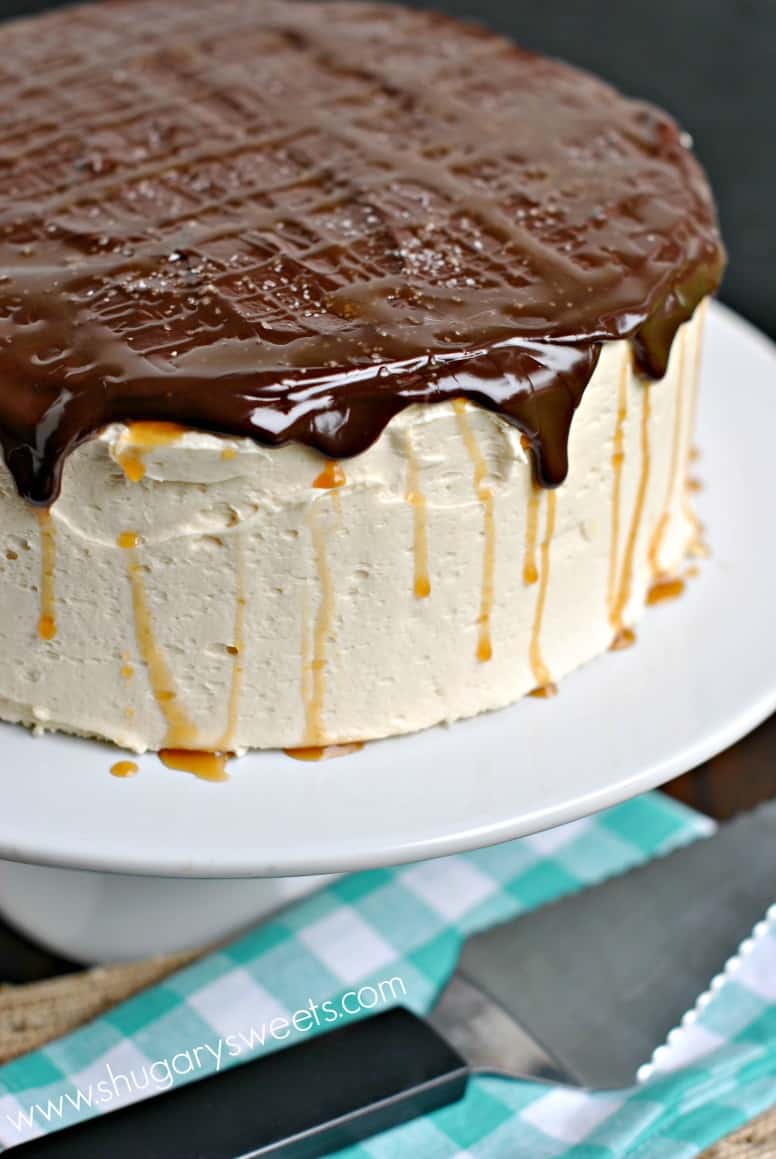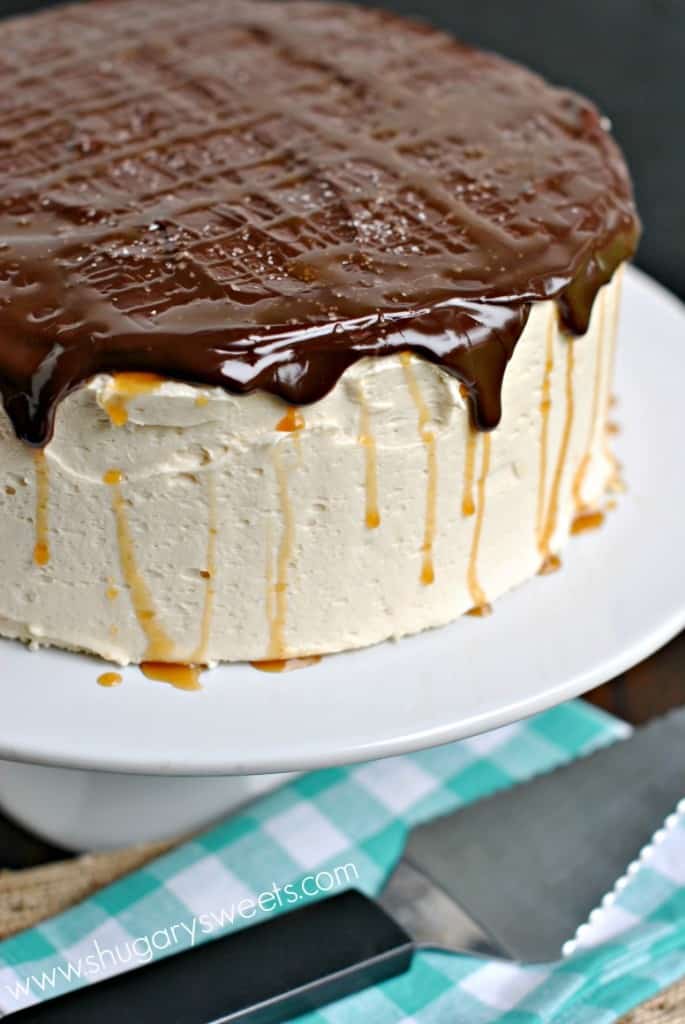 Easy Instructions
First, you make the cheesecake. Beat together the cheesecake ingredients, then bake in a parchment lined spring form pan.
Bake in a preheated oven over a roasting pan filled with boiling water. This "steam bath" helps bake the cheesecake evenly and give it its amazing consistency.
After the cheesecake has cooled, you can transfer it right to the fridge or freezer to chill.
When you're ready for cheesecake cakes, make your chocolate cake layers.
Bake the boxed cake mix according to package directions in two 9 inch cake pans. While the cake layers cool, whip together the caramel buttercream frosting.
To assemble the cake, top one of the cake layers with the cheesecake, then add the second cake layer on top. Spread buttercream frosting over the sides and top.
Chill the frosted salted caramel cheesecake cake while you make the ganache. Once the chocolate ganache is ready, spread it on top of the frosted cheesecake cake.
Drizzle with more caramel sauce and sprinkle with coarse salt before serving.
Tips and Tricks
Plan to make Salted Caramel Cheesecake Cake a day in advance. I made the cheesecake one night, then the next morning I baked the cake layers. In the afternoon I whipped up the frosting and assembled the cake. I then refrigerated the cake and made the ganache the following morning. We enjoyed the cake that afternoon.
You can make the cheesecake layer further in advance by wrapping tightly and storing in the freezer until ready to use.
Refrigerate the cake once it's frosted. The cold frosting stands up to the warm ganache. Speaking of ganache, allow it too cool slightly before adding to the cake. Otherwise it would be a disaster.
Slice yourself the first piece, because this cake will go fast, and you earned it!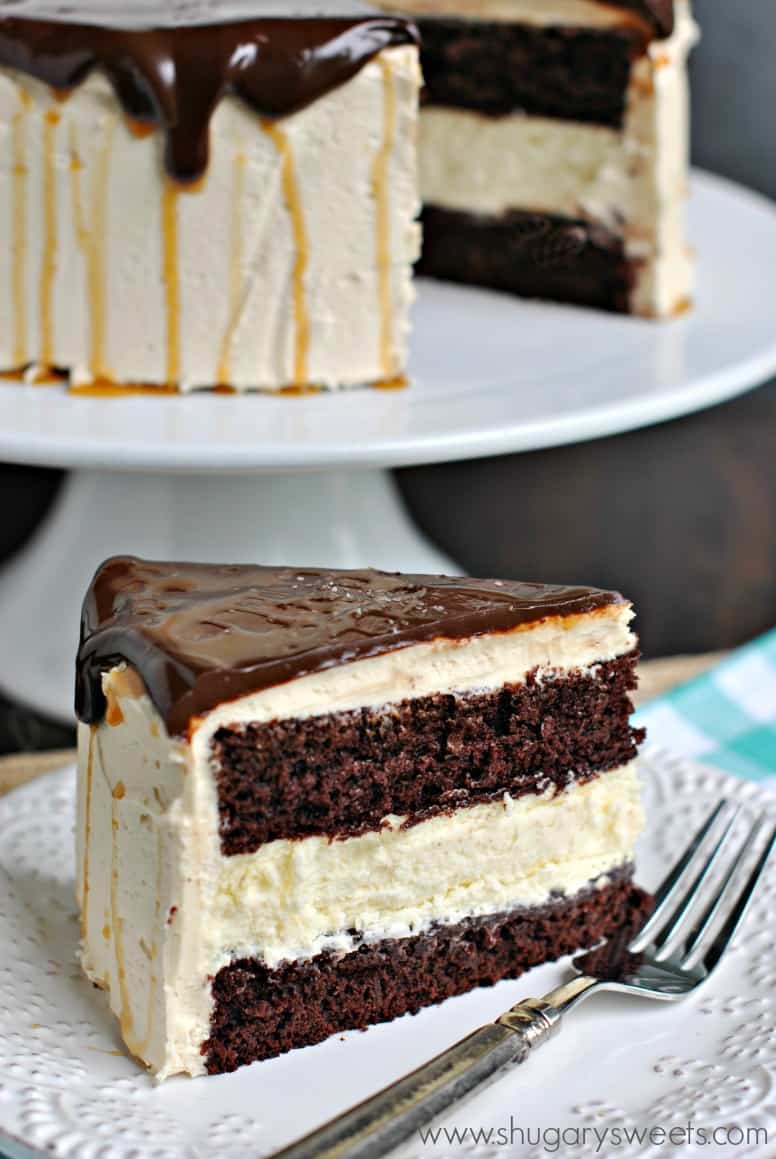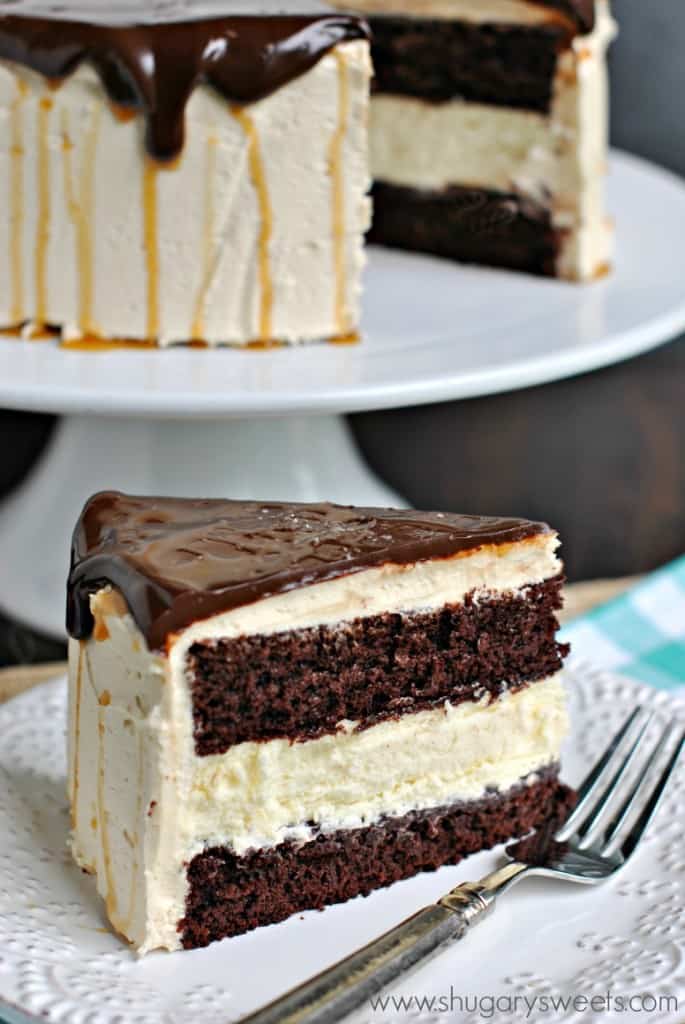 Recipe FAQs
Can I make Salted Caramel Cheesecake Cake with table salt on top instead of Kosher salt?
No, you should not top this cake with table salt. If you don't have kosher salt or coarse sea salt, don't add any salt on top of the cake. You'll still have a deliciously sweet Chocolate Caramel Cheesecake Cake!
Do you leave the cheesecake in the pan when freezing?
I only leave the bottom of the springform pan on the cheesecake when freezing or chilling.
Does this Salted Caramel Cheesecake Cake need to be kept in the fridge?
Yes, I recommend keeping the cheesecake cake chilled until you're ready to serve.
How long does cheesecake take to thaw?
The frozen cheesecake only takes a couple of hours to thaw. You can take it out of the freezer and let it thaw while you bake the layer cakes.
Decadence never looked so good! This Salted Caramel Chocolate Cheesecake is sure to get plenty of "oohs" and "ahhs." And it tastes even better than it looks!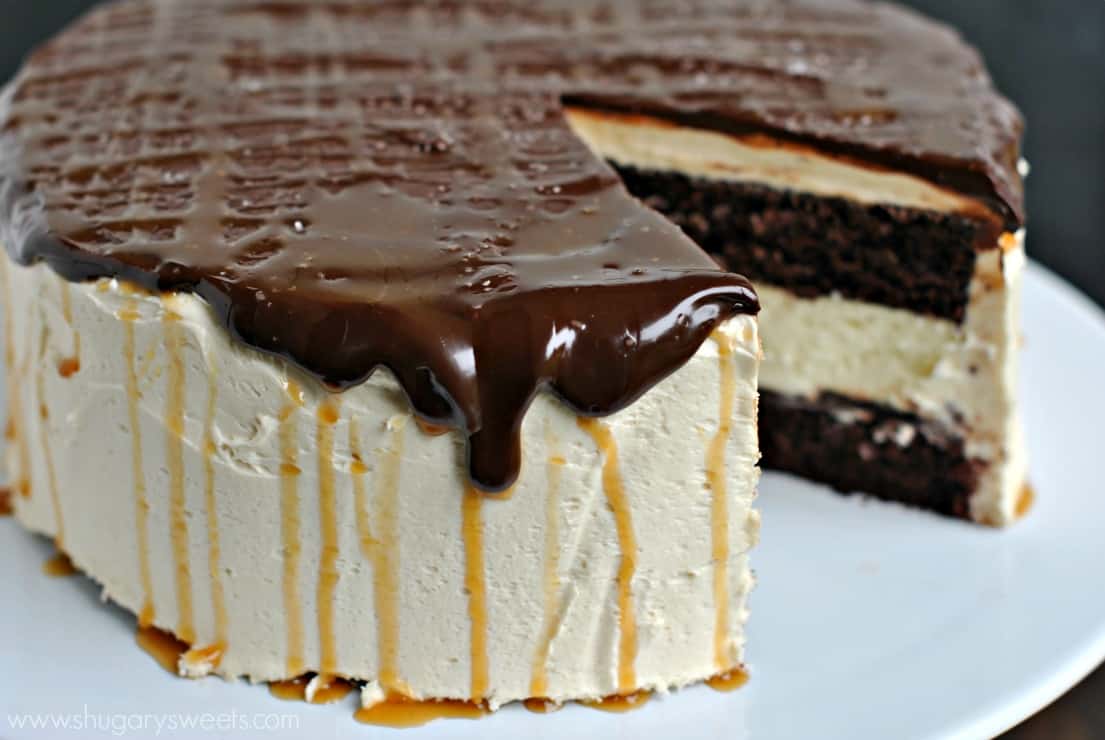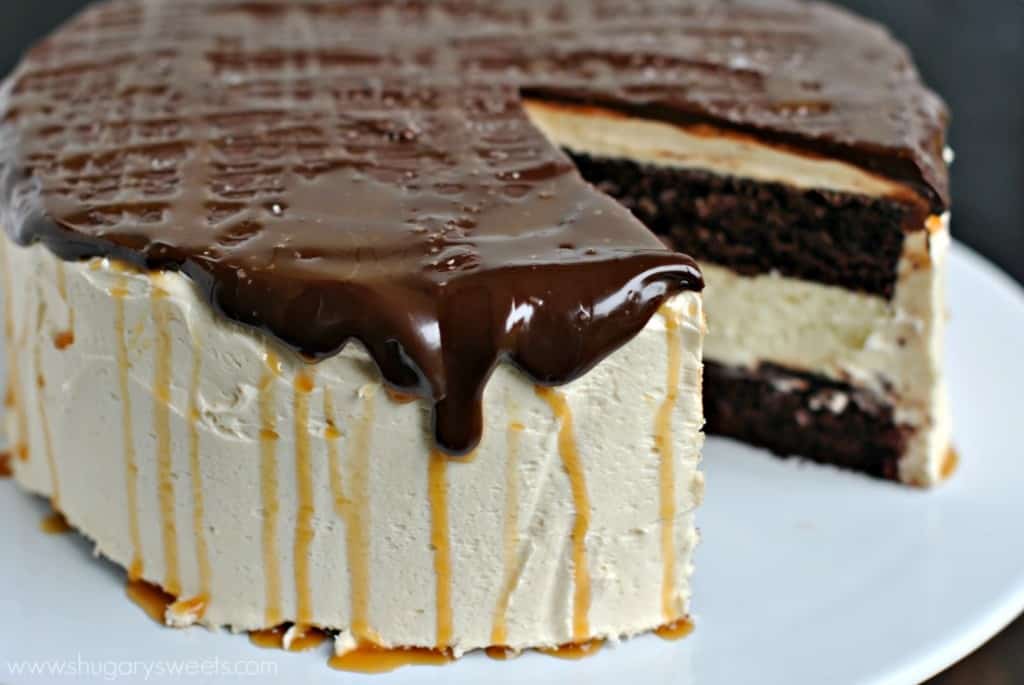 More Cheesecake Cakes
PS. If you try this recipe, please leave a STAR rating in the recipe card below. I love your feedback! Connect with me on social media by following me on Instagram, Facebook, or Pinterest.