If you love sweet and salty treats, you'll love these Salted Caramel Cookies! Sprinkled with a touch of sea salt and speckled with chocolate morsels, these decadent chocolate cookies are as close to perfect as it gets.
Salted Caramel desserts are all the rage on my website. From this delicious Salted Caramel Cheesecake Cake to gooey Salted Caramel Brownies, there's something for everyone!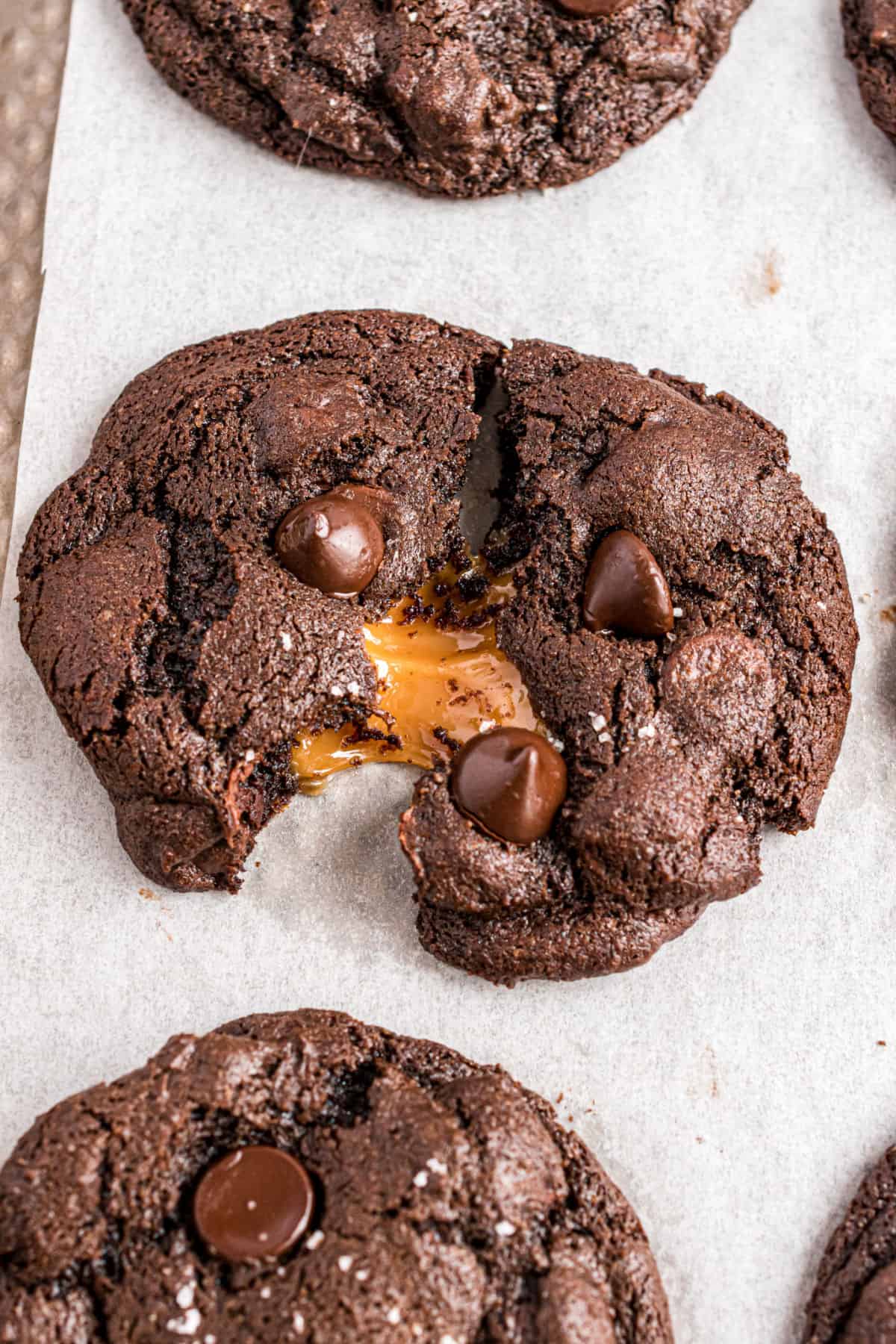 Chocolate Caramel Cookies
A couple of years ago, salted caramel treats starting popping up EVERYWHERE! You couldn't go to an ice cream parlor, coffee shop or bakery without seeing new takes on the salted caramel trend.
Chocolate is the ideal pairing for salted caramel! The butter and salty caramel flavor compliments the rich depth of any chocolate confection.
If you're looking for the best chocolate caramel cookie recipe, call off the hunt right now!
The cookies I'm sharing with you today are chewy, sweet and chocolatey, stuffed with caramel candy and dusted with sea salt.
They look like regular chocolate chocolate chip cookies at first glance. Then you bite into one and discover a caramel surprise in the center!
To make these cookies, you start by mixing together a thick chocolate cookie dough and folding in chocolate chips–because why have just a little chocolate when you can have a LOT?
Before baking the cookies, you press a caramel or Rolo candy into each one and garnish it with a tiny sprinkle of sea salt.
Sea Salt on Cookies
Half of you are reading this thinking, "Salt! On cookies! That's the best!"
Then there are those of you reading this thinking, "SALT?! On cookies?! She must be crazy!"
I promise I'm not losing it. A little bit of salt on top of your cookies goes a long way.
Salt functions as a flavor enhancer, primarily. If you've ever accidentally left the salt out of a loaf of homemade bread or a batch of chocolate chip cookies, you know what a difference it makes.
In fact, salt is the secret lots of bakeries use to making their warm gooey cookies so irresistibly delicious.
A little salt helps the sweetness of any cookie shine. When chocolate and caramel are involved, the addition of a bit of coarse sea salt is enough to make you swoon.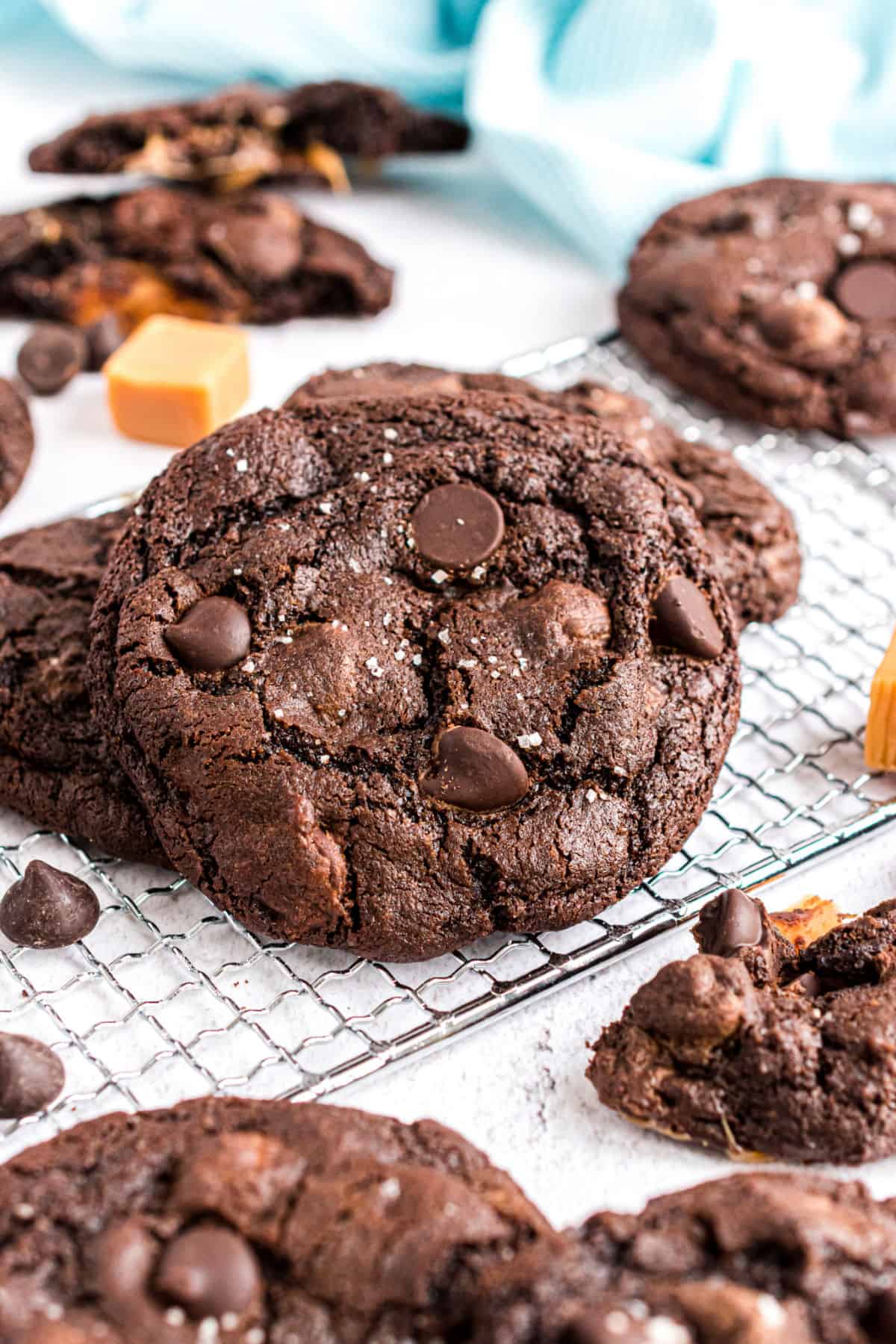 Ingredient Notes
Unsalted butter- you'll use enough sea salt on top that you don't need salted butter for today's cookie.
Brown sugar– keeps these cookies soft and chewy!
Vanilla Extract- I love using my homemade vanilla extract in my baking for best results
Cocoa powder- Use unsweetened cocoa powder. My favorite is Ghirardelli. It's got a great flavor leaving a bitter taste, super affordable, and gives these cookies a dark chocolate color too!
Dark chocolate chips– you could also use semi-sweet chocolate chips in today's recipe
Rolos or caramel candies– Whatever you choose it's a great surprise in the center! A DOVE chocolate caramel would be fantastic too. Our homemade caramels are soft and buttery and would be a perfect substitution.
Coarse sea salt (for topping)– use flaky sea salt for best results. Do NOT use table salt.
Easy Instructions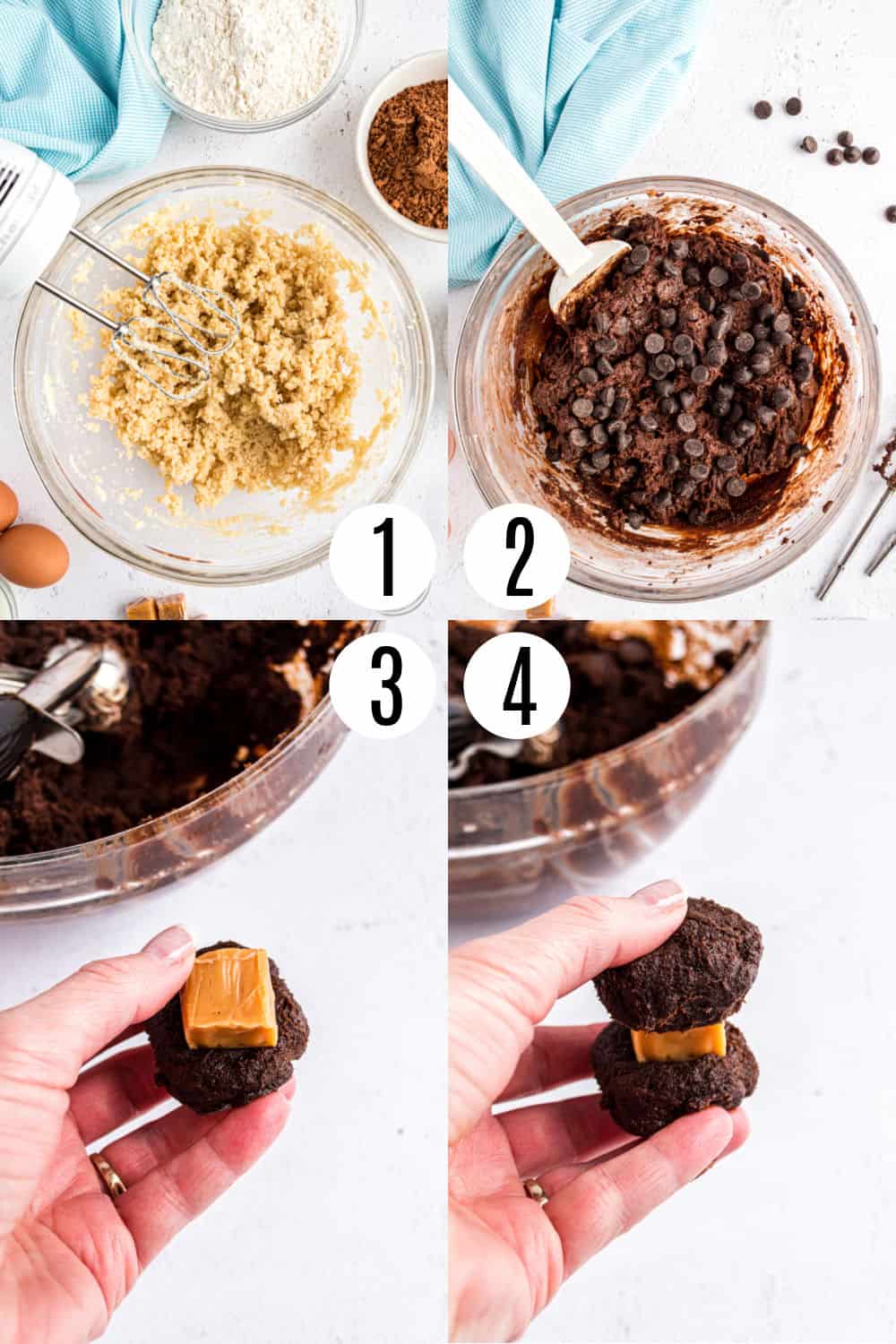 STEP 1. Make the cookie dough
Unlike my chocolate macadamia cookie, you'll need to chill this cookie dough for one hour.
STEP 2. Add the caramels and salt
Preheat oven to 350 degrees F. Line a baking sheet with parchment paper, set aside.
Using a 1 Tbsp cookie scoop, roll cookie dough in hands. Stick a rolo or caramel on top and ad second ball of dough over the caramel, making sure it's sealed and no part of the caramel is showing.
Sprinkle each cookie with sea salt before baking.
STEP 3. BAKE!
Because of their dark color, it's hard to tell when these cookies are done. Use an oven thermometer to make sure you oven temperature is accurate, then trust my timing.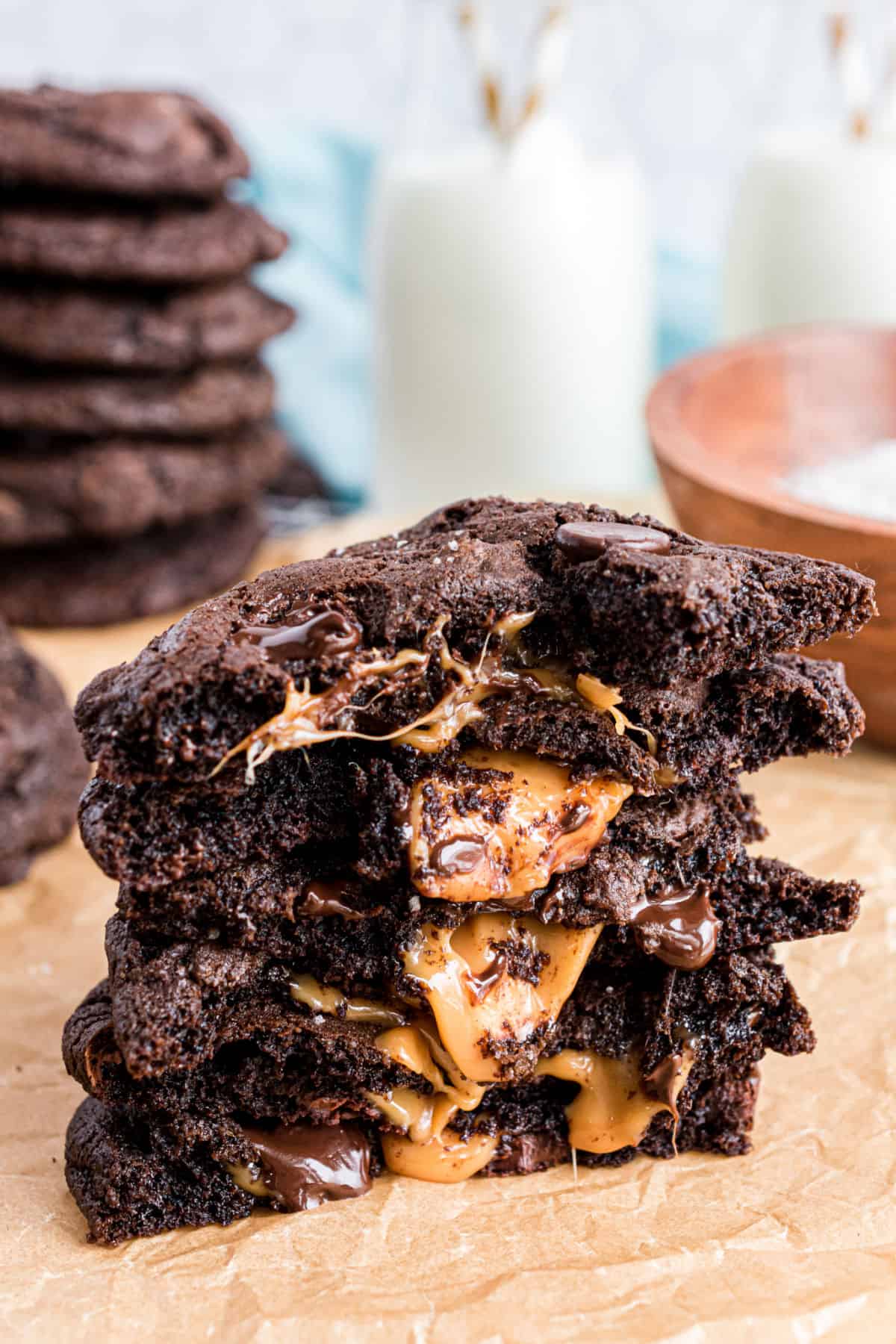 Tips & Tricks
DO NOT OVERBAKE! The cookies will look a little underdone when you first pull them out of the oven. They'll continue finishing to bake on the cookie sheet as they cool, giving them that wonderfully chewy texture.
Make sure to use standard sized rolos or caramels here, not the giant kind.
Want to make the cookies in advance? You can make the dough ahead of time and keep it wrapped tightly in the fridge for up to a few days until you're ready to add the caramels and bake!
For the softest caramel center, ROLOs achieve this very well. Using Kraft caramels is delicious and inexpensive, but they do stay much firmer after baking.
Add Oreos. Make a batch of our delicious cookies and cream cookies next for a rich and fudgy treat.
Recipe FAQs
How long will these Salted Caramel Cookies keep?
Store your salted caramel chocolate cookies in an airtight container at room temperature for up to 4 days.
Can you freeze caramel cookies?
Yes! I love freezing cookies and cookies dough. To freeze these cookies, slide cooled cookies into an airtight freezer bag and store for up to 3 months.
What are good caramel substitutes?
No a fan of caramels? Swap out the caramel for a Reese's Peanut butter cup instead!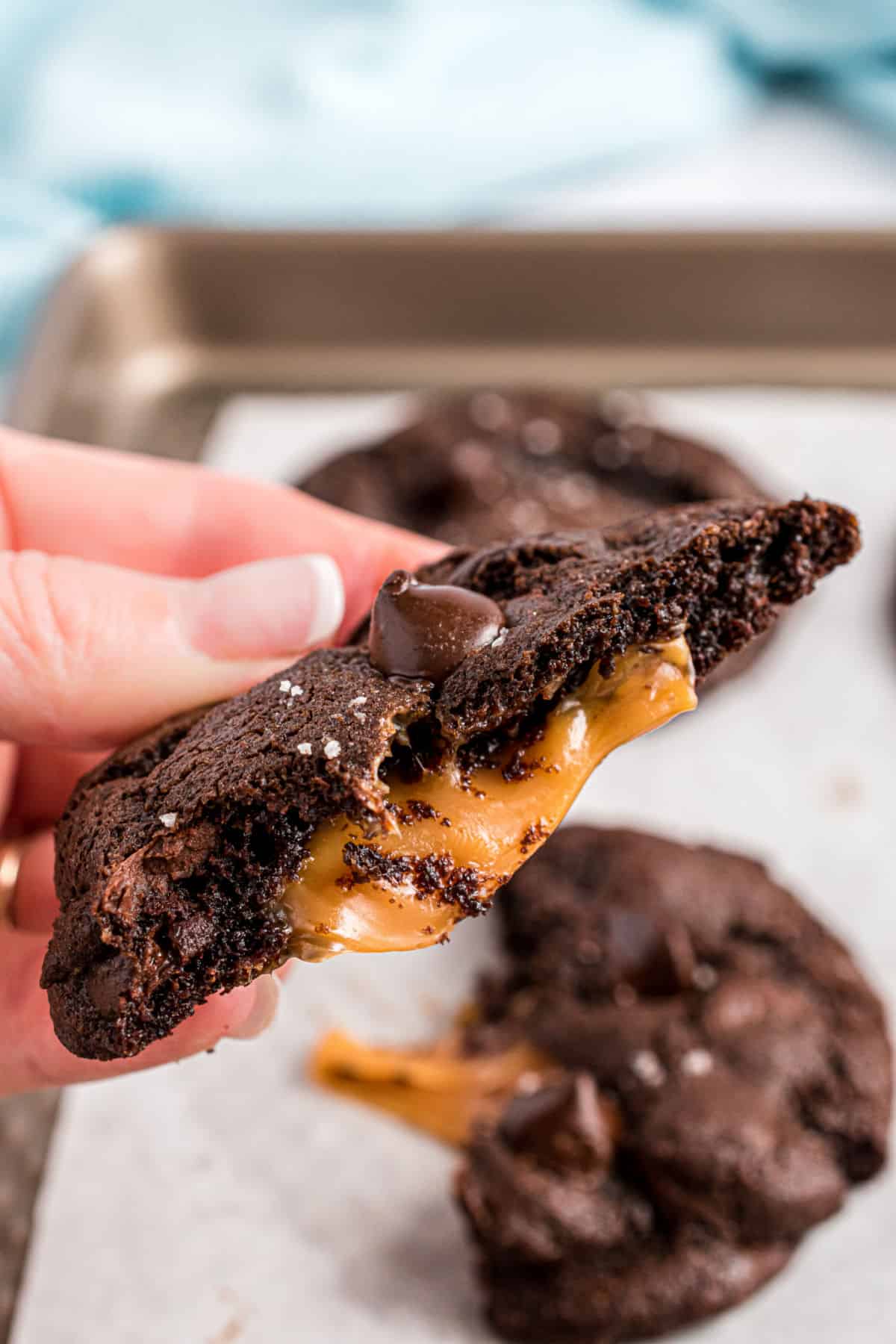 Whether you're a long time salted caramel lover or new to the whole idea of adding salt to your cookies, I know you'll enjoy this recipe! Treat your family–and yourself–by whipping up a batch of Chocolate Caramel Cookies today!