A chocolate lover's ideal cookie! Chocolate Chocolate Chip Cookies have a rich cocoa flavor with plenty of luscious milk chocolate chips in every bite.
Thick and fudgy, that's the perfect cookie combo. You'll see this same chocolate base in our Chocolate Macadamia Cookie recipe! So soft and chewy. Or give this cookie a peanut butter twist. Try our Chocolate Peanut Butter Cookies next!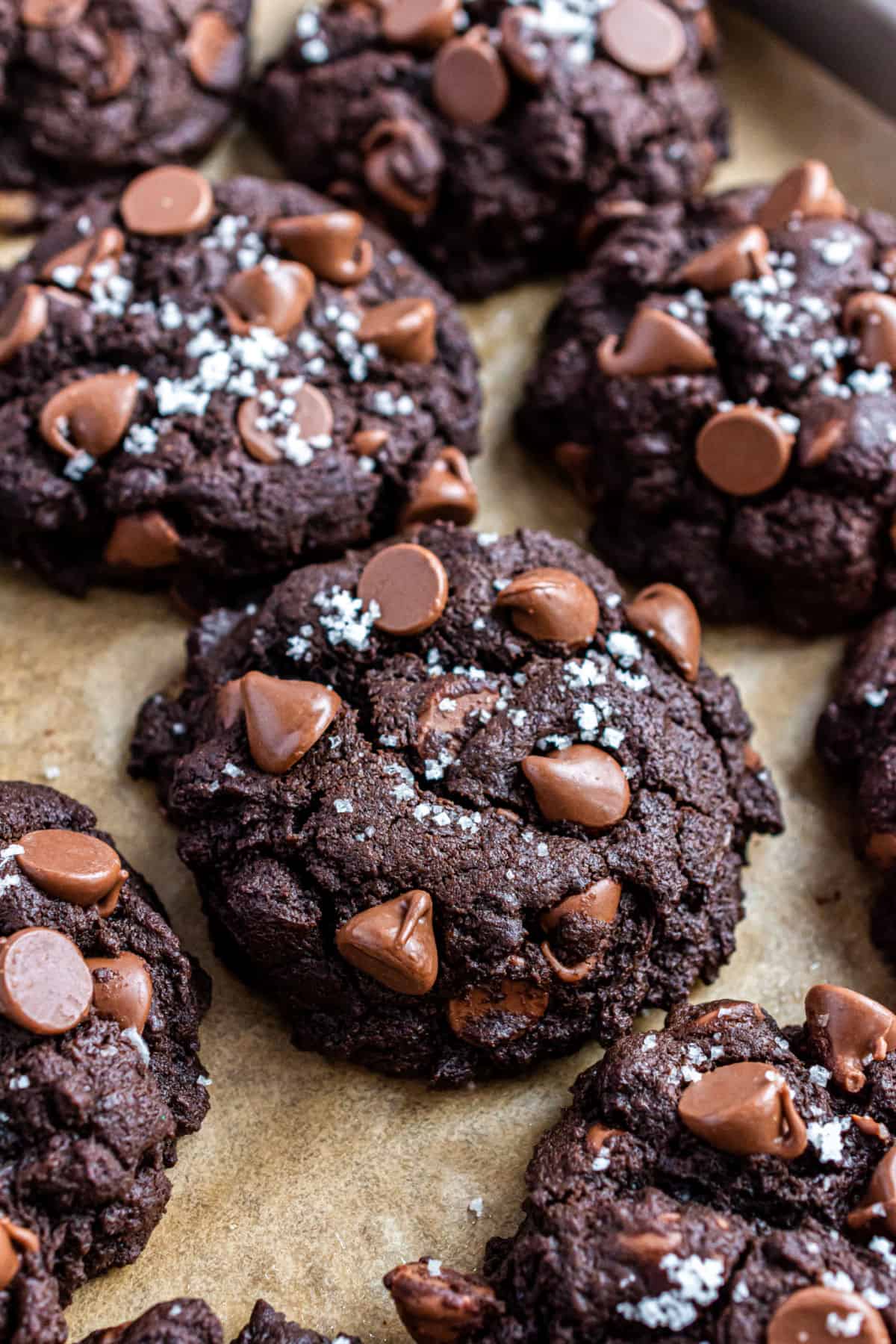 Chocolate and More Chocolate
The only thing better than chocolate is MORE chocolate, am I right?
Around here, we take chocolate desserts seriously. These cookies are not messing around with the chocolate factor.
The dough uses high quality cocoa powder and melted butter for a soft and decadent cookie that's absolutely bursting with rich chocolate flavor.
Sweet milk chocolate chips that melt in your mouth make it all the better!
I also added a sprinkle of coarse sea salt on top. While the chocolate cookies are delicious without the salt, I love how it brings out the flavor and balances the intense sweetness in this dessert.
If you have a chocolate lover in your life (or if that chocolate lover is you) you MUST make these cookies. Actually, go ahead and make a double batch because they're so good you'll want to keep them all for yourself! Or add some oreos to make cookies and cream cookies next.
Ingredient Notes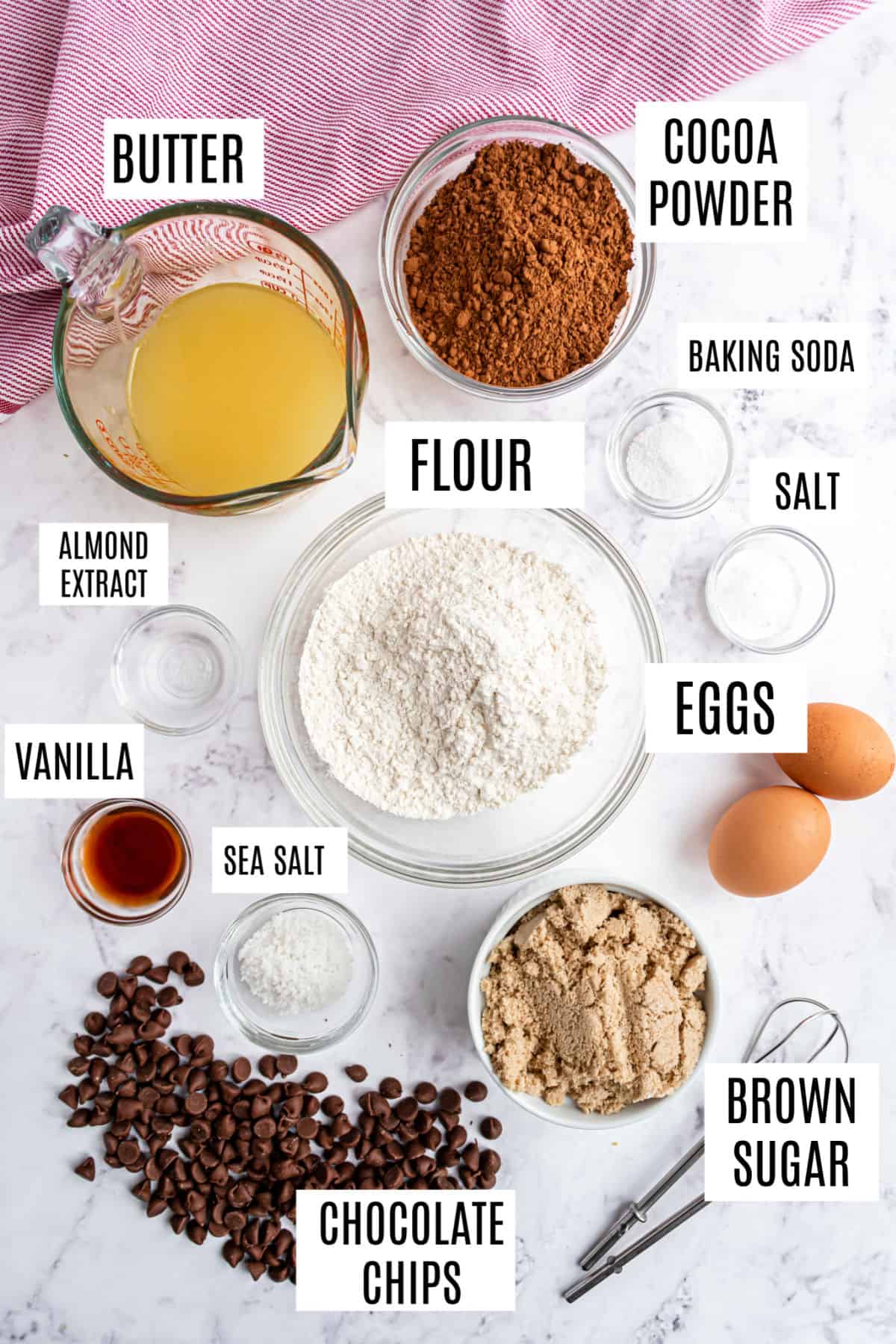 Cocoa Powder – Ghirardelli's unsweetened cocoa powder is my favorite in these cookies because of the high quality rich cocoa flavor. Hershey's Special Dark cocoa is another great option! Do NOT use a generic brand or Nestle in this recipe; I find those cocoas give the cookies and unpleasant bitter flavor.
Milk Chocolate Chips – I like how the milder creamy milk chocolate balances out the dark chocolate flavor in the cookie dough. However, if you can't get enough dark chocolate feel free to swap out the milk chocolate for dark! White chocolate morsels would taste great in this cookie, too.
Flaky sea salt – The salt is optional but if you use it make sure it's a flaky variety of salt or a coarse sea salt. Do not use table salt here.
Vanilla extract – Try my homemade vanilla extract recipe for an even more delicious cookie.
Easy Instructions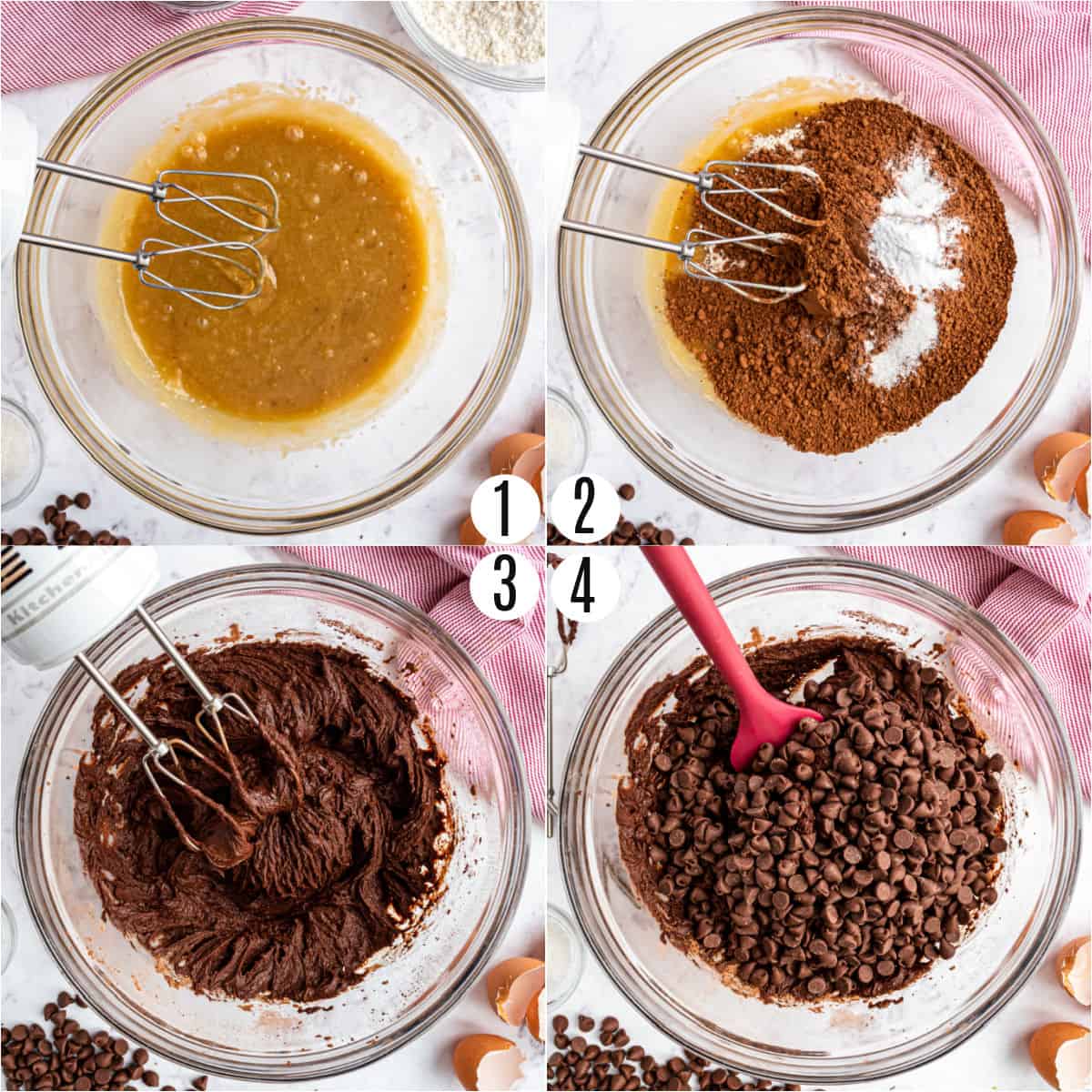 Beat together melted butter with brown sugar, then add eggs along with vanilla and almond extract. Mix in the dry ingredients until just combined.
Fold in chocolate chips (set aside a half cup of the morsels first). Drop the dough in 2 inch balls onto a baking sheet, then press a few of the reserved chocolate chips in to the top of each unbaked cookie. Sprinkle with salt if you like!
Bake the cookies for only 10 – 12 minutes. Don't worry if they look under baked–they'll firm up as they cool!
Tips & Tricks
Let the cookies cool on the baking sheet for at least 5 minutes before transferring them to a wire rack to complete cooling. The hot baking sheet will continue baking the cookies as they cool down, creating a cookie that holds its shape while staying soft and chewy.
Store the cookies in an airtight container (once cooled) at room temperature or freeze for up to 3 months.
Use our tips and tricks on how to freeze cookie dough.
Add Macademia nuts to the dough for a delicious twist!
Try our favorite Salted Caramel Chocolate Cookies for a gooey flavor too. Or add M&M's and make our Chocolate M&M's cookies!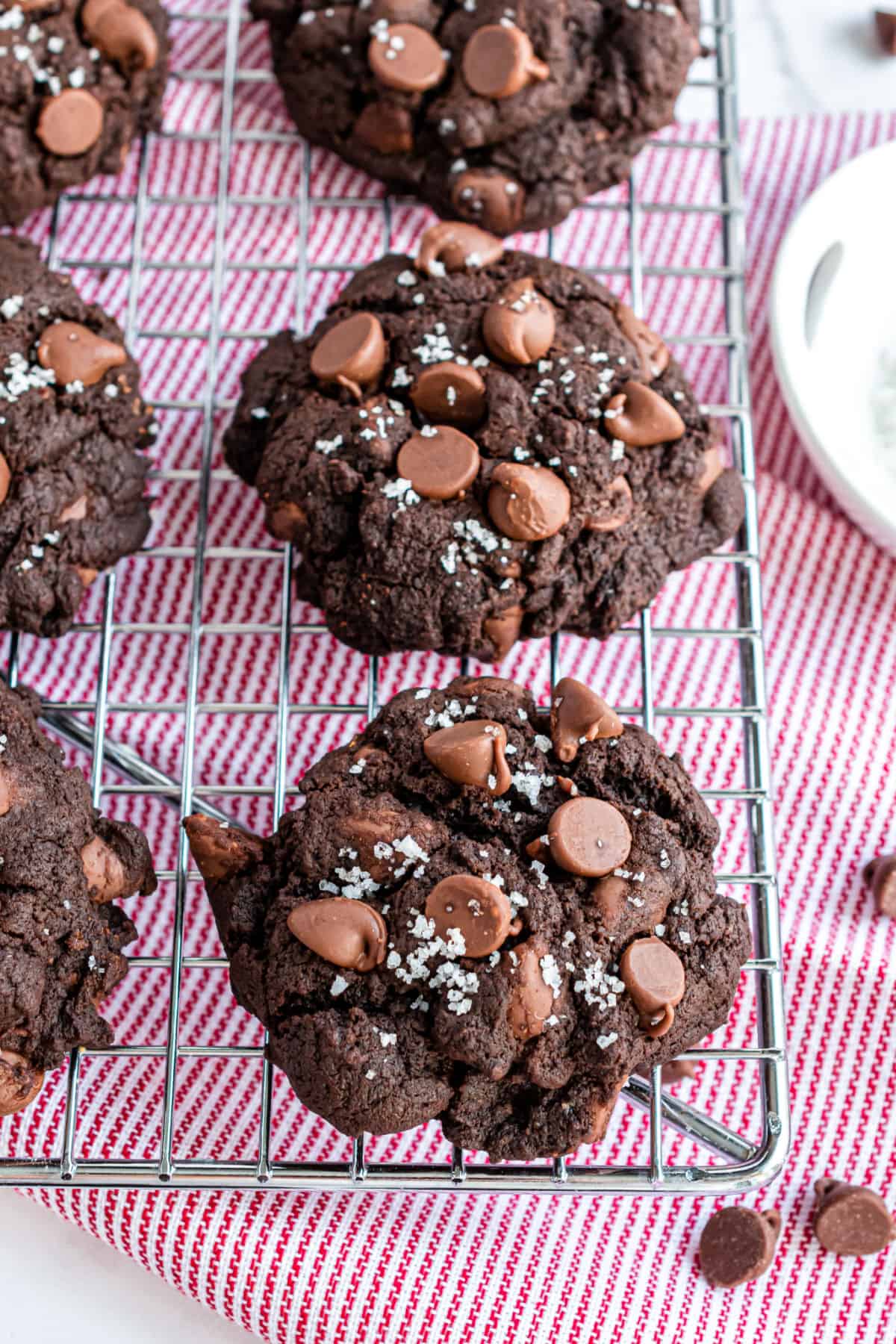 Recipe FAQs
Can you freeze this cookie dough?
Yes, I love to make the dough ahead of time and freeze in cookie dough balls!
Then, when you're ready to bake, place the frozen cookie balls on a baking sheet and add an extra minute or two to the baking time. No need to thaw first!
Should the cookies look runny when you take them out of the oven?
No. The cookies will look doughy and under baked but shouldn't be runny. If the dough looks runny, leave the cookies in for another minute or so.
Can I substitute semi-sweet chocolate chips for the milk chocolate?
Yes, semi sweet chocolate chips would be fine in this cookie recipe. I happen to prefer the flavor of the milk chocolate here.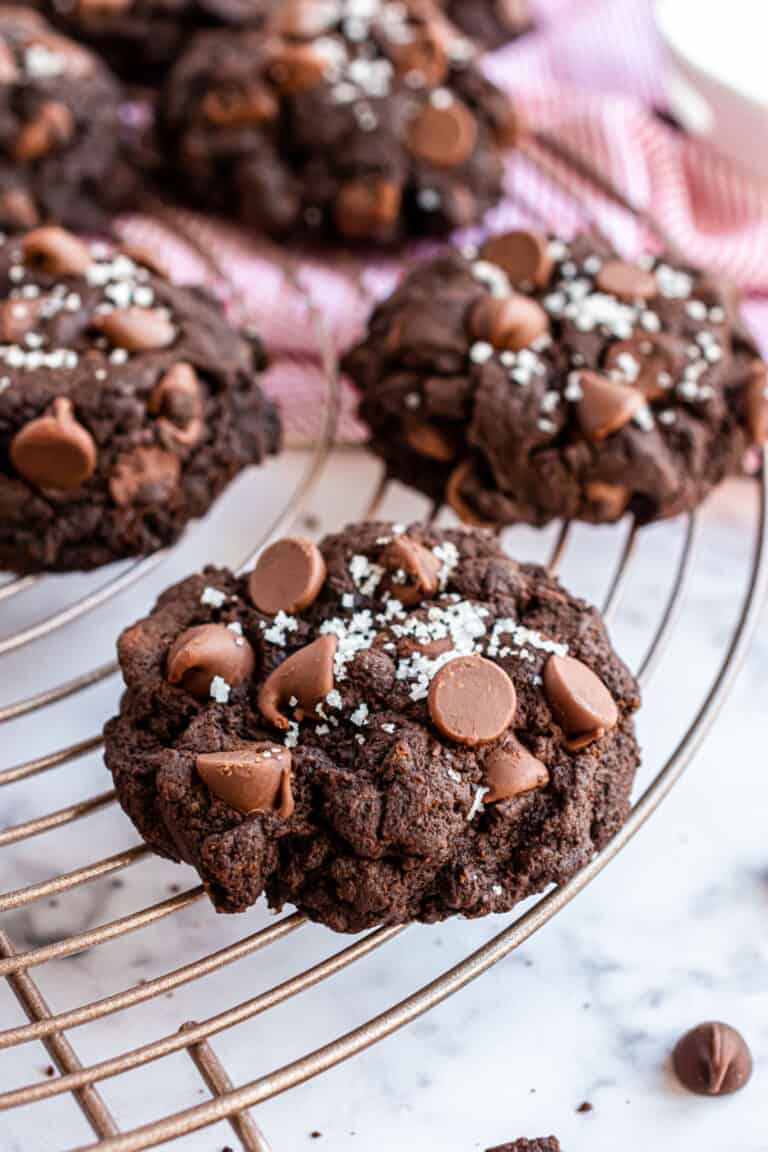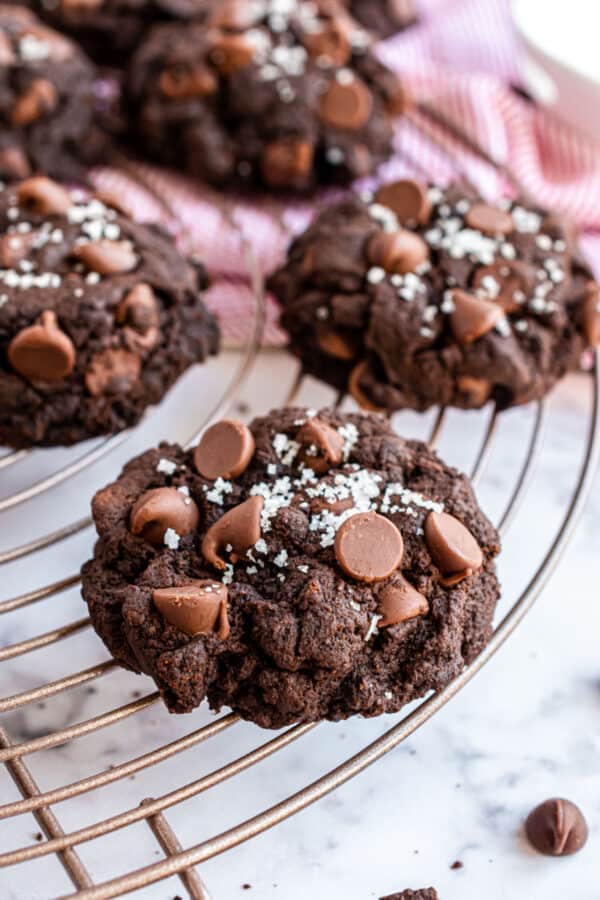 Calling all chocolate fanatics! This amazingly rich and delicious Double Chocolate Chip Cookie recipe was made just for you!