Double chocolate cookies meet M&M's candies. Chocolate M&Ms Cookies are decadently rich with a pop of color. With lots of chocolatey flavor and a satisfying crunch from the candy coating, these cookies are perfect with a glass of milk!
Remember these thick and fudgy M&M Brownies? Today's cookie recipe is another delicious combination of fudgy chocolate and melt-in-your-mouth M&Ms. For another festive treat, try our slice and bake cookies!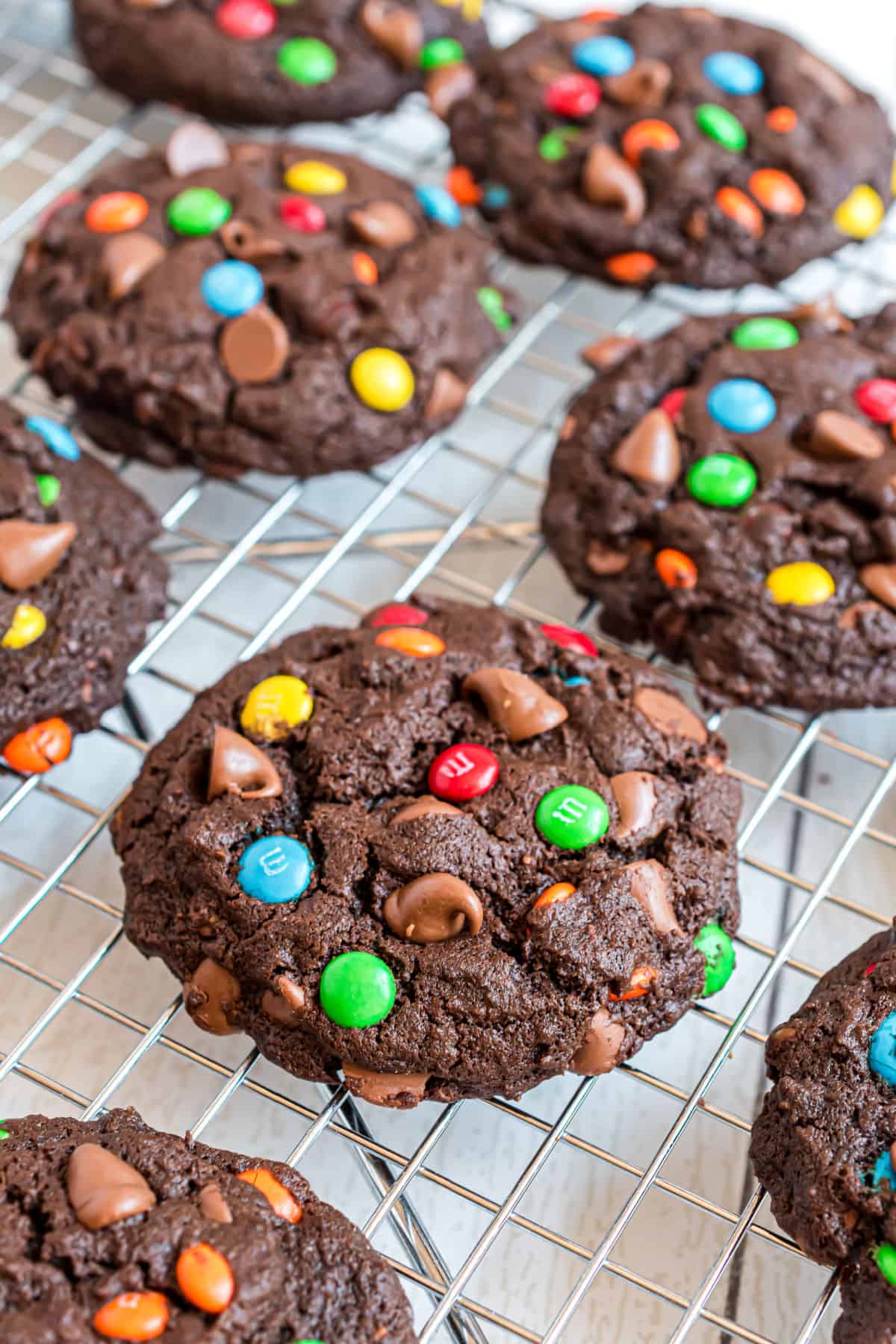 Why this Recipe is Best
If you love Chocolate Chocolate Chip Cookies and M&M's Cookies, today's recipe is about to shoot to the top of your favorites list!
Fudgy chocolate cookies packed with mini M&M's!
Uses a full cup of cocoa powder for the richest flavor.
Easy to make with only 15 minutes of prep time.
The sheer amount of cocoa powder in the dough means there's no debate: this is a chocolate lover's M&M's cookie recipe. These will remind you of my thick fudgy brownies!
We balanced out the bitterness of the cocoa with sweet milk chocolate M&M's.
Because more chocolate is always a good idea, you know? Try our cookies and cream cookies for that same thick and fudgy treat.
Ingredient Notes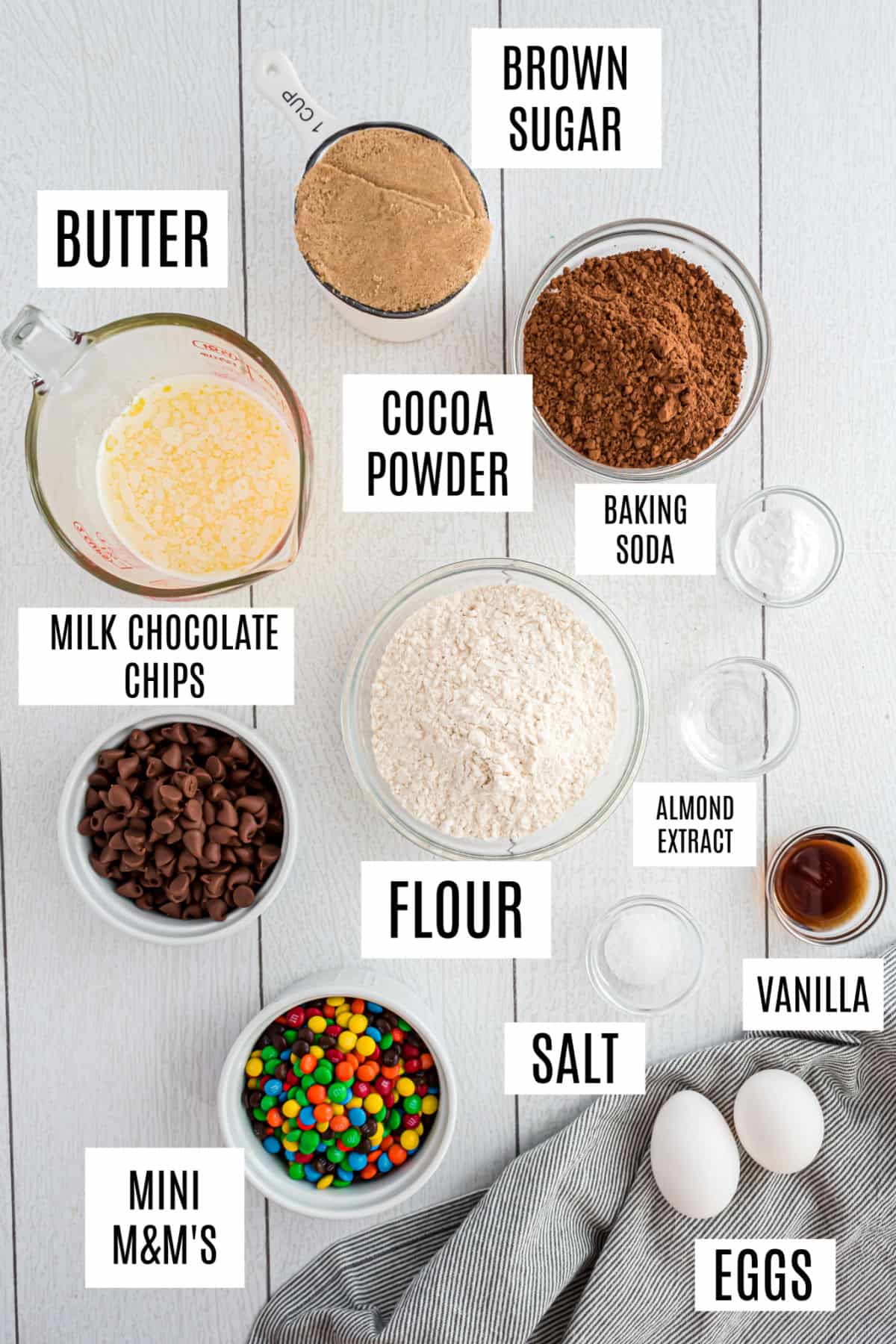 Melted butter. You can use unsalted or salted butter in this recipe. Melt it in a microwave safe bowl or measuring cup then let it cool for a few minutes. If using salted butter, feel free to skip the kosher salt.
Ghirardelli unsweetened cocoa powder. Can't find Ghirardelli? Substitute it for another premium brand of cocoa. There's a LOT of it in this recipe, so use the good stuff!
Chocolate chips. We preferred the flavor of milk chocolate morsels here. Substitute semi-sweet morsels for a darker chocolate version of these cookies!
Mini M&M's. The rainbow of color in the original mini M&M's makes the cookies beautiful. You can also use the special seasonal varieties to change up the colors for different occasions.
Easy Instructions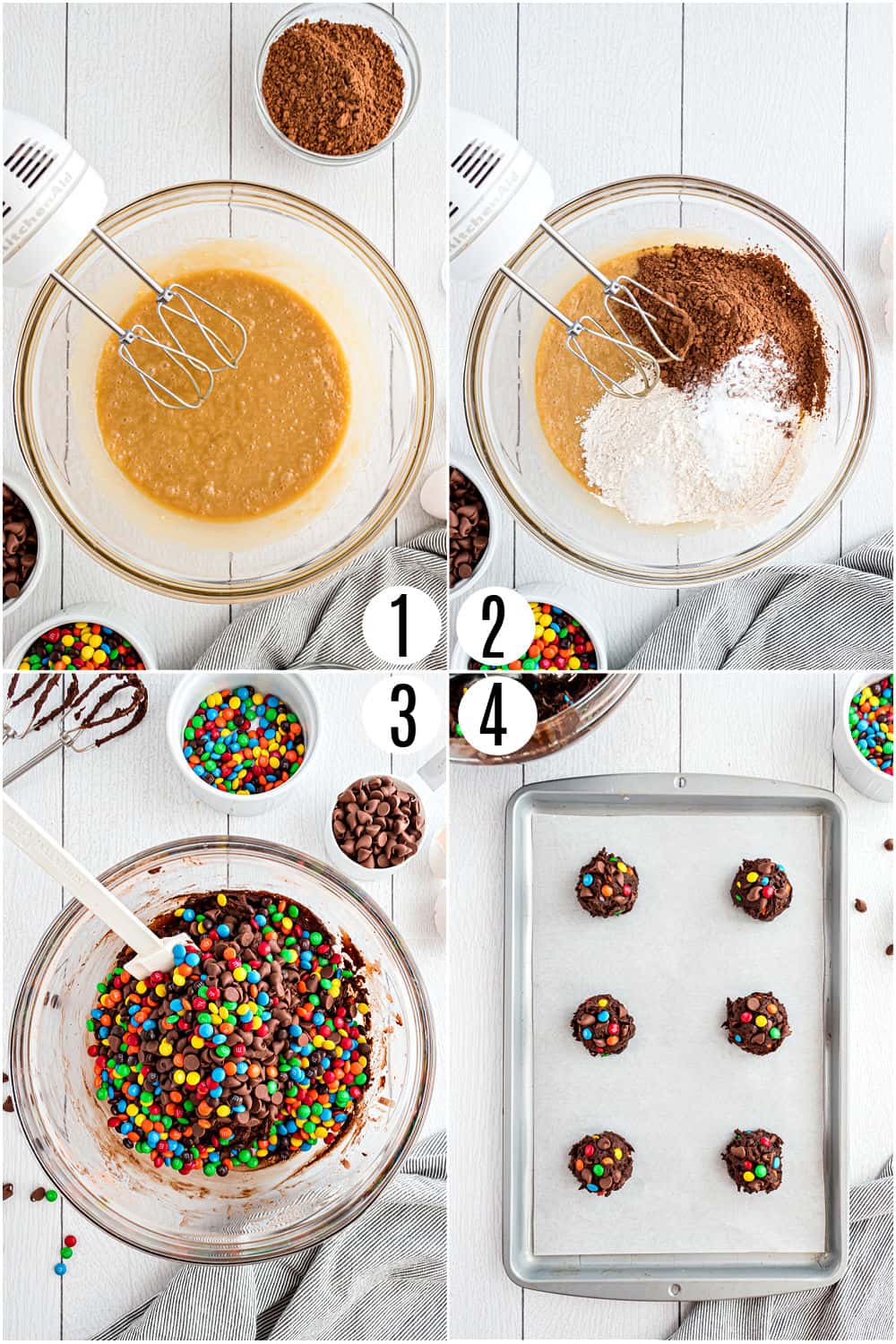 To make the chocolate cookie dough:
Mix together the melted butter with brown sugar. Beat in the eggs, vanilla extract and almond extract.
Now, add the dry ingredients (except the candies and chocolate chips) and mix to form a dough.
Fold in chocolate candies:
Set aside 1/4 cup of M&Ms and chocolate morsels. Fold the rest into the chocolate cookie dough.
Bake:
Use a cookie scoop to drop the dough onto a parchment lined baking sheet. Press a few of the reserved candies and chocolate chips onto the top of each scoop of cookie dough.
Bake for about 10 minutes. Let the Chocolate M&M's Cookies cool on the baking sheet for a few minutes, then transfer to a wire rack.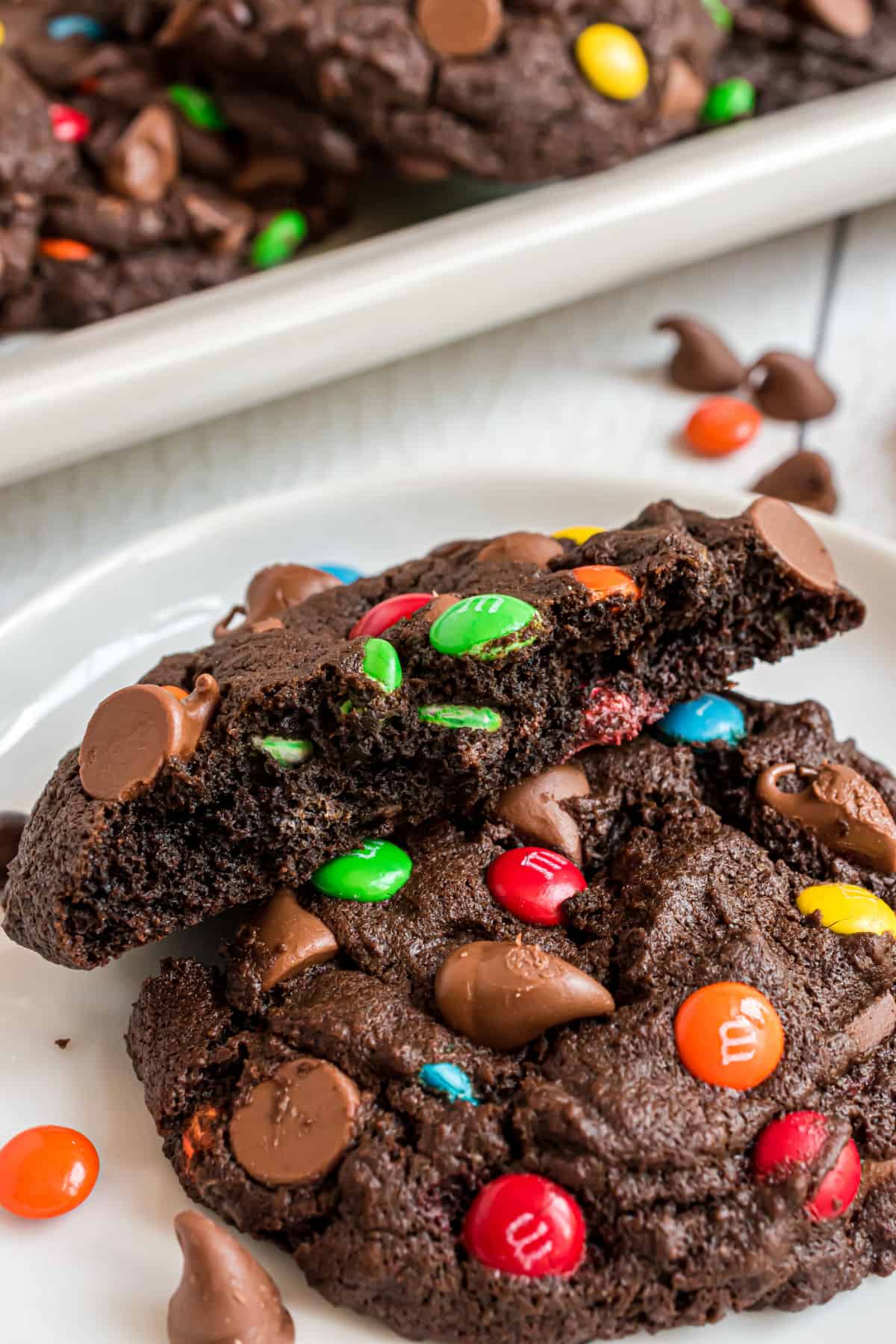 Tips & Tricks
Store cooled cookies in an airtight container at room temperature or freeze for up to 3 months.
You can also prep the dough ahead of time and freeze the unbaked balls of cookie dough! Make sure to store frozen dough double wrapped in freezer bags for best freshness.
Recipe FAQs
Why do you add extra chocolate chips and M&Ms on top of the cookies?
I press on the extra chocolate chips and candies to the tops of unbaked cookies mostly for aesthetic reasons. If you fold them all into the dough they can sink into the cookies while baking.
Putting a few on top instead gives the cookies a beautiful appearance. And everyone will know exactly what is inside the cookie they're about to eat!
If I freeze the dough, do I have to thaw it before baking?
No need to thaw! You can place the frozen dough balls on a baking sheet and bake as directed. Add a couple of minutes of extra baking time.
I can't get Ghirardelli cocoa powder where I live. What can I use instead?
Hershey's special dark cocoa powder is another good option for these cookies. Try to find a high quality premium cocoa. I don't recommend Nestle cocoa or off-brand cocoa for this recipe.
How can I tell when the cookies are done baking?
Chocolate M&Ms cookies are best when they are removed from the oven before fully baked. The cookies should look soft but not runny when they are done baking.
They'll continue to firm up to the perfect chewy, fudgy texture as they cool!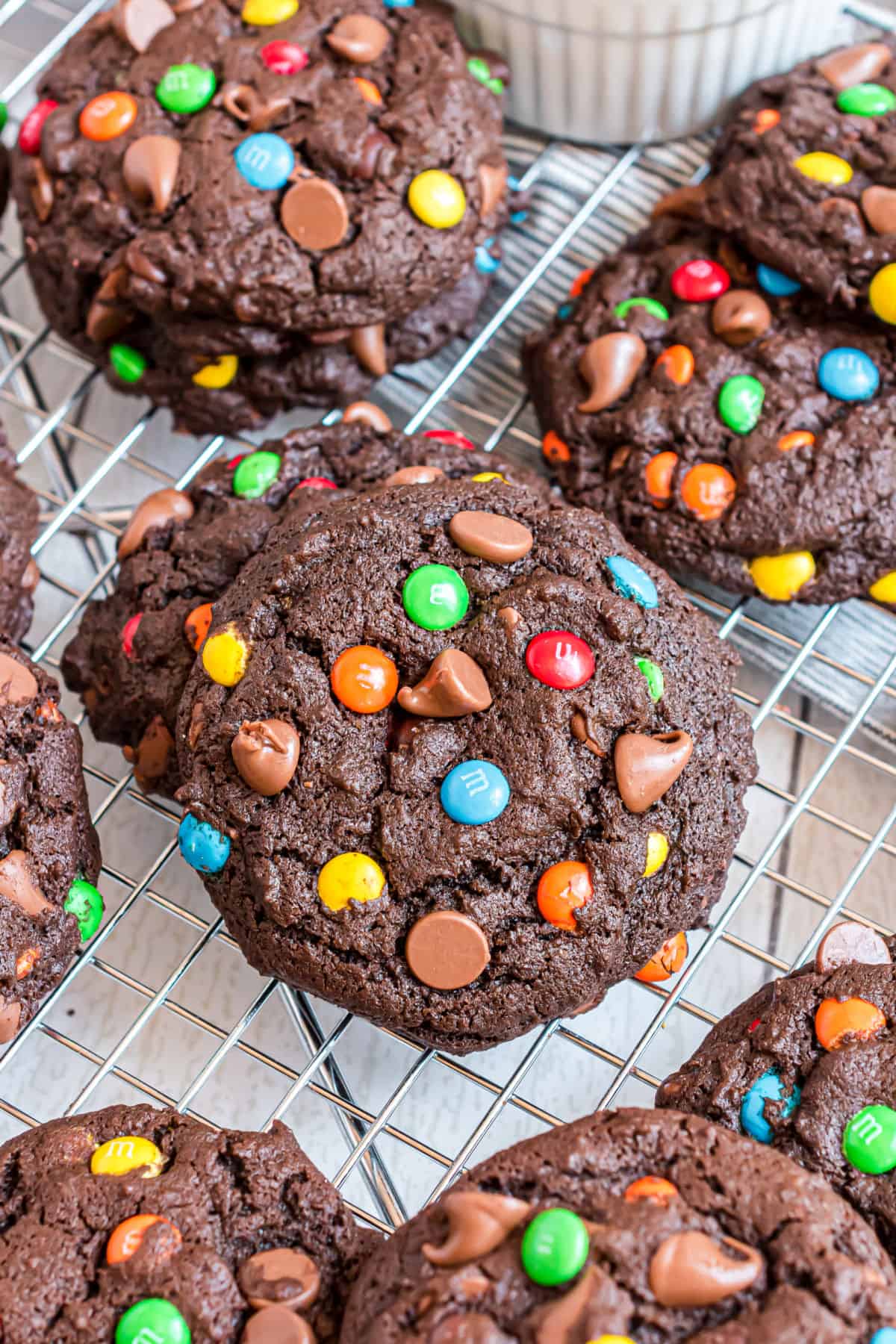 Chocolate, chocolate and more chocolate! These Double Chocolate M&Ms Cookies are about to become your family's new favorite M&M cookie!