Soft and chewy Cookies and Cream Cookies are packed with Oreo chunks and white chocolate. Their dark chocolate, Oreo-like base makes them irresistible!
If you love cookies and cream, give our delicious Oreo fudge recipe a try next. Or try our reader favorite Oreo stuffed cookies a try for a scrumptious treat.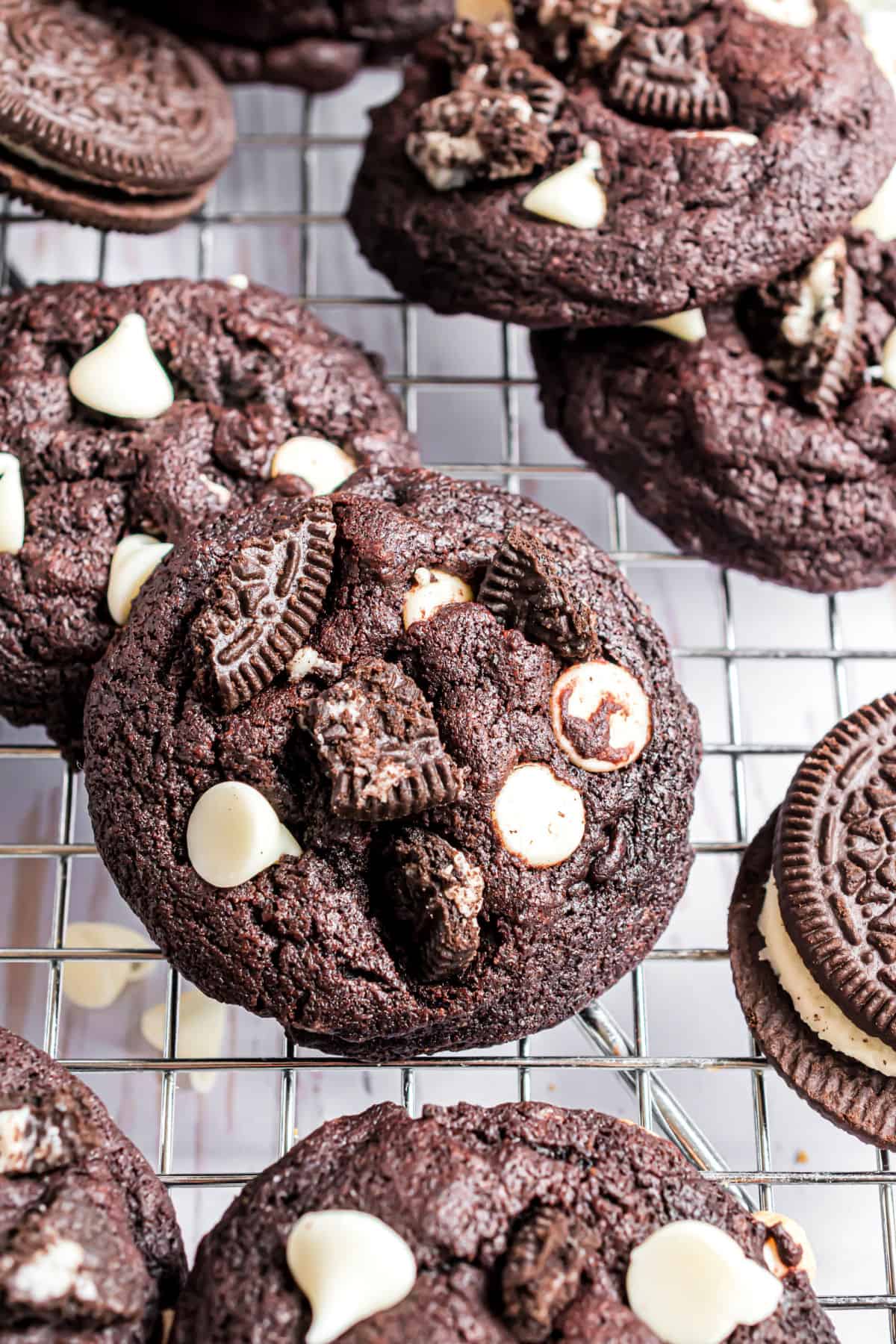 Why You'll Love These
If you love fudgy brownies, today's cookies are reminisicent of our favorite Oreo brownie recipe.
Fudgy and chewy, these cookies are decadent.
For more decadent cookies, try our delicious Crumbl copycat buckeye cookie recipe. Or give our copycat Starbucks flourless chocolate cookie a try soon.
Ingredient Notes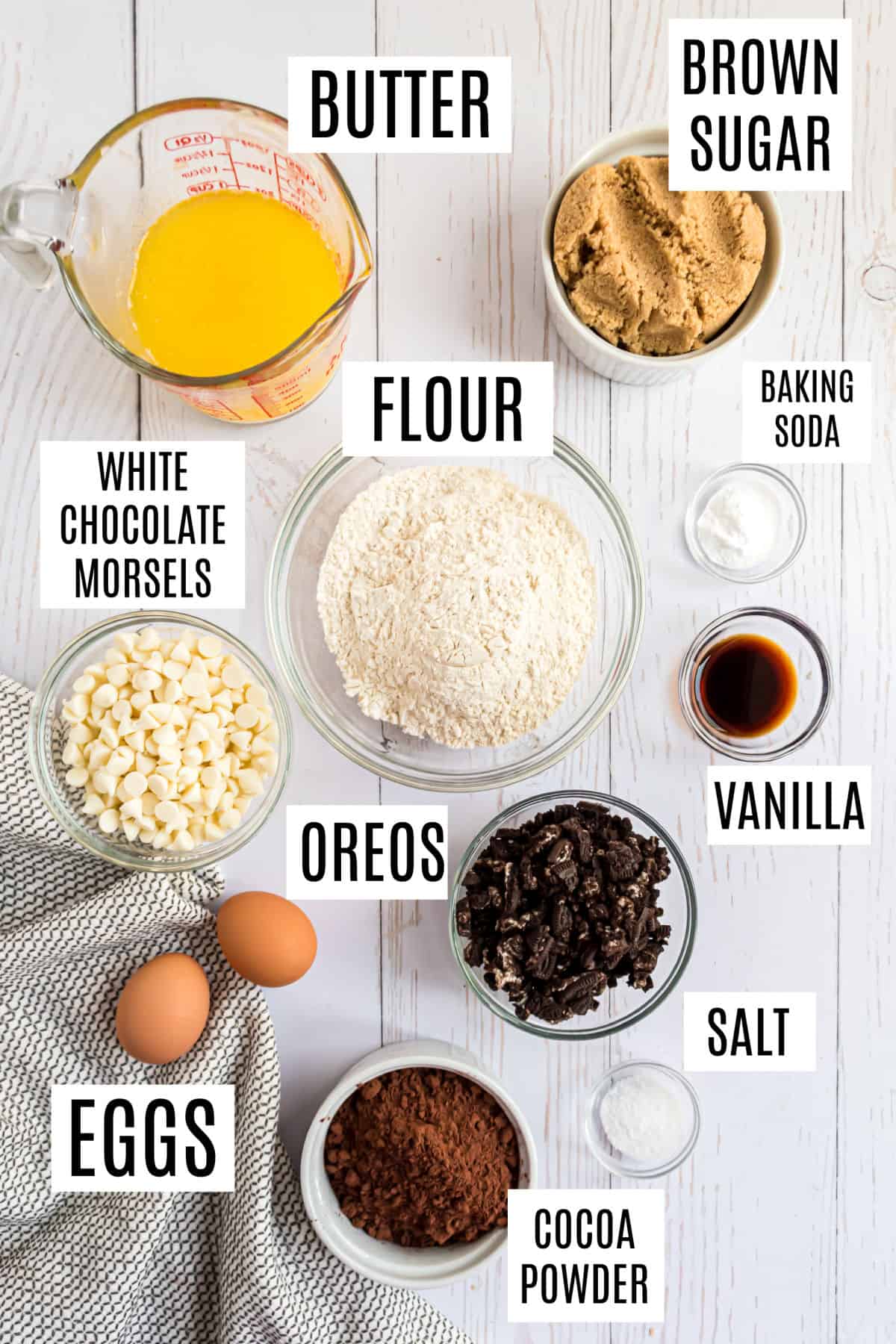 Easy Instructions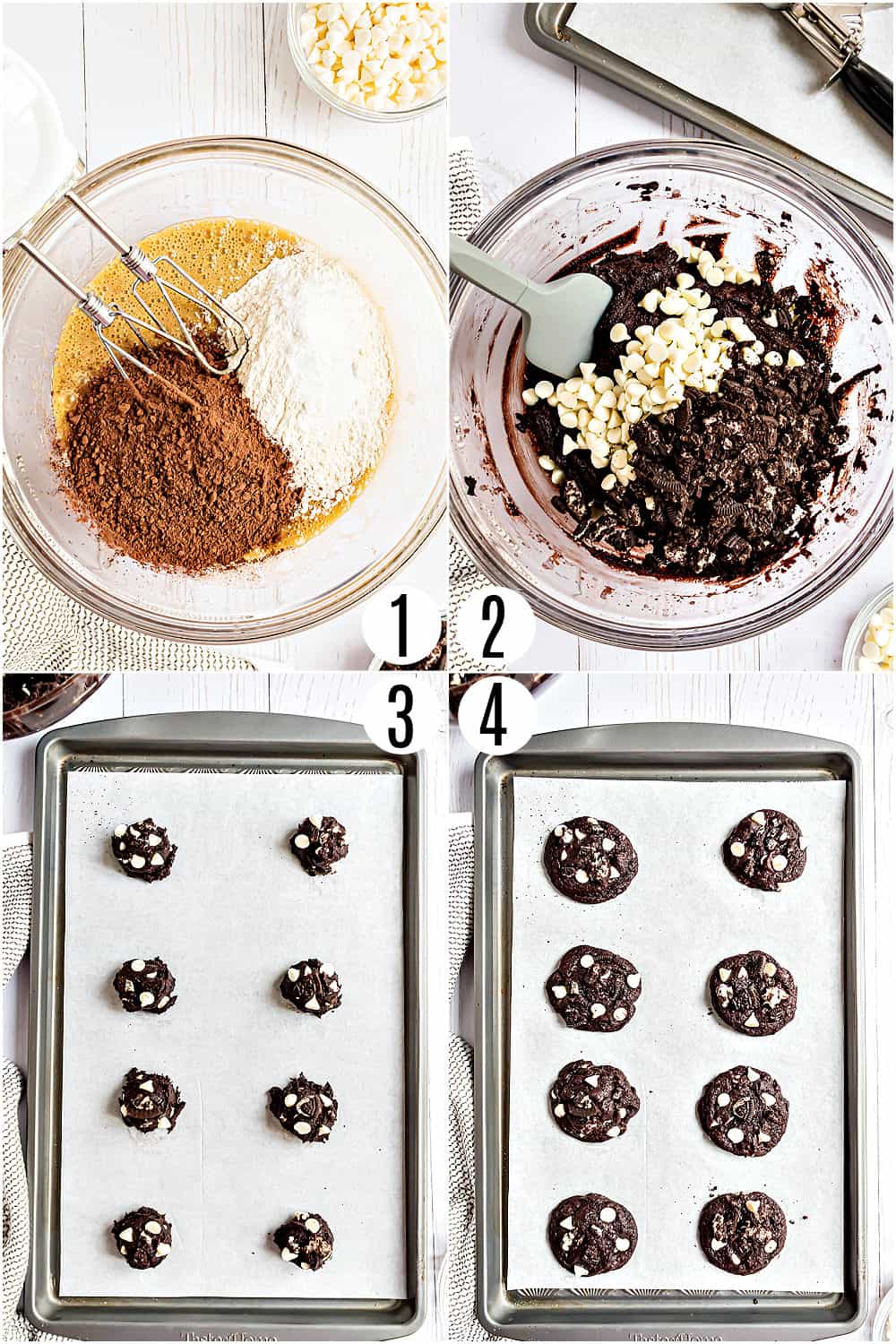 Combine the butter and sugar – In a large mixing bowl, combine the melted butter and brown sugar. Mix well.
Add the eggs and vanilla – Once the butter and sugar are fully blended, stir in the eggs and vanilla extract. Mix until creamy and even in color.
Add the dry ingredients – Add the flour, cocoa powder, salt, and baking soda to the mixture. Stir just until incorporated.
Set the toppings aside – Reserve ½ cup of the white chocolate chips and ¼ cup of the Oreos for the topping. Set aside.
Mix in the bulk ingredients – Mix in the rest of the white chocolate chips and the crumbled Oreos.
Scoop – Using a 2-Tablespoon cookie scoop, drop dough balls 2 inches apart on a lined cookie sheet. Press 3-4 white chocolate chips and 1-2 pieces of crushed Oreo cookie into the top of each cookie before baking.
Bake – Bake for 10-12 minutes in a 350°F oven. The cookies will be soft but not runny. Allow them to cool on the baking sheet for 5-10 minutes before moving them to a wire rack.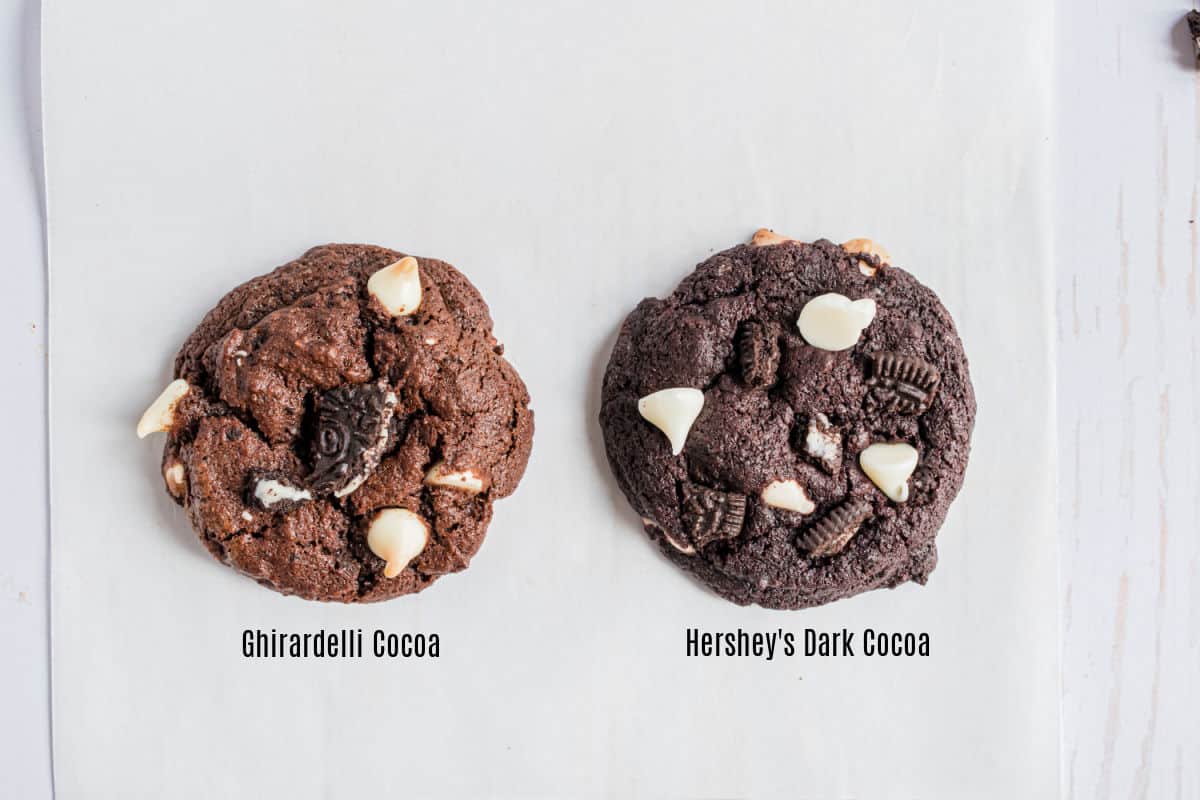 Tips & Tricks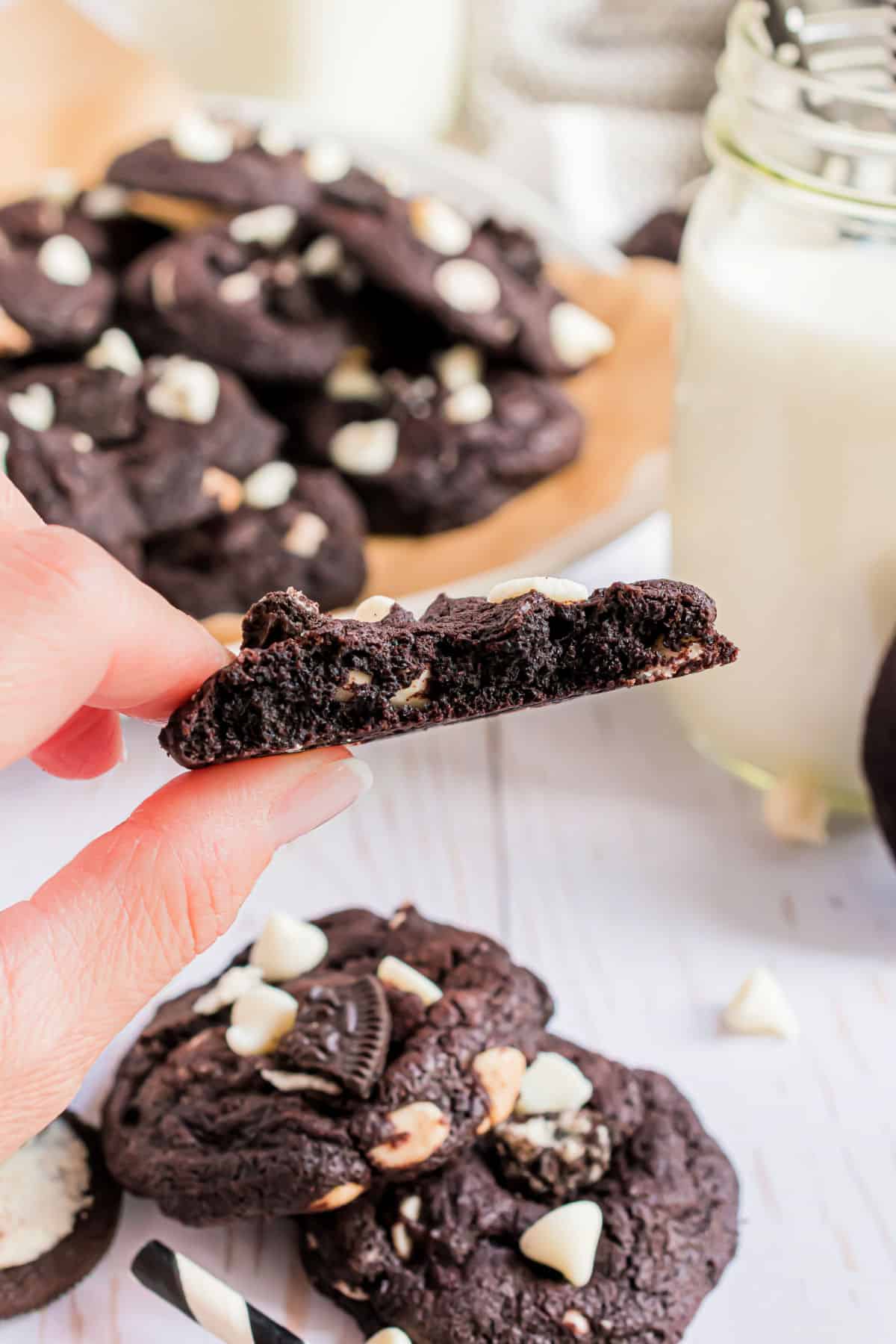 Serving Suggestions
You're in the right place if you can't get enough rich, chocolatey treats. My Dark Chocolate Mint Crinkle Cookies offer a dark chocolate experience with a refreshing hint of mint!
For a cold-weather specialty, serve these gorgeous Hot Cocoa Bombs with hot milk or coffee.
Finally, get a little more texture in your sweet treat with S'mores Cookies. And if you're a coconut fan, more chocolate bliss awaits you in this German Chocolate Cake recipe.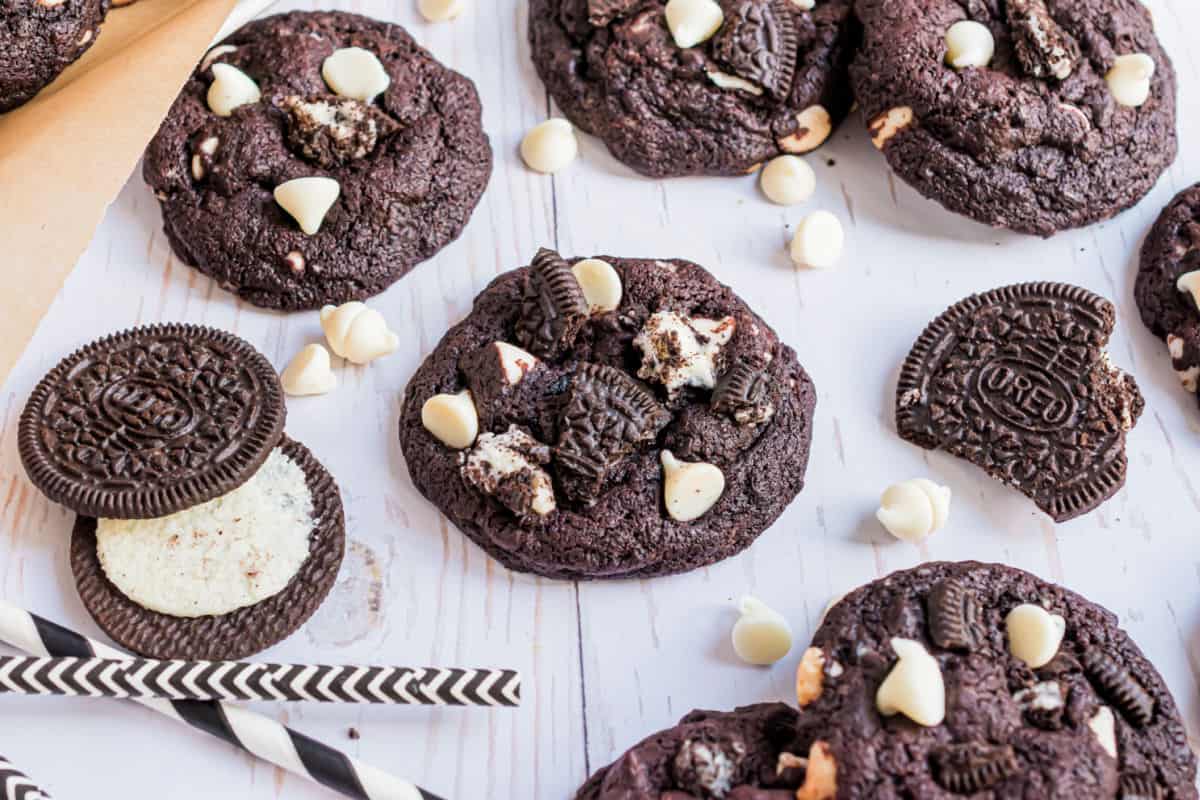 Recipe FAQs
Should I store cookies and cream cookies in the refrigerator?
These cookies and cream cookies store best in an airtight container at room temperature. Wait to store them until they have cooled completely. This prevents extra moisture from getting trapped inside.
How can I keep these cookies moist while they're stored?
To help keep your cookies from drying out, place a slice of bread in the container with them.
How do I freeze these cookies?
Freeze baked cookies in an airtight container for up to 3 months. Place waxed paper between the layers to keep them from sticking together. Alternatively, you can freeze the scooped cookie dough balls and bake them as needed.
Can I use regular chocolate chips instead in this recipe?
Yes, feel free to use dark chocolate, semi-sweet, or milk chocolate chips to replace the white chocolate chips in this recipe. You could also chop up a chocolate bar if you want bigger chunks of chocolate.
More Easy Dessert Recipes