If you love sweet cheese ball recipes, this Oreo Cookies and Cream Cheese Ball Recipe for Game Day is going to knock your socks off! Whatever that means.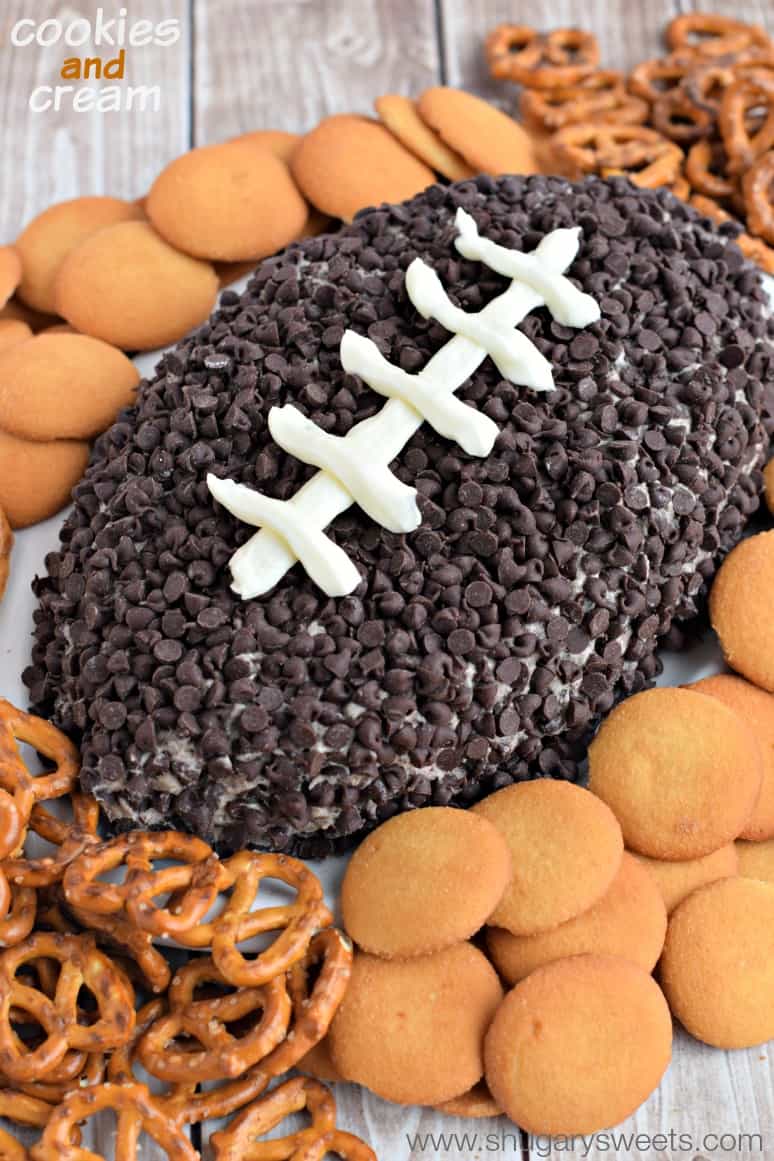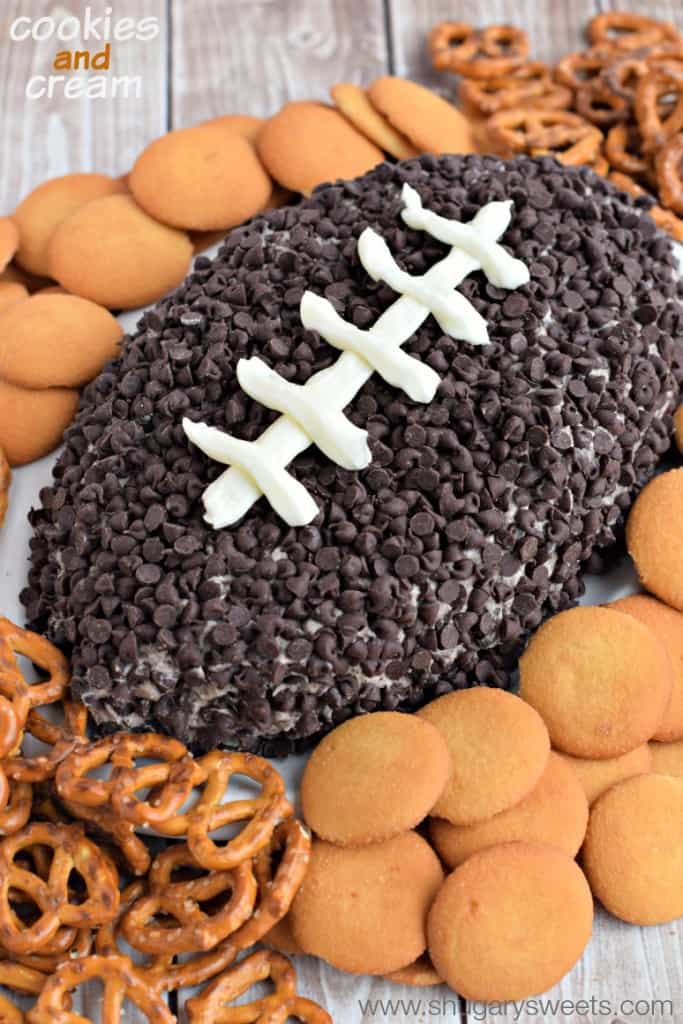 Click HERE to save recipe to Pinterest!
Okay, let me have a moment of honesty. I love saying that we are Bears football fans….but I honestly can't tell you the last time I sat down and watched an entire game.
Maybe 1985? I knew every word to the "Superbowl Shuffle." I knew every player that year, and their numbers.
But, yes, that was 30 years ago and I no longer have a crush on Jim McMahon. I do, however, still know most of the words of the song, and I still proclaim myself as a Bears fan. And I still make sure to scoff at Packer's fans every year.
As a good loyal football fan (haha) I enjoy making football treats. Remember these Chocolate Oatmeal Cream Pies and these Peppermint Patty Footballs?
Don't even get me started on all the snacks and dips for this time of year!
But, it's been awhile since I created a new "FOOTBALL" treat and since the Seahawks crushed the Packers (see what I did there, acted like I watched a football game when in truth the men in my house informed me of this detail, excitedly as if I would care), it's time for a new treat.
It's no secret I love making cheese balls. Savory? Sure. But it's the sweet cheese ball that has my heart. I've linked up a few of my favorites down below the recipe!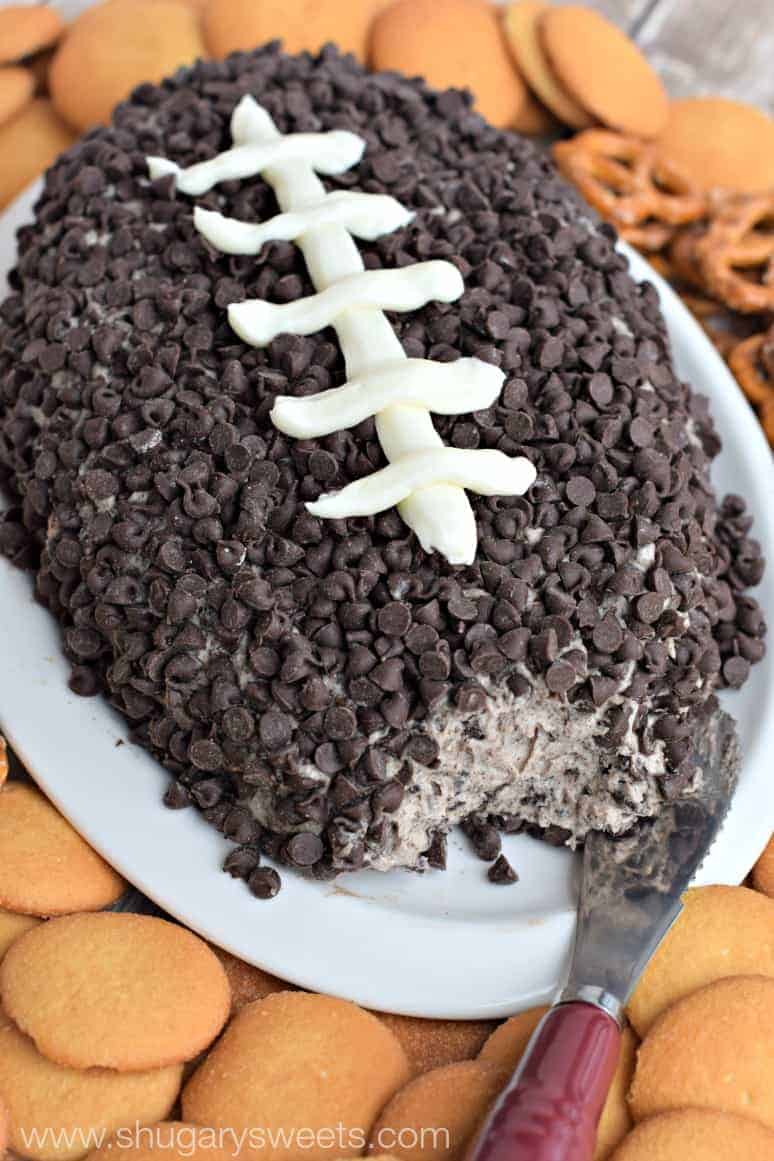 The inspiration for today's recipe came from a bag of Oreos. It was calling my name. I originally planned on coating a sweet cheese ball with Oreo crumbs, but then I decided last minute to toss those crumbs into the cheese ball instead and make it a Cookies and Cream Cheese Ball. Best decision ever. Adding the mini chocolate chips on top still gave that dark brown color to resemble a football.
How to make an Oreo Cheese Ball:
First, after creaming the butter with the cream cheese and beating in the powdered sugar, take a big spoonful out of the bowl. No, don't eat it (yet), put it in a small ziploc bag. This will be your "laces." When it's time to lace up, snip off the corner of the bag and pipe on your laces. Perfect!
Second, line a bowl with plastic wrap. Your going to drop your cheese ball into this bowl and wrap it up with the plastic wrap. Then refrigerate for at least one hour.
When you're ready to serve (and decorate), shape your cheese ball onto a platter. Press your mini chips onto the top and sides. Pipe your laces on and it's ready to eat. You can serve immediately, or refrigerate until ready to party!
I enjoy Nilla Wafers and pretzels with this cheese ball. However, graham crackers, gingersnaps, and other sweet dippers work great too! Apples? Sure, why not!
So, who are YOU rooting for this Football season? Or do you just show up for the food (like me?)!
 Love sweet cheese balls? Here are some of my favorites: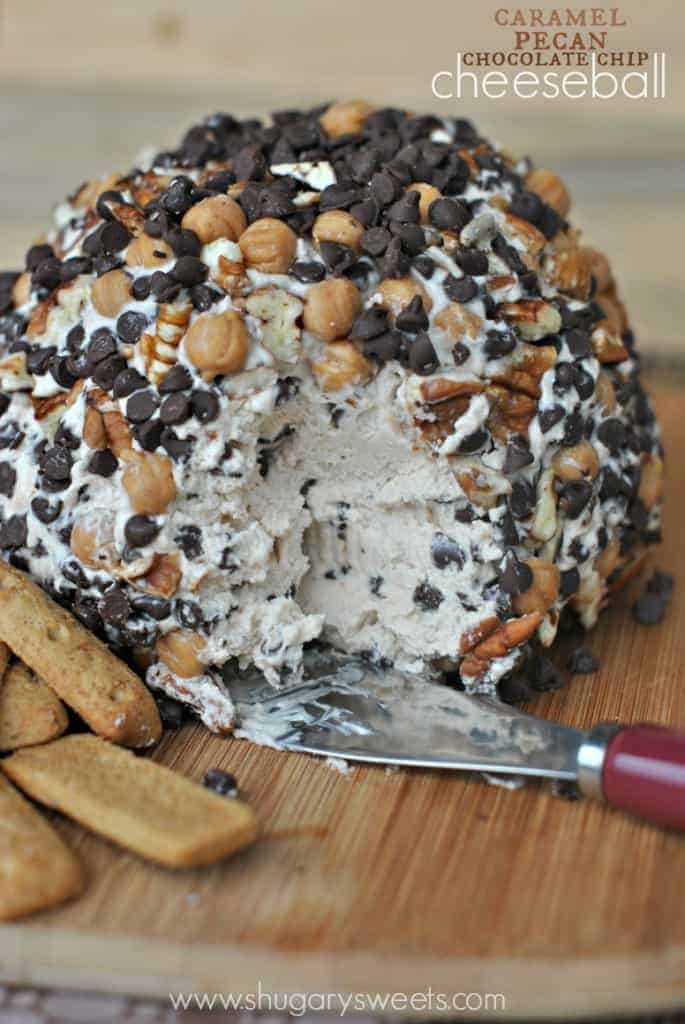 Turtle Cheese Ball: so many delicious ingredients in this one! Caramel, Pecans, Chocolate Chips!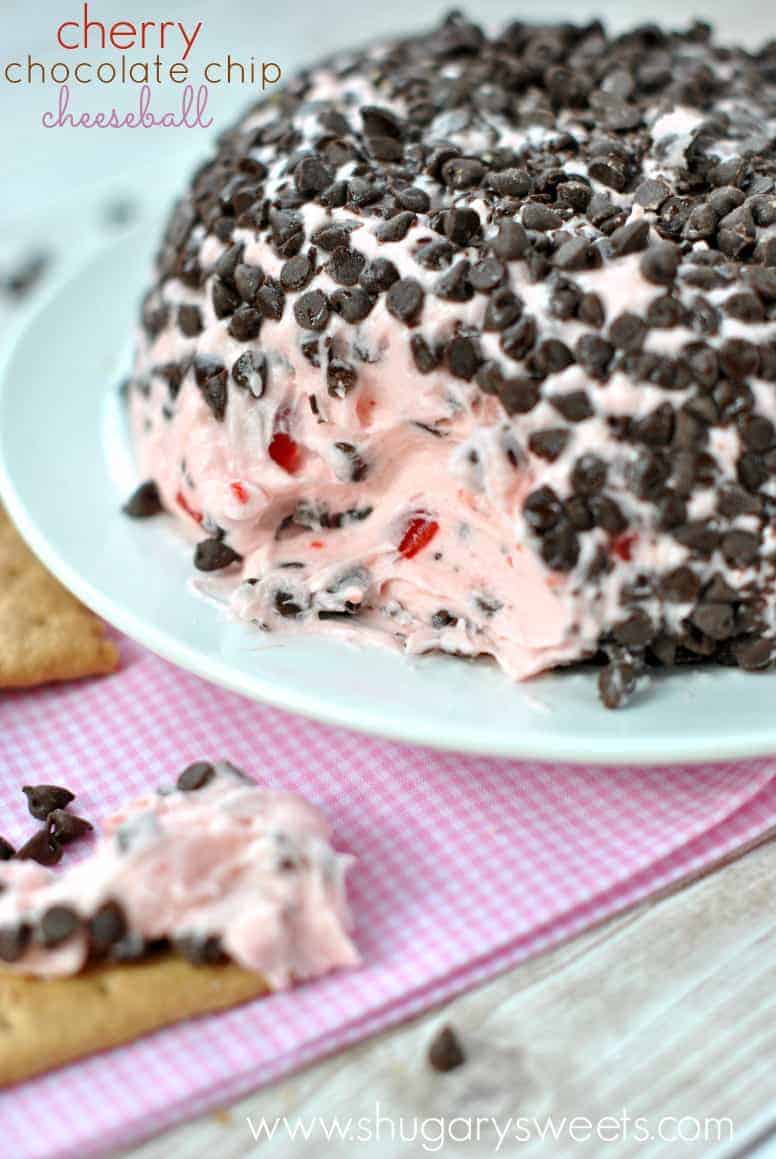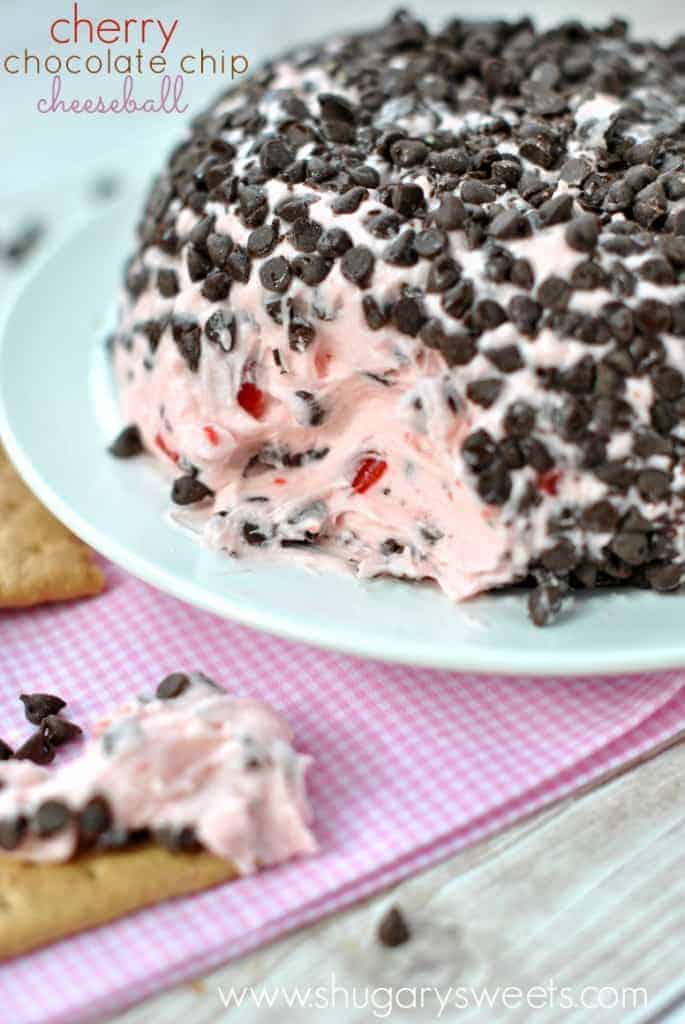 Cherry Chocolate Chip Cheese Ball: the sweet cherries in this cheese ball are spectacular!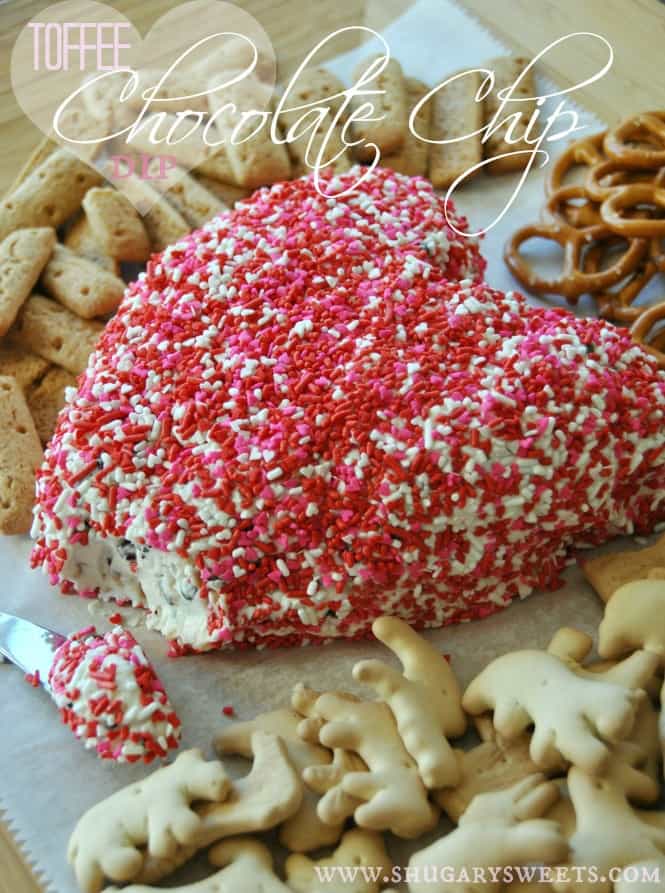 Toffee Chocolate Chip Cheese Ball: perfect for Valentine's Day!
Be sure to follow me on Instagram and tag #shugarysweets so I can see all the wonderful SHUGARY SWEETS recipes YOU make!
I created a fun little group on facebook and I'd love for you to join in! It's a place where you can share YOUR favorite recipes, ask questions, and see what's new with Shugary Sweets (so that you never miss a new recipe)! If you'd like to check it out, you can request to join HERE.
Connect with Shugary Sweets!
Be sure to follow me on my social media, so you never miss a post!
Facebook | Twitter |  Pinterest | instagram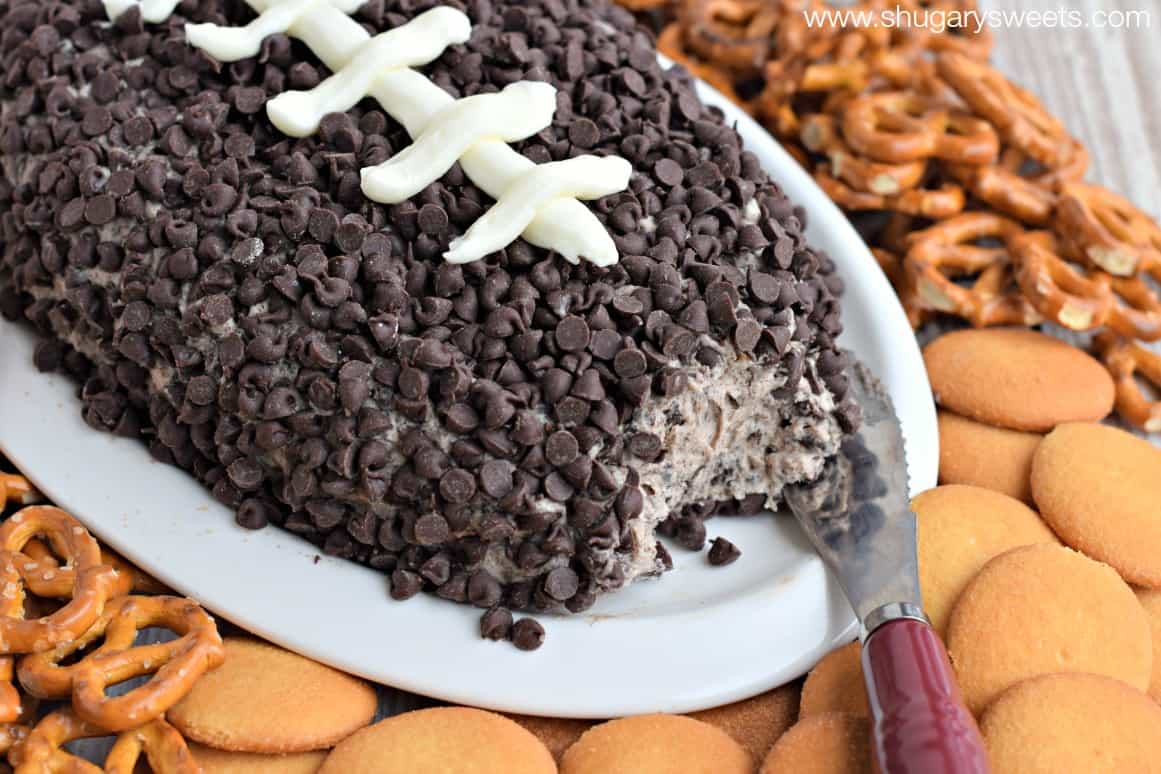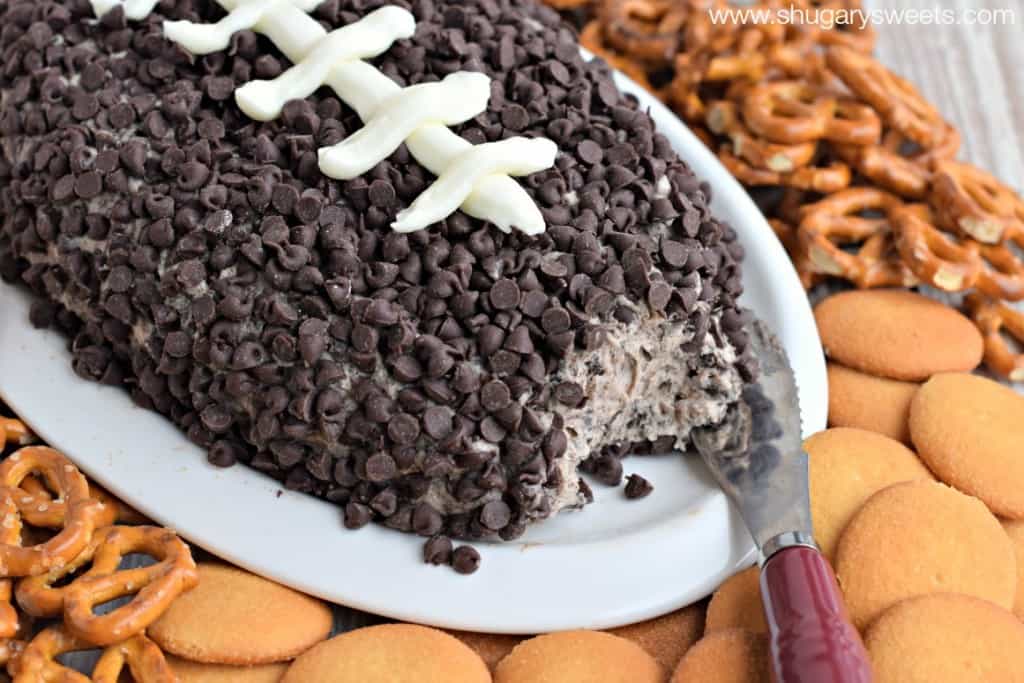 Oreo Cookies and Cream Cheese Ball recipe:

Today's recipe for Cookies and Cream Cheese Ball was originally published on Shugary Sweets on January 22, 2015.